Florida State Seminoles:

John Swofford
July, 23, 2014
7/23/14
9:00
AM ET
GREENSBORO, N.C. -- There was quite a different feel around the ACC Kickoff this season. More swagger, more puffed out chests, more bravado.
All those years of BCS misery? Almost like they never happened. Losing bowl record last season? Forgotten. How about that losing record against power-five conference teams? Nope, not going to talk about that. Because the ACC is now home to the national champions, and everybody in the ACC did their best to remind us all over two days.
[+] Enlarge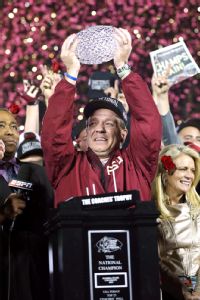 Matthew Emmons/USA TODAY SportsFSU's national title has given a confidence boost to the ACC.
Florida State permeated every single conversation, its national championship win serving as a national championship win for all. Its momentous victory meant fist pumps around the room. Duke coach David Cutcliffe, whose team lost to Florida State in the ACC championship game by 38 points, might have summarized the mood best when he was asked about the Seminoles' championship.
"Go Noles!" he shouted.
Anybody think Coach K shouted, "Go Heels!" when North Carolina won its national title a few years back?
The dynamic in football is obviously different. There are rivalries, yes, but there also is a brotherhood among these coaches, steeped in their determination to make the ACC shed its "basketball conference" label. They have all shared in the pain over the past 10 years, watching the SEC exert its dominance while the ACC was left to answer questions about why it was always a step behind.
They all promised their day would come, selling the league hard to anybody who would listen. Jimbo Fisher has been one of their loudest defenders, his stock line: "There is really good football in this league!"
People used to roll their eyes. But now, finally, there are believers. Finally, the national conversation has flipped from, "Who can take down the SEC?" to "Who can take down Florida State?"
Without a doubt, the ACC deserves this moment. Winning national championships should come with a shot of confidence and an infusion of new energy. So what if it felt like some of the coaches were reciting a list of carefully scripted, neatly orchestrated talking points? Talking points, by the way, that John Swofford recited in his Commissioner Forum media event, perhaps hoping to set the tone for the Kickoff.
Every league coach should revel in the victory. They should use those talking points on the recruiting trail. Do you want to play against the best? Well, the best is right here, in the ACC.
Now, one championship does not make a league, nor does it change the perception that the ACC is not yet among the top three conferences in the country. There has to be consistency. The SEC did not earn its reputation based on one national championship alone, or one team alone carrying the flag for the conference.
Everybody else in the league needs to step up their level of play. Everybody else in the league needs to start winning its elite nonconference matchups. A national championship, a BCS bowl win, and 11 bowl teams are obviously a terrific start. But it cannot end there.
All this bravado and swagger need to be translated into results on the football field. Confidence needs to be channeled into momentum. Having bragging rights now is great. But the ACC knows it has to find a way to hang onto those bragging rights, so that every year it can beat its chest just a little bit louder.
July, 1, 2014
7/01/14
12:00
PM ET
Huge day in the sports world on this first day of July, and that includes the ACC.
What? You thought the World Cup was the only thing going?
Two big stories to follow across the league. Unfortunately for the ACC, they fall on opposite ends of the spectrum. On the day the ACC officially welcomes Louisville , the league has to deal with the unwelcome news that North Carolina is once again
under NCAA investigation
. There is no doubt there is joy across Louisville and the rest of the ACC -- check the #Cards2ACC hashtag Twitter for all the welcome messages -- as the
Cardinals have risen up
from Conference USA players to the big leagues over a 10-year span.
It was just two years ago, even, that many thought the ACC
was on the verge of implosion
when Florida State boosters started chattering about the Big 12. But John Swofford found a way to not only keep the league together but
make it stronger
.
This should be a day for celebration.
But then there is North Carolina, living under the taint of scandal over the past four years. Swofford's alma mater was in the headlines for all the wrong reasons Monday, when the NCAA announced it would
reopen its investigation
into academic fraud at the university. The ACC will proudly tell you it has five schools ranked in the top 30 of the latest U.S. News & World Report Best Colleges rankings. North Carolina is one of them.
Yet, the university has admitted that sham courses were offered in its now disgraced African- and Afro-American Studies department. Both athletes and non-athletes benefited, a big reason why the NCAA shied away from the scandal in the first place. But the NCAA believes others who were reticent to speak up before may do so now. And then there are the recent comments from Rashad McCants, who claims he was kept eligible thanks to
sham courses
.
Bottom line: the NCAA had no choice but to take another look at some pretty serious allegations about academic impropriety. North Carolina is conducting yet another internal investigation, one that has yielded
more than 1.5 million emails for review
and now stretches back to the 1980s.
What does it all mean?
Hard to tell
at this point. Luke DeCock at the Raleigh News & Observer points out the
long, and twisted turns
that have taken North Carolina from agent scandal to academic fraud, noting the end appears nowhere in site. Meanwhile, the whistleblower at North Carolina who claimed some student-athletes were functionally illiterate, has
filed a civil suit against the school
.
It is yet another ugly day in Chapel Hill. But over in Louisville, the sun shines brightly on a promising future ahead. What a dichotomy.
As for the rest of the league ...
February, 24, 2014
2/24/14
2:00
PM ET
When it came time to deciding on its championship game future, the ACC made a no-brainer of a choice.
Sticking with Charlotte was its best option.
So it came as no surprise when the
league announced a six-year extension
to play its title game at Bank of America Stadium through the 2019 season. While it is true there have been attendance issues the last two years, Charlotte has been a much better host than previous destinations Jacksonville, Fla., and Tampa, Fla. In four years in Charlotte, the game has averaged about 70,000 fans and sold out the first two years.
[+] Enlarge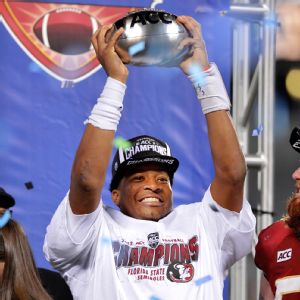 Bob Donnan/USA TODAY SportsJameis Winston hoists the ACC championship trophy into the air last season. The ACC title game will remain in Charlotte, N.C., through at least 2019.
Charlotte has been a willing, welcoming host, right in the heart of the ACC geographic footprint. ACC officials have been pleased with every aspect of Charlotte, from the game itself to the events surrounding the game, to the city. And, well, there was no real consideration given to the Pac-12 championship game model -- playing the game at the campus site of the highest-rated team.
"Our coaches and teams really prefer a neutral site," commissioner John Swofford said during a news conference in Charlotte on Monday. "They feel like that's what best for a championship-caliber game. [Campus sites] got some discussion, but quite frankly the success the game has had in Charlotte in every way over the last four years meant that conversation didn't really grow legs.
"We've been in Jacksonville and Tampa. There's no question that Charlotte has supported this game stronger than any other place that we have been. When you consider the fact that it's in the middle of our footprint, that there are a number of alums from all our schools in this great city, and has a facility of this caliber that is being modernized as we speak, coupled with what goes on in Uptown, where you can stay, you can eat, you can party, you can walk to the game, see the game, and then go back and do the same thing all over again. It's a terrific place, terrific venue. You couple all that with the support we've received from the sports foundation, and it became a pretty easy decision, actually."
The game needed a long-term home, and now it has one in an NFL stadium that is undergoing $75 million in renovations. The next step is making the ACC championship game an annual destination for league fans, not just those with a team in the championship game. Will Webb, executive director of the Charlotte Sports Foundation, said his group has reached out to the corporate community and is also considering a collegiate seat license that would give fans access to the same seat for the ACC championship game, Belk Bowl and potentially neutral-site games being played there, including North Carolina-South Carolina in 2015.
"We want to make this a long-term home and the message is going to be delivered that for that to happen, we've got to have broad support," Webb said. "We can't rest on our laurels and say, 'We've got it.' We have to earn it for the next extension."
February, 24, 2014
2/24/14
11:20
AM ET
The ACC championship game will remain in Charlotte through 2019, commissioner John Swofford announced Monday morning.

The game moved to Bank of America Stadium in Charlotte in 2010. In four years in Charlotte, the game has averaged nearly 70,000 fans, including two sellouts.
"Charlotte has been an outstanding partner and continues to facilitate the growth and success of the game and our many ancillary events that make this weekend a true celebration of ACC football," Swofford said.
The actual dates of the six championship games in the agreement are:
Dec. 6, 2014
Dec. 5, 2015
Dec. 3, 2016
Dec. 2, 2017
Dec. 1, 2018
Dec. 7, 2019
February, 6, 2014
2/06/14
10:00
AM ET
The ACC football coaches will hold a teleconference today to discuss issues they think need to be raised at the league's May spring meetings in Amelia Island, Fla., including the debate over whether or not to go to a nine-game conference schedule, said Duke coach David Cutcliffe, who is chair of the ACC coaches' committee for the second straight year.
ACC commissioner John Swofford told ESPN.com on Tuesday that there is "considerable support" for a nine-game league schedule.

"That's an important decision we'll need to make in the near future," Swofford said, adding that the athletic directors make the final call after input from their coaches. "... Several factors come into play there. One is the college football playoffs, what serves us best in terms of giving our teams the best opportunity to be in the playoff, and what gives us the most opportunities going forward television-wise and how does that fold into any discussions about a potential channel. Those are discussions that will continue."
Cutcliffe said he is in favor of staying at eight games because of the impact it could have on teams qualifying for the College Football Playoff.
"I'm a fan of the eight-game schedule for many reasons," he said. "The changing of schedules and playing different programs and different teams, the variables are better. We're all locked into playing Notre Dame, which becomes another game you're locked into. I'm just not a fan of it. I don't see the value in it, and it's not going to get you in the playoff system, if that's what everybody is saying. What's going to get you in the playoff opportunity is to have no losses or one loss. I don't care who you're playing. If you're at this level, all of us -- I'm sitting here looking at the 2014 ACC football schedule – I don't see a team on there that if it didn't win every game it played wouldn't be in that four-team playoff. … I don't think it makes any sense for our league."
Cutcliffe said he'd like to think the rest of the coaches agree, but that he has heard some say they'd rather play nine games. The ACC also has to consider that four schools -- Florida State (Florida), Georgia Tech (Georgia), Clemson (South Carolina) and Louisville (Kentucky) -- all have a built-in SEC rival on their schedules, and the conference now begins its five-game agreement with Notre Dame.
Cutcliffe said he hopes the coaches continue to talk to their athletic directors about what's best not only for the individual schools, but also for the entire conference.
"Until you get face to face and we're all in one room and listen to each other," Cutcliffe said, "I may change my mind if somebody makes some great sense, but I'm looking forward to Amelia Island, I think that is when we'll start knowing."
Cutcliffe said the coaches will also discuss officiating, and what other topics they think should be on the spring meeting agenda.
January, 17, 2014
1/17/14
4:00
PM ET
Step into my (unusually chilly) office ...
James Hanson in Tallahassee, Fla., writes:
Does Auburn
stealing FSU's signals
change the way we view the BCS championship game? When comparing the scores of before the towels went up to after ... there is a huge difference. Maybe this team was much better than thought.
Andrea Adelson:
It doesn't change my view. Florida State should have probably predicted Auburn would try and do something like this with former assistant Dameyune Craig on the Tigers' sideline. I give credit to Auburn for doing what it had to do to try and win the game.
[+] Enlarge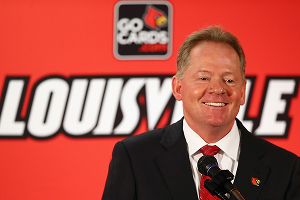 Andy Lyons/Getty ImagesOnly time will tell if Louisville coach Bobby Petrino has truly changed.
Luke in Louisville writes:
Hey Andrea, Nice to be back in the same mailbag as you. I was wondering if you could try a not wholly pessimistic review of the Petrino hire? Perhaps you could, instead of portraying him as a cartoon villain, single-dimensional and unchanging, characterize him as a multi-dimensional human being capable of both making mistakes and correcting them? Or is it basically the ESPN line? I noticed that Mark Schlabach and the Grantland writer have also written essentially the same piece. And note: I'm not dissing you --
your piece
as usual was solid; I'm just curious if anyone's given any consideration to the possibility of change.
Adelson writes:
Nice to see you again, Luke. If you are implying that ESPN has dispersed an email giving us talking points about the Petrino hire, I have to laugh. My thoughts are mine alone, same goes for Schlabach and everybody else who has written on this subject. I would love to believe every single thing Petrino said during his press conference. If he stays for 10 years and retires a Cardinal, that would be a great time to praise him for truly being a changed man who recognized his terrible mistakes and went about fixing them not just for himself, but for his family and his players first and foremost. Until then, I have to remain skeptical about a coach who has left behind a long trail of deceit. I do wish him luck, and I do hope he has changed. If he has, then I look forward to being proven wrong.
Matt in Winston-Salem writes:
AA, looking at some of the Commissioner's
comments about scheduling
led me to believe that A) FSU is griping that the Atlantic is disproportionately tough, and B) that the conference is going to do whatever it can to protect FSU as we move into the playoff era. The schedules were just done! How else can you explain this sudden shift in thinking? Please don't refer me to that commish-speak, either. I have a simple solution for Mr. Swofford ... if he wants flexibility, add a conference game.
Adelson:
I don't think this has much at all to do with Florida State, actually. How would it protect Florida State to potentially make the ACC championship game more difficult with, say, a rematch against Clemson? I think this has more to do with griping from a lot of teams about going so long between playing games against cross-divisional opponents. Syracuse athletic director Daryl Gross made
very candid comments
to Swofford and the league's athletic directors in an email to that end, and suggested going back to the idea of adding a ninth league game and eliminating mandated rivalry games. I am not sure abolishing divisions will solve all the problems, but there are major scheduling problems this league will face moving forward that should be discussed.
Carla in Houston writes:
Just curious: How do you think the ACC will be viewed going into next year? Will the committee be impressed by a team doing well in-conference, or is the ACC still thought to be weak? On one hand we have Florida State, THE national champion! Boy it feels good to say that! The Seminoles were unstoppable this year and have a Heisman winner to prove it. Not to forget Clemson, who finally seemed to break its big-game curse! But the rest of the conference worries me. Virginia Tech underperforming yet again? Miami face-planting? Georgia Tech being unable to move the national radar for another year? We have Louisville coming in so that will be a plus, but even that might not be enough. I am worried the ACC will start being viewed as a top-heavy conference, where beating Florida State and Clemson is the *only* way a team can get respect. Thoughts?
Adelson:
You bring up an excellent point, Carla. The ACC already is viewed as a top heavy conference, one reinforced by the way the 2013 season ended. I wonder whether Florida State winning the national championship gives extra brownie points, though. Remember midway through this past season, Alabama and Oregon were thought to be better than Florida State when the three were unbeaten. Would that be different in 2014, with the Seminoles as defending champs? I think it would be different. But at the same time, the overall conference schedule will not be viewed as more difficult than the SEC or the Pac-12 based on the reasons you mentioned above. As Heather wrote Thursday, it is absolutely critical for the ACC moving forward to have
at least four Top 25 teams
WITH a "traditional" power like Miami and Virginia Tech in that group. I think an unbeaten ACC team would be in the top four for a playoff, but I can't make guarantees about the seeding. The ACC does remain behind the SEC, Pac-12 and Big 12 in overall conference strength, even with BCS wins from Florida State and Clemson.
Ricky in Tallahassee, Fla., writes:
Good Morning Andrea, FSU season ticket holder here. Please clarify for me the following regarding the new college football playoff. If the Seminoles go the distance and make it to the NC game again next year, will I now have to pay to travel to TWO bowl locations to see them play?! Sure, the distance to even the furthest assumed semifinal location (Orange Bowl) is "driveable" (6-8 hours from Tallahassee), but there's still gas, hotel, ticket, and incidentals to pay for. Then I'd have to turn around and do it again to see the NC game??? The trip to Pasadena this year was costly enough (roughly $2,000). I don't think the average fan or students can afford to do that twice in one season. Am I missing something or does it seem like the fans are getting the short end of the stick?
Adelson:
You forgot travel for the ACC championship game, Ricky. Sorry if this depresses you further. But if you are a fan who wants to see your team advance all the way in person, it will cost you more. Next season, semifinals will be held at the Rose Bowl in Pasadena, Calif., and the Sugar Bowl in New Orleans on Jan. 1. The national championship game is set for Arlington, Texas, on Jan. 12. Better start saving those pennies now if you want to hit the league title game-semifinal-national championship game trifecta. But I think tough decisions are going to await a lot of students and fans who simply cannot afford to go to all these games.
Tom in Santa Monica, Calif., writes:
As a Miami fan, I commend your
recent piece on Coach Al Golden
. The last two years have fielded the worst defensive units in the program's history. The numbers are horrific. ... The bloom is most definitely off the rose with this guy. He's made some notable improvements in terms of recruiting, strength & conditioning, and some aspects of the culture (though that has understandably dampened with all of the losing), but his game day woes continue and show no sign of abating. While at Miami, Golden is 0-9 against Top 25* teams (*teams that have ended the year ranked in the Top 25). And those contests haven't even been close -- we're losing them on an average of nearly 3 TDs a game. Outcoached and outplayed in every facet. His ShamWow infomercial talk has almost exhausted itself. He'll reel in a great class in February, and he'll continue to get a lot of mileage out of the NCAA situation (the "cloud" that wiped out his "time table"), but for those willing to look closer, as you have done with your article, Al Golden is looking more and more to be the wrong guy to return Miami to any place of actual relevance. Keep up the good work.
Adelson writes:
Thanks for your note, Tom. I am not writing Golden off yet. The defense has been abysmal, and I think staff changes were warranted. But he did get this team to nine wins this year, which should count as progress. At the same time, he needs to definitively prove he is closing the gap on Florida State and can deliver more than nine wins. He's on the clock.
January, 15, 2014
1/15/14
12:00
PM ET
January, 13, 2014
1/13/14
4:00
PM ET
Here is the second of a two-part interview with ACC commissioner John Swofford, looking back at the 2013 season and ahead to this year:
Were you disappointed at all to see both Charlie Strong and Teddy Bridgewater, the two Louisville stars, not coming back next year?
JS:
That's all part of college athletics. As much as we would've loved to have both of them as part of Louisville's first season in the ACC, we invited the university and a quality program to join us. I think they will be an excellent addition from a football standpoint, as well as an overall program standpoint.
[+] Enlarge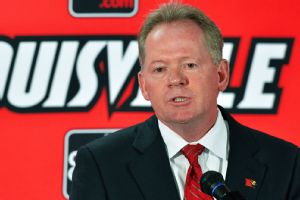 AP Photo/Timothy D. EasleyBobby Petrino and Louisville will enter the ACC next season.
What was your take on the hiring of Petrino, since it was a little bit controversial, given his background?
JS:
He obviously is an excellent football coach. I don't know Bobby personally. I have a lot of respect for and confidence in Tom Jurich and Jim Ramsey, and obviously the people at Louisville know Bobby from his previous tenure there and felt he was the right person for the University of Louisville to continue the upwards trajectory of that football program.
Financially, what did this bowl season do for the ACC?
JS:
It was very good. Anytime you have the additional BCS game, it helps. It's another $6.5 million. Some people report it's another $20-some million, which it's not. It was a good year, financially, from that standpoint, and next year will be better for not only the ACC, but all of us in terms of the financial part of the postseason.
When do you expect a resolution to the lawsuit with Maryland?
JS:
I don't know. We have to see how that plays out in the legal system. I couldn't predict an end to it.
They're officially out July 1, right?
JS:
June 30. Maryland is out June 30, Louisville is in July 1.
Anything new with the possibility of an ACC channel?
JS:
No, just continuing discussions about it. We had some good discussions in Pasadena, in fact. Had some time with John Skipper, so those discussions continue going forward, and we're keeping an eye on the SEC's efforts in their upcoming launch, which I think will be successful.
How good did it feel to be ACC commissioner last Tuesday morning?
JS:
Really good. Any year you can wake up at the end of the bowl season and have a national champion and an additional BCS bowl win, it's a good year.
January, 13, 2014
1/13/14
2:00
PM ET
The 2013 season has officially ended, and life is good for ACC commissioner John Swofford. Florida State won a national title. Clemson won the Orange Bowl. Eleven ACC teams finished with a winning record, the most by any league since 1932. For the first time since 1997, the ACC had two teams ranked in the top eight of the final Associated Press poll. There was plenty to brag about. I spoke with Swofford on Friday morning, and we talked about a variety of topics,
including future scheduling
.
The following is the first of a two-part Q&A with Swofford:
Overall, how would you assess the performance of the ACC this postseason?
[+] Enlarge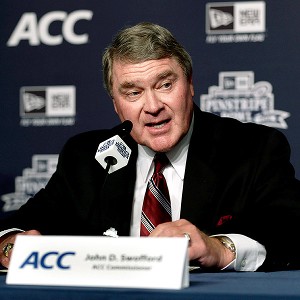 Jason Szenes/Getty ImagesJohn Swofford saw his league have a banner year and position itself well for the future.
John Swofford:
I think that perceptions are built so much on how your best teams do at the top. I've said that over the years, whether that's accurate or inaccurate is the way it is in terms of perception. Obviously having a team win the national championship is as big as it gets in college football, and having a second team win a BCS game adds to it significantly. That's really good to see. Having 11 teams in bowls, and then having 11 teams finish with winning records, hasn't happened before, with any conference. There's an awful lot to build on there going forward. It's gotten us over the hump, so to speak, in terms of the postseason.
Had this been 2014, what do you think the ACC's bowl picture would have looked like in the College Football Playoff?
JS:
At the time that those selections would have been made, obviously Florida State would have been in that, and probably the No. 1 seed. Clemson would have been close, but outside the top four. Clemson would have been in the Orange Bowl.
What is your take on how well the ACC is positioned for next year, heading into the playoff?
JS:
I think we're well-positioned for the playoffs and our whole bowl lineup. The new postseason has benefited us tremendously, I think, because in addition to the playoff, our postseason bowls will be enhanced significantly. Now, if we have a team that goes up to the playoffs, we're guaranteed another team in the Orange Bowl. Certainly that was not always the case in the current system. When the Orange Bowl is played, which will each year be New Year's Eve or New Year's Day, it's an improvement on the date and quality of opponent that we'll be playing in the Orange Bowl, from a brand standpoint, is enhanced because it will always be an SEC or Big Ten team or Notre Dame. Anytime the Big Ten team is in the Orange Bowl, they will vacate the game in Orlando, and we'll have a team in that game as well, in addition to the Russell Bowl, which we're in every year. And then you look at the rest of our lineup, it's just an excellent setup for our league going forward. Even if we have two teams in the playoffs, we're still guaranteed a team in the Orange Bowl, and our opponents are very attractive as well, with Charlotte as an example, being against the SEC now. Russell will be against the Big 12. Nashville and the Gator Bowl against the SEC. Both in terms of location, dates, opponents, it's a real plus for us in terms of the future postseason.
What's the latest on Charlotte as the destination for the ACC championship game?
JS:
We've been very pleased with Charlotte and the reception we've received there, and the support of the game. We're in ongoing discussions with Charlotte about the future.
Was this year the last year of the agreement?
JS:
It was, yes.
What did Pitt and Syracuse bring to the ACC this year from a football perspective?
JS:
I think they brought teams that obviously have the potential to be very successful in our league and from a national perspective. It was good to see both of them win bowl games at the end of the year. I think we were strengthened by their presence as a league and from a football standpoint, and the potential they bring, along with the past history and tradition.
Check back in a bit for Swofford's thoughts on Louisville, its hire of Bobby Petrino, and more.
September, 27, 2013
9/27/13
12:00
PM ET
Been saying it since the summer: Virginia Tech is a contender.
November, 5, 2012
11/05/12
11:00
AM ET
This is exactly what ACC commissioner John Swofford and his colleagues in Greensboro, N.C., had in mind when Miami joined the ACC in July 2004: No. 10 Florida State versus Miami in the ACC championship game.
Only not really.
Not at all, actually.
As the ACC heads into Week 11, it does so with historic rivals Florida State and Miami leading their respective divisions and on track to play each other in the Dr Pepper ACC championship game in Charlotte on Dec. 1. This Miami team, though, is unranked. It has four losses. It is under NCAA investigation. It could self-impose a postseason ban.
And, quite frankly, it's not very good.


It just so happens the rest of the Coastal Division is worse -- or, in North Carolina's case, ineligible.
How bad is it? Start with the fact Duke is the only bowl-eligible team in the division right now. Further proof: Last Thursday night against Virginia Tech -- the team that was picked by the media to win the division but dropped out of the Associated Press Top 25 after just three weeks -- Miami was outgained, went 1-for-12 on third down and had just 3 yards on 12 plays in the third quarter.
P.S. Miami won.
There's no guarantee Miami will even get to Charlotte -- it still has Coastal Division road trips to Virginia and Duke. Virginia is coming off a surprising win over NC State, and Duke can still play for the ACC title if it wins out. Miami, though, despite all of its flaws, has the inside track thanks to some good coaching, some good luck and the rest of the division's ineptitude.
Miami deserves credit, of course, for playing its way into this position and taking advantage of the situation (and Virginia Tech's plethora of mistakes last week). Getting to the ACC championship game would be a huge accomplishment for Al Golden's program, which had to replace eight starters on offense and was picked to finish fifth in the division. It's a step in the right direction toward national relevance, but it's still nowhere close to where it needs or wants to be on a national level, as evidenced by three losses to ranked opponents this season.
Brand recognition is important, but don't misread this label. Florida State and Miami aren't back. When FSU traveled to Miami earlier this year, the Seminoles beat the Canes 33-20. It was a game filled with mistakes and penalties. Miami had 29 yards rushing on 21 attempts. FSU, meanwhile, racked up 218 rushing yards on Miami's D.
Even with all that still lies ahead for the Seminoles -- a projected path that now looks like a Discover Orange Bowl win over Louisville (yay?) -- this season will still be remembered for what could have been had the Noles not lost on the road to an average NC State team.
For five years, the ACC championship game was held in the state of Florida, and only once did an ACC team from within the state play there -- the inaugural game in 2005, which is also the last time FSU won an ACC title.
Even in Charlotte, a Florida State-Miami matchup would be the best-case scenario for the overall health and interest of the ACC championship game this year.
It just wouldn't be the signature game many had originally envisioned.
These 2016 QBs Can Start From Day One
ACC SCOREBOARD
Thursday, 9/3
Saturday, 9/5
Monday, 9/7