Florida State Seminoles:

Jarred Haggins
December, 12, 2013
Dec 12
1:00
PM ET
TALLAHASSEE, Fla. — They know the numbers, but none of Florida State's offensive playmakers wants to vouch for just how significant 1,000 would be.
The refrain was established even before the season, and it has been repeated again and again each time another Seminoles star gets within striking distance.
"I don't feel like anyone is really focusing on that," said
Rashad Greene
, Florida State's leading receiver with 981 yards. "We want that crystal ball. That's the goal, and individual stuff will take care of itself."
It's the same answer given by
Kenny Shaw
, now 71 receiving yards shy of 1,000.
It's the same answer given by
Kelvin Benjamin
, who needs 43 receiving yards to crack 1,000.
[+] Enlarge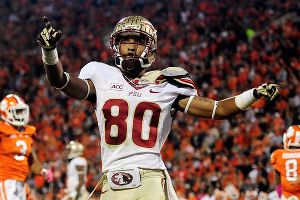 AP Photo/Richard ShiroRashad Greene is one of three FSU receivers who's less than 75 yards from the 1,000-yard mark this season.
It's the same answer given by
Devonta Freeman
, who can top 1,000 rushing yards with just 57 in the VIZIO BCS Championship Game.
And, of course, the national championship is exactly where their focus should be, but the proximity of all four players to that elusive mark is nothing to shrug off.
At Florida State, getting to 1,000 has been a remarkably rare accomplishment for anyone. In the school's history, only 12 players have reached that mark, and only once have multiple Seminoles cracked 1,000 in the same season.
For Freeman, getting to 1,000 would end the longest -- and one of the most inexplicable -- streaks in the country. No Florida State back has topped 1,000 yards since 1996 thanks to a confluence of injuries, depth, performance and bad luck. To end the streak in a national championship game would be a perfect conclusion.
"That would be great," Freeman said. "But we've got to win it. We've got to win, then get these 1,000 yards."
Freeman figured to have plenty of competition from his teammates in Florida State's backfield, but
Karlos Williams
(705 yards) was developed slowly after moving from safety in Week 2, and
James Wilder Jr
. (542 yards) was hobbled by injuries in the early season, opening the door just enough for Freeman to approach that elusive mark.
When the season began, the depth at receiver actually appeared to be a concern. Senior Greg Dent was suspended after being charged with sexual assault. Senior Willie Haulstead was ruled academically ineligible.
Jarred Haggins
suffered a preseason knee injury and was lost for the year, too. That left Florida State with just four veteran receivers, but the lack of depth actually proved to be a blessing.
The tight rotations meant Greene, Shaw and Benjamin were on the field more often, and for Benjamin in particular, that made a marked difference in his performance. In 2012, Benjamin withered down the stretch, but this season, his last two games have been his best. He has caught 14 passes for 331 yards and five touchdowns in his last two contests, pulling him into position to crack 1,000 yards, too.
Only once has Florida State had two receivers top 1,000 in a season -- 1995, when E.J. Green and Andre Cooper did it with a combined 9 yards to spare. That Florida State might have three this year would put the Seminoles' offense in rarefied company.
Only four other teams in college football history have had three 1,000-yard receivers in the same season. Three of those teams -- 2009 Houston, 2007 Hawaii and 2003 Texas Tech -- hardly offer apt comparisons. They combined to throw the ball on 69 percent of their plays. Florida State, meanwhile, has thrown just 46 percent of the time this season.
The 2007 Tulsa Golden Hurricanes are really the only good comparison to what Florida State has done on offense this year. They had a 50-50 split on play-calling, and they are the only team in the last 10 years to have four players top 1,000 yards in one season.
It's not a record that established Tulsa as an all-time great, of course. It's simply just an interesting bit of trivia. And that's why Florida State's mantra is so significant.
One thousand yards would mean something. Four players topping 1,000 would mean even more. But four 1,000-yard players sharing a national championship would assure the Seminoles of their place in history.
"To me, if it's in the context of winning and being successful, then it's a great accomplishment," Jimbo Fisher said. "Still, 1,000 yards is 1,000 yards, and that means a lot."
August, 26, 2013
Aug 26
11:00
AM ET
TALLAHASSEE, Fla. -- Jimbo Fisher finally put the biggest question of fall camp to rest Friday, officially
naming Jameis Winston his starting quarterback
. But if Winston's position on the depth chart finalized one lingering issue, a handful of other questions remain as the Seminoles begin their final week of preparation for the season opener at Pittsburgh.
Here's a quick rundown of what's left on Florida State's preseason to-do list:
Developing receivers:
A knee injury will keep
Jarred Haggins
on the sideline all season, meaning Florida State is now down three senior wide receivers. Add in a finger injury that has limited junior
Rashad Greene
for the past week, and a position that figured to be among the deepest on the Seminoles' roster is now a major concern. Greene should be fine for the start of the season, but it's apparent that Florida State will still need to rely on a trio of freshmen to step up. Fisher has raved about
Jesus Wilson
throughout camp, and
Levonte Whitfield
and
Isaiah Jones
have talent to spare, but the transition to the college game is rarely a seamless one.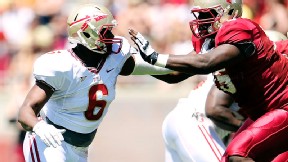 Stacy Revere/Getty ImagesDefensive end Dan Hicks, who missed all of 2012 with a knee injury, is still wearing No. 6. So is cornerback Nick Waisome. One of them will have to change numbers before next Monday.
Grasping the defense:
The response from players has been universally upbeat, but even the most optimistic of Florida State's defenders admit there's still work to be done in learning Jeremy Pruitt's new defensive scheme. Florida State ranked in the top three nationally in total defense in each of the past two seasons, and there's enough buzz among the returning players to think this year's unit could be even better, but Pruitt's scheme is a challenge. The team has worked extensively on mastering the nuance throughout fall camp, but when the season begins next week, Pruitt said fans might see a more watered-down version. "When it comes to game week, we're only going to call what they know," Pruitt said. "You throw a lot of stuff at them, hope part holds, and as the season progresses, you pull out what you need each week."
Depth at tight end:
Fisher tried to put a happy face on the situation when camp opened, but the lack of depth at tight end remains a major concern.
Giorgio Newberry
made the switch from defensive end just a week before camp began, and while he's got the size to do the job, he's definitely a work in progress. Freshman
Jeremy Kerr
remains sidelined with a knee injury, and Fisher continues to tinker with options, using freshman defensive end
Davarez Bryant
at tight end during practice last week. While Fisher is eagerly toying with his options, the fact remains that starter
Nick O'Leary
is going to need to shoulder the burden for a thin group behind him.
Two for six:
It's perhaps the silliest debate of camp, but the implications could be significant. When defensive end
Dan Hicks
switched from tight end this spring, he kept his old uniform number. The problem, however, is that cornerback
Nick Waisome
was already wearing the No. 6 jersey. Since then, neither player has been willing to give it up, meaning FSU can't use Hicks and Waisome -- both projected starters -- on the field at the same time. Fisher said he's leaving it up to the players to decide, likely in hopes one would be mature enough to choose playing time over a jersey number, but thus far neither player has caved.
Playing time for rookies:
The freshman receivers figure to be necessities on offense this season, but beyond that, it's tough to tell where the rest of the newcomers fit in. Running back
Ryan Green
, cornerback
Jalen Ramsey
and defensive end
DeMarcus Walker
are among the most impressive freshmen of the fall, but Fisher said he wouldn't be surprised if the great majority of this year's class avoids a redshirt. Aside from Kerr, quarterback
John Franklin
and a couple of the offensive linemen, virtually every member of the Class of 2013 remains in the mix for playing time.
Secondary shake-up:
It's a good problem to have, but Florida State's logjam of talent in the defensive backfield still leaves some question marks as the season approaches. When
Lamarcus Joyner
shifted from safety to corner, the questions about playing time began, and Pruitt has been quiet about potential answers. Joyner, Waisome, Ramsey,
Ronald Darby
and a slew of others are in the mix for regular reps, and Fisher has hinted that the Seminoles' defensive backs will be rotating early and often.
August, 20, 2013
Aug 20
3:00
PM ET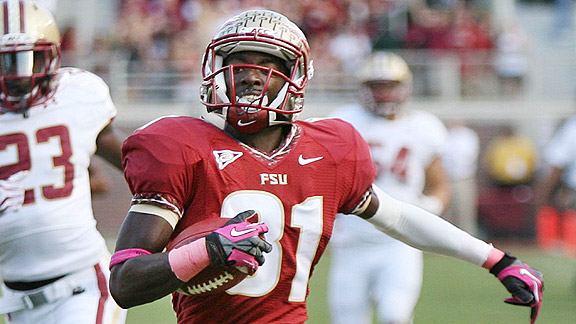 Stephen M. Dowell/Orlando Sentinel/Getty ImagesWith nine pass catchers from last season out of commission, Florida State needs veterans such as Kenny Shaw to pick up the slack in the passing game.
TALLAHASSEE, Fla. -- About 20 minutes before Florida State wrapped up the first practice of its final two-a-day session of the fall, wide receiver
Rashad Greene
trudged off the field alongside a trainer, who held held his hand aloft and inspected a taped-up finger.
It's the latest in what seems like a daily addition to the injury report for the Seminoles passing attack.
"We don't need nobody [hurt]," Jimbo Fisher said afterward, "but it's part of camp."
It's a part of camp Florida State has become all too familiar with of late. The receiving corps figured to be among the deepest areas of the Seminoles' roster just a few months ago, but one by one the depth chart has been pared down, and only a few veterans and a trio of untested rookies remain.
The good news is that Greene's injury appears minor. Fisher said the finger wasn't broken, and he expected Greene to return to practice in a few days. The bad news is that, even with Greene, Florida State has just three receivers on its roster who recorded more than three catches last season.
The casualties thus far include seniors
Greg Dent
, who is suspended indefinitely after an offseason arrest on sexual assault charges,
Willie Haulstead
-- who didn't qualify academically -- and
Jarred Haggins
, who is out with a fractured knee. Freshman Marvin Bracy also departed the program to pursue a track career. To make matters worse, three of the four tight ends FSU had on its roster last season have left the program or are done for the season with an injury.
Nine of the 16 Seminoles who caught a pass in 2012 won't see the field in 2013.
"It's a big deal experience-wise," Fisher said. "You always want that experience because that's the thing you can't simulate. You've got to go through those situations."
Greene and
Kenny Shaw
figure to pick up some of the slack. The pair combined for 90 catches and nearly 1,300 yards last season and have made a point to show the younger receivers how it's done.
"We've put an emphasis on them watching what we do when we go with the ones," Shaw said. "We tell them just to watch, because usually we're doing the right things."
But the two veterans can't be expected to carry the entire load, and further down the depth chart there are plenty of questions.
Start with
Kelvin Benjamin
, who has been pegged as a future star for two straight seasons without living up to the hype. He opened last year strong, but his final five games produced just seven catches, 52 yards and no touchdowns.
Benjamin insists he's finally turned a corner. He stuck around Tallahassee all summer, working out twice a day to shed excess weight. He's dropped 15 pounds from his 2012 playing weight and is checking in at just 8 percent body fat.
"I feel like I'm jumping higher, coming out of my breaks faster," Benjamin said. "I feel much better."
Benjamin's potential is obvious, but for junior
Christian Green
, his future is something of a mystery. He flourished as a redshirt freshman in 2011, finishing third on the team with 450 yards receiving on a shaky offense. He all but disappeared last season, though, catching only three passes. That won't suffice this season.
"He needs to get back in that flow," Fisher said. "He had a chance to make some plays [in the scrimmage] and made some. He had a good year two years ago, and hopefully he comes back to the same level -- and I think better."
[+] Enlarge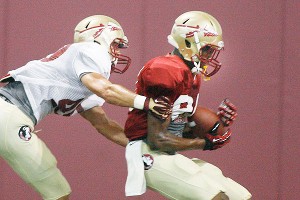 AP Photo/Phil SearsIsaiah Jones (right) is one of three freshman wide receivers FSU hopes will step up quickly.
The real wild cards in the mix, however, might be the freshmen.
Fisher inked three receivers in this year's signing class, and all three have made strong first impressions.
Levonte Whitfield
has world-class speed and could easily fill the role Fisher had expected Bracy to play, running reverses, working in the slot and helping on special teams.
Jesus Wilson
was the star of the summer, earning rave reviews from teammates on both sides of the ball. He worked extensively on the field and in the weight room with Greene and cornerback
Lamarcus Joyner
, and both admit to being fans.
Isaiah Jones
might need the most work of the trio, but at 6-foot-4, 200 pounds, he's also the biggest.
Fisher has praised the group throughout camp, though he admitted Monday he was beginning to see signs of fatigue.
"You can see it's starting to wear on them a little bit," he said. "They did some good things, but had a couple mental muffs when they got tired that they have to learn to grind through."
Ups and downs from freshmen are be a fact of life, but a big season from at least one of them wouldn't be unprecedented. Greene led the team in receiving as a true freshman just two seasons ago, and this group should have a much better supporting cast.
"I'll just be honest with them," Greene said. "The opportunity is here. It's our job to help you out, but you also have to let us know when you need help, and they're doing a fantastic job with that."
That opportunity extends all the way down the depth chart. Greene has been Florida State's best receiver for two straight seasons, but he'll need more consistent production this season. Benjamin has star potential, but he needs to deliver the results. The freshmen can make an impact, but they'll need to avoid the growing pains.
The pressure is higher on those who remain, but Benjamin insists they're ready for the opportunity.
"Losing players that were going to be a big factor in the offense, we need to bring it," Benjamin said. "Every practice we're going to go hard, trying to be dominant, be elite."
August, 4, 2013
Aug 4
9:00
AM ET
TALLAHASSEE, Fla. -- Florida State opens fall camp this week, and while the bulk of the starting lineup appears firmly in place, there are a handful of key position battles to watch as the Seminoles set their sights on the season opener in Pittsburgh.
[+] Enlarge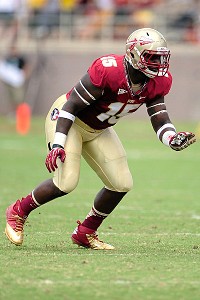 Stacy Revere/Getty ImagesDefensive end Mario Edwards Jr. was the No. 1 high school prospect in the nation in the Class of 2012.
Defensive end
The candidates:
Mario Edwards Jr.
(So.),
Dan Hicks
(RSSr.),
Giorgio Newberry
(RSSo.),
Chris Casher
(RSFr.),
DeMarcus Walker
(Fr.),
Davarez Bryant
(Fr.),
Desmond Hollin
(Jr.)
The situation:
Florida State lost three top pass rushers to the NFL from last year's team, leaving a major void in a key area. Edwards appears all but certain to earn one of the two starting jobs after closing out 2012 in that role. On the opposite side, however, things are up for grabs. Newberry figured to be the top candidate entering spring practice, but Hicks -- nine months removed from ACL surgery -- made a big push. Walker might have been in the mix, too, but NCAA eligibility issues kept him on the sideline after he enrolled early.
The projection:
Hicks' strong spring vaulted him to the top of the depth chart for now, and it's clear he's ready to play a sizable role after being shuffled to tight end a year ago. Odds are, however, this will be an area of some mixing and matching early on, with Hicks, Newberry and Casher all likely to see playing time alongside Edwards.
Linebacker
The candidates:
Terrance Smith
(RSSo.),
Reggie Northrup
(So.),
Ukeme Eligwe
(RSFr.),
Nigel Terrell
(RSJr.) and five incoming freshmen
The situation:
Seniors
Telvin Smith
and
Christian Jones
offer a formidable pairing atop the depth chart, but the rest of the linebacker position remains in flux. None of the candidates have any significant experience, and while Terrance Smith looked to take an early lead as the starter on the strong side throughout the spring, there are endless possibilities on how the two-deep at each position might shake out.
The projection:
Because FSU will run a majority of its defensive plays in nickel and dime sets, there may not be a need for a third linebacker routinely. Still, the coaching staff knows it needs to develop depth behind its two seniors, and identifying a pecking order is crucial. Northrup, Smith and Eligwe are likely the top contenders for regular playing time, but freshman
Freddie Stevenson
was an early enrollee who impressed this spring, and freshman
Matthew Thomas
might have more upside than anyone at the position.
Quarterback
The candidates:
Jameis Winston
(RSFr.),
Jacob Coker
(RSSo.),
Sean Maguire
(RSFr.)
The situation:
What was a wide-open, four-man race this spring now looks to be Winston's job to lose. He was impressive throughout spring practice, dominated the spring game and has enjoyed immense hype and enthusiasm from the fan base ever since. Still, Fisher has been quick to point out that nothing is set in stone at the position yet, and Coker, who endured a foot injury that limited him this spring, figures to keep the pressure on Winston as fall camp begins.
The projection:
In spite of Fisher's pronouncements, it would be a shock if anyone other than Winston got the starting nod in Week 1. By all indications, the redshirt freshman has continued to develop this summer, has handled all the publicity with aplomb, and his potential is undeniable.
Defensive back
The candidates:
Lamarcus Joyner
(Sr.),
Nick Waisome
(Jr.),
Ronald Darby
(So.),
Tyler Hunter
(Jr.),
P.J. Williams
(So.) and others
The situation:
This falls under the category of good problems to have, but FSU's wealth of talent in the secondary is causing at least some confusion on the depth chart. Joyner switches from safety to corner this year, leaving five talented and experienced corners vying for limited playing time alongside presumptive starters at safety
Terrence Brooks
and
Karlos Williams
. The versatility of the group -- particularly Joyner, Hunter and P.J. Williams -- offers some options for new DC Jeremy Pruitt, but finding enough playing time for all the talent on the roster may be a tall order.
The projection:
There is likely to be a healthy dose of mixing and matching this year, with Karlos Williams getting reps at linebacker, Joyner, Hunter and P.J. Williams shifting between corner, nickel and safety, and other options like
Keelin Smith
and
Colin Blake
vying for reps, too. Still, Joyner is the unquestioned leader, so his playing time should be secure, and Darby, Waisome and Hunter will likely grab the lion's share of what remains.
Wide receiver
The candidates:
Kelvin Benjamin
(RSSo.),
Christian Green
(RSJr.),
Willie Haulstead
(RSSr.),
Levonte Whitfield
(Fr.),
Jarred Haggins
(Sr.),
Isaiah Jones
(Fr.),
Jesus Wilson
(Fr.)
The situation:
Rashad Greene
and
Kenny Shaw
have a firm grip on starting jobs, but injuries, defections and suspensions have seriously limited FSU's depth in the passing game. Fisher needs at least one or two more receivers to step up into bigger roles, with none looming larger than the uber-talented Benjamin. Green and Haulstead -- afterthoughts a year ago -- are aiming for comeback seasons, while Whitfield's speed makes him an immediate threat, and Wilson has garnered early praise for his work in summer seven-on-seven drills.
The projection:
Benjamin is perhaps the biggest wild card on Florida State's roster. His talent is immense, but he's had difficulty showing consistency during his first two years in Tallahassee. If he blossoms into a star in 2013, it would be a huge boon to the Seminoles' offense, but don't be surprised if at least one of the freshmen manages to make some noise, too.
June, 21, 2013
Jun 21
9:00
AM ET
Throughout the summer, Nole Nation will be
counting down the 40 players
we're projecting to make the biggest impact on the Seminoles' 2013 season, taking into consideration everything from experience to potential to their spot on the current depth chart.
Next up:
No. 31 Jarred Haggins
Position/Class:
WR/Sr.
What he's done:
For three seasons, Haggins has quietly established himself as a reliable, consistent weapon in Florida State's passing game without ever blossoming into a routine contributor. He's upped his receiving yards each season, including 108 as a junior in 2012, but has never been able to break through into a more pronounced role.
Where he's at:
In his senior season at Florida State, Haggins may finally have the opportunity he's been waiting for. With the offseason arrest of fellow senior
Greg Dent
, and the subsequent questions surrounding Dent's eligibility in 2013, there's a major void on the receiver depth chart. While others, including incoming freshman
Levonte Whitfield
, should factor in to that competition, Haggins' mix of experience, knowledge of the system and impressive athleticism could vault him to the top of the heap.
What's to come:
For a player with just 20 receptions in his three-year career, it's hard to predict a breakthrough in 2013. While Dent's absence could be significant, there are bigger, stronger receivers like
Kelvin Benjamin
and
Willie Haulstead
who could also step in to fill that void. Haggins would share slot duties with
Kenny Shaw
regardless, and Whitfield brings incredible potential to the position, too. Still, Haggins has paid his dues and bided his time, and while an injury kept him off the practice field this spring, he figures to play a big part in the competition this fall. He may not produce huge numbers in his senior season, but it would be surprising if he didn't set career highs across the board.
February, 28, 2013
Feb 28
8:30
AM ET
By
David M. Hale & Corey Dowlar
| ESPN.com
NoleNation writers David Hale and Corey Dowlar are
going position by position
, looking at what FSU has on its roster now, and who might provide reinforcements down the line, projecting starters and evaluating the depth through 2015.
Up next, the final position in the series: Wide receivers.
Scholarship receivers (12):
Kenny Shaw
(Sr.),
Rashad Greene
(Jr.),
Christian Green
(RSJr.),
Kelvin Benjamin
(RSSo.),
Jarred Haggins
(Sr.),
Josh Gehres
(RSSr.),
Marvin Bracy
(RSFr.),
Willie Haulstead
(RSSr.),
Greg Dent
(Sr.),
Jesus Wilson
(Fr.),
Levonte Whitfield
(Fr.),
Isaiah Jones
(Fr.)
To continue reading this article you must be an Insider
February, 25, 2013
Feb 25
7:00
AM ET
With national signing day now beyond us, NoleNation takes a closer look at the next crop of Seminoles.
Vitals:
Wide receiver
Jesus Wilson
(Miami/Columbus), 5-foot-10, 165 pounds.
Committed:
June 15, 2012.
ESPN.com grade:
80, four-star prospect.
ESPN.com rankings:
No. 62 wide receiver in the country, No. 221 prospect in the Southeast region and No. 89 player in the state of Florida.
To continue reading this article you must be an Insider
February, 18, 2013
Feb 18
7:00
AM ET
With national signing day now beyond us, NoleNation takes a closer look at the next crop of Seminoles.
Vitals:
Wide receiver
Isaiah Jones
(Milton, Fla./Milton), 6-foot-4, 195 pounds.
Committed:
July 6, 2012.
To continue reading this article you must be an Insider
February, 8, 2013
Feb 8
7:00
AM ET
With national signing day now beyond us, NoleNation takes a closer look at the next crop of Seminoles.
Vitals:
Athlete
Levonte Whitfield
, Orlando Fla,/Jones, 5-foot-9, 175 pounds.
Committed:
Aug. 13, 2012.
To continue reading this article you must be an Insider
December, 12, 2012
12/12/12
9:00
AM ET
Among the myriad talking points entering the season that offered heaps of optimism for the 2012 Seminoles was the deep and diverse group of receivers and the potential damage Florida State's aerial assault might inflict on opposing defenses.
The case for FSU's receivers was air tight:
Rashad Greene
would be a year older and healthy for a full season after missing four games in 2012;
Kelvin Benjamin
would be on the field and his size would make him a huge weapon;
Willie Haulstead
would finally return from a concussion that kept him out all of 2011 after being the team's leading receiver in 2010; juniors
Kenny Shaw
,
Jarred Haggins
and
Greg Dent
were ready to come into their own.
Really, the only question was how
EJ Manuel
would manage to find enough footballs to ensure all these weapons were given sufficient opportunities to make plays.
To continue reading this article you must be an Insider
October, 17, 2012
10/17/12
9:00
AM ET
TALLAHASSEE, Fla. -- The first pass
EJ Manuel
threw against Boston College was a 35-yarder from the back of his own end zone that sailed just over the head of
Rodney Smith
down the sideline.
[+] Enlarge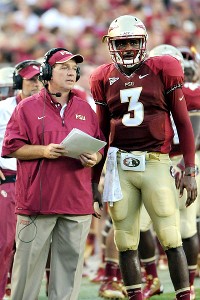 Melina Vastola/US PresswireEJ Manuel had a solid game throwing downfield against Boston College.
Five of the next eight passes Manuel threw were deep balls, too, including a 77-yard touchdown to
Kenny Shaw
and a 42-yard deep ball to
Jarred Haggins
.
It was a stark contrast from a week earlier, when Manuel rarely looked downfield and Florida State's offense sputtered in the second half, failing to score as NC State engineered a dramatic, come-from-behind win.
"I wanted to be aggressive as a quarterback, and I told that to Coach Fisher," Manuel said. "I told him I wanted to attack these guys and allow our receivers to make plays. He opened it up for us, and we had a great game."
A week after earning heavy criticism for his conservative approach against NC State, Fisher called easily the most aggressive passing game of the season.
Manuel attempted 10 passes of 20 yards or more in Saturday's win over BC, according to ESPN Stats and Info. If we factor out his final three throws against NC State -- desperate downfield attempts in the final seconds -- Manuel had attempted just 19 throws of 20 yards or more in the first six games of the season combined.
But the difference in Saturday's outcome wasn't just about scheme or play-calling. The big offensive numbers against Boston College were built upon better protection up front and better execution from the quarterback.
"It's going through those reads, being able to take a five-step drop, hitch up and throw the ball downfield," Manuel said. "It takes time. I told those guys in the huddle, 'Give me a second-and-a-half and we'll get this ball down the field.' "
So, why did it all work so well against Boston College after things went so horribly wrong against NC State?
Protection -- particularly from the two tackle positions -- was crucial.
"When you go short corners and you have two guys that can handle the corners, it becomes a much easier task to do things and get the ball more vertical and get the ball down the field," Fisher said. "No matter how you say you want to throw the ball down the field, you have to have time. And you say, well, block them all up -- but then you end up double covered. You have to get your guys out and block."
We wrote last week about how NC State thwarted Fisher's attempts at an effective passing game, and the numbers against Boston College illustrate the alternative.
It's all fairly intuitive in retrospect, but the numbers speak to the importance of the offensive line in aggressive play-calling. The bottom line: Manuel's best games have come when he's faced the least pressure.
(*Courtesy ESPN Stats and Info.)
The big plays early set a perfect precedent, and BC made the rest of the game fairly easy for the offense. There were few blitzes, as BC chose to keep extra players in coverage, and that opened the door for both Manuel and the FSU running game.
Boston College represented something of a perfect storm for FSU -- improved blocking, better throws from the quarterback, a soft pass rush and some aggressive play-calling. Add it all up, and it was a recipe for a huge offensive performance.
The question now is whether Miami -- which has its share of problems in the secondary -- chooses BC's approach or the more aggressive style that worked for NC State. More importantly, what happens to Florida State when it faces a team (such as Florida) that can do both?
September, 25, 2012
9/25/12
11:03
PM ET
TALLAHASSEE, Fla. -- It might have been the most spirited practice in nearly a year for
Devonta Freeman
, and that was good to see, Jimbo Fisher said.
The sophomore tailback didn't get a touch in Saturday's win over Clemson, which came just days after his brother was murdered near Miami. The emotional toll was immense, and Freeman was absent from the team's meetings Monday to attend the funeral. But Fisher said Freeman returned Tuesday with renewed focus.
"He's doing as well as can be expected," Fisher said. "It's a very tough situation....It's a tragedy and sometimes people don't realize what's going on in these kids' lives....They're 17, 18, 19, 20-year old kids. It's devastation."
The off-field issues certainly sidetracked Freeman's game Saturday, but his role had been reduced even before that.
After leading the team in rushing a year ago, Freeman entered the season as part of a three-man rotation at tailback. In the first two games of the season, he had 18 touches on offense, tops among the running backs. In the past two games, however, Freeman has just six carries and one reception.
Meanwhile,
Chris Thompson
and
James Wilder Jr.
have taken off. Thompson has back-to-back 100-yard games, while Wilder has become a second-half workhorse.
The shift in playing time isn't meant as a knock on Freeman, Fisher said, but it's also not guaranteed to change any time soon.
"The other guys are playing really good," Fisher said. "(Thompson and Wilder) are really cranking it up. We had a hot hand going and we didn't want to break the rhythm. It has nothing to do with Devonta doing anything wrong. The other guys are just doing some things really good."
Fisher said he hopes the increased workload for Thompson and Wilder will serve as a springboard for Freeman, too.
"I think that's why you saw him really pick it up (in practice) today," Fisher said.
While the competition has tightened up among the running backs however, Wilder said the group has rallied around Freeman off the field.
"He's been going through a lot of off-the-field issues, and we're his brothers, too, so we're making sure we comfort him," Wilder said. "But he's back and he's ready to go. He's feeling better."
September, 24, 2012
9/24/12
2:36
PM ET
TALLAHASSEE, Fla. -- The redshirt roller coaster for defensive end
Chris Casher
took another turn in pregame warmups Saturday, and Jimbo Fisher said the freshman is now likely to miss the season because of a knee injury.
Casher tweaked the knee during warmups, Fisher said, and he spent the rest of the game on the sideline on crutches. Fisher indicated the injury is related to cartilage damage from an issue Casher had in high school, but it's likely that surgery will be required to fix the problem.
"They've got to look at it, but they think it's an old one where the cartilage will sometimes lay right and then all of a sudden you'll tweak it and it'll flip up and catch," Fisher said. "In warmup, he just twisted his knee. They think it's an old injury from high school he just played through."
Casher performed well in fall camp, but he and fellow freshman defensive end
Mario Edwards Jr.
were slated to redshirt when the season began. Then defensive end
Brandon Jenkins
went down with a season-ending foot injury, and Fisher pulled the redshirts for both freshmen.
He qualifies for a medical redshirt despite appearing in two games this season. In his limited work, Casher made just one tackle.
More injury updates:
Defensive end
Bjoern Werner
suffered a minor hand injury against Clemson, but it didn't affect his playing time.
"He jammed one of those knuckles or dislocated a joint," Fisher said.
Werner had the fingers taped after the game, but he also played a season-high in snaps. With the injuries to Casher and Jenkins, FSU is thin at defensive end, but Fisher said Werner's increased playing time was at the player's request, not because of roster limitations.
Wide receiver
Jarred Haggins
missed Saturday's game, but he's expected to be back for Monday's walk throughs, Fisher said.
Beyond that, Fisher said his team came through the game relatively healthy.
"Typical bangs and bruises of a very physical, exhausting game," he said.
Still, Fisher decided not to have the team practice Monday afternoon, choosing instead to hold meetings and do walk-throughs without any extensive workouts.
While the physicality of Saturday's win played a part in the decision, Fisher said the biggest reason was simply that most players didn't leave the stadium until the 2 to 3 a.m. Sunday.
"The 48 hours after a ballgame is huge as far as your conditioning and rehab for the next week," Fisher said.
ACC honors:
Quarterback
EJ Manuel
was one of three Florida State players to earn ACC weekly honors after Saturday's win over Clemson.
Manuel was named the ACC's offensive back of the week after throwing for 380 yards and rushing for 102 more. He also earned national offensive back of the week honors and was the Davey O'Brien award winner as the nation's top quarterback for the week.
Right tackle
Menelik Watson
also earned ACC honors as the offensive lineman of the week, while
Lamarcus Joyner
earned specialist honors for his 90-yard kickoff return that helped swing the momentum in FSU's come-from-behind victory.
Game time:
Florida State's Oct. 6 game against N.C. State will kick off at 8 p.m. on either ABC or ESPN2, according to a release by the ACC.
July, 18, 2012
7/18/12
8:47
AM ET
During the final 10 weeks before the season kicks off, NoleNation will march through the depth chart to analyze Florida State's top 50 contributors for the 2012 season. From Austin Barron to Vince Williams, we'll review each player's career, evaluate his role in 2012 and project what might be in store down the road.
To continue reading this article you must be an Insider
Jameis Winston On His Year Off The Field