Florida State Seminoles:

Gus Malzahn
January, 6, 2014
1/06/14
10:00
AM ET
NEWPORT BEACH, Calif. -- Florida State coach Jimbo Fisher talked about his preparation for Auburn on Sunday morning, casually mentioning that he keeps "a running record of all the guys we've played against and books on all the guys we've ever played against for the last 10, 15, years."
The past
10, 15 years
?
[+] Enlarge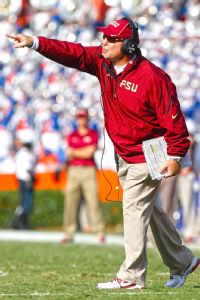 Kim Klement/USA TODAY SportsFSU coach Jimbo Fisher has plenty of information on Auburn heading into tonight's national title game.
And you thought a month was a long time to prepare for the VIZIO BCS National Championship.
"We see everything," Fisher said. "We have a lot of guys on our staff [who] have played against [Auburn coach] Gus [Malzahn] for a long time. They know a lot of his high school roots, they know a lot of people he was around and things he did."
With so much crossover in the coaching profession, there are few true secrets anymore.
Everything is on film, and the Seminoles have a library full of it. Florida State's staff has seen hints of Auburn in their games against Clemson, where offensive coordinator Chad Morris uses a Malzahn blueprint. Fisher has seen what Auburn defensive coordinator Ellis Johnson likes to do, because Fisher played against Johnson when he was at Mississippi State and South Carolina.
"We research all the way back on all those guys, and we've got a running record of all those guys, and we check all that stuff," Fisher said.
It's not just Auburn.
Florida State keeps every practice schedule from preparing for each opponent to every film breakdown. The Seminoles keep all of their notes from the end of each game -- what they did well, what they did poorly, things they'd do differently, big plays, critical plays, what was called when the game was on the line.
"You have a list of those things, and we keep a file on everybody, offense, defense. We've done it for years and you file them away," Fisher said, "and when you play them again, you pull them out and see how they change or what they've done and things like that just to keep a running record of guys you play, because, whether in the conference [or nonconference], in this business you cross over so much."
In fact, Florida State's staff has so much information on Auburn, Fisher said they have to be careful of not trying to do too much Monday night.
"You have to play five more games to get all the plays in you want," he said. "You have to make sure you keep doing things you do well."
Both coaches are playing for their first national title tonight, so information overload is to be expected. Malzahn could become just the fourth coach in the poll era (since 1936) to win a national championship in his first season at a school. Malzahn said self-scouting is just as important as researching the opponent.
"Yeah, I think any time you have 30 days, you're going to have all the information and then some, and then as a coach, you've just got to filter all that and predict the best you can on what they're going to do offensively, defensively and special teams, and then I think it's very important that you self-scout yourself," he said. "So we've tried to do a great job of that, even like we're our own opponent just to see what they're seeing, and then you match up."
Both teams are likely to add a few wrinkles tonight, but odds are there are few true surprises.
January, 6, 2014
1/06/14
9:00
AM ET
Here's a quick preview of Monday night's
VIZIO BCS National Championship
(8:30 p.m. ET, ESPN):


Who to watch:
Florida State quarterback
Jameis Winston
. The Heisman Trophy winner, who will be playing for a national title on his 20th birthday, has a chance to become the first freshman quarterback to win a national championship. Only one sophomore or freshman starting quarterback has ever won the BCS National Championship, and that was Alabama's
AJ McCarron
as a sophomore. Winston can also become just the third quarterback since 1950 to go undefeated with a national championship and a Heisman Trophy all in the same season. Winston, who has dominated the headlines both on and off the field this season, has proved to be the game's best player, but Auburn is confident in defensive coordinator Ellis Johnson's game plan to pressure him into uncharacteristic mistakes.
What to watch:
Florida State's defensive line against Auburn's offensive line. This matchup will feature two of the nation's best fronts, which both feature future NFL talent. Auburn's strength all season has been its running game, and the Tigers have no plans of abandoning that now. The Seminoles, though, have every intent of slowing the Tigers down and forcing them to win with their passing game. Auburn has run on 71 percent of its plays, the highest percentage for any non-triple-option offense in the FBS. The Tigers lead the nation in rushing yards per game and runs of 25 yards or more.
Tre Mason
leads the SEC in almost every major rushing category, and his seven 100-yard rushing games against SEC defenses are the most in a season for any player in the last 10 seasons. FSU leads the nation in scoring defense, though, and is No. 13 in the country in rushing defense.
Why to watch:
The SEC's streak of seven straight national titles is on the line, and if Auburn wins, the conference will have claimed 10 of the 16 BCS titles. The last time an SEC team lost a true national championship game to a team from outside the conference was when Nebraska beat Florida to end the 1995 season (1996 Fiesta Bowl). Auburn is also playing for the fifth straight national title for the state of Alabama. With wins over then-No. 1 Alabama and then-No. 5 Missouri in its previous two games, Auburn has a chance to become the first team in college football history to win three consecutive games against top-five teams. For Florida State, it's the program's first appearance in the BCS National Championship in 13 years. Both coaches -- Auburn's Guz Malzahn and FSU's Jimbo Fisher -- are playing for their first national titles. It's also historic, as this year's game will be the last in the current BCS system before the four-team College Football Playoff begins next season.
Prediction:
Florida State 38, Auburn 35. The Tigers have been a team of destiny this season, while the Seminoles have been a team of dominance. Florida State is the deeper, more talented team, and that will show against an Auburn defense that has been average this year. While the key to the game is up front, and whether FSU can slow down Auburn's running game, the difference will be in the likes of Winston, FSU wide receiver
Kelvin Benjamin
and Seminoles running back
Devonta Freeman
. It's not that Auburn can't pass the ball -- quarterback
Nick Marshall
's Hail Mary beat Georgia -- but Florida State does it better. If Auburn is trailing and gets behind in down and distance, Florida State's defense -- particularly the secondary with
Lamarcus Joyner
-- will be too good for the likes of
Sammie Coates
to bail the Tigers out. Monday is the day the SEC's streak comes to an end and Florida State returns to the pinnacle of college football.
January, 6, 2014
1/06/14
5:00
AM ET
1. Tigers coach Gus Malzahn said Sunday that he expected a feeling-out period in the first quarter against Florida State, largely because of the 30-day layoff. Alabama scored touchdowns on its first two possessions a year ago, but those were the first first-quarter touchdowns in the BCS Championship Game in five years, since Beanie Wells of Ohio State broke for a 65-yard score against LSU.

2. Auburn has won with more than its share of improbabilities, but the fact that Florida State head coach Jimbo Fisher replaced six assistant coaches after the 2012 season and the team improved is, to say the least, unusual. "A lot of those guys I've known in the past," Fisher said. "There were a lot of guys who philosophically believe a lot of the same things I do. … We get along. There's a bunch of guys there that truly like each other and hang out together and it's been a tremendous group."

3. Mama called and Al Golden didn't answer. The Miami head coach released a statement Sunday that he will not be leaving for Penn State, his alma mater. To be fair, I don't know if Penn State wanted to hire Golden or not. But it should be pointed out that after three seasons of living in the shadow of an NCAA investigation, Golden may be excused for not returning to the Nittany Lions and their NCAA problems.

January, 4, 2014
1/04/14
3:16
PM ET
NEWPORT BEACH, Calif. -- Florida State receiver
Kenny Shaw
was posing for photos while wearing "Google Glass." Auburn players were dancing and jumping into interview shots, even joining the ESPNU crew on stage. Players from both teams took turns getting their pictures taken with the Vizio BCS National Championship trophy.
But don't be fooled -- they're ready for Monday night.
Saturday's media event at the Newport Beach Marriott was chaotic, with every player and coach from both teams available to reporters. Florida State was the first team in the spotlight, followed by Auburn, and while the stars and head coaches for each team were seated at individual podiums, the rest of their teammates and staff members were seated around tables in a huge ballroom, swarmed by reporters with microphones and television cameras, working to preview the sport's biggest game.
[+] Enlarge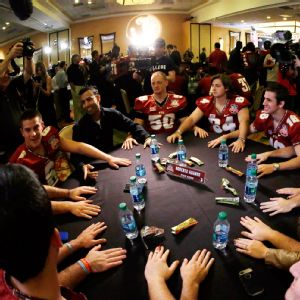 AP Photo/David J. PhillipAll of FSU and Auburn's players faced the media throng Saturday before the BCS title game.
In spite of all of the distractions and attention this week, those within both programs agreed they are focused and ready for Monday night's stage.
"Preparation has been great," FSU receiver
Rashad Greene
said. "So I feel like it's been one of the best all year. So we're doing a great job at handling our business, handling the situation, and when it's time to prepare, we have done a great job and when it's time to have fun, we're doing a great job at having fun as well. So we're definitely mature enough to handle our business and know there's a time and a place to do everything."
Auburn cornerback
Chris Davis
said the Tigers have had the same approach.
"In the SEC, that's the best conference in college football," Davis said. "And I just got to say, we're going to be well prepared for Monday. We're just ready to play our best and represent the great state of Alabama."
For Auburn, Monday's game is a chance to extend the SEC's streak of national titles to eight, and give the conference 10 of the 16 BCS championships. For Florida State, which is making its first appearance in the national title game in 13 years, it's a chance to elevate the ACC and most likely finish in the top five for the first time since the program's historic run from 1987-2000. Saturday's media event was a also rare opportunity for reporters to speak with Florida State assistant coaches, several of whom are former players now basking in the program's return to the top.
Both teams have been here since Dec. 31, when they were welcomed at Disneyland. Sunday morning's news conferences with FSU coach Jimbo Fisher and Auburn coach Gus Malzahn will be the final media availability before Monday's 8:30 p.m. ET national title game.
For the players, it's all business now.
"Our team has done a very good job this year of not getting distracted by anything," Malzahn said. "This week has been no different, even though the schedule has been a little bit chaotic at times. Once we got in our meetings, once we got to the practice field, the guys have been locked in, trying to get better and focus."
Fisher and Greene both said that the Noles haven't played their best game yet.
"I feel very confident we're ready," Fisher said. "I think we've practiced extremely well and I like our mindset and our attitude right now. I think we're very confident in what we do but we're not arrogant. I think our kids believe in the system, and the team we have, there's not a lot of arrogance where they're ignoring things and not preparing at the same time, and I think that's very critical."
January, 1, 2014
1/01/14
9:30
AM ET
Editor's note: Each day this week Florida State reporter David M. Hale and Auburn reporter Greg Ostendorf will preview a position battle in Monday's VIZIO BCS National Championship Game. Today's matchup is between Auburn's running backs and Florida State's linebackers.
[+] Enlarge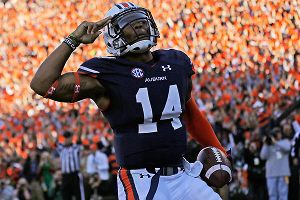 AP Photo/Dave MartinNick Marshall isn't a running back, but with over 1,000 yards rushing, Auburn's quarterback provides a lethal ground threat.
Auburn's running backs:
Gus Malzahn has always been one to tailor his offense around his team's skill set. In this case, it's safe to say that Auburn's strength is running the football. The Tigers have run on 71 percent of its plays, the highest percentage of any non-triple-option offense in the FBS. They lead the nation in rushing yards per game and are one of five schools this season to have two players with at least 1,000 rushing yards.
The star is running back
Tre Mason
. He leads the SEC in rushing (1,621 yards) and rushing touchdowns (22), rushing for a career-high 304 yards and four touchdowns on 46 carries in the SEC championship game. That performance, along with his 164-yard outing against No. 1 Alabama, earned him a trip to New York City for the Heisman Trophy presentation.
But as impressive as Mason has been all year, it's quarterback
Nick Marshall
who makes this offense go. Technically, Marshall isn't a running back, but how can you not include him in this category when he has over 1,000 yards rushing? The junior college transfer seems to get better every game as he gets more and more comfortable with the zone-read. Florida State has the athletes to defend Auburn's offense, but Marshall's ability to run turns a great offense into a nearly unstoppable offense.
The wild card of the group is
Corey Grant
, a former Alabama transfer. If Mason is the thunder, Grant is the lightning. The junior has been used sparingly, but he's a threat to take it to the house every time he touches the ball. He has 650 yards and six touchdowns on the season and is among the nation's best in yards per carry (10.0).
Statistically speaking, Florida State has been strong against the run, but the Seminoles haven't faced a rushing attack quite like Auburn's "four-headed monster." When they faced Boston College's
Andre Williams
, they gave up 149 yards to the Heisman finalist. Mason is every bit the player that Williams is, and that's just one of the multiple weapons Auburn has in its arsenal.
Florida State's linebackers:
It's hard to know quite what to make of this matchup. On the one hand, FSU has been exceptional against the run for most of the season. The Seminoles are eighth nationally, allowing just 3.1 yards per carry (and just 2.9 in the first halves of games), and the first-team defense has yet to allow a rushing touchdown. Throw out the second half against NC State (when the backups played the entirety), and FSU is allowing just 2.6 yards per rush since the start of October, when
Christian Jones
moved up to the defensive line and
Terrance Smith
stepped in as the starting middle linebacker.
The problem, of course, is that Maryland and Wake Forest and Duke didn't provide anything close to the challenge Auburn will on Jan. 6. The best rushing offense Florida State faced this year was Boston College, and not coincidentally, no team had more success on the ground (200 yards) or overall (34 points) against FSU this season.
Still, the Seminoles defense has evolved immensely since that BC game. Terrance and
Telvin Smith
have both developed into reliable defenders against the run. Jones provides an athletic defender on the edge.
Jalen Ramsey
(6-foot-1, 195 pounds) moved to safety and can play sideline to sideline against the run. Both Jones and Ramsey will be vital against an Auburn team that runs outside the tackles routinely with great success (averaging 6.3 yards before contact outside the tackles, according to ESPN Stats & Info, best among AQ schools). FSU is allowing just 3.1 yards per rush between the tackles this year, but 5.1 outside.
The Seminoles have the athleticism on defense to make life tough for an Auburn running game that hasn't struggled often, but what the Tigers do well is also the one place where some questions remain for Florida State.
Ostendorf:
Edge Auburn
Hale:
Slight edge for Auburn
September, 3, 2013
9/03/13
9:00
AM ET

The first week of college football is in the books, and it's time to see where we think all 14 SEC teams stack up in our weekly power rankings:
1. Alabama (1-0; LW: 1):
OK, Alabama isn't perfect. Contrary to what
AJ McCarron
said, the offensive line looked ugly for most of the night in Alabama's win over Virginia Tech. It has to get better in a hurry. But when your defense and special teams are clicking like they were on Saturday, who needs offense?
2. South Carolina (1-0; LW: 4):
Two players I've been saying to keep an eye on since the spring:
Mike Davis
and
Shaq Roland
. Both looked pretty good, especially Davis, in that opening win, and both will be fun to watch this weekend. The defensive front looked great, but can someone please give
Jadeveon Clowney
some vitamin C and an extra Gatorade?
3. LSU (1-0; LW: 6):
Don't sleep on these Tigers. They're undervalued, but were very impressive in their 37-27 victory over a ranked TCU team in their own backyard. The defense still looks fast, and the offense racked up nearly 450 yards behind some explosive plays. The return of running back
Jeremy Hill
should make this team even better.
4. Texas A&M (1-0; LW: 2):
Johnny Manziel
looked good when he was actually playing football Saturday. He went through his progressions and didn't think "run" first. But his antics have to stop (just ask Kevin Sumlin), and that defense has to get much, much, MUCH better before Alabama rolls into town in two weeks.
5. Florida (1-0; LW: 5):
It doesn't look like the Gators will miss much of a beat defensively after they suffocated Toledo and that uptempo offense. The offense? Well, it did look more polished and the passing game actually moved down the field, but the Gators were very vanilla. Expect that to change against Miami.
6. Georgia (0-1; LW: 3):
We knew the defense would struggle against Clemson's high-octane offense, but the Bulldogs looked really bad in the tackling department. This group has to go back to the basics, and that isn't a good thing with physical South Carolina coming to town this weekend. Also, that offensive line has to protect
Aaron Murray
better because
Todd Gurley
can't do it all himself on offense.
7. Ole Miss (1-0; LW: 8):
The future certainly looks bright in Oxford, Miss., but this program is hoping the present is just as bright. The Rebels kicked off the college football season with an electric, back-and-forth win over Vanderbilt. This offense looks built to go the distance, but depth is still a major concern. Health is key.
8. Vanderbilt (0-1; LW: 7):
The Commodores lost a heartbreaker to the Rebels at home, but this team still looks as explosive as it was last year. The defense has some things to clean up, but defensive coordinator Bob Shoop should make sure that happens.
Jordan Matthews
has star status, but not having
Chris Boyd
on the other side of him hurts the offense.
9. Auburn (1-0; LW: 9):
The Tigers had quite a fun opener. Both the offense and defense were up and down, but it had to be nice for Gus Malzahn to see his running game put up 295 yards on Washington State. The pass defense has some work to do and injuries won't help.
10. Missouri (1-0; LW: 11):
The 58-point, 694-yard performance from the Tigers' offense looked more like what people in Columbia, Mo., expected to see more often last year. Granted, it was against Murray State, but that sort of outing will build some confidence within this group. It was good to see
James Franklin
and
Henry Josey
on the field and healthy again.
11. Arkansas (1-0; LW: 13):
By looking at the box score, you'd think Bobby Petrino's offense was back in Fayetteville, Ark., after the Hogs put up 522 yards on Louisiana-Lafayette. The Hogs could run and pass, and the defense held the Ragin' Cajuns to just 274 yards. The Hogs still have a couple of cupcakes to face before things get interesting at Rutgers.
12. Tennessee (1-0; LW: 12):
We really don't know what to take from Tennessee's thumping of a very overmatched Austin Peay team, but the Vols looked to have some real legs in the running game. How long that will last is a mystery, but it was a good start. Things get tougher this weekend when Western Kentucky and Bobby Petrino visit Rocky Top.
13. Mississippi State (0-1; LW: 10):
That was a bad offensive performance by the Bulldogs in their 21-3 loss to Oklahoma State. Mississippi State was 2-for-16 on third downs and
Tyler Russell
threw for only 133 yards against a defense that ranked 113th nationally in pass defense last year. The Bulldogs held the Cowboys to just 146 passing yards, but allowed nearly 286 rushing yards.
14. Kentucky (0-1; LW: 14):
That was not the opener Mark Stoops wanted or needed. The Wildcats looked overmatched against Western Kentucky and are still struggling mightily to find playmakers in the passing game. What had to really upset Stoops was that his defensive line, which was supposed to be this team's best unit, didn't get enough pressure up front and allowed the Hilltoppers to rush for more than 200 yards.
Goodell Has Sit-Down With Jameis Winston
ACC SCOREBOARD
Thursday, 9/3
Saturday, 9/5
Monday, 9/7