Florida State Seminoles:

FSU power rankings
January, 21, 2014
1/21/14
1:30
PM ET
In the days after Florida State wrapped up its BCS National Championship run, we ran through
our final Seminoles power rankings
of 2013. But, of course, the football world moves quickly, and fans are already looking ahead to what could be in store for 2014. With that in mind, we're taking an early crack at our preliminary power rankings for next season, with departing stars nixed from the countdown and emerging ones projected for 2014.
(Final 2013 ranking in parentheses.)
1. QB Jameis Winston (1):
OK, this one was easy. Winston won the Heisman in his first season on the field, but expectations will be even higher for 2014. So what will he do for an encore? Having four-fifths of his offensive line back certainly makes the job a bit easier.
[+] Enlarge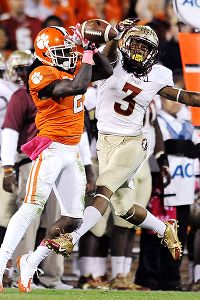 AP Photo/Richard ShiroRonald Darby was excellent in 2013 despite being slowed by an injury. The 2014 season could be even better if he's healthy.
2. CB Ronald Darby (NR):
Quietly, Darby was among the most dominant corners in the ACC in 2013, with quarterbacks avoiding him at all costs in spite of a groin injury that never completely healed. He figures to be 100 percent in 2014, meaning FSU could pair Darby and
P.J. Williams
in the secondary for arguably the best set of starting corners in the country -- even without
Lamarcus Joyner
in the mix.
3. WR Rashad Greene (4):
Winston attempted 384 passes in 2013, and Greene was on the receiving end of more than 30 percent of those targets. He led FSU in receiving for the third straight season, catching 76 balls for 1,128 yards and nine touchdowns. More importantly, the receivers responsible for 206 of Winston's other targets are gone, putting Greene at the forefront of a revamped receiving corps.
4. RB Karlos Williams (NR):
Among AQ-conference tailbacks with at least 90 carries in 2013, none rushed for more yards per carry (8.0) or scored with more frequency (one TD per 8.3 rushes) than Williams. With
Devonta Freeman
and
James Wilder Jr
. gone, Williams is in prime position to become FSU's second straight 1,000-yard rusher.
5. S Jalen Ramsey (8):
In Week 1 of 2013, Ramsey became the first true freshman to start at corner for the Seminoles since Deion Sanders. Three weeks later, he moved to safety and didn't miss a beat. Ramsey started every game and racked up 49 tackles while anchoring the nation's top pass defense. With a year of experience under his belt, 2014 could be even better.
6. LT Cameron Erving (NR):
The expectations have been monumental for Erving since he first switched from the D-line to left tackle, and while he hasn't exactly reached star status -- hence, his decision to return for his senior year -- he's made significant strides each season. He'll be the anchor of a veteran O-line in 2014 and potentially one of the best left tackles in the nation.
7. DE Mario Edwards Jr. (9):
He tended to get overlooked a bit in 2013 because of Florida State's myriad of defensive stars, but Edwards was exceptional in his first season as a full-time starter. He tied for second on the team with 9.5 tackles for loss (the most among returning players) and had 3.5 sacks, an interception and a forced fumble. Perhaps as noteworthy, in the two games Edwards missed last season, opponents averaged 191 yards on the ground against FSU. In the 12 games he started, they averaged 113.
8. TE Nick O'Leary (NR):
In 2013, O'Leary was FSU's most reliable receiving target, catching 76 percent of the balls thrown his way while setting career highs in catches (33), yards (557) and touchdowns (seven). But O'Leary also only scored once after Nov. 1, and following his astonishing performance against Clemson (five catches, 161 yards), he didn't have more than three grabs or 55 yards in a game the rest of the season -- including being held without a catch in the BCS title game. There's room for O'Leary to improve, and with so much transition among FSU's receivers, he figures to get plenty of chances to do it.
9. KR Kermit Whitfield (NR):
He touched the ball just 25 times in 2013 and still racked up a whopping 818 all-purpose yards while scoring four touchdowns. Whitfield's eight offensive touches figure to increase markedly next season as he steps in for
Kenny Shaw
as FSU's top slot receiver, and his speed makes him a threat to score every time the ball is in his hands.
10. LB Matthew Thomas (NR):
An injury cut Thomas' 2013 season short after just five games of limited action as a true freshman, but he flashed the potential that made him a five-star recruit. Now, with
Telvin Smith
and
Christian Jones
gone, Thomas figures to land a starting job and blossom into a legitimate star.
Honorable mentions:
DT
Eddie Goldman
, G
Josue Matias
, G
Tre' Jackson
, LB
Terrance Smith
, S
Nate Andrews
, CB P.J. Williams, K
Roberto Aguayo
January, 10, 2014
1/10/14
1:00
PM ET
It has been a season for the ages at Florida State, perhaps the best season in the program's history. So filling out the end-of-year power rankings is no easy task. There's a good case to be made for virtually any order -- well, any order after No. 1 — but this is what we came up with. (Previous rankings in parentheses.)
1. Jameis Winston, QB (1):
Heisman Trophy, national champion, household name, media darling-turned-national scandal… so, what's left for Year 2 for Winston? After everything that happened in 2013, however, that final drive in Pasadena was the highlight.
2. Timmy Jernigan, DT (3):
It's so easy to overlook Jernigan's impact until he's not in the lineup. That was never more clear than against Auburn. Now, FSU will have to find a replacement. It won't be easy.
[+] Enlarge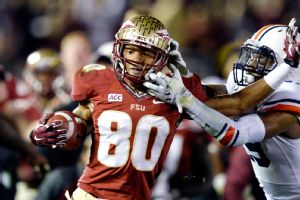 Robert Hanashiro/USA TODAY SportsRashad Green stepped up to play a major role in the title game.
3. Lamarcus Joyner, CB (2):
Perhaps no player more epitomized the four-year rebuilding job under Jimbo Fisher, and no player deserved to have it end the way it did than Joyner. He was the star commit when no one knew what was next for Florida State, and he and Fisher helped will the program back to elite status.
4. Rashad Greene, WR (6):
Others always seem to get the hype, but for three straight years, there has been no more consistent weapon on FSU's offense than Greene. His catch and run for 49 yards on that final drive is the reason Florida State won the national championship. The funny thing is, if you watched the Virginia Tech game last year, it looked oh so familiar.
5. Telvin Smith, LB (5):
He finished with 15 tackles and was exceptional in slowing one of the best running games in the country. But what Smith brought to FSU off the field this year is his lasting impact.
6. Kelvin Benjamin, WR (9):
It was an ugly first half for Benjamin, and there were more miscues in the second half. But when he went up for that final pass from Winston, everyone knew exactly how that play would end. Now, Benjamin is a Sports Illustrated cover boy.
7. Devonta Freeman, RB (4):
It's a bit of a misnomer. It hasn't really been a 17-year drought of 1,000-yard rushers. Plenty of FSU teams have rushed for far more than that, and plenty of players were more than capable. But fate or injury or bad luck managed to keep them from it eclipsing the mark individually. But perhaps it was destiny, so that someone as deserving as Freeman could finally be the one to end the streak.
8. Jalen Ramsey, S (NR):
With so many key defensive players departing, Ramsey is one of the biggest reasons for optimism in 2014. His emergence this year was nothing short of spectacular. A secondary that has been the best in the nation the past two seasons is in good hands.
9. Mario Edwards Jr., DE (NR):
Edwards really progressed as the season went along, and he was huge in the BCS title game. Next year, he'll likely be playing to impress NFL scouts, and he'll be the most crucial cog on a revamped D line.
10. Bryan Stork, C (NR):
To truly appreciate all Stork has done, go back and watch the film from the 2011 Champs Sports Bowl, when the line was a mess. Stork has been the veteran who managed that transition and eased the development for the guys around him, and his impact on the FSU offense has been immense.
Honorable mentions:
WR
Kenny Shaw
, LT
Cameron Erving
, DE
Christian Jones
, CB
Ronald Darby
, KR
Kermit Whitfield
, Red Lightning.
November, 11, 2013
11/11/13
11:00
AM ET
From the 7:15 mark in the first quarter to the 10:31 mark of the second, FSU's offense ran four plays, and the Seminoles scored 28 points. That's what kind of day it was in a 59-3 win over Wake Forest. Here's how the win affected the Power Rankings (last week's ranking in parentheses).

1. QB Jameis Winston (1):
It wasn't Winston's sharpest performance, but who could blame him? The offense barely saw the field in the second quarter, and it was incredibly difficult to get in a rhythm. The question is, given the remaining opponents, when will it be easy to get into a rhythm?
2. CB Lamarcus Joyner (2):
Four tackles, including assisting on a TFL. Another solid performance from Joyner, who somehow managed to finish without a pick in a game when FSU defenders had six of them.
3. RB Devonta Freeman (3):
Slow going for Freeman, who found little running room. He had just 11 yards on six carries -- a long of 3 -- but did score for the ninth time this season.
4. WR Rashad Greene (4):
He was FSU's leading receiver (5 for 47 yards) but it wasn't a big day for any of usual the offensive stars, and Greene did have a key drop.
5. DT Timmy Jernigan (6):
Six tackles by halftime, dominating the line of scrimmage, and utterly stuffing Wake's run game up the middle.
6. LB Telvin Smith (5):
Three tackles, but like most of the starters, he didn't need to do much.
7. S Jalen Ramsey (NR):
For the most part this season, Ramsey has been so good he's gone unnoticed. His scoop and score on a fumble Saturday was a highlight, but really, Wake didn't test him much. It's saying something that a true freshman is earning real respect from the opposition.
8. DE Mario Edwards Jr. (10):
Since he returned to the lineup following hand surgery in Week 6, FSU's first-team defense has allowed 21 points in five games. Edwards picked off a pass against Wake to go with a TFL.
9. S Terrence Brooks (7):
Brooks missed Saturday's game with a concussion, but that may have actually been a nice contribution. Brooks' replacement,
Nate Andrews
, created three turnovers and scored on one.
10. DE Christian Jones (9):
His impact at rush end has been big, and he was in the backfield often Saturday, despite finishing with just one tackle.
Honorable mentions:
Andrews, TE
Nick O'Leary
, RBs
Karlos Williams
and
James Wilder Jr
., LB
Terrance Smith
, WRs
Kenny Shaw
and
Kelvin Benjamin
October, 28, 2013
10/28/13
11:00
AM ET
Few changes at the top after the starters rested in the second half, but here are this week's Power Rankings. (Last week's spot in parentheses.)

1. QB Jameis Winston (1):
The back-and-forth scoring decision on a throw to
Kelvin Benjamin
was finally ruled an interception. That kept Winston from topping three touchdowns and 300 yards for his fifth straight game against an ACC foe. He finished with 292.
2. CB Lamarcus Joyner (2):
Four tackles, a TFL, a pass breakup and a QB hurry. Not bad for 30 minutes of work.
3. WR Rashad Greene (4):
Greene has now scored in six of seven games this year and 10 of Florida State's last 13 overall.
4. LB Telvin Smith (3):
Six tackles, a fumble recovery, a pass breakup and a QB hurry. Also not bad for 30 minutes of work.
5. DT Timmy Jernigan (5):
Three tackles, including one for a loss against NC State. Jernigan continues to eat up interior linemen, opening things up for FSU's linebackers.
6. RB Devonta Freeman (6):
12 carries, 92 yards and two touchdowns, and Freeman is well on his way to snapping that ridiculous 17-year drought without a 1,000-yard rusher.
7. S Terrence Brooks (NR):
Brooks is quietly becoming one of FSU's premier defenders. He racked up the defensive hat trick Saturday, picking off a pass, forcing a fumble and recording a TFL.
8. LB Christian Jones (7):
His new role rushing off the edge has made all the difference. Jones had four tackles, a sack and a QB hurry against NC State. He has 3.5 TFLs in the last two games after just one in his first four games.
9. LT Cameron Erving (8):
Easy day for Winston means a big day for the O line, and Erving was exceptional once again.
10. WR Kenny Shaw (9):
Shaw had just three catches for 44 yards against NC State, both season lows, but he's still on pace to top 1,000 yards for the year.
Honorable mentions:
TE Nick O'Leary, WR Kelvin Benjamin, DT
Eddie Goldman
, RB
Karlos Williams
, CB
Ronald Darby
September, 23, 2013
9/23/13
11:00
AM ET
It was about as uninspiring a
54-6 win
as is possible, so there wasn't a ton of movement on this week's power rankings. (Last week's position in parentheses.)
1. QB Jameis Winston (1):
His first TD throw to
Kelvin Benjamin
was a thing of beauty, but Winston insists he'll be in trouble for it during film study. Winston, however, was looking on the bright side. "I had to at least throw a touchdown while I get yelled at in the film room," he said.
[+] Enlarge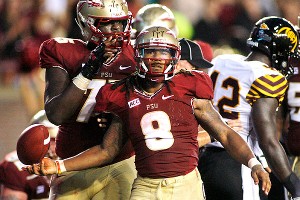 AP Photo/Phil SearsTailback Devonta Freeman rushed for 112 yards on just 10 carries in the Seminoles' blowout win over Bethune-Cookman.
2. CB Lamarcus Joyner (3):
Joyner had three tackles. Bethune-Cookman threw for just 60 yards. Easy as it gets.
3. RB Devonta Freeman (8):
The big mover of the week, Freeman racked up his second straight 100-yard game. Freeman is averaging nearly 10 yards a carry so far this season, and none of his 28 rushes has gone for a loss.
4. WR Rashad Greene (2):
He flubbed what would've been a long touchdown pass from Winston, but he still managed to haul in his next chance, a 19-yard score that put FSU up 40-0.
5. WR Kenny Shaw (5):
Three games, 279 receiving yards. It could've been more, as Shaw chipped on on the drop-fest by FSU's receivers Saturday, but he's been incredibly reliable thus far.
6. LB Telvin Smith (6):
Few regulars were on the field for the defense through much of the game, but Smith was the exception. He finished with five tackles and a 68-yard interception return for a touchdown -- FSU's first defensive score in nearly a year.
7. DT Timmy Jernigan (7):
Assisted on one tackle, but aside from that, Saturday was a quiet game for Jernigan.
8. LB Christian Jones (4):
The senior was suspended for Saturday's game.
Terrance Smith
racked up a game-high 12 tackles in his place.
9. S Terrence Brooks (9):
Five more tackles for Brooks, who continues to be consistent, if under-appreciated.
10. RB Karlos Williams (NR):
Perhaps it's crediting Williams too much for his work against second-string defenses from bad teams, but he turned in another stellar performance, running for 83 yards and two TDs on nine carries. Jimbo Fisher says Williams will start seeing a bigger role and earlier touches going forward.
Honorable mentions:
TE
Nick O'Leary
, LT
Cameron Erving
, RT
Bobby Hart
, Benjamin
Top Position Battles Heading In To Spring
ACC SCOREBOARD
Thursday, 9/3
Saturday, 9/5
Monday, 9/7