Florida State Seminoles:

FSU power rankings
November, 11, 2013
Nov 11
11:00
AM ET
From the 7:15 mark in the first quarter to the 10:31 mark of the second, FSU's offense ran four plays, and the Seminoles scored 28 points. That's what kind of day it was in a 59-3 win over Wake Forest. Here's how the win affected the Power Rankings (last week's ranking in parentheses).

1. QB Jameis Winston (1):
It wasn't Winston's sharpest performance, but who could blame him? The offense barely saw the field in the second quarter, and it was incredibly difficult to get in a rhythm. The question is, given the remaining opponents, when will it be easy to get into a rhythm?
2. CB Lamarcus Joyner (2):
Four tackles, including assisting on a TFL. Another solid performance from Joyner, who somehow managed to finish without a pick in a game when FSU defenders had six of them.
3. RB Devonta Freeman (3):
Slow going for Freeman, who found little running room. He had just 11 yards on six carries -- a long of 3 -- but did score for the ninth time this season.
4. WR Rashad Greene (4):
He was FSU's leading receiver (5 for 47 yards) but it wasn't a big day for any of usual the offensive stars, and Greene did have a key drop.
5. DT Timmy Jernigan (6):
Six tackles by halftime, dominating the line of scrimmage, and utterly stuffing Wake's run game up the middle.
6. LB Telvin Smith (5):
Three tackles, but like most of the starters, he didn't need to do much.
7. S Jalen Ramsey (NR):
For the most part this season, Ramsey has been so good he's gone unnoticed. His scoop and score on a fumble Saturday was a highlight, but really, Wake didn't test him much. It's saying something that a true freshman is earning real respect from the opposition.
8. DE Mario Edwards Jr. (10):
Since he returned to the lineup following hand surgery in Week 6, FSU's first-team defense has allowed 21 points in five games. Edwards picked off a pass against Wake to go with a TFL.
9. S Terrence Brooks (7):
Brooks missed Saturday's game with a concussion, but that may have actually been a nice contribution. Brooks' replacement,
Nate Andrews
, created three turnovers and scored on one.
10. DE Christian Jones (9):
His impact at rush end has been big, and he was in the backfield often Saturday, despite finishing with just one tackle.
Honorable mentions:
Andrews, TE
Nick O'Leary
, RBs
Karlos Williams
and
James Wilder Jr
., LB
Terrance Smith
, WRs
Kenny Shaw
and
Kelvin Benjamin
October, 28, 2013
Oct 28
11:00
AM ET
Few changes at the top after the starters rested in the second half, but here are this week's Power Rankings. (Last week's spot in parentheses.)

1. QB Jameis Winston (1):
The back-and-forth scoring decision on a throw to
Kelvin Benjamin
was finally ruled an interception. That kept Winston from topping three touchdowns and 300 yards for his fifth straight game against an ACC foe. He finished with 292.
2. CB Lamarcus Joyner (2):
Four tackles, a TFL, a pass breakup and a QB hurry. Not bad for 30 minutes of work.
3. WR Rashad Greene (4):
Greene has now scored in six of seven games this year and 10 of Florida State's last 13 overall.
4. LB Telvin Smith (3):
Six tackles, a fumble recovery, a pass breakup and a QB hurry. Also not bad for 30 minutes of work.
5. DT Timmy Jernigan (5):
Three tackles, including one for a loss against NC State. Jernigan continues to eat up interior linemen, opening things up for FSU's linebackers.
6. RB Devonta Freeman (6):
12 carries, 92 yards and two touchdowns, and Freeman is well on his way to snapping that ridiculous 17-year drought without a 1,000-yard rusher.
7. S Terrence Brooks (NR):
Brooks is quietly becoming one of FSU's premier defenders. He racked up the defensive hat trick Saturday, picking off a pass, forcing a fumble and recording a TFL.
8. LB Christian Jones (7):
His new role rushing off the edge has made all the difference. Jones had four tackles, a sack and a QB hurry against NC State. He has 3.5 TFLs in the last two games after just one in his first four games.
9. LT Cameron Erving (8):
Easy day for Winston means a big day for the O line, and Erving was exceptional once again.
10. WR Kenny Shaw (9):
Shaw had just three catches for 44 yards against NC State, both season lows, but he's still on pace to top 1,000 yards for the year.
Honorable mentions:
TE Nick O'Leary, WR Kelvin Benjamin, DT
Eddie Goldman
, RB
Karlos Williams
, CB
Ronald Darby
September, 23, 2013
Sep 23
11:00
AM ET
It was about as uninspiring a
54-6 win
as is possible, so there wasn't a ton of movement on this week's power rankings. (Last week's position in parentheses.)
1. QB Jameis Winston (1):
His first TD throw to
Kelvin Benjamin
was a thing of beauty, but Winston insists he'll be in trouble for it during film study. Winston, however, was looking on the bright side. "I had to at least throw a touchdown while I get yelled at in the film room," he said.
[+] Enlarge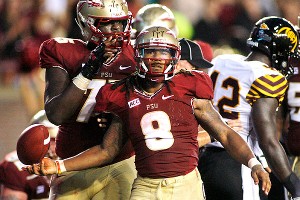 AP Photo/Phil SearsTailback Devonta Freeman rushed for 112 yards on just 10 carries in the Seminoles' blowout win over Bethune-Cookman.
2. CB Lamarcus Joyner (3):
Joyner had three tackles. Bethune-Cookman threw for just 60 yards. Easy as it gets.
3. RB Devonta Freeman (8):
The big mover of the week, Freeman racked up his second straight 100-yard game. Freeman is averaging nearly 10 yards a carry so far this season, and none of his 28 rushes has gone for a loss.
4. WR Rashad Greene (2):
He flubbed what would've been a long touchdown pass from Winston, but he still managed to haul in his next chance, a 19-yard score that put FSU up 40-0.
5. WR Kenny Shaw (5):
Three games, 279 receiving yards. It could've been more, as Shaw chipped on on the drop-fest by FSU's receivers Saturday, but he's been incredibly reliable thus far.
6. LB Telvin Smith (6):
Few regulars were on the field for the defense through much of the game, but Smith was the exception. He finished with five tackles and a 68-yard interception return for a touchdown -- FSU's first defensive score in nearly a year.
7. DT Timmy Jernigan (7):
Assisted on one tackle, but aside from that, Saturday was a quiet game for Jernigan.
8. LB Christian Jones (4):
The senior was suspended for Saturday's game.
Terrance Smith
racked up a game-high 12 tackles in his place.
9. S Terrence Brooks (9):
Five more tackles for Brooks, who continues to be consistent, if under-appreciated.
10. RB Karlos Williams (NR):
Perhaps it's crediting Williams too much for his work against second-string defenses from bad teams, but he turned in another stellar performance, running for 83 yards and two TDs on nine carries. Jimbo Fisher says Williams will start seeing a bigger role and earlier touches going forward.
Honorable mentions:
TE
Nick O'Leary
, LT
Cameron Erving
, RT
Bobby Hart
, Benjamin
High-Powered Offenses In BCS Title Game