Florida State Seminoles:

Five Things
December, 7, 2013
12/07/13
7:00
AM ET
It's certainly not the matchup most fans expected way back in August, but Florida State and Duke will face off Saturday night in the ACC championship game. At stake for Duke is history, its first trip to a BCS bowl game and its first conference title since 1961. For Florida State, however, there's even more on the line. With a win, the Seminoles are all but guaranteed a shot to play for a national championship. The pundits heavily favor Florida State, but there's still plenty to watch for when the Seminoles and Blue Devils kick off in Charlotte.


1. Big game or business as usual?
For Florida State, ACC championship game weekend is old hat. The Seminoles were here just last year, after all, and this marks their third trip in Jimbo Fisher's four years as coach. Fisher even began tweaking the team's travel schedule earlier this season to prep for the distractions this weekend would bring. For Duke, however, its division title comes as a mammoth surprise, and none of these players had played in a game of this magnitude. Experience is clearly on Florida State's side, but Duke has managed to live up to big moments all season, and while players might be new to a conference championship game, David Cutcliffe is not. He'll have the Blue Devils prepared.
2. History as a guide:
The numbers are ugly for the Blue Devils: In 18 previous meetings with Florida State, they've gone 0-18, lost by an average of 34 points, and never finished a game within two scores of a win. Yes, Duke already has had a history-making season, so perhaps a little more history is in the works. But if that's the case, Florida State will need to buy into the conventional wisdom and come out slow, while Duke will need to forget everything that has come before.
3. Winston vs. Duke's DBs:
Jameis Winston
looks poised to win a Heisman Trophy, and he has been spectacular all season. He'll be a focus for Duke, but the Blue Devils' secondary has shown a propensity for big plays. After allowing 10 pass touchdowns in its first two ACC games of the year, Duke's secondary has allowed only six more in its next six games, while racking up 12 interceptions.
Ross Cockrell
and
DeVon Edwards
have led the charge, but they've not faced a challenge as immense as Winston. Florida State has four receivers ranked in the ACC's top 11 in yards per catch, and Winston loves going for the big play.
4. Crowder vs. FSU pass defense:
Asked earlier this week about the danger presented by Duke's
Jamison Crowder
, the ACC's leading receiver, FSU safety
Terrence Brooks
smiled. The Seminoles' secondary isn't afraid of anyone, he said, and it will take more than one weapon to beat them. It might sound a bit overconfident, but Brooks has the numbers to back up his boasts. Florida State ranks No. 1 in the nation in pass defense, and its 23 interceptions are tops in the country.
5. Ground gains:
Florida State's backfield rotation is running wild, averaging 9 yards per rush with nine touchdowns in its last three games.
Devonta Freeman
is now just 148 yards shy of rushing for 1,000 yards, and he has been stellar in two previous games against Duke. Meanwhile, the Blue Devils will want to establish the run, too, but might face a tough obstacle in doing so. Florida State's first-team defense hasn't allowed a rushing touchdown all season, and on first down, the Seminoles are allowing just 3.2 yards per carry -- the sixth-best rate in the country.
November, 30, 2013
11/30/13
7:00
AM ET
It's the end of the regular season, and a game that promised to be one of the year's headliners when 2013 began is now more of a formality, with Florida State eying the BCS and Florida already guaranteed to miss out on a bowl for the first time since 1990. But if the Seminoles are to win big — or the Gators are to salvage some pride — these are five keys to watch.


1. Downfield success:
The quarterback position has been a disaster for Florida this season. During its current six-game losing streak, the Gators have thrown for just three touchdowns — two of which came last week against FCS Georgia Southern. Even in that game, however, just one of QB
Skyler Mornhinweg
's 25 pass attempts was completed for more than 20 yards. Florida State, meanwhile, has no trouble going deep. Of his 286 attempts this season,
Jameis Winston
has completed 84 for more than 15 yards — the second-best rate in the nation. Florida's defense has allowed 33 plays of 25-plus yards this season, and the Gators rank 66th nationally in that category.
2. The ground game:
Georgia Southern beat Florida last week without completing a pass, which certainly speaks to the fragile state of the Gators' defense. Florida State, meanwhile, has averaged 11 yards per rush during the past two games. The Seminoles would love for those trends to continue, particularly because Florida's secondary remains one of the better units in the country, and likely the toughest pass defense Winston will have faced this season.
3. Motivation on both sides:
Winston summed up the stakes in this game well. "We have a lot to lose and they have nothing to lose," Winston said. "They're going to come out there and try to ruin our whole season." Indeed, this is Florida's bowl game, so the Gators will be out for vengeance against an FSU team that hasn't needed its starters in the second half in nearly a month. It's worth remembering that Florida has controlled this rivalry of late, winning seven of the last nine. Florida State was victorious in its last trip to The Swamp in 2011, but it hasn't won consecutive games in Gainesville since 1987 and 1989.
4. Turnovers, turnovers, turnovers:
The key to Florida's 37-26 victory last year in Tallahassee was takeaways. The Gators' D forced five turnovers in the game, and that proved to be the difference. But since that game, the fortunes for both sides of shifted dramatically. Florida has just 17 takeaways this year — six of which came in one game against Tennessee. During its six-game losing streak, the Gators have had just six takeaways and a minus-2 turnover margin. Florida State, on the other hand, has gone 12 consecutive games without losing the turnover battle and the Seminoles lead the country in interceptions this season. The FSU defense has scored six times in the last six games — just three times fewer than Florida's offense during that same span.
5. Style points:
Few people are predicting an upset in this one, and Florida State is favored by nearly four touchdowns. For the Seminoles, who are still holding firm at No. 2 in the BCS standings, a close game might be cause for concern among voters already leery of their less-than-impressive schedule. For Florida, a blowout loss could be another push out the door for coach Will Muschamp, who has received support from his athletic director but can't really afford another embarrassment like last week's loss to Georgia Southern.
November, 16, 2013
11/16/13
7:00
AM ET
Florida State officially wraps up its ACC slate today when it hosts Syracuse. The Seminoles have already locked up their spot in the ACC championship game, but with the 1993 title team on hand, they'll look to take another step toward a berth in the BCS National Championship Game. The Orange, meanwhile, are a win away from bowl eligibility. There's plenty on the line for both sides, and these could be the five keys to the game.


1. Turnovers, turnovers, turnovers:
In last week's win over Wake Forest, Florida State's defense forced a whopping seven turnovers, including six interceptions of Deacons' QBs. That doesn't bode well for a Syracuse passing attack that has been horrific this season. In seven games against BCS automatic qualifier schools, Orange quarterbacks have thrown just two touchdowns (tied for fewest in the nation among AQ teams) and 15 interceptions (third-most among AQ teams). Syracuse is already fighting an uphill battle against the stout Seminoles defense, and turnovers would likely shut the door on any upset chances.
2. Stop the run:
If the Syracuse passing game has been an eyesore, the running game has been its lifeline. The Orange ranks second in the ACC in rushing (203.3 yards per game) and have two talented tailbacks capable of busting a big run.
Jerome Smith
is in search of his second 100-yard rushing season, while
Prince-Tyson Gulley
is eighth in the ACC in yards-per-carry (5.7). Syracuse doesn't hide what it wants to do, FSU's
Mario Edwards Jr
. said, but FSU will be ready. The Noles are allowing just 3.7 yards-per-rush the past five games (not including sacks), despite the second-team defense being on the field for large stretches.
3. Find a rhythm:
Florida State's offense looked out of sync for much of last week's win over Wake Forest, largely due to the long stretches when the defense dominated the game, keeping
Jameis Winston
and Co. on the sideline. For one 10-minute stretch in the first half, FSU's offense ran just four plays. It was a reasonable explanation for some of the struggles and lapses in concentration (two turnovers, three key drops), but as Winston explained afterward, the unit still needs to perform better. Given the 38-point spread for Saturday's game, they figure to get another shot at playing with a big lead.
4. Put on a show:
With Oregon's loss last week, Florida State is in prime position to make the BCS title game if it wins out. But the schedule down the stretch doesn't come with many headliners, so the Seminoles would still be wise to put on an impressive showing to remind voters that, even if the competition isn't stout, they're still playing hard. FSU is the only team in the nation to have won all of its games by at least 14 points, and it would be smart to continue that streak.
5. Keep Winston healthy:
Winston hasn't played much in the second half this season, and Jimbo Fisher would be fine if that trend carried over this week. Balancing the need to keep Winston sharp with the desire to keep him healthy will require some delicate decision-making for Fisher, particularly now that backup quarterback
Jacob Coker
will miss the remainder of the season following knee surgery.
November, 9, 2013
11/09/13
7:00
AM ET


No. 2 Florida State is in the driver's seat for a berth in the BCS championship game, but it still needs to handle its own business for the next five weeks. That starts with Saturday's game against Wake Forest. Here are five things to watch when the Demon Deacons host the Seminoles (noon, ABC).
1. Winston's rebound.
OK, so
Jameis Winston
's "bad" game wasn't actually too bad. He completed all but two throws in the second half last Saturday against Miami, and Florida State won easily. Still, he did throw two interceptions in the game, which represented the closest thing he's had to a struggle. Winston doesn't figure to run into many stumbling blocks this week, but a big game statistically could be significant in the race for the Heisman Trophy. After Marcus Mariota's struggles Thursday against Stanford, it could a two-man race between Winston and the reigning winner, Texas A&M's
Johnny Manziel
.
2. Youth in the secondary.
Terrence Brooks
will sit out of Saturday's game with concussion symptoms, though Jimbo Fisher said the senior is recovering well and it's not expected to be a long-term concern. In the short term, however, two true freshmen are likely to see a heavy workload in the secondary.
Jalen Ramsey
continues to shine at safety in place of injured
Tyler Hunter
, and
Nate Andrews
has been exceptional in reserve duty. He picked off a pass in the second half against Miami, subbing for Brooks.
Keelin Smith
figures to get some work, too. Against a better passing offense it might be a concern, but with
Michael Campanaro
out for Wake Forest, the test won't be quite so big.
[+] Enlarge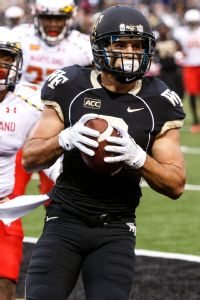 Jeremy McKnight/Icon SMIWake Forest will be without its top receiver, Michael Campanaro. who has a broken collarbone.
3. Finding an identity.
Wake Forest struggled early to figure out an offensive identity, but by midseason it was clear that the combination of Campanaro and quarterback
Tanner Price
was the Deacons' ticket to the end zone. Campanaro had double-digit receptions four times this season, and during his seven healthy games this year, he was responsible for 44 percent of Wake's receptions and 49 percent of its receiving yards. Price has been solid this season, due in large part to Campanaro's consistency. But without the star receiver, head coach Jim Grobe will have his work cut out for him trying to find a consistent offensive threat. The Deacons are dead last in the ACC in rushing yards, averaging just 90 per game. Their 2.85 yards-per-carry average ranks 118th nationally.
4. Avoid turnovers.
Two years ago, Florida State went to Winston-Salem, N.C., and lost a game it had no business losing. The difference in that 35-30 Wake Forest victory was turnovers — five of them in total. That hasn't been an issue for the Seminoles at all in 2013. They've gone nine consecutive games without losing the turnover battle, and FSU's eight turnovers lost is tied for the fifth-fewest in the nation among AQ teams. The Seminoles have the better talent in this game by a wide margin, but losing the football too often is the great equalizer.
5. Stay focused.
The Seminoles have had doubters to fight against all year, but no more. Their destiny is in their hands, and that's the one hurdle we haven't seen Fisher's crew overcome yet. If this really is a new, more mature Florida State team, it will have no problem throttling Wake Forest early and moving on to the next challenge. If the Seminoles read too many of their own headlines, then the national title game appearance is anything but secure.
November, 2, 2013
11/02/13
7:00
AM ET
It's the second top-10 matchup in three weeks for Florida State, and while the 22-point spread suggests it might not be that close of a contest, history suggests these rivalry games usually include a good bit of drama. In the 57 previous meetings between Florida State and Miami, just 35 total points separate the two sides. With that in mind, here are five areas to watch when the Seminoles and Hurricanes kick off tonight.


1. Florida State's defensive line:
The last time the Seminoles played a true power-running team, Boston College jumped out to an early lead, ran for 200 yards in the game and scored 34 points (or roughly 40 percent of the points FSU has allowed all season). That performance gives Miami some hope, but the Seminoles' line has improved since then.
Christian Jones
is at defensive end full time,
Mario Edwards Jr.
, who sat out against BC, is fully healthy, and the rest of the personnel are far more comfortable in Jeremy Pruitt's scheme.
Timmy Jernigan
said Miami's will be the best offensive line FSU has faced this year, though, and the Hurricanes will ask tailback
Duke Johnson
to carry a big chunk of the offensive load. If FSU can win the line of scrimmage on defense, it's going to be tough going for Miami.
2. Stephen Morris' mobility:
It was just a month ago that Morris was considered one of the top NFL quarterback prospects in college football, and for good reason. He capped a strong 2012 season by averaging 10.3 yards per attempt with 11 TDs and no interceptions in his final four games. But Miami fans haven't seen the same Morris in recent weeks. An ankle injury has limited his mobility, and defenses have taken advantage. He has not moved well in the pocket, has been reluctant to run, and at times Morris hasn't delivered the ball with the same zip he used to. He insists the ankle feels as good as it has all year now, but FSU's aggressive defense will test that notion this week. If Morris can't avoid the blitz -- and the big hits -- Miami will be in trouble. So far this year, Morris has accounted for nine first-half TDs and just three turnovers, but as he -- and the O line -- wear down in games, he has struggled, with just one second-half TD to go with five turnovers.
3. Takeaways set the tone:
Florida State leads the ACC in turnover margin. Miami is fourth. Both teams have used takeaways to secure big wins this year, too. Each of FSU's last two opponents turned over the ball on their first drive, and the Seminoles dominated from there. Miami's big win over Florida in September was predicated on the five takeaways the defense mustered. But in a battle of playmaking defenses, it might be the Florida State offense that proves to be the difference. FSU has coughed up the football only six times all year, less than half Miami's total (13) and the second fewest overall in the country.
4. Eliminate the clutter:
Jimbo Fisher's mantra looms larger every week for Florida State, which is enjoying national attention after a 7-0 start. Normally, getting up for Miami -- particularly a No. 7-ranked Miami team -- wouldn't be tough, but it has been a full month of praise for the Seminoles, and the sizable point spread only underscores what a mismatch the general public thinks this week's game might be. So far, Fisher's crew has done a good job of shrugging off the attention and hype and keeping each game in perspective. But as the platitudes and point spreads get bigger, focusing on the details only becomes tougher.
5. Win on special teams:
This goes without saying in a Miami-Florida State game, but special teams can make a big difference. And while it's entirely possible this game won't come down to another field goal try, it's also likely that if Miami is going to have a chance, it's because FSU allowed a big play or two on special teams. FSU ranks 12th in the conference in punting and 14th in punt coverage, which could open the door for the Hurricanes. Of course, Miami will need to slow
Jameis Winston
enough to force a few punts, and that hasn't happened often this season.
October, 26, 2013
10/26/13
7:00
AM ET
TALLAHASSEE, Fla. -- Florida State is fresh off its biggest win in years and ranked No. 2 in the BCS standings. NC State has dropped three of its last four games and arrives as the decided underdog. That's actually been a dangerous scenario for the Seminoles in recent seasons, when NC State has made a habit of pulling the upset. Here are five keys likely to decide if Florida State keeps riding high or if the Wolfpack have another surprise in store.


1. Contain the QBs:
Florida State's
Jameis Winston
has thrown for at least 300 yards and three touchdowns in each of his first four ACC games. No other first-year quarterback has done that in the past 10 years. Winston's four previous ACC foes, however, allowed an average of 230 pass yards per game, 61 percent completions and 7.4 yards per attempt. NC State (204 yards per game, 57 percent completions, 6.0 yap) could provide a more substantive obstacle. Meanwhile, Wolfpack QB
Brandon Mitchell
expects to play for the first time since suffering a foot injury in the opener. He's athletic with a strong arm and could provide the NC State offense with a spark it hadn't shown recently.
2. Eliminate the clutter:
It's Jimbo Fisher's favorite mantra, but it's particularly appropriate this week. Not only will Florida State have to shrug off the legions of fans dreaming of a national title after last week's dominant win in Clemson, but the weight of the past will also loom large. Longtime coach Bobby Bowden is set to attend his first game at Doak Campbell Stadium since his ouster in 2009, and more than 300 former players plan to be in attendance. That's a lot of fanfare and pageantry that has little to do with the actual game, and that's meant a week of Fisher reminding his team to ignore all the distractions.
3. Remember the pain:
That's the other message Fisher has preached this week, but Florida State's players haven't needed the reminder. So many of this year's Seminoles were on the field for last year's 17-16 loss -- the one that sunk any hopes for a national title and sullied an otherwise successful season. Fisher has used last year's loss as a reminder of what can happen if FSU overlooks an opponent, but it's also a good reminder for the Wolfpack that they're not an easy mark. In fact, since 2002, NC State is 5-2 against ranked Florida State teams.
4. Success in the slot:
In last year's win, Mike Glennon's longest completion was a check down to his tailback that went 24 yards. On NC State's two touchdown drives, Glennon had just three completions of more than 9 yards. The game-winning score was a 2-yard toss to slot receiver
Bryan Underwood
. In other words, it was death by a thousand dinks and dunks for FSU last year, with NC State's slot receivers and tailbacks catching one pass after another against the Seminoles linebackers and nickel. Meanwhile, FSU's slot receiver,
Kenny Shaw
, has been a master of the big play this season as 61 percent of his catches have gone for 15 yards or more, the third-highest rate in the ACC.
5. Get the run game going:
In its five games against FBS teams this year, NC State is averaging 44 rushing attempts -- the second most in the ACC. The Wolfpack's offense has lived and died with the ground game. During a 3-1 start to the year, NC State averaged 4.5 yards per carry and scored 10 times on the ground. In its last two games, both losses, it has mustered just 3.2 yards per rush without a touchdown. Florida State, meanwhile, has allowed just two rushing touchdowns all season and has held its last two opponents to 2.4 yards per carry. The Seminoles' offense has some potential concerns on the ground, too, though.
James Wilder Jr
. will miss the game with concussion symptoms, and FSU has seen its yards-per-carry drop in each of its last four games.
October, 19, 2013
10/19/13
7:00
AM ET
To say this is the biggest game of the season for Florida State and Clemson might be an understatement. It's potentially the biggest game in a decade for two programs with sights set on a BCS title. There are myriad storylines at play, but these five areas to watch might be the biggest in determining which team emerges from Death Valley with a win.


1. The quarterbacks:
The showdown between Heisman contenders
Tajh Boyd
and
Jameis Winston
has been discussed at length this week, and for good reason. Boyd's
legacy might be on the line
in this one. He has won big games before, but a loss would put Clemson's ACC title hopes in peril, and Boyd would hate to spend his final two seasons with the Tigers finishing in second place. Winston, meanwhile, faces a test unlike anything he's seen during his impressive five-game run to start his FSU career. Will Boyd's veteran savvy overwhelm Florida State? Will Winston
live up to the moment
the way he has at every turn thus far? Odds are, neither quarterback will disappoint, but only one of them can come out on top.
2. FSU's ground game:
Lost in the talk of the quarterbacks is perhaps the more substantive issue of Florida State's ground game against a Clemson defense that has
been feast or famine vs. the run
this season. Clemson looks decent overall, ranking in the middle of the pack in rush yards allowed and racking up a national-best 61 tackles for loss. But dig deeper, and the Tigers don't look nearly so imposing. Against FBS teams, not counting sacks, Clemson is allowing 5.62 yards per rush -- good for 107th nationally. Meanwhile, FSU rushed for 287 yards in last year's win without this year's starter,
Devonta Freeman
, getting a single touch. Freeman,
Karlos Williams
and a healthy
James Wilder Jr.
could do a lot in opening things up for Winston in this year's game.
[+] Enlarge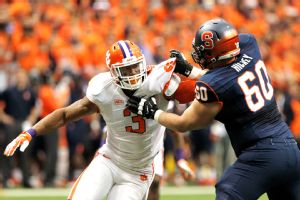 Jerome Davis/Icon SMIClemson DE Vic Beasley has recorded nine sacks in six games, including three multi-sack games.
3. Clemson's pass rush:
Looking back on the Tigers' Week 1 win over Georgia, the difference might have been the fearsome pass rush from
Vic Beasley
, which thwarted the Bulldogs momentum and allowed Clemson to take command. The same trend has followed all year, as Beasley leads the nation with with 9 sacks. Florida State's offensive line has been solid this season, but this is by far its biggest test. Allowing Winston time to look downfield will be crucial, particularly given the quarterback's penchant for avoiding check-downs in favor of the big play.
4. Ramsey's test:
Jalen Ramsey
opened the season by becoming the first Florida State freshman to start at corner since Deion Sanders. He acquitted himself nicely, but when
Tyler Hunter
went down with a season-ending neck injury, Ramsey was shuffled to safety, where he also has managed to hold his own. Of course, none of those games involved Boyd or
Sammy Watkins
, which makes this week's test a whole different animal. Last season,
Terrence Brooks
was burned for a long touchdown early, and
that memory has lingered
ever since. This season, both Ramsey and Brooks figure to be tested downfield. Boyd has 23 touchdown passes of 20 yards or more since the start of 2012 -- four more than any other quarterback in the nation.
5. The special teams:
It has been 25 years since the famous "Puntrooskie" play that helped Florida State topple Clemson in 1988. But the significance of special teams in this rivalry shouldn't be lost to history. Perhaps the biggest play in last year's Florida State win was a 90-yard kickoff return by
Lamarcus Joyner
that swung all the momentum to Florida State's side midway through the third quarter. Clemson was up 10, but Joyner's return set up an EJ Manuel TD pass to ignite a 28-6 FSU run to end the game.
October, 5, 2013
10/05/13
7:00
AM ET
The big knock on both Florida State and Maryland thus far has been that neither team has faced stiff competition. That won't be the case after Saturday, as the two undefeated teams face off at Doak Campbell Stadium. Here are a few key stats and matchups to watch.


Protecting Winston:
Florida State has one of the most experienced offensive lines in the country, but quarterback
Jameis Winston
still found himself under pressure routinely last week against Boston College. Winston was sacked four times, and Jimbo Fisher was tepid in his review of the line's performance. Winston chalked up the sacks to his own eagerness to look downfield rather than checking down to quicker throws, although his patience was rewarded with a handful of big plays, too. Regardless, Winston and the line figure to be tested this week. Maryland leads the nation with 17 sacks, and Winston said he expects the Terrapins to be aggressive.
Eyes on Brown:
Fisher chalked up FSU's struggles against Boston College to a lack of eye discipline, saying a minority of players were too quick to react to motion and misdirection rather than stick to their assignments. That could play perfectly into what Maryland likes to do with quarterback
C.J. Brown
, who has the legs to break plays on the ground and the arm to take advantage of any overzealous safeties willing to leave a receiver in one-on-one coverage. Brown always has been a strong running QB -- he had three 100-yard rushing days as a sophomore -- but he has developed as a passer this season. So far this year, Brown is completing nearly 67 percent of his throws, averaging 10.5 yards per attempt, and he has seven passing TDs.
The deep ball:
Both Florida State and Maryland have enjoyed their share of success by looking downfield this season. The teams have combined for 26 passing plays of 25 or more yards, with Winston consistently looking for big-play opportunities and Brown using misdirection and play-action to open up receivers. Meanwhile, the Seminoles and Terps have been among the stingiest defenses when it comes to big-play chances. They've each allowed just four passing plays of 25 or more yards this year, tied for the ninth fewest in the nation.
Dynamic Diggs:
A week ago, Florida State's special teams struggled mightily, coughing up a handful of big plays on returns, giving Boston College an average starting field position at its own 34. The Seminoles must hope they've gotten those problems fixed this week, when
Stefon Diggs
arrives in Tallahassee. The Terrapins receiver and return man is one of the country's best all-purpose players. He finished 2012 with nearly 1,000 return yards to go with 848 receiving yards. This year, he's averaging 3 more yards per touch. Diggs hasn't had quite as many opportunities in the return game as he got a year ago -- he has returned just five kicks -- but he's as dangerous a weapon as ever.
The ground game:
Maryland's ground game has largely been predicated on Brown's mobility, but
Brandon Ross
has shown some flash, too. For the season, the Terps are averaging 227 rushing yards per game, which is a concern for a Florida State team that just allowed 200 yards on the ground to Boston College last week. Since Fisher took over as head coach in 2010, the FSU D had allowed 200 or more rushing yards just two other times. Meanwhile, the Seminoles are looking to jump-start their running game, too. Their 6.52 yards/rush average ranks fourth nationally, but that number drops to 4.50 per rush in their two ACC games.
September, 28, 2013
9/28/13
7:00
AM ET
Boston College's fast start was dealt a blow with an ugly loss to USC two weeks ago, while Florida State is riding high with three straight big wins but little in the way of stout competition. Here's what to watch for when the two teams face off Saturday in Chestnut Hill.


Stopping the run:
Florida State's defense had run off a streak of 14 straight games without allowing a 100-yard rusher before
Andre Williams
came to Tallahassee last season. He'll be a focal point again -- for both teams. The Eagles have run the ball on 62 percent of their plays so far this season, and Williams leads the ACC in rushing (119 ypg). But if BC's ground game has the attention of Florida State's defense,
Devonta Freeman
and the Seminoles' offense should have the Eagles worried, too. Freeman is coming off consecutive 100-yard games, is fourth in the nation in yards per carry, and the Seminoles have run for nearly 650 yards in their last two games.
Take what's given:
It's tough to find much fault in
Jameis Winston
's performance through three games. The freshman is second in the country with a 210.5 QB rating, and he has accounted for 10 touchdowns and just one interception thus far. But Winston says much of his success has come easily so far, and the tests promise to get bigger. That means he needs to be more patient, he said, instead of looking for the big play on every throw. He missed several open receivers against Bethune-Cookman by looking downfield, and his INT against Nevada came on a throw he admits he wasn't supposed to make. BC ranks 12th in the ACC in QB rating allowed, so there should be room for Winston to find yards -- if he doesn't try to do too much. Meanwhile, BC's
Chase Rettig
was just 15-of-31 for 122 yards in last season's game, and star wide receiver
Alex Amidon
had just three catches for 44 yards. They'll need to find more room to work this season if BC is to have a chance.
Quick starts:
In last season's blowout loss, Boston College actually controlled the game early, driving to the FSU 1-yard line on its opening drive before being stuffed. Florida State has seen overmatched opponents enjoy similar early-game success this season, too. Seventeen of the 47 first downs FSU has allowed this year came in the first quarter, and teams are averaging half-a-yard more per play on their first four drives against FSU than they do the remainder of the game.
Get defensive:
If Boston College has an advantage in this game, it's on defense, where the Eagles have racked up 22 TFLs and eight sacks in three games. The BC linebacking crew of
Kevin Pierre-Louis
,
Steele Divitto
and
Spenser Rositano
is among the league's best, and coordinator Don Brown likes bringing pressure. On the flip side, FSU's D looks like a work in progress, and after playing last week without four starters, there has been little time to refine the technique. Coach Jimbo Fisher said FSU missed far too many tackles against Bethune-Cookman, and that's been a focus throughout practice this week.
Looking ahead:
On paper, this looks like a significant mismatch for Florida State, but if motivation is a factor, it's a big edge for Boston College. The Eagles are fresh off a stinging loss to USC and are eager to rebound. They've had an extra week to prepare for Florida State, too. The Seminoles, meanwhile, have had it easy through three games -- all blowouts -- and have matchups against undefeated Maryland and Clemson ahead on the schedule. Will FSU overlook its date with Boston College? Players insist they won't, but the sluggish effort a week ago against Bethune-Cookman suggests Fisher has his work cut out for him.
September, 21, 2013
9/21/13
7:00
AM ET
After two straight big wins, Florida State hosts FCS foe Bethune-Cookman in what's likely to be another one-sided affair. If the Seminoles are to burn up the scoreboard again, though, these are a few things to be watching for.
[+] Enlarge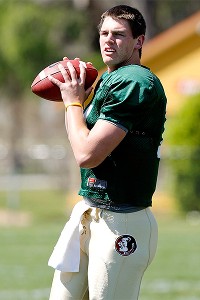 AP Photo/Don Juan MooreBackup QB Jacob Coker saw action in the blowout of Nevada and could be in line for more this weekend.
Winston ... then Coker:
Jameis Winston
's follow-up performance after a mesmerizing debut wasn't quite as precise. He threw three incompletions, one of which was an interception. But he rebounded nicely after the pick, completing his final 13 passes and leading six straight scoring drives in a rout of Nevada. That meant playing time for backup
Jacob Coker
, and FSU hopes the same routine will play out again this week. Coker has NFL talent, but with Winston playing so well to open the season, reps for the backup might be scarce. Jimbo Fisher wants to keep Coker happy, and Coker wants to showcase his skills. An overmatched FCS opponent should be the perfect solution.
First-quarter defense:
Any criticism of Florida State's defense thus far is nitpicking, but that doesn't mean concerns don't exist, and the slow starts in each of the first two games are primary causes for pessimism. On the first four drives in each of their first two games, the Seminoles have allowed an average of 5.7 yards per play. After that, the average dips to just 3.1 yards per play. Bethune-Cookman might not have FBS talent, but in its three previous games against FBS foes, it scored first. That should give some extra incentive to the FSU defense to come out ready to play.
Keeping the streak alive:
Through two games, Florida State's passing game has been stellar. Much of the credit goes to Winston, who is off to a remarkable start. But the players at the other end of those passes shouldn't be forgotten either. FSU receivers have yet to drop a pass -- in fact, they've hauled in two of Winston's five incompletions just barely out of bounds -- while corralling a handful of circus catches in big moments.
Freshman impact:
Fisher was able to get significant reps for a number of freshmen in last week's win, including
Ryan Green
,
Freddie Stevenson
and
Levonte Whitfield
. That trend should continue against Bethune-Cookman, particularly if Florida State can build a big lead quickly. Thirteen true freshmen have seen action already, but Fisher said there has been some regression among the youngsters on the practice field. A little more game-day work might be just what they need to get their legs back under them.
A milestone win:
Last week's win over Nevada boosted Fisher's record to 33-10 at Florida State, giving him the highest winning percentage in ACC history -- just ahead of Bobby Bowden's .764 mark. A win this week would add more history, giving Florida State its 500th win. Of course, the math is a bit tricky. Thanks to NCAA sanctions, only 488 of those count in the official record books, but nevertheless, a win against Bethune-Cookman would mark the 500th victory celebration for the school.
September, 14, 2013
9/14/13
7:00
AM ET
The
Jameis Winston
show takes center stage at Doak Campbell Stadium for the first time today. Here's what we'll be watching for when Florida State opens its home slate against Nevada.


Winston's encore:
The expectations for Florida State's redshirt freshman quarterback seemed overly high before he ever took the field, but that didn't matter much. He still torched Pittsburgh's defense to the tune of nearly 400 yards of offense and five touchdowns. The performance made Winston a star, not just in Tallahassee, but on a national stage. So how can he possibly follow up a game that bordered on perfection? For his part, Winston said he's put Pitt in his rearview mirror, but the already enormous expectations have only gotten bigger since his dominant debut.
Stopping the run:
Nevada averaged 271 yards on the ground per game last season, good for seventh nationally. The Wolfpack are a run-first, run-often team, which might be a good matchup for a Florida State defensive front still trying to establish its identity. Against Pitt in the opener, FSU found defenders out of position early, and the result was a handful of big plays -- particularly off the edge. Add the mobility of Nevada QB
Cody Fajardo
and the task of slowing Nevada's ground game gets even tougher.
Tempo, tempo, tempo:
Through the first two weeks of the season, only three teams have run more plays than Nevada, which has averaged a snap every 23 seconds of possession time. In the balmy heat in Tallahassee on Saturday, that figures to be a real test for FSU's defense. Substituting mid-series will be difficult, which makes getting off the field on third down a key for the Seminoles' D. Three-and-outs mean a breather on the sideline. Sustained drives mean defenders will be gasping for breath.
Wild and Free and Karlos:
Before Winston stole the show against Pittsburgh, it was the Florida State running game that most fans figured would win the day. Instead,
James Wilder Jr
and
Devonta Freeman
had ho-hum performances in the win, with Wilder leaving early with a bum shoulder. Both players are poised to regroup against Nevada, but now it's the third member of the backfield -- newly converted safety
Karlos Williams
-- who offers the most intrigue. Williams was a five-star recruit who split time on both sides of the ball in high school, but he's been working with the tailbacks for just more than a week. Still, Jimbo Fisher said Williams will be a regular part of the rotation, and if FSU can open a big lead, he should see plenty of work in the second half against Nevada.
Easy win or close game:
Florida State is a 35-point favorite, but the Seminoles certainly aren't expecting Nevada to make life easy. Fisher pointed out that the Wolfpack played No. 16 UCLA close through the first half of their season opener before the Bruins pulled away late, and he called Fajardo one of the better QBs FSU will face all year. A close game might certainly temper some of the early enthusiasm of FSU fans, while a blowout would provide some valuable snaps for FSU's younger players.
Haskins, McElwain Shine At IMG Regional
ACC SCOREBOARD
Thursday, 9/3
Saturday, 9/5
Monday, 9/7