Florida State Seminoles:

Fact or Fiction
June, 28, 2013
6/28/13
9:00
AM ET
This week, Nole Nation is
digging into the most hotly debated topics of the summer
at Florida State in an effort to separate fact from fiction as the Seminoles get set for the 2013 season.
Next up: The secondary
Fact or Fiction:
Lamarcus Joyner
's decision to move from safety to cornerback was the right choice for Florida State's secondary.
The case for:
From a personal standpoint, there's virtually no argument against this move for Joyner. For the past two years, he's been among the most productive and feared safeties in the ACC, but even after consecutive all-conference nods, the NFL viewed him as little more than a mid-round draft pick due to his size. The move to corner opens up options, giving Joyner a chance to showcase his skills -- and impressive speed -- in a position where his stature won't be viewed as nearly such a liability at the next level.
[+] Enlarge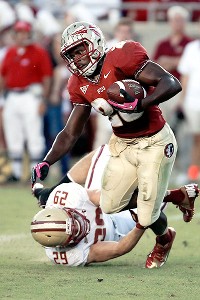 AP Photo/Don Juan MooreLamarcus Joyner's move to cornerback makes for a shuffled depth chart throughout the FSU secondary.
All of that made it easy for Joyner to request the switch, and Jimbo Fisher and Jeremy Pruitt were apparently happy to agree. But the bigger question was whether the ripple effects on the secondary will be beneficial for the team.
Those discussions can largely begin and end with a simple premise: If the move hadn't been made, there was a reasonable chance Joyner would've jumped at the NFL after the 2012 season, and regardless of where he lines up on the field, having him beats not having him in 2013 for FSU.
But while Joyner's presence on the field is clearly a boon for FSU, some fans have expressed concerns that the move creates a logjam at corner that will keep talented players like
Ronald Darby
,
Nick Waisome
or
P.J. Williams
off it.
That's likely less of an issue than most think. For one, Joyner hasn't forgotten how to play safety, and he'll likely get a handful of reps there each week, while also serving as a cover man in the slot and playing some nickel. Given the high percentage of reps FSU spends with extra DBs on the field, there's every reason to believe Darby and Williams will see even more snaps than they got a year ago.
Moreover, while Joyner's move may muddy the waters a bit at corner, it opens up a spot for
Karlos Williams
at safety, allowing perhaps FSU's most talented overall athlete a chance to test his mettle in a full-time job. Williams' role grew as 2012 progressed, culminating with a spectacular ACC title game at linebacker, but safety is his home and he was blocked by veterans Joyner and
Terrence Brooks
. With Joyner moving to corner, Williams will be given free reign to grow as a defender -- and perhaps develop into an even better safety than Joyner was.
The case against:
In a spring filled with chaos on defense, there would've been something to be said for consistency, and FSU's secondary was the one place the Seminoles may have found some of it.
On the D line, four new starters will be stepping in this season. At linebacker, only
Telvin Smith
and
Christian Jones
have any significant experience. Even the coaching staff underwent a dramatic makeover, with three new assistants on the job, including Pruitt as the new coordinator.
But in the secondary, things might've been stable. Sure, Xavier Rhodes departed, but Darby proved last season he was ready to step in and take over the job. It appeared a smooth transition for a unit that finished as the best pass defense in the country last year. But Joyner's move shakes things up dramatically.
What if Williams doesn't live up to the hype? What if Joyner's presence really does keep talented players like Darby, Williams or nickel
Tyler Hunter
off the field? What if Joyner isn't nearly as effective at corner as he was at safety? Certainly his performance in the spring game didn't engender a ton of enthusiasm.
FSU has a luxury of a wealth of talent in the secondary, so mixing and matching shouldn't be that difficult, but Darby is too talented to watch from the sideline, and Hunter -- perhaps the player with the most to lose in this scenario -- tied for the team lead in INTs last year. Moreover, while Hunter and Williams certainly could work in at safety, that's not where their experience lies, and FSU has virtually no established depth behind Williams and Brooks this year.
Verdict:
Fact
It's entirely possible Joyner doesn't up his draft stock all that much this season, and it's perhaps likely that he'll surrender a few big plays here and there, but the net benefit of the move should still be a positive one for FSU.
Williams has waited in the wings for two years as fans drooled at his potential. Florida State needed to find a job for him, and this move accomplished that. Darby, Waisome, Williams and Hunter are all good enough to see regular reps, but odds are Pruitt can find a way to work them all in, and at the very least, the added competition can only help the overall product. And then there's Joyner, who might've been fighting for a job in an NFL camp this summer if not for this change. He was a five-star recruit as a corner coming out of high school, and there's no reason to assume he can't still get the job done now. More importantly, he's as much a leader on the defense as anyone, and his voice is crucial during this season of transition.
There are questions, of course, but that's on Pruitt and his defensive coaching staff to work out. For Joyner and for the rest of the talent on FSU's D, the move makes a ton of sense.
June, 27, 2013
6/27/13
2:00
PM ET
This week, Nole Nation is digging into the
most hotly debated topics of the summer
at Florida State in an effort to separate fact from fiction as the Seminoles get set for the 2013 season.
Next up: The running game
[+] Enlarge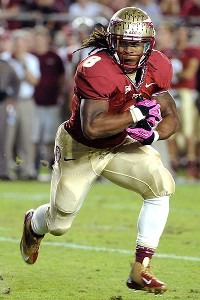 Melina Vastola/US PresswireDevonta Freeman could be FSU's first 1,000-yard rusher since 1996.
Fact or Fiction:
After a 16-season dry spell, Florida State will finally produce a 1,000-yard runner in 2013.
The case for:
No, FSU did not snap its 1,000-yard drought last season, but that's hardly an indication that the ground game wasn't effective. In fact, only twice in program history (1984, 1987) has Florida State rushed for more yards than it did last in 2012 (2,882), and its 40 rushing touchdowns ranked ninth nationally.
So why didn't any member of the Florida State backfield sniff the 1,000-yard mark? The easiest answer is that there was simply too much talent.
Subtracting yardage lost to sacks, the Seminoles had five players with at least 47 touches average at least 5.8 yards per carry. The problem is that no member of the offense earned a majority of the touches. In fact,
Devonta Freeman
's 111 carries accounted for a team-high 23 percent of all rushing plays, and as such, FSU had three players finish with more than 600 yards but none managed more than 700.
Chris Thompson, of course, was well on his way to cracking 1,000 before an injury ended his season after eight games, and that's perhaps the template for how it can be done in 2013.
Both Freeman (5.9 ypc) and
James Wilder Jr
. (5.8 ypc) were successful last year; they just needed more touches. Well, in 2013, Thompson and fullback Lonnie Pryor are gone, and while
Mario Pender
could steal a few touches, the odds are that both of FSU's junior tailbacks will see an increased workload. And the interesting thing is, it doesn't need to increase all that much for Freeman or Wilder -- or both -- to reach 1,000.
Since Jimbo Fisher took over play calling in 2007, Florida State has averaged 467 rushing plays per year. If Freeman maintains his per-carry average from 2012 this season, he'd need 170 carries to reach 1,000. Wilder would need 173. In either case, it would mean they'd only need to get about 40 percent of the total carries (assuming FSU matches Fisher's average rushing attempts this year) to end the streak. So, it's certainly possible that both Wilder and Freeman could split carries, both top 1,000 yards and still leave a quarter of the rushes for Pender,
Jameis Winston
and
Chad Abram
.
The case against:
If you see the sun come up every day for 16 years, it's understandable to expect it'll rise again tomorrow. That's sort of how the feeling goes for FSU fans eager to see the streak come to an end.
The last tailback at Florida State to crack 1,000 was Warrick Dunn in 1996. In the years since, plenty have come close -- including a handful that were every bit as talented and successful as Wilder and Freeman -- but none have cracked that elusive barrier.
The reasons are plentiful: Injuries, inconsistent offensive lines, pass-heavy play calling, simple bad luck. The list of reasons it hasn't happened goes on and on, and many seem utterly inexplicable. That's what FSU's current running backs are up against.
It's one thing to argue the logic: these runners are good, the O line is experienced, and the math says 1,000 is within reach. But logic should've dictated a 1,000-yard season long before now, as Leon Washington,
Greg Jones
and Travis Minor can all attest.
Verdict:
Fact
Perhaps it's zealous optimism, but this is the year it all comes together for FSU's backfield. There's simply too many reasons to think it'll happen.
For one, last year's high rushing total was no anomaly. Fisher actually called fewer runs last year than he did in all but two of his previous seasons at FSU. And with a freshman starting at QB, it only stands to reason he'll be more run-heavy this year -- meaning more opportunity for Wilder and Freeman.
Moreover, even if the injury bug bites one of FSU's runners, there's just as good a chance the other can reach 1,000. Both players figure to see a relatively even split on carries early in the year (something that didn't happen last year when Thompson got the lion's share through seven weeks), and both are capable of piling up big numbers even without getting a majority of the touches.
Then add an offensive line that returns four starters (and a fifth with starting experience) from a group that was so immensely successful last season, and the time is right for one of college football's most inexplicable streaks to finally come to an end.
June, 26, 2013
6/26/13
9:00
AM ET
This week, Nole Nation is digging into
the most hotly debated topics of the summer
at Florida State in an effort to separate fact from fiction as the Seminoles get set for the 2013 season.
Next up: The quarterback
[+] Enlarge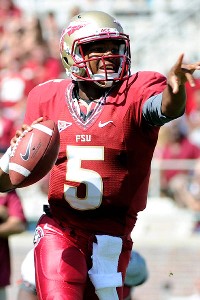 Melina Vastola/USA TODAY SportsJameis Winston seems like he's ready to handle big expectations from Day 1.
Fact or Fiction:
With talented freshman
Jameis Winston
at quarterback, Florida State's offense can be even more dynamic than it was under EJ Manuel.
The case for:
Even before he has taken a snap in a college game, there's little need to make a case for why fans should be excited about Winston. The redshirt freshman already has the college football world buzzing after entering the spring third on the depth chart and ending it as a niche choice for a Heisman.
Winston has a big arm, good speed, a strong physique and obvious leadership skills. In other words, he's everything a coach like Jimbo Fisher could want in a quarterback. He sizzled during FSU's spring game, completing 12 of 15 passes against a first-string defense while throwing two touchdown passes. In the aftermath, Fisher was asked to compare Winston to his old quarterback, and the answer was intriguing.
"Jameis is a very talented young man," Fisher said. "He and EJ are different. EJ might run a little better and be a hair bigger. I think Jameis throws the ball a little better overall."
In other words, from Day 1, Winston might be a better pure passer than his predecessor, who just so happened to be the first quarterback taken in this year's NFL draft. It's no wonder fans are already so excited.
Of course, there was plenty of hype surrounding Manuel when he arrived at Florida State, but he ended his career amid a reasonable amount of criticism, because he so frequently failed to come up with the big play when FSU needed it most. He won a lot more than he lost, but he never threw more than 23 touchdown passes in a season, and he had only four career 300-yard passing games against FBS opponents.
But as Fisher said, Winston is different. He's more accurate already, and while Manuel's confidence appeared shaken at times under the weight of a demanding head coach, Winston seems to relish the expectations. And more importantly, Winston might have a better supporting cast in 2013 than Manuel ever did. A veteran, healthy offensive line and a cast of skill-position players that includes
Rashad Greene
,
Nick O'Leary
,
Kelvin Benjamin
,
Devonta Freeman
and
James Wilder Jr.
should make the job a lot easier.
The case against:
The obvious concern in 2013 is that, for as much talent and potential as Winston clearly has, the bottom line remains that he's still a freshman. There's a big difference between chucking a few long passes in a spring game and doing the same against Florida's defense in November, and even last season's Heisman-winning freshman,
Johnny Manziel
, had a few growing pains along the way (against Florida, for example).
Moreover, expanding the offense isn't so much about Winston's ability as
it is about Fisher's play calling
. For all the criticism of Manuel at times, only three other teams in the country averaged more yards per play last season than Florida State. The reason the results weren't more impressive overall is because the Seminoles ran just 67 plays per game offensively -- nearly 12 fewer plays per game than Texas A&M. That's Fisher's game plan -- a pro-style, methodical approach -- and it's not likely to change regardless of who is under center.
And while the talent surrounding Winston is impressive, the versatility of FSU's offense has taken a hit this offseason. Tight end
Kevin Haplea
will miss the year with an ACL tear. Speedster
Marvin Bracy
left to pursue a track career. Veteran receiver
Greg Dent
is suspended indefinitely while facing sexual assault charges. Those losses will only make the offense less dynamic.
In the end, Manuel was among the top 15 quarterbacks in the country in completion percentage, yards per attempt and QB rating in 2012, and that's an awfully high bar to exceed.
Verdict:
Fiction
There's no denying Winston's star potential, but projecting he'll exceed Manuel in Year 1 is a bold call. Manuel was very good, and while Winston eventually might be great, there's a learning curve to the game.
More importantly, perhaps, is this is Fisher's offense, no matter who is under center. He's going to call his game, and while Winston's skill set may allow Fisher to dig deeper into the playbook occasionally, it's unlikely he's planning to rewrite any of it. And perhaps as significant, in every other instance that Fisher has had a new starter at quarterback since he's been at FSU, the team has run the ball more and thrown less. Comparing Winston to Manziel might be fair when it comes to talent, but the systems in which they'll work are completely different.
It would be a surprise if Winston does't end the season with an impressive highlight reel -- but compiling one that's even better than Manuel's 2012 performance would be a huge accomplishment.
June, 25, 2013
6/25/13
9:00
AM ET
This week, NoleNation is
digging into the most hotly debated topics of the summer
at Florida State in an effort to separate fact from fiction as the Seminoles get set for the 2013 season.
Next up: Special teams.
Fact or Fiction:
With Dustin Hopkins gone, Florida State can expect to regress on special teams in 2013.
The case for:
It's not that a kicker makes or breaks a special teams unit, but if any program understands the significance of the position, it's Florida State -- a school with several seasons defined by kicks, both made and missed.
[+] Enlarge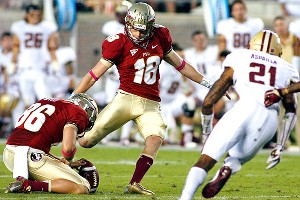 AP Photo/Phil SearsIt would be tough for any kicker to replace Dustin Hopkins at Florida State.
Replacing Hopkins is a nearly impossible task. The four-year starter left FSU as the most prolific kicker in NCAA history, rewriting the record book for the school, the conference and the nation. And Hopkins' senior season was no doubt his finest. Only six kickers in the country with at least 20 tries connected on a higher percentage of field-goal attempts than Hopkins (83.3 percent), and he made the sixth-most attempts as well (30). His 25 made field goals were the second-most in the country.
Stepping into the role will be freshman
Roberto Aguayo
, who certainly has an impressive enough leg -- he drilled three kicks of longer than 50 yards in the spring game -- but no experience. And even Hopkins wasn't a star as a freshman, converting 70 percent of his tries. The pressure will be high for Aguayo, and that's hardly an ideal situation for a freshman.
Beyond the kicking game, last year's special teams units set an awfully high standard. FSU ranked 16th nationally in kick return average (24.65 yards) and led the nation in total punt return yards (536). The Seminoles were one of just five teams with three punt-return TDs, and their coverage unit allowed the seventh-fewest returned punts in the country.
The case against:
From Hopkins' big season to big returns by
Lamarcus Joyner
or
Rashad Greene
to the strong coverage units all around, it's easy to applaud the work of FSU's special teams in 2012. But for all the success, there were some glaring failures, too.
Freshman punter
Cason Beatty
struggled mightily at times, and FSU finished with the 11th-worst net punting average of any team in the country. Worse yet, two of Beatty's kicks were blocked, including a disastrous boot late in the game against NC State that directly contributed to an FSU loss. Beatty showed progress late in the season, however, and it stands to reason that he'll improve dramatically in Year 2. Simply moving to the middle of the pack in the ACC would be a vast improvement.
Those impressive returns in 2012 were nearly offset by some ugly plays, too, including three special-teams turnovers that led to a yearlong carousel of punt returners. Greene lost his job, replaced by
Tyler Hunter
, who flubbed the gig and was replaced by
Kenny Shaw
. Add in an astonishing 18 special-teams penalties last season and there were simply too many mental miscues that should be easily corrected in 2013.
Perhaps the best reason for optimism this year, however, is the sheer quantity of talent. All of last year's top return men are back, and speedy freshman
Levonte Whitfield
will be added to the mix. New special teams coordinator
Charles Kelly
has top athletes playing on the return and coverage units. After a year of mental breakdowns, special teams will be a focus across the board.
Verdict:
Fact
Really, the success and failure of FSU's special teams in 2013 might be a matter of perspective. There's a strong chance that, on the whole, the unit will be more consistent than it was a year ago, with better performances from Beatty and fewer costly mental breakdowns.
But the story of last year's special teams group wasn't about the handful of flubs but the numerous highlights, and FSU will be hard pressed to repeat that success. Hopkins was as reliable as anyone in the country -- he connected on 21 of 22 kicks at one point -- and his ability to successfully kickoff directionally, rather than simply boot touchbacks, was a distinct advantage for FSU.
In the end, the drop-off in production probably won't be overwhelming, but there's little chance the Seminoles will go the whole season without missing Hopkins in one or two crucial moments. Given that the offense will be trotting out a freshman quarterback as well, odds are those special teams plays will loom even larger than they did in 2012.
June, 24, 2013
6/24/13
9:00
AM ET
This week, NoleNation is digging into the most hotly debated topics of the summer in an effort to separate fact from fiction as the Seminoles get set for the 2013 season.

First up: The defense.

Fact or Fiction: Under new defensive coordinator Jeremy Pruitt, Florida State's defense can expect even more production in 2013 than it had a year ago.


Top Position Battles Heading In To Spring
ACC SCOREBOARD
Thursday, 9/3
Saturday, 9/5
Monday, 9/7