Florida State Seminoles:

eagles-noles-101312
October, 13, 2012
10/13/12
11:58
PM ET
TALLAHASSEE, Fla. -- The kick was perfect, straight down the middle from 51 yards out as the final seconds ticked off the clock in the first half Saturday.
[+] Enlarge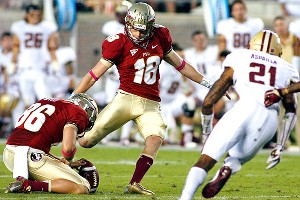 AP Photo/Phil SearsDustin Hopkins set the FSU and ACC career marks for scoring Saturday.
Dustin Hopkins
got pats on the back and a few hugs from teammates, but he had no idea he was celebrating a record.
"I had no idea where I was at [in the rankings]," Hopkins said. "I didn't know until after it was over."
A teammate broke the news that Hopkins had just set the Florida State and ACC marks for career scoring, passing Derek Schmidt for the Seminoles' record and Maryland's Nick Novack in conference play.
While the moment was hardly planned out in advance, Hopkins still had a sizable crew to help celebrate the record. His parents, sister and grandparents were in attendance, and after the record-setting kick, Hopkins found his father in the stands and shared a hug.
"They might have known [about the record] and not told me," Hopkins said. "They didn't let me know."
The record was virtually inevitable for Hopkins, who has slowly marched toward the top of the record books since taking over as FSU's kicker as a freshman. For four years, he's been as reliable as any kicker in the nation, and he's now just 31 points shy of matching Art Carmody's NCAA scoring record.
But even for Florida State's most reliable kicker, there were bumps in the road, including three straight misses earlier this season. He's tweaked his mechanics, and the anticipated results didn't materialize. Getting back to his roots the past few weeks, however, have brought familiar success.
"He's really now starting to kick the ball," Fisher said. "He changed his routine and went back to the old way he was kicking. The thud in the ball the last two weeks in practice has been totally different."
The 51-yard field goal that sealed the record was Hopkins' fifth of at least 50 yards. It came as time expired, with the pressure on. It came just three plays after a momentum-changing interception by the defense.
It was, Hopkins said, a perfect way to set the record, even if he had no idea he'd done it.
"This is a career goal marked off," Hopkins said. "I'm just humbled by the whole thing."
October, 13, 2012
10/13/12
10:34
PM ET
TALLAHASSEE, Fla. -- According to Florida State safety
Lamarcus Joyner
, there is a time and a place to talk trash to an opponent. And in Boston College's case, their timing was poor.
[+] Enlarge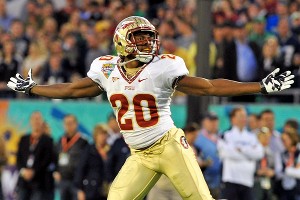 Al Messerschmidt/Getty ImagesFSU's Lamarcus Joyner had some motivation after some comments from a Boston College player.
Linebacker
Nick Clancy
told Boston.com that he didn't think the Seminoles had the persistence to set aside a heartbreaking loss at North Carolina State.
"I think their mindset is, OK, we were these big-time recruits, they're much more talented than us, we don't belong on the field with them," he said. "They think that we're much less talented. But when it comes down to it, we're just different type of people.
"We're blue-collar people. We have a very strong work ethic. We know when adversity's thrown in our face what to do and how to respond. And I think that's what separates us."
When the clock struck zero on Saturday night and the scoreboard read 51-7 in favor of Florida State, Clancy was apparently mistaken.
Sure, the Seminoles weren't thinking about those comments when their number was called in the huddle. They probably were more concerned with what route to run, what guy to block and the snap count.
But it was some added motivation that allowed for increased focus.
"I mean, those guys got what they were asking for," said Joyner. "That's all I'm saying. I don't want to be too arrogant about it, but that is what happens when you talk trash before the game starts.
"I will say this, I think they did it at the wrong time."
Starting left tackle
Cameron Erving
agreed. But playing in the trenches is a physical deal, and the reality was they were concerned more with their teammates assignments than the Eagles unfortunate phrasing.
"We heard it, processed it and just used it as motivation to help us to play hard," Erving said. "We already had the edge coming in because we just had to bounce back. At the same time, we were playing for each other, not for them."
Clancy, meanwhile, finished the game with five tackles.
October, 13, 2012
10/13/12
9:15
PM ET
TALLAHASSEE, Fla. -- For a week, Jimbo Fisher listened as fans criticized his conservative play calling following a devastating loss to NC State. On Saturday, Fisher made sure there wouldn't be a repeat performance.


The Seminoles demolished an overmatched Boston College defense, as
EJ Manuel
threw for a career-high 439 yards and four touchdowns in a
51-7 win
.
Fisher set the tone early, calling for passes on the first nine plays of the game, and Florida State's passing game never slowed.
It was over when:
Lamarcus Joyner
picked off a
Chase Rettig
pass at the Florida State 11-yard line, returning it 33 yards and setting up a field goal. Rather than going into the half with momentum, Boston College ended the quarter down 31-7 and mustered little the rest of the way.
Turning point:
Florida State dominated from the outset, but the turning point for the Seminoles probably came last Sunday, when players gathered at linebacker
Nick Moody
's house for a cookout where they cleared the air about last week's loss and vowed to turn the page with an impressive performance against Boston College.
Game ball goes to:
Manuel. The FSU quarterback had a rough week after struggling to move his offense in the second half against NC State, but he had no problems finding big plays Saturday. Manuel completed 27-of-34 passes for 439 yards and four touchdowns, connecting with nine different receivers in the game.
Stat of the game:
104. That's the rushing total for BC tailback
Andre Williams
. It's tough to find too much for Boston College to be pleased with after this one, but Williams became the first running back to top 100 yards against the FSU defense in more than a year. Of course, even that stat isn't particularly significant for the Eagles, as 89 of Williams' 104 yards came in the first half. Florida State, meanwhile, added 153 of its 201 rushing yards in the second half.
Unsung hero:
Dustin Hopkins
. The Florida State kicker connected on three field goals -- including a 51-yarder to close out the first half -- and was perfect on six PATs in Florida State's win. The 15 points gives Hopkins 402 points for his career, which sets a new Florida State and ACC record. Hopkins is now 31 points shy of Art Carmody's NCAA scoring record.
October, 13, 2012
10/13/12
7:41
PM ET
TALLAHASSEE, Fla. -- Florida State's players spent the week insisting they'd turned the page on last week's shocking loss to NC State, but a dominant first-half against Boston College on Saturday was as much about exorcising some demons as it was about moving past an ugly loss.


After a week of criticism for conservative play calling, Jimbo Fisher called for one deep throw after another in the first half Saturday, and
EJ Manuel
racked up 295 yards and three touchdowns as the Seminoles jumped to a 31-7 halftime lead.
Stat of the half:
343. That's the total yards of offense in the first half for Florida State -- the same total the Seminoles had mustered by the end of last week's loss to NC State. Fisher called for passes on the first nine plays of the game, and 20 of Florida State's 33 passes overall have been throws by Manuel, who has four completions of at least 40 yards.
Player of the half:
Manuel. He hasn't been perfect -- there were a few deep balls to open receivers he couldn't complete -- but after shouldering a big part of the criticism after last week's loss, the FSU quarterback posted big numbers in the first half against Boston College. The fact that Manuel has been such a big part of the offense against BC -- which ranks 121st nationally in run defense -- could be due in large part to Fisher and his quarterback wanting to make up for last week's struggles.
What's working for Florida State:
The passing game -- and, in particular, the deep ball. Manuel connected with
Kenny Shaw
on two long passes, including a 77-yard touchdown throw that marks a career long for both players. Shaw is the first FSU receiver this year to top 100 yards.
What's not working for Florida State:
The run defense. FSU's defensive line has struggled with gap integrity, and as a result, BC running back
Andre Williams
has 89 yards rushing on 14 carries. The Seminoles hadn't allowed a 100-yard rusher in their last 14 games.
Noteworthy:
With his 51-yard field goal to end the first half, FSU kicker
Dustin Hopkins
became both the school's and the ACC's all-time leading scorer. … Safety
Lamarcus Joyner
recorded his first interception of the season in the second quarter. …
Lonnie Pryor
's first-half rushing touchdown was his fifth of the season, a career high.
Goodell Has Sit-Down With Jameis Winston
ACC SCOREBOARD
Thursday, 9/3
Saturday, 9/5
Monday, 9/7