FSU Seminoles:

Duke Johnson
January, 14, 2013
Jan 14
3:30
PM ET
It was a rough year for the ACC, but in retrospect, there were too many highlights to narrow it down to 10. From
Blair Holliday
's return, to the ACC's impressive performances during bowl season, to individual performances and games, the conference had plenty of memorable moments in 2012.
The following is a list of 10 moments and memories that best captured the 2012 ACC season, according to ESPN.com. ACC fans are bound to have more, and we'd love to hear them. What did we miss? Feel free to
drop us a note in the mailbag
, and we'll highlight the best nominations in a separate mailblog. Until then, here are your top 10 moments from 2012, starting with the best:
1. Chandler Catanzaro's game-winning field goal versus LSU in the Chick-fil-A Bowl:
It was the ACC's biggest win of the season, and the highest-ranked team Clemson has beaten in a bowl game since the 2004 (2003 season) Chick-fil-A Bowl, when the Tigers defeated sixth-ranked Tennessee 27-14. Catanzaro's 37-yard field goal as time expired gave No. 14 Clemson a wild 25-24 win against No. 8 LSU, and it was the highest-ranked SEC team an ACC team has beaten in the past nine years.
2. Duke becomes bowl eligible for the first time since 1994
:
Sean Renfree
's 5-yard touchdown pass to
Jamison Crowder
on fourth down with 13 seconds left lifted Duke past North Carolina 33-30 and made the Blue Devils bowl eligible for the first time since 1994. Renfree converted three third-and-longs during the game-winning, 87-yard drive.
[+] Enlarge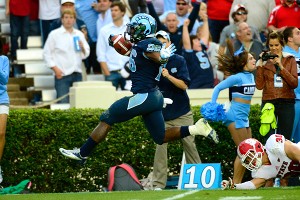 Bob Donnan/US PresswireGiovani Bernard's 74-yard game-winning punt return to lift UNC past rival NCSU was a play to remember.
3. Giovani Bernard versus NC State:
Bernard returned a punt 74 yards for the go-ahead touchdown with 13 seconds left, helping North Carolina stun rival NC State 43-35 to end a five-year losing streak in the series. That day, Bernard also ran for 135 yards and two touchdowns, and had eight catches for 95 yards.
4. Karlos Williams' tip and interception in the ACC title game:
In what turned out to be the final game for FSU defensive coordinator Mark Stoops, FSU's D came up big against Georgia Tech, and no play was bigger than Williams'. The game wasn't decided until Williams intercepted
Tevin Washington
with less than a minute remaining. It was FSU's first ACC title since 2005.
5. The ACC posting its first winning bowl record since 2005:
With marquee wins over LSU and USC and a victory in the Discover Orange Bowl, the ACC finally came out on the right end of bowl season, and will enter 2013 will some much-needed positive momentum. The Noles took another step toward national relevance with a 31-10 win against No. 15 Northern Illinois in the Orange Bowl -- their first BCS bowl win since they beat Virginia Tech in 2000.
6. FSU quarterback EJ Manuel's performance versus Clemson:
It was Manuel's one true Heisman moment of the season, as he completed 27 of 35 passes for a career-high 380 yards while rushing for another 102 to become the first Seminoles quarterback since Charlie Ward in 1992 to pass for more than 300 yards and run for more than 100 in a game.
7. Clemson QB Tajh Boyd accounts for eight touchdowns:
The ACC Player of the Year set school and ACC records when he scored five passing and three rushing touchdowns in a 62-48 win over NC State. The Tigers gained 754 yards and ran 102 plays, the most in school history. Boyd was responsible for every Clemson touchdown. Boyd was 30-for-44 for 426 yards and ran for 105 yards -- the combined 531 yards set another school record.
8. Johnson leads Canes to Coastal title:
In the regular-season finale against Duke, Miami freshman
Duke Johnson
rushed for season highs of 176 yards and three touchdowns. He scored on runs of 18, 6 and 65 yards. He finished his freshman year with 947 yards rushing, easily surpassing Clinton Portis' 13-year-old school freshman rushing record of 838 yards.
9. NC State's game-winning TD in its upset of No. 3-ranked FSU.
This isn't a "best moment" for FSU fans, but it was by far one of the most memorable plays in the ACC and a highlight for the Wolfpack. Quarterback
Mike Glennon
found
Bryan Underwood
for a 2-yard touchdown pass on fourth down with 16 seconds left, helping the Wolfpack beat the Seminoles 17-16 on Oct. 6.
10. Duke receiver Conner Vernon rewrites the record books:
In a 42-17 win against Virginia, Vernon surpassed Clemson's Aaron Kelly as the ACC's all-time leader in career receptions when he made a catch for minus-2 yards in the first quarter. In the 42-24 loss to Georgia Tech, Vernon became the ACC's all-time leader in yards receiving, passing former Florida State star Peter Warrick's record of 3,517 yards.
TOP 3 OFF-FIELD MOMENTS
[+] Enlarge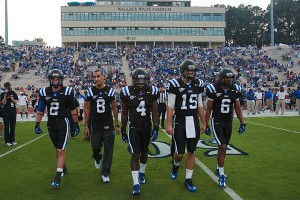 Courtesy of Duke Sports InformationBlair Holliday (No. 8) walks with his Duke teammates in his return to the field following a terrible jet ski accident that sidelined the wide receiver.
So as not to trivialize these moments by tossing them in with touchdowns, here are three more memories you won't want to forget:
1. Blair Holliday joins his Duke captains for the coin toss against NC Central:
It was a miraculous recovery, and the most inspirational story in the conference. Holliday, who suffered a traumatic brain injury in a jet ski accident on July 4 that left him in critical condition, led the team on the Devil Walk in what was an emotional comeback for the entire team.
2. Clemson receiver Daniel Rodriguez leads the Tigers on Military Appreciation Day:
The Army veteran
led the team down the hill carrying the American flag prior to the Virginia Tech game on Military Appreciation Day at Clemson on Oct. 20.
3. The ACC adds Louisville:
The ACC's presidents and chancellors voted to add Louisville to replace Maryland, a move that looked better and better as the Cardinals' football season ended with a win against Florida in the Allstate Sugar Bowl. ACC officials conceded the move was an athletics-first, academics-second decision, but it was one the conference should eventually benefit from.
October, 22, 2012
10/22/12
9:00
AM ET
Saturday's win over Miami offered few performances that were particularly pretty, but it was a gritty, physical game on both sides of the football, which might have offered far more insight into the psyche of this Florida State team than any blowout win could have.
With the 33-20 victory, FSU has now defeated Miami three straight times and is officially bowl eligible. So with two-thirds of the season now in the books, here's how the Seminoles' power rankings stand:
(Last week's rank in parentheses.)
To continue reading this article you must be an Insider
October, 21, 2012
10/21/12
12:00
PM ET
Like Florida State's first two road trips, Saturday's game was hardly the prettiest performance. The 33-20 win over Miami was hard-fought, physical and filled with mistakes -- including five fumbles and 12 penalties.
In the end, the ugly plays only helped to provide Miami with a glimmer of hope, but by the time
Devonta Freeman
fought his way across the goal line for a 3-yard score early in the fourth quarter, the game was all but over.
While the penalties and fumbles will likely remain the talk as FSU looks for ways to improve on the performance this week, here are five other key stats that told the story of Saturday's win over Miami.
To continue reading this article you must be an Insider
October, 21, 2012
10/21/12
2:28
AM ET
MIAMI -- They were warned. All week they were warned.
Forget about what you
think
you know about Miami, the coaches said. Forget about what you
think you see
on tape when you watch Miami. Forget it all. Because come Saturday night, you will see the
real
Miami.
So yes, Florida State coach Jimbo Fisher and his staff tried as hard as they could to make their players truly understand they were going to get a feisty team, a physical team, a team dead-set on pulling the upset and knocking the Seminoles right out of the ACC championship race.
They got that Miami right out of the gate, and, well, it sent Florida State reeling. The No. 14 Seminoles looked sluggish, and started to make untimely mistakes.
Nick O'Leary
made like an Olympic hurdler and fumbled on the Seminoles' first possession. Miami capitalized and scored its first touchdown. The fumbles were contagious, and soon Florida State was losing the football, losing its grip and facing a 10-0 deficit.
Then the next bit of adversity hit: Florida State saw star running back
Chris Thompson
go down.
Then more: a mountain of yellow flags piled up, some of them highly questionable -- certainly enough for young men to lose their composure.
Florida State could have easily crumbled, the way we have seen in the past. But this was a test this team needed, a test the Seminoles had to face head-on, with eyes unblinking. This was their first bit of adversity since the fourth quarter against NC State, and everybody on this team needed to see how their teammates would respond.
"When we got back in the locker room at halftime, we said, 'Look, another 30 minutes. We're not letting up. Let's play like it's 0-0. Let's play like it's the national championship," safety
Xavier Rhodes
said. "We learned our lesson from that loss. It paid off this game here."
October, 19, 2012
10/19/12
9:00
AM ET
TALLAHASSEE, Fla. -- The intention was never for the trash talk to be kept secret.
Miami freshman
Duke Johnson
boasted to his high school coach, then made sure his coach knew to pass along the comments to former Norland teammate
Xavier Rhodes
.
"Duke knows I'm gonna kill him," Rhodes joked this week. "He's talking a lot of trash, and [our coach] comes back and tells me what he's been saying."
[+] Enlarge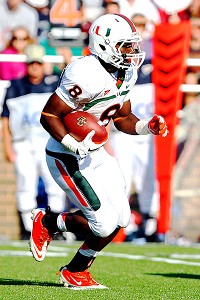 Cal Sport Media via AP ImagesMiami is 3-0 in games in which freshman Duke Johnson rushes for at least 70 yards.
Of course, Johnson's confidence -- and his talent -- has never been much of a secret.
The freshman tailback burst onto the scene this season by racking up 100 yards from scrimmage in three of his first four games and displaying a few fireworks on special teams to boot.
Miami might lack the stockpile of NFL talent it once boasted, but Johnson has the potential to be as electric as any player to wear a Hurricanes jersey in the last decade. He's definitely got Florida State's attention.
"If it was me last season, I would've been like, 'He's a freshman,' " safety
Lamarcus Joyner
said. "But after experiencing the nightmare that is
Sammy Watkins
, we're definitely going to prepare for him and treat him like a man."
Watkins, a freshman receiver at Clemson last season, torched Florida State for 141 yards and two touchdowns last season, but for Joyner to even put Johnson in the same class offers some indication of the dangers presented by the Miami running back.
"He was a heck of a player in high school," Jimbo Fisher said. "He's bright guy, and I'm not surprised. What he's doing, he's a big-play guy."
Rhodes and Johnson alternated at tailback in high school -- Rhodes as a senior, Johnson as a freshman.
"Man, he was good as a freshman in high school," Rhodes said. "Real good."
Miami has its share of offensive weapons this season, and the Hurricanes have averaged nearly 300 yards per game. Johnson's numbers have dwindled a bit in the past three weeks, too, as defenses have become aware of his big-play ability.
But with Miami quarterback
Stephen Morris
nursing an ankle injury, Johnson will need to be a significant piece in the Miami offense this week, and while Florida State's defense is stout, it was just one week ago that Boston College's
Andre Williams
ran for 104 yards against the Seminoles. It was the first time in more than a year FSU's defense had allowed a running back to top 100.
"You got our attention. You came in, you're highly recruited, and you're doing well," Joyner said of Johnson. "So we're going to treat him like a man. We're going to come at him, we're going to game plan, we know he's a threat so we're going to go hard."
October, 18, 2012
10/18/12
12:33
PM ET
It has been more than a decade since Florida State beat Miami three consecutive times, but the Seminoles can make that happen with a win Saturday in South Florida. Miami, meanwhile, is coming off two consecutive losses and could be playing without its starting quarterback.
So, how big of an advantage does FSU have in this game and what is Miami doing to even the playing field? We checked in with Hurricanes beat writer Susan Miller Degnan of the Miami Herald for some answers.
NoleNation: We've gotten some mixed signals on whether QB Stephen Morris will play Saturday. What's the latest on his injury, and what does it do to Miami's offense if Ryan Williams is under center for the Hurricanes?

Susan Miller Degnan:
Miami's official injury report comes out Thursday afternoon, so we'll find out what the Hurricanes have to say about Stephen's "lower extremity'' injury – aka left ankle. However, unless the report says "out," I have a hunch Stephen will get playing time Saturday, if not start.
Coach Al Golden originally said he wouldn't be able to do anything until at the earliest Thursday, but on Wednesday, Stephen was at practice. He was limited, but I watched him repeatedly practice his dropback steps and then fire away to two alternating receivers. We're only allowed to watch the first 15 minutes of practice, but I learned that afterward he stayed for the entire practice – relaying plays, getting into the huddle and helping Williams and third-stringer
Preston Dewey
.
Keep in mind that Stephen sprained the same ankle three days before the 2010 Sun Bowl game, then replaced an errant Jacory Harris early in the game and ended up throwing for 282 yards and two touchdowns (with a pick). He also ran four times on that bad ankle for 22 yards.
Backup Ryan Williams –- a transfer from Memphis who sat out last season -- is very tall at 6-6, which is good. But he's also the opposite of mobile, which is bad when you have an exceptionally talented FSU defense coming to take you out. Williams has a very nice touch on the ball and good timing. However, his arm isn't nearly as strong as Morris', which the Seminoles know, too.
NN: Duke Johnson's season began with a bang, but he has been held in check the past three games. How much will Miami rely on him with Morris potentially out, and what can Golden do to create some space for the dynamic freshman?
Degnan:
I do believe that Duke is the real thing. He has been suffering from turf toe, which can be a debilitating injury. Not many people realized that Duke did not practice at all last week, but still played. You're right, he has definitely been held in check, and because of the toe, hasn't been on kickoff-return duty lately. Not sure if he'll be back returning kickoffs , because that's one avenue that creates lots of opportunities for his offense. Duke has fabulous vision, and even if it takes some short passes, he needs to somehow get the ball this week.
NN: FSU's passing game struggled against NC State as the Wolfpack pressured EJ Manuel often. Against BC, the O-line held up, and the passing game took off. Given that Miami has just seven sacks in seven games this year, what can the Hurricanes do to get some pressure on Manuel to slow down FSU's passing game?
Degnan:
Good luck with that one. If you can figure out the answer, give defensive coordinator Mark D'Onofrio a call.
NN: Regardless of records or rankings, the energy and emotion always seems high in a rivalry game like this. But coming off two tough losses and potentially without their starting QB, what's the mental state of the Miami players right now?
Degnan:
They're excited, I think, although Al Golden's team is a lot different from the Miami teams of the past. These guys are definitely understated. Not one of them is brash or brazen when being interviewed. But they also seem, at least outwardly, to be buying into Golden's program or "process." He seems to have them pretty focused. And I must say that these guys do not quit during games, which they did at times in the last few years when getting beat (can you say 45-17 vs. FSU at Miami in 2010?).
NN: So many FSU-Miami games have come down to one or two plays making the difference -- particularly on special teams. What do you think will be the keys for Miami to pull off the upset this time around?
Degnan:
Setting up great field position with special teams, a Miami offensive line that gives the quarterback time to deliver the play, creating some opportune turnovers and hoping that someone can pressure EJ Manuel. Sounds like a dream, but in this rivalry, anything can happen.
Great info from Susan. If you want to read more of her Miami coverage -- or get the latest on Morris' injury situation -- you can read it
here
or follow her on Twitter at
@SMillerDegnan
.
October, 18, 2012
10/18/12
9:00
AM ET
Florida State rebounded nicely from its first loss of the season, cruising past Boston College and helping to numb a bit of the sting that came with falling out of the national-title picture.
But if a national championship isn't on the agenda, the next item on the list for a hefty contingent of fans would be a win over FSU's bitter rival, Miami.
The Hurricanes are reeling after two straight losses, but Jimbo Fisher insists they're dangerous. For Florida State's players, however, it doesn't matter. It's a rivalry game, and there's only one acceptable outcome regardless of the records.
To continue reading this article you must be an Insider
October, 15, 2012
10/15/12
11:00
AM ET
The ACC has done it again.
From hope to heartache in a matter of weeks, ACC fans and their teams have run the gamut of emotions in the first half of the season.
The conference started out strong with a nationally televised showdown between top-10 teams Florida State and Clemson. It was prime-time entertainment with ESPN's "College GameDay" crew in Tallahassee, Fla., and both teams lived up to the billing and looked worthy of their preseason hype and rankings. The conference puffed out its chest even more with the news that Notre Dame would commit to playing five games against the ACC annually, a solid steppingstone to the Irish possibly joining the conference full-time one day.
[+] Enlarge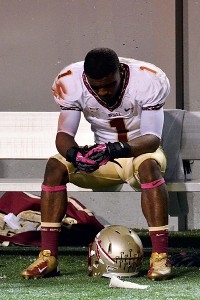 Rob Kinnan/US PresswireFlorida State's stunning loss at NC State not only hurt Seminoles receiver Kelvin Benjamin, it resonated throughout the ACC, depriving the league of its best hope for a national champion.
For six weeks, the ACC had its national title contender in unbeaten and No. 3-ranked Florida State. It had its Heisman hopeful in FSU quarterback
EJ Manuel
. And it had enhanced its stability and reputation for the future with its partnership with Notre Dame.
And then came the crash.
What was pure bliss for NC State in Week 6 was devastating to the ACC. In stunning, dramatic fashion, NC State quarterback
Mike Glennon
completed three fourth-down passes in the final drive of the fourth quarter, leading the Pack to a 17-16 upset of Florida State. Instantaneously, the league faded back into irrelevance in the national picture. No longer could the ACC mask an otherwise abysmal season with its top-five team.
Suddenly, the rest of the ACC's warts seemed uglier.
Georgia Tech fired its defensive coordinator, Al Groh. After coming up short in losses to two Big East teams, Bud Foster's Virginia Tech defense allowed North Carolina to score more points -- 48 -- than any other ACC team has ever scored against the Hokies. Boston College lost to a previously winless Army team, further indicating this could be Frank Spaziani's last season as head coach. Wake Forest suspended six players for its game at Maryland and two more the following week. Two of the league's brightest stars -- NC State cornerback
David Amerson
and Clemson receiver
Sammy Watkins
-- have yet to shine like they did a year ago, but two rookies -- Maryland's
Stefon Diggs
and Miami's
Duke Johnson
-- emerged as household names in ACC country.
With Duke and Miami briefly leading the Coastal Division standings, and Maryland atop the Atlantic Division standings, the ACC was officially turned upside down in the first half of the season. Preseason Coastal favorite Virginia Tech was out of the Top 25 by Week 3 and Georgia Tech sank into a four-loss crater, leaving the door wide open. The Blue Devils knocked it down with a 5-1 start, and the wildly unpredictable Cardiac Canes elbowed their way to the top of the division standings. Miami overcame its youth, and Duke found a way to overcome numerous injuries -- including ones to several key starters on defense and also to starting quarterback
Sean Renfree
-- for its best start since 1994. Duke entered Week 7 with the best record in the state of North Carolina, but couldn't hold onto the magic and was shut out for the final three quarters of a 41-20 loss at Virginia Tech. Meanwhile, the postseason-ineligible Tar Heels looked like the most complete team in the division.
Four teams in the Coastal Division have one league loss. Maryland is the only ACC team still undefeated in conference play. About the only predictable thing in this conference is its unpredictability -- and its failure to maintain a national title contender through November.
Offensive MVP: Clemson WR DeAndre Hopkins.
Hopkins needed only the season opener to set the Clemson single-game record for receptions with 13 against Auburn. Hopkins has been near the ACC lead in receiving yards per game all season, and has a 129.5 average entering the game with Virginia Tech. He has 370 receiving yards on 18 catches in the past two games and was leading the nation in total receiving yards entering games of Oct. 13.
Defensive MVP: FSU DE Bjoern Werner:
Werner has looked like a pro this season. Nobody had more sacks in the opening weekend of FBS college football, and he has been relentless in pursuit of opposing quarterbacks. Of Werner's 21 tackles on the season, 10 are tackles for loss, including 6.5 sacks.
Biggest surprise: Duke.
The Blue Devils' 5-1 start was their best since 1994, also the last time the program went to a bowl game. Duke started out 2-0 in ACC play with wins against Wake Forest and Virginia. That the team was able to overcome so many injuries to key players and leap Virginia Tech in the Coastal Division standings was evidence the recruiting and depth have improved significantly.
Biggest disappointment: Virginia Tech.
The Hokies were ranked No. 16 in The Associated Press Top 25 preseason poll, but fell out entirely after an embarrassing road loss to Pitt in Week 3. Instead of that being an anomaly, Virginia Tech went 0-2 against the Big East and lost back-to-back games against Cincinnati and North Carolina. With eight starters having to be replaced on offense, struggles were expected, but the defense fell far below expectations.
Best game: Florida State at NC State.
This one changed the entire season, and it couldn't have come in more thrilling fashion. On fourth down with 16 seconds left, Mike Glennon threw what would be the game-winning 2-yard touchdown pass to
Bryan Underwood
for the 17-16 win. It was the highest-ranked opponent NC State has defeated since beating No. 2 Florida State 24-7 in 1998, and it opened up the Atlantic Division race.
Newcomer of the year: Maryland wide receiver Stefon Diggs.
He became the only Maryland freshman to record back-to-back 100-yard receiving games since at least 1985, and one of those performances came against West Virginia. Diggs is the only player in the ACC, and one of two nationally, with 350 receiving yards, 150 punt return yards and 150 kickoff return yards (joining
Bernard Reedy
of Toledo). Diggs leads the ACC and ranks third nationally with 21.5 yards per catch.
Best coach: David Cutcliffe, Duke:
He kept his players believing, and the program turned the corner in his fifth season. It is only the third Duke start of 5-1 or better in the past 30 years (5-1 in 2012; 6-0 in 1994; 5-1 in 1988). With home wins against FIU, N.C. Central, Memphis and Virginia this season, the Blue Devils also have opened the year with four consecutive home wins for the first time since 1994.
October, 10, 2012
10/10/12
9:00
AM ET
A year ago, Florida State allowed its first loss of the season to spiral into three straight defeats. The Seminoles have promised that won't happen this time around, and they'll get a fairly soft first test in Boston College, which is reeling after a 1-4 start to the season.
To find out a bit more about what's ailed BC this season and what the Seminoles will need to do to ensure a better outcome than last week, we checked in with Rich Thompson, who covers the Eagles for the Boston Herald.
NoleNation: A year ago, Chase Rettig threw for just 76 yards against the FSU defense, but he seems to have really blossomed this year. What's been the difference for him, and what has he said about how he'll approach this week's matchup against Florida State?
Rich Thompson:
Chase always had the arm and the football intelligence. He's learned to read his progessions and buy time by stepping up in the pocket. What he lacks in athleticism he makes up for with a confident pocket presence and accurate spirals. TE
Chris Pantale
broke his foot in training camp so Rettig has posted those numbers without a big target over the middle.
Alex Amidon
gives him the deep threat he lacked last season. My fear for Chase this week is that he will get chewed up by ther FSU pass rush. Army dropped him five times last week with a clever blitz package. I'm sure the FSU coaches took notice.
NN: The BC defense allowed more than 500 yards on the ground to Army a week ago, and they rank dead last in the ACC against the run. What's been the game plan this week for slowing FSU's ground game, which ranks as one of the better units in the conference?
Thompson:
Army focuses everything on the run. They should never have gotten that much, but that is what they do. To be fair, DT
Kaleb Ramsey
, DE
Brian Mihalik
and OLB
Kevin Pierre-Louis
were out with injuries. The Eagles rush defense was exposed by
Duke Johnson
in the seaosn opener and people have been running ever since. The real killer stat was the 293 rushing yards Northwestern gained. If FSU establishes a consistent run,
EJ Manuel
will kill them with play action.
NN: Florida State is coming off an ugly loss to NC State last week in which the Seminoles failed to score in the second half. Is there anything B.C. can take from watching that game tape that they can use to their advantage this week?
Thompson:
BC's only hope was a trap game against an undefeated and over confident FSU team. NC State did BC no favors. A riled Seminole Nation was the last thing the Eagles need.
NN: The bad start has already turned up the heat on Frank Spaziani, and with a new athletic director coming on board, his job status looks tenuous at best. What's the mood surrounding the team, and what will this week's performance against a quality opponent mean in the big picture?
Thompson:
The kids like Spaz and they play hard for him. The alumni and the boosters want him gone. His recruiting classes have been a disaster. The new AD has a football background with Big Ten connections. Spaz had one foot out the door after Northwestern. Army pushed him down the stairs. Maryland is the only team they have a chance of beating.
NN: Boston College hasn't won a game in the ACC yet, but they kept things close against Miami and Clemson into the fourth quarter. What do the Eagles need to do this week to be in a position to win the game late against FSU?
Thompson:
BC's only hope is to force a lot of turnovers and they have very few so far. BC can't stop teams from converting on third down. Northwestern (12-of-19), Army (8-of-16) Clemson (10-of-16). FSU will move the chains and burn them with big plays. It is a bigger mismatch than last year.
Many thanks to Rich for the insight. You can read more of Rich's Boston College coverage
HERE
.
September, 20, 2012
9/20/12
12:00
PM ET
Time to take a look at what to watch in the ACC in Week 4. I think you probably already have a good idea of what is in store.
1. Top-10 clash.
By now, you probably already know the matchup between No. 10 Clemson and No. 4 Florida State is only the ninth meeting featuring two ACC teams ranked in the top 10. So yes, it is a big game, one of the biggest games in league history, even. I have been asked this question several times during the week: What is the best possible outcome for the ACC? Clearly one team has to win and one has to lose. But in the best-case scenario, this game is competitive, thrilling and pretty clean, and goes down to the wire. To me, that validates having two teams ranked in the top 10 and keeps the loser somewhere in the top-15 range.
2. Offense vs. defense.
This is your classic matchup of terrific offense against terrific defense. So which unit gets the edge? We find out Saturday. According to ESPN Stats & Information, Florida State is one of two teams that has yet to allow a touchdown this season (TCU is the other) and has forced 22 three-and-outs in 42 opponent drives. Clemson, meanwhile, is averaging 39.7 points per game this season. The Tigers have 17 plays that gained 25 yards or more this season, tied for the most in the nation.
[+] Enlarge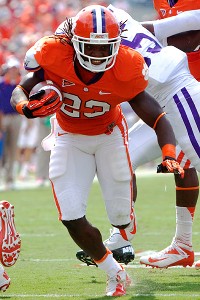 Joshua S. Kelly/US PresswireAndre Ellington and Clemson can give the ACC a lift by knocking off SEC power LSU.
3. Andre Ellington vs. FSU run D.
One of the matchups that has not been given too much attention this week is between Clemson running back Andre Ellington and the Florida State run defense. While much of the media focus has been on
Sammy Watkins
and
DeAndre Hopkins
, Ellington is an absolute player to watch. According to ESPN Stats & Information, Ellington has gained more yards after contact (199) than Florida State has allowed in total rushing yards (101) this season. As for the FSU defense, the Noles have forced their opponents into no gain or negative yardage on 40 of 85 rushes (47.1 percent), the highest percentage in the Football Bowl Subdivision. Ellington has failed to gain yards on just four of his 53 rushes this season (7.5 percent) and has been hit in the backfield on just seven runs.
4. Bounce-back week.
Now on to some of the other matchups. This could be called "bounce-back week in the ACC" for a few of the other teams in the league: Virginia Tech, Wake Forest, North Carolina and Virginia -- teams that all lost last week. I left out Maryland because the Terps play No. 8 West Virginia and face the biggest challenge of all these teams. Virginia Tech, Wake Forest and North Carolina all are expected to win. Virginia? The Hoos are a double-digit underdog at No. 17 TCU.
5. Logan Thomas.
Speaking of Virginia Tech, which Logan Thomas will we see Saturday against Bowling Green? Thomas played poorly against Pitt last week, throwing three interceptions. The mistakes were absolute killers, as Pitt used the turnovers to pull the upset. One of the big problems for Thomas and the Hokies has been an inability to run the ball. That, combined with ineffective quarterback play, has left this team stagnant on offense. We'll see what the Hokies try to do to jump-start both Thomas and the run game this weekend.
6. Can Georgia Tech beat Miami?
The Hurricanes have won three straight in the series, but all signs are pointing to Georgia Tech this season. Last week against Virginia, the Jackets scored seven rushing touchdowns -- tied for the most under coach Paul Johnson. This is a pretty confident group on offense going into the game. The bigger question for Tech is how to slow down Miami freshman sensation
Duke Johnson
, who scored three different ways against Bethune-Cookman. Tech has not faced anybody nearly as good as Johnson in its first three games this season, and the Jackets have had problems slowing down some of the speed and athleticism Miami has presented in the past.
7. Does Maryland have a chance?
There is always a chance in any game, but the Terps are going to have their work cut out for them. I got to watch
Geno Smith
play last year when West Virginia was in the Big East, and the only time I saw him flustered was when he faced heavy pressure. Maryland does have a good defense that can apply pressure, but there are two problems: 1. Smith is better this season and 2. He gets rid of the ball so fast. Maryland's only chance in this game is with a studly defensive performance, but I just don't think the Terps have the players to slow down Smith,
Stedman Bailey
and
Tavon Austin
.
8. Does Virginia have a chance?
Late news Wednesday night -- TCU will be without running back
Waymon James
for the rest of the season. The Horned Frogs have depth concerns at that position, but the bigger problem for Virginia will be slowing down
Casey Pachall
and the passing game. Virginia is so green in the secondary, the advantage might go in TCU's favor.
9. Will the real North Carolina please stand up?
Are the Tar Heels the team that trailed Louisville 36-7 at halftime last week or the one that outscored the Cardinals 27-3 in the second half and nearly won? Coach Larry Fedora sure would love to find out against East Carolina on Saturday. This is a game that should have plenty of juice in-state. East Carolina sold out its ticket allotment for the game.
10. Could be a good day for the state of North Carolina.
Wake Forest plays Army, NC State plays the Citadel and Duke plays Memphis in games almost everybody expects to go the ACC's way. The hope for these teams is that there is no look-ahead factor with conference games set for next week: Duke travels to play Wake, and NC State will be at Miami.