Florida State Seminoles:

Dravon Henry
December, 17, 2013
12/17/13
8:00
AM ET
Signing day and Feb. 5 still might feel far away (50 days away to be exact), but for coaches the sense of urgency has officially set in. The offseason dead period was extended and began Sunday. It will last a month into mid-January, leaving coaches with only a few weekends left to host recruits on campus visits and meet prospects and their families inside their homes.

So with signing day closer than it appears in college football's mirrors, here are 10 storylines in the ACC to watch between now and Feb. 5.

1. Who will sign the ACC's top class?


December, 4, 2013
12/04/13
5:30
AM ET
The Early Offer is RecruitingNation's regular feature, giving you a daily dose of recruiting in the mornings. Today's offerings:
Josh Malone
, one of the nation's best receivers, will announce his decision today, so will he be singing Rocky Top, calling the Dawgs or heading to Clemson? In-home visits are taking place all over the country and social media is providing us with an inside look at life on the trail; and we're less than a week away from finding out where the top player in Pennsylvania will end up.
Will Rocky Top be home sweet home?
Four-star receiver Josh Malone, the nation's No. 48 player out of Gallatin (Tenn.) Station Camp, has already signed financial aid agreements with Tennessee, Georgia, Clemson and Florida State, but he will announce his decision at noon ET Wednesday on NBC Sports Network. The
RecruitingNation Hot Board
has Malone projected to select Tennessee. The Volunteers were smart and were the first to use the signing of the financial aid paperwork as a tool in the recruiting process. Because he was technically "signed" UT coaches were able to have regular contact with him. Shortly after, the three other schools followed suit.
To continue reading this article you must be an Insider
November, 12, 2013
11/12/13
8:00
AM ET
It is a chicken or the egg argument. Has the SEC ruled college football for much of the last decade because the conference annually places five or more teams among the top 10 of the recruiting rankings? Or is the SEC's recruiting dominance a result of seven straight national championships?
The ACC, though, could be the David to the SEC on the field and in recruiting. In the 2014 cycle, two ACC schools have top-five classes. Will that remain the same come signing day?
We look at that question and nine others as we examine the most pressing ACC recruiting questions leading up to signing day.
1. Will FSU and Miami remain in the top five of the class rankings?
Both classes are close to completion, so it could be tough for the Noles and Canes to finish in the top five of the rankings. Alabama is at No. 1 and could end up running away with another recruiting title. The rest of the SEC will charge hard come signing day, too. Tennessee should be a safe bet to finish in the top five, and programs such as Florida, Georgia, LSU, Ole Miss and more could break into the exclusive group come February. Tennessee recently jumped both schools, pushing Florida State to No. 3 and Miami to No. 4.
2. Can Miami surpass Florida State for the ACC's top class?
If both were to fall out of the top five, there is still some pride in finishing with the top class in the conference. The Noles are ahead of the Canes at the moment, and it will be tough for the Canes to jump FSU. It looks as if Miami has two spots left and should finish with
Johnnie Dixon
and
Anthony Moten
. But the Noles could sign more than 30, and some of the country's truly elite prospects have Florida State among their finalists. It looks doubtful that Miami -- or any ACC team -- will catch and pass Jimbo Fisher's class.
[+] Enlarge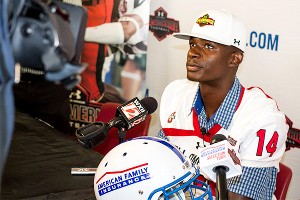 Courtesy of IntersportESPN 300 DE Lorenzo Featherston is a Clemson lean whose pledge would help the Tigers close strong.
3. Will Clemson finish in the top 10?
Sitting at No. 12 in the rankings, the Tigers have a good chance to finish in the top 10 and even an outside chance to crack the top seven. Defensive end
Lorenzo Featherston
(Greensboro, N.C./Page) is No. 27 in the ESPN 300 and a Clemson lean. It would be a surprise to see him land anywhere but with the Tigers. Cornerback
D.J. Smith
(Marietta, Ga./Walton), No. 88 in the ESPN 300, also looks to be leaning Clemson's way, and the same could be said for defensive end
Andrew Williams
(McDonough, Ga./Eagles Christian Landing), No. 168 in the rankings. The prize of the defensive class would be five-star inside linebacker
Raekwon McMillan
, however. He is slated to visit officially later this month, and the No. 12 player and top linebacker in 2014 has the Tigers among his top three.
4. Can Pitt close out with three of its four Western Pennsylvania targets?
For Pitt's class to be considered a success, Paul Chryst needs to do just that. The Panthers are struggling some with Pittsburgh-area prospects in 2014, but the same happened in 2013 before Pitt landed
Dorian Johnson
and
Tyler Boyd
. In February, the Panthers hope to land
Dravon Henry
(Aliquippa, Pa./Aliquippa),
Alex Bookser
(Pittsburgh/Mt. Lebanon),
Montae Nicholson
(Monroeville, Pa./Gateway) and
Shai McKenzie
(Washington, Pa./Washington); Henry, Bookser and Nicholson are all in the ESPN 300 and have Pitt among their finalists. Henry is a Pitt legacy. Bookser looks to be focused on Ohio State and Pitt; Nicholson will decide in December and is projected to Pitt.
5. Will Duke sign an ESPN 300 prospect?
The Blue Devils have never signed an ESPN 150 or ESPN 300 prospect since the rankings began almost a decade ago. That was going to change in 2014 with quarterback
Nicodem Pierre
(Miami/Coral Reef), but the dual-threat dropped from the ESPN 300 in October. However,
Trevon Lee
(Ft. Lauderdale, Fla./Cardinal Gibbons) could be leaning Duke's way with the Blue Devils on a roll this season. With a guaranteed winning regular season -- their first in nearly two decades -- Lee is thinking hard about Duke. Academics are big for the 241st-ranked player, so a decision could come down to Duke and Vanderbilt.
To continue reading this article you must be an Insider
October, 8, 2013
10/08/13
8:00
AM ET
Hope for the best but prepare for the worst. That is what college coaches must do when it comes to recruiting. Every coach would love to land their top target at every position, but coaches are forced to play the what-ifs and continue to recruit prospects lower on the recruiting board. With signing day a few months away and several classes close to completion, college staffs are pushing for those few final targets but also keeping a watchful eye on players down the board.
Here are the best- and worst-case scenarios for each of the ACC schools.
To continue reading this article you must be an Insider
September, 19, 2013
9/19/13
9:15
AM ET
Ten ESPN 300 prospects from the East region count themselves among the top uncommitted prospects in the 2014 class, and there is a very strong ACC flavor to most of their recruitments. An ACC school is the favorite or in the running for eight of the 10, and surprisingly it is not just Florida State and Miami, which are both in the top five of the ESPN class rankings, under consideration.
Here is a recruiting breakdown of the uncommitted ESPN 300 prospects from the East region:
DE Da'Shawn Hand (Woodbridge, Va./Woodbridge)
To continue reading this article you must be an Insider
September, 6, 2013
9/06/13
11:00
AM ET
ACC recruiting reporters Corey Dowlar and Jared Shanker took time Friday to answer questions in their weekly mailbag. You can send questions to them on Twitter with the #AskACC hashtag and mentioning @cdowlar and @JShankerESPN. Or reach them via email at cdowlar@gmail.com and JShankerESPN@gmail.com.
@jameshall616 asks:
now seeing Jameis Winston's big debut, how is FSU using that toward recruits? #AskACC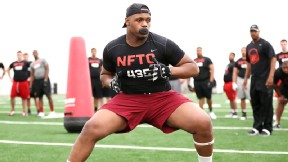 Tom Hauck for Student SportsLanding Damian Prince would be a big boost for Maryland.
Jared Shanker:
There is no doubt Winston's performance Monday night is going to have an impact on recruits. When you see the former No. 1 QB nationally live up to the hype and completely pick apart a defense, offensive skill players can't help but imagine catching passes or taking a handoff from Winston. And what offensive linemen would not want to block for Winston, who conducted himself like a senior in postgame interviews, giving much of the credit to his team. Florida State has only a few spots left in the 2014 class, and Winston could be off to the NFL by the time 2015 recruits come to Tallahassee, but if Winston becomes a top-10 pick and brings a few ACC titles and possibly a national title to Florida State, the impact will be felt way beyond 2014 and 2015.
As of now, it isn't quite the same effect as Tim Tebow or Johnny Manziel had, but it is only Week 1.
@RTDaSilva3 asks:
locals are saying [Damian] Prince is leaning towards #Terps. How big of an impact would his commitment be?
Shanker:
You're right, as it looks like Maryland is in the driver's seat for not just Prince but talented defensive back Jalen Tabor as well. At different times in each player's recruitment it seemed like Maryland was running behind, but the Terps have always been at least near the top and are now close to securing both of the region's top prospects. A commitment from Prince and Tabor would bring national headlines to a team that has struggled to produce them on the field under Randy Edsall. And if the Terps struggle again in 2013, a recruiting class with the likes of Jess Aniebonam, Prince and Tabor could keep Edsall around for 2014.
@MadMarshallCC asks:
any word on what the big #PITT recruits thought of their visit on Monday? #AskACC
Shanker:
The reviews from recruits have been in Pitt's favor, but I'd have to think it's a little bit of a mixed bag despite what is said publicly. Any time a team loses in a blowout, the recruiting experience is not going to be as good as it could have been. That said, I think the overall experience was a positive one for recruits. It was one of the best atmospheres Pitt has had at Heinz Field, and the crowd and fan support is something that always seemed to lack at Panthers home games. Several of the recruits visiting witnessed those lackluster crowds before, so Monday's game gave a glimpse of the potential atmospheres Pitt will have now that it is in the ACC. One high school coach, who has sent several players to Pitt, said he felt like he was at a Steelers game Monday. There was a report that
Dravon Henry
did not like his visit, but that is not the case. Henry's father, Roland, said the visit went "very good" although Henry was a little disappointed with Pitt's scheme in the defensive secondary.
September, 4, 2013
9/04/13
3:30
PM ET
The ACC had several big Week 1 games, but few conference teams took advantage of the opportunity. Clemson made a real statement to recruits across the country with a prime-time win, and the performance from Florida State's
Jameis Winston
probably has offensive skill players putting the Noles a little higher on the list. But FSU's win came at the expense of another ACC school, and three other conference teams missed a chance to impress recruits with big out-of-conference wins last week.
To continue reading this article you must be an Insider
August, 29, 2013
8/29/13
2:00
PM ET
As the regular season kicks off this weekend, recruiting, specifically revolving around visits, will start to get going, too.
Here are five storylines to watch as we head in to the opening weekend.
Pitt hosting important group
To continue reading this article you must be an Insider
August, 28, 2013
8/28/13
2:00
PM ET
The college football season is just hours away, but several high schools already began playing games this past weekend. With the focus back on the field, recruiting is taking a back seat. That will change in a few days, though, as several ACC schools are playing in marquee Week 1 games that will catch the eye of prospects up and down the East Coast.

Trending up
: The ACC is trending up with its scheduling for the opening weekend, as five schools open their season in a game with big recruiting implications. Clemson will host Georgia, and the Tigers have really made big strides in securing Peach State talent. Pitt hosts Florida State, and the Panthers' four biggest targets all plan to attend the Labor Day game. Although it is at a neutral site, Virginia Tech can make a statement with a win over two-time defending champion Alabama. And Syracuse will play Penn State, a program the Orange routinely recruits against.
To continue reading this article you must be an Insider
August, 16, 2013
8/16/13
11:00
AM ET
College football kicks off in two weeks, but recruiting never stops. We present the first installment of the ACC recruiting mailbag, answering the pressing questions from ACC fans. We'll try to give everyone a chance to get their questions answered. We encourage you to send your questions by Twitter to
@cdowlar
or
@JShankerESPN
. Feel free to email us as well at
cdowlar@gmail.com
or
JShankerESPN@gmail.com
.
@Jameshall616
: Do you think FSU will get a five-star prospect in this class?
Corey Dowlar:
The quick answer is no, probably not. They are in the running for three --
Marlon Humphrey
(Hoover, Ala./Hoover),
Lorenzo Carter
(Norcross, Ga./Norcross) and
Tony Brown
(Beaumont, Texas/Ozen). But as it stands now, they are all heading to the SEC. I would guess the best chance at one of the three would be Humphrey when Jeremy Pruitt's Alabama ties are taken into consideration.
Humphrey intends to run track in college, too, so FSU's history of dual-sport athletes (
Jameis Winston
and
Ronald Darby
, for example) could make an impression. Winston, especially since he is not only one of the more prominent members of the football team but also from the state of Alabama, could be a factor.
@Kzovko:
Outside of the state of PA, who are some "must-get" players for Pitt?
Jared Shanker:
I'm not sure there any must-get players for Pitt outside of Pennsylvania right now considering the remaining top targets not just in the state but in the WPIAL. Anything less than at least two of
Alex Bookser
,
Dravon Henry
,
Shai McKenzie
and
Montae Nicholson
should be considered a major disappointment and would only intensify the longstanding criticisms of Paul Chryst's ability to recruit.
But for Pitt's out-of-state targets, I think
Qadree Ollison
from Buffalo (N.Y.) Canisius tops that list, especially if they miss on McKenzie. They have a shot at ESPN 300 receiver
Jamil Kamara
(Virginia Beach, Va./Bishop Sullivan), although I think he lands elsewhere in the ACC. With Rutgers filling up at receiver, four-star
Juwann Winfree
(Englewood, N.J./Dwight Morrow) has to move Pitt up at least a little. Pitt was at the top with Rutgers, but look out for Virginia or West Virginia.
Chris James
(Niles, Ill./Notre Dame) is another option at running back.
@vincevinvinny:
Who are Clemson's top remaining targets? And where do they go at defensive end after
Rick Leonard
?
Dowlar:
One guy fits both criteria pretty well.
Andrew Williams
(McDonough, Ga./Eagles Landing Christian Academy) is the country's No. 168-ranked player and a four-star prospect. You'd better believe the Tigers would love to have him in this class. Another guy they'd love to bring in is 6-foot-1, 200-pound wide receiver
Trey Quinn
(Lake Charles, La./Barbe). Clemson will be fighting Auburn, LSU, Mississippi State, Notre Dame, Ole Miss, Texas, Texas A&M and Oklahoma State.
At defensive end, there is another nice option in
Lorenzo Featherston
(Greensboro, N.C./Page). At 6-7, 202, Featherston has a tremendous frame to add weight. And he'll need to do that. He's ranked by ESPN as the No. 27 player in the country and a four-star prospect. Clemson is thought to be the team to beat for Featherston with North Carolina, NC State and Ohio State lurking in the background.
@JacobsDj082167:
You think [
Ishmael] Witter
goes to Cuse if [
Jonathan] Hilliman
goes RU?
Shanker:
Now that Hilliman is officially committed to Rutgers, it probably closes the door at running back for the Scarlet Knights, who have three pledges at the position. Rutgers looked to be the favorite for Witter, but now that absolutely opens the door even more for Syracuse. He took a visit to Syracuse in late July, and at the moment I think Syracuse looks to be the most likely landing spot. However, don't count out the SEC when it comes to pulling recruits, and Missouri has offered. Big Ten program Indiana offered recently, too, and if the Hoosiers can get to six or seven wins, they could close strong.
May, 7, 2013
5/07/13
12:00
PM ET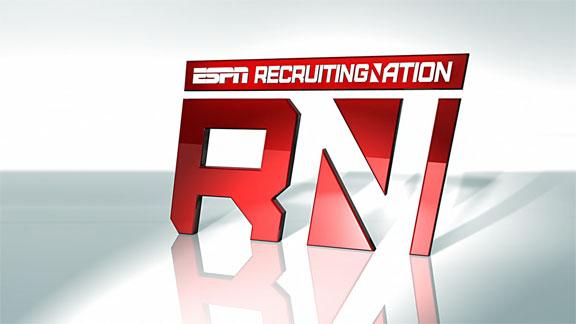 ESPN 150 athlete
Dravon Henry
(Aliquippa, Pa./Aliquippa) listed his top four schools about two months ago with the understanding it would slow down his recruitment.
With the mailbox now stuffed with 50 letters by the middle of the week, it's safe to say the four-star athlete understood incorrectly.
To continue reading this article you must be an Insider
Goodell Has Sit-Down With Jameis Winston
ACC SCOREBOARD
Thursday, 9/3
Saturday, 9/5
Monday, 9/7