Florida State Seminoles:

Deion Sanders
March, 27, 2014
3/27/14
9:30
AM ET
TALLAHASSEE, Fla. -- Deion Sanders' No. 2 is retired at Florida State, his number never to be seen on the field at Doak Campbell Stadium. That eases some of the pressure on Seminoles sophomore defensive back
Jalen Ramsey
, jokingly referred to as "Prime Time" in the Noles' locker room. LeBron James wearing No. 23, this is not.
[+] Enlarge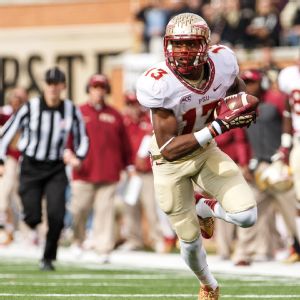 Jeremy McKnight/Icon SMIJalen Ramsey racked up 46 tackles shifting between safety and corner as a freshman in 2013.
Ramsey appreciates the comparisons even if he doesn't understand or embrace them. Any elite FSU defensive back will be measured against Sanders, the last true freshman cornerback to start at Florida State until Ramsey. He doesn't want to stand against Sanders, though, but rather next to him, specifically in the Seminoles' locker room.
"People joke about [being Sanders] and I'm like chill out. I want to be my own legacy, be Jalen Ramsey," he said. "I want to have one of those highlighted jerseys in the locker room one day."
Florida State announced locker room renovations in March, among them silhouette statues with lit numbers of all the Seminoles whose jerseys are retired. Sanders' No. 2 is one of them, and Ramsey hopes his new No. 8 (he wore No. 13 as a freshman) is soon held in similar regard.
Although he was named a Football Writers Association of America Freshman All-American in 2013, this upcoming season is when the 6-foot-1, 198-pound Ramsey could become a household name to of even the mildest college football fan. As a freshman, he bounced between cornerback and safety as the secondary dealt with injuries. Seminoles coach Jimbo Fisher will move Ramsey all over the field once again, but he could settle in mostly at nickelback, which, and Fisher could not have planned this better, is called the "star" position in his defense.
Lamarcus Joyner
lived up to the position's billing in 2013, finishing with 69 tackles, two interceptions, six passes defended, a team-high 5.5 sacks and was second with three hurries.
"I love that spot," Ramsey said. "[Defensive coordinator Charles] Kelly basically lets me play. I had to learn a few techniques, but he just lets me play. He knows I'm physical, he lets me get in the box, read run/pass and react quick, guard slot receivers."
Kelly is taking over for Jeremy Pruitt as defensive coordinator, but as an internal hire, hardly anything has changed in the Noles' scheme. Pruitt took advantage of Joyner's momentum-swinging ability as a blitzer last season, and Kelly will do the same with Ramsey this fall.
Ramsey isn't shy when it comes to rushing the passer either and lights up when asked about blitzing. Few things raise Ramsey's heart rate like mixing it up with running backs and offensive linemen, and he said heart and willpower -- immeasurable on the 5-8, 184-pound Joyner -- are what make a great blitzer.
It is nice to have a defensive back with the attitude to tussle with players twice his size, but Fisher is shrewd enough to know a player with the rare physical tools Ramsey possesses is the reason he's poised to be the Noles' ace blitzer.
"He's so athletic, has burst, he can change [direction] , he can bend, he can run by you, if you square him he has moves like a back to get around you," Fisher said, "but he's also physical enough to take on a back or run on the edge."
In essence, Ramsey and Sanders are not all that similar as defensive backs. Sanders was a shut-down man-to-man cornerback, and Ramsey is the defense's jackknife with the responsibilities of a player in all three levels of the defense.
By the end of fall, however, Ramsey wishes for at least one parallel between Prime Time and himself.
"We're trying to get this third Jim Thorpe Award at Florida State," he said. "That's the Heisman for the DBs."
July, 8, 2013
7/08/13
9:00
AM ET
Charlie Ward's credentials are impeccable. He's second in school history in total offense. He was the first Florida State player to win a Heisman. He led Florida State to its first national championship.
In a draft of the all-time greatest Seminoles, Ward's an easy pick at No. 1, right?
[+] Enlarge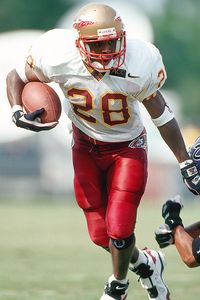 US PresswireWarrick Dunn is Florida State's all-time leading rusher, but is that enough to make him a No. 1 pick in the all-time FSU draft?
Actually, it's not quite so simple. Ward, of course, never played a down in the NFL, so shouldn't future professional stars like Derrick Brooks or Warrick Dunn earn some consideration, too? And while Ward was certainly one of the elite quarterbacks in college football history, it's perhaps Chris Weinke that was the better pure passer, finishing his career with nearly 10,000 passing yards to go with a Heisman and national title of his own. Then there's the men who helped pave the way for those national championships by building Florida State into a powerhouse program -- from Fred Biletnikoff in the 1960s to Ron Simmons in the 1970s, and of course, Deion Sanders in the 1980s.
In other words, when it comes to picking the best players to come through Tallahassee in the past half-century, there's ample room for debate, and that's exactly what we'll be doing at NoleNation this week as we look at our all-time Florida State football team.
Our panel of experts will participate in a draft of Florida State's best players, and we'll analyze the picks. We'll dig into the archives to look at how FSU landed some of those key players on the recruiting trail, and we'll look ahead at which members of the current crop of Seminoles might go down in history as some of Florida State's all-time best.
Of course, to get it all started, we needed to figure out some way of ranking the best of the best, and it wasn't easy. Here are a few of the key debates that raged in advance of our draft:
What's the criteria?
Does Ward get penalized because he didn't go on to professional stardom? Does Walter Jones get extra credit for what he did in the pros, despite spending just a year in Tallahassee? And what's a fair comparison between Biletnikoff and Warrick, who played the same position nearly 40 years apart? When you're splitting hairs between the best of the best, simply finding a standard set of rules to judge them by isn't easy.
Who's at the top?
Never mind finding Florida State's all-time top player. That's an impossible task. Simply narrowing down the list to a top 10 was a painstaking experience, and surely the final results will earn some scorn from fans befuddled about the absence of their personal favorites. When a program spends the better part of two decades in the hunt for a national title, there's no shortage of difference makers.
Offense or defense?
Sure, Ward and Weinke have the Heisman trophies, but should some glamor awards trump all the battered bodies Mickey Andrews' boys left in their wake? From Simmons' rise to stardom in the late 1970s to Sanders ushering in the "Prime Time" era in the '80s to Brooks, Terrell Buckley, Corey Simon, Peter Boulware and a few dozen more defensive stalwarts, there's plenty of cases to be made that the defense was the building blocks for FSU's championships, and the Seminoles' defenders deserve the lion's share of the top spots.
Who comes next?
Even after ironing out a list of FSU's best, finding the next batch of greats for the later rounds of our draft was equally challenging. Who follows Ward and Weinke at quarterback? Once Dunn and Greg Allen were off the board, how do you decide between Sammie Smith, Travis Minor, Larry Key, Greg Jones or a host of other running backs? If Sanders and Buckley were the clear-cut top DBs, when's the right time to jump on Corey Sawyer, LeRoy Butler or Tay Cody?
None of the answers were easy, but this week we'll do our best to put an end to a few of the debates.
January, 1, 2013
1/01/13
6:05
PM ET
LAKE BUENA VISTA, Fla. -- There were several standouts at Tuesday's Day 2 practice for the Under Armour All-America Game (5 p.m. ET Friday, ESPN). Two players -- one for Team Nitro, the other for Team Highlight -- said they are closing in on their college decisions and will make their announcements Friday. Meanwhile, the nation's No. 1 player left the field at Disney's ESPN Wide World of Sports with an injury.
Folston closing in on decision
Four-star athlete
Tarean Folston
(Cocoa, Fla./Cocoa) is set to make his college decision Friday. The 5-foot-9, 190-pound ESPN 150 will chose between Notre Dame, Florida State and Oregon.
Folston has been a standout defensive back during the first two days of practice, but he's being recruited by all three of his final schools to play running back.
He said he likes the familiar feeling he gets from Notre Dame and Oregon.
"It's just a home feeling, the fans around there are great fans. The community is all involved in football. It's just a nice town and a home feeling environment. With Oregon, it's pretty much the same as Notre Dame. They are two different schools but I call it 'the village,' just everybody in that place comes together and helps support the team."
Florida State is the only school Folston is considering from his home state, but he insists distance won't be a factor in his decision.
Goodell Has Sit-Down With Jameis Winston
ACC SCOREBOARD
Thursday, 9/3
Saturday, 9/5
Monday, 9/7