Florida State Seminoles:

Deacons-Seminoles-091512
September, 15, 2012
9/15/12
9:00
PM ET
<a href="http://espn.go.com/college-football/player/_/id/501094/debrale-smiley" target="_new">Debrale Smiley</a> bounced off a would-be tackler and rumbled 18 yards into the end zone for Florida State's seventh touchdown of the day, a final dose of salt in the wounds for Wake Forest and the finishing touches on a 52-0 Seminoles win.

In the end, Smiley's touchdown meant little, but it did push Florida State past the 50-point plateau for the third straight game -- something it had never done before.

"We wanted to make a statement today," fullback <a href="http://espn.go.com/college-football/player/_/id/480765/lonnie-pryor" target="_new">Lonnie Pryor</a> said. "Our goal is to win the ACC and hopefully win a national championship, and they were in our way. Hopefully we can keep this going."

This marked just the third time in ACC history that a team topped 50 in three straight games, the last coming in 1992.

Florida State actually might have been able to add to the carnage again in the fourth quarter, as third-string quarterback <a href="http://espn.go.com/college-football/player/_/id/514124/jacob-coker" target="_new">Jacob Coker</a> drove the Seminoles to the Wake Forest 19 before the clock ran out.

As it turned out, that drive snapped a streak of 25 straight trips into the red zone that resulted in points for FSU, but it was of little consequence.

Overall, the Seminoles tallied 612 yards of total offense, including 385 on the ground. Eleven different receivers caught passes, <a href="http://espn.go.com/college-football/player/_/id/380849/ej-manuel" target="_new">EJ Manuel</a> accounted for two passing touchdowns and one on the ground, and <a href="http://espn.go.com/college-football/player/_/id/480764/chris-thompson" target="_new">Chris Thompson</a> racked up 220 yards of total offense.

"We've still got a lot of things to work on," receiver <a href="http://espn.go.com/college-football/player/_/id/514136/rashad-greene" target="_new">Rashad Greene</a> said, "but this was a game to be able to get better and have fun."
September, 15, 2012
9/15/12
6:46
PM ET
TALLAHASSEE, Fla. -- Jimbo Fisher could list the ugly plays from memory.
EJ Manuel
missed a sideline route to
Rodney Smith
. He overthrew
Lonnie Pryor
on a route that Pryor gave up on too soon. He had hands in his face too often throughout the game. There were a few drops by receivers, too.
It was a 52-0 win, but Fisher knows his offense could've played better.
"I've got it on the quarterback, I've got it on our protection, and I've got it on our receivers," Fisher said. "I think all three phases could do a better job."
Complaining about missed assignments and dropped balls are a luxury for a team that is now 3-0 for the first time since 2005 and has outscored its opposition 176-3 thus far.
But the task gets tougher this week with Clemson looming on the horizon, and Fisher aims to iron out any flaws in the offense.
Some of the problems were caused by Wake Forest's 3-4 scheme, which offered few surprises but still managed to prove a bit complex for Florida State's blockers. Right tackle
Daniel Glauser
looked bad on a number of plays in his first start of the season, while fullbacks and tight ends failed to pick up blitzes on several others, Fisher said.
"It was a little different," guard Tre Jackson said. "All we really came out trying to do was not mess it up. We continue to work and get better."
Glauser was in the lineup because starting right tackle
Menelik Watson
missed three practices this week with an ankle injury. Watson played in the second half, but Fisher said he was wary of giving the junior college transfer a lot of work against the unique Wake defense without the proper preparation.
The rest of the offensive line looked a bit perplexed at times, too, and at halftime, Manuel was just 5-of-11 passing for 75 yards. His production improved in the third quarter, but he was under duress throughout. The Florida State line allowed its first three sacks of the season.
But while the offensive line struggled at time in pass protection, the run blocking was stellar.
Florida State racked up 385 yards rushing Saturday, led by two long touchdown runs for
Chris Thompson
. Both runs went to the right side, with Jackson opening up the holes.
So while there remains work to be done on the line, Jackson said, it's tough not to celebrate the line's performance against Wake Forest.
"That's the best feeling as an offensive lineman you can have, when you set the block, open up the hole, and you see your running back bust through," he said. "You're just running behind him cheering him on."
September, 15, 2012
9/15/12
6:06
PM ET
TALLAHASSEE, Fla. -- A week ago, lightning ended Florida State's win over Savannah State with nearly 25 minutes of game time remaining. It meant little to the starters, who had long since retired to the sideline.
For the freshmen getting their first significant taste of action, however, the abrupt ending to the game was a missed opportunity. Against Wake Forest on Saturday, however, they were able to make up for lost time.
By the fourth quarter of Saturday's 52-0 win over the Demon Deacons, sophomore
Karlos Williams
was the lone member of Florida State's defense on the field that wasn't a freshman or redshirt freshman.
"They held up real well," defensive end
Cornellius Carradine
said. "They're still trying to adjust to the system, but they held up great. They'll get more comfortable as the season goes along."
Defensive tackle
Eddie Goldman
finished with three tackles, including one for a loss. Defensive ends
Chris Casher
and Mario Edwards Jr. both saw action in the second half, combining for two more tackles.
Ronald Darby
and
Keelin Smith
both got plenty of work in the secondary, and they picked up right where their veteran teammates left off, smothering the overmatched Wake Forest offense.
"They played hard," sophomore defensive tackle
Timmy Jernigan
said. "The coaches are real tough on them, and I'm just glad to see them out there making plays and still hunting. That's the biggest thing."
September, 15, 2012
9/15/12
5:55
PM ET
TALLAHASSEE, Fla. -- As if facing one of the toughest defenses in the country on the road wasn't enough, Wake Forest was handed an average starting field position at its own 19-yard line.
The result were disastrous.
The Demon Deacons accumulated just seven first downs and 126 yards of total offense. They gained 2.1 yards per snap.
[+] Enlarge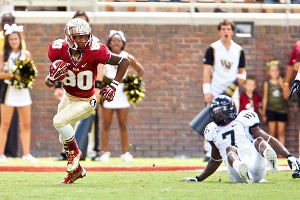 Cal Sport Media via AP ImagesRashad Greene had a 60-yard punt return for a score against Wake Forest.
It was mission impossible.
"When you have a kicker as talented as Dustin [Hopkins] is to adjust those kicks for him to be doing what he is doing, and then to be as athletic as we are -- I know as a play-caller, when you start inside the 20-yard line, you call them different," Florida State head coach Jimbo Fisher said. "You have to. Mistakes can get you killed.
"For us to do that and have a defense that can stop people, it is points. You control the field position. It makes it a big advantage."
And Hopkins and the rest of kickoff team mean business.
There are no freshmen on the unit. It is a group of starters or key contributors with two key attributes in common -- speed and the willingness to deliver a knockout blow.
The kicker has one goal: get the ball high into the air. The rest takes care of itself.
"If I get anything close to a four-second hang time, our guys are going to get them at the 15, 18, right around there," he said. "It is a huge field position thing. It adds up. That hidden yardage, it adds up.
It worked on Saturday just as it had so far this season. Every time a Deacons returner fielded a return, he failed to reach the 20. The other times the ball sailed deep into the end zone for a touchback.
And the two touchbacks out of Hopkins' nine attempts were a blessing for those dressed in black and white on Saturday.
"I don't know if you all watch kickoff, but someone's helmet comes off at least one time on kickoff," said senior fullback
Lonnie Pryor
.
It wasn't just the kickoff team that did damage for the Seminoles.
Rashad Greene
returned his second punt for a touchdown in three games to give Florida State a 14-0 lead and the visitors all kinds of doubt.
And to round out the day, the punt team did pretty well too.
True freshman punter
Cason Beatty
had four attempts, three of which were downed inside the opponent's 20 and the other was a touchback giving Wake Forest exactly zero return yards.
When Clemson comes to town next weekend, the Seminoles will need to win the special teams battle once more. If they do, it will give them a huge leg up in the ACC Atlantic race.
If not, the challenge of containing
Tajh Boyd
,
Sammy Watkins
and the Tigers will become all the more difficult.
September, 15, 2012
9/15/12
3:23
PM ET
TALLAHASSEE, Fla. -- A year ago, Florida State limped off the field against Wake Forest, having lost its third straight game.
Chris Thompson
was lost, as well, out for the season with a broken back.
A lot has changed in a year.
Thompson racked up 220 yards of offense and broke off two long touchdown runs as
Florida State crushed Wake Forest 52-0
to open the season 3-0 for the first time since 2005.
The Seminoles have won 10 of 11 games since last year's loss to Wake Forest, and they look like a much improved team from the one that coughed up five turnovers in that game.
Thompson led an offensive onslaught;
Bjoern Werner
and the defense held Wake Forest to just 126 yards of offense; and, for the third straight game, the starters were resting comfortably on the sideline by the fourth quarter.
Through three games, Florida State has outscored its opponents 176-3, but the task gets much tougher next week with Clemson coming to Doak Campbell Stadium.


It was over when:
Thompson broke his second long touchdown run, an 80-yarder down the sideline, to give Florida State a 28-0 lead. Wake Forest's rush had stunted FSU's passing game, but the Deacons had no answer for Thompson. His first touchdown took the wind out of Wake's sails. The second one effectively ended any hopes it had of recovering.
Game ball goes to:
Thompson. The senior tailback didn't need this game to prove he was fully recovered from the injury he suffered a year ago, but he needed to prove something to himself. His 220 yards of offense represented a career high, and he turned in the 10th-best rushing performance in school history despite not taking a single handoff in the second half.
Stat of the game:
197. That's Thompson's rushing total for the game, all coming in the first half. In school history, only
Greg Allen
's 238-yard second half against Western Carolina in 1981 was a more productive 30 minutes. Thompson's runs of 74 and 80 yards were his fourth and fifth career touchdown runs of at least 70 yards, and the game marked his first 100-yard performance since the 2010 Chick-fil-A Bowl.
Unsung hero:
The Florida State secondary.
Xavier Rhodes
and
Lamarcus Joyner
were exceptional against Wake Forest's passing attack. Just a week after
Tanner Price
won the ACC's quarterback of the week award and
Michael Campanaro
hauled in 13 catches for 163 yards, the Deacons were utterly helpless trying to find yardage downfield. Price finished the game with 8-of-22 passing for 82 yards, and Campanaro had just two catches for 8 yards.
What we learned:
For the third straight week, we might not have learned very much about Florida State. The running game picked up big yardage and the defense was dominant, but the opponent also was completely overmatched and FSU's starters were on the bench by the start of the fourth quarter. Perhaps the biggest takeaway from the performance was the offensive line's struggles in pass protection.
EJ Manuel
was sacked three times and was under pressure for much of the game despite Wake's best defensive lineman,
Nikita Whitlock
, sitting out with an injury.
September, 15, 2012
9/15/12
1:48
PM ET
TALLAHASSEE, Fla. -- A year ago,
Chris Thompson
's career nearly ended against Wake Forest. He took a handoff, cut inside, lowered his head, and ran into a tackle that broke two bones in his back and ended his season.
Thompson said this had been an emotional week as he thought back to the injury and how far he has come since, and, in the first half Saturday, he marked the occasion by delivering one of the best running performances in Florida State history.
Thompson had touchdown runs of 74 and 80 yards in the second quarter, helping Florida State to a 38-0 halftime lead.


Stat of the half:
197. That's Thompson's rushing total in the first half, more than double his total for the entirety of the 2011 season. In addition to his dominance on the ground, Thompson added two catches for 23 more yards.
Player of the half:
Thompson, of course. The senior tailback had already tallied the 10th-best rushing day in Florida State history with nine minutes remaining in the second quarter. The two long touchdowns were the fourth and fifth of Thompson's career of at least 70 yards. Thompson was responsible for 62 percent of Florida State's total offense in the first half.
What's working for FSU:
Aside from Thompson, the special teams have been the key.
Rashad Greene
returned a punt 60 yards for a touchdown, his second of the year.
Dustin Hopkins
has pinned Wake Forest inside the 20 on five of six kickoffs, and punter
Cason Beatty
delivered two exceptional kicks in the first quarter to pin the Deacons deep in their own territory.
What's not working for FSU:
Despite Thompson's big day, it's hard to say the first big test for Florida State's offensive line has gone well. The pass protection has been bad, with
EJ Manuel
sacked twice and under pressure throughout. The Seminoles also were stuffed three straight times from inside the 2 in the second quarter. Pass protection and short-yardage play were big concerns a year ago, and the revamped line has done little to show it has turned a corner.
Noteworthy:
Florida State has outscored its first three opponents of the season by a combined 162-0 in less than nine quarters of action. … Right tackle
Menelik Watson
(ankle) was available for Saturday's game, but
Daniel Glauser
got the start. … Defensive end
Bjoern Werner
added 1.5 sacks in the first half and has 6.5 for the season.
September, 15, 2012
9/15/12
11:43
AM ET
TALLAHASSEE, Fla. -- Florida State has opened the year with big expectations before, but, for the past six seasons, that early hype has worn off by Week 3.
The Seminoles haven't opened a season 3-0 since 2005, and, to snap that streak this year, they'll need to get by a Wake Forest team that has won four of its past six meetings with Florida State.
"They're much more athletic than people think," FSU coach Jimbo Fisher said. "Wake's got good players."
Despite the history and Fisher's words of warning, Florida State remains a four-touchdown favorite for the game.
Perhaps a bigger concern for the Seminoles is the fact that their starters have played only about three quarters through two games, both blowout wins over FCS opponents. Wake Forest represents by far Florida State's biggest test thus far as well as the opening of conference play.
"I don't think the fact that we haven't played a whole lot will bother us at all," quarterback
EJ Manuel
said. "I think if I still played, I'd have had the same focus and mentality. I don't think it's going to affect us. If anything, it's going to help us because we're more rested. Those guys have had two dogfights."
Florida State right tackle
Menelik Watson
missed several practices this week with an ankle injury, but he was on the field for warm-ups and Fisher said he expects the junior to be available for the game. Still, fellow junior college transfer
Daniel Glauser
will get the start at right tackle.
Wake Forest, on the other hand, will be without starting nose guard
Nikita Whitlock
, who had seven tackles and a sack in last year's win over the Seminoles.
Haskins, McElwain Shine At IMG Regional
ACC SCOREBOARD
Thursday, 9/3
Saturday, 9/5
Monday, 9/7