Florida State Seminoles:

Davarez Bryant
August, 28, 2013
8/28/13
10:30
AM ET
TALLAHASSEE, Fla. -- Florida State lost 11 starters to the NFL draft this spring, but that didn't necessarily turn the depth chart into a gold mine for the Seminoles' incoming freshmen. Of Jimbo Fisher's biggest accomplishments during his first four years on the job, none loom larger that the immense influx of talent on the roster -- meaning depth isn't a concern in most areas.
Of the 14 non-specialists Florida State added in 2012, only six saw action last year.
Mario Edwards Jr.
was the only freshman to start a game, and
Ronald Darby
and
Eddie Goldman
were the only others to see regular playing time.
The situation may not be dramatically different this year. Twenty-one freshmen were added to the roster, but aside from a small minority, there doesn't appear to be regular reps awaiting the bulk of the group. FSU's initial depth chart lists nine freshmen on the two-deep, though the playing time for each may be limited, and the roles for a few others may yet develop. As it stands though, here's our projections for early playing time for the Class of 2013.
The likely redshirts (4):
QB
John Franklin
, OT
Ira Denson
, C
Ryan Hoefeld
, TE
Jeremy Kerr
Fisher is never shy with praise for his players -- even those with virtually no shot at seeing a moment of playing time. That's been the case for Franklin, whom Fisher said has looked very good in practice throughout fall camp. Chalk it up to Fisher's desire to talk about any quarterback other than
Jameis Winston
, but it's nevertheless encouraging given that so many college coaches wanted Franklin as a receiver, not a QB.
Denson arrived overweight, and Hoefeld is still a touch lighter than line coach Rick Trickett would like, which means both are likely to spend the year prepping for the future. Kerr might have been a lock for early playing time given FSU's utter lack of depth at tight end, but a knee injury has kept him off the practice field for weeks.
The victims of numbers (4):
DT
Keith Bryant
, OG
Wilson Bell
, DB
Marquez White
, S
Nate Andrews
The reports on these four have been generally positive -- particularly Bell, who was well ahead of the other young linemen, according to Trickett -- but barring injuries, there's probably not much playing time to be had. It's possible one or two will find a role -- Andrews and White could make a special-teams impact -- but none are guaranteed to see action at all.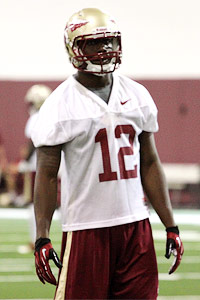 Courtesy of Florida StateAfter considering transferring to USC before ever playing a snap for FSU, LB Matthew Thomas has settled into the Seminoles' defense.
The linebackers (5):
Ro'Derrick Hoskins
,
Tyrell Lyons
,
E.J. Levenberry
,
Matthew Thomas
,
Freddie Stevenson
Levenberry and Thomas headline the current depth chart, where both are listed as the primary backups at the Mike and Will linebacker spots, respectively. Both offer immense promise. Thomas is the star of the group, and after an on-again, off-again spring in which he considered transferring to USC, the five-star recruit seems to be happy and comfortable in FSU's defense. Levenberry has also been a big hit with his coaches, and his size -- 6-3, 240 pounds -- has had Fisher drooling.
Both Thomas and Levenberry figure to play, but they may not be alone. Freddie Stevenson was an early enrollee and has drawn praise from teammates. Lyons and Hoskins could figure in the special-teams mix, too.
Florida State has just two established veteran linebackers, and both will be gone at year's end. The Seminoles need to start developing some depth there, which is good news for the entire group.
The special-teams stalwarts (4):
DE
Davarez Bryant
, DE
Desmond Hollin
, RB
Ryan Green
, WR
Levonte Whitfield
Fisher's history suggests skill-position players who can contribute on special teams will get a chance as freshmen, even if there isn't much of a role beyond that. FSU allowed
P.J. Williams
,
Reggie Northrup
and Christo Kourtzidis to do it last year, which means Green, Bryant and others could do the same in 2013, even if a wealth of scrimmage snaps aren't there. Hollin, a juco transfer, probably stands the best shot at a bigger role, and Bryant has actually worked in some at tight end, too. Whitfield figures to be in the mix as a kick returner early, but he is a potential weapon as a slot receiver on offense, too.
The best bets to play (4):
CB
Jalen Ramsey
, DE
DeMarcus Walker
, WR
Jesus Wilson
, WR
Isaiah Jones
Fisher was impressed with his freshman wideouts from the outset, but now it's a necessity that at least one or two contributes heavily. FSU lost three senior receivers for the season, which means there should be ample playing time to go around. Wilson has wowed teammates since the summer, and he figures to be first up, Jones also turns up on FSU's two-deep, backing up
Rashad Greene
at the X position.
Walker's progression was hindered a bit during the spring when NCAA compliance issues kept him off the practice field. Still, he spent long hours in the film room and coach's office, and his teammates have raved about his football IQ. Given the relative depth issues at defensive end combined with a depth chart with little or no game experience, Walker has as good a shot as anyone at getting playing time early.
Unlike the rest of this group, the numbers don't exactly favor Ramsey. The FSU secondary is stacked with talent, but that's only more of a testament to how good Ramsey has looked during fall camp. He spent the first few weeks working with the No. 1 defense while Darby nursed an injury, and he appears to have established himself as a legitimate threat to contribute. He opens the season No. 2 on the depth chart behind
Lamarcus Joyner
, and that's a role that could expand as the season progresses.
August, 26, 2013
8/26/13
11:00
AM ET
TALLAHASSEE, Fla. -- Jimbo Fisher finally put the biggest question of fall camp to rest Friday, officially
naming Jameis Winston his starting quarterback
. But if Winston's position on the depth chart finalized one lingering issue, a handful of other questions remain as the Seminoles begin their final week of preparation for the season opener at Pittsburgh.
Here's a quick rundown of what's left on Florida State's preseason to-do list:
Developing receivers:
A knee injury will keep
Jarred Haggins
on the sideline all season, meaning Florida State is now down three senior wide receivers. Add in a finger injury that has limited junior
Rashad Greene
for the past week, and a position that figured to be among the deepest on the Seminoles' roster is now a major concern. Greene should be fine for the start of the season, but it's apparent that Florida State will still need to rely on a trio of freshmen to step up. Fisher has raved about
Jesus Wilson
throughout camp, and
Levonte Whitfield
and
Isaiah Jones
have talent to spare, but the transition to the college game is rarely a seamless one.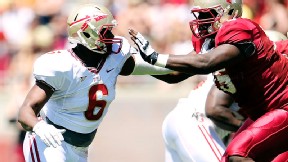 Stacy Revere/Getty ImagesDefensive end Dan Hicks, who missed all of 2012 with a knee injury, is still wearing No. 6. So is cornerback Nick Waisome. One of them will have to change numbers before next Monday.
Grasping the defense:
The response from players has been universally upbeat, but even the most optimistic of Florida State's defenders admit there's still work to be done in learning Jeremy Pruitt's new defensive scheme. Florida State ranked in the top three nationally in total defense in each of the past two seasons, and there's enough buzz among the returning players to think this year's unit could be even better, but Pruitt's scheme is a challenge. The team has worked extensively on mastering the nuance throughout fall camp, but when the season begins next week, Pruitt said fans might see a more watered-down version. "When it comes to game week, we're only going to call what they know," Pruitt said. "You throw a lot of stuff at them, hope part holds, and as the season progresses, you pull out what you need each week."
Depth at tight end:
Fisher tried to put a happy face on the situation when camp opened, but the lack of depth at tight end remains a major concern.
Giorgio Newberry
made the switch from defensive end just a week before camp began, and while he's got the size to do the job, he's definitely a work in progress. Freshman
Jeremy Kerr
remains sidelined with a knee injury, and Fisher continues to tinker with options, using freshman defensive end
Davarez Bryant
at tight end during practice last week. While Fisher is eagerly toying with his options, the fact remains that starter
Nick O'Leary
is going to need to shoulder the burden for a thin group behind him.
Two for six:
It's perhaps the silliest debate of camp, but the implications could be significant. When defensive end
Dan Hicks
switched from tight end this spring, he kept his old uniform number. The problem, however, is that cornerback
Nick Waisome
was already wearing the No. 6 jersey. Since then, neither player has been willing to give it up, meaning FSU can't use Hicks and Waisome -- both projected starters -- on the field at the same time. Fisher said he's leaving it up to the players to decide, likely in hopes one would be mature enough to choose playing time over a jersey number, but thus far neither player has caved.
Playing time for rookies:
The freshman receivers figure to be necessities on offense this season, but beyond that, it's tough to tell where the rest of the newcomers fit in. Running back
Ryan Green
, cornerback
Jalen Ramsey
and defensive end
DeMarcus Walker
are among the most impressive freshmen of the fall, but Fisher said he wouldn't be surprised if the great majority of this year's class avoids a redshirt. Aside from Kerr, quarterback
John Franklin
and a couple of the offensive linemen, virtually every member of the Class of 2013 remains in the mix for playing time.
Secondary shake-up:
It's a good problem to have, but Florida State's logjam of talent in the defensive backfield still leaves some question marks as the season approaches. When
Lamarcus Joyner
shifted from safety to corner, the questions about playing time began, and Pruitt has been quiet about potential answers. Joyner, Waisome, Ramsey,
Ronald Darby
and a slew of others are in the mix for regular reps, and Fisher has hinted that the Seminoles' defensive backs will be rotating early and often.
August, 8, 2013
8/08/13
9:00
AM ET
TALLAHASSEE, Fla. --
Dan Hicks
galloped around the practice fields as Florida State opened fall camp Tuesday, no signs of the knee injury that ended his 2012 season a year ago -- almost to the day.
A lot has changed since the injury. Back then, he was a third-string tight end, moved from defensive end after three years because of a logjam of talented pass rushers. In the 12 months since, he's had surgery, recovered and swapped positions again, returning to his original place on the roster after a stampede of talented ends departed for the NFL. His lone mementos to a lost season are the scar on his knee and the No. 6 on his jersey, which now conflicts with the uniform worn by cornerback
Nick Waisome
.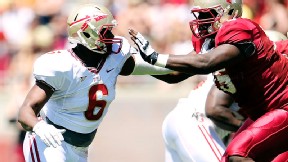 Stacy Revere/Getty ImagesDan Hicks has played in 27 career games at defensive end, but missed all of 2012 with a knee injury.
A year ago, Hicks was such a luxury that he wasn't needed on the defensive line, and he wasn't missed at tight end. Now, the fifth-year senior would rank as the second-most accomplished player on Florida State's roster at either position.
"Dan's had a tremendous summer," Jimbo Fisher said this week. "His conditioning has no signs of anything that's gone on."
That's good news for Florida State, which finds itself in a remarkably tenuous situation on both sides of the line of scrimmage.
In praising Hicks' physique, Fisher was offering an explanation for moving third-year sophomore
Giorgio Newberry
from defensive end to tight end -- the same swap Hicks made last year. It was a move Fisher said was first discussed weeks ago, but one that was made a necessity when senior
Kevin Haplea
succumbed to a knee injury and sophomore
Christo Kourtzidis
opted to transfer, leaving the Seminoles with just two scholarship tight ends.
But if Fisher was filling a need on offense, he also was robbing from a position on defense that lacked veteran experience to spare.
Newberry was no one's idea of a success story thus far. Physically, he's intimidating and his potential seemed high, but through two full years in the program, he'd yet to develop as a pass rusher. Still, he played in every game last season, which made him a rarity among FSU's defensive ends.
All-ACC defensive ends Bjoern Werner, Brandon Jenkins and Cornellius Carradine were all selected in this year's NFL draft, which meant Florida State would be looking to fill a massive void at the position. Only Newberry and
Mario Edwards
Jr., who opened last season with a redshirt before injuries eventually forced him into the starting lineup, saw the field in 2012.
And yet Fisher said he's confident there is talent to spare.
"I feel very good about where we're at defensive end-wise," he said. "You've got to play both sides of the ball, and we've got just as many inexperienced guys at tight end. There was no apprehension whatsoever. It's something we would've done either way."
That might be true, but there's no avoiding the obvious numbers. Last season, in just 12 games, Carradine finished with 80 tackles, including 13 for a loss, and 11 sacks -- stats that dwarf the combined career totals of every member of FSU's current depth chart at defensive end.
Only Edwards and Hicks have seen serious game action. Redshirt freshman
Chris Casher
hasn't played in two full years after sitting out his senior season in high school and going down with an injury in his first game of 2012. Freshman Demarcus Walker figured to get an early start on his career by enrolling this spring, but NCAA eligibility issues kept him off the field during spring practice. Tuesday's start to fall camp represented the first official practice session of his career at Florida State. The same is true for fellow freshman
Davarez Bryant
and junior college transfer
Desmond Hollin
.
But Fisher insists he's not worried about the lack of experience.
"You have a great group of guys there that we feel very comfortable with the size and speed and the things we do," he said.
When the games begin though, establishing the pass rush may be more about scheme than personnel. New coordinator Jeremy Pruitt has implemented a blitz-heavy approach that players have embraced. He also comes from a 3-4 base system at Alabama, and the Seminoles could certainly employ those looks more often in 2013. Pruitt isn't just planning to throw his rookie pass rushers into the deep end of the pool, either. He's mixing and matching, finding alternative options in unlikely spots.
"In the spring we had some packages with me actually playing some D-end and coming off the edge a little bit," senior linebacker
Christian Jones
said. "And we're blitzing a lot more this year."
Like Newberry's move to tight end, the new approach to the pass rush was likely to a necessity regardless of the surprises Florida State has faced this summer. Werner, Jenkins and Carradine were the backbone to Mark Stoops' highly ranked defenses the past two seasons, and changes were required in the wake of their departures.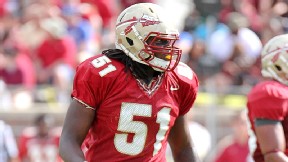 AP Photo/Don Juan MooreGiorgio Newberry's size could make him a valuable asset as a blocking tight end.
"The key to the game on both sides is the guys that put their hand in the dirt, and that's why we could play the way we did last year was the D-line," Fisher said. "But I think we've got just as good a group [in 2013]. I like our group better. I really do."
Optimism is easy to find this time of year, but Florida State has already walked the tight rope that comes with having limited options at key positions.
For now, Newberry fills the Seminoles' biggest hole. Hicks' health and the emerging Edwards, who has dramatically improved his physique from a year ago, offer possibilities in another significant area of concern.
Not all choices are supposed to be easy, and Newberry's move was the best option Fisher had, and FSU's pass rush will make due with what's left.
"[If we weren't satisfied] we'd have tried to find something else to do," Fisher said, "but I felt very comfortable with those guys."
August, 4, 2013
8/04/13
9:00
AM ET
TALLAHASSEE, Fla. -- Florida State opens fall camp this week, and while the bulk of the starting lineup appears firmly in place, there are a handful of key position battles to watch as the Seminoles set their sights on the season opener in Pittsburgh.
[+] Enlarge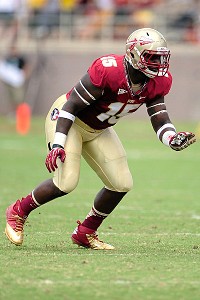 Stacy Revere/Getty ImagesDefensive end Mario Edwards Jr. was the No. 1 high school prospect in the nation in the Class of 2012.
Defensive end
The candidates:
Mario Edwards Jr.
(So.),
Dan Hicks
(RSSr.),
Giorgio Newberry
(RSSo.),
Chris Casher
(RSFr.),
DeMarcus Walker
(Fr.),
Davarez Bryant
(Fr.),
Desmond Hollin
(Jr.)
The situation:
Florida State lost three top pass rushers to the NFL from last year's team, leaving a major void in a key area. Edwards appears all but certain to earn one of the two starting jobs after closing out 2012 in that role. On the opposite side, however, things are up for grabs. Newberry figured to be the top candidate entering spring practice, but Hicks -- nine months removed from ACL surgery -- made a big push. Walker might have been in the mix, too, but NCAA eligibility issues kept him on the sideline after he enrolled early.
The projection:
Hicks' strong spring vaulted him to the top of the depth chart for now, and it's clear he's ready to play a sizable role after being shuffled to tight end a year ago. Odds are, however, this will be an area of some mixing and matching early on, with Hicks, Newberry and Casher all likely to see playing time alongside Edwards.
Linebacker
The candidates:
Terrance Smith
(RSSo.),
Reggie Northrup
(So.),
Ukeme Eligwe
(RSFr.),
Nigel Terrell
(RSJr.) and five incoming freshmen
The situation:
Seniors
Telvin Smith
and
Christian Jones
offer a formidable pairing atop the depth chart, but the rest of the linebacker position remains in flux. None of the candidates have any significant experience, and while Terrance Smith looked to take an early lead as the starter on the strong side throughout the spring, there are endless possibilities on how the two-deep at each position might shake out.
The projection:
Because FSU will run a majority of its defensive plays in nickel and dime sets, there may not be a need for a third linebacker routinely. Still, the coaching staff knows it needs to develop depth behind its two seniors, and identifying a pecking order is crucial. Northrup, Smith and Eligwe are likely the top contenders for regular playing time, but freshman
Freddie Stevenson
was an early enrollee who impressed this spring, and freshman
Matthew Thomas
might have more upside than anyone at the position.
Quarterback
The candidates:
Jameis Winston
(RSFr.),
Jacob Coker
(RSSo.),
Sean Maguire
(RSFr.)
The situation:
What was a wide-open, four-man race this spring now looks to be Winston's job to lose. He was impressive throughout spring practice, dominated the spring game and has enjoyed immense hype and enthusiasm from the fan base ever since. Still, Fisher has been quick to point out that nothing is set in stone at the position yet, and Coker, who endured a foot injury that limited him this spring, figures to keep the pressure on Winston as fall camp begins.
The projection:
In spite of Fisher's pronouncements, it would be a shock if anyone other than Winston got the starting nod in Week 1. By all indications, the redshirt freshman has continued to develop this summer, has handled all the publicity with aplomb, and his potential is undeniable.
Defensive back
The candidates:
Lamarcus Joyner
(Sr.),
Nick Waisome
(Jr.),
Ronald Darby
(So.),
Tyler Hunter
(Jr.),
P.J. Williams
(So.) and others
The situation:
This falls under the category of good problems to have, but FSU's wealth of talent in the secondary is causing at least some confusion on the depth chart. Joyner switches from safety to corner this year, leaving five talented and experienced corners vying for limited playing time alongside presumptive starters at safety
Terrence Brooks
and
Karlos Williams
. The versatility of the group -- particularly Joyner, Hunter and P.J. Williams -- offers some options for new DC Jeremy Pruitt, but finding enough playing time for all the talent on the roster may be a tall order.
The projection:
There is likely to be a healthy dose of mixing and matching this year, with Karlos Williams getting reps at linebacker, Joyner, Hunter and P.J. Williams shifting between corner, nickel and safety, and other options like
Keelin Smith
and
Colin Blake
vying for reps, too. Still, Joyner is the unquestioned leader, so his playing time should be secure, and Darby, Waisome and Hunter will likely grab the lion's share of what remains.
Wide receiver
The candidates:
Kelvin Benjamin
(RSSo.),
Christian Green
(RSJr.),
Willie Haulstead
(RSSr.),
Levonte Whitfield
(Fr.),
Jarred Haggins
(Sr.),
Isaiah Jones
(Fr.),
Jesus Wilson
(Fr.)
The situation:
Rashad Greene
and
Kenny Shaw
have a firm grip on starting jobs, but injuries, defections and suspensions have seriously limited FSU's depth in the passing game. Fisher needs at least one or two more receivers to step up into bigger roles, with none looming larger than the uber-talented Benjamin. Green and Haulstead -- afterthoughts a year ago -- are aiming for comeback seasons, while Whitfield's speed makes him an immediate threat, and Wilson has garnered early praise for his work in summer seven-on-seven drills.
The projection:
Benjamin is perhaps the biggest wild card on Florida State's roster. His talent is immense, but he's had difficulty showing consistency during his first two years in Tallahassee. If he blossoms into a star in 2013, it would be a huge boon to the Seminoles' offense, but don't be surprised if at least one of the freshmen manages to make some noise, too.
March, 6, 2013
3/06/13
8:00
AM ET
Now that national signing day is behind us, NoleNation takes a closer look at the next crop of Seminoles.
Vitals:
Defensive end
Davarez Bryant
(New Smyrna Beach, Fla./New Smyrna Beach), 6-foot-4, 245 pounds
March, 1, 2013
3/01/13
8:34
AM ET
From the impending quarterback competition to finding replacements for departing juniors, Jimbo Fisher will have his work cut out for him during the next few months as he lays the groundwork for 2013.
[+] Enlarge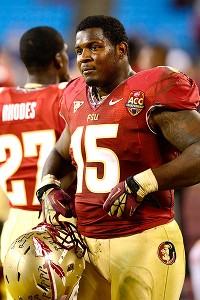 Bob Donnan/US PresswireMario Edwards Jr. is still raw, but he has proven to be one of the best defensive ends in the nation.
With that in mind, we're going to go position-by-position looking at Florida State's strengths and weaknesses as the Seminoles prepare for the start of spring practice.
Previous entires can be found
here
.
Next up:
Defensive Ends
2012 recap:
Once again, Florida State's defense was among the best in the country, and once again the success started with the pass-rushers up front. Even after
Brandon Jenkins
went down in the opener with a foot injury, FSU's dynamic pass rush exceeded expectations, with
Cornellius Carradine
stepping up to provide 80 tackles and 11 sacks before a season-ending injury of his own, while
Bjoern Werner
established himself as one of the country's best players, recording 13 sacks, 18 TFLs and 8 pass breakups.
Mario Edwards Jr.
came on late to showcase his skill set, too, finishing with 17 tackles and 1.5 sacks despite limited playing time.
Departures:
Few teams in the nation will lose more talent at one position that FSU does at defensive end. Had injuries not sidetracked Carradine and Jenkins -- hurting their draft prospects in the process -- it's possible the Seminoles would've produced three first-round picks just from the defensive end spot alone. As it is, Werner could be the school's highest drafted player in history. Werner, Jenkins and Carradine combined for 25 sacks in 2012 and 62.5 in their careers.
Arrivals:
The Seminoles lost virtually all their experienced defensive ends, but they'll bring in a fresh crop of talent for 2013.
Chris Casher
played in just one game last season before an injury ended his season, but his combination of size and speed make him a dangerous weapon.
Demarcus Walker
was one of FSU's top recruits, and he's enrolled early this spring. Fellow freshman
Davarez Bryant
and juco transfer
Desmond Hollin
will also compete for playing time.
February, 12, 2013
2/12/13
8:00
AM ET
By
David Hale & Corey Dowlar
| ESPN Insider
When it comes to recruiting, coaches need to be thinking long-term. It's not just about which holes must be filled immediately, but rather where the needs might be in two or three more years.

With that in mind, NoleNation writers David Hale and Corey Dowlar are going position by position, looking at what FSU has on its roster now, and who might provide reinforcements down the line, projecting starters and evaluating the depth through 2015.
Today, we're looking at one of FSU's most productive positions under Jimbo Fisher: Defensive end.
To continue reading this article you must be an Insider
February, 6, 2013
2/06/13
9:47
AM ET
Florida State's late entrance into the
Davarez Bryant
(New Smyrna Beach, Fla./New Smyrna Beach) sweepstakes has paid off.
The Seminoles, who offered the three-star defensive end in the final week of January, were able to secure an official visit on Feb. 1. And eventually his commitment.
Defensive end became a position of need for Florida State when Bjoern Werner declared early for the NFL and seniors Brandon Jenkins and Tank Carradine exhausted their eligibility.
To make things a little more dire, ESPN 300 defensive end
Davin Bellamy
(Chamblee, Ga./Chamblee) decommitted late in the process after assistant coaches Dameyune Craig and D.J. Eliot departed for other jobs.
Bryant was an academic concern initially, but says he is on track to qualify.
February, 5, 2013
2/05/13
7:00
AM ET
NoleNation gives its picks for national signing day. Who ends up where?
To continue reading this article you must be an Insider
February, 3, 2013
2/03/13
2:46
PM ET
Davarez Bryant
(New Smyrna Beach, Fla./New Smyrna Beach) said prior to his visit to Florida State this weekend that he wouldn't be making a decision. He held to that statement leaving the Seminoles' campus undeclared.
But that doesn't mean the defensive end didn't have a good time. In fact, it was much the opposite.
To continue reading this article you must be an Insider
February, 1, 2013
2/01/13
1:57
PM ET
After
Davin Bellamy
(Chamblee, Ga./Chamblee) decommitted from Florida State, the Seminoles needed to find another defensive end to replace him in this recruiting class.
To continue reading this article you must be an Insider
These 2016 QBs Can Start From Day One
ACC SCOREBOARD
Thursday, 9/3
Saturday, 9/5
Monday, 9/7