Florida State Seminoles:

Darius Jennings
March, 13, 2014
3/13/14
4:00
PM ET
(*Target totals courtesy ESPN Stats & Info.)
Much has been made about the enormous turnover at quarterback in the ACC, where nine of the league's 14 teams will feature a different starter in Week 1 of 2014 than at the conclusion of 2013.
The new arms throwing the football will be a major storyline for the spring, but the players on the other end of those passes will be much different this year, too. Eight of the top 12 receivers in the ACC last season are moving on, including likely first-round NFL draft picks
Sammy Watkins
,
Eric Ebron
and
Kelvin Benjamin
.
[+] Enlarge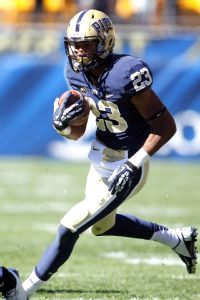 Charles LeClaire/USA TODAY SportsPittsburgh's Tyler Boyd could be one of the ACC's top wideouts in 2014.
Combine the high turnover at quarterback with the loss of so many top receivers, and it's fair to say the passing games in the ACC will look much different in 2014. Of course, that doesn't mean there isn't some impressive returning talent. Nine receivers who were targeted at least 70 times last season return.
The obvious standout is
Jamison Crowder
, who was targeted a whopping 174 times in 2013. Nationally, only Fresno State's
Davante Adams
(180 targets) was thrown to more often, according to ESPN Stats & Info. It's also worth noting that Fresno State had 203 more passing attempts than Duke did. Crowder was on the receiving end of 37 percent of Duke's passing attempts last season, compared with just 27 percent for Adams. Among ACC receivers, only Boston College's
Alex Amidon
accounted for a higher percentage of his team's throws (41 percent). Given his contributions on special teams, too, there's a case to be made that, aside from
Jameis Winston
, no player in the ACC means more to his team than Crowder.
It's worth noting, too, that Duke is one of the five ACC teams with the quarterback position already settled, with
Anthony Boone
and
Brandon Connette
both returning for 2014, giving the Blue Devils easily the most tested quarterback-receiver combo in the conference.
Beyond Duke's established QB/WR combo, Florida State is in good hands with senior
Rashad Greene
returning for his senior season. In 2013, he was on the receiving end of 27 percent of Winston's throws, and with Benjamin and
Kenny Shaw
both gone, Greene's role figures to only get bigger in 2014.

Believe it or not, the third-most tested combo in the conference is at Virginia, where QB
David Watford
returns along with receiver
Darius Jennings
, who was targeted 78 times last year. Of course, the Virginia passing game was far from effective for much of the season -- and Jennings only hauled in 49 percent of his targets with a paltry 4.3 yards/target average -- but the rapport Watford and Jennings were able to build throughout 2013 offers some hope for the Cavaliers' offense.
In terms of pure explosiveness, North Carolina could have an interesting combination with
Marquise Williams
back at quarterback and emerging talent
Quinshad Davis
at receiver. Davis hauled in an impressive 67 percent of his targets and gained an average of 10.1 yards per target last season, including 10 touchdowns. Of course, he'll need to prove he's as effective without Ebron hogging so much of the attention from opposing defenses this year.
Similarly, the ACC will get its introduction to Louisville standout
DeVante Parker
in 2014. While Parker won't have the luxury of
Teddy Bridgewater
throwing to him, his numbers last season were immensely impressive. He averaged nearly 11 yards each time he was thrown to, and he hauled in two-thirds of his targets.
While Crowder and Greene represent the cream of the crop for receivers with returning quarterbacks, the player with perhaps the most upside of the group is
Tyler Boyd
. Pitt might be in search of a new starting quarterback to replace
Tom Savage
, but few first-year starters will have a weapon as reliable and explosive in the passing game as Pitt has in Boyd. As a true freshman in 2013, Boyd finished third in the conference in targets (behind only Crowder and Watkins), hauled in nearly 70 percent of his targets (tops among returning receivers with at least 70 targets) and his 10 catches of 25 yards or more is second only to Crowder among returning receivers in the conference.
But perhaps the most intriguing names on this list are the trio from Virginia Tech. The Hokies account for one-third of all the ACC's returning receivers with at least 70 targets, meaning that while Frank Beamer works to find his new quarterback, he'll have a veteran group of receivers to target. Of course, experience only matters if there's talent to back it up and that's the big question in Blacksburg.
Virginia Tech ranked 63rd nationally in passing offense last season, 68th in yards per attempt and 89th in QB rating. While
Demitri Knowles
,
Willie Byrn
and
Joshua Stanford
were all among the ACC's most targeted receivers, they also hauled in just 56 percent of the balls thrown their way and averaged just 7.9 yards per target. They'll need to be far more reliable in 2014 with a new QB throwing to them.
October, 29, 2013
10/29/13
2:00
PM ET
Last week, we were lulled into believing there would be no upsets in the ACC. So we skipped the upset watch. I mean, would Duke really beat Virginia Tech? Would Pitt really lose to Navy? Would Wake Forest nearly beat Miami?
D'oh!
We have learned our lesson. No matter how much better the ACC has fared this year, there still is a little bit of #goacc to go around the league. So the upset watch is back at its regularly scheduled time, with three games to keep an eye on Saturday. Remember, these are not predictions. These are simply games we think the underdog could make some noise and potentially win.


1. Virginia Tech (6-2, 3-1) at Boston College (3-4, 1-3).
There are no more gimmes on the Hokies schedule, not after they lost to Duke last weekend. This team has been living on the edge all season, and it finally caught up to them against the Blue Devils. Clearly Virginia Tech will not be able to win on defense alone. Because its defense did enough to beat Duke. More than enough, really. Simply put, it is the offense that has to get itself in gear, something that has yet to happen through eight games. Beyond the four interceptions
Logan Thomas
threw, Virginia Tech had way too many critical penalties and only converted on four third-down attempts. That makes it tough to win games, no matter how good the defense performs. Even though the Eagles got blown out in Chapel Hill, they are a much better team than a year ago and gave panic attacks to both Florida State and Clemson earlier this season. Boston College took Virginia Tech to overtime a season ago, too. There is no doubt Boston College faces a tough task against the Virginia Tech defense, but the Eagles will not have to score 30 to win.


2. Pitt (4-3, 2-2) at Georgia Tech (5-3, 4-2).
The Jackets are a double-digit favorite, but they are coming off a victory over Virginia in which they had five turnovers and nine penalties. They are not going to be able to get away with such a sloppy game against a better team in Pitt. While it is true the Panthers lost to Navy last week, the key here is they faced an offense similar to the one they will see Saturday against Georgia Tech. Pitt held Navy to 70 yards below its season rushing average. Facing this type of offense in consecutive weeks gives the Panthers an advantage that many other teams simply do not get. The Panthers also have one of the best receiving duos in the ACC in
Devin Street
and
Tyler Boyd
, the only ACC players in the top 10 in both receiving yards per game and receptions per game. Last week, Georgia Tech allowed two 100-yard receivers in
Darius Jennings
and
Tim Smith
. Consider Smith had only 13 catches going into the game before catching 10 passes against the Jackets; Jennings had only 15 receptions before catching 13 last week.


3. No. 7 Miami (7-0, 3-0) at No. 3 Florida State (7-0, 5-0).
In a rivalry game between unbeaten teams, anything can happen. Are we going to pick Florida State to lose? No. But Miami could give the Noles some trouble. The Canes have the best offensive line Florida State has faced to this point in the season, and a dynamic runner in
Duke Johnson
. Miami is not afraid to play smash-mouth football, and that is a completely different style than what the Noles have faced over the last three games. The Canes also have played in close games essentially all season long, and have had to overcome double-digit deficits in their last three wins. While it is true the last two should have never gone down to the wire, Miami does know what it takes to play in and win close games. In years past, there might have been panic on the sideline at the prospect of having to come back to win. There is no panic anymore. This is a more mature, confident group. Florida State, on the other hand, has yet to play a game where the fourth quarter mattered. Perhaps Miami had a hard time getting up for games against North Carolina and Wake Forest and played down to its competition. There is no doubt Miami will be up and supremely motivated for this game. The Canes still have plenty to prove.
October, 28, 2013
10/28/13
9:00
AM ET
We have status quo in the top three this week. But there was plenty of shuffling in the middle of the pack. Again. Par for the course in the ACC.

1. Florida State (7-0, 5-0 ACC, last week: 1).
The Seminoles remain in the hunt for a national championship after a thoroughly dominant win over NC State.
Jameis Winston
threw for 229 yards and three touchdowns in the first quarter -- the most pass yards in the first quarter of any quarterback this season. Another top-10 matchup looms this weekend, this time against rival Miami.
2. Miami (7-0, 3-0, LW: 2).
The Hurricanes have had to overcome double-digit deficits in their last two games to stay undefeated. In fact, ESPN Stats & Information says Miami had less than a 25 percent chance of winning in the fourth quarter against both North Carolina and Wake Forest. Voila -- Miami beat the odds thanks to its run game and now has to face revved-up Florida State in Tallahassee.
3. Clemson (7-1, 5-1, LW: 3).
The Tigers did not look pretty at times in their win over Maryland. But the key word in that sentence -- win. Clemson remained in the conversation for an at-large BCS berth thanks to solid performances from
Sammy Watkins
(single-game school record 14 catches), Rod McDowell (season-high 161 yards) and
Tajh Boyd
(15th 300-yard passing game).
4. Duke (6-2, 2-2, LW: 7).
Congratulations are in order for the Blue Devils, who became bowl-eligible for the second consecutive season with a win over No. 14 Virginia Tech, their first win over a Top 25 team since 1994. It also happened to be the first Duke win over Virginia Tech since 1981. When you consider how badly the offense struggled throughout, major props go to a vastly improved defense that has put the clamps down in the second half in its last three games.
5. Virginia Tech (6-2, 3-1, LW: 4).
You could probably pick a lot of words to describe the Hokies' loss to Duke. Disappointing fits best, considering another stellar defensive effort was wasted in one of the worst offensive performances of the season.
Logan Thomas
threw four interceptions, ending a string of three straight games without one. The loss kicked Virginia Tech clear out of the rankings.
6. Georgia Tech (5-3, 4-2, LW: 5).
Welcome to the murky part of the ACC power rankings. Georgia Tech beat Duke earlier this year, but also lost to Miami and Virginia Tech. The Jackets also played a terrible game against Virginia -- turning the ball over five times -- and still managed to win. At this point, we have no idea which Georgia Tech team will show up every week.
7. Wake Forest (4-4, 2-3, LW: 8).
The Deacs did lose, but they led Miami for nearly the entire game and played well enough to beat a top-10 team. Wake Forest is playing much better today than at the start of the season, and you can easily tell when you flip on the television. That is a big reason we have them here. Plus, they beat Maryland head-to-head.
8. Maryland (5-3, 1-3, LW: 9).
After a 4-0 start, Maryland has lost three of its last four and is going to have to fight for a bowl spot. The Terps put up a valiant effort with just about every key offensive player on the bench against the Tigers. They get a week to rest before playing Syracuse at home. That game could get them to win No. 6, especially if
C.J. Brown
and
Brandon Ross
are healthy enough to return.
9. Pitt (4-3, 2-2, LW: 6).
The Panthers lost on a last-second field goal to Navy, a team that Duke blew out earlier this year. They essentially let a winnable game against an average nonconference team slip from their grasp. These are the types of games ACC teams have to win. Pitt lost, and as a result has to take a tumble down.
10. Boston College (3-4, 1-3, LW: 10).
We both thought Boston College would go into Chapel Hill and win. Instead, the Eagles lost 34-10, unable to find any consistency on offense against one of the worst defenses in the ACC. The bye week did not seem to do them any favors.
11. Syracuse (3-4, 1-2, LW: 11).
Speaking of bye weeks, Syracuse was off after a demoralizing loss to Georgia Tech. We will see how the Orange regroup this week against Wake Forest, a game with major bowl implications for both teams.
12. North Carolina (2-5, 1-3, LW: 13).
Congrats to the Tar Heels for picking up their first league win of the season. The two-quarterback system Larry Fedora is now using with
Bryn Renner
and
Marquise Williams
seems to be working, at least for now.
13. NC State (3-4, 0-4, LW: 12).
The Wolfpack have lost three straight and are off to their first 0-4 start in league play since 2009. Coach Dave Doeren has had to deal with his fair share of injuries, but still, nobody expected this team to be winless in ACC play headed into November.
14. Virginia (2-6, 0-4, LW: 14).
The Hoos have now lost five straight. How did this team beat BYU again? Virginia got career games from
Darius Jennings
and
Tim Smith
, five gift-wrapped turnovers from Georgia Tech, and still lost 35-25. It gets worse: They still have to play Clemson, Miami and Virginia Tech.
September, 5, 2013
9/05/13
12:00
PM ET
That other brand of football starts tonight ... if you're in to that sort of thing.
C.J. Brown
and
Marcus Whitfield
earned game balls for their performances against FIU, but they didn't get them.
Chalk it up to an arcane NCAA rule
that the Baltimore Sun uncovered.
Tickets are tough to come by
for the big Florida-Miami showdown, writes the Sun-Sentinel.
Meanwhile, there are still plenty of good seats available for Virginia Tech's game against Western Carolina. School officials tell the Richmond Times-Dispatch
they're expecting a 93-game sellout streak to come to an end
.
The Charlotte Observer has a great piece on Clemson running back
Roderick McDowell
, who
overcame a childhood disability to reach star status
with the Tigers.
It was a strong debut
for Boston College left tackle
Matt Patchan
in the opener, writes the Boston Herald.
Junior
Darius Jennings
has
taken the lead role
in Virginia's receiving corps, writes the Roanoke Times.
Pitt is
hoping to learn from its mistakes
against Florida State as it continues its first season in the ACC, writes the Post-Gazette.
Syracuse's defense
will be walking a tightrope
if QB
Drew Allen
can't take a step forward against Northwestern, writes the Post-Standard.
NC State receiver
Rashard Smith
is
finally getting a chance to show what he can do
, writes Backing the Pack.
The Raleigh News & Observer takes
a closer look at the freshmen who saw action
in Duke's opener and wonders who might end up with a redshirt.
Florida State tailback
James Wilder Jr
. is
day-to-day with a shoulder injury
, writes the Miami Herald.
Add Georgia Tech's Paul Johnson to the growing group of
coaches frustrated by the no-huddle offense
, writes the Atlanta Journal-Constitution.
Athlon
offers its Week 2 predictions
around the ACC -- and shockingly, there's not a lot of love for South Carolina State.
Tweet Stirs QB Francois Decommit Rumors
ACC SCOREBOARD
Thursday, 9/3
Saturday, 9/5
Monday, 9/7