Florida State Seminoles:

Craig Littlepage
May, 22, 2014
5/22/14
12:00
PM ET
March, 14, 2014
3/14/14
4:00
PM ET
The mailbag has returned. Make sure to
keep those questions coming
so we have enough to fill up this space each week!

Paul in Roanoke, Va., writes:
As a lifelong UVA fan, of course I would love to see Mike London turn things around this fall and get the program back to respectability. However, many fellow Wahoo fans seem to think he will not make it past 2014 and have already begun to speculate on who AD Craig Littlepage will target for the next head coach. With Al Golden turning down the Penn State job, his potential return to Charlottesville has become a dream scenario for many fans, and I honestly don't think it seems that far-fetched. His suit-and-tie personality fits in well with UVA, and he had a great deal of success coaching Ahmad Brooks, Chris Canty, and others under Al Groh before taking the Temple job. Given UVA's top-notch facilities, great academics, solid fan base and location near the Hampton Roads recruiting hotbed, it seems to be a desirable location for someone who already has a history of winning there. And an intra-conference coaching move isn't unprecedented given that Tom O'Brien did it when he moved from BC to NC State. Do you think there is any chance at all that Golden could be lured away by the Wahoos, or do you think he will call Coral Gables home for the foreseeable future?
Andrea Adelson writes:
Paul, I appreciate the question, but I cannot speculate about two men still employed as head coaches. I completely understand your concerns about Mike London, given what has happened the past few seasons. And I completely understand the coaching connection between the school and Golden, who has done a solid job at both Temple and Miami. I have no idea what the future holds for either coach. Golden has drawn interest from Wisconsin and Penn State (his alma mater) the last two seasons and stayed with the Canes. Does that mean he is in Coral Gables for the long term? Only time will tell. As for London, he absolutely has to get the ship righted as quickly as possible. He signed a terrific class in February, so I want to see what he does with these incoming players and a second year with his coordinators in place.
---

Tony Milano in Marco Island, Fla., writes:
Andrea, I have not read anything about the defense at Boston College. Can you tell me how it is doing?
Adelson writes:
BC has only had three practices so far, Tony, so you have not missed out on many big updates. In talking to coach Steve Addazio before practice began, I know he was really pumped about
Josh Keyes
at linebacker, and the return of just about everybody in the secondary. That remains a huge area that has to improve headed into next season. BC ranked last in pass defense and wore down as the season went on. This will be a much more veteran group in 2014, and Addazio believes that will translate to better results on the field.
---

Ethan in N.Y., writes:
While the Hokies haven't exactly been spectacular these past two seasons, they have still been major contenders in the Coastal Division. In 2012, they were 55 seconds away from beating No. 10 FSU and were still a contender in November. In 2013, they were one North Carolina victory away from playing in Charlotte. Whether this pays tribute to the Hokies or shows how bad the Coastal has been the past two seasons, I don't know. This just tells you to never count out the Hokies. I pick them behind UNC to finish second in the Coastal in 2014, but they could easily win it, or be fifth. Where do you see them finishing in the murky pool of chaos that is the ACC Coastal Division?
Adelson writes:
Great question, Ethan. The Coastal has been muddled the past two seasons, and I do not think 2014 is going to be much of an exception. I could legitimately make the case for six teams to win the division this fall. While I believe North Carolina and Duke are the top two at this point, if Virginia Tech can solve its offensive issues, the Hokies absolutely will be in the mix. I also think Pitt could have a great shot as a darkhorse, given some of the players it returns to the team. The Panthers have more talent at the skill positions than the Hokies do headed into the spring. Miami, with a healthy
Duke Johnson
, cannot be counted out. And Georgia Tech always hangs around the Coastal race. I am happy I don't have to slot my teams in 1-7 until July!
---

Gil Torres in Mobile, Ala., writes:
With Bobby Petrino going to Louisville, how long do you think it will take him to compete for the ACC championship and possibly competing with SEC? Thanks in advance for your answer.
Adelson writes:
Gil, given how much of a head start Clemson and Florida State have on him, it is going to take at least a few years for the Cards to compete for an ACC championship. I think they will win their fair share of games, but they need some excellent cycles on the recruiting side to begin building the consistent talent and depth we have seen from their two biggest Atlantic foes.
---

John in Arlington, Va., writes:
Hi Andrea, Big fan of the blog and read it just about every day. I was just wondering why we keep getting updates about
Jameis Winston
's baseball career? I understand he's the most well-known player in the ACC, and it's the slow time of the year for a college football blog, but this is just that, a college football blog. If I wanted information on how well he's doing in baseball, I would follow college baseball. Just saw a link to "Winston's easy ninth inning", which fueled this rant. Other than that, keep up the good work and thanks for all you do.
Adelson writes:
Thanks for reading, John. I think what Winston is doing with baseball is completely relevant and totally fascinating. Players as skilled as Winston have been told for years they had to pick one sport over another. This is the rare exception when he is not only allowed to do both, but excels at both. I understand how all the Winston mania may be getting a little bit old for some people. But his status as the Heisman Trophy winner on the No. 1 team in America makes his baseball career worth following. Especially if it ends up impacting what happens on the football field.
November, 11, 2013
11/11/13
11:00
AM ET
Florida State is now in full control of its championship destiny. Miami needs to get its act together. Duke is delaying interest in basketball season in Durham (OK, probably not) and several surprise teams are making their pushes toward the postseason. All that and more in our ACC weekend rewind:
The good:
Let's face it: The ACC's surest path toward national respect is by winning it all, something it has not come close to doing in recent years. And, fair or unfair, the only way an ACC team was going to become a serious player in that title conversation this year was if Alabama or Oregon lost. So Stanford's Thursday night shellacking of the Ducks was surely celebrated by the folks of Tallahassee, Fla., who then watched their beloved
Florida State Seminoles
punctuate the weekend with a 59-3 stomping of Wake Forest. The formula is simple now for FSU: Just win, something the program has been doing with relative ease so far this season.
[+] Enlarge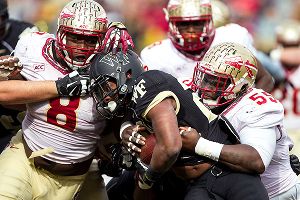 Brian Westerholt/Four Seam Images/AP ImagesFlorida State's defense throttled Wake Forest as the Seminoles continued their BCS title run.
The good, pt. II:
Play the way the Seminoles' defense did Saturday in Winston-Salem, N.C., and you get a second category in your honor. They held the Demon Deacons' quarterbacks to a total QBR of zero for the game, the first time that has happened for a team in a game this season. They forced seven turnovers, picking off six passes while returning turnovers for touchdowns on consecutive plays. Wake Forest's three quarterbacks combined to complete seven passes to their own players, which was just one more than they completed to FSU defenders.
As our David Hale noted
, from the 7:15 mark of the first quarter to the 10:31 mark of the second, FSU ran four offensive plays and scored 28 points.
The bad:
Miami entered Tallahassee last weekend as a top-10 team looking to make some noise if it could manage a respectable showing against the rival Seminoles. Two games later, and the Hurricanes have seen their Coastal Division frontrunner status fly away after consecutive losses to FSU and Virginia Tech, which turned three key Miami special teams gaffes into 21 points, resurrecting their own chances at making the ACC title game. Kudos to
Logan Thomas
for putting consecutive forgettable outings behind him by completing 25 of 31 passes for 366 yards with two touchdowns and no picks.
The ugly:
Virginia's 45-14 loss at North Carolina was its seventh straight loss, its most in a single-season since 1981. The Cavaliers had little margin for error to begin with, but did themselves no favors by surrendering a pick-six and a punt return for a score to the resurgent Tar Heels, who have now won three straight games and are knocking on the door of bowl eligibility at 4-5 after a 1-5 start. Craig Littlepage has voiced his support for Mike London so far this season, but you have to wonder how much that will change with each passing loss.
The clutch:
Sure, ruining Notre Dame's national title hopes in South Bend, Ind., last year would have been sweeter. But Pittsburgh's 28-21 home upset of the No. 23 Fighting Irish was nonetheless a high mark for the program, which recorded a signature win for second-year coach Paul Chryst and delivered the Irish's BCS bowl hopes an early knockout blow.
Ray Vinopal
keyed a strong defensive performance for the Panthers, coming up with a pair of fourth-quarter interceptions and forcing a fumble early. Now Pitt is just one win away from bowl eligibility with three games remaining.
The hat trick:
Andre Williams
outdid himself in Boston College's 48-34 win at New Mexico State, as he broke the 200-yard mark for the third time this season. Williams set an Eagles single-game record with 295 yards rushing on 30 carries, including a go-ahead 80-yard score and a game-sealing 47-yard touchdown on the next possession. What more can you say about the senior? He now leads the
nation
in rushing yards with 1,471. His 163.4 rushing yards per game are also a national best, nearly 11 full yards per game clear of the No. 2 man, Arizona's
Ka'Deem Carey
. BC is now 5-4, three wins past last season's total and, more importantly, a victory away from bowl eligibility.
The hat trick, pt. II:
Duke redshirt freshman
DeVon Edwards
had a day for the ages, recording two pick-sixes -- one of 25 yards, the other of 45 -- on back-to-back NC State plays within 16 seconds of each other and returning a kickoff 100 yards for a touchdown in the Blue Devils' 38-20 win, their fifth straight victory. Edwards became the first Duke player with two pick-sixes in a game since Leon Wright against Army in 2009 and became the first Blue Devil to return a kickoff for a score since
Jabari Marshall
against UConn in 2007. Edwards was named the national defensive player of the week by the Walter Camp Football Foundation for his efforts. He added 10 tackles, too.
The brick wall:
So, it's unlikely that anyone will confuse this year's Syracuse defense with 2011 Alabama, 2008 USC or any other greats of recent memory. But after losing to Georgia Tech 56-0 the Orange have been on a roll, pitching 113 straight minutes of shutout ball over the past two-plus games before
Brad Craddock
's 23-yard field goal got Maryland on the board with 1:10 left in the third quarter Saturday. That would be all the Terrapins could manage in a 20-3 loss to an Orange team now 3-2 in its first season of ACC play and 5-4 overall, just one win shy of bowl eligibility. Syracuse forced four turnovers and held Maryland to 292 yards of total offense, though the challenge gets amplified
just
a bit this weekend when it travels to Florida State.
The class act:
Hats off to
Marquise Williams
, who became North Carolina's starting quarterback for the rest of the season after
Bryn Renner
underwent season-ending shoulder surgery this week. Williams, normally No. 12, wore Renner's No. 2 in honor of the injured senior, and he completed 15 of 28 passes for 185 yards with two touchdowns and one pick while adding 46 rushing yards and another touchdown in the Tar Heels' win over Virginia. Oh, and he caught a 29-yard touchdown pass for good measure, with
Quinshad Davis
it to make Williams the first North Carolina quarterback to catch a touchdown pass since 1984, when Kevin Anthony did the same against Virginia.
The headaches:
Good luck trying to sort out the potential scenarios for a Coastal Division winner after Virginia Tech's upset of Miami and Duke's win Saturday, which helped leave the division with four teams with two losses apiece. And good luck trying to sort out all of the possible bowl destinations for a number of ACC teams after a week in which conference newcomers Pitt and Syracuse inched their way closer to postseason play with upset wins to get to five victories apiece. Boston College got to five wins, too, while Maryland remains at five after the loss to the Orange. North Carolina is making a push at 4-5 and on a three-game winning streak, and there are already six bowl-eligible teams. So yes, there could be 11 teams bowling in the ACC this winter. Not bad.
October, 21, 2013
10/21/13
11:00
AM ET
Well that was quite a weekend, huh? And after all of that ... the ACC still has three top-10 teams going into Week 9. But before we look ahead, let's take one last look back at the week that was in the conference.
[+] Enlarge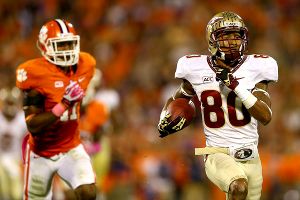 Streeter Lecka/Getty ImagesRashad Greene and the Seminoles, who are ranked No. 2 in the first BCS standings, dominated Clemson, 51-14.
The good
: The ACC has a clear national title contender, and that is what is needed most for this conference to establish itself as a legitimate force atop college football. Looking for someone to dethrone Alabama and the mighty SEC? You might need to look no further than Saturday night's game at Clemson, when Florida State punched the Tigers in the mouth early and dominated from start to finish, deflating a much-hyped game in a way that had not been seen in this sport since the Crimson Tide did the same to Notre Dame in last season's BCS title game. The ACC has not had so much as a one-loss conference champion since the Seminoles' 12-0 national title campaign in 1999, and it is extremely difficult to see an outfit as talented as the one that owned Death Valley this weekend dropping two contests, based on its schedule. One loss will be hard enough for any other conference foe to deliver, as Florida State checked in at No. 2 in the first BCS standings and now has every reason to believe it can compete for a national title. (Its quarterback could be pretty busy come awards time, too.)
The bad
: No, this was not "pulling a Clemson." The Tigers simply got beat, badly, by a better team. And you can very well make the argument that they could and would beat every other ACC team outside of Florida State. But this was their moment, complete with a second visit from "College GameDay" and another prime-time showcase for a program with national title aspirations. Instead, this game was over shortly after it started, with
Tajh Boyd
not performing up to expectations and the highly touted, improved defense proving to be no match for the Seminoles' skill players. This has to be, in some ways, disheartening, considering this was Clemson's shot at home with a senior quarterback against a Seminoles team that had lost 11 NFL draft picks and will only get better moving forward. Clemson, currently ranked ninth, can still have a very strong season, so long as it doesn't reel from Saturday's rude awakening.
The ugly
: Syracuse went into Atlanta with a bit of momentum after registering its first ACC win, at NC State. Instead a Georgia Tech team that had lost three in a row smacked the Orange from start to finish, winning 56-0 for its second shutout of the season, marking the first time the Yellow Jackets had shut out two opponents in a season since defensive coordinator Ted Roof was a team captain in 1985.
Terrel Hunt
struggled in his third conference game, failing again to reach the 100-yard passing mark and this time getting pulled for
Drew Allen
. Defensive tackle
John Raymon
was lost for the season as well with a right knee injury. The Orange could use the bye to regroup before hosting Wake Forest on Nov. 2.
The walking wounded
: It was bad enough that Maryland struggled throughout a 34-10 loss to Wake Forest. But the Terrapins also lost two of their top offensive weapons, with receivers
Stefon Diggs
and
Deon Long
suffering
season-ending leg injuries
. Diggs broke his fibula and Long broke his fibula and tibia. Maryland had started 4-0 before losing 63-0 at Florida State, barely beating Virginia and then getting routed by the Demon Deacons. It had already suffered a handful of defensive injuries before Saturday, and things won't get any easier this coming Saturday as it hosts No. 9 Clemson, which is coming off its first loss.
[+] Enlarge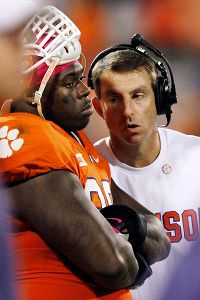 AP Photo/Mike StewartCan Dabo Swinney's Clemson team bounce back from its big loss to Florida State?
The history
: On the other end of that matchup in Winston-Salem, N.C., Wake Forest saw a new receiver etch his name to the top of the school record book.
Michael Campanaro
had 11 catches for 122 yards and a touchdown, becoming the Demon Deacons' career leader in receptions with 217, passing Desmond Clark. He is second in the ACC in both catches (55) and receiving yards (704) on the season, and he also threw a touchdown pass for good measure against the Terrapins.
The second-half charge
: Duke finds itself on the cusp of bowl eligibility for the second straight year after overcoming a 22-point deficit at Virginia and pulling out a 35-22 win to improve to 5-2. The Blue Devils got a boost from both quarterbacks as
Anthony Boone
threw two touchdown passes and
Brandon Connette
ran one in for a score. Duke converted four fourth-down second-half plays as it scored the game's final 35 points and delivered the reeling Cavaliers another blow as they fell to 2-5 overall and 0-3 in conference play. Virginia athletic director Craig Littlepage publicly backed coach Mike London last week, but questions will continue to mount if the Cavaliers continues to struggle.
The anomaly
: Miami is No. 7 in the BCS standings after eking out a victory Thursday at one-win North Carolina.
Stephen Morris
struggled, throwing four interceptions, which marked the third straight game the Hurricanes had turned the ball over four times (Miami somehow won all three games). The Canes are 6-0 and host Wake Forest this weekend before traveling to Florida State on Nov. 2, but they lost
Duke Johnson
(head) and
Phillip Dorsett
(knee) to injuries in Chapel Hill. Johnson is expected to be fine, but Dorsett will miss four to six weeks with an MCL tear.
The ground boost
: Pitt finally got the lift it needed from its rushing game, as
Isaac Bennett
carried the ball 30 times for 240 yards and three touchdowns in a 35-24 win over Old Dominion. The Panthers improved from 105th to 91st nationally in rushing yards per game (141.67). For a program that had tallied just 8 and 23 yards rushing in its previous two games, the timing could not have been better.
October, 18, 2013
10/18/13
12:00
PM ET
March, 7, 2013
3/07/13
5:00
PM ET
Head coaching salaries have been on the rise for years. So have assistant coach salaries, sparking a further separation between the programs that can pay and the programs that cannot.
Therefore, it should come as no surprise that athletic directors have seen their salaries grow as well.

USA Today, which annually compiles head coaching salaries, recently found FBS athletic directors make
an average of $515,000
. That is an increase of more than 14 percent since USA Today last reported on AD salaries in 2011.
The ACC beats that average. Of the
available salaries compiled by USA Today
, ACC athletic directors were set to make an average of $602,829 in 2013. All but two made more than $500,000 -- Kevin Anderson at Maryland ($499,490), and Randy Spetman at Florida State ($350,00).
That doesn't count incoming Louisville athletic director Tom Jurich, who makes a cool $1.4 million -- the highest paid athletic director at a public school. Only nine athletic directors make $1 million or more. The next highest paid public school AD is Dan Radakovich at Clemson, checking in at $725,000.
Boston College and Miami, two private schools, did not disclose figures.
While Spetman's salary has remained the same for the past several years, it still surprises me that the athletic director at one of the most high-profile football programs in the nation is the lowest paid in his league. And one of the lowest paid in the entire state of Florida. Florida AD Jeremy Foley makes more than $1 million; USF AD Doug Woolard makes nearly $500,000; Todd Stansbury at UCF makes just a smidge more ($375,000); and FIU AD Pete Garcia makes $441,832.
I know Spetman has faced his share of criticism, and the Noles have fought through some financial problems. They do pay Jimbo Fisher $2.75 million -- the highest paid coach in the ACC. But something seems off when the ADs at FIU, UCF and USF make more than the guy at Florida State.
Here are is the complete list of AD salaries in the ACC, thanks to USA Today.
Tom Jurich, Louisville: $1.4 million*
Kevin White, Duke, $906,536
Dan Radakovich, Clemson: $725,000
Ron Wellman, Wake Forest: $688,000
Mike Bobinski, Georgia Tech: $625,000
Jim Weaver, Virginia Tech: $621,529
Steve Pederson, Pitt: $596,595
Craig Littlepage, Virginia: $586,750
Daryl Gross, Syracuse: $570,057
Bubba Cunningham, North Carolina: $565,000
Debbie Yow, NC State: $500,000
Kevin Anderson, Maryland: $499,490**
Randy Spetman, Florida State: $350,000
Brad Bates, Boston College: NA
Blake James, Miami: NA
*Louisville expected to join ACC in 2014
** Maryland will depart ACC in 2014
Goodell Has Sit-Down With Jameis Winston
ACC SCOREBOARD
Thursday, 9/3
Saturday, 9/5
Monday, 9/7