Florida State Seminoles:

Clive Walford
December, 26, 2013
12/26/13
12:00
PM ET
October, 30, 2013
10/30/13
10:00
AM ET
Back /bak/, adv. Expressing a return to an earlier or normal condition.
Miami and Florida State have returned to the Top 10, a home from a bygone era that continues to influence both programs still today.
Because the natural question before us headed into their showdown Saturday is one that has trailed both programs for close to 10 years now:
[+] Enlarge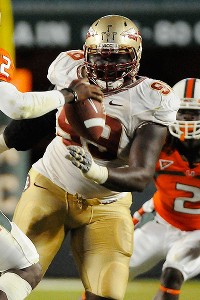 Richard C. Lewis/Icon SMIFlorida State has enjoyed more recent success, and has won three straight games over Miami, but the games have not carried the weight they once did.
Are the Hurricanes and Seminoles back?
Furthermore, what does it even mean to be back?
College football has waited on their return to prominence after a dominating 20-year stretch that put both programs on the national map. Twelve times between 1987 and 2004, Miami and Florida State met as Top 10 teams -- including a whopping seven consecutive meetings. National championship implications became the norm, not the exception. The programs combined to win six national titles in that time span and played for six others.
Both set standards that today seem unsustainable. College football has changed since Miami and Florida State rose in the mid-1980s. Their recruiting territory is no longer truly theirs; neither is their philosophy to win with athletes and speed. Everybody else has caught up to the once-trailblazing programs.
Since 2004, Miami and Florida State have combined to play in two BCS games. Miami has won zero conference titles. Florida State has won two. Yet every year, thanks to the weight of history, the inevitable question has been asked of one program. Sometimes both.
Are you back yet?
So seeing both unbeaten this late in the season, ranked in the Top 10, with national title implications again on the line has revived the irresistible notion that both are, indeed, back. But neither side believes as much. Not when their recent history speaks more to unmet expectations than championship rings.
"Honestly, I wouldn't say we're back because we're not the past," Miami tight end
Clive Walford
said. "I have a lot of respect for what happened in the past, but we're trying to build our own new legacy. We're a whole new team, with a different mindset. And we're just trying to win every game, that's all."
To be sure, the Miami of today is a distant cousin to the Miami of yesteryear. They have the same name, but they bear little resemblance. What Walford says is true. This Miami team is not the past. There are no larger than life personalities. There are no household names. There are no All-Americans. There are no swaggering, trash-talking, in-your-face, we-don't-care-what-you-think players roaming that sideline.
All those qualities that made the U one of the most despised teams outside South Florida? This team embodies none of them. Not one quote has made a bulletin board in Tallahassee. When given the opportunity to talk some smack, Miami players have politely declined and given clichéd quotes about this being just another game. Do the Canes feel disrespected knowing they are 21-point underdogs? This is as close to an inflammatory quote as you will get.
"It doesn't really matter about whether someone respects us or not," Miami running back
Duke Johnson
said. "We don't care. We're just here to play football and do it the way we're being taught to."
All of this is by design, the way Miami coach Al Golden wants it. He has his players believing in "the process," so much so that a week generally filled with friendly back-and-forth has been doused with cold water.
In this way, Miami might never be back. But it does not have to embody an old persona to win championships. That is the key, of course. Miami has not won championships recently. Then, and only then, can Miami begin taking steps on the road back.
Quarterback
Stephen Morris
is not toeing a line when he says, "When you bring up the term back, our biggest thing is let's talk about that at the end of the season."
Florida State is closer than Miami is given what it has done over the last two seasons. The Noles won the ACC last season and went to a BCS game. They are No. 3 and more closely resemble the Florida State teams of the past -- with a dynamic quarterback in the Heisman race and NFL talent up and down its roster. But there remain skeptics who are not quite sold. Not until they see the Noles put a complete season together, and then stack them on top one by one, the way they used to.
"Is Florida State back on a national stage? Right now we are," Florida State cornerback
Lamarcus Joyner
said. "Like they were in the '90s and late '80s, I guess we're doing the same things those guys were able to do. But as far as being back? What's in the past is in the past. We just have the responsibility of carrying the respect, the tradition and the legacy around here."
There is no question both teams are trying to forge their own identities, and their own legacies. Whether or not their rise back up continues, the past can never truly be in the past for Miami or Florida State.
Florida State reporter David Hale contributed to this report.
October, 25, 2013
10/25/13
10:00
AM ET
The ACC sent just six teams to bowl games last year, in part because of NCAA infractions. The conference already could have six bowl-eligible teams for 2013 after this week if Maryland and Duke pick up their sixth victories of the season. Florida State, Clemson, Miami and Virginia Tech have already secured bowl eligibility.
Here are a handful of more Week 9 tidbits around the ACC.
(As always, thanks to the ACC's sports information departments for their contributions.)
Boston College:
Tailback
Andre Williams
needs just 162 more rushing yards to become BC's first 1,000-yard back since Montel Harris rushed for 1,242 in 2010. Williams has already topped 162 yards in a game twice this year, and he's on pace to finish the regular season with 1,696. In the past five years, only Virginia Tech's David Wilson has finished with more yards in the ACC. Williams currently leads the conference in yards, attempts (157) and is fourth in rushing TDs (7).
Clemson:
After allowing the most points to a visiting team in the history of Death Valley, Clemson heads on the road to take on Maryland this week — and that might be a blessing. The Tigers have won six in a row on the road, and a win over the Terps would give them their longest road winning streak since 1978-79, when they won nine straight. Clemson is averaging 45 more yards per game and 1.1 more yards per play on the road this season than it is at home.
[+] Enlarge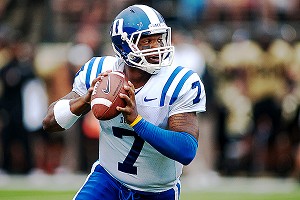 Jeremy Brevard/USA TODAY SportsDuke quarterback Anthony Boone has won in the first five starts of his career.
Duke:
The Blue Devils' two-pronged attack at quarterback continues to impress after last week's 35-22 win over Virginia.
Anthony Boone
became just the second Duke QB since 1950 to win the first five starts of his career, and
Brandon Connette
made the most of his second-half snaps, throwing a 47-yard touchdown pass to
Braxton Deaver
for the go-ahead score in the fourth quarter. Connette is the first quarterback in Duke history with two game-winning, fourth-quarter TD passes in a season. His first came against Memphis in Week 2.
Florida State:
The Seminoles forced four turnovers in last Saturday's win against Clemson, the first time they'd done that in a game since 2011. For the season, Florida State now has a plus-7 turnover margin, tied for the 12th-best mark in the nation. Since 2007, Florida State had never been better than plus-6 at any point in the season. The Seminoles have gone seven consecutive games without losing the turnover battle, which is also their longest stretch in the past seven years.
Georgia Tech:
The Yellow Jackets pounded Syracuse 56-0 last week. It was Georgia Tech's second shutout of the season after beating Elon 70-0 in its opener. That marks the first time since 1985 that a Tech defense has pitched two shutouts in a single season. That year, current defensive coordinator Ted Roof was one of the Yellow Jackets' team captains.
Maryland:
Caleb Rowe
and
C.J. Brown
combined to throw for 344 yards in last Saturday's 34-10 loss to Wake Forest. It's the fewest points a Maryland team has scored when throwing for at least 300 yards since a 31-7 defeat at the hands of Clemson in 2010. After struggling at the quarterback position following a rash of injuries last season, the Terps have topped at least 275 yards passing in five of seven games this year.
Miami:
Tight end
Clive Walford
has just 13 receptions this year, but he's made them at the most crucial moments. Nine of his catches have gone for first downs and two more ended as touchdowns. Dating to last season, 22 of Walford's last 24 receptions have accounted for either first downs or touchdowns.
NC State:
The Wolfpack are the decided underdogs this week against No. 2 Florida State, but that's not necessarily a bad thing. Since 2002, NC State has played a ranked FSU team seven times and it's won five of those games. The Wolfpack are 0-4 against Florida State, however, when the Seminoles are unranked. Still, this is a rare challenge for NC State. It hasn't played a top-five team on the road since falling to then No. 1 Florida State 42-11 in Tallahassee in 1999.
North Carolina:
In their Oct. 17 loss to Miami, tight end
Eric Ebron
had a career day. His eight catches were a career best and his 199 receiving yards marked the most in school history by a tight end and the sixth-most by any Tar Heels player.
Pittsburgh:
Senior receiver
Devin Street
is averaging 21.12 yards per reception this season, the 10th-best mark in the nation and best in the ACC. That's an improvement of nearly 8 yards per catch from last year. His big-play acumen has been crucial for Pitt's offense. Of his 26 catches, 21 have gone for first downs (the highest rate in the ACC) and nearly 62 percent of his receptions have gone for 15 yards or more (the second-best rate in the conference).
Virginia:
The Cavaliers tallied just 709 yards of offense and averaged 11 points per game in its first three contests against FBS opponents, but the offense has picked up of late. In its last three games, Virginia has nearly doubled that output, racking up 1,327 total yards and averaging 25 points per game.
Virginia Tech:
The Hokies' 27 sacks are tied for the most in the nation and they've racked up 13 interceptions this season, good for third nationally. Overall, one out of every 5.6 passing plays by Virginia Tech's opposition ends with either a sack or an interception — by far the best rate in the country. Two other ACC teams, Clemson and Miami, rank second and third, respectively, on that list.
Wake Forest:
In last week's 34-10 victory over Maryland, the Demon Deacons ran 24 times for just 47 yards — a 1.96 yards-per-carry average. It's just the second time in the past four years that Wake Forest won a game when it rushed for fewer than 2 yards per carry (UNC, 2011). Oddly, in those two games, Wake has scored six times on the ground.
Goodell Has Sit-Down With Jameis Winston
ACC SCOREBOARD
Thursday, 9/3
Saturday, 9/5
Monday, 9/7