Florida State Seminoles:

christian ponder
July, 11, 2013
7/11/13
9:00
AM ET
Recruiting and recruiting rankings are anything but an exact science. And sometimes, both miss on prospects that go on to be excellent.
Florida State has had its fair share of those. Amid all the top draft picks and five-star talents, there have been the run-of-the-mill three-star prospects that have exceeded all expectations.
Oh, and there was this one walk-on player, too.
Here's a look at three notable players that went on to college and pro greatness from humble beginnings in Tallahassee.
[+] Enlarge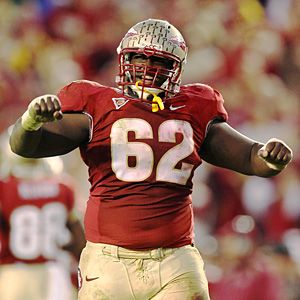 Mike Ehrmann/Getty ImagesUnder Rick Trickett's tutelage, Rodney Hudson became an All-American at FSU.
DE Andre Wadsworth
Hailing from St. Croix in the U.S. Virgin Islands, few expected Wadsworth to go on to be one of the names mentioned in Florida State lore.
In high school, Wadsworth made second-team all-state as a defensive lineman, but also played some tight end. His athleticism was apparent then because he even returned a kickoff 98 yards for a touchdown.
When it came to recruiting, just Liberty and Bethune-Cookman College wanted to offer Wadsworth a scholarship. He turned down both and walked on to the Florida State football team.
He went on to be named a consensus All-American and the ACC Player of the Year, ACC Defensive Player of the Year and First-Team All-ACC in 1997, and Second-Team All-ACC in 1994, 95 and 96. Not bad.
He could have left for the NFL after his junior year, but decided to stay for another season. And in the 1998 NFL Draft, Wadsworth became the highest drafted Seminole in school history going No. 3 overall to Arizona.
QB Christian Ponder
The expectations for Ponder upon his arrival at FSU were that he would be a career backup. He was a three-star prospect with offers from Baylor, Georgia Tech, Iowa State, North Carolina and TCU. And he came in with a highly regarded dual-threat colleague D'Vontrey Richardson.
Prior to the 2008 season, Ponder was named the starting quarterback over Drew Weatherford and went on to throw for just over 2,000 yards and 14 touchdowns. Interceptions were a problem (13 in total), but he showed flashes.
The 2009 campaign was cut short after Ponder was hurt trying to make a tackle on DeAndre McDaniel in the Clemson game, but it did cement his plans to come back for his senior year.
Ponder became the first quarterback since
Chris Weinke
in 1999 to defeat both in-state rivals Florida and Miami in the same season. He would finish his career with over 6,800 yards passing and 49 touchdowns.
During the 2011 NFL Draft, Ponder was selected No. 12 overall by the
Minnesota Vikings
.
OL Rodney Hudson
Hudson's career is closely intertwined with offensive line coach Rick Trickett. A one-time West Virginia commitment, Trickett's former employer, both ended up in Tallahassee in 2007.
Florida State was able to trump the Mountaineers and Southern Miss to get the three-star recruit to campus. He would go on to become exactly what Trickett had hoped.
Hudson started 10 games as a true freshman in 2007, even playing some tackle. As a sophomore, Hudson would be named First-Team All-ACC.
He'd go on to earn First-Team All-ACC two more times in 2009 and 2010 and would also become a First-Team All-American in 2009 and 2010. Hudson also captured the Jacobs Blocking Trophy as a junior.
By the time he was done, Hudson became the most-decorated offensive lineman in Florida State history.
Hudson was selected by the
Kansas City Chiefs
in the second round with the No. 55 overall pick.
Honorable mentions:
CB Xavier Rhodes:
He arrived at FSU as a three-star wide receiver, but left as a first-round pick as a cornerback.
Warrick Dunn:
Dunn was highly sought after by many, but as a defensive back. He played running back from Day 1 in Tallahassee and is the Seminoles' all-time leading rusher.
Derrick Alexander:
The legend goes that he was cut by his junior varsity team. He would come to Florida State and anchor the defensive line during the 1993 national championship season and be selected in the first round of the NFL draft.
June, 19, 2013
6/19/13
9:00
AM ET
Jimbo Fisher's recruitment of quarterbacks has nearly reached a point where they come to him and not the other way around.
If you look at, it makes sense. Just during his time at Florida State, he has produced back-to-back first-round selections in the NFL draft in
Christian Ponder
(Vikings, 2011) and
EJ Manuel
(Bills, 2013).
But it didn't start there. And it probably won't end there, either.
January, 31, 2013
1/31/13
8:00
AM ET
There isn't just one reason for Florida State's gradual decline after playing for the national championship following the 2000 season, but one that can't be overlooked was recruiting -- and the recruiting of quarterbacks, in particular.
Solid, consistent play at the position evaporated with the departure of Heisman Trophy winner Chris Weinke, though many expected the Seminoles to restock as they always had. However, one defection turned those plans upside down.
[+] Enlarge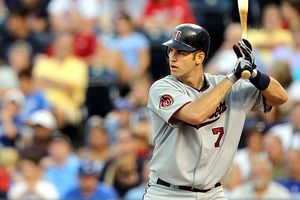 Jamie Squire/Getty ImagesJoe Mauer threw 73 touchdown passes in high school before becoming a three-time AL batting champion with the Minnesota Twins.
This wasn't a decommitment; this was another option, and another sport.
To continue reading this article you must be an Insider
January, 22, 2013
1/22/13
9:00
AM ET
NoleNation takes a look back at a few recruiting sleepers for the Seminoles from recent history:
Bjoern Werner:
Though he was a four-star recruit according to ESPN, he was only the 24th-ranked defensive end in the Class of 2010. What Werner turned into will possibly be the highest draft choice at the position this spring in the NFL draft. Werner, known for his ability to play against the run as well as the pass, has NFL general managers jostling for a shot at him. He''s almost certain be the highest-drafted player from Germany.
Xavier Rhodes:
Rhodes, the nation's No. 61 wide receiver prospect in the Class of 2009, didn't even end up at the position once at Florida State. Moved to cornerback, Rhodes enjoyed a nice career for himself as one of the ACC's top cornerbacks thanks to his combination of size and speed. Rhodes recently declared he will forgo his senior season and head to the NFL.
To continue reading this article you must be an Insider
September, 27, 2012
9/27/12
9:00
AM ET
After two impressive ACC wins, Florida State heads out of conference once again for its first road test of the season, though the Seminoles won't go too far from home.
FSU travels to Tampa for the first time in more than 30 years, and four years after one of the most memorable upsets in the program's history, the Seminoles get another crack at
B.J. Daniels
and USF.
To get the lowdown on the Bulls and how they're preparing to handle FSU, we checked in with Tampa Bay Times beat writer Greg Auman.


NoleNation: The win in 2009 seemed like a coming-out party for Daniels, but aside from a handful of highlights here and there, he never seemed to really build on that promise. What has held him back, and what is his frame of mind heading into this game?
Greg Auman:
Daniels had a great first college start, beating FSU in his hometown. He's on pace to be the Big East's all-time leader in total offense, but I think his legacy is limited because he hasn't been able to lead USF to a Big East title -- or really come close to one. He did a great job of lowering his turnovers last year, got some of his running threat back. A game like this is another chance for him to pull off a big upset -- but for USF to keep up with FSU, he has to play well, throwing and running the ball, with zero turnovers. As far as his mindset, he's a very confident player, so while he has a great respect for the defense he's facing, I think he's looking forward to a challenge like this.
September, 9, 2012
9/09/12
12:26
PM ET
What can you take from a 55-0 game against a bad FCS team that was played with a running clock for 11 minutes then abruptly called for weather reasons with nine minutes to play in the third quarter?

The answer: Not very much. But Jimbo Fisher will watch film on it anyway, so we're pushing forward with this week's grades.

QUARTERBACK

Florida State scored 124 points in its first two games, so it's tough to offer much in the way of insightful criticisms of EJ Manuel's play, but we did note a few loose ends after the Murray State game that offered some minor cause for concern. It took just two plays for Manuel to provide a rebuttal Saturday.

Manuel connected with Rodney Smith for a 61-yard TD pass on the second play of the game, and it was all easy from there. His final numbers -- 11-of-13 for 161 yards and three TDs -- illustrate both how small an obstacle Savannah State was and how sharp Manuel looked in dismantling the Tigers. The only two incompletions of the day for Manuel were a drop by Rashad Greene and a ball he threw away while avoiding pressure.

What was most encouraging, Fisher said, was the fact that Manuel was in complete control of the game, looking off his first and second reads and finding an open man on all but one play.


July, 10, 2012
7/10/12
7:22
AM ET
As Florida State gets set to open camp for the 2012 season, perhaps no player has more pressure on his shoulders than senior quarterback EJ Manuel. It's a role former FSU quarterback and current ESPN analyst Danny Kanell knows well.
[+] Enlarge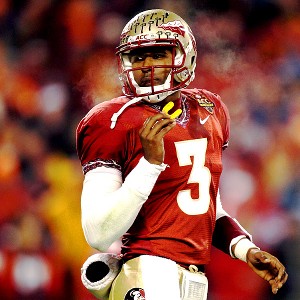 Streeter Lecka/Getty ImagesQuarterback EJ Manuel enters his senior season at Florida State with high expectations.
Kanell upped his touchdown total from 17 to 32 from his junior to senior seasons with the Seminoles, and he says Manuel will need to make a similar leap forward this season if Florida State is to meet preseason expectations.
Here's more of Kanell's analysis of Manuel's progress and Florida State's potential.
Q. You've gotten to see Manuel play a good bit during the last few years. What do you think is the key for him this season to take that next step?
A.
I really like EJ a lot. The one thing about EJ that you can't coach is that he's got the intangibles. He's got the leadership qualities, the toughness, the mental IQ to run an offense successfully. Those are some of the things I really like about him. He's got the size, the physical capabilities to make all the throws. He can run, he's athletic. I think the one area where EJ's going to need to step up, and where if Florida State has national title aspirations this year, which they do, they're going to have to see EJ step up as a pure passer.
That's something they worked on in the spring game. I got to cover the spring game and he threw it 51 times. It was obviously something they were working at, was his pocket-passing ability. If he improves that just a little bit -- it's just the finer details. You're talking about a guy with a 65 percent completion rate and pretty good touchdown-to-interception numbers. But if he wants to take the next step, he's got to have a season where he throws about 30 touchdowns vs. single-digit interceptions to be considered a true premier quarterback in the whole country.
Q. How much do you think his progress in becoming a better pocket passer last season was hindered by the problems on the offensive line?
A.
I think there were two things that greatly affected his play last year. One was the play of his offensive line. Two was the fact that he was battling injury all year. He's one of the toughest quarterbacks in the entire country. For him to bounce back as quick as he did, only missing one-and-a-half games with the shoulder injury and playing through a tremendous amount of pain, showed you his toughness. But the offensive line has got to do a better job of protecting him so that he can sit in the pocket and go through his progressions and get to that second, third, fourth option in his reads.
Q. How much more important is it for him to develop in the pocket when Florida State has such a deep corps of receivers who can make plays with the football?
A.
It kind of goes back to the days of old when you had so many weapons to work with, back when Charlie (Ward) was there, myself, Chris Weinke. You really just had to be a distributor. You had to get the ball to the right guy, whatever the defensive would give you.
That's going to be a similar situation to what EJ's going to be in this year. If he just goes out there and makes good decisions -- that's all you have to do is be a good decision maker and get the ball in the right hands and let those guys do the rest.
The thing EJ's got going for him is that he's a better runner than all of us except for maybe Charlie. If you combine that with the weapons they've got and you can have a little bit of a running game -- last year they finished 104th in running. I'm sure they'd love to have a top-20 running game, but even if you're just top-50 where it's respectable, this offense could be extremely difficult to stop.
Q. How difficult is it for a quarterback to stay in the pocket that extra half-second when he's used to using his legs to escape trouble and has the athletic ability to make plays as a runner?
A.
I think because you know you can do it so much on your own, but that's where you get into trouble is when you try to do too much on your own. I think even Christian Ponder did that because he was such an outstanding runner. It's an art form of knowing when to do what, knowing when to stay in the pocket and wait for that receiver to come open, and when to tuck it and run.
You're seeing the quarterback position evolve in college football and in the NFL to guys who can do both. And if you can do both, you're almost unstoppable for a defensive coordinator to try to defend you. If they have to account for you as a legitimate passer and as a legitimate run threat, it's almost unstoppable.
To continue reading this article you must be an Insider
Goodell Has Sit-Down With Jameis Winston
ACC SCOREBOARD
Thursday, 9/3
Saturday, 9/5
Monday, 9/7