Florida State Seminoles:

Charlie Strong
May, 13, 2014
5/13/14
12:00
PM ET
May, 8, 2014
5/08/14
4:00
PM ET
Just in case you've just woken up from a coma or finally had your power restored after living in the dark for the past week, the 2014 NFL Draft begins tonight, and Round 1 promises its share of ACC highlights.
In Todd McShay's
latest mock draft

, six of the first 32 picks are from current ACC schools, which would be one shy of the conference's tally from a year ago. But while last year's draft had just one ACC player go in the first 15 picks (UNC's
Jonathan Cooper
), there's ample reason to think quite a few -- from safe bets
Sammy Watkins
and
Aaron Donald
to bigger wild cards such as
Teddy Bridgewater
and
Morgan Moses
-- could be early selections this year.
With all that in mind, we figured we'd take a look at how the current ACC members
have faired in the draft in recent years
.
Looking strictly at which schools have produced elite NFL prospects, the names at the top of the list aren't overly surprising.
In the last 10 years, no ACC school has churned out more first-round selections than Florida State and Miami. Of course, there are a few noteworthy numbers in that mix, too. Since 2009, Miami hasn't produced a single first-round pick, and again this year, the Hurricanes don't have a single name listed in Mel Kiper's
top 100 prospects
. (The ACC has 22 players in Kiper's top 100.)
That stands in stark contrast with the first half of the 2000s, when Miami was a factory for first-rounders, including a whopping 24 from 2001 through 2007.
Meanwhile, the team that ranks third on both of those lists is Boston College, which is unique in that such a large portion of its total draftees were first-rounders. In the last 10 years, 40 percent of all BC players drafted went in the first round. No other ACC school has a ratio half that large.
In fact, when we look beyond the first round, we see that it's still Florida State and Miami that produce the most draft prospects, while the smaller schools tend to fall toward the bottom.
Florida State had a dip in production in the immediate aftermath of the Bobby Bowden era, but with 11 players taken last year alone, it's clear Jimbo Fisher has the Seminoles churning out NFL talent at a rate similar to their heyday. In fact, FSU is poised to send as many as a dozen more into this year's draft, which would put its two-year tally for 2013 and 2014 at 23. Only Miami (24) had more players selected in the previous five drafts combined among ACC teams.
UNC ranks third among ACC teams with 16 players drafted in the last three years, which is, in part, the Butch Davis recruiting effect lingering. Meanwhile, Dabo Swinney certainly deserves some credit at Clemson. From 2004-2008, the Tigers sent 15 players to the NFL. From 2009 through 2013, they sent 23 -- and figure to add at least another four to that total this weekend.
At the bottom of the list, we get more ammunition for critics of Paul Johnson at Georgia Tech. The Yellow Jackets have had just two players selected in the last three drafts, and one (Anthony Allen) was a transfer not recruited by Johnson. Of course, Jeremiah Attaouchu should add to Johnson's list of NFL talent this year.
Pitt has had just five players taken in the last three drafts -- none in the last two -- but Donald and
Tom Savage
assure some early intrigue for the Panthers in 2014, while Virginia (just three players in the last three years) should add to its total with Moses and
Brent Urban
.
Then, of course, there's the ACC's newest addition in Louisville. The Cardinals virtually evaporated from NFL draft boards in the immediate aftermath of Bobby Petrino's departure, with just four players who were either recruited by or spent the bulk of their careers under Charlie Strong selected. That will change this year with Bridgewater and
Calvin Pryor
both projected to be taken early. Still, it's a good reassurance for Louisville fans to remember than Petrino's heyday of producing NFL talent that he either recruited or coached was pretty bountiful. From 2005 through 2008, Louisville had 19 players drafted.
Of course, all these numbers will be reshuffled in just a few hours, which should make for a long weekend on the couch. Enjoy!
May, 15, 2013
5/15/13
12:00
PM ET
AMELIA ISLAND, Fla. -- A year ago today, Florida State coach Jimbo Fisher was asked exactly zero questions about his football team when facing the media contingent at ACC media days.
All anybody cared about was whether the Seminoles were joining the Big 12.
His athletic director, Randy Spetman, did not even stop to talk with reporters, walking -- nay, sprinting -- to the tune of a no comment.
[+] Enlarge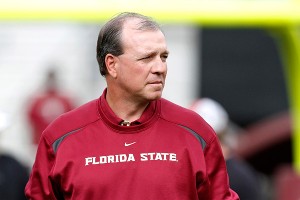 AP Photo/Don Juan MooreFSU coach Jimbo Fisher says he's "looking forward to the future" of the expanded and new ACC.
On Tuesday, Fisher smiled and leaned on a desk when he was asked to recall the maelstrom surrounding last year's meetings, with Florida State squarely in the center.
No such drama this year. A much different vibe permeated the Ritz Carlton Resort, one that had coaches and athletic directors speaking positively about the conference's future, with
a grant of rights signed
and the possibility of an ACC Network being discussed.
"When you have a definite plan of where things are going and where you're going, I think you definitely do [have a different vibe]," Fisher said. "When there's indecision, you're always wondering what's going on from that standpoint. But yes, I think it's a clear-cut picture of where Florida State's going, where the ACC's going and to me it's a very exciting path. It sounds very good. I don't know all the details but our president and Board of Trustees did an excellent job of researching and making decisions. What's been explained to me, I'm very excited about it and looking forward to the future."
A future in the ACC, of course. Last year, Fisher fanned Big 12 speculation when he said his school
should explore all conference options
, following comments made by a member of the Florida State board of trustees. That ended up triggering a storm that painted a doom-and-gloom scenario in the ACC, one that grew with Maryland's departure, as the league had to bat down speculation it was on the verge of being raided.
Of course, reports of the league's demise were greatly exaggerated. League officials remained confident in the future, even after Maryland left. Louisville and Notre Dame have been added, and the all-important grant of rights is in the books. Now league members can move forward together. Indeed, the future 15-member contingent is completely represented here, with reps from the Cardinals and Irish attending meetings.
And the league schools have wanted to promote that message: They are united, as one, moving forward. Phase I begins in the fall with Pitt and Syracuse beginning ACC play, and Notre Dame joining in all sports but football.
"Knowing our footprint is so vast, you can really see this thing taking off and giving us an opportunity to take the ACC and compete across the board with every conference and take it into all those households," Syracuse coach Scott Shafer said. "It's an exciting time to be a part of that."
Phase II begins in 2014 when Louisville enters and the Terps depart. Louisville is at an incredible high with success across virtually all its sports, football included.
From his seat watching it all, Louisville coach Charlie Strong said, "You're going to get in a conference already rich in tradition with academics and athletics. With the University of Louisville coming, you feel there's stability there. Now with your programs, you feel you have a chance to go compete. We know we'll be able to compete at the highest level."
If you count Louisville, the ACC has a chance to have three top-15 programs start the 2013 season, something the league needs to help its national credibility. Clemson and Florida State are the other two.
And that brings us back to Fisher. Fresh off a BCS win and top-10 national finish, Fisher spoke for roughly an hour at this year's ACC media gathering, touching on topics related to the league and greater issues surrounding college football, dropping one-liners and one anecdote after another -- spending far more time than the three uncomfortable minutes he had with reporters last year.
Even better for him? There were many, many more questions about his team than he fielded a year ago.
Goodell Has Sit-Down With Jameis Winston
ACC SCOREBOARD
Thursday, 9/3
Saturday, 9/5
Monday, 9/7