Florida State Seminoles:

Chad Morris
July, 30, 2014
7/30/14
12:00
PM ET
In the spring, Syracuse coach Scott Shafer said he was looking forward to seeing a new and improved Wayne Williams ready to tackle fall practice.
I'd say these
photos are proof
of that.
.
The picture on the left was taken in January, when Williams enrolled at Syracuse and weighed close to 350 pounds. The picture on the right is what he looks like now. Though Williams did not say how much weight he has dropped, it appears to be a significant amount.
A new and improved Williams indeed.
Why is this important? Williams' development
is a huge key
for a Syracuse defensive line that has to address major depth issues when practice begins Saturday. Syracuse has to replace tackle Jay Bromley, who led the team with 10 sacks and 14.5 tackles for loss last season. Williams was so out of shape in the spring, he could not really contribute in a meaningful way, and the Orange ended up cross-training ends to play inside to help make up for depth concerns.
An in-shape Williams changes the picture dramatically. Syracuse has been waiting on him for years now, a talented prospect who has been frustratingly out of reach. But now that it appears Williams has taken the necessary steps to get himself into playing shape, the Orange defensive front could end up surprising some people.
Now, here is a look at more headlines across the ACC:
July, 18, 2014
7/18/14
12:00
PM ET
Big names among the assistant ranks tend not to stay assistants for too long, but Clemson's Chad Morris says he's
right where he wants to be
and isn't looking for a head-coaching gig long-term, writes the Augusta Chronicle.
Of course, if a certain job in College Station, Texas, were to open up -- as our Travis Haney
wrote about this week
-- it certainly would seem like a good fit for Morris, who is a Texas A&M graduate. But Morris also
earned $1.3 million last season
, which makes it a bit easier to stay comfortable in a coordinator role, and though he is smart enough to know when the right situation comes around, I think he is also sincere when he says he is not looking to leave.
And Morris isn't the only ACC assistant would could be a hot commodity at some point in the next couple years. A few other names to watch for bigger jobs:
Bud Foster, Virginia Tech:
The offense has been down over the past few years for the Hokies, but Foster's defense has been as good as ever. Foster has turned down lucrative offers elsewhere in the past, so he is clearly not looking to leave, but he will nevertheless remain on the radar for a lot of other programs looking to bring in a proven commodity.
Jay Graham, Florida State:
He is young, has NFL experience and SEC ties, and he is a recruiting whiz. He also presided over the first 1,000-yard back at Florida State in 16 years last season. Graham is going to be a hot name very soon.
Chip West, Virginia:
How does a team that finishes 2-10 and has a head coach constantly mired in hot-seat rumors still land a solid recruiting class, including five ESPN300 members? Chalk it up to West, one of the best recruiters in the nation.
Scottie Montgomery, Duke:
He will get his first crack at a coordinator job this year as he takes over for Kurt Roper, who left for Florida. Montgomery has NFL experience as a wideouts coach with the Pittsburgh Steelers, and he is a terrific recruiter. If Duke's offense continues to shine, he is going to get a lot of credit -- and a lot of long looks from other programs.
Brent Venables, Clemson:
Morris gets all the buzz because offense is fun and the Tigers' defense has played second fiddle for years. But look, everyone remembers that Orange Bowl loss to West Virginia to conclude the 2011 season, and what Venables has done for the Tigers' defense since then -- 29.3 ppg in 2011, 24.8 in 2012, 22.2 in 2013 -- has been impressive, and this year's unit could be his best yet. More importantly, the Clemson defense is finally climbing out of the shadow of its prolific offense.
More links:
Athlon has a look at recruiting in the Tidewater, Virginia area, and how the region has become
a key battleground
for programs like Florida State and Virginia.
The Pittsburgh Post-Gazette has a piece on how colleges are
bringing in outside help to sell tickets
.
The Daily Progress is looking at Virginia's opponents and wonders if this is
the golden age of Duke football
.
A new play-calling system
should help Terrel Hunt run Syracuse's up-tempo offense, according to Syracuse.com. We wrote plenty
about up-tempo offenses
yesterday, if you missed it.
Georgia Tech's special teams
should be a strength
, writes the Atlanta Journal-Constitution.
The Courier-Journal wonders why Bobby Petrino isn't having
more success on the recruiting trail
at Louisville.
June, 27, 2014
6/27/14
12:00
PM ET
NFL.com put together a list of the
14 hottest names among coordinators
in college football, with two ACC coaches making the cut.
Of course, seeing Bud Foster and Chad Morris on the list is no surprise. They have established themselves as among the most consistently good coordinators in the country. What is perhaps more interesting is who isn't on the list: Namely, no one from the defending national champion. In fact, ex-Florida State defensive coordinator Jeremy Pruitt (now at Georgia) does make the cut, but that is as close as the Seminoles got to landing a name on the list.
Given that Jimbo Fisher doesn't employ an offensive coordinator and is on his third defensive coordinator in as many years, it is probably not a surprise, but as our Travis Haney noted during a recent trip to a Texas coaching clinic, FSU's Charles Kelly has
made a really good early impression
since taking over for Pruitt.
Pruitt, quite fairly, received a lot of credit for last year's championship defense, so now there are concerns about what his loss will mean for Florida State. Those concerns, however, are probably a bit misplaced.
First off, remember the chaos that followed the 2012 season at FSU? Seven assistants left the staff for other jobs, including both coordinators. Mark Stoops had engineered a defense that ranked in the top three nationally in consecutive years and was widely regarded as one of the best assistants in the country. Fisher couldn't possibly replace all that, right?
Even in the wake of Stoops' departure, fans clamored for a big name -- Foster, perhaps, or someone with NFL experience -- but he hired an obscure secondary coach from Alabama with just three years of college coaching on his resume. But he knew Pruitt, knew what he was capable of doing, knew the system he wanted to run, and the hire proved a stroke of genius.
So now, it's a lot easier to believe Fisher knew what he was doing when he promoted Kelly from linebackers coach to DC, and the transition promises to be much smoother this time. Pruitt's biggest impact on the team last season was the scheme he put in place, but that doesn't figure to change much under Kelly. The players already know what they are doing, there is no change in vocabulary and virtually no change in the Xs and Os. Moreover, Kelly is as well-liked and respected as any coach on the staff. He will do just fine.
But that doesn't mean there is no room for worries for Florida State's defense. It's just that losing Pruitt probably shouldn't be the primary concern. The biggest void is the leadership lost with the departures of Lamarcus Joyner, Terrence Brooks, Timmy Jernigan and Telvin Smith. That was a rare breed of leaders that had been through the battles and suffered the losses that taught tough lessons -- lessons they continually reminded their younger teammates about during last season's championship run. Finding voices on defense that carry as much weight in the locker room this year won't be easy.
"I think it's feeling comfortable taking on the roles of the guys who have left, that you feel comfortable stepping up and taking that responsibility," Fisher told me this month. "All of them play hard, but what you have to have is guys stepping up and taking on the leadership. There's a responsibility of how you have to conduct yourself as a teammate to affect the other guys on the team. That's where teams grow, and summer and fall camp is so important."
Fisher reeled off a bunch of names on the offensive side of the ball who will fill that role -- Rashad Greene, Cameron Erving, Karlos Williams, Tre Jackson, Josue Matias and, of course, Jameis Winston -- but the candidates on defense weren't quite so established.
Fisher said sophomore Jalen Ramsey has been perhaps the most vocal leader throughout the spring and early summer, and fellow defensive backs P.J. Williams and Tyler Hunter have shouldered some of the leadership burden, too. The rest of the unit, though, is still developing.
"Last year's team wasn't on a journey. They were on a mission," Fisher said. "They understood what they really wanted. The trial-and-error they had, they learned from their mistakes over time."
Terrance Smith learned under Telvin Smith last season, but he's not nearly as vocal as his predecessor. Mario Edwards Jr. and Eddie Goldman "are growing into the role," Fisher said, but they haven't proven they are as good at galvanizing a group around them as Jernigan did last year.
FSU has ample talent on defense, and it should again have an exceptional coordinator calling the shots, but it's just really difficult to replace the battle scars and lessons learned that Joyner, Brooks, Smith and Co. used to such great effect in 2013.
More links:
April, 18, 2014
4/18/14
9:00
AM ET
Scottie Montgomery returned to Duke last year from an NFL world where quarterbacks were never, ever hit in practice.
So when his quarterbacks started begging him to go live this spring, his first reaction was, 'No way!' He was in protection mode, the way he was as a Steelers assistant. But veterans
Anthony Boone
and
Brandon Connette
persisted, and he slowly relented -- only a few times, and with clear instructions to the defense.
[+] Enlarge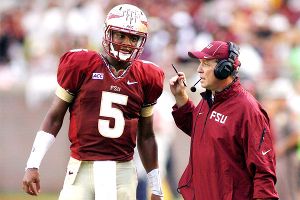 AP Photo/Phil SearsFlorida State coach Jimbo Fisher had Jameis Winston go live last spring when he was dueling Jacob Coker for the starting job.
"My initial feel is, 'Don't ever let anybody get touched, so I have to fight myself at times, because I want to protect these guys and these guys want to compete for jobs," said Montgomery, the offensive coordinator.
His is a dilemma that many coaches across the league
have faced this spring
. Do you allow your quarterbacks to get hit in practice to help simulate game situations and foster competition, knowing you have increased their injury risk? Or do you never even broach the subject because the priority should always be to protect the quarterback?
Four ACC teams allowed their quarterbacks to go live at some point during spring practice, more than any other power-five league. Clemson did it for the first time under offensive coordinator Chad Morris, believing he would see more out of the three quarterbacks vying for the starting job. Early enrollee freshman Deshaun Watson
ended up getting hurt
and missing the spring game.
Florida State allowed its younger quarterbacks to go live this spring. Coach Jimbo Fisher said he did the same last year, when
Jameis Winston
was a redshirt freshman competing to win the starting job.
"They've got to be able to feel things around them and react," Fisher said. "They get in a false security blanket sometimes."
Does that cause him extra worry?
"It's no different than when we run the running backs, and I get nervous in the scrimmages when the backs are running and get tackled," Fisher said. "Our guys know if they've got a kill shot, not to. There's a certain limit of how we practice with each other. You know those shots that everyone wants to have? We won't take those on each other even if we're in a live scrimmage because it's not productive to the organization. Tough to me is when you're eyeball to eyeball, not when a guy's exposed and you can do that."
The coaches are not the only ones who wrestle with the idea. NC State quarterback
Jacoby Brissett
was not live this spring. But when he was competing for the starting job at Florida with
Jeff Driskel
back in 2012, both were allowed to go live early on in fall practice. The first day they were allowed to take hits, Driskel hurt his shoulder.
[+] Enlarge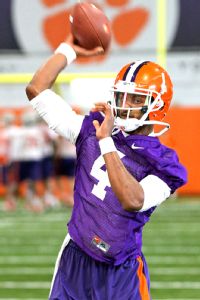 AP Photo/Anderson Independent-Mail/Mark CrammerClemson freshman Deshaun Watson was injured in practice and missed the spring game.
"There's a right time and wrong time for quarterbacks to be live," Brissett said. "We haven't done live practices, but in the fall sometimes we will have a live scrimmage on a Saturday. It helps out with the game speed reps."
For a running quarterback such as Brissett, that helps. Same for the Duke quarterbacks. Georgia Tech has its quarterbacks live during practice for that reason.
Some coaches believe going live helps separate the competition. But Clemson was the only school with an open quarterback competition to allow its quarterbacks to go live during scrimmage situations. North Carolina, for example, has
Marquise Williams
and
Mitch Trubisky
battling to win the starting job, but offensive coordinator Seth Littrell does not believe it is necessary to allow quarterbacks to get hit. "I've never done it," he said.
Virginia Tech also is in the middle of an intense competition, but quarterbacks have been off limits so far this spring. Veteran
Mark Leal
would have no problem if the coaches changed their minds.
"Honestly, I'd like to be live," he said. "I think the rest of the quarterbacks would, too, because it gives more of a game feel. If you're not live, sometimes the whistle gets blown early when you don't think you should have been sacked or the play gets messed up because when there's a rush around you, the first thing the coaches want to do is blow the whistle, rather than you continue to play or go through your reads and progressions and finish the play."
Depth concerns often dictate what coaches do. Pitt only had two scholarship quarterbacks this spring, so there was no way they were going live. Virginia Tech only has three quarterbacks on the roster this spring.
Still, all the protections most coaches take are not enough to keep their quarterbacks injury-free. Miami quarterbacks were off limits this spring, but
Ryan Williams
tore his ACL
during a scrimmage.
It was a noncontact injury.
March, 12, 2014
3/12/14
12:00
PM ET
ACC tournament is up for grabs!
March, 10, 2014
3/10/14
12:00
PM ET
The madness is almost ready to begin.
January, 10, 2014
1/10/14
12:00
PM ET
One week without college football down. Thirty-three more to go.
January, 1, 2014
1/01/14
12:00
PM ET
December, 17, 2013
12/17/13
12:00
PM ET
"We'll follow the old man wherever he wants to go/ Long as he wants to go opposite to the foe" ...
December, 4, 2013
12/04/13
12:00
PM ET
R.I.P. to a lunchtime hero, as
one of the creators of the Doritos Locos Taco has died
. And if you've ever wondered how the idea came to be (possibly while chowing down on one at 2 a.m.),
it's actually an interesting story
.
A trio of Florida State receivers are
poised to make history
, writes the Tallahassee Democrat.
FSU backup quarterback Jacob Coker
earned a standing ovation
at Tuesday's practice -- the first he'd attended since knee surgery, writes the Orlando Sentinel.
A run of good health has
played a pivotal role
in Duke's dream season, writes the Raleigh News & Observer.
The Blue Devils say they're
ready to shock the world
in Saturday's ACC Championship Game, writes the Charlotte Observer.
The Winston-Salem Journal
sees plenty of parallels
between Wake Forest's all-time best coaches in football and basketball.
Clemson's Chad Morris is
being mentioned as a possible successor
to Jim Grobe at Wake Forest, writes The State.
The Hyundai Sun Bowl
looks like the logical destination
for Virginia Tech, writes the Roanoke Times.
Meanwhile, Kendall Fuller became the first Virginia Tech player to win ACC
defensive rookie-of-the-year honors
, writes the Richmond Times-Dispatch.
Boston College great Doug Flutie puts Auburn's shocking Iron Bowl win
into historic context
, writes the Boston Herald.
Miami will
open practice to the public
as it preps for bowl season, writes the Sun-Sentinel.
Syracuse is already
making its pitch for a bowl bid
in what could be an overcrowded ACC field, writes The Post-Standard.
Georgia Tech
looks to be the frontrunner
to land a transfer from Notre Dame, writes the Atlanta Journal-Constitution.
October, 22, 2013
10/22/13
12:00
PM ET
December, 13, 2012
12/13/12
9:00
AM ET
The ACC is looking for its first winning bowl record since 2005 and will have six opportunities this season to help its cause. ESPN.com is taking a look at the best- and worst-case scenario for each team going bowling. Here's a look at what could happen in the ACC:
Duke

Best case:
Duke wins. Look, getting to a bowl game for the first time since 1994 was huge, but it has been even longer since the program has actually won a bowl game. A win against Cincinnati in the Belk Bowl would give Duke its first bowl win since 1961, when Duke beat Arkansas in the Cotton Bowl.
Worst case:
Duke's defense allows its fifth straight opponent more than 40 points, and the ACC Coach of the Year goes 6-7.
Virginia Tech

Best case:
Quarterback
Logan Thomas
plays an interception-free game, the Hokies get their running game going, Virginia Tech beats Rutgers for its first win of the season against a Big East team, and coach Frank Beamer announces he will hire a new offensive coordinator.
Worst case:
The Hokies' offense continues to look as anemic as it has all season, the program suffers its first losing season since 1992, and Beamer decides not to make any changes to his staff after an 0-3 finish against Big East teams.
NC State

Best case:
Quarterback
Mike Glennon
plays four quarters like he did the final drive against Florida State, and the Pack has something positive to build on heading into the offseason with first-year coach Dave Doeren.
Worst case:
The Pack's mediocre rushing defense has no answer for All-SEC running back
Zac Stacy
, interim coach Dana Bible loses his first game as a head coach, and the ACC takes another punch in the gut from the SEC.
Georgia Tech

Best case:
Paul Johnson has a reason to celebrate. The Jackets coach has lost all four bowls he has coached with the program. He could win his first if Georgia Tech's defense looks like it had a month to prepare for
Matt Barkley
, the offense controls the clock with sustained drives, and the team wins the turnover battle.
Worst case:
The Jackets secondary gets burned repeatedly by USC All-American receiver
Marqise Lee
, Johnson drops to 0-5 in bowl games, and Georgia Tech decides to follow Maryland to the Big Ten.
Clemson

Best case:
ACC 1, SEC 0. Clemson beating LSU in the Chick-fil-A Bowl would do wonders for both the program and the ACC. The offensive line wins the battle up front and keeps LSU at bay in time for quarterback
Tajh Boyd
to work his magic.
Worst case:
The Tigers lose the game
and
their offensive coordinator
and
their quarterback. Chad Morris goes to Texas Tech, Boyd leaves early for the NFL draft, and receiver
DeAndre Hopkins
follows.
Florida State

Best case:
Florida State cruises, quarterback
EJ Manuel
looks like he did against Clemson -- not Florida -- and the defense stifles highly touted quarterback
Jordan Lynch
.
Worst case:
The Noles lose to Northern Illinois. Nuff said. Well, that and Jimbo Fisher's entire staff leaves for the SEC.
Goodell Has Sit-Down With Jameis Winston
ACC SCOREBOARD
Thursday, 9/3
Saturday, 9/5
Monday, 9/7