Florida State Seminoles:

Chad Abram
May, 13, 2014
5/13/14
2:00
PM ET
The
NFL draft
concluded with 42 ACC players selected last weekend, and a slew more ended up signing free-agent deals in the days afterward.
Here's a quick rundown of where the ACC's undrafted free agents landed.

BOSTON COLLEGE
QB
Chase Rettig
,
Green Bay Packers
OLB
Kasim Edebali
,
New Orleans Saints
LB
Steele Divitto
,
New York Jets
OT
Ian White
,
San Diego Chargers
OT
Matt Patchan
,
Tampa Bay Buccaneers
DB Albert Louis-Jean, Chicago Bears

CLEMSON
K
Chandler Catanzaro
,
Arizona Cardinals
G
Tyler Shatley
,
Jacksonville Jaguars
LB
Spencer Shuey
, Jacksonville Jaguars
CB
Darius Robinson
,
Buffalo Bills

DUKE
RB
Juwan Thompson
,
Denver Broncos
DE
Kenny Anunike
, Denver Broncos

FLORIDA STATE
LB
Christian Jones
,
Chicago Bears
RB
James Wilder Jr
.,
Cincinnati Bengals
WR
Kenny Shaw
,
Cleveland Browns
FB
Chad Abram
,
Detroit Lions
DT
Demonte McAllister
,
Seattle Seahawks
DT
Jacobbi McDaniel
, Cleveland Browns

GEORGIA TECH
DT
Euclid Cummings
, Tampa Bay Buccaneers
CB
Lou Young
, Denver Broncos
DE
Emmanuel Dieke
,
New York Giants

LOUISVILLE
DT
Roy Philon
,
Pittsburgh Steelers
S
Hakeem Smith
,
Tennessee Titans
DT
Brandon Dunn
, Chicago Bears
WR
Damian Copeland
, Jacksonville Jaguars

MIAMI
WR
Allen Hurns
, Jacksonville Jaguars
QB
Stephen Morris
, Jacksonville Jaguars
TE
Asante Cleveland
,
San Francisco 49ers
DT
Justin Renfrow
, Arizona Cardinals
FB
Maurice Hagens
,
Atlanta Falcons
S
A.J. Highsmith
, San Francisco 49ers
OG
Jared Wheeler
,
Carolina Panthers
LB
Jimmy Gaines
, Buffalo Bills

NORTH CAROLINA
OT
James Hurst
,
Baltimore Ravens
QB
Bryn Renner
, Denver Broncos

NC STATE
DE
Carlos Gray
, Green Bay Packers
TE
Asa Watson
,
New England Patriots
DL
Deylan Buntyn
, New England Patriots

PITTSBURGH
P
Matt Yoklic
, Atlanta Falcons
SYRACUSE

CB
Keon Lyn
,
Indianapolis Colts
CB
Ri'Shard Anderson
, Tennessee Titans
RB
Jerome Smith
, Atlanta Falcons

VIRGINIA
DE
Jake Snyder
,
Minnesota Vikings
VIRGINIA TECH
DT
Derrick Hopkins
, Baltimore Ravens

LB
Tariq Edwards
,
Miami Dolphins
WR
D.J. Coles
,
Oakland Raiders
G
Andrew Miller
, Tampa Bay Buccaneers
DE
James Gayle
, Tennessee Titans

WAKE FOREST
DT
Nikita Whitlock
, Cincinnati Bengals
LB
Justin Jackson
, Detroit Lions
LB
Zach Thompson
, New York Jets
January, 16, 2014
1/16/14
1:00
PM ET
TALLAHASSEE, Fla. —
Devonta Freeman
and
James Wilder Jr
. spent the season trying to convince coach Jimbo Fisher to name Florida State's two-back set after them. "Wild and Free" they proposed it be called, a nickname that offered ample cache but never really caught on in practice. They ran it a few times a game, and it worked well enough to keep at it, but Fisher was never quite so impressed that he embraced the moniker. Besides, he had plans to add a third element.
Karlos Williams
rarely practiced in the two-back set all season until the ACC championship game in December. In fact, for the bulk of the season, Williams barely touched the football in the first half. But when Florida State clobbered Duke to assure a second straight conference title, Williams was a crucial cog.
[+] Enlarge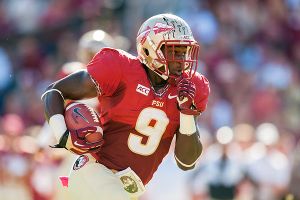 Jeff Gammons/Getty ImagesKarlos Williams made the move to running back this season and posted 730 yards on just 91 carries.
This was the plan for Williams. The move from safety to tailback in Week 2 was a renovation project for the former five-star recruit, but Fisher always had a grand design in mind. It just took some time for Williams to figure out the nuance of his new position.
"I'm just trying to catch on and learn as much as possible and learn very, very fast," Williams said. "I do feel myself growing, getting better but it's also a lot of work that needs to be done."
Williams finished his inaugural season at tailback with a 91 carries for 730 yards. His 8.02 yards-per-carry average was sixth in the nation. His 11 rushing touchdowns tied for seventh in the ACC. No running back from an automatic-qualifier conference school scored more routinely than Williams, who punched in a touchdown once every 8.3 carries.
Still, Williams had a niche role. He had just 18 first-half touches all year. He had limited work in close games, with 70 of his 91 carries coming with FSU ahead by at least 15. He ran the ball 10 times or more in just three games, all blowouts.
For all of his 2013 success, Williams was a work in progress.
"People laugh at me because I'm very, very athletic, but I don't have a lot of moves," Williams said of his running style. "I'm a straight-line speed guy. So if I kind of stop, it's kind of hard to start up again."
Williams' limitations weren't often on display in 2013, but that figures to change going forward. If last season was about getting the offensive convert acquainted with his new job, 2014 will be a far more immersive experience.
Wilder has announced he's headed to the NFL. While the school has yet to make Freeman's decision official, he's expected to follow suit. That leaves Williams as the lone veteran in Florida State's backfield.
As the prognosticators look ahead to 2014, Florida State's offense gets high marks for all its returning talent, led by quarterback
Jameis Winston
. But the turnover in the ground game will be immense.
Freeman led the Seminoles in rushing in each of the past three seasons. Wilder was as good a short-yardage back as Florida State has had in recent years. With that duo leading the charge, only two teams have averaged more yards per carry (not including sacks) against FBS foes since the start of 2012 than Florida State (6.31 yards per rush).
Now it will be up to Williams to prove he's capable of a bigger workload, but he'll have some help.
Ryan Green
didn't see much action in 2013, but he flashed some explosive talent. Six of his 33 carries went for 10 yards or more, but Green still needs to work on his blocking and his ability to hit holes when they open.
It's possible
Mario Pender
could fill the void as well, but his first two years at Florida State have been a disaster. Pender has exceptional speed and enjoyed a nice spring in 2013, but he's yet to see action in a game. A groin pull kept him on the sidelines as a true freshman in 2012 and academic issues forced him off the team in 2013. He's back practicing with the Seminoles now, however, and Fisher said he hopes the academic and injury issues are in the past.
Perhaps the most exciting option for FSU, however, is
Dalvin Cook
, a five-star recruit who spurned Florida at the last moment and is expected to practice with the Seminoles this spring.
It's a talented group, but it's not an experienced one, and that's what makes Williams so crucial to Florida State's hopes in 2014. With fullback
Chad Abram
moving on, too, Williams' 18 first-half carries represent the only significant snaps any member of FSU's current backfield has in a close game.
But Fisher had a plan when he pushed Williams to make the move to running back in September, and the benefits of that decision are just now becoming clear. For Williams, it's now just a matter of proving he's the right man for the job.
"It's progressing," he said. "Slowly but surely."
June, 27, 2013
6/27/13
2:00
PM ET
This week, Nole Nation is digging into the
most hotly debated topics of the summer
at Florida State in an effort to separate fact from fiction as the Seminoles get set for the 2013 season.
Next up: The running game
[+] Enlarge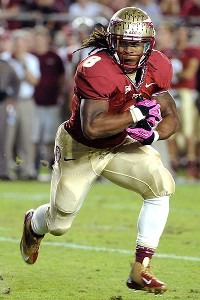 Melina Vastola/US PresswireDevonta Freeman could be FSU's first 1,000-yard rusher since 1996.
Fact or Fiction:
After a 16-season dry spell, Florida State will finally produce a 1,000-yard runner in 2013.
The case for:
No, FSU did not snap its 1,000-yard drought last season, but that's hardly an indication that the ground game wasn't effective. In fact, only twice in program history (1984, 1987) has Florida State rushed for more yards than it did last in 2012 (2,882), and its 40 rushing touchdowns ranked ninth nationally.
So why didn't any member of the Florida State backfield sniff the 1,000-yard mark? The easiest answer is that there was simply too much talent.
Subtracting yardage lost to sacks, the Seminoles had five players with at least 47 touches average at least 5.8 yards per carry. The problem is that no member of the offense earned a majority of the touches. In fact,
Devonta Freeman
's 111 carries accounted for a team-high 23 percent of all rushing plays, and as such, FSU had three players finish with more than 600 yards but none managed more than 700.
Chris Thompson, of course, was well on his way to cracking 1,000 before an injury ended his season after eight games, and that's perhaps the template for how it can be done in 2013.
Both Freeman (5.9 ypc) and
James Wilder Jr
. (5.8 ypc) were successful last year; they just needed more touches. Well, in 2013, Thompson and fullback Lonnie Pryor are gone, and while
Mario Pender
could steal a few touches, the odds are that both of FSU's junior tailbacks will see an increased workload. And the interesting thing is, it doesn't need to increase all that much for Freeman or Wilder -- or both -- to reach 1,000.
Since Jimbo Fisher took over play calling in 2007, Florida State has averaged 467 rushing plays per year. If Freeman maintains his per-carry average from 2012 this season, he'd need 170 carries to reach 1,000. Wilder would need 173. In either case, it would mean they'd only need to get about 40 percent of the total carries (assuming FSU matches Fisher's average rushing attempts this year) to end the streak. So, it's certainly possible that both Wilder and Freeman could split carries, both top 1,000 yards and still leave a quarter of the rushes for Pender,
Jameis Winston
and
Chad Abram
.
The case against:
If you see the sun come up every day for 16 years, it's understandable to expect it'll rise again tomorrow. That's sort of how the feeling goes for FSU fans eager to see the streak come to an end.
The last tailback at Florida State to crack 1,000 was Warrick Dunn in 1996. In the years since, plenty have come close -- including a handful that were every bit as talented and successful as Wilder and Freeman -- but none have cracked that elusive barrier.
The reasons are plentiful: Injuries, inconsistent offensive lines, pass-heavy play calling, simple bad luck. The list of reasons it hasn't happened goes on and on, and many seem utterly inexplicable. That's what FSU's current running backs are up against.
It's one thing to argue the logic: these runners are good, the O line is experienced, and the math says 1,000 is within reach. But logic should've dictated a 1,000-yard season long before now, as Leon Washington,
Greg Jones
and Travis Minor can all attest.
Verdict:
Fact
Perhaps it's zealous optimism, but this is the year it all comes together for FSU's backfield. There's simply too many reasons to think it'll happen.
For one, last year's high rushing total was no anomaly. Fisher actually called fewer runs last year than he did in all but two of his previous seasons at FSU. And with a freshman starting at QB, it only stands to reason he'll be more run-heavy this year -- meaning more opportunity for Wilder and Freeman.
Moreover, even if the injury bug bites one of FSU's runners, there's just as good a chance the other can reach 1,000. Both players figure to see a relatively even split on carries early in the year (something that didn't happen last year when Thompson got the lion's share through seven weeks), and both are capable of piling up big numbers even without getting a majority of the touches.
Then add an offensive line that returns four starters (and a fifth with starting experience) from a group that was so immensely successful last season, and the time is right for one of college football's most inexplicable streaks to finally come to an end.
June, 27, 2013
6/27/13
9:00
AM ET
Throughout the summer, Nole Nation will be
counting down the 40 players
we're projecting to make the biggest impact on the Seminoles' 2013 season, taking into consideration everything from experience to potential to their spot on the current depth chart.
Next up:
No. 27 Chad Abram
Position/Class:
FB/Sr.
What he's done:
Abram arrived at Florida State as a defensive back, but he made the switch to fullback after his freshman campaign. The move had little immediate impact on his playing time, and for the past two seasons the bulk of his work has come on special teams, where he's been among FSU's most versatile players. As a runner, however, Abram has just six career carries for 25 yards.
Where he's at:
After three years toiling in the shadows, Abram's role is about to get a lot bigger. With stalwart fullback Lonnie Pryor gone to the NFL, Abram will step into a role that has disappeared from many offenses around the country but has flourished under Jimbo Fisher. Last year Pryor was a key cog in FSU's game plan, rushing for 376 yards and eight TDs and catching another 13 passes for 117 yards, while earning MVP honors in the Orange Bowl. His departure leaves an immense void for Fisher, and Abram will be asked to pick up the bulk of the slack.
What's to come:
It would be a complete shock if Abram managed to even approach Pryor's 2012 production this season, and Fisher has already admitted replacing his longtime fullback will be a team effort. He'll use more two-tight end sets, let
James Wilder Jr
. work in as a lead blocker at times and use
Nick O'Leary
as a halfback. But when FSU goes to its bread-and-butter sets, it'll be Abram handling Pryor's old role, and Fisher has steadfastly insisted that the senior is ready for the role. He praised Abram's running ability (which included 43 yards and a TD as a halfback in the spring game) and said Abram may have the best hands of anyone in FSU's backfield. None of that is likely to add up to the same numbers Pryor accumulated last year, but it may mean that the vacancy on FSU's offense won't be quite as significant as many expected.
April, 13, 2013
4/13/13
8:00
PM ET
TALLAHASSEE, Fla. -- It's tough to say with any level of certainty just how many sacks Florida State's defense would have recorded if Saturday's spring game was played under true game conditions, but even if the quarterbacks couldn't get hit, Jeremy Pruitt's new-look defense had a strong showing.
[+] Enlarge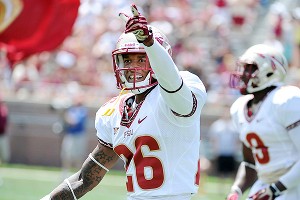 Melina Vastola/USA TODAY SportsP.J. Williams intercepted Jacob Coker on Saturday, returning the pick for a touchdown.
Overall, the two teams recorded nine sacks in Saturday's scrimmage, led by defensive tackle
Nile Lawrence-Stample
's 3.5, which would've been impressive under any circumstances. But as Jimbo Fisher pointed out after the game, those numbers came from a relatively vanilla scheme.
"You ain't seen blitzes yet," Fisher said with a grin.
In his first year as Florida State's defensive coordinator, Pruitt has installed an aggressive style that promises to offer a myriad of looks designed to get after the quarterback.
Saturday's spring game wasn't exactly a sneak peak, however, with a number of key defensive starters out with injuries and only a watered-down version of Pruitt's game plan implemented. But the past four weeks have been eye-opening, linebacker
Christian Jones
said, and there's ample reason for excitement.
"This spring, we pretty much put in the whole playbook, and we just ran a little sample of it," Jones said. "We've done a pretty good job of picking it all up, but it's a lot of stuff, a lot of checks, change the fronts, but we've done a good job of handling all that. Once we get into the fall and can game plan, I think we're going to have a real scary defense."
It wasn't all smooth sailing for the defense Saturday, as all four of Florida State's quarterbacks managed at least one touchdown pass, but there was plenty of room for optimism.
Lamarcus Brutus
and
Karlos Williams
both intercepted passes, and
P.J. Williams
came up with a pick of a
Jacob Coker
throw that he returned for a touchdown.
"I thought the defense played well," Fisher said. "I'm very pleased with the way they're playing."
March, 30, 2013
3/30/13
3:14
PM ET
TALLAHASSEE, Fla. -- With the departure of stalwart fullback
Lonnie Pryor
, Florida State's offense might rely a bit more on the tight ends in 2013, and that could be a boon for
Kevin Haplea
.
The senior, who transferred from Penn State just days before the start of fall camp last season, has impressed new tight ends coach Tim Brewster with his ability to do all the little things necessary at the line of scrimmage.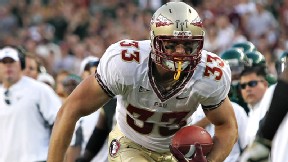 Kim Klement/USA TODAY SportsKevin Haplea had to adjust to Florida State's offense on the fly last year after transferring from Penn State.
"Haplea has a little thump to him," Brewster said. "He's the type of guy that I think can become a post player, and we're looking for a post player -- a guy that can dominate on the line of scrimmage. Because one thing we're going to do is, we're going to run the football."
While
Chad Abram
looks to have the fullback spot locked up, he may not offer the same versatility that Pryor brought to the FSU offense a year ago, and Jimbo Fisher has hinted that he could look to use starting tight end
Nick O'Leary
as a halfback and potentially run a lot more two- and three-tight end sets.
That could mean a good bit more work for Haplea, who is finding his footing in Year 2 with the program. Fisher said Haplea has caught more passes during the past few days of practice than he did all of last season.
O'Leary is still the starter at the position, and he's outpaces his competition in terms of potential by a strong margin. But while Haplea has excelled at the fundamentals, O'Leary is still working on the nuance of his position and hoping to overcome some ugly mistakes he made in 2012.
"He's a guy that's got tremendous talent, but he needs to understand that the details of the game are very important," Brewster said. "The fundamental aspects of tight end play, all the little things are important. It's not about the big picture, it's about seeing the little picture, the little things involved in every play."
Fisher said O'Leary continues to mature, and he hopes to see the junior tight end blossom into a dominant force this season. There have been some encouraging signs this spring, but O'Leary remains a work in progress.
"If he gets those little things, he's really tough to handle," Fisher said. "The details are more refined, and that's the challenge for him right now."
February, 26, 2013
2/26/13
8:30
AM ET
By
David M. Hale & Corey Dowlar
| ESPN Insider
NoleNation writers David Hale and Corey Dowlar are going position by position, looking at what FSU has on its roster now, and who might provide reinforcements down the line, projecting starters and evaluating the depth through 2015.

Up next, a position that was a disaster in 2011 but the foundation of last season's offense: Running Backs


September, 10, 2012
9/10/12
7:51
PM ET
Chris Thompson
knew he wasn't himself at practice Monday.
The senior tailback is usually frenetic, loud, boisterous on the practice field, but on Monday, fellow senior
Lonnie Pryor
was quick to point out how quiet Thompson had been.
In truth, this is a somber week for Thompson, but that wasn't why he was so low key Monday.
"It's just focusing," he said.
Thompson will be the starting running back against Wake Forest on Saturday, and that holds a special significance for him. It was against the Deacons last season that he took a handoff on third-and-1, ducked his head into a tackler and broke his back.
In the 11 months since, Thompson has made huge strides, and he's running with more quickness and energy than before, Jimbo Fisher said. But this game still marks another obstacle in Thompson's recovery, and he's had it marked on his calendar for a while.
"All the guys know it's going to be an emotional day for me," Thompson said.
There have been plenty of highs and lows as Thompson has fought his way back onto the field and worked his way back into shape since last year's injury, but in his first two games back in 2012 he's looked no worse for the wear.
On 10 touches, Thompson has racked up 76 yards and, last week, his first touchdown in a full year. A bulk of his yards have come after contact, too, and that's been particularly rewarding.
"I've been running the ball a lot harder than I have in the past," Thompson said. "I think at first it was just a whole thing about trying to prove to everybody that I'm back."
If the first two games provided proof, this week's matchup provides closure.
But while Thompson said he's eager to take on the defense that nearly ended his career a year ago, he's not looking to turn the page once it's over. This game is a milestone for him, but not the end of the journey.
"I don't think it's ever going to be behind me," Thompson said. "Even after this game, I'm going to still think about it at times. But it's nothing that's going to slow me down."
He'll be back:
Wake Forest finished off a dramatic win over North Carolina on Saturday without its best defender, but Fisher said he doesn't doubt for a second that
Nikita Whitlock
will be back on the field for this week's game.
"He'll play. You can bank on that," Fisher said.
Whitlock sprained his ankle in last week's win, and reports out of Wake Forest said he's been in a walking boot since. An MRI isn't on the agenda for Whitlock, however, so Fisher's theory may be correct.
It would be bad news for FSU if Whitlock does play. The defensive tackle had seven tackles and a sack in last year's win over the Seminoles.
"He sets the tone inside," Fisher said. "He's quick, athletic, agile, strong. They give him a lot of freedom. You've got to always know where he's at and what he's doing. The guy is one heck of a football player. He's got a motor that doesn't stop."
Injury updates:
Tight end
Nick O'Leary
(thigh) and center
Bryan Stork
(neck) were both back at practice Monday and Fisher expects both will play against Wake Forest on Saturday.
"No problems," Fisher said. "We should see most everybody back on the field."
Fisher played it safe with several injured regulars against Savannah State, with Stork, O'Leary and
Chad Abram
among those sitting out the game.
September, 3, 2012
9/03/12
7:05
PM ET
TALLAHASSEE, Fla. -- He's huge, nearly 270 pounds. His numbers are impressive, including 5.5 sacks and 38 tackles off the bench last season. But with two potential All-Americans ahead of him on the depth chart,
Cornellius Carradine
still manages to fade into the background.
That might change this season, however.
"Me and
Brandon [Jenkins]
are nominated for a lot of individual awards, but Tank, you guys don't know him yet," junior
Bjoern Werner
said. "You'll be surprised. He'll be sitting here at the end of the season and you won't want to talk to us anymore."
To continue reading this article you must be an Insider
Haskins, McElwain Shine At IMG Regional
ACC SCOREBOARD
Thursday, 9/3
Saturday, 9/5
Monday, 9/7