Florida State Seminoles:

Bud Foster
July, 18, 2014
7/18/14
12:00
PM ET
Big names among the assistant ranks tend not to stay assistants for too long, but Clemson's Chad Morris says he's
right where he wants to be
and isn't looking for a head-coaching gig long-term, writes the Augusta Chronicle.
Of course, if a certain job in College Station, Texas, were to open up -- as our Travis Haney
wrote about this week
-- it certainly would seem like a good fit for Morris, who is a Texas A&M graduate. But Morris also
earned $1.3 million last season
, which makes it a bit easier to stay comfortable in a coordinator role, and though he is smart enough to know when the right situation comes around, I think he is also sincere when he says he is not looking to leave.
And Morris isn't the only ACC assistant would could be a hot commodity at some point in the next couple years. A few other names to watch for bigger jobs:
Bud Foster, Virginia Tech:
The offense has been down over the past few years for the Hokies, but Foster's defense has been as good as ever. Foster has turned down lucrative offers elsewhere in the past, so he is clearly not looking to leave, but he will nevertheless remain on the radar for a lot of other programs looking to bring in a proven commodity.
Jay Graham, Florida State:
He is young, has NFL experience and SEC ties, and he is a recruiting whiz. He also presided over the first 1,000-yard back at Florida State in 16 years last season. Graham is going to be a hot name very soon.
Chip West, Virginia:
How does a team that finishes 2-10 and has a head coach constantly mired in hot-seat rumors still land a solid recruiting class, including five ESPN300 members? Chalk it up to West, one of the best recruiters in the nation.
Scottie Montgomery, Duke:
He will get his first crack at a coordinator job this year as he takes over for Kurt Roper, who left for Florida. Montgomery has NFL experience as a wideouts coach with the Pittsburgh Steelers, and he is a terrific recruiter. If Duke's offense continues to shine, he is going to get a lot of credit -- and a lot of long looks from other programs.
Brent Venables, Clemson:
Morris gets all the buzz because offense is fun and the Tigers' defense has played second fiddle for years. But look, everyone remembers that Orange Bowl loss to West Virginia to conclude the 2011 season, and what Venables has done for the Tigers' defense since then -- 29.3 ppg in 2011, 24.8 in 2012, 22.2 in 2013 -- has been impressive, and this year's unit could be his best yet. More importantly, the Clemson defense is finally climbing out of the shadow of its prolific offense.
More links:
Athlon has a look at recruiting in the Tidewater, Virginia area, and how the region has become
a key battleground
for programs like Florida State and Virginia.
The Pittsburgh Post-Gazette has a piece on how colleges are
bringing in outside help to sell tickets
.
The Daily Progress is looking at Virginia's opponents and wonders if this is
the golden age of Duke football
.
A new play-calling system
should help Terrel Hunt run Syracuse's up-tempo offense, according to Syracuse.com. We wrote plenty
about up-tempo offenses
yesterday, if you missed it.
Georgia Tech's special teams
should be a strength
, writes the Atlanta Journal-Constitution.
The Courier-Journal wonders why Bobby Petrino isn't having
more success on the recruiting trail
at Louisville.
June, 27, 2014
6/27/14
12:00
PM ET
NFL.com put together a list of the
14 hottest names among coordinators
in college football, with two ACC coaches making the cut.
Of course, seeing Bud Foster and Chad Morris on the list is no surprise. They have established themselves as among the most consistently good coordinators in the country. What is perhaps more interesting is who isn't on the list: Namely, no one from the defending national champion. In fact, ex-Florida State defensive coordinator Jeremy Pruitt (now at Georgia) does make the cut, but that is as close as the Seminoles got to landing a name on the list.
Given that Jimbo Fisher doesn't employ an offensive coordinator and is on his third defensive coordinator in as many years, it is probably not a surprise, but as our Travis Haney noted during a recent trip to a Texas coaching clinic, FSU's Charles Kelly has
made a really good early impression
since taking over for Pruitt.
Pruitt, quite fairly, received a lot of credit for last year's championship defense, so now there are concerns about what his loss will mean for Florida State. Those concerns, however, are probably a bit misplaced.
First off, remember the chaos that followed the 2012 season at FSU? Seven assistants left the staff for other jobs, including both coordinators. Mark Stoops had engineered a defense that ranked in the top three nationally in consecutive years and was widely regarded as one of the best assistants in the country. Fisher couldn't possibly replace all that, right?
Even in the wake of Stoops' departure, fans clamored for a big name -- Foster, perhaps, or someone with NFL experience -- but he hired an obscure secondary coach from Alabama with just three years of college coaching on his resume. But he knew Pruitt, knew what he was capable of doing, knew the system he wanted to run, and the hire proved a stroke of genius.
So now, it's a lot easier to believe Fisher knew what he was doing when he promoted Kelly from linebackers coach to DC, and the transition promises to be much smoother this time. Pruitt's biggest impact on the team last season was the scheme he put in place, but that doesn't figure to change much under Kelly. The players already know what they are doing, there is no change in vocabulary and virtually no change in the Xs and Os. Moreover, Kelly is as well-liked and respected as any coach on the staff. He will do just fine.
But that doesn't mean there is no room for worries for Florida State's defense. It's just that losing Pruitt probably shouldn't be the primary concern. The biggest void is the leadership lost with the departures of Lamarcus Joyner, Terrence Brooks, Timmy Jernigan and Telvin Smith. That was a rare breed of leaders that had been through the battles and suffered the losses that taught tough lessons -- lessons they continually reminded their younger teammates about during last season's championship run. Finding voices on defense that carry as much weight in the locker room this year won't be easy.
"I think it's feeling comfortable taking on the roles of the guys who have left, that you feel comfortable stepping up and taking that responsibility," Fisher told me this month. "All of them play hard, but what you have to have is guys stepping up and taking on the leadership. There's a responsibility of how you have to conduct yourself as a teammate to affect the other guys on the team. That's where teams grow, and summer and fall camp is so important."
Fisher reeled off a bunch of names on the offensive side of the ball who will fill that role -- Rashad Greene, Cameron Erving, Karlos Williams, Tre Jackson, Josue Matias and, of course, Jameis Winston -- but the candidates on defense weren't quite so established.
Fisher said sophomore Jalen Ramsey has been perhaps the most vocal leader throughout the spring and early summer, and fellow defensive backs P.J. Williams and Tyler Hunter have shouldered some of the leadership burden, too. The rest of the unit, though, is still developing.
"Last year's team wasn't on a journey. They were on a mission," Fisher said. "They understood what they really wanted. The trial-and-error they had, they learned from their mistakes over time."
Terrance Smith learned under Telvin Smith last season, but he's not nearly as vocal as his predecessor. Mario Edwards Jr. and Eddie Goldman "are growing into the role," Fisher said, but they haven't proven they are as good at galvanizing a group around them as Jernigan did last year.
FSU has ample talent on defense, and it should again have an exceptional coordinator calling the shots, but it's just really difficult to replace the battle scars and lessons learned that Joyner, Brooks, Smith and Co. used to such great effect in 2013.
More links:
June, 18, 2014
6/18/14
4:00
PM ET
Only three ACC schools kept their entire coaching staffs intact this past offseason, the clearest way to show how transient the profession is on a year-to-year basis.
[+] Enlarge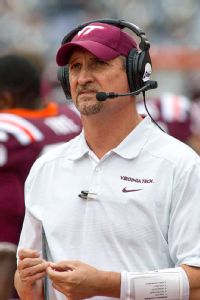 Jeremy Brevard/USA TODAY SportsDefensive coordinator Bud Foster has been Frank Beamer's right-hand man at Virginia Tech since 1987.
That is why a select group of coaches deserve a hand. Chris Vannini of Coachingsearch.com compiled a list of FBS assistants who have stayed at their respective schools
for at least 10 years
.
It is not a very long list.
Only 37 of 1,152 full-time assistants meet that standard. Four are from the ACC. Three are from one school: Virginia Tech.
Bud Foster, Virginia Tech defensive coordinator, 1987
Bryan Stinespring, Virginia Tech tight ends coach and recruiting coordinator, 1990
Charley Wiles, Virginia Tech defensive line/run game coordinator, 1996
Odell Haggins, Florida State defensive tackles, 1994
Stinespring and Haggins break the typical assistants mold, making their stories especially remarkable. Neither has ever worked for another FBS school. Haggins played at Florida State from 1986-89, then began his coaching career there in 1994. He was recently promoted to associate head coach and is going into his 21st season with the Seminoles.
Stinespring started at Virginia Tech as a graduate assistant, working his way up to offensive coordinator. After the 2012 season, he remained on staff as recruiting coordinator/tight ends coach despite losing his offensive coordinator duties.
Foster and Wiles both played for Virginia Tech coach Frank Beamer; Foster has spent his entire coaching career with Beamer, turning down opportunities to become defensive coordinator elsewhere. His name has been linked to head coach openings in the past, and there is no doubt he would love the opportunity to run his own program one day. But until that day comes, Foster remains committed to both Beamer and Virginia Tech. The reverse is true as well.
What is clear about all four: they have gotten on-the-field results and have benefited from being at programs with long-tenured head coaches. Beamer has been at Virginia Tech since 1987. Florida State coach Jimbo Fisher worked with Haggins under Bobby Bowden, and Fisher decided to retain him on staff. Fisher also retained two other assistants who remain in Tallahassee: offensive line coach Rick Trickett and receivers coach Lawrence Dawsey. Both are going into their eighth seasons at Florida State -- not quite a decade but quite a solid tenure at one place.
April, 18, 2014
4/18/14
12:00
PM ET
Wishing everybody a great holiday weekend!
March, 10, 2014
3/10/14
12:00
PM ET
The madness is almost ready to begin.
December, 17, 2013
12/17/13
12:00
PM ET
"We'll follow the old man wherever he wants to go/ Long as he wants to go opposite to the foe" ...
October, 28, 2013
10/28/13
11:00
AM ET
Another top-10 clash between undefeated teams is on the horizon. Before we get to that, however, we'll take a look back at how we got there in our Week 9 weekend rewind.
[+] Enlarge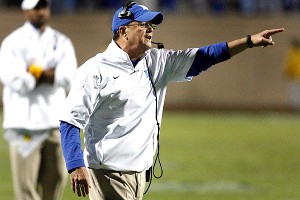 Mark Dolejs/US PresswireDavid Cutcliffe has Duke pointed in the right direction.
The good
: Duke may deserve its own "great" category (more on that in a bit), but the ACC finds itself at the center of the college football world for the second time in three weeks. Florida State took care of business against NC State, Miami survived a scare from Wake Forest and here we go again, as the No. 3 Seminoles and No. 7 Hurricanes take aim for conference (and possibly national) supremacy. ESPN's "College GameDay" will be in Tallahassee for the clash between the in-state rivals, marking the third time in 10 weeks that the show will originate from an ACC campus.
The bad
: Pitt players used the words "complacent" and "overconfident" to describe the second half of their 24-21 loss to Navy,
per the Post-Gazette's Sam Werner
. What exactly the 4-3 Panthers were complacent or overconfident about is up for debate. Pitt lost a lot of leeway in its quest for another bowl berth, as it dropped a very winnable game and the chance to carry the momentum of a two-game winning streak into Saturday's trip to Georgia Tech. Navy scored 10 points in the final 3:52 to steal the victory. The schedule will be considerably more difficult for the Panthers down the stretch, as they face both Notre Dame and Miami over the final four weeks of the season. (On a positive note, congratulations to
Devin Street
for becoming the school's all-time receptions leader with 186.)
The ugly
: Georgia Tech turned the ball over five times and still won at Virginia by 10, which should probably tell you all that you need to know right now about the Cavaliers. The Yellow Jackets escaped with the victory despite forcing just one turnover and holding the ball for nearly 10 fewer minutes than Virginia. Mike London took two huge gambles, first failing on an early fourth-and-1 try in field goal range and then calling a run play from the 1 with six seconds left that was stuffed for the last play of the first half. Georgia Tech, by the way, had
Vad Lee
throw the ball a whopping five times, completing three of those throws for 75 yards with no touchdowns and one pick. Kudos to the ground game, which had three 100-yard rushers, but this contest otherwise filled the "ugly" column capably.
The Blue Devils
: Because really, what more can you say about them? Duke is 6-2 and likely going to a bowl for the second year in a row, which would be a school first. It is simply a remarkable feat for a program that, until last season, had not been to a bowl since 1994. The Blue Devils' 13-10 win over No. 14 Virginia Tech was their first victory over a ranked team since 1994, and their first road win over a ranked team since 1971. Hats off to David Cutcliffe for his rebuilding job in Durham, something everyone can appreciate a little more after seeing the coach get doused with a Gatorade shower following the stunning upset in Blacksburg.
Speaking of Tobacco Road …
: About time, North Carolina. The Tar Heels finally put a complete game together, running over Boston College in a 34-10 win that ended a four-game losing streak.
Bryn Renner
was on point, completing 18 of 21 passes for 227 yards with two touchdowns and no picks. And the defense was stout, holding the Eagles to just 261 total yards of offense and limiting
Chase Rettig
to 10-for-20 passing for 57 yards. Maybe,
maybe
, things can open up a bit now for UNC, which is 2-5 but has a much easier second-half slate that should give it a chance to gain bowl eligibility, starting this week at NC State.
The refreshing take
: Florida State coach Jimbo Fisher lifted his starters for most of the second half after a 42-0 halftime lead. NC State made the 49-17 final seem a lot closer than it was in the second half, but credit Fisher for why he would not put his starters back in: "I'm not going to go out there and embarrass this game and the integrity of how you've got to play. If that's the way they're going to do it, they need to re-evaluate. If they can't tell we dominated that game early and put it away -- I just think that's bad for college football, in my opinion." FSU fell to No. 3 Sunday in the latest BCS standings.
In State College, they probably wish the nation's No. 4 team had such perspective
.
The quote
: Virginia Tech receiver
Willie Byrn
,
via The Virginian-Pilot's Andy Bitter
: "What more can the defense do, really?" The Hokies held Duke to 198 total yards of offense, picked off four passes and held the ball for nearly twice as long as the Blue Devils. Credit Byrn for being more humble in defeat than
defensive coordinator Bud Foster, though
.
Mr. Reliable
: Clemson went blue collar in its recovery from the Florida State loss, relying on fifth-year senior running back
Roderick McDowell
to help the Tigers escape Maryland with a 40-27 win. McDowell carried the ball 30 times for 161 yards, and the Tigers ran the ball 57 times for a season-best 247 yards. McDowell notched two touchdowns in the fourth quarter, his first two scores of the season. He lost one fumble, as did
Sammy Watkins
, but the Tigers were still able to impose their will on a defense that had been stout against the run.
September, 26, 2013
9/26/13
9:00
AM ET
Like the ACC, we went 7-0 with our picks last week. Andrea is now 34-4 through four weeks, while Heather is 33-5, but Week 5 brings one big disagreement.
On to the picks!
Thursday


Virginia Tech (3-1, 0-0) at Georgia Tech (3-0, 2-0), 7:30 p.m., ESPN. #VTvsGT.
One of these teams has gone to the ACC title game every single year. Will the same hold true in 2013? Both teams come in off a short week and hard-fought wins, but this happens to be the ACC opener for Virginia Tech. The Hokies are 8-1 in ACC openers, with the lone loss coming from Clemson in 2011. They also are good at beating the Jackets, winning three straight meetings and five of the last six. AA gives the nod to Virginia Tech this year based on the defense, ranked No. 5 in the nation. Bud Foster generally finds a way to slow down the Georgia Tech offense enough to give the Hokies a chance at the win. In the last two years, Georgia Tech posted rushing and total offense numbers below its season averages. The Jackets, meanwhile, looked sluggish for most of the day offensively last week against North Carolina. Virginia Tech is much better defensively and that is the difference.
AA calls for an UPSET. Virginia Tech 21, Georgia Tech 20.
HD picks: Georgia Tech 24, Virginia Tech 21.
The Hokies are coming off a triple-overtime win against Marshall and had a five-day turnaround to prepare for a completely different offense. Foster said he is going to be relying on the retention of his veteran defenders who have played against the spread option offense and have had success against it before. Georgia Tech, though, is No. 2 in the country in third-down conversion percentage, and while the Hokies' D will do enough to keep them in this game, the offense will struggle enough again that this time it won't be enough to win it.
Saturday


No. 15 Miami (3-0) at USF (0-3), noon, ESPNU. #MIAvsUSF.
Only three seasons ago, USF upset Miami to end the regular season. But things have been downhill for the Bulls since then. USF is off to an 0-3 start for the first time in school history, in large part to its offense and its tendency to turn the ball over. Five times in three games so far, the opponents have scored defensive touchdowns. Penn State transfer
Steven Bench
gets the start at quarterback this week, while Miami plans to play
Stephen Morris
, working through a bruised ankle. Truthfully, Miami could win this game even without Morris.
AA says: Miami 35, USF 3
HD says: Miami 51, USF 10


East Carolina (2-1) at North Carolina (1-2), 12:30 p.m., ESPN3. #ECUvsUNC.
East Carolina plays its second straight ACC opponent, having lost to Virginia Tech a few years ago. The Pirates run the same type of tempo offense the Tar Heels run so there will be plenty of no huddle in this game. What North Carolina coach Larry Fedora wants to see is better offense overall. He called the performance of the group in the second half of a loss to Georgia Tech "inept." Bottom line -- the Tar Heels are averaging more than 100 yards fewer on offense this year than last. North Carolina, in fact, ranks an unsightly No. 82 in the nation in total offense.
AA says: North Carolina 35, East Carolina 17
HD says: North Carolina 31, East Carolina 28


Virginia (2-1, 0-0) at Pitt (2-1, 1-1), 12:30 p.m., ESPN3. #UVAvsPITT.
The Hoos cannot afford to get in a shootout with the Panthers because they do not have the type of offense that can keep up. What Virginia does have is a more aggressive defense that will try to ramp up the pressure on
Tom Savage
, rattling him enough so he has a more difficult time getting the ball to
Tyler Boyd
and
Devin Street
on the perimeter. Pitt has its own problems on defense it has to deal with, but Virginia is still trying to find its identity there with a consistent run game. Give the nod to the Panthers based on their offensive playmakers.
AA says: Pitt 30, Virginia 23
HD says: Pitt 28, Virginia 24


Troy (2-2) at Duke (2-2), 3 p.m., ESPN3. #TROYvsDUKE.
The Blue Devils need to find a way to fix their problems on defense in a hurry after dropping two straight ACC games. The big key is limiting the explosive plays. In the loss to Pitt, the Panthers had 17 plays that picked up 25 or more yards. Troy does not have the same type of offensive skill players as Pitt, or even Georgia Tech for that matter. The Trojans also do not have anybody on their roster like Duke receiver
Jamison Crowder
, who had nearly 300 all-purpose yards in the loss to the Panthers.
AA says: Duke 35, Troy 20
HD says: Duke 52, Troy 21


No. 8 Florida State (3-0, 1-0) at Boston College (2-1, 1-0), 3:30 p.m., ABC/ESPN2. #FSUvsBC.
The Eagles had a bye to prepare for Florida State, along with the experience of playing against one of the best defenses in the nation in a loss to USC two weeks ago. But those combined may not really do much to help the Eagles in their upset bid. Here is a stat that sums up how good the Seminoles have been early: Through their first three games, 11 different players have scored touchdowns.
AA picks: Florida State 45, Boston College 13
HD picks: Florida State 35, Boston College 17


Central Michigan (1-3) at NC State (2-1), 3:30 p.m., ESPN3. #CMUvsNCST.
NC State coach Dave Doeren is quite familiar with Central Michigan, having played the Chippewas the last two years as Northern Illinois coach. He went 1-1 in those games. The key here is to see how the Wolfpack bounce back after a tough loss to Clemson last Thursday night. The last time they played a team they were favored to beat, they struggled with Richmond. The focus has to be better.
AA picks: NC State 35, Central Michigan 13
HD picks: NC State 31, Central Michigan 10


Wake Forest (2-2, 0-1) at No. 3 Clemson (3-0, 1-0), 3:30 p.m., ESPNU. #WAKEvsCLEM.
Wake Forest has not won in Death Valley since 1998. That streak is not going to end Saturday. The Deacs have too many problems on offense to keep pace with the Tigers, who are trying to get back in sync after an up-and-down performance against NC State. Two of the best receivers in the ACC will be featured in this game –
Sammy Watkins
and
Michael Campanaro
– but
Vic Beasley
could end up making headlines once again for the Tigers.
AA picks: Clemson 45, Wake Forest 10
HD picks: Clemson 48, Wake Forest 13
November, 9, 2012
11/09/12
1:48
AM ET
BLACKSBURG, Va. -- Shh. Don't tell Florida State coach Jimbo Fisher that his No. 10 Seminoles didn't look like a top-10 team for much of Thursday night.
Don't even insinuate it.
Because in the end, it really didn't matter.
Fisher, quarterback
EJ Manuel
, and probably everyone else within the program left Lane Stadium on Thursday night deservedly ecstatic and validated by their
28-22 come-from-behind victory
against a gritty Virginia Tech team that refused to quit. It was an important win not only for the ACC, but also for the Seminoles (9-1, 6-1 ACC), who are now just one win away from clinching the Atlantic Division title for the second time under Fisher. Florida State reached 9-1 for the first time since the 2000 team played for a national championship.
Much like the stunning 17-16 loss at NC State on Oct. 6, it was another down-to-the-wire thriller, but this time, Florida State avoided another disaster on the road in the final minute of the game.
[+] Enlarge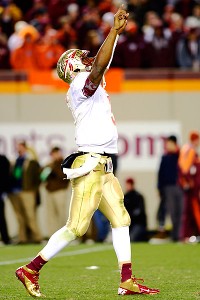 Bob Donnan/US Presswire"I'm just so happy for our team, ecstatic," Florida State QB EJ Manuel, a Virginia native, said.
"We had all kinds of mistakes, there's no doubt," Fisher said. "You'll fix 'em and go on. But you come in here on a Thursday night and win, guys. I'm not disappointed at all. To go 9-1, and be right here and beat Virginia Tech on a Thursday night here. … We can criticize everything we want to criticize, but we came in and won a football game and did a heck of a job competing in the game."
Florida State proved it can win on the road outside of the state of Florida. This was arguably FSU's toughest road trip of the year, but the Noles made it more difficult than it had to be.
An astounding
minus-15
yards rushing by the No. 14 rushing offense in the country? No problem -- the Noles came up with enough big pass plays.
Two turnovers? Small potatoes. The Hokies (4-6, 2-4 ACC) couldn't convert them into points.
Five
sacks? No sweat. Manuel delivered in the clutch.
Only
3-of-14
on third downs?
James Wilder Jr.
's fourth-down conversion on the game-winning drive was bigger.
"People might look and see we didn't execute on a lot of things, and we have to go back and fix those things, but that being said, Virginia Tech, historically, they've always played well on Thursday nights, especially at home," FSU kicker
Dustin Hopkins
said. "I expect more from our guys, and I know everybody else in the locker room does, it's not just me saying that, but at the same time it does feel good to come out of Lane Stadium with a win, because it's not easy."
Even against a Virginia Tech team in the midst of its worst season in 20 years. The Hokies have lost three straight and five of their past six.
Yet somehow they looked like the preseason Coastal Division favorites many expected them to be this season.
That shouldn't come as much of a surprise, considering the Hokies are 11-3 in Thursday night games, and Lane Stadium is one of the most unforgiving road venues in all of college football. Virginia Tech's defense played its best game of the season.
"I told our teammates you're not going to see the same team you see on film," Manuel said. "Virginia Tech is always going to be up and ready to play, especially us. And me being from Virginia, I know those guys, they want to beat me. … I'm just so happy for our team, ecstatic."
With 40 seconds remaining, FSU receiver
Rashad Greene
took what probably should have been an 8-yard catch and instead sprinted 39 yards downfield to give the Noles a 28-22 lead. It was a situation and a scenario the team has practiced numerous times, in its two-minute drills at practice every Thursday.
"When I told them what we were going to call and do, they said, 'That's just like Thursday,'" Fisher said. "I said, 'You're right, here we go.'"
The defense, which had underperformed for much of the game (Tech had 385 total yards and 5.5 yards per play), came up with its most crucial stop when
Tyler Hunter
intercepted
Logan Thomas
with 27 seconds remaining.
Virginia Tech's defense blitzed over and over and over again, leaving the Hokies' defensive backs on an island, and eventually, Florida State exposed that. In a live-by-the-sword, die-by-the-sword gamble, defensive coordinator Bud Foster went with man coverage on the Seminoles' final touchdown drive. For the majority of the night, though, the Hokies had the better defense.
Until the final minute.
The Noles have now beaten the top three teams from the Coastal Division most likely to earn a spot in the ACC championship game: Miami, Duke and Virginia Tech.
They're not quite ready, though, to take the crown.
"We've got to go win a game at Maryland," Fisher said. "I don't ever feel like we've got anything wrapped up. I've been in this long enough to know that. No matter how you play somebody, a second time makes a difference. I just hope we get that opportunity."
With the win over Virginia Tech, FSU got one step closer to it.
August, 30, 2012
8/30/12
9:00
AM ET
Ah, it's that time of year again. The time when you guys get to point and laugh when I am wrong, when you're shocked into silence when I'm right, and when 12 fan bases are convinced I always pick against their team.
I heart predictions, don't you?
As usual, my goal this year is to beat the guys over there in SEC land with a better picks percentage, but they've got a real tough job picking LSU and Alabama every week. Over here in ACC land, we've got a real conference race going on, and the unpredictability is a fabulous excuse for erroneous picks. Speaking of the SEC, I'm going to go out on a limb -- walk a plank, actually -- and say the ACC leaves Atlanta 2-0.
Undefeated … you know, just like my picks? Here we go, 2012 …
Miami 17, Boston College 14:
The Eagles will give it everything they've got in a hard-fought game, but they'll come up short late in the fourth quarter. Miami's speed will be too much for a defense that will sorely miss tackling machine Luke Kuechly.
Clemson 34, Auburn 31:
This has a high-scoring, last-play-of-the-game feel to it, and I'm willing to give Clemson the benefit of the doubt. Losing
Sammy Watkins
is going to hurt, yes, but the Tigers have enough surrounding talent that they'll be able to compensate for his loss with a group effort.
Florida State 66, Murray State 10:
Somehow I get the feeling Jimbo Fisher won't call off the dogs in this one until later in the game. This will be a good chance for the offensive line to get the kinks and jitters out, and for the Seminoles to adjust to life without
Greg Reid
.
Maryland 24, William & Mary 14:
Even with true freshman
Perry Hills
making his debut at quarterback, this is a home game the Terps should still win. It might get uncomfortably close at times, but Maryland has been embarrassed enough already not to let it happen again in the opener.
NC State 28, Tennessee 24:
The Volunteers desperately need this victory, and it should be another down-to-the-wire game, but the Wolfpack will have the edge up front, and quarterback
Mike Glennon
will make enough plays down the stretch to be the difference.
Wake Forest 24, Liberty 10:
This should be a ho-hum game for the Deacs, as long as they're not looking ahead to next week's game against North Carolina.
Florida International 34, Duke 31:
The Blue Devils beat FIU on the road last year, but Duke's injuries have accumulated over the past two months and will be a factor on both sides of the ball.
Virginia Tech 31, Georgia Tech 20:
Did I mention this game is in Lane Stadium? Virginia Tech will come out fired up by its home-field advantage and force a fumble or a turnover that gives the Hokies the momentum early. The Hokies have questions on offense, yes, but it's going to be Bud Foster's defense that is the difference in this game.
North Carolina 38, Elon 10:
Larry Fedora's offense will work just fine in Week 1, but don't expect to see the full repertoire against Elon. This will be a chance for the Tar Heels to work on the execution of new schemes on both offense and defense at game speed, and give them some game film to make corrections and adjustments before the Wake Forest game.
Virginia 24, Richmond 21:
The Spiders, coached by quarterback
Michael Rocco
's uncle, will keep things interesting against the Hoos. The familiarity between the coaching staffs will make this game better than it should be, as UVa coach Mike London was formerly the Richmond coach, and it is his alma mater.
Haskins, McElwain Shine At IMG Regional
ACC SCOREBOARD
Thursday, 9/3
Saturday, 9/5
Monday, 9/7