Florida State Seminoles:

Brent Venables
July, 18, 2014
7/18/14
12:00
PM ET
Big names among the assistant ranks tend not to stay assistants for too long, but Clemson's Chad Morris says he's
right where he wants to be
and isn't looking for a head-coaching gig long-term, writes the Augusta Chronicle.
Of course, if a certain job in College Station, Texas, were to open up -- as our Travis Haney
wrote about this week
-- it certainly would seem like a good fit for Morris, who is a Texas A&M graduate. But Morris also
earned $1.3 million last season
, which makes it a bit easier to stay comfortable in a coordinator role, and though he is smart enough to know when the right situation comes around, I think he is also sincere when he says he is not looking to leave.
And Morris isn't the only ACC assistant would could be a hot commodity at some point in the next couple years. A few other names to watch for bigger jobs:
Bud Foster, Virginia Tech:
The offense has been down over the past few years for the Hokies, but Foster's defense has been as good as ever. Foster has turned down lucrative offers elsewhere in the past, so he is clearly not looking to leave, but he will nevertheless remain on the radar for a lot of other programs looking to bring in a proven commodity.
Jay Graham, Florida State:
He is young, has NFL experience and SEC ties, and he is a recruiting whiz. He also presided over the first 1,000-yard back at Florida State in 16 years last season. Graham is going to be a hot name very soon.
Chip West, Virginia:
How does a team that finishes 2-10 and has a head coach constantly mired in hot-seat rumors still land a solid recruiting class, including five ESPN300 members? Chalk it up to West, one of the best recruiters in the nation.
Scottie Montgomery, Duke:
He will get his first crack at a coordinator job this year as he takes over for Kurt Roper, who left for Florida. Montgomery has NFL experience as a wideouts coach with the Pittsburgh Steelers, and he is a terrific recruiter. If Duke's offense continues to shine, he is going to get a lot of credit -- and a lot of long looks from other programs.
Brent Venables, Clemson:
Morris gets all the buzz because offense is fun and the Tigers' defense has played second fiddle for years. But look, everyone remembers that Orange Bowl loss to West Virginia to conclude the 2011 season, and what Venables has done for the Tigers' defense since then -- 29.3 ppg in 2011, 24.8 in 2012, 22.2 in 2013 -- has been impressive, and this year's unit could be his best yet. More importantly, the Clemson defense is finally climbing out of the shadow of its prolific offense.
More links:
Athlon has a look at recruiting in the Tidewater, Virginia area, and how the region has become
a key battleground
for programs like Florida State and Virginia.
The Pittsburgh Post-Gazette has a piece on how colleges are
bringing in outside help to sell tickets
.
The Daily Progress is looking at Virginia's opponents and wonders if this is
the golden age of Duke football
.
A new play-calling system
should help Terrel Hunt run Syracuse's up-tempo offense, according to Syracuse.com. We wrote plenty
about up-tempo offenses
yesterday, if you missed it.
Georgia Tech's special teams
should be a strength
, writes the Atlanta Journal-Constitution.
The Courier-Journal wonders why Bobby Petrino isn't having
more success on the recruiting trail
at Louisville.
June, 9, 2014
6/09/14
12:00
PM ET
The ACC has come a long way in the national recruiting battles, mainly because of the quality assistants who have gravitated to ACC teams. The league's top five recruiters include veterans at Florida State, Miami, Clemson and North Carolina who have plenty of victories on the trail over the years. The rankings also feature a surprise from Tobacco Road.


February, 20, 2014
2/20/14
9:00
AM ET
Florida State has had one of the best defensive fronts in the nation in the last two seasons, but the Seminoles will have a major challenger to that claim when 2014 rolls around.
Division rival Clemson has the potential to have one of the best defensive lines in school history, thanks to returning all of its starters -- including sack master
Vic Beasley
. So that leads us to this question: Which team will have the best defensive front in the ACC this upcoming season? Andrea Adelson and David Hale let the debate begin.

Andrea says Clemson
The moment Beasley decided to return to Clemson was the moment the Tigers became the favorite to field the best defensive line in the ACC next season.
Now, this is not to slight Florida State, which has dominated up front over the last two seasons. But the Seminoles have key players to replace again. Clemson, on the other hand, returns every starter on the defensive line, plus its top four backups. All told, eight linemen return who played at least 292 snaps a year ago.
Those top eight combined for 65 tackles for loss -- more than half the single-season school-record 122 tackles for loss Clemson had in 2013. They also combined for 26 of the team's 38 sacks.
Beasley, of course, leads the returning group after making 13 sacks and 23 tackles for loss a season ago, one of the top performances of any defensive end in the country. Had he decided to leave for the NFL, Clemson would have still had plenty of talent returning.
But with him, the Tigers could potentially have the deepest, most talented group of defensive linemen at the school since the 1981 national championship team featured future NFL players
Jeff Bryant
,
William Perry
, Andy Headen and Dan Benish in the starting lineup.
Clemson could potentially go 10 deep along the defensive line, especially when you consider the return of
Carlos Watkins
, expected to be healthy after missing most of last season following a car accident. That means the Tigers have the ability to rotate frequently and keep players fresh, perhaps more than they did last season.
Fresh players mean fresh legs, and fresh legs mean getting into the backfield at a much better clip. Last season, Beasley, starting tackle
Grady Jarrett
(11), starting end
Corey Crawford
(10.5) and backup end
Shaq Lawson
each finished with 10 or more tackles for loss. Now think about some of the best defensive fronts in college football. Florida State has zero defensive linemen returning with double-digit tackles for loss. Alabama? Zero. LSU? Zero. Stanford? Zero. Virginia Tech? One. Michigan State? One. Ohio State? Two.
Clemson leads them all.
Such an experienced group, with the ability to get into the backfield and get after the quarterback, should only get better with another year under Brent Venables, who is entering his third season as defensive coordinator. As Beasley told colleague Heather Dinich after he announced his decision to return, "I feel like we can be the best in the country."
And, yes, that means the defense could emerge as the strength of this team.
David says Florida State
The track record for Florida State's defensive front speaks for itself. During the past three seasons, only Alabama has had more success defending the run than Florida State, which has allowed just 2.8 yards per carry since the start of the 2011 season. Those Seminoles teams sent eight players from the front seven to the NFL -- and that number figures to increase by at least four this year -- yet the unit has seen little decline in production. With new personnel, a new scheme and new coaches last season, FSU's first-team defense didn't allow a rushing touchdown until the national championship game.
Of course, that's all in the past, and 2014 comes with some significant questions for Florida State.
Throughout the three-year run of success for the FSU front seven,
Christian Jones
,
Telvin Smith
and
Timmy Jernigan
have been anchors. All are gone now, and that means some significant vacancies on the defensive front, both in terms of on-field talent and off-field leadership. It means there will be questions surrounding the unit for the next few months, but it doesn't mean the Seminoles don't have answers.
Of the projected two-deep in the front seven, FSU projects to feature as many as 12 former ESPN 300 recruits. The talent is exceptional.
Mario Edwards Jr.
and
Eddie Goldman
were both top-10 recruits in 2012, and both have two years of experience under their belts. Edwards, in particular, took big steps forward throughout 2013, turning in perhaps his best game against Auburn's up-tempo ground attack in the VIZIO BCS National Championship.
The linebacker group lacks significant experience, but
Terrance Smith
is a physical clone of Telvin Smith, and he performed admirably after stepping into a starting role last season.
Matthew Thomas
and
Ukeme Eligwe
are both former elite recruits who project nicely in the hybrid role Jones handled so successfully in 2013.
Kain Daub
,
Demarcus Christmas
and
Derrick Nnadi
lead a stellar 2014 recruiting class that could make an instant impact.
That's not to say Florida State is prepared to move forward without Jernigan's presence up front or Telvin Smith's leadership in the middle of the field without missing a beat. There will be hiccups as the new group gets its feet wet and Edwards and Goldman learn to be leaders. But similar concerns existed a year ago when
Bjoern Werner
and
Tank Carradine
bolted for the NFL, and after some early missteps, Florida State again proved to be one of the fiercest defensive fronts in the country.
And, of course, the Seminoles have another weapon in this debate, too. No position group succeeds in a vacuum, and FSU's front seven gets a major boost from a secondary that projects to again be the best in the nation. If the Seminoles' defensive backs continue to make teams one-dimensional and continue to provide time for the pass rush to get to the quarterback, the odds of FSU's front seven making a smooth transition into 2014 get even better.
November, 22, 2013
11/22/13
4:00
PM ET
Back in the home office in Orlando this week. Seems a few of you had different views on the
ACC perception story
I wrote. Let's hear.
Steve K in Arlington, Va., writes:
So your story about how "the ACC is ranked where it has been" shows that perception is the only thing that matters in college football, NOT performance. ESPN's own power index shows the ACC as No. 3 among conferences. Yet poll voters perpetuate their biases. Is the Big 12's best nonconference win Oklahoma's win over 7-3 Notre Dame? Pitt did that and they are the 11th or 12th best team in the ACC. Oklahoma State's win over 4-6 Mississippi State? Please. Baylor and Texas Tech played no one. Texas got hammered by a BYU team that lost to UVa before injuries crushed the Hoos. K-State lost to a I-AA. West Virginia got hammered by Maryland. Iowa State lost to a I-AA. What a JOKE to have the Big 12 ranked ahead of the ACC at this point. It's not close this season. But it's all based on self-fulfilled perceptions.
Andrea Adelson:
I agree that perceptions, or misperceptions in a lot of cases, skew the way people see teams and conferences. However, I also think the ACC missed an opportunity to change these perceptions when Miami and Virginia Tech started tanking. Florida State is in great position to play for a national championship. That is huge. But the rest of the league? Nobody else has truly risen up to join Florida State and Clemson in the upper echelon. Based on the criteria listed, what is the ACC's best nonconference win? Pitt vs. Notre Dame? Does Miami over Florida or Clemson over Georgia still hold that much weight? I agree the Big 12 historically plays nobody out of conference. A lot of that has to do with the nine-game league schedule. But tell me how the on-field performance of the ACC as a whole, outside Florida State and Clemson, is any different than it was a year ago?
Brandon Shreve in Charleston, S.C., writes:
Good job on the ACC article. Perception has to change. Don't you feel that nothing will change until we show up in the bowl games and beat someone other then our ACC brothers?
Adelson:
Well, the ACC did have a great bowl performance last year with wins over LSU and USC among the headliners. I think the ACC needs Miami to be good, and a permanent group of four to five teams that are consistently in the top 25. That's what the SEC has on a yearly basis.
Eddie Riffone in Viera, Fla., writes:
Andrea, I know you're better than this! In regards to the strength of the ACC … let's look at a few factors. First, the ACC has two teams in the top 7, and as far as the top 10, the SEC has three teams, everyone else has two or one team. Second, Miami. Let's be real here … granted they looked weak in some games, but they still managed to win (just like Alabama did with Miss Stare this past weekend). If
Duke Johnson
was not out for the year … Miami would be in an entirely different position. They lost their running game, and while you might say one player shouldn't make a team … I'll refer you to Texas A&M. We know where they would be without JM. Your thoughts?
Adelson:
The problem is the ACC has nobody beyond the top 7. That is why perception has not changed. As for Johnson, there is no question that Miami misses him dearly. But I don't see how we can sit here and say playing without Duke is the reason Miami's defense has all of a sudden forgotten how to tackle or stop the run.
Patrick J. Daley in Reading, Mass., writes:
Andrea -
Great article
on
Andre Williams
and well deserved. I am a longtime BC season's ticket holder, and I can tell you that Andre and his transformed O-line have done a remarkable job. Andre is a Dean's List student and a good representative of the school. Hopefully he will win the Doak Walker Award and if the powers to be want a fifth person on stage in NYC to go along with the four QBs: Jameis, Johnny Football, Mariota, and Petty, then Andre might fit the bill. Good research also in your article.
Adelson writes:
Thanks, Patrick! This young man deserves some pub for what he has done this season!
Lee in Meeks, Ga., writes:
Bowl projections have Georgia and Georgia Tech playing in the Music City Bowl. I do not think this will happen do you?
Adelson write:
Highly doubtful to say the least.
Pawpower58 in Columbia, S.C., writes:
Clemson had some not so amusing games after the UGA game I'll admit. But in the last 3/4 games, Clemson seems to have gotten some things fixed on offense, and has looked pretty good here of late. And Clemson absolutely stepped all over PJ and his GT honey bee's. Take away the yards and two scores that the second and third teem defensive depth gave up to GT. It looked like one of the best defensive games that (Brent) Venables' defense has played all year. Question -- What is your opinion on how you see Clemson matching up against Steve Spurrier and his chicken coop on Nov. 30?
Adelson:
Great question. I keep going back and forth on how this game is going to go. South Carolina has had moments where it's looked great, and moments where it's looked not so great (ahem, last week). The Gamecocks are certainly not an indestructible force this year, and I think
Tajh Boyd
can make some plays on the secondary, which has been up and down this year. This one all comes down to Boyd and the offensive line. Boyd is going to be looking for redemption after his game against them last year, and against Florida State earlier this season. If they can keep
Jadeveon Clowney
at bay and out of their heads, Clemson has a great chance to win.
David Goldstein in Hollywood, Fla., writes:
I am a huge Cane fan and was going through remaining schedules. I believe it is possible that Duke, Virginia Tech, Georgia Tech, UNC, and Miami end up 5-3 in the ACC. Who goes to the ACC championship in this scenario?
Adelson:
Virginia Tech, based on its 3-1 record in the five-game "mini-group." (This assumes a Duke win over Wake Forest and a Duke loss to North Carolina).
Bryan in Mad Beach, Fla., writes:
If
Jameis Winston
is charged and thereby ineligible, do you see the voters making it so college football fans don't have to witness the possibility of a third-string QB starting in a national title game (assuming FSU wins its remaining games) by moving Ohio State or Baylor ahead enough in the polls? Also, I just want to argue against conspiracy theories. … Winston was not famous in December, and there was only potential at that point. FSU has removed players with potential in the past (Adrian McPherson and Randy Moss) for much less serious offenses (and in Winston's case alleged) and when an alternative starter at QB was not as good as
Jacob Coker
. I don't see FSU protecting someone that hadn't played a down and was only filling in for a few innings in relief on the baseball team. Thanks for the coverage.
Adelson:
If everybody wins out, I have no idea what the voters will do. Nor do I have any idea when there is going to be a resolution in this case. The hope is that the voters will go with the team most deserving based on its play throughout the season. Florida State has talent in spades beyond Winston. So who's to say Alabama or any other potential opponent in the national title game would automatically beat the Noles if Winston is out? That may sound ridiculous but no team has ever won a game on paper. If I had a vote, I would still have Florida State in the title game based on its overall performance.
October, 30, 2013
10/30/13
12:00
PM ET
I refuse to tell you what my Halloween costume is, but it is appropriate for a 3-year old.
September, 13, 2013
9/13/13
4:00
PM ET
Don't let Friday the 13th voodoo get to you! It's almost game time.
Richard in Chino Valley, Ariz., writes:
Georgia Tech is leading the nation in both scoring offense (70 ppg) and scoring defense (0 ppg). However, they only received 10 votes in the AP poll. What is the reason for this slight? Shouldn't this be a story? I mean when was the last time a team AVERAGED 70 points per game.
Andrea Adelson:
One word: Elon. Beating an overmatched FCS opponent, no matter the score, is not going to all of a sudden earn you national praise and acclaim. Now if the Jackets had beaten Clemson 70-0,
THAT
would be a story!
---
Tim in Blacksburg writes:
You have a GT team that beat Elon at
No. 4 in the league
?? How is that win ... greater than VT's win over WCU and loss to Alabama?
Adelson:
Well, both teams beat FCS competition for their only win. Georgia Tech looked more impressive doing it, hence the slightly higher ranking. Georgia Tech and Virginia Tech will get their chance to prove who is better on the field soon enough.
---
West in Columbus, Ga., writes:
Has
Mackensie Alexander
redshirted, or what's up with that? I can't find a roster that says it.
Adelson:
Alexander has been dealing with a nagging groin injury since preseason camp. Defensive coordinator Brent Venables called Alexander "
an enigma
" earlier this week and was unsure when he'd see him back on the practice field. Time is ticking on a redshirt, that's for sure.
---
John in Atlanta writes:
Even if Miami is back, doesn't it seem a little too late? Clemson and Florida State have spent years building their image as THE two ACC elites. Meanwhile, Miami hasn't been good for what has felt like a lifetime. It seems like even if Miami were "back" this year, it wouldn't change college football's perception that the ACC is ruled by Clemson and Florida State. Thoughts?
Adelson:
Great question, John. I don't think it will ever be too late for Miami to be "back." The ACC has been waiting on its return since 2004 to strengthen the league. It will only help the ACC moving forward if it has three (or more!) national brand name teams as opposed to just two. Look over at the SEC. That league is not hurt by having five to six elite teams every single year. And the current run of SEC national championships? Four teams have combined to win them. While I do agree that one good year from Miami is not going to change perceptions overnight, it would be a start. And it would put the ACC in much better position than it has been over the last several years. Florida State, Miami and Clemson are three of the top four brand names in the league. Consistent 10-win seasons out of them year in and year out has got to be the goal moving forward.
---
Kevin in Louisville writes:
Hi AA. I'm sure you have noticed that if you include Louisville into the ACC mix, the ACC has three teams in the top 10. The SEC has four, Pac-12 has two and Big Ten has one. Also, the ACC currently has the top two Heisman candidates with a potential of three (FSU). I'm VERY excited to become a full member in July 2014.
Adelson:
I totally get your excitement, though we can't really call
Teddy Bridgewater
an ACC Heisman candidate because he is not playing in the league. Chances are, he probably never will. But still, I am sure the ACC is thrilled with the way Louisville has started the season and also is very excited to bring the Cardinals on board next year. The schedule will be 10 times tougher, but Charlie Strong has built a good foundation in Louisville. I don't expect Louisville to slink to the basement once it arrives.
August, 5, 2013
8/05/13
12:00
PM ET
May, 21, 2013
5/21/13
12:00
AM ET
As of today, there are 100 days until the start of the college football season.
You bet we're counting.

If you're Scot Loeffler, Virginia Tech's new offensive coordinator, 100 days must feel like a nanosecond. The Hokies aren't the only ones, though, with plenty of work to do before the season begins. Here's a checklist of five things the ACC and its teams must accomplish before the opening kickoff:
1. Name starting quarterbacks.
Syracuse can't even talk about Oklahoma transfer
Drew Allen
yet because he's not on campus and won't enroll until next month, but the Orange are just one of several teams in the ACC that still have an ongoing quarterback competition. Virginia's quarterback controversy has seemingly gone on for years, and Florida State coach Jimbo Fisher has yet to officially anoint
Jameis Winston
as EJ Manuel's successor. Pitt is also still searching for a dependable leader, along with NC State.
2. Find an offense in Blacksburg.
Virginia Tech has become one of the ACC's brand-name programs, a consistent winner and a representative in the Top 25 and BCS standings. That changed last season when the Hokies bumbled their way through their most disappointing season in 20 years. Coach Frank Beamer made sweeping changes to his offensive staff, but little improvement was seen in the spring game. Loeffler said it wasn't a true indication of the progress that was made in the other 13 practices, but also conceded there is still a lot of work to be done. With Alabama looming in the season opener, all eyes will be on the ACC in Week 1. When the Hokies are good, the ACC is better.
3. Improve defensively.
With the exception of Florida State, which finished the season ranked No. 6 in the country in scoring defense, 2012 wasn't a banner year for ACC defenses. The conference usually has some of the nation's best defenses -- including Boston College -- but there was no Luke Kuechly and no identity for the Eagles last fall. Miami beat Duke 52-45. Georgia Tech beat North Carolina 68-50. Clemson beat NC State 62-48. Clemson took a major step forward defensively with its bowl win against LSU, but the defense must become elite in its second season under coordinator Brent Venables if Clemson is going to be a national-title contender.
4. Minimize the turnovers.
Virginia Tech was No. 86 in turnover margin last year, and quarterback
Logan Thomas
threw three picks in the spring game. Boston College was No. 88 in the country in turnover margin, FSU No. 93, NC State No. 99, Maryland No. 104, Virginia No. 110. That's almost half the league ranked among the worst in the country in turnover margin. The Hokies play Alabama. Virginia plays Oregon. BC plays at USC. FSU is at Florida, and the Seminoles turned it over five times versus the Gators in FSU's 37-26 loss last year. The Gators scored 10 points off turnovers in that game. If the ACC is going to stand a chance, it can't give away freebies.
5. Stay out of the trainer's room.
Virginia Tech standout corner
Antone Exum
is still rehabbing from the torn ACL he suffered in a pickup basketball game. The bulk of Wake Forest's offensive line was walking wounded all spring, and that group will make or break the Deacons' season. Clemson backup quarterback
Chad Kelly
and starting tight end
Sam Cooper
both tore their ACLs this spring. If the ACC is going to beat the best this fall, it needs its best players on the field. For some programs, like Boston College, the depth isn't there to afford injuries.
December, 7, 2012
12/07/12
1:00
PM ET
ESPN 300 athlete
Adrian Baker
(Hollywood, Fla./Chaminade-Madonna) hasn't decommitted from Florida State, but he's looking around.
Baker, who is 6-foot-1 and 165 pounds, is ranked No. 198 in the ESPN 300 and went through the ringer this week.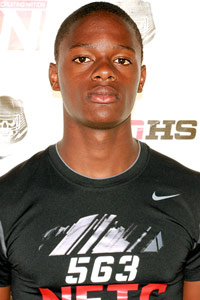 Tom Hauck for ESPN.comThe Sooners view four-star prospect Adrian Baker as an athlete who could play offense in college.
FSU assistant Eddie Gran was the first to visit Baker on Tuesday. Clemson defensive coordinator Brent Venables followed Wednesday afternoon, while Oklahoma defensive backs coach Mike Stoops closed the show Wednesday night.
To continue reading this article you must be an Insider
September, 19, 2012
9/19/12
10:45
AM ET
By
David Hale
| ESPN Insider
For months, Florida State's soft schedule has had many fans clamoring for a perfect regular season, but the biggest speed bump on the way to that goal comes Saturday.
Clemson enters this game ranked 10th in the nation, sports one of the most dynamic offenses in the country, and the Tigers have beaten FSU in six of the last nine matchups, including a 35-30 win last season.
So, what can the Seminoles do to topple the Tigers?
To continue reading this article you must be an Insider
August, 31, 2012
8/31/12
2:00
PM ET
Finally! No more waiting. The 2012 season is officially here in the ACC, as NC State will kick off against Tennessee tonight in the Chick-fil-A Kickoff in Atlanta.
This series
ends a countdown of the top 25 reasons to be excited about ACC football this year. There is no bigger reason than …

No. 1: Quarterbacks.
What was once a weakness throughout the ACC should be a position of strength in 2012. There are legitimate Heisman contenders, and players who could collectively or individually raise the profile of the entire league. For the first time in conference history, the ACC had five quarterbacks top 3,000 passing yards in 2011, and all five return -- also a new high for the conference. A total of six quarterbacks return who have thrown for 3,000 or more yards in a season as Duke's
Sean Renfree
threw for 3,131 yards as a sophomore in 2010.
Only Miami, which loses starter Jacory Harris, and Maryland, which lost
C.J. Brown
to a season-ending injury in pre-season camp, does not return its starting signal-caller. But the Hurricanes will start junior
Stephen Morris
(Miami) who has started five games (4 in 2010, one in 2011).
Clemson quarterback
Tajh Boyd
played his way into the Heisman conversation a year ago after the Tigers' 8-0 start, and he could do it again, but so could Virginia Tech's
Logan Thomas
and Florida State's
EJ Manuel
. Don't forget about the Tobacco Road duo of UNC starter
Bryn Renner
and NC State's
Mike Glennon
. Wake's
Tanner Price
, Virginia's
Michael Rocco
, BC's Chase Rettig and Georgia Tech's
Tevin Washington
also all return. There is a wealth of talent at the position and it should be one of the best seasons in recent memory for quarterback play in the ACC.
No. 2:
A national title contender
No. 3
The Discover Orange Bowl
No. 4:
Labor Day
No. 5:
The winningest active coach in college football
No. 6
: The ACC championship game
No. 7
: Florida State's defensive line
No. 8
: Thursday night games
No. 9
: Atlanta
No. 10
: NC State's secondary
No. 11
: SEC rivalry games
No. 12
: Virginia Tech's 10-game winning streak
No. 13
: Florida State vs. Clemson
No. 14
: North Carolina vs. NC State
No. 15
: Unofficial state championships
No. 16
: Talented true freshmen
No. 17
: Unpredictability
No. 18
: ACC vs. Notre Dame
No. 19
: Clemson's offensive playmakers
No. 20
: The ACC's record chasers
No. 21
: Larry Fedora
No. 22
: One of the nation's top rushing offenses
No. 23
: The last season before expansion
No. 24
: Brent Venables
No. 25
: A fresh start at Maryland
Goodell Has Sit-Down With Jameis Winston
ACC SCOREBOARD
Thursday, 9/3
Saturday, 9/5
Monday, 9/7