Florida State Seminoles:

Brandon Ross
October, 28, 2013
10/28/13
9:00
AM ET
We have status quo in the top three this week. But there was plenty of shuffling in the middle of the pack. Again. Par for the course in the ACC.

1. Florida State (7-0, 5-0 ACC, last week: 1).
The Seminoles remain in the hunt for a national championship after a thoroughly dominant win over NC State.
Jameis Winston
threw for 229 yards and three touchdowns in the first quarter -- the most pass yards in the first quarter of any quarterback this season. Another top-10 matchup looms this weekend, this time against rival Miami.
2. Miami (7-0, 3-0, LW: 2).
The Hurricanes have had to overcome double-digit deficits in their last two games to stay undefeated. In fact, ESPN Stats & Information says Miami had less than a 25 percent chance of winning in the fourth quarter against both North Carolina and Wake Forest. Voila -- Miami beat the odds thanks to its run game and now has to face revved-up Florida State in Tallahassee.
3. Clemson (7-1, 5-1, LW: 3).
The Tigers did not look pretty at times in their win over Maryland. But the key word in that sentence -- win. Clemson remained in the conversation for an at-large BCS berth thanks to solid performances from
Sammy Watkins
(single-game school record 14 catches), Rod McDowell (season-high 161 yards) and
Tajh Boyd
(15th 300-yard passing game).
4. Duke (6-2, 2-2, LW: 7).
Congratulations are in order for the Blue Devils, who became bowl-eligible for the second consecutive season with a win over No. 14 Virginia Tech, their first win over a Top 25 team since 1994. It also happened to be the first Duke win over Virginia Tech since 1981. When you consider how badly the offense struggled throughout, major props go to a vastly improved defense that has put the clamps down in the second half in its last three games.
5. Virginia Tech (6-2, 3-1, LW: 4).
You could probably pick a lot of words to describe the Hokies' loss to Duke. Disappointing fits best, considering another stellar defensive effort was wasted in one of the worst offensive performances of the season.
Logan Thomas
threw four interceptions, ending a string of three straight games without one. The loss kicked Virginia Tech clear out of the rankings.
6. Georgia Tech (5-3, 4-2, LW: 5).
Welcome to the murky part of the ACC power rankings. Georgia Tech beat Duke earlier this year, but also lost to Miami and Virginia Tech. The Jackets also played a terrible game against Virginia -- turning the ball over five times -- and still managed to win. At this point, we have no idea which Georgia Tech team will show up every week.
7. Wake Forest (4-4, 2-3, LW: 8).
The Deacs did lose, but they led Miami for nearly the entire game and played well enough to beat a top-10 team. Wake Forest is playing much better today than at the start of the season, and you can easily tell when you flip on the television. That is a big reason we have them here. Plus, they beat Maryland head-to-head.
8. Maryland (5-3, 1-3, LW: 9).
After a 4-0 start, Maryland has lost three of its last four and is going to have to fight for a bowl spot. The Terps put up a valiant effort with just about every key offensive player on the bench against the Tigers. They get a week to rest before playing Syracuse at home. That game could get them to win No. 6, especially if
C.J. Brown
and
Brandon Ross
are healthy enough to return.
9. Pitt (4-3, 2-2, LW: 6).
The Panthers lost on a last-second field goal to Navy, a team that Duke blew out earlier this year. They essentially let a winnable game against an average nonconference team slip from their grasp. These are the types of games ACC teams have to win. Pitt lost, and as a result has to take a tumble down.
10. Boston College (3-4, 1-3, LW: 10).
We both thought Boston College would go into Chapel Hill and win. Instead, the Eagles lost 34-10, unable to find any consistency on offense against one of the worst defenses in the ACC. The bye week did not seem to do them any favors.
11. Syracuse (3-4, 1-2, LW: 11).
Speaking of bye weeks, Syracuse was off after a demoralizing loss to Georgia Tech. We will see how the Orange regroup this week against Wake Forest, a game with major bowl implications for both teams.
12. North Carolina (2-5, 1-3, LW: 13).
Congrats to the Tar Heels for picking up their first league win of the season. The two-quarterback system Larry Fedora is now using with
Bryn Renner
and
Marquise Williams
seems to be working, at least for now.
13. NC State (3-4, 0-4, LW: 12).
The Wolfpack have lost three straight and are off to their first 0-4 start in league play since 2009. Coach Dave Doeren has had to deal with his fair share of injuries, but still, nobody expected this team to be winless in ACC play headed into November.
14. Virginia (2-6, 0-4, LW: 14).
The Hoos have now lost five straight. How did this team beat BYU again? Virginia got career games from
Darius Jennings
and
Tim Smith
, five gift-wrapped turnovers from Georgia Tech, and still lost 35-25. It gets worse: They still have to play Clemson, Miami and Virginia Tech.
October, 5, 2013
10/05/13
6:19
PM ET
TALLAHASSEE, Fla. -- After the onslaught was over,
Jameis Winston
relaxed in a folding chair in front of a throng of reporters eager to sing his praises yet again.
Florida State's quarterback had been dazzling, throwing five touchdown passes in
a 63-0 victory
over No. 25 Maryland, and one of his inquisitors pushed him on the offensive juggernaut. Winston wouldn't take the bait.
"The defense was clicking," he said.
He was pressed again on the offense.
"No," Winston said. "The defense kept giving us the ball."
[+] Enlarge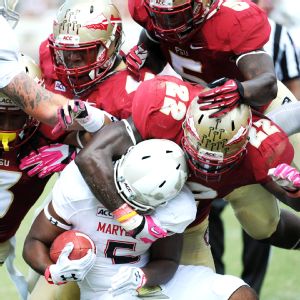 Melina Vastola/USA TODAY SportsTelvin Smith (22) and the Seminoles held Maryland to 33 rushing yards.
Winston was superb, no doubt. He completed 23-of-32 passes for 393 yards and his day was done before the fourth quarter began. He's thrown for at least 300 yards and four touchdowns in all three of his ACC games.
But Winston was right to turn the spotlight back to the defense. For a Florida State team already eminently aware of its quarterback's potential, it was the shutout pitched by the maligned defense that was the day's revelation, and it comes at an ideal time.
A week earlier, Florida State looked dazed against a mundane Boston College power-running game. For just the third time since Jimbo Fisher took over as head coach, the defense allowed 200 rushing yards. After just four games in coordinator Jeremy Pruitt's new defensive scheme, patience was wearing thin.
"Who wouldn't doubt us, based on how we performed in the previous week?" defensive tackle
Jacobbi McDaniel
asked. "As a team, as a defense, we knew we had to come out and dominate."
On Saturday, everything clicked.
As impressive as Winston's performance was, the defensive statistics were every bit as staggering.
Maryland entered the game averaging 227 rushing yards. The Terrapins managed just 33 on 25 carries Saturday.
The Terps' offense had topped 500 yards in three of four games this year. They tallied less than half that against Florida State.
Maryland was a woeful 2-of-15 on third down, mustered just nine first downs in the game and was shut out for the first time since 2008.
"We went out there and said, 'We're going to dominate,'" linebacker
Telvin Smith
said. "We didn't say we want to or we can. We said we were going to, and that's what we went out there and did."
C.J. Brown
,
Stefon Diggs
and
Brandon Ross
had been among the most productive offensive trios in the ACC this season. Only Ross finished the game healthy, and his final line included three rushes for minus-1 yard.
Brown was sandwiched between
Christian Jones
and McDaniel on a pass in the second quarter. He was taken for X-rays and didn't return. Diggs was smacked on an incomplete pass near midfield in the third quarter on his final play of the day.
Maryland coach Randy Edsall was displeased with the hit that ended Brown's game, but Florida State chalked it up as part of a punishingly physical approach.
"In practice, you heard pads every day -- even when we just had on shorts and shoulder pads," Smith said. "We were out there hitting. That showed up in the game."
The fallout from the Boston College game stung, but it was also a necessary wake-up call, McDaniel said. The defense assembled in the film room last Monday and relived the carnage, then set about finding solutions.
Fisher said it was clear his team hadn't been prepared for Boston College, but the energy on the practice field was noticeable. That carried over to Saturday's thrashing of the Terps.
"They played with urgency," Fisher said. "They stopped the run, took on blocks and our eye discipline was excellent. And this team was harder to [defend] than [Boston College]."
The key now is maintaining that level of discipline through a two-week wait before heading to No. 3 Clemson for a showdown that figures to determine the ACC's Atlantic Division champion.
If Saturday represented how good Florida State could be when Winston is in a groove and the defense is angry, there is reason for excitement.
"Everybody told us, 'Don't look forward to the Clemson game,'" Winston said. "But the time is here, and we've got to get everything right."
October, 5, 2013
10/05/13
7:00
AM ET
The big knock on both Florida State and Maryland thus far has been that neither team has faced stiff competition. That won't be the case after Saturday, as the two undefeated teams face off at Doak Campbell Stadium. Here are a few key stats and matchups to watch.


Protecting Winston:
Florida State has one of the most experienced offensive lines in the country, but quarterback
Jameis Winston
still found himself under pressure routinely last week against Boston College. Winston was sacked four times, and Jimbo Fisher was tepid in his review of the line's performance. Winston chalked up the sacks to his own eagerness to look downfield rather than checking down to quicker throws, although his patience was rewarded with a handful of big plays, too. Regardless, Winston and the line figure to be tested this week. Maryland leads the nation with 17 sacks, and Winston said he expects the Terrapins to be aggressive.
Eyes on Brown:
Fisher chalked up FSU's struggles against Boston College to a lack of eye discipline, saying a minority of players were too quick to react to motion and misdirection rather than stick to their assignments. That could play perfectly into what Maryland likes to do with quarterback
C.J. Brown
, who has the legs to break plays on the ground and the arm to take advantage of any overzealous safeties willing to leave a receiver in one-on-one coverage. Brown always has been a strong running QB -- he had three 100-yard rushing days as a sophomore -- but he has developed as a passer this season. So far this year, Brown is completing nearly 67 percent of his throws, averaging 10.5 yards per attempt, and he has seven passing TDs.
The deep ball:
Both Florida State and Maryland have enjoyed their share of success by looking downfield this season. The teams have combined for 26 passing plays of 25 or more yards, with Winston consistently looking for big-play opportunities and Brown using misdirection and play-action to open up receivers. Meanwhile, the Seminoles and Terps have been among the stingiest defenses when it comes to big-play chances. They've each allowed just four passing plays of 25 or more yards this year, tied for the ninth fewest in the nation.
Dynamic Diggs:
A week ago, Florida State's special teams struggled mightily, coughing up a handful of big plays on returns, giving Boston College an average starting field position at its own 34. The Seminoles must hope they've gotten those problems fixed this week, when
Stefon Diggs
arrives in Tallahassee. The Terrapins receiver and return man is one of the country's best all-purpose players. He finished 2012 with nearly 1,000 return yards to go with 848 receiving yards. This year, he's averaging 3 more yards per touch. Diggs hasn't had quite as many opportunities in the return game as he got a year ago -- he has returned just five kicks -- but he's as dangerous a weapon as ever.
The ground game:
Maryland's ground game has largely been predicated on Brown's mobility, but
Brandon Ross
has shown some flash, too. For the season, the Terps are averaging 227 rushing yards per game, which is a concern for a Florida State team that just allowed 200 yards on the ground to Boston College last week. Since Fisher took over as head coach in 2010, the FSU D had allowed 200 or more rushing yards just two other times. Meanwhile, the Seminoles are looking to jump-start their running game, too. Their 6.52 yards/rush average ranks fourth nationally, but that number drops to 4.50 per rush in their two ACC games.
October, 1, 2013
10/01/13
4:00
PM ET
Both teams on our Upset Watch lost last week. Are there more upsets on the horizon in Week 6? Let us take a look at the teams that could face problems. Remember, these are not predictions. They are just guesses at which contests might offer the biggest surprises.


1. Ball State at Virginia.
Given the way the Hoos have played on offense this season, there are no guaranteed wins. Ball State has the much better offense, having scored scored 200 points already -- the most in school history through the first five games of a season.
Keith Wenning
is one of two FBS quarterbacks to pass for 300 or more yards in each game so far, and
Willie Snead
ranks No. 3 in the nation in receiving yards with 611. Virginia, meanwhile, has produced stingy efforts in back-to-back games, holding VMI and Pitt to less than 200 yards of offense. UVa hasn't done that in consecutive games since 1972. The passing defense has been solid, too -- UVa ranks No. 8 nationally in passing yards allowed (152.8) and No. 4 in team passing efficiency defense (82.84). So this leads to two questions -- can the Virginia defense shut down the Ball State offense? And will the Hoos be able to score more than a handful of points?


2. Georgia Tech at No. 14 Miami.
Yes, we know Georgia Tech did not look great on offense in a 17-10 loss to Virginia Tech last week. Yes, we know Miami has won four straight in the series, too. But the reason we are waving a red flag here is because Miami has not played its starters for a full game since beating Florida, back on Sept. 7. In the ensuing weeks, the Hurricanes had a bye, then FCS pushover Savannah State and then FBS pushover USF.
Stephen Morris
is nursing a sore ankle, too. Georgia Tech, meanwhile, has had a crush of tough Coastal Division games the past three weeks and has been more recently tested. Say this about Georgia Tech -- its defense is much improved over from last season and should keep the Jackets in the game. The good news for the Jackets' offense is the Miami D is not quite as good as what they saw out of Virginia Tech. Even still, Miami is better defensively, too. How the Georgia Tech offense responds is the key to this game.


3. No. 25 Maryland at No. 8 Florida State.
As Heather pointed out Monday, we really have no idea whether the Terps are for real. We do know they have never won in Tallahassee, which gives Florida State a big advantage right off the bat. But the Noles struggled last week to contain the run, and Maryland is much better running the ball this season. Maryland is averaging 226.8 yards on the ground thanks to the combined efforts of running back
Brandon Ross
(No. 4 in ACC in rushing) and quarterback
C.J. Brown
(No. 8 in ACC in rushing). Florida State, meanwhile, ranks an uncharacteristic No. 62 in rushing defense, its worst ranking since 2009. Coach Jimbo Fisher defended the performance of his defensive unit this week, but there's no question its performance against Boston College have left folks wondering whether the Noles are ripe for an upset.


4. No. 3 Clemson at Syracuse.
We can hear Clemson fans complaining about how the Tigers
always
seem to be on this list. In Week 1, we had 'em on there because we believed they would upset Georgia (and they did). We had them on there against NC State, and the game ended up being too close for comfort. And now we have them on here this week for three main reasons. First, Clemson has never played in the Carrier Dome, a notoriously tricky place for visitors. Second, Syracuse has upset teams with top-shelf quarterbacks three years running (West Virginia and Geno Smith in 2010 and 2011; Louisville and
Teddy Bridgewater
in 2012). Third, Clemson was not great the last time it hit the road. So for those reasons, the Tigers have to be mindful of getting upset. Now, having said all that, we believe an upset in this game is the least likely out of all the contests listed.
September, 8, 2013
9/08/13
9:00
AM ET
Week 2 is in the books. Here are the ACC's top performers:

Miami's defense:
Linebacker
Denzel Perryman
recorded 13 tackles and forced a fumble, and
Tyriq McCord
sacked Jeff Driskel late in the fourth quarter, forcing a fumble that proved the difference in the game. In all, Miami forced three fumbles, picked off two passes, sacked Driskel twice and held Florida to 2.8 yards per carry on the ground. Not bad for a group that ranked dead last in the ACC in rushing defense a year ago.
Boston College running back Andre Williams:
The senior carried the ball a whopping 35 times en route to 204 yards rushing and a touchdown in a win over Wake Forest. It was Williams' second 100-yard performance of the season. Williams carried the ball eight straight times on BC's final drive, running the last five minutes off the clock and helping the Eagles to match their win total from 2012 after just two games.
Maryland quarterback C.J. Brown
: No, Brown didn't quite repeat his impressive Week 1 performance against Florida International, but he came close. The senior threw for 275 yards and two touchdowns and ran four times and scored twice more versus Old Dominion. Through two games, Brown has already collected nine touchdowns. A year ago, no Maryland QB accounted for more than 11 touchdowns all season. More good news for Maryland: Brown wasn't the only playmaker.
Stefon Diggs
racked up a career-best 179 yards receiving, and
Brandon Ross
ran for 149 yards and a score.
Duke quarterback Brandon Connette:
Starter
Anthony Boone
went down with a broken collarbone in the second quarter, but that didn't doom Duke's chances at its first 2-0 start since 1998. Connette, a junior with just 45 career passing attempts entering the game, came on to rally the Blue Devils' offense. For the game, he completed 14 of 21 passes for 198 yards and two fourth-quarter touchdowns to help Duke to a 28-14 win over Memphis.
NC State's two-minute offense:
In what was hardly a vintage performance for the Wolfpack against FCS foe Richmond, the two-minute drill to end the game worked to perfection, capped by kicker
Niklas Sade
's 48-yard, game-winning field goal with 33 seconds remaining. NC State trailed 21-13 at the half but forced a turnover deep in Richmond territory to set up a third-quarter touchdown, then drove the ball 48 yards on seven plays in the final two minutes of action, setting up Sade's game winner, which cleared the goal post with ease. QB
Pete Thomas
was 4-of-5 for 31 yards passing on the drive.
August, 28, 2013
8/28/13
12:00
PM ET
November, 16, 2012
11/16/12
9:00
AM ET
TALLAHASSEE, Fla. -- A win at Maryland is all that stands between Jimbo Fisher and his second ACC championship appearance in three years. Regardless of lofty preseason expectations, that alone represents an accomplishment.
"It's important with what we want to do and it's always on our goals at the beginning of the year, to be the ACC champion," Fisher said. "But to get there we need to focus on Maryland and play a great game against Maryland. That's the only team in America right now."
It's the familiar refrain of Florida State's 2012 campaign, and it's a particularly resonant one this week.
Indeed, Maryland is all that stands in the way of the ACC championship game, and it would be easy for the Seminoles to take the 4-6 Terrapins lightly. After all, Maryland is down four quarterbacks already, and converted linebacker
Shawn Petty
will get his third start at QB on Saturday. Add a host of other injuries, including an ACL tear for top linebacker
Demetrius Hartsfield
, and Florida State will be a heavy favorite for good reason.
But the road hasn't been particularly kind to the Seminoles, and regardless of any offensive shortcomings, Maryland might be the best defense FSU has faced this season. So Fisher has been quick to remind his players once again that looking ahead opens the door to failure, even if the Terrapins appear to be an easy adversary just a week ahead of a top-10 matchup against rival Florida.
"We just have to go out and prepare for Maryland,"
EJ Manuel
said. "They have a great defense. I know they have some injuries on offense but we can't look down upon them just because of that, they want to win. They are going to have their home crowd just like Virginia Tech did. I'm sure it is going to be cold, and we just have to go out there and be ready to play."
Haskins, McElwain Shine At IMG Regional
ACC SCOREBOARD
Thursday, 9/3
Saturday, 9/5
Monday, 9/7