Florida State Seminoles:

Blake James
May, 28, 2014
5/28/14
2:00
PM ET
Florida coach Will Muschamp
made big headlines
during Day 1 of the SEC meetings when he said he would rather not play FCS opponents anymore.
Alabama coach Nick Saban agreed, sparking renewed debate about the place of FCS games in major college football, especially when strength of schedule will mean more in the playoff era.
But during the ACC spring meetings last month, there was no such debate. The ACC remains firm in its desire to play FCS opponents. There
are a few reasons
why. First, scheduling nonconference games has become more challenging than ever. Sometimes, an FCS team is needed to fill out the schedule. Second, there are many FCS teams in the South that are in close geographic proximity to ACC teams, and they always benefit greatly when they are scheduled to play.
These are not the most appealing games. Sometimes, upsets happen, which is probably why Muschamp does not want to go the FCS route anymore. But from the ACC perspective, the FCS games are not going anywhere anytime soon.
All 14 ACC teams have FCS teams on the schedule for 2014. Seven are in the same state as their ACC opponent. Nearly all the rest are located in bordering states. Miami, for one, plays Florida A&M this season and also has played in-state Bethune-Cookman in the past.
"Florida A&M and Bethune-Cookman are great games for us," Miami athletic director Blake James said during the ACC meetings. "Those are schools within the state, there's a real benefit for them to be able to come down and have games in Miami where they have alumni. It's a benefit for us. As of right now I would see us still scheduling Florida A&M and Bethune-Cookman and those types of schools. Those are the ones we have historically played and those are relationships we'd like to be able to continue."
Clemson athletic director Dan Radakovich, who also serves on the College Football Playoff committee, was asked how teams with FCS opponents on the schedule would be judged when it came time to make decisions. The Tigers, for example, have South Carolina State on the schedule this season and for 2016 and a game with Wofford set for 2015.
"You're going to have to look at what FCS teams you play, if any, because there are some FCS teams that are more difficult to play than the lower-ranked Division I teams," Radakovich said. "It comes into the totality of the schedule."
Until further notice, the totality of the ACC schedule will include an FCS opponent.
May, 21, 2014
5/21/14
9:00
AM ET
Scheduling talk has consumed all of college football over the last month. But for all the chatter, there are no answers when it comes to getting scheduling right.
[+] Enlarge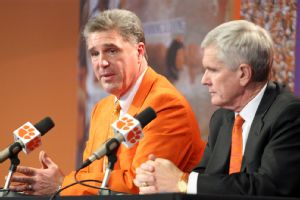 AP Photo/Anderson Independent-Mail, Mark CrammerAs Clemson's AD and a member of the playoff committee, Dan Radakovich (left) will get a first-hand look at how important scheduling becomes.
Eight conference games vs. nine conference games. One power-five opponent or more? Everything remains a guessing game until the College Football Playoff era begins because
nobody truly knows
how the playoff committee will evaluate strength of schedule.
Clemson athletic director Dan Radakovich, one of 13 members on the committee, said plainly, "It's going to be the totality of the schedule. Being a conference champ is one of the top priorities as is winning the games, so there's really not just one factor that is overwhelming the others. It's the body of work associated with the program."
In the
selection committee procedures
, released earlier this month, there is a brief mention about how strength of schedule will be evaluated. The committee will be given data from SportSource Analytics, which will provide stats on every FBS team, along with opponent records and opponents' opponents' records. Unlike the basketball model, which relies heavily on RPI, the committee will not use just one data point.
That means much of this is left up to interpretation. The Pac-12, for example, finished second in the ESPN Stats & Information
Conference Power rankings
to end the 2014 season. The Pac-12 plays nine conference games. The ACC, on the other hand, finished fifth in the same set of power rankings. The league decided to stick
with eight conference games
. Does this automatically mean the Pac-12 gets a built-in advantage based on playing a conference schedule that is perceived to be more difficult?
Nobody really knows until we see the committee pick four teams based on on-field results.
What we do know is three conferences have opted for nine league games. That is a big reason why the ACC will require teams to play at least one power-five opponent in nonconference per year, beginning in 2017. Notre Dame is included in that group; BYU is not.
Will that be enough?
The Pac-12 already plays a tougher conference schedule, plus most of its teams play power-five opponents. Last season, only four teams did not have at least one power-five nonconference game. Four -- including Oregon and USC -- had two.
"It's a wait and see," Miami athletic director Blake James said. "It will take some programs not making it to the final four and having the committee or someone come out and address that it was a scheduling issue that prevented them from being there. With that said, we all have to be cognizant of the fact that our schedules are going to be evaluated and you want to be one of the four teams. The challenge there is no one knows who is going to be the dominant program three, five, 10 years out, which is how we're doing our schedules. You can schedule an elite program right now and by the time you play them, they might not be an elite program and vice versa. It's a real challenge and it will be interesting to see how it plays out."
You saw examples of that throughout college football last year. Oregon had Virginia and Tennessee, power-five opponents, yes, but both teams finished with losing records. Ohio State scheduled Cal when the Bears were good, not knowing they would have a 1-11 season when the teams ended up playing. Perhaps more scheduling contracts will be broken in the playoff era, as teams jockey to get current elite teams on the slate.
[+] Enlarge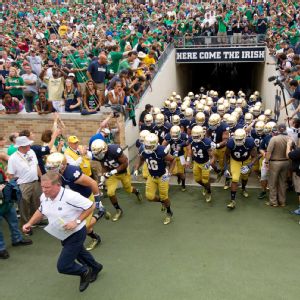 Matt Cashore/USA TODAY SportsACC teams get the opportunity to boost their schedules with Notre Dame.
ACC athletic directors also have the challenge of having Notre Dame on the schedule once every three years. League ADs already know when they will play Notre Dame several years down the road. So in years they play the Irish, do they add a second power-five team or take the brakes off so the schedule does not become too challenging?
"In Blacksburg, if we have Michigan and Notre Dame on the schedule, I think our fans would be fine with that," Virginia Tech athletic director Whit Babcock said.
Elite games like that are hard to find, because both parties have to be willing to play one another. That could make more scheduling challenges for everyone, especially since the Pac-12, Big 12 and Big Ten will have fewer nonconference spots open because they play more league games.
"The cost of guarantees continues to rise, too," James said. "You have three of the five conferences that are playing nine games so right away there are fewer games needed and geographically you want to try to stay within your area and schedule games that make sense for your fan base and alumni base. When you put all those things together it makes scheduling already challenging and I do think it will be more challenging in the future."
Given all the challenges and the uncertainty about strength of schedule during playoff evaluation time, ACC athletic directors left open the possibility that they could change their minds on scheduling. Like James said, it's wait-and-see.
"As we get through the first cycle of this new football playoff, I think it will be telling for us as to whether or not this decision is the right decision or whether we need to do something else," Florida State athletic director Stan Wilcox said. "I think we felt comfortable knowing we're not the lone conference out there, that we're comfortable being at eight."
May, 20, 2014
5/20/14
9:00
AM ET
Orlando used to be a player in neutral-site college football games, until its stadium turned into a dilapidated mess.
[+] Enlarge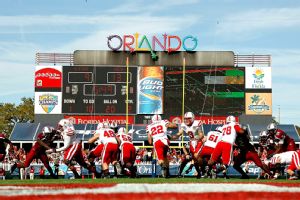 Mike Ehrmann/Getty ImagesThe Citrus Bowl, shown in 2012 game, is in the middle of a $210-million reconstruction.
But now that extensive renovations
have gotten underway
, Orlando could be the next "en vogue" town in the neutral-site business. Not only has Florida State said it is in talks
to play in Orlando
, Miami athletic director Blake James also hinted at getting Florida back on the schedule in
a neutral-site game
in Orlando.
James told The Miami Herald that Florida athletic director Jeremy Foley was receptive about a neutral-site game. "I would have to think Orlando," he told the newspaper. Nothing is imminent, and no substantive talks have been held between Miami, Florida and Florida Citrus Sports on the topic. But Florida Citrus Sports CEO Steve Hogan has not made it a secret that he wants to get back into the neutral-site business beginning in 2015 or 2016.
Florida State, Miami and Florida would be among the most attractive options, for obvious reasons.
The Citrus Bowl is in the middle of a
$210-million reconstruction
that should make it more attractive as not only a bowl and neutral-site spot but potentially a College Football Playoff venue. Florida State, Notre Dame and Florida all have played neutral-site games at the stadium in the past, but that was years ago. The last marquee regular-season game to be played there was in 2000, when Notre Dame faced Navy.
Miami would love to play Florida more frequently. The two used to be yearly rivals, but the series has been sporadic in recent years because the Gators already play Florida State annually. Miami beat Florida last season in their last scheduled game. In the past, Foley has not had much interest in
scheduling the Hurricanes
. But neutral-site games are a good draw. Florida, not known for taking nonconference scheduling risks outside Florida State, has a neutral-site game on the docket against Michigan in 2017 in Arlington, Texas.
Plus, Florida State, Miami and Florida all have drawn well when playing bowl games in Orlando, posting some of the highest attendance figures in both Russell Athletic Bowl and Capital One Bowl history. And neutral-site games are lucrative for programs these days, dishing out million-dollar payouts. Just last week at the ACC spring meetings in Amelia Island, Fla., James talked about the general possibility of playing a regular-season game outside South Florida.
"They make sense in certain situations," James said. "You have to look at where is your team at and what does your schedule look like and how do you incorporate those games into years that make sense for your program. That's the challenge you have. It's picking the right years to be a part of those games because those games are big games that are going to obviously have an impact on your program for a variety of reasons. There's big paydays associated with them, there's wear and tear on your team associated with them, there is travel associated with it and it's looking at all those factors and picking the ones that are best for your institution and best for your program at that time."
May, 12, 2014
5/12/14
9:00
AM ET
The ACC opens its spring meetings today with critical decisions to be made about its future. And we are not just
talking about scheduling
.
Divisional structure, potential changes to the championship game and more discussion about a possible ACC Network are all on the table as league athletic directors, coaches and administrators gather in Amelia Island, Florida, for the next four days.
Each topic is carefully interlaced and fraught with its own complicated issues. No decision about one can be made without impacting another. Just as an example: Any new information on a possible ACC Network could end up determining whether the league stays with an eight-game or moves to a nine-game conference schedule. Then that decision could ultimately determine what the ACC does with its division and championship game format.
"It's like dumping out a Lego set and trying to piece it all together and do it right," Syracuse athletic director Daryl Gross said. "And it's not as simple as red goes with red, yellow goes with yellow. It's a little more complex. But all these things are such good, challenging things to look at. It's exciting, the discussions are really exciting right now because there are so many creative things that can happen out of all this."
[+] Enlarge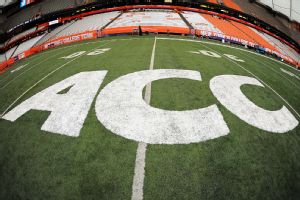 Rich Barnes/CSM/AP ImagesThe Atlantic Coast Conference begins spring meetings on Monday that will last through Thursday.
As it stands today, there is no clear consensus among athletic directors on what will best position the league moving forward into the College Football Playoff era. Because of that, nobody inside the league knows whether a vote on future scheduling will even happen when the meetings conclude Thursday. Considering the ACC is the last conference to determine what its future conference schedule will be, what happens here will be watched much more closely.
While there does seem to be more movement toward a nine-game schedule among the athletic directors than there was last year,
the league does not yet
have a simple majority in favor of adding another conference game.
There also is very little traction for changing the division format or championship game setup -- even though the
ACC petitioned the NCAA
to be granted the flexibility to determine its title game participants.
In interviews ESPN.com conducted with all 14 athletic directors leading up to the meetings, none were in favor of rearranging divisions. Nine were opposed to getting rid of divisions entirely, four remain undecided and one had no preference. Clemson athletic director Dan Radakovich, in the undecided camp, wants an answer on league scheduling before moving forward to the division and championship game discussion.
He agrees, however, with the decision to petition the NCAA to change title game legislation.
"Depending upon where the conversation goes with the eight versus nine games, I think that the lineup, whether it is 1-14, whether it's two seven-team divisions, whether the divisions are the same as they currently are, I think will be a totally separate discussion," Radakovich said. "But first, we have to make that other decision on the eight or nine games."
Getting rid of divisions altogether would relieve some of the headaches that go along with the current eight-game scheduling model, which features only one rotating crossover opponent. That has drawn criticism from both coaches and athletic directors who do not want to go as long as eight years between games against conference opponents.
Without divisions, teams could rotate through a cycle that would allow student-athletes to play every conference team at least once in their careers. But it could also mean getting rid of permanent crossover rivalries like Miami-Florida State, North Carolina-NC State and Duke-Wake Forest. And it could also mean chaos when it comes to determining who will play in the championship game.
[+] Enlarge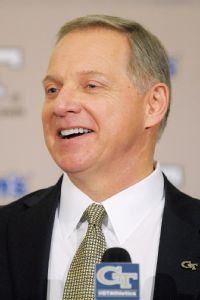 AP Photo/David TulisGeorgia Tech athletic director Mike Bobinski is satisfied with the current division setup in the ACC.
"You open up Pandora's box," Miami athletic director Blake James said. "At the end of the day you have two divisions that have shown over nine years they're very equitable. The Atlantic has won five, the Coastal has won four. That's the best way to determine who's in the championship game."
Only two athletic directors are in favor of the top two teams in the league playing in the title game, while five remain undecided on the format. If the goal of the pending NCAA legislation is ultimately for the ACC to try to get its two top teams in the championship game to improve its stature and bump up strength of schedule, there are perils that go along with that, too.
"What's the best way to make sure we have a team in that four-team playoff?" Georgia Tech athletic director Mike Bobinski said. "Obviously, multiple teams would be awesome, but if you really want them playing each other in that last week of the season, I'm not sure that's the best setup for having teams advance into that playoff. It's served us reasonably well.
"I would tell you that I'm OK with the flexibility and the possibility to rethink it in different ways, but I'm not sold sitting here today that we need to do it differently."
Over the past several months, the ACC has sent so many scheduling and championship game models to athletic directors to study, there are literally too many to count. Newer athletic directors like Brad Bates at Boston College and Whit Babcock at Virginia Tech remain undecided about what is best not only for their programs but the ACC in general.
Therein lies some more of the complexities. How do all these athletic directors put aside self interests to vote for what is in the best interest of the league?
"You can make compelling arguments for a lot of different models," Bates said. "Different institutions are going to look at the different models in ways that best impact each of us selfishly, but at the same time, we have to look at everything holistically and see how it best impacts the league. And I think that's probably where the discussion rests right now."
More discussion will follow over the next few days. But will it be enough to change minds?
"It's not a real simple solution," Babcock said. "That's why there wasn't anywhere near a unanimous thought process during our winter meetings, so it got pushed off. I'm not sure it will be any easier to solve in May than it was in January."
April, 29, 2014
4/29/14
11:15
AM ET
Wake Forest athletic director Ron Wellman is ready for a vote -- again.
After years of flip-flopping between an eight- and nine-game league schedule, the
topic is once again up for debate
as the ACC athletic directors, coaches and administrators prepare for their annual spring meetings in Amelia Island, Fla., in two weeks. Given the SEC's recent decision to
stick with eight league games
, all eyes have now focused on the ACC to see whether the league will come to any decision about its future schedules.
There's no guarantee they will vote on anything, but many would like a resolution to a discussion that has dragged on for years.
"I think voting on the future conference football schedule is extremely important," Wellman said. "I don't know how much longer we can delay it."
[+] Enlarge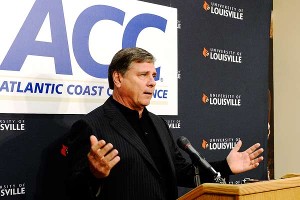 Timothy D. Easley/AP PhotoLouisville AD Tom Jurich could be the swing vote as to whether the ACC goes to an eight- or nine-game schedule, but right now his response is "I really don't care either way."
It could be a close one.
ESPN.com recently interviewed every athletic director in the ACC about scheduling preference, and there was no overwhelming majority. Half of the athletic directors -- including a surprising vote from Georgia Tech -- were in favor of a nine-game conference schedule. Three schools -- Boston College, Virginia Tech and North Carolina -- didn't give a specific preference, and three schools -- Duke, Clemson and Florida State -- would prefer to stay at eight games. Louisville AD Tom Jurich, who is just happy to be a member of the ACC, might be the swing vote.
"I really don't care either way," Jurich said. "It doesn't matter to me. Eight, nine, seven, 10 -- I don't care. If they want us to play nine plus the game with Kentucky, I'll do that too."
Unlike the league's winter meetings, the ACC coaches attend and will weigh in. They
remain in favor
of playing eight conference games, but the athletic directors have the final say. In May 2012, they approved a nine-game schedule despite opposition from the coaches only to revert to eight games after announcing a partnership with Notre Dame.
Unlike the last time a nine-game schedule was approved, the athletic directors are now tasked with putting together schedules that best position their programs for access to the new College Football Playoff. They also have to weigh in the five-game rotation with Notre Dame, and four schools -- Clemson, Georgia Tech, Louisville and Florida State -- already have built-in SEC rivalries. A few athletic directors, including North Carolina's Bubba Cunningham, have indicated they would vote in favor of whatever schedule format is most likely to lend itself to an ACC channel. A nine-game format would increase the ACC's league schedule from 56 to 63 games.
"I am in favor of getting a separate channel, and however we have to do that, I'm willing to consider," Cunningham said. "I'm flexible because I think a channel is very important to us."
Miami athletic director Blake James was less willing to bend.
"I'm a believer that the nine-game schedule would be a win for the conference, and I believe it would be a win for the University of Miami," he said. "That's where I'm at with it."
FSU athletic director Stan Wilcox said the Seminoles' built-in rivalry with Florida isn't going to change. The bigger concern is keeping Clemson and Miami on the schedule every year -- a puzzle that could get tougher in a nine-game format.
"Also in the room, Miami and Clemson want the same," Wilcox said. "It'll be difficult. This is why you see that we haven't; it's a stalemate."
"

I think the issue is, if we collectively agree that we're going to schedule up, we don't have to come up with a hard rule we have to go to nine games or everybody has to schedule one game against an SEC school. It's just a matter of getting everybody to agree to that.

"

-- FSU athletic director Stan Wilcox
Because of the built-in regular-season finale against rival South Carolina, Clemson athletic director Dan Radakovich remains convinced sticking with eight games is the right thing for his program. He also pointed out that, under a nine-game format, there would be years when the Tigers can't play seven home games, an economic loss for both the university and the region. Instead of adding another league game, Radakovich suggested other schools beef up their nonconference schedules.
"If they don't have that rival at the end of the year, then they need to schedule a College Football Playoff equity conference game on a home-and-home basis," he said. "If they don't have that rival, they need to schedule two, but they can do that based on when Notre Dame rolls on and off their schedule."
Wilcox agreed.
"I think the issue is, if we collectively agree that we're going to schedule up, we don't have to come up with a hard rule we have to go to nine games or everybody has to schedule one game against an SEC school," he said. "It's just a matter of getting everybody to agree to that."
Good luck -- especially when Georgia Tech is one of the schools in favor of nine games.
Yellow Jackets athletic director Mike Bobinski said the years in which they have to play both Notre Dame and Georgia will be "a handful for sure," but if a nine-game schedule is best for the conference, that's what he's in favor of.
"We've got a big conference now, and our collective destiny is important," Bobinski said. "All of us will rise as the fortunes of our league rise from a football performance perspective, and while nine games will be problematic for us in some ways … I just think that, for the good of the brand of ACC football, to me a nine-game schedule feels better."
One of the biggest criticisms of the current format is the crossover opponent scheduling. ACC teams will play all of their rotating crossover opponents twice during a 12-year rotation, but not consecutively. FSU played Pitt in the season opener last year but won't be back until 2025 or later. As thrilled as Louisville is to be joining the ACC, the Cardinals don't get to see Virginia Tech before 2025. Virginia and Clemson won't see each other again until 2020.
"My position is the nine conference games would be preferable mainly because of the opportunity to clearly play more of our peers in the conference and expose our institutions to each other," Virginia athletic director Craig Littlepage said. "It's one game a year, but that initial game does help our conference in terms of the overall branding and building of relationships and rivalries among all of the institutions."
Both sides have valid points. Now it's time to put it to a vote -- again.
David M. Hale and Andrea Adelson contributed to this story.
December, 10, 2013
12/10/13
12:00
PM ET
Two ACC Heisman finalists. How about that?
October, 25, 2013
10/25/13
4:00
PM ET
Many of you have an opinion on my decision to
rank Florida State No. 1
this week in my ESPN.com Top 25 power rankings.
Let's go to the mailbag.
Vern in Atlanta writes:
Andrea: I applaud you on your courage and intellect in "declaring" FSU as No. 1. Your logic is impeccable, and I could not agree more. A friend (a Duck fan) and I had exactly this discussion last week before the Clemson thrashing. I am a LONG time Seminole fan, and I posed exactly what you wrote. Again, kudos for the intellect and analytical approach. By the way - I emailed both you and Heather last week and pointed out that FSU would beat Clemson. You both took Clemson. ...
Andrea Adelson writes:
Thanks, Vern. Should have been smart enough to listen to you!
[+] Enlarge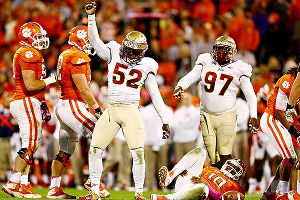 Streeter Lecka/Getty ImagesFSU's decimation and the subsequent BCS standings certainly got the attention of Oregon fans.
Dan in Portland, Ore., writes:
Andrea, I agree that Florida State had a good game against Clemson, but the comment that Oregon hasn't played anyone is skewed. Two large wins against Washington 45-24 and the team that beat South Carolina ... Tennessee lost to Oregon 59 -14. Keep in mind that Oregon plays their scout teams in the fourth quarter so their numbers can be exponentially higher.
Adelson:
Hard to skew the win-loss record of all Oregon's opponents, Dan. That is simple math. You should also keep in mind Florida State plays its backups when games get out of hand, too.
Greg in Tualatin, Ore., writes:
Evaluating teams is very difficult, but from a West Coast perspective there is an East Coast bias. That bias is not small. That bias ranks Eastern teams artificially high. Take Clemson for instance, while being a good team, they are not worthy of a top-five ranking. Which team is? That question is why a playoff is so badly needed and must be expanded past four teams.
Adelson:
We agree on the playoff point. But it is hard for me to agree with the first part of your statement. Stanford and Oregon both started the season ranked in the top five, ahead of No. 8 Clemson. How is that East Coast bias? Clemson rose to No. 3 after beating No. 5 Georgia -- a full-strength Georgia team I might add.
me in Atlanta writes:
So where exactly are you getting that FSU has the toughest strength of schedule? They are ranked 64th according to all that I have researched. Bama has played three ranked teams with two more plus the SEC champ. That's six as we sit. We have blanked two SEC teams including, one that upset LSU,and have allowed two TDs outside of the Texas A&M game. Your article was ridiculous and it's embarrassing that it's actually posted as the top story on ESPN.
Adelson:
According to Jeff Sagarin
, Florida State's schedule rank is slightly ahead of Alabama's. And as I mentioned in the article, I am basing my rankings on year-to-date performance and opponents played, not the schedule to come. I can't give Alabama credit for games against ranked teams when they haven't even played yet. And who says Alabama is winning all future games against said ranked teams, anyway? Also, Alabama has played only two ranked teams so far, same as Florida State. I did make an error on that in the post and it has since been corrected. Thanks to those who pointed it out.
Tim in Christianburg, Va., writes:
"
There's a certain way we do things here
, the way Coach Beamer runs the program, we're supposed to be good character guys on and off the field," Jack Tyler said. "We think here they directly correlate." This is why Frank Beamer will be memorialized one day on VT's campus. Maybe more so that all the wins, this epitomizes Frank Beamer in a nutshell.
Adelson:
Well said. The Hokies are also near the top of the ACC in the latest graduation rates released Thursday, at 77 percent.
COL (R) George Goller in Camp Stone, Afghanistan, writes:
Watched the FSU/Clemson game over here at 0400 and being an FSU alum just wanted to let you know to please keep picking against us. Especially when we get down to Gainesville. Got to say you and Ms. D look about as football savvy as old Dabo and his latest comment that Clemson is as good as the Noles. Yeah, 51-14 is about equal. Take care and better luck the rest of the season.
Adelson:
We just finished our second serving of humble pie. But on a more important note, thanks for your service to our country, George!
[+] Enlarge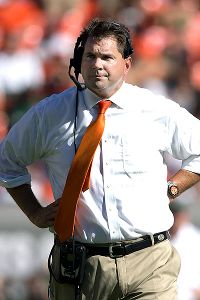 AP Photo/J Pat CarterWill Al Golden's name pop up for coaching vacancies come season's end?
Matt in Coral Gables, Fla., writes:
Hi Andrea, As a student at UM, I am terrified that Al Golden may leave Miami for another prestigious job at Texas, USC, or Penn State (assuming Bill O'Brien goes to the NFL). I know it is only the middle of the season and my Canes are in the thick of the BCS race, but what are the chances that Golden bolts for one of those openings, after doing a marvelous job navigating the NCAA at UM over the past three years?
Adelson:
I do not think it is time to start speculating on Golden's future. He just got some pretty great news this week. Let him enjoy that and the rest of the season. You should, too. Miami is off to its best start since 2004. Now is not the time to start worrying about the future. Live in the present!
TW Stone in Pensacola, Fla., writes:
Hey A.A.: Doesn't is seem just a tad odd that the NCAA findings are receiving such little coverage from the media. Far less than it invested when the story broke almost three years ago. It is probably the same old news rule; if it bleeds, it leads. Certainly there was "Blood in the water" back when the nefarious midget broke his pack of lies as a story through Yahoo/Rivals.com. Now, with only three scholarships forfeited a year for the three seasons, there is little more than a passing interest in the story. Some say that the CANES Skate, others yawn; still, there is a lack of attention to the end of perhaps the most notorious bungle ever to come out of the NCAA. The lack of media may be a good thing, let it lie, stick a fork in it, it is done, insignificant punishment has very little blood in the water. There ought to be a vindicating story line or two seeing as the scholarship suspensions handed Miami by the NCAA may clearly be seen as a white flag that says "please don't sue us to kingdom come and back." We move ahead. The debacle created by a convicted liar is behind The U as we now march ahead into the Golden Era!
Adelson:
TW, you might have missed the blog coverage on Tuesday. I would not characterize what we had that day as "little coverage." There were eight posts on the ACC blog alone, including three columns. "Outside the Lines" also led with the NCAA decision and featured Miami athletic director Blake James. That is pretty extensive coverage if you ask me.
September, 11, 2013
9/11/13
12:00
PM ET
March, 7, 2013
3/07/13
5:00
PM ET
Head coaching salaries have been on the rise for years. So have assistant coach salaries, sparking a further separation between the programs that can pay and the programs that cannot.
Therefore, it should come as no surprise that athletic directors have seen their salaries grow as well.

USA Today, which annually compiles head coaching salaries, recently found FBS athletic directors make
an average of $515,000
. That is an increase of more than 14 percent since USA Today last reported on AD salaries in 2011.
The ACC beats that average. Of the
available salaries compiled by USA Today
, ACC athletic directors were set to make an average of $602,829 in 2013. All but two made more than $500,000 -- Kevin Anderson at Maryland ($499,490), and Randy Spetman at Florida State ($350,00).
That doesn't count incoming Louisville athletic director Tom Jurich, who makes a cool $1.4 million -- the highest paid athletic director at a public school. Only nine athletic directors make $1 million or more. The next highest paid public school AD is Dan Radakovich at Clemson, checking in at $725,000.
Boston College and Miami, two private schools, did not disclose figures.
While Spetman's salary has remained the same for the past several years, it still surprises me that the athletic director at one of the most high-profile football programs in the nation is the lowest paid in his league. And one of the lowest paid in the entire state of Florida. Florida AD Jeremy Foley makes more than $1 million; USF AD Doug Woolard makes nearly $500,000; Todd Stansbury at UCF makes just a smidge more ($375,000); and FIU AD Pete Garcia makes $441,832.
I know Spetman has faced his share of criticism, and the Noles have fought through some financial problems. They do pay Jimbo Fisher $2.75 million -- the highest paid coach in the ACC. But something seems off when the ADs at FIU, UCF and USF make more than the guy at Florida State.
Here are is the complete list of AD salaries in the ACC, thanks to USA Today.
Tom Jurich, Louisville: $1.4 million*
Kevin White, Duke, $906,536
Dan Radakovich, Clemson: $725,000
Ron Wellman, Wake Forest: $688,000
Mike Bobinski, Georgia Tech: $625,000
Jim Weaver, Virginia Tech: $621,529
Steve Pederson, Pitt: $596,595
Craig Littlepage, Virginia: $586,750
Daryl Gross, Syracuse: $570,057
Bubba Cunningham, North Carolina: $565,000
Debbie Yow, NC State: $500,000
Kevin Anderson, Maryland: $499,490**
Randy Spetman, Florida State: $350,000
Brad Bates, Boston College: NA
Blake James, Miami: NA
*Louisville expected to join ACC in 2014
** Maryland will depart ACC in 2014
Goodell Has Sit-Down With Jameis Winston
ACC SCOREBOARD
Thursday, 9/3
Saturday, 9/5
Monday, 9/7