Florida State Seminoles:

Blake James
December, 10, 2013
12/10/13
12:00
PM ET
Two ACC Heisman finalists. How about that?
October, 25, 2013
10/25/13
4:00
PM ET
Many of you have an opinion on my decision to
rank Florida State No. 1
this week in my ESPN.com Top 25 power rankings.
Let's go to the mailbag.
Vern in Atlanta writes:
Andrea: I applaud you on your courage and intellect in "declaring" FSU as No. 1. Your logic is impeccable, and I could not agree more. A friend (a Duck fan) and I had exactly this discussion last week before the Clemson thrashing. I am a LONG time Seminole fan, and I posed exactly what you wrote. Again, kudos for the intellect and analytical approach. By the way - I emailed both you and Heather last week and pointed out that FSU would beat Clemson. You both took Clemson. ...
Andrea Adelson writes:
Thanks, Vern. Should have been smart enough to listen to you!
[+] Enlarge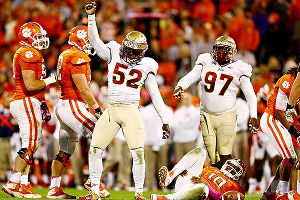 Streeter Lecka/Getty ImagesFSU's decimation and the subsequent BCS standings certainly got the attention of Oregon fans.
Dan in Portland, Ore., writes:
Andrea, I agree that Florida State had a good game against Clemson, but the comment that Oregon hasn't played anyone is skewed. Two large wins against Washington 45-24 and the team that beat South Carolina ... Tennessee lost to Oregon 59 -14. Keep in mind that Oregon plays their scout teams in the fourth quarter so their numbers can be exponentially higher.
Adelson:
Hard to skew the win-loss record of all Oregon's opponents, Dan. That is simple math. You should also keep in mind Florida State plays its backups when games get out of hand, too.
Greg in Tualatin, Ore., writes:
Evaluating teams is very difficult, but from a West Coast perspective there is an East Coast bias. That bias is not small. That bias ranks Eastern teams artificially high. Take Clemson for instance, while being a good team, they are not worthy of a top-five ranking. Which team is? That question is why a playoff is so badly needed and must be expanded past four teams.
Adelson:
We agree on the playoff point. But it is hard for me to agree with the first part of your statement. Stanford and Oregon both started the season ranked in the top five, ahead of No. 8 Clemson. How is that East Coast bias? Clemson rose to No. 3 after beating No. 5 Georgia -- a full-strength Georgia team I might add.
me in Atlanta writes:
So where exactly are you getting that FSU has the toughest strength of schedule? They are ranked 64th according to all that I have researched. Bama has played three ranked teams with two more plus the SEC champ. That's six as we sit. We have blanked two SEC teams including, one that upset LSU,and have allowed two TDs outside of the Texas A&M game. Your article was ridiculous and it's embarrassing that it's actually posted as the top story on ESPN.
Adelson:
According to Jeff Sagarin
, Florida State's schedule rank is slightly ahead of Alabama's. And as I mentioned in the article, I am basing my rankings on year-to-date performance and opponents played, not the schedule to come. I can't give Alabama credit for games against ranked teams when they haven't even played yet. And who says Alabama is winning all future games against said ranked teams, anyway? Also, Alabama has played only two ranked teams so far, same as Florida State. I did make an error on that in the post and it has since been corrected. Thanks to those who pointed it out.
Tim in Christianburg, Va., writes:
"
There's a certain way we do things here
, the way Coach Beamer runs the program, we're supposed to be good character guys on and off the field," Jack Tyler said. "We think here they directly correlate." This is why Frank Beamer will be memorialized one day on VT's campus. Maybe more so that all the wins, this epitomizes Frank Beamer in a nutshell.
Adelson:
Well said. The Hokies are also near the top of the ACC in the latest graduation rates released Thursday, at 77 percent.
COL (R) George Goller in Camp Stone, Afghanistan, writes:
Watched the FSU/Clemson game over here at 0400 and being an FSU alum just wanted to let you know to please keep picking against us. Especially when we get down to Gainesville. Got to say you and Ms. D look about as football savvy as old Dabo and his latest comment that Clemson is as good as the Noles. Yeah, 51-14 is about equal. Take care and better luck the rest of the season.
Adelson:
We just finished our second serving of humble pie. But on a more important note, thanks for your service to our country, George!
[+] Enlarge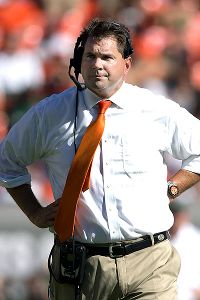 AP Photo/J Pat CarterWill Al Golden's name pop up for coaching vacancies come season's end?
Matt in Coral Gables, Fla., writes:
Hi Andrea, As a student at UM, I am terrified that Al Golden may leave Miami for another prestigious job at Texas, USC, or Penn State (assuming Bill O'Brien goes to the NFL). I know it is only the middle of the season and my Canes are in the thick of the BCS race, but what are the chances that Golden bolts for one of those openings, after doing a marvelous job navigating the NCAA at UM over the past three years?
Adelson:
I do not think it is time to start speculating on Golden's future. He just got some pretty great news this week. Let him enjoy that and the rest of the season. You should, too. Miami is off to its best start since 2004. Now is not the time to start worrying about the future. Live in the present!
TW Stone in Pensacola, Fla., writes:
Hey A.A.: Doesn't is seem just a tad odd that the NCAA findings are receiving such little coverage from the media. Far less than it invested when the story broke almost three years ago. It is probably the same old news rule; if it bleeds, it leads. Certainly there was "Blood in the water" back when the nefarious midget broke his pack of lies as a story through Yahoo/Rivals.com. Now, with only three scholarships forfeited a year for the three seasons, there is little more than a passing interest in the story. Some say that the CANES Skate, others yawn; still, there is a lack of attention to the end of perhaps the most notorious bungle ever to come out of the NCAA. The lack of media may be a good thing, let it lie, stick a fork in it, it is done, insignificant punishment has very little blood in the water. There ought to be a vindicating story line or two seeing as the scholarship suspensions handed Miami by the NCAA may clearly be seen as a white flag that says "please don't sue us to kingdom come and back." We move ahead. The debacle created by a convicted liar is behind The U as we now march ahead into the Golden Era!
Adelson:
TW, you might have missed the blog coverage on Tuesday. I would not characterize what we had that day as "little coverage." There were eight posts on the ACC blog alone, including three columns. "Outside the Lines" also led with the NCAA decision and featured Miami athletic director Blake James. That is pretty extensive coverage if you ask me.
September, 11, 2013
9/11/13
12:00
PM ET
March, 7, 2013
3/07/13
5:00
PM ET
Head coaching salaries have been on the rise for years. So have assistant coach salaries, sparking a further separation between the programs that can pay and the programs that cannot.
Therefore, it should come as no surprise that athletic directors have seen their salaries grow as well.

USA Today, which annually compiles head coaching salaries, recently found FBS athletic directors make
an average of $515,000
. That is an increase of more than 14 percent since USA Today last reported on AD salaries in 2011.
The ACC beats that average. Of the
available salaries compiled by USA Today
, ACC athletic directors were set to make an average of $602,829 in 2013. All but two made more than $500,000 -- Kevin Anderson at Maryland ($499,490), and Randy Spetman at Florida State ($350,00).
That doesn't count incoming Louisville athletic director Tom Jurich, who makes a cool $1.4 million -- the highest paid athletic director at a public school. Only nine athletic directors make $1 million or more. The next highest paid public school AD is Dan Radakovich at Clemson, checking in at $725,000.
Boston College and Miami, two private schools, did not disclose figures.
While Spetman's salary has remained the same for the past several years, it still surprises me that the athletic director at one of the most high-profile football programs in the nation is the lowest paid in his league. And one of the lowest paid in the entire state of Florida. Florida AD Jeremy Foley makes more than $1 million; USF AD Doug Woolard makes nearly $500,000; Todd Stansbury at UCF makes just a smidge more ($375,000); and FIU AD Pete Garcia makes $441,832.
I know Spetman has faced his share of criticism, and the Noles have fought through some financial problems. They do pay Jimbo Fisher $2.75 million -- the highest paid coach in the ACC. But something seems off when the ADs at FIU, UCF and USF make more than the guy at Florida State.
Here are is the complete list of AD salaries in the ACC, thanks to USA Today.
Tom Jurich, Louisville: $1.4 million*
Kevin White, Duke, $906,536
Dan Radakovich, Clemson: $725,000
Ron Wellman, Wake Forest: $688,000
Mike Bobinski, Georgia Tech: $625,000
Jim Weaver, Virginia Tech: $621,529
Steve Pederson, Pitt: $596,595
Craig Littlepage, Virginia: $586,750
Daryl Gross, Syracuse: $570,057
Bubba Cunningham, North Carolina: $565,000
Debbie Yow, NC State: $500,000
Kevin Anderson, Maryland: $499,490**
Randy Spetman, Florida State: $350,000
Brad Bates, Boston College: NA
Blake James, Miami: NA
*Louisville expected to join ACC in 2014
** Maryland will depart ACC in 2014
Scene and Heard: Top 10 Predictions
ACC SCOREBOARD
Thursday, 8/28
Friday, 8/29
Saturday, 8/30
Monday, 9/1