Florida State Seminoles:

B.J. Daniels
October, 3, 2012
10/03/12
9:00
AM ET
TALLAHASSEE, Fla. -- The playing time comes in spurts -- a series here and there, a few more snaps the next week.
[+] Enlarge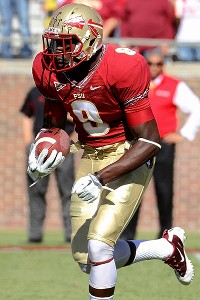 AP Photo/Don Juan MooreFSU's Karlos Williams is looking for more playing time as he matures.
The time
Karlos Williams
spends on the field is sacred but fleeting. They are a handful of snaps that mean everything, yet he knows the results must be quickly excavated from his memory.
"The snaps go by like a blink of the eye," he said.
Williams loves being on the field. He wants more playing time. He wants to fulfill his immense promise, blossom into a star, play a significant role in Florida State's championship aspirations.
That's the dream. The reality, for now, is that he is a back-up.
Williams speaks of Florida State's starting defense with reverence. He talks of his own play as a work-in-progress. He has goals, but he's not interested in maintaining the facade that they are close at hand.
"There's room for improvement, and as the season goes on, I'll mature more, and the playing time is definitely going to increase the more I mature and am prepared to play," Williams said.
Slowly but surely, that playing time has crept upward, and Williams said last week's game against USF represented a high-water mark for meaningful snaps.
"Going into camp, everything was a lot more comfortable for me," Williams said. "[Defensive coordinator Mark Stoops] is trusting me more to go in the game and there's no fall off."
Still, Williams' game Saturday wasn't perfect. He finished without a tackle, and in the fourth quarter, he missed a big one.
B.J. Daniels
hit
Derrick Hopkins
with a 15-yard pass. Williams was there immediately, but whiffed on the tackle. Hopkins sprinted another 22 yards to the FSU 7-yard line. The Bulls scored two plays later.
That's the trouble with those fleeting snaps -- the bad plays tend to be magnified.
But if there's anything that Williams has learned this season, it's that, while those Saturday snaps must be savored, he'll be judged on far more than that.
"He's become a better practice player," safety
Lamarcus Joyner
said. "If you want to go out there on Saturdays and compete, you have to show the coaches what you can do in practice. It's all about, 'Can I trust you?' [Stoops] wants to know what you can do all the time, not just on Saturdays."
Williams said he talks with Stoops nearly every day. It's a progress report of sorts. And at this point, progress remains the priority. The playing time will follow.
"Me and Coach Stoops talk a lot about that," Williams said. "A lot of the [safety] rotation is prepared to be put in. But for me, I'm just feeling comfortable."
October, 2, 2012
10/02/12
9:00
AM ET
Florida State's ugly road win at USF wasn't the type of game that will build many awards campaigns for the stars, but it was a solid overall effort with a handful of standout performers. Here's how the Seminoles' awards hopes stack up after five games:
RISING
DE
Cornellius Carradine
, Sr. (Bednarik)
Added to the Bednarik watch list last week, Carradine quickly added to his campaign against USF. The senior, who is replacing
Brandon Jenkins
in the starting lineup, finished with a team-high nine tackles, including 1.5 sacks and a forced fumble that led to a touchdown. Carradine earned ACC defensive lineman of the week honors and is FSU's leading tackler this season.
DT
Everett Dawkins
, Sr. (Outland)
Dawkins had another strong game and has been one of FSU's most impressive, if altogether unheralded, performers so far this season. Dawkins had three tackles and helped out on a sack while controlling the middle of the line of scrimmage. QB
B.J. Daniels
found little room to maneuver, and Dawkins stuffed the run game up the middle.
K
Dustin Hopkins
, Sr. (Groza)
The ACC's specialist of the week had a nice rebound after an ugly game against Clemson. Hopkins converted three of four field goal chances, including a long of 43 yards. His lone miss was from 48. USF also spent the first half with a long field thanks to Hopkins' leg. Its average starting field position in the first half was its own 19.
CB
Xavier Rhodes
, Jr. (Bednarik, Nagurski, Thorpe)
Rhodes made three tackles against USF and had a crucial interception of Daniels late in the first half, setting up an FSU field goal with just a few seconds left before the break. Rhodes also blanketed USF's top receiver,
Andre Davis
, holding him to just one catch for three yards.
HOLDING STEADY
QB
EJ Manuel
, Sr. (Heisman, Maxwell, O'Brien)
It's hard to fault Manuel for his performance against USF. He completed 73 percent of his passes for 242 yards and converted three big third downs in a road win over an in-state rival. The problem, of course, is that Heisman front-runner
Geno Smith
threw eight TDs and dismantled the record books. Manuel's game was good, but as Jimbo Fisher continues to say, he's the hunting dog when the awards tend to honor the show dogs.
DT
Timmy Jernigan
, So. (Outland)
Another solid game from Jernigan, who was exceptional against the run once again, helping to control the line of scrimmage against a USF team aiming to negate the pass rush with quick passes and lateral runs. Jernigan finished with two tackles, including one for a loss, and helped stifle the Bulls running game, which managed just 43 yards on the ground after the first quarter.
LB
Christian Jones
, Jr. (Butkus)
The big tackle numbers needed to win the Butkus simply haven't materialized for Jones, but he had a strong game against USF. He was routinely in good position on misdirections and option runs -- something that wasn't always the case a week earlier against Clemson -- and he scooped up a fumble for FSU's first defensive touchdown of the year.
S
Lamarcus Joyner
, Jr. (Bednarik, Nagurski, Thorpe)
Offenses are staying away from Joyner's side of the field, which is a strong sign of respect, but also won't help much come awards season. Joyner had three tackles, and both of USF's long passing plays went to the other side of the field.
LB
Nick Moody
, Sr. (Butkus)
Moody saw more playing time than he did a week earlier against Clemson, and he finished with two tackles in a solid effort.
DE
Bjoern Werner
, Jr. (Bednarik, Lombardi, Nagurski)
USF attacked Carradine in part because Werner has commanded so much attention on film. The junior mustered just two tackles, but he broke up a pass and was consistently in the face of Daniels.
FALLING
WR
Willie Haulstead
, Jr. (Biletnikoff)
Haulstead remains buried on FSU's receiver depth chart.
DE Brandon Jenkins, Sr. (Bednarik)
Fisher said Jenkins is making progress in his rehab, but they haven't discussed the possibility of the senior taking a medical redshirt and returning for 2013.
October, 1, 2012
10/01/12
2:17
PM ET
TALLAHASSEE, Fla. -- As the praise mounted for
Cornellius Carradine
after Saturday's game, Jimbo Fisher's analysis was noticeably tepid.
[+] Enlarge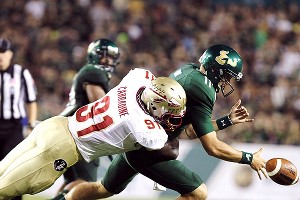 Kim Klement/US PresswireCornellius Carradine's forced fumble led to a Christian Jones touchdown, but Jimbo Fisher saw plenty of things the defensive end did wrong on film.
Carradine had led the team with nine tackles and his forced fumble, which
Christian Jones
scooped up and returned for a touchdown, was a game-changing play, but Fisher couched his enthusiasm with a simplistic: "We'll have to see what's on the film."
Of course, the coach sees all.
By Monday, Fisher had watched the film and seen all Carradine had done well, but it was clear it hadn't been a virtuoso performance by the first-year starter.
"He made some big plays, but he had a lot of boo-boos in that game," Fisher said. "There's a lot of things you didn't see."
That didn't prevent Carradine from being named the ACC's defensive lineman of the week, nor does it mean Fisher hasn't been impressed by all those big plays, which included 1.5 sacks against USF.
It's just that, from a consistency standpoint, there's still more Fisher wants to see.
"Tank's a phenomenal player, but being an every down player, the starter, there's a lot of little things that go within the teamwork of a defense sometimes," Fisher said. "Now you have to be consistent for a longer period of time. You went from 30 plays a game to 60 plays a game."
Perhaps that's why USF attacked Carradine so consistently, pegging him as "the weakest link," he said.
Indeed, the first four plays of the game were run right at Carradine and met with varied results. When spying quarterback
B.J. Daniels
, Carradine was strong. He finished with three tackles on QB runs that amounted to a total of four yards, and he was in on two sacks.
September, 29, 2012
9/29/12
9:37
PM ET
TAMPA, Fla. -- It lacked the emotion of last week's win over Clemson or the style points that underscored Florida State's early season dominance, but the Seminoles remained unbeaten and earned a touch of retribution for a 2009 loss to USF,
defeating the Bulls 30-17 Saturday
.


EJ Manuel
completed 19 of 26 passes for 242 yards and a touchdown, while the Florida State defense had two takeaways that keyed the win.
It was over when:
B.J. Daniels
felt the pressure and tossed a fourth-down pass out of bounds with 2:18 remaining in the game. USF battled throughout, largely stifling the high-powered FSU offense in the second half, but Daniels couldn't solve the Florida State defense.
Game ball goes to:
Cornellius Carradine
. The FSU defensive end had a monster game, leading the Seminoles with nine tackles, including 1.5 sacks. His devastating hit on USF backup quarterback
Matt Floyd
forced a fumble that
Christian Jones
scooped up for a touchdown. On a night when the FSU offense struggled to find its footing, Carradine's forced fumble provided the turning point.
Stat of the game:
183. That's the total rushing yardage for FSU -- a solid effort but well off the big numbers the Seminoles had been posting through the first four games of the season. Meanwhile the Bulls defensive front failed to make a single tackle behind the line of scrimmage in a loss to Ball State last week, but USF turned up the pressure and gave FSU's revamped offensive line its first real test of the season. The results were mixed. The Seminoles mustered just enough to win, but
Chris Thompson
,
James Wilder Jr.
and the running game took a big step back from the huge numbers they'd posted against Clemson.
Unsung hero:
Xavier Rhodes
. The FSU cornerback picked off a Daniels' pass late in the first half to set up a
Dustin Hopkins
field goal. Rhodes was exceptional in coverage throughout the game, holding USF's big-play receiver
Andre Davis
to just one catch for 3 yards.
What it means:
It was a classic trap game for Florida State, which just won an emotional victory against Clemson last week and was making its first road trip of the season. The Seminoles certainly didn't look sharp, particularly early on, but they managed to sneak past USF to remain unbeaten and earn a small bit of retribution for the 17-7 loss it suffered at the hands of the Bulls in 2009. Jimbo Fisher is now 5-0 career against in-state rivals. Meanwhile, USF falls to 2-3 but its defense turned in a far more impressive effort than it had a week earlier, giving coach Skip Holtz some cause for optimism as the Bulls turn their focus toward Big East play.
September, 29, 2012
9/29/12
7:52
PM ET
TAMPA, Fla. -- Florida State hasn't marched down the field with ease the way it did during its first four games of the season, but
EJ Manuel
has been efficient,
Rashad Greene
provided the finishing touches on an early touchdown drive and
Dustin Hopkins
has drilled two field goals to give the Seminoles a 13-3 lead over USF at the half.


Stat of the half:
Greene's 10-yard run on an end-around provided the lone touchdown of the first half, and it also provided a nice bit of trivia for the sophomore receiver. The rushing score was the fourth touchdown of the year for Greene, who has also caught a TD pass and returned two punts for scores, too. He's the first Seminoles player to score on a rush, a reception and a return in the same season since Peter Warrick did it in 1999.
Player of the half:
Manuel hasn't provided the same fireworks he did a week ago when he jump-started his Heisman campaign with a big game against Clemson, but the Florida State quarterback turned in a solid first half, completing 12-of-15 passes for 139 yards. Most of Manuel's numbers came over the middle though, with few downfield options against the USF secondary.
What's working for Florida State:
The defense hasn't dominated, but
Xavier Rhodes
' interception late in the second quarter provided one final scoring chance for FSU, and the Bulls haven't mustered much after a strong opening drive.
B.J. Daniels
engineered a 10-play, 62-yard opening drive that ended with a field goal, but the Bulls have managed just 100 yards the rest of the half.
What's not working for Florida State:
The FSU running game was dominant in the first four games of the season, but
Chris Thompson
and James Wilder Jr. have had trouble finding much room to run against USF.
Lonnie Pryor
broke a huge 44-yard run, and Kelvin Benjmain took a reverse for 17 yards. Beyond that, however, FSU has averaged just 2.3 yards per carry, and it was stuffed near the goal line on three straight plays.
Noteworthy:
Cornellius Carradine
leads FSU defenders with six tackles. … Pryor's 44-yard run was the second longest of his career. …
Kevin Haplea
made his second career catch with FSU, an 11-yard reception. … Rhodes' interception was his second of the year and the third overall for Florida State.
September, 28, 2012
9/28/12
9:00
AM ET
TALLAHASSEE, Fla. -- He completed just eight passes, but every one was significant. He ran for 126 yards on the ground, dismantling Florida State's defense each time he rolled out of the pocket. He led an improbable victory in front of his hometown fans, breaking their hearts in the process.
That 17-7 win over Florida State in 2009 was USF quarterback
B.J. Daniels
' first career start, and even now, four years later, it's probably his most memorable.
"B.J. being from Tallahassee, it was kind of his coming-out party," FSU quarterback
EJ Manuel
said.
In the years since Daniels' staged USF's coming-of-age moment at Doak Campbell Stadium, he's had his share of highs and lows, finding similar magic in a win at Notre Dame in 2011 but also falling far short of expectations, including last week's debacle at Ball State.
But while Daniels has struggled to recapture the glory of his first start with any sort of consistency, the senior quarterback still represents a potential thorn in the side of a Florida State defense coming off its most problematic game in nearly a year.
Clemson torched the vaunted FSU defense for 426 yards and 37 points last week, while mobile quarterback
Tajh Boyd
extended plays outside the pocket, ran the ball 16 times for 56 yards, routinely frustrating the Seminoles with misdirection before unleashing deep balls for big plays.
It's a recipe for success that Daniels is more than capable of recreating.
September, 27, 2012
9/27/12
4:00
PM ET
USF has lost two consecutive games, and does not exactly get a pick-me-up this weekend.


As coach Skip Holtz said earlier this week, his Bulls are "looking down the barrel of a shotgun" when it comes to preparing for No. 4 Florida State on Sunday. The Noles come into the game with a supremely talented team that is gaining steam, with playmakers emerging on offense and a defense that has been relentless at times.
USF, meanwhile, has questions just about everywhere. The offensive and defensive lines have underperformed, and there has been no consistency at running back. At least on paper, the Bulls appear to be overmatched.
But they appeared to be overmatched in 2009, too, on the road in Tallahassee. That is, until USF pulled the stunner.
"Looking back on it, I could say it is one of the biggest moments in my career thus far," quarterback
B.J. Daniels
said. "I'm still looking forward to many things this year, but that moment for me and especially for our team, that was pretty special. That was an opportunity for USF to make a name for themselves especially here in the state of Florida."
USF has been known to get up for its big in-state rivalry games, though Daniels said, "I definitely think our biggest motivation is winning a ball game this weekend, it would mean more to us to make sure we win in all facets -- offense, defense and special teams -- to make sure we don't have a lot of missed assignments and penalties if we do those thing we'll be in position to do anything we want no matter who we're playing."
As for Holtz, this is the way he described the mood of his team this week.
"Determined is the answer. We're 2-2 and we're four games into the season and there's a lot of people on the outside (saying) woe is me, the dam is broke … when it's the same thing, the ball gets batted up, you intercept it, you win a close game on the road. But right now for this team it's very determined, it's upset, it's a reality check to look in the mirror and watch yourself play in a game where you don't play at the level your capable of. They're embarrassed for the way we performed on Saturday and excited for the opportunity to go play a top-10 team."
September, 27, 2012
9/27/12
9:00
AM ET
After two impressive ACC wins, Florida State heads out of conference once again for its first road test of the season, though the Seminoles won't go too far from home.
FSU travels to Tampa for the first time in more than 30 years, and four years after one of the most memorable upsets in the program's history, the Seminoles get another crack at
B.J. Daniels
and USF.
To get the lowdown on the Bulls and how they're preparing to handle FSU, we checked in with Tampa Bay Times beat writer Greg Auman.


NoleNation: The win in 2009 seemed like a coming-out party for Daniels, but aside from a handful of highlights here and there, he never seemed to really build on that promise. What has held him back, and what is his frame of mind heading into this game?
Greg Auman:
Daniels had a great first college start, beating FSU in his hometown. He's on pace to be the Big East's all-time leader in total offense, but I think his legacy is limited because he hasn't been able to lead USF to a Big East title -- or really come close to one. He did a great job of lowering his turnovers last year, got some of his running threat back. A game like this is another chance for him to pull off a big upset -- but for USF to keep up with FSU, he has to play well, throwing and running the ball, with zero turnovers. As far as his mindset, he's a very confident player, so while he has a great respect for the defense he's facing, I think he's looking forward to a challenge like this.
September, 27, 2012
9/27/12
9:00
AM ET
After weeks of build-up for Florida State's showdown with Clemson, the buzz has worn off a tad as the Seminoles make their first trip to Tampa since 1979. While this game lacks the same box-office cache as last week's prime-time affair, the Seminoles are all too aware of what can happen if they take USF lightly, having fallen to the Bulls in 2009 in one of the most embarrassing upsets in recent memory.

Earning some retribution for that loss four years ago will certainly be the key talking point this week, but there's plenty more at stake for both Florida State and USF.

1. How much has changed since 2009?
July, 11, 2012
7/11/12
8:00
AM ET
Looking forward to real, live football, NoleNation takes a run through Florida State's 2012 schedule, going game-by-game to find the best storylines and matchups of the upcoming season.
To continue reading this article you must be an Insider
Haskins, McElwain Shine At IMG Regional
ACC SCOREBOARD
Thursday, 9/3
Saturday, 9/5
Monday, 9/7