Florida State Seminoles:

Anthony Chickillo
January, 9, 2014
1/09/14
12:00
PM ET
Fun fact: With Bobby Petrino taking over at Louisville, six of the ACC's 14 coaches either coached or were coordinators at SEC schools.
Hiring Petrino certainly comes with its share of risks, writes the Louisville Courier-Journal, but
the rewards are even greater
.
Nevertheless, some members of the Louisville Athletics Association
have some questions about the hire
.
I imagine folks in Tallahassee will have fun debating this for a while:
Which Florida State national title team was the best
? The Tallahassee Democrat weighs in.
Did Auburn have Florida State's signs in the national championship game? Tomahawk Nation
dishes out some evidence
that the Tigers knew what was coming.
Syracuse's 2014 schedule
doesn't project to be a cake walk
, writes the Troy Nunes Blog.
Anthony Chickillo
will be back for 2014 at Miami
, but the Al Golden mystery lives on, writes the Miami Herald.
The Roanoke Times looks back on Logan Thomas'
up-and-down final season
at Virginia Tech.
One ACC team cracked Athlon's
list of programs on the rise for 2014
.
Athlon also put together a list of the
top first-year coaches from this season
, and fittingly, Boston College's Steve Addazio makes the cut.
Pitt has a
new strength and conditioning coach
, writes the Post-Gazette.
CSS Sports takes an
end-of-season look at the numbers
from the ACC's bowl games.
January, 8, 2014
1/08/14
12:00
PM ET
January, 8, 2014
1/08/14
11:00
AM ET
The deadline to declare for the NFL draft is one week from today. Let us take a quick look at who has already announced their intentions, and who is still mulling over their decision.
Turning pro
Also, a source told ESPN's Joe Schad that Florida State running back
James Wilder Jr
.
will enter for the draft
. Of these players who have already declared, only Watkins and Ebron are listed on the latest
Mel Kiper Big Board
. Watkins and Ebron are near locks to go early in the draft. But the prospects are less certain for the others who have already declared.
Still waiting on
Jernigan, Benjamin and Beasley are all listed on the Kiper Big Board. Florida State coach Jimbo Fisher said Tuesday at his post-championship news conference he expects only a few players to leave early for the draft.
Also of note, Virginia Tech safety
Kyshoen Jarrett
announced on Twitter that he will return to school for his senior season.
November, 19, 2013
11/19/13
3:00
PM ET
TALLAHASSEE, Fla. -- The fact that quarterbacks don't get hit in practice has never quite felt right to
Jameis Winston
.
Back in high school, he got a feel for when his head coach,
Matt Scott
, might whistle a play dead to keep his quarterback from getting pummeled. So, just before the whistle blew, Winston would turn upfield, find a defender and deliver a hit of his own.
[+] Enlarge
Melina Vastola/USA TODAY SportsJameis Winston's diving block on Kermit Whitfield's touchdown run was the latest example of Winston's sometimes ill-advised physical play.
"It's just his will, his competitive nature," Scott said.
Not much has changed at Florida State. Winston dons a green non-contact jersey during practice, and Jimbo Fisher doesn't take any risks when it comes to halting a play before a big hit, but on game days, all bets are off.
Opponents bring the blitz, and Winston laughs. He's made a habit of shedding defenders, escaping tackles and chucking the ball downfield for a big play.
Put a defender in his face, and Winston is brilliant. For the season, he's completing nearly 74 percent of his passes (at 13.6 yards per attempt) when being hurried or hit, according to ESPN Stats and Info.
Even when he hands off the football, there's no guarantees Winston won't find himself in the thick of the action, with his diving block of Syracuse defensive back
Julian Whigham
on a 74-yard touchdown run by
Kermit Whitfield
the latest example of his eagerness to mix it up downfield.
"That says a lot about his character and what type of player and person he is," running back
James Wilder Jr
. said. "After a handoff, a toss, you can just chill back there, hold your hands up and say 'touchdown.' But it shows what type of determination and team player he is, 40 yards downfield making a block."
Fisher understands the implicit message being sent, too, so it's tough for him to be too upset when Winston puts himself in harm's way for the good of the team.
"You'd like to say no and you've got to be smart about it, but when guys know you're in the hunt with them and you're in the fight with them, they'll play really hard for you," Fisher said. "That's why they love him, because they know he's full-board with them."
The on-field scuffle between tackle
Bobby Hart
and Miami's
Anthony Chickillo
a few weeks ago wasn't any different. When the ruckus started, Winston was quick to jump to his teammate's defense. Again, Fisher was less than thrilled to see his quarterback mixing it up, and again, Winston knew it wasn't the wisest decision.
Still, it's tough to keep those emotions at bay.
"Next time it happens, I might run full speed to the sideline and be like, 'Coach Fisher, are you going to do something about this?'" Winston joked afterward. "It's just in us to react when something like that happens."
Of course, Winston's instincts kick in most often is in the pocket. Even that's become a hot-button issue for the quarterback.
In the blowout win over Syracuse last week, Winston played just the first half, but he was still sacked three times. The problem, he said, was that he wasn't playing physical enough.
"They brought a lot of pressure," Winston said. "And on two instances I did hold the ball too long. But I've got to break those tackles."
Winston has yet to chalk up a sack to poor blocking by his offensive line, but he's actually been pretty good at keeping the pass rush at bay this year.
Winston has been sacked 17 times this season -- once every 18 drop-backs. That's still a better rate than last year's quarterback, EJ Manuel, experienced, and Winston has tallied 102 yards after contact, according to ESPN Stats and Info, more than 70 percent of his rushing total for the year. Overall, Winston goes down on first contact less than 40 percent of the time.
Still, all those hits don't exactly sit well with his coach.
"You've got to be safe now," Fisher said. "We have to talk about that."
In the end though, all those talks probably won't amount to much, and Fisher shouldn't be entirely surprised.
The physical approach to the game is in Winston's DNA, and that's a big reason Fisher wanted him in the first place.
"I think it's about the guys Jimbo recruits. They always have that edge," running back
Karlos Williams
said. "Jameis is one of those guys. If it came down to it, and everything was live in practice, we'd see Jameis laying a few licks on guys."
November, 8, 2013
11/08/13
4:00
PM ET
So it seems I oversimplified the conference race post earlier this week. To the mailbag!
[+] Enlarge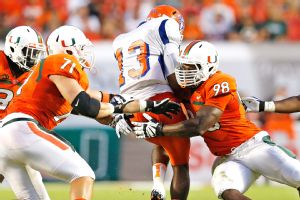 Joel Auerbach/Getty ImagesAl-Quadin Muhammad (98) and the Hurricanes control their own destiny to reach the ACC title game.
Donald in Christianburg, Va., writes:
Your information on the Atlantic and Coastal races is incorrect. Clemson can win the Atlantic with a loss to Georgia Tech should Syracuse win out and FSU drop its games against Wake Forest and Syracuse. Under this scenario, Clemson, Syracuse and FSU would end up in a three-way tie in the Atlantic, each 1-1 against the other two teams. The next tiebreaker is their divisional record. Syracuse and Clemson would be 5-1 in the division (Syracuse lost to Clemson, Clemson lost to FSU) while the Seminoles would be 4-2 (losses to Wake and Syracuse). This would then revert to the two-team procedure, where Clemson beat the Orange head-to-head. Further, a 6-2 Virginia Tech can still win the Coastal tied with Duke if there is a three-way tie with Georgia Tech. The teams would, like in the Atlantic, be 1-1 against each other and the tiebreaker would go to divisional records. The Hokies would be 5-1 in the Coastal (loss to Duke) while Georgia Tech and Duke would both be 4-2 (GT losses to VT and Miami, Duke losses to GT and Pittsburgh).
Andrea Adelson:
Thank you, Donald. Generally speaking, we provide the least convoluted scenarios for each division every single week based on information from the ACC office. These alternate scenarios are definitely worth posting.
---
Duke fan in Miami writes:
Hi. I am wondering about the current race in the Coastal division. If Duke wins out, Georgia Tech wins out, and Miami loses only to Duke, (which is all possible as far as I am aware) who wins the division? Each team would have two losses, and Duke would have the tiebreaker against Miami, Miami would have the tiebreaker against Georgia Tech, and Georgia Tech would have the tiebreaker against Duke. Being a rock-paper-scissors scenario, I am wondering what would be the next line of tiebreakers, and who would come out on top?
Adelson:
The next tiebreaker would be division record, and Miami would win that with a 5-1 mark. Duke and Georgia Tech would finish 4-2 in the Coastal. Here
is a list
on how the ACC breaks three-team (or more) ties to determine the Division rep for the ACC title game.
---
Mike in O'Fallon, Ill., writes:
Have you heard any punishment for Miami Hurricane DE
Anthony Chickillo
for his facemask/eye-gouging incident during the FSU-Miami game? Seems to me that with the obvious video evidence shown on national TV, there would be some sort of punishment handed down by at least Al Golden. I've heard nothing from Miami, but for FSU, Jimbo Fisher verbally admonishing both Winston and
Bobby Hart
for their participation.
Adelson:
Have not heard anything. Chickillo refused to answer a question about what happened postgame, too.
---
Robert in Dallas writes:
You wrote
: "A flawed polling system that gave Alabama and Oregon an edge before the games even kicked off is most to blame, as voters determined in the preseason that the Tide and Ducks -- not the Seminoles -- were among the best teams in the nation." However, it will be the computers that doom FSU, as their strength of schedule deflates, not the voters.
Adelson:
Not necessarily true, Robert. I checked in with our resident BCS expert Brad Edwards, who told me the only way for Florida State to make up ground on strength of schedule is to pull ahead in the human polls. "From the start, it's been pretty obvious to me that FSU will need to finish ahead of Oregon in the polls to have a chance of finishing ahead in the BCS," Edwards wrote in an e-mail. "That's why I've repeatedly stated that Oregon is in a stronger position than FSU, even when Florida State has been ranked No. 2 in the BCS. This past week, FSU finally gained some decent ground on Oregon in the polls but is still not all that close. ... It basically comes down to the ACC schedule not being as strong as the Pac-12 schedule, according to the BCS computers. At the moment, FSU's schedule is stronger, but I expect that to change as November plays out. As FSU loses ground in the computers, it can only make up for that by gaining in the polls."
---
Jeff in Toledo writes:
Do you know the game time for the Miami @ Pitt game Nov. 29th or know when it will be decided? I will be attending that game from out of town and need to book a hotel.
Adelson:
Game time will not be released until Nov. 18 at the earliest. It might be later than that if the network exercises its six-day window option.
---
[+] Enlarge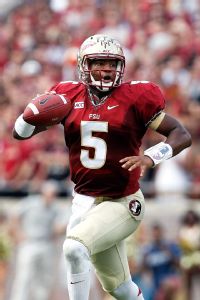 Don Juan Moore/Getty ImagesJameis Winston and the Seminoles are doing everything they can to climb the BCS standings.
BD Pisani in Palm City, Fla., writes:
Andrea, Nicely done on the
Hurricanes article
. You concisely and objectively crafted exactly where the Canes program stands today. Al "The Tie" Golden is a classy coach but he'll remember this game next year. Looking forward to more professional articles.
Adelson:
Thanks, BD!
Jeff in Tampa writes:
Hi, Andrea. I've been doing a lot of number crunching, and for the life of me, I cannot see how Oregon would have a better top-to-bottom strength of schedule when compared to FSU. (In truth, even Alabama's schedule doesn't quite measure up to FSU's, but that's another story for another day.) I have been calculating schedule strength in a number of ways, for years, and never has the disparity between two "top teams" been so glaring. FSU to date has the toughest resume of any undefeated team, ANY. My question is this: Why does the media think the ACC is a bad conference this year? The ACC might end up with more bowl teams eligible than any other conference. Assuming each of the top three wins out, FSU will be playing another inferior team in the Orange Bowl. Any chance the AP will declare FSU national champs if they are left out? If not, why don't we just do this like we used to in the Bowl Coalition days? Oregon can take the easier game against Ohio State, and play in the Rose. FSU can take Oregon's place in the BCS Championship game. If FSU and Oregon win, they can both claim championships, right? I can't think of a more fitting way to satisfy all four undefeateds. Can you?
Adelson:
Well, all the concerns about Oregon have been rendered moot after the Ducks lost to Stanford on Thursday night, though there remain more unbeaten teams than national championship spots. Even still, I never thought I would hear the day when somebody pined for the old Bowl Coalition days! It is worth discussing your first question re: ACC perception. Stereotypes die hard, and the ACC has had to deal with plenty of stereotyping in the last 10 years. The league has had no teams remotely close to a BCS championship game, and the conference has been weak top to bottom over the last several seasons. Virginia Tech's BCS record does not help matters. People think because Alabama and Oregon have been good recently, they automatically deserve more credit than Florida State. In my opinion, history should not factor into the decisions dealing with the 2013 season only. But yet on the Oregon-Stanford broadcast Thursday night, David Pollack said he thought the Cardinal win over the Ducks was more impressive than Florida State's win over Clemson. I completely disagree with his opinion, but his viewpoint just shows the ACC has a ways to go to begin changing perceptions with some media members.
November, 4, 2013
11/04/13
11:00
AM ET
For the second time in three weeks, Florida State
dominated a top-10 opponent
. There isn't a team with a winning record remaining on the schedule, which means there could be some big numbers shifting the power rankings in the weeks to come. As it stands though, there was little movement from a week ago.
1. QB Jameis Winston (Previous rank: No. 1):
If the worst game of Winston's career is a 27-point win in which he throws for 325 yards, Florida State fans won't be too concerned.
[+] Enlarge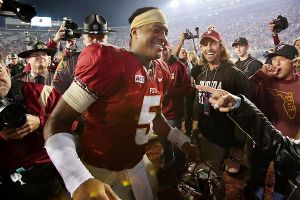 Stephen M. Dowell/Orlando Sentinel/MCTThough Jameis Winston threw two interceptions vs. Miami, the Seminoles' signal-caller was 21-of-29 for 325 yards and a touchdown.
2. CB Lamarcus Joyner (2):
Ho-hum, another six-tackle day for Joyner, who is second on the team with 43 for the season. Add in the fact that receivers and tight ends not named
Allen Hurns
-- i.e. players Joyner was on for most of the game -- caught just eight passes for 92 yards for Miami.
3. RB Devonta Freeman (6):
Yes, Freeman racked up an impressive 176 yards of offense and three TDs, but here's another area his impact was felt: Winston was 10-of-11 for 183 yards on play-action against Miami.
4. WR Rashad Greene (3):
One of just six ACC receivers averaging more than 90 receiving yards per game this year.
5. LB Telvin Smith (4):
Four tackles, including one for a loss, in the win over Miami.
6. DT Timmy Jerngian (5):
Four tackles and he sat on a guy vs. the Hurricanes. Jernigan has been an absolute beast in the middle all season for Florida State.
7. S Terrence Brooks (7):
He left early with concussion symptoms, but coach Jimbo Fisher said Brooks appeared fine in the locker room after the game. He made his impact early anyway, finishing with six tackles, including a big sack, in the early going.
8. LT Cameron Erving (9):
Thoroughly dominated
Anthony Chickillo
throughout and helped open running lanes against a stout front seven for Miami.
9. DE Christian Jones (7):
Continues to look like a strong addition in his new role coming off the edge.
10. DE Mario Edwards Jr. (NR):
The biggest difference for FSU's defensive line the past few weeks has been a healthy Edwards, who finished Saturday with four tackles, including two for a loss.
Honorable mentions:
TE
Nick O'Leary
, WR
Kenny Shaw
, WR
Kelvin Benjamin
, LB
Terrance Smith
, DT
Eddie Goldman
November, 3, 2013
11/03/13
1:50
AM ET
TALLAHASSEE, Fla. --
Devonta Freeman
's voice is usually quiet, subdued. But when he speaks, his teammates listen.
Freeman provided a voiceover for a video Florida State watched in advance of its showdown Saturday against No. 7 Miami. He told his teammates he loved them, that he'd fight for them, that he'd carry them.
The message resonated with quarterback
Jameis Winston
, who pulled Freeman aside before the game to exchange an emotional embrace.
"From then," Winston said, "I knew he was ready."
Winston struggled early, throwing two first-half interceptions, but just as he'd suspected, Freeman picked up the slack. Freeman, a Miami native, finished with 176 yards from scrimmage and three touchdowns, carrying the load in Florida State's 41-14 win against the Hurricanes.
[+] Enlarge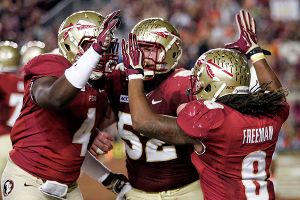 AP Photo/Steve CannonFlorida State running back Devonta Freeman (8) celebrates with tight end Giorgio Newberry (4) and offensive linesman Bryan Stork (52) after scoring on a 5-yard touchdown run in the first quarter.
It's the second win over a top-10 team in the past three weeks for No. 3 Florida State. The two victories have come by a combined score of 92-28, but they played out in far different fashion.
Against Clemson on Oct. 19, Winston was the star, throwing for 444 yards and accounting for four touchdowns. Against Miami, however, Winston stumbled early, misfiring on a handful of first-half throws, including two deep balls down the middle that the Hurricanes picked off, then turned into points.
"I was very high emotionally and sometimes you can't let the emotions affect the way you play," said Winston, who admitted he was eager to complete the deep ball rather than settling for shorter routes in the early going. "I was in the game emotionally and mentally, but the emotions took over the mental part of it."
But if the emotions rattled Winston, they fueled Freeman.
The junior tailback grew up in one of Miami's toughest neighborhoods, but he wasn't heavily recruited by the Hurricanes until late in his senior season of high school. He never wavered in his commitment to Florida State, but he's always held a grudge.
"Every time I get a chance," Freeman said, "I want to destroy them."
Freeman did plenty of damage Saturday.
His 5-yard touchdown run capped Florida State's first drive. His 48-yard reception -- a dump-off pass followed by a long run -- provided the game's biggest play, swinging momentum back in Florida State's direction after Miami held tough early. But it was his powerful, punishing runs throughout the game that drained time off the clock and set the standard for how Florida State enforced its will against the overmatched Hurricanes.
"I wanted to let people know we're hard-nosed," Freeman said. "We're coming."
Freeman scored again late in the third quarter, effectively ending any comeback hopes for Miami. His 29 touches were a career high, and his punishing hits on Miami defenders provided a spark for his teammates.
"He's one of those guys, he's got the heart of a lion," defensive tackle
Timmy Jernigan
said. "We feed off him."
After each big run or physical hit, Freeman celebrated. He flashed the Miami "U" with his hands, signaled a "305" as a nod to Miami's area code.
For Freeman, each play was personal, a message he wanted to send.
In three career games against the Hurricanes, Freeman has 343 total yards and five touchdowns.
"This game, I had more of a chip on my shoulder," Freeman said. "Just to let everybody know, I'm from Miami -- including the kids in my neighborhood, to show them you don't have to be in Miami to do something special. You can go anywhere and do something special and still rep your hometown. That's kind of what it was."
Freeman kept Florida State chugging along early, but Winston responded late.
At halftime, Winston promised his teammates he wouldn't turn the ball over again. In the second half, he threw just two incompletions.
The turning point, however, may have been an on-field skirmish between FSU tackle
Bobby Hart
and Miami defensive end
Anthony Chickillo
. Clinging to a seven-point lead midway through the third quarter, Winston completed a pass to
Kenny Shaw
for 26 yards to the Miami 5. On the play, FSU tackle
Cameron Erving
blocked Chickillo to the ground. Hart then pounced on Chickillo, who ended up underneath the Florida State lineman. Chickillo grabbed Hart's face mask without letting go, and as officials tossed flags, the two players argued. Eventually both teams were posturing on the field before coaches intervened.
Before Florida State lined up for its next play, Winston shouted at each of his teammates, pounding his fists in the air and slapping hands with his linemen.
"That's me telling the guys, 'It's on,'" Winston said. "We're not taking no prisoners. We don't care about those guys anymore. At first, we respected them because they're a great team with great players. But after that skirmish, it was over. All that nice stuff, all the game day and that stuff of them being compared to us, it was over. We know we had one goal, and that was to beat them bad."
Winston proved his point. What began as a close game ended as a 27-point victory. Miami's only points came off turnovers, and Florida State dominated at virtually every level, nearly doubling the Hurricanes' total yardage.
It was exactly what Freeman had predicted before the game. It was, Freeman said, a message delivered.
"I told them, [the Hurricanes] aren't like us," Freeman said. "We're different. We grind different."
September, 11, 2013
9/11/13
3:00
PM ET
Here are a few quick notes off the ACC coaches call on Wednesday:
Maryland coach Randy Edsall makes his return to Connecticut on Saturday when the Terps visit his former team. Last season, Edsall had to answer questions about playing his old team when UConn traveled to College Park. The story lines continues this week because he will be returning to a place he called home for 12 years.
"I've got fond memories of Connecticut, fond memories of Rentschler Field and hopefully we come away with a victory," Edsall said. "Connecticut was very good to me and my family. Had a great experience there. What you've got to do is take everything and put it to the side and focus and concentrate on getting our team prepared. I know they're going to be fired up, I know it's a tough place to play having coached in that stadium so it's got to be something we have to be ready for."
UConn beat Maryland in 2012, but the Huskies come into this season's game off a loss to FCS Towson. Maryland, meanwhile, is off to a 2-0 start and appears to be in much better shape than UConn. The Huskies have not made a bowl game since Edsall took them to the Fiesta Bowl in the 2010 season. Wonder whether the homestanding fans will
cheer or boo
Edsall in his return.
Virginia Tech coach Frank Beamer had high praise for Alston Smith, who was moved from defensive tackle to offensive guard earlier this week. Smith, the son of Bruce Smith, was "exceptional" in his first day of practice with the offensive line. "He's athletic, he's got good feet, he's a natural guy in there and so I was really encouraged by watching that." Beamer also added that defensive tackle Corey Marshall had a great day of practice Tuesday, his first since returning to the team to deal with personal matters. "He helped our offense get better by being very aggressive as a defensive scout team member," Beamer said.
There is no question Boston College coach Steve Addazio is thrilled with the progress he is seen out of his team, off to a 2-0 start with a big game at USC looming on Saturday. But he also wants to keep the quick start in perspective. "I just think we're scrapping, we're playing physical, we're trying to be true to the core values we want within our program," Addazio said. "It's nice to get that start, but understand we're a work in progress."
Duke coach David Cutcliffe reiterated that he would like to get freshman quarterback Parker Boehme some playing time with starter Anthony Boone out indefinitely because of a broken collarbone. The initial plan going into the season was to try and redshirt Boehme but the injury has changed everything. Boehme will serve as the backup to Brandon Connette until Boone returns. "If something were to happen and Brandon's out for a few plays, I wouldn't be afraid to play Parker," Cutcliffe said. "I think he's played well."
Miami beat Florida thanks to a solid defensive performance, especially from a much more physical defensive front. Coach Al Golden said a big reason his team was so effective along the line was because of its rotation. Defensive end Anthony Chickillo played 71 snaps, but everybody else stayed in the 40s. "We refused to get worn down and we rotated," Golden said. "Hopefully that rotation will get stronger." Golden says the plan during the bye is to get more inexperienced players like Ufomba Kamalu and Jelani Hamilton ready for more playing time.
Speaking of Miami and Florida, Florida State coach Jimbo Fisher caught the end of the game last weekend after his team finished practiced. Asked for his impressions, Fisher said, "Heck of a football game, very competitive, a lot of great players on both sides. Two very good football teams," he said. "We'll have to get a lot better before we play them." The Noles play both teams in November.
Despite its struggles running the option in a loss to Boston College last week, Wake Forest coach Jim Grobe says he has no plans to scrap it from the offensive game plan. "Nobody played real well," Grobe said. "We didn't block well, didn't run well. It was not anything to do with the run game. The offense, in general, just did not play very well."
June, 5, 2013
6/05/13
3:00
PM ET
TALLAHASSEE, Fla. -- It's Rankings Week at Nole Nation, and each day we'll be counting down the top teams, players and matchups of the 2013 season. Next up, a look at FSU's 10 most dangerous defensive opponents.


Will Bucs take Winston at No. 1?
ACC SCOREBOARD
Thursday, 9/3
Saturday, 9/5
Monday, 9/7