Florida State Seminoles:

Andre Ellington
September, 18, 2013
9/18/13
10:30
AM ET
The ACC has to be thrilled with the first three weeks of the season: three top-25 teams, including two in the top 10, a 2-2 record against the SEC in early nonconference games and six unbeatens so far.
What could be ailing this conference? Take a closer look at the numbers, and you will find that offense is generally down across the league.
What's ailing the ACC
Remember, the ACC set all sorts of single-season offensive records in 2012 -- scoring 40 or more points in a game (42 times), topping 500 yards of total offense in a game (38) and 100-yard receiving days (69), as well. And the league had its highest-scoring game in history between Georgia Tech and North Carolina (a 68-50 Yellow Jackets victory).
But so far, nine teams are below their total offense average from a year ago. That includes high-flying Clemson, which ranks "only" No. 35 in total offense so far. Miami (No. 91 overall) and North Carolina (No. 71 overall), expected to be two of the better offenses in the league, also have had problems with consistency. Virginia Tech, Boston College and Wake Forest -- three of the worst teams in total offense a year ago -- are all statistically worse.
Having said that, part of the reason the numbers are lower from some of these schools is the opponents they have played. Miami, North Carolina, Clemson and Virginia Tech all played SEC competition within the first two weeks of the season. Virginia played BYU and Oregon. Eight teams also have had byes within the first three weeks, so the body of work is not nearly as large. But it is still an interesting trend to note.
What's the cure
Another reason for some of these struggles has been
mediocre quarterback play
. But there are a few factors to consider.
Of the nine teams whose offensive production has dipped, five have either new head coaches or new offensive coordinators (Syracuse, Miami, Virginia, Virginia Tech and Boston College). In Miami, for example,
Stephen Morris
' completion percentage has dropped to 52 percent. Others, such as Virginia, Duke and Syracuse, have new starting quarterbacks.
Other programs have had to deal with personnel changes around them. North Carolina went into the season with a revamped offensive line and questions at running back following Giovani Bernard's departure to the NFL. Clemson has had to replace DeAndre Hopkins and Andre Ellington.
As these players and coaches get more comfortable with one another, then some of these offenses should look better as the season goes on. Virginia Tech quarterback
Logan Thomas
, for example, says he felt more in sync with offensive coordinator Scot Loeffler in a victory over East Carolina last week. That was his best game of the young season.
It's very early in the season to start drawing definitive conclusions, but there's no question there's room for improvement everywhere.
October, 15, 2012
10/15/12
1:00
PM ET
Let's take a sneak peek at the top three games in the ACC in Week 8, and the rest of the schedule.
Virginia Tech (4-3, 2-1) at No. 19 Clemson (5-1, 2-1).
These two teams got quite familiar with each other last year, when they played twice -- once during the regular season and once in the ACC Championship Game. Clemson won both -- the only time in Virginia Tech history it lost to the same team twice in one season. Are the Hokies truly back, or did they get the benefit of playing a Duke team last week that was not quite ready for prime time? They got an incredible performance from running back
J.C. Coleman
, who ran for 183 yards against the Blue Devils. He will be a key to watch, as Clemson has struggled once again to stop the run, ranking No. 99 in the nation. Clemson, meanwhile, goes into the game off a bye and brings its own outstanding running back to the table in
Andre Ellington
. Virginia Tech also has struggled to slow down the run, so Ellington could be in line for a big game.
NC State (4-2, 1-1) at Maryland (4-2, 2-0).
Your Atlantic Division leaders ladies and gentlemen -- Maryland! Bet you did not think this game would be critical in the race for the division crown back when the season started. But this is the ACC, so we always expect the unexpected. NC State has to win this game if it wants to keep pace in the race. The Wolfpack had a bye after their huge victory over then-No. 3 Florida State, so we will see if they can pick up where they left off and avoid any letdowns. They will face a huge test in slowing down
Stefon Diggs
, who had 239 all-purpose yards last week in a win over Virginia. Maryland, meanwhile, has to find a way to cut down on its turnovers to give itself a chance. The Terps rank No. 110 in the nation in turnover margin.
No. 14 Florida State (6-1, 3-1) at Miami (4-3, 3-1).
It has been years since this game had the national spotlight, but this remains an intense in-state rivalry. Florida State has won three of the last four in the series and can become bowl eligible with a victory. Miami, meanwhile, could be without starting quarterback
Stephen Morris
, whose availability is in question because of a sprained ankle. Florida State will no doubt try to attack Miami on the ground with
Chris Thompson
, who is having a resurgent season after a back injury forced him out in 2011. The Hurricanes are giving up an average of 253.7 yards rushing, and until they figure out how to stop the run, this is going to be an area that will be attacked for the remainder of the season.
The rest of the schedule
North Carolina (5-2, 2-1) at Duke (5-2, 2-1).
This will be the 99th meeting between the two programs. The Blue Devils are trying to win their first game over the rival Tar Heels since 2003, and their first in Durham since 1988. The question is whether Duke can rebound after blowing a 20-0 first-quarter lead on Virginia Tech. The player to watch will be North Carolina running back
Giovani Bernard
, who has 439 yards rushing in the last two weeks.
Wake Forest (3-3, 1-3) at Virginia (2-5, 0-3).
These teams are mired with struggles right now. Virginia has the longest losing streak in the ACC (five straight defeats); Wake Forest has lost three of its last four. The Deacs were off last week and hope to be healthier going into this game, but recent suspensions have just added to what has been a tough season.
Boston College (1-5, 0-3) at Georgia Tech (2-4, 1-3).
The Eagles are still looking for their first win over an FBS team after getting blown out at Tallahassee. Georgia Tech, meanwhile, comes into this game off a bye. We will get our first chance to see interim defensive coordinator Charles Kelly in his new role. How much improvement will we see out of the defense?
September, 26, 2012
9/26/12
8:45
AM ET
Tajh Boyd
's third pass went for 60 yards, and with that, the shine was off Florida State's suit of armor.

After a year of hype about the Seminoles' impenetrable defense, Clemson found a work-around, racking up 37 points and 427 yards in a losing effort.
But there's a silver lining to the gaudy numbers, and Florida State's defenders have been quick to point it out.
"They were hitting a lot of big things on trick plays,"
Timmy Jernigan
said. "We knew that was going to come. Teams aren't going to play us straight up."
September, 23, 2012
9/23/12
2:14
AM ET
TALLAHASSEE, Fla. -- Florida State's ship sat listing and taking on water with just under 12 minutes left in the third quarter.
Clemson's offense looked unstoppable. And at that point, the Tigers had proven to be such, leading 28-14.
Big play after big play from the likes of
Sammy Watkins
and
Andre Ellington
delivered one haymaker after another. Yet the Seminoles remained composed.
At the end, it was Florida State, not Clemson, that seemed unstoppable en route to 667 yards of total offense and a
49-37 win
.
"And that's how I've known we've grown as a team, because we kept fighting, kept fighting, kept fighting," said sophomore defensive tackle
Timmy Jernigan
. "Coach [Jimbo] Fisher and Coach [Mark] Stoops, they kept repeating, 'When they score, don't flinch. Don't flinch.' "
There was no fire-and-brimstone speech from the coaches at halftime. No, it was a time for the players in the home locker room to regain their composure and organize their thoughts.
They didn't need to be yelled at. They understood what was at stake.
"We don't do a lot of pep talking, try to get the team too hyped or anything like that," wide receiver
Kelvin Benjamin
said. "We knew we had to come out in the second half and make plays.
"In the second half, we came out and looked at the scoreboard like it was 0-0. It was a new ball game."
If the scoreboard had been reset after the halftime break, the final score would have read 35-16.
That's not how things have gone for Florida State over the last few years. But maybe that's why Jernigan and company say this year, this team, is different.
September, 21, 2012
9/21/12
9:00
AM ET
TALLAHASSEE, Fla. -- Clemson opened 2012 away from home against Auburn, with questions swirling about how last season's high-flying offense would perform without its best acrobat,
Sammy Watkins
, who was suspended for two games.
The emphatic answer came in the form of
Andre Ellington
.
The senior tailback has largely toiled in the shadows of the Tigers' big-play passing attack, but Ellington remains the engine that drives so much of what the Tigers do offensively. Against Auburn, he ran for a whopping 228 yards to pave the way for a Clemson victory. Since the start of the 2011 season, Ellington has racked up more than 1,500 yards on the ground.
"He's really elusive, he's really fast," FSU linebacker
Vince Williams
said. "He reminds me of a slightly bigger Chris [Thompson]. He can do some things. I like him."
But in a game heralded for its strength-against-strength matchups, there may be none more intense than Ellington's elusive speed vs. Florida State's ferocious defensive front.
September, 20, 2012
9/20/12
12:00
PM ET
Time to take a look at what to watch in the ACC in Week 4. I think you probably already have a good idea of what is in store.
1. Top-10 clash.
By now, you probably already know the matchup between No. 10 Clemson and No. 4 Florida State is only the ninth meeting featuring two ACC teams ranked in the top 10. So yes, it is a big game, one of the biggest games in league history, even. I have been asked this question several times during the week: What is the best possible outcome for the ACC? Clearly one team has to win and one has to lose. But in the best-case scenario, this game is competitive, thrilling and pretty clean, and goes down to the wire. To me, that validates having two teams ranked in the top 10 and keeps the loser somewhere in the top-15 range.
2. Offense vs. defense.
This is your classic matchup of terrific offense against terrific defense. So which unit gets the edge? We find out Saturday. According to ESPN Stats & Information, Florida State is one of two teams that has yet to allow a touchdown this season (TCU is the other) and has forced 22 three-and-outs in 42 opponent drives. Clemson, meanwhile, is averaging 39.7 points per game this season. The Tigers have 17 plays that gained 25 yards or more this season, tied for the most in the nation.
[+] Enlarge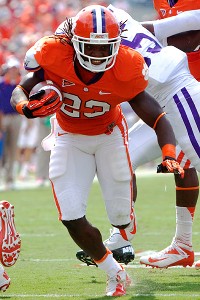 Joshua S. Kelly/US PresswireAndre Ellington and Clemson can give the ACC a lift by knocking off SEC power LSU.
3. Andre Ellington vs. FSU run D.
One of the matchups that has not been given too much attention this week is between Clemson running back Andre Ellington and the Florida State run defense. While much of the media focus has been on
Sammy Watkins
and
DeAndre Hopkins
, Ellington is an absolute player to watch. According to ESPN Stats & Information, Ellington has gained more yards after contact (199) than Florida State has allowed in total rushing yards (101) this season. As for the FSU defense, the Noles have forced their opponents into no gain or negative yardage on 40 of 85 rushes (47.1 percent), the highest percentage in the Football Bowl Subdivision. Ellington has failed to gain yards on just four of his 53 rushes this season (7.5 percent) and has been hit in the backfield on just seven runs.
4. Bounce-back week.
Now on to some of the other matchups. This could be called "bounce-back week in the ACC" for a few of the other teams in the league: Virginia Tech, Wake Forest, North Carolina and Virginia -- teams that all lost last week. I left out Maryland because the Terps play No. 8 West Virginia and face the biggest challenge of all these teams. Virginia Tech, Wake Forest and North Carolina all are expected to win. Virginia? The Hoos are a double-digit underdog at No. 17 TCU.
5. Logan Thomas.
Speaking of Virginia Tech, which Logan Thomas will we see Saturday against Bowling Green? Thomas played poorly against Pitt last week, throwing three interceptions. The mistakes were absolute killers, as Pitt used the turnovers to pull the upset. One of the big problems for Thomas and the Hokies has been an inability to run the ball. That, combined with ineffective quarterback play, has left this team stagnant on offense. We'll see what the Hokies try to do to jump-start both Thomas and the run game this weekend.
6. Can Georgia Tech beat Miami?
The Hurricanes have won three straight in the series, but all signs are pointing to Georgia Tech this season. Last week against Virginia, the Jackets scored seven rushing touchdowns -- tied for the most under coach Paul Johnson. This is a pretty confident group on offense going into the game. The bigger question for Tech is how to slow down Miami freshman sensation
Duke Johnson
, who scored three different ways against Bethune-Cookman. Tech has not faced anybody nearly as good as Johnson in its first three games this season, and the Jackets have had problems slowing down some of the speed and athleticism Miami has presented in the past.
7. Does Maryland have a chance?
There is always a chance in any game, but the Terps are going to have their work cut out for them. I got to watch
Geno Smith
play last year when West Virginia was in the Big East, and the only time I saw him flustered was when he faced heavy pressure. Maryland does have a good defense that can apply pressure, but there are two problems: 1. Smith is better this season and 2. He gets rid of the ball so fast. Maryland's only chance in this game is with a studly defensive performance, but I just don't think the Terps have the players to slow down Smith,
Stedman Bailey
and
Tavon Austin
.
8. Does Virginia have a chance?
Late news Wednesday night -- TCU will be without running back
Waymon James
for the rest of the season. The Horned Frogs have depth concerns at that position, but the bigger problem for Virginia will be slowing down
Casey Pachall
and the passing game. Virginia is so green in the secondary, the advantage might go in TCU's favor.
9. Will the real North Carolina please stand up?
Are the Tar Heels the team that trailed Louisville 36-7 at halftime last week or the one that outscored the Cardinals 27-3 in the second half and nearly won? Coach Larry Fedora sure would love to find out against East Carolina on Saturday. This is a game that should have plenty of juice in-state. East Carolina sold out its ticket allotment for the game.
10. Could be a good day for the state of North Carolina.
Wake Forest plays Army, NC State plays the Citadel and Duke plays Memphis in games almost everybody expects to go the ACC's way. The hope for these teams is that there is no look-ahead factor with conference games set for next week: Duke travels to play Wake, and NC State will be at Miami.
September, 20, 2012
9/20/12
8:55
AM ET
After three consecutive easy victories, Florida State faces what will likely be its biggest challenge of the regular season, when No. 10 Clemson comes to town. The Tigers have won six of the last nine meetings between the two teams, but FSU is the heavy favorite this time around. Here are the five biggest storylines heading into Saturday's showdown.


1. What will EJ Manuel do on the big stage?
The hype for this game isn't getting to the Florida State quarterback, Manuel insists, but after sitting out last year's loss to Clemson with an injured shoulder, he's eager to get a chance to make his mark.
Clint Trickett
threw for 336 yards and three touchdowns in his first career start last season, and Manuel might need to do better this year.
September, 19, 2012
9/19/12
10:45
AM ET
By
David Hale
| ESPN Insider
For months, Florida State's soft schedule has had many fans clamoring for a perfect regular season, but the biggest speed bump on the way to that goal comes Saturday.
Clemson enters this game ranked 10th in the nation, sports one of the most dynamic offenses in the country, and the Tigers have beaten FSU in six of the last nine matchups, including a 35-30 win last season.
So, what can the Seminoles do to topple the Tigers?
To continue reading this article you must be an Insider
August, 16, 2012
8/16/12
5:00
PM ET
No. 12.
Xavier Rhodes
, CB, Florida State

2011 stats:
As part of a three-man starting rotation last season with Mike Harris and former Nole
Greg Reid
, Rhodes had 43 tackles (36 solo), with 1.5 tackles for loss, one interception and four pass breakups.
Previous ranking:
Not ranked
.
Making the case for Rhodes:
At 6-foot-2, 209 pounds, Rhodes is a big, physical cover corner who should flourish in his fourth season in the program. Rhodes is the best corner on the Noles' roster, and he has the speed and ability to change direction on a dime. He's also got good hands and ball skills.
July, 9, 2012
7/09/12
8:34
AM ET
Looking forward to real, live football, NoleNation takes a run through Florida State's 2012 schedule, going game-by-game to find the best storylines and matchups of the upcoming season.
Clemson Tigers
Saturday, Sept. 22:
at Doak Campbell Stadium
2011 record:
10-4 (6-2 ACC). After an 8-0 start and a No. 5 national ranking, Clemson dropped three of its final four regular-season games only to rebound and topple Virginia Tech in the ACC title game for its first conference championship in two decades.
Goodell Has Sit-Down With Jameis Winston
ACC SCOREBOARD
Thursday, 9/3
Saturday, 9/5
Monday, 9/7