Florida State Seminoles:

Allen Lazard
July, 30, 2013
7/30/13
12:00
PM ET
By
RecruitingNation
| ESPN.com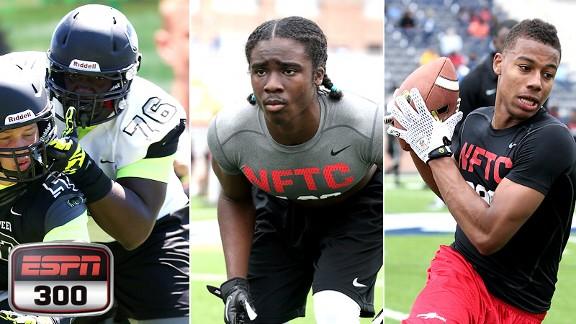 Tom Luginbill breaks down the significant movers in the
ESPN 300
rankings, including a new player in the top three, players who made massive jumps further down in the rankings and new positional No. 1s at wide receiver and outside linebacker.
Scene and Heard: Top 10 Predictions
In a conversation with ESPN's Antonietta Collins, national recruiting reporter Gerry Hamilton breaks down the recruiting momentum building at Auburn and offers predictions for where the top 10 recruits will commit.
Tags:
Trenton Thompson
,
Kerryon Johnson
,
Jeffery Holland
,
Martez Ivey
,
Torrance Gibson
,
Cece Jefferson
,
ESPN 300
,
RecruitingNation
,
high school football recruiting
,
Gerry Hamilton
Scene and Heard: Top 10 Predictions
VIDEO PLAYLIST
Scene and Heard: Top 10 Predictions

Scene and Heard: Top 10 Predictions

In a conversation with ESPN's Antonietta Collins, national recruiting reporter Gerry Hamilton breaks down the recruiting momentum building at Auburn and offers predictions for where the top 10 recruits will commit.

Tags: Trenton Thompson

,

Kerryon Johnson

,

Jeffery Holland

,

Martez Ivey

,

Torrance Gibson

,

Cece Jefferson

,

ESPN 300

,

RecruitingNation

,

high school football recruiting

,

Gerry Hamilton

FSU Recruiting Builds On BCS Title Win

FSU Recruiting Builds On BCS Title Win

Spring Game Wrap-Up

Spring Game Wrap-Up
NOLENATION RECRUITING NEWS
FSU FB RECRUITING SCORECARD
The Highland Mint FSU Seminoles 2013 BCS National Champions Gold Coin Photo Mint Shop »
DeionSanders

DeionSanders


Bossy has lost 3 teeth in 2 weeks & she mad cause I told her the tooth fairy told me to tell u he need some change! http://t.co/fDPYKq1Pw7
18 minutes ago

theACC

The ACC


The 2014 #ACCWTen Championship beings today! Follow @ACCWTennis for live updates from Cary or visit: http://t.co/Gw5ezg73q9
20 minutes ago

DavidHaleESPN

David Hale


RT @JayBilas: The definitive college sports economics reading list, thanks to Andy Schwartz: http://t.co/714BiXFR4o
20 minutes ago

DavidHaleESPN

David Hale


spoiler: it was Biden. "@DavidGrann: The Vice President Who Pulled a Gun on Harry Truman http://t.co/PLmDNlWVCT"
21 minutes ago

ESPN_ACC

ESPN ACC


WR Davis takes center stage in UNC offense http://t.co/DqkG773WIc
22 minutes ago

DavidHaleESPN

David Hale


Guessing TLH isnt No.1 only bc they didnt consider Tally a city "@DonnaDitota1: Most expensive cities to fly out of: http://t.co/voR0iwgZHx"
23 minutes ago

Warchant

Warchant.com


Coaches on the road: Some visits for Wednesday for the #FSU staff http://t.co/c9TeFRlL3P ($) (8:59 am)
25 minutes ago

Noles247

Noles247.com


Ball game. http://t.co/KyeahCySjP
33 minutes ago

DeionSanders

DeionSanders


Your next move,direction,thought and your next decision is your CHOICE! You are where u are because of your CHOICES. Think about it!#TRUTH
51 minutes ago

Warchant

Warchant.com


Looking back Fisher says Auburn stealing signals had little impact on #FSU in the BCS game. https://t.co/NUj07omkft http://t.co/6JAhHPTJWF
about an hour ago

DeionSanders

DeionSanders


Your next move,direction,thought and your next decision is your CHOICE! You are where u are because of your CHOICES. Think about it!TRUTH
about an hour ago

TomahawkNation

TomahawkNation.com


#4 Ranked @FSU_Baseball Shuts Out @StetsonBaseball http://t.co/HWG8VOnEic
about 2 hours ago

Pdub80

Peter Warrick


RT @1mmafan1: @DarrinPatt23 @Pdub80 like I was sayn go on YouTube type in peter Warrick and watch greatness at it's best .
about 9 hours ago

Pdub80

Peter Warrick


"@Jaboowins: http://t.co/0o4JnsD1UI"
about 9 hours ago

Pdub80

Peter Warrick


"@Jaboowins: I love this squad HAPPY EASTER thanks @TheBigShooter3 #FSUBASEBALL http://t.co/efd5S76FgG"
about 9 hours ago

Pdub80

Peter Warrick


#Noles http://t.co/MNx9ka0weN http://t.co/eUMBBaHfvl
about 9 hours ago

Noles247

Noles247.com


Story from @TJL_247 on #FSU's victory over Stetson behind a strong outing from Billy Strode http://t.co/3oOUXKmWtR via @Noles247
about 10 hours ago

_DCReeves

D.C. Reeves


Instead of putting a tough Sunday loss in the rearview, #Alabama has another loss to forget on Tuesday, 6-3 to USM: https://t.co/LKK9O3M5NB
about 10 hours ago

Noles247

Noles247.com


Latest on Juco F Willie Atwood can be found here http://t.co/IWHwN3FE0z via @Noles247
about 10 hours ago

MichaelWarchant

Michael Langston


#Flyers fans said your No. 1 New York
about 10 hours ago

Noles247

Noles247.com


Awesome post from user on Jimbo Fisher, Dr. Kevin Elko and some player info (VIP) http://t.co/wXCyUvV4aD via @Noles247
about 11 hours ago

Noles247

Noles247.com


A look at recruiting territories for #FSU's staff (VIP) http://t.co/qwyqgkVAYP via @Noles247
about 11 hours ago

_DCReeves

D.C. Reeves


FINAL: Southern Miss 6, #Alabama 3. Bramblett gets the loss. No. 8 Tide plays at South Carolina this weekend.
about 11 hours ago

_DCReeves

D.C. Reeves


May be too late, but #Alabama plates two in the 9th to cut USM lead to 6-3. Tying run in the on-deck circle, two out.
about 11 hours ago

Noles247

Noles247.com


Who will #FSU basketball face at home and on the road in ACC play next season? Answer here: http://t.co/1TV8KpvOdD via @Noles247
about 11 hours ago

DeionSanders

DeionSanders


Hey Hey Hey!!!!! A 1994version of Prime is on "@tvland: TOMORROW at 10:30/9:30 an ALL NEW episode of @TheSoulManTV http://t.co/czZJ9g7BrV"
about 11 hours ago

Noles247

Noles247.com


"He's "Everybody knows how good Pender is and how fast he is." – Jimbo Fisher http://t.co/98p54I8sDm via @Noles247
about 11 hours ago

_DCReeves

D.C. Reeves


#Alabama comes up empty in the eighth, still trails Southern Miss 6-1 as we head to the 9th.
about 11 hours ago

_DCReeves

D.C. Reeves


RT @TideSports: From @CecilHurt: Nick Saban hints at direction of SEC conference scheduling https://t.co/wDLBL9t13t
about 12 hours ago

Warchant

Warchant.com


Game story: FSU beats Stetson 4-0 as Billy Strode makes a case for keeping his spot in the rotation permanently: https://t.co/7fAyRFhjh4
about 12 hours ago

Warchant

Warchant.com


Box score from FSU's 4-0 win over Stetson tonight: http://t.co/zd4WhVpbTz
about 12 hours ago

_DCReeves

D.C. Reeves


Two-run home run for USM's Mason Robbins and it takes a 6-1 lead over No. 8 Alabama in the 8th.
about 12 hours ago

_DCReeves

D.C. Reeves


It's also another game where #Alabama can't capitalize on opportunity. Leadoff batter has reached in 6 of 7 innings so far, just 1 run.
about 12 hours ago

_DCReeves

D.C. Reeves


Looking like one of those nights when #Alabama can't figure it out at the plate. Trails Southern Miss 4-1 heading to the 8th.
about 12 hours ago

Noles247

Noles247.com


Martin spoke on Brandon Leibrandt's injury tonight http://t.co/KQScN2iImY
about 12 hours ago

Warchant

Warchant.com


Mike Martin says Brandon Leibrandt's knee contusion is "one of the most baffling injuries our doctors have ever seen," but his pain is real.
about 12 hours ago

Warchant

Warchant.com


Mike Martin says Brandon Leibrandt will be back in the rotation when he returns, but "no chance" he pitches this weekend.
about 12 hours ago

DeionSanders

DeionSanders


Be yourself & stop trying 2 emulate others. You can't be who other people want u 2b u got 2b u. You are awesome but U can do better!#TRUTH=
about 12 hours ago

Warchant

Warchant.com


Mike Martin says the plan is to pitch Jameis Winston again tomorrow. With football done, want him prepared to pitch back-to-back days.
about 12 hours ago

Noles247

Noles247.com


#FSU defeats Stetson 4-0. Billy Strode earned the win. Gage Smith and Jameis Winston provided relief http://t.co/vkDeTtHKmY via @Noles247
about 12 hours ago

Noles247

Noles247.com


RT @TJL_247: Noles win 4-0. Tomorrow's game against the Stetson Hatters starts at 4pm
about 12 hours ago

Warchant

Warchant.com


FINAL: Florida State 4, Stetson 0. Billy Strode's first win of the year helps FSU win a tight one against the Hatters.
about 12 hours ago

Warchant

Warchant.com


Jameis Winston has 3 strikeouts as FSU has retired 2 in the top of the 9th (passed ball on a third strike on one).
about 12 hours ago

_DCReeves

D.C. Reeves


Southern Miss scores 3 in the 6th to take a 4-0 lead on #Alabama. Not a good look for a team fighting for regional/nat'l seed.
about 12 hours ago

_DCReeves

D.C. Reeves


#Alabama in trouble in a midweek game again, trailing Southern Miss 2-0 in the top of the 6th. USM still threatening.
about 12 hours ago

TomahawkNation

TomahawkNation.com


Got my Amazon tax return bonus gift card. Exactly 7 days until they start charging tax in Florida.
about 12 hours ago

Warchant

Warchant.com


Sophomore RHP Jameis Winston enters from the bullpen as FSU leads Stetson 4-0 in the top of the 9th.
about 12 hours ago

Noles247

Noles247.com


Winston taking the mound for #FSU  as they lead 4-0 http://t.co/aOPvKHYPI6 via @Noles247
about 12 hours ago

Warchant

Warchant.com


FSU leads 4-0 as we go to the top of the 9th.
about 12 hours ago

Warchant

Warchant.com


Justin Gonzalez now 3-4 tonight after dropping from 2nd to 6th in the lineup. Doubles after Stetson LF loses pop up in the light.
about 13 hours ago

Noles247

Noles247.com


Make it 4-0 #Noles http://t.co/vkDeTtHKmY via @Noles247
about 13 hours ago

Noles247

Noles247.com


#FSU pushes the lead to 3-0 http://t.co/aOPvKHYPI6 via @Noles247
about 13 hours ago

Warchant

Warchant.com


Jose Brizuela doubles and John Nogowski scores on an E9. FSU now up 3-0 in the bottom of the 8th.
about 13 hours ago

theACC

The ACC


ICYMI - ACC Releases Men's Basketball Conference Matchups for 2014-15 and 2015-16: http://t.co/Zc4c6t4Lhn
about 13 hours ago

Warchant

Warchant.com


Smith gets out of the jam. F9 for the second out of the inning, strikeout looking for the final out. FSU up 2-0 going to the bottom 8th.
about 13 hours ago

Warchant

Warchant.com


FSU in a tough spot now. Bases loaded, 1 out in the top of the 8th for Gage Smith with a 2-0 lead against Stetson.
about 13 hours ago

MichaelWarchant

Michael Langston


Wings look awful. Lucky it isn't 3-0.
about 13 hours ago

Noles247

Noles247.com


#FSU leads 2-0 in the 8th http://t.co/Rw90jr3dP9 via @Noles247 
about 13 hours ago

Warchant

Warchant.com


Gage Smith gets a quick double play and a grounder to third to end the top of the 7th. FSU still leads 2-0.
about 13 hours ago

Warchant

Warchant.com


Billy Strode comes out after 6+ innings. One man still on base, but no runs allowed yet. FSU up 2-0 in the 7th. Gage Smith on.
about 13 hours ago

MichaelWarchant

Michael Langston


RT @alleyesonuhoops: Lets go Red Wings!
about 13 hours ago

_DCReeves

D.C. Reeves


RT @TideSports: Three #Alabama players to attend NFL Draft in New York City. Draft runs May 8-10: https://t.co/BPwzCpaYjh
about 13 hours ago

MichaelWarchant

Michael Langston


RT @DetroitRedWings: The old barn looks pretty good with the lights down... #OctopiHockeytown http://t.co/hQfXZbAFK7
about 13 hours ago

TomahawkNation

TomahawkNation.com


RT @idontwan2know: Jameis Winston has terrible mechanics in the same way that Arnold Palmer had a terrible golf swing.
about 13 hours ago

TomahawkNation

TomahawkNation.com


RT @UncleEd69: I was born in the wrong era! An ice-cold whisky dispenser, sometimes found in offices in the 1950s! http://t.co/sJUAQVqehd
about 13 hours ago

_DCReeves

D.C. Reeves


Looks like Ha Ha Clinton-Dix, C.J. Mosley and Cyrus Kouandjio will all make the trip to NYC for the NFL Draft. #Alabama
about 13 hours ago

Warchant

Warchant.com


Warchant Blog: New Logo in New Places: https://t.co/rGdcYKdFaV
about 14 hours ago

Warchant

Warchant.com


DJ Stewart is hit by a pitch in the 5th, and he's now been on base for 61 straight games.
about 14 hours ago

TomahawkNation

TomahawkNation.com


RT @yssd: @idontwan2know What stands out is Fisher deemed it necessary to change EJ's throwing motion, but not Jameis'. That says something
about 14 hours ago

Warchant

Warchant.com


RT @TimBrewster: Amazing how much attention a National Championship Ring gets when u on road recruiting future Noles!! #NoleSwag!
about 14 hours ago

Noles247

Noles247.com


FSU leads Stetson 2-0 http://t.co/Rw90jr3dP9
about 14 hours ago

Warchant

Warchant.com


FSU now up 2-0 after 4 innings. Nogowski tagged from third and scored on a fly ball from Jose Brizuela.
about 14 hours ago

FSU_Football

FSU Football


RT @TimBrewster: Amazing how much attention a National Championship Ring gets when u on road recruiting future Noles!! #NoleSwag!
about 14 hours ago

TimBrewster

Tim Brewster


Amazing how much attention a National Championship Ring gets when u on road recruiting future Noles!! #NoleSwag!
about 14 hours ago

Noles247

Noles247.com


Noles leading 2-0 over Stetson in the bottom of the fourth with one out http://t.co/HCJIv4IpoD via @247Sports
about 14 hours ago

TomahawkNation

TomahawkNation.com


.@AlligatorArmy @Timinole Agree to an extent. Always better when people evaluate the argument. But credentials do matter to an extent.
about 14 hours ago

_DCReeves

D.C. Reeves


For people still asking, we've got a great day and no delay whatsoever for tonight's #Alabama-Southern Miss game at The Joe. 6:05 1st pitch.
about 14 hours ago

TomahawkNation

TomahawkNation.com


I clocked Miller's back-track at a 10 minutes flat. That's impressive.
about 14 hours ago

TomahawkNation

TomahawkNation.com


.@tendoshii there's a difference between long and slow. And between horrible and less than ideal.
about 14 hours ago

TomahawkNation

TomahawkNation.com


There's an easy out here after Winston balls out again. Claim that he has cleaned & shortened mechanics a bit (it'll be true). #Profit
about 15 hours ago

Warchant

Warchant.com


FSU takes a 1-0 lead on a sac fly from DJ Stewart after Josh Delph leads off with a double and is bunted over. Going to the 2nd.
about 15 hours ago

TomahawkNation

TomahawkNation.com


RT @yssd: Truncating Winston's delivery would be much less of a task than helping Hundley learn to read all four quadrants of the field
about 15 hours ago

TomahawkNation

TomahawkNation.com


Miller should have had an article ready to go so he didn't blow his shot w/ FSU twitter w/o a link to click up. #PoorLinkMechanics
about 15 hours ago

Warchant

Warchant.com


Stetson loads the bases with no outs in the 1st, but a strikeout and a 2-3 double play get FSU out of the inning unharmed. Delph leading off
about 15 hours ago

TomahawkNation

TomahawkNation.com


RT @BarkingCarnival: .@TomahawkNation @saintwarrick This @EJManuel3 video from @fantex is pretty awesome. Seems like a bad ***** kid. http://…
about 15 hours ago

TomahawkNation

TomahawkNation.com


RT @Moojenowski: Noted expert (@nfldraftscout) cites Colt McCoy's mechanics/traits as the reason he can be a long time NFL starter. http://…
about 15 hours ago

TomahawkNation

TomahawkNation.com


RT @R0id_Rage: @TomahawkNation @BruceGrillis @nfldraftscout Bleacher Report analysis enough said ...
about 15 hours ago

TomahawkNation

TomahawkNation.com


.@Sean_Grimm @davidraider88 His job isn't really to scout kids. It's to crank out a ton of content to B/R gets clicks. Video after video.
about 15 hours ago

Warchant

Warchant.com


FSU and Stetson are facing off at ***** Howser Stadium right now. Follow along on our live blog: https://t.co/nHYyzYXpAs (FREE)
about 15 hours ago

TomahawkNation

TomahawkNation.com


RT @Moojenowski: He beat someone else to the handle. RT @PhenomeNoles: . @nfldraftscout are you always a ***** d-bag? What makes you an e…
about 15 hours ago

TomahawkNation

TomahawkNation.com


Oh matt miller. Don't.
about 15 hours ago

ColeyHarvey

Coley Harvey


From earlier, the #Bengals' finalized preseason schedule http://t.co/T6NZBGEiY5
about 15 hours ago

TomahawkNation

TomahawkNation.com


RT @dtackett_: But make sure to check out @TomahawkNation where @AriyaMassoudi will be keeping the game thread. I won't be far behind.
about 15 hours ago

theACC

The ACC


RT @VT_Football: Here's your link for Saturday's Spring Game on ESPN3. Kickoff is at 2 pm! http://t.co/JA3DWtDl25
about 15 hours ago

Noles247

Noles247.com


Starting lineups for #FSU vs. #Stetson. Follow along with @TJL_247 here: http://t.co/vkDeTtHKmY via @Noles247
about 15 hours ago

Noles247

Noles247.com


RT @TJL_247: FSU vs. Stetson Baseball starting in 40 minutes from ***** Howser. Strode with the start for #Noles http://t.co/IybX3dPXZ2 via …
about 16 hours ago

Noles247

Noles247.com


RT @TJL_247: FSU vs. Stetson baseball getting underway in about 20 minutes at ***** Howser http://t.co/IybX3dPXZ2 via @247Sports
about 16 hours ago

ColeyHarvey

Coley Harvey


Home portion of preseason opens Aug. 16 at 7 p.m. vs Jets. Their overall preseason begins at KC at 8 p.m. on Aug. 7 #Bengals
about 16 hours ago

ColeyHarvey

Coley Harvey


Double-whammy of schedule news on #Bengals front. Reg season out Wed at 8 p.m. Preseason schedule just finalized. Opens Aug. 16 at 7p vs NYJ
about 16 hours ago

Warchant

Warchant.com


FSU LineupDelph RFSmit DHStewart LFNogowski 1BBrizuela 3BGonzalez SSSansone 2BDeLuzio CFDe La Calle CSP: Billy Strode
about 16 hours ago
ACC SCOREBOARD
Thursday, 8/28
Friday, 8/29
Saturday, 8/30
Monday, 9/1
BLOG ARCHIVE:
CATEGORIES: