Florida State Seminoles:

Allen Hurns
November, 15, 2013
Nov 15
12:00
PM ET
November, 15, 2013
Nov 15
10:00
AM ET
There are just three weeks remaining in the regular season, and eight of the ACC's 14 teams have either two or three losses in conference. In other words, there's still much to be decided. Here are a few tidbits to shed some light on Week 12's action.
Boston College:
Andre Williams
rushed for a career-best 295 yards last week against New Mexico State, his third game topping 200 yards this season. For the year, Williams leads the nation in rushes, rushing yards and rushing yards per game. His 2013 total of 1,471 yards on the ground is nearly 400 more than Boston College accounted for as a team all of last season.
Duke:
Blue Devils quarterbacks are just 27-of-60 (45 percent) passing with seven interceptions and no touchdown throws in their last two games, but Duke won both contests. In the past five seasons, Duke had been 1-12 in games in which it did not having a passing touchdown.
Florida State:
The Seminoles created seven turnovers in last week's win over Wake Forest, and they now have 23 takeaways on the season -- one more than they had all last season. Florida State also scored twice on defense last week, giving the Seminoles five defensive touchdowns this season. That's one more than the FSU defense had in three years under former coordinator Mark Stoops.
Maryland:
Freshman
William Likely
is averaging 27.4 yards per kick return this season, good for ninth nationally among players with at least 15 returns and tops among freshmen. Likely's season average ranks third in school history, but is 1.1 yards per return shy of
Stefon Diggs
' school record for freshmen (28.5), set just last year.
Miami:
Stephen Morris
' efforts weren't enough to pull out the win last week against Virginia Tech, but he did find his way into the record books with two long completions. Morris connected on an 81-yarder to
Stacy Coley
, followed by an 84-yard throw to
Allen Hurns
. They were Miami's two longest passing plays of the season.
North Carolina:
The Tar Heels have scored 32 touchdowns this season, with a whopping 24 scored by freshmen or sophomores. Only eight (25 percent) have been scored by juniors or seniors. That total is matched by sophomore receiver
Quinshad Davis
, who leads the team with eight scores.
NC State:
The Wolfpack turned a close game into an 18-point loss last week with three fourth-quarter interceptions in a span of six plays. NC State quarterbacks have now thrown 15 interceptions this year, tied for eighth-most in the nation. The Wolfpack have thrown at least one interception in every game this season -- and 10 straight dating back to last year.
Pittsburgh:
Defensive tackle
Aaron Donald
has the chance to be the first Pitt player in six years to finish the season leading the nation in any statistical category. Donald currently has 19.5 tackles for loss (2.2 per game), which is the best in the country. The last Pitt player to lead the nation in any category was linebacker Scott McKillop, who averaged 12.58 tackles per game in 2007.
Syracuse:
The key to Syracuse's two-game winning streak has been its defense. A third-quarter field goal by Maryland last week was the only scoring the Orange have allowed in its past two games, and from the fourth quarter against Georgia Tech three weeks ago until the field goal by the Terrapins, Syracuse went 113 minutes, 22 seconds between points allowed. The past two games mark the first consecutive contests in which Syracuse didn't allow a touchdown since 1997 (East Carolina and Rutgers).
Virginia Tech:
Logan Thomas
completed 25-of-31 passes for 366 yards, two touchdowns and no interceptions in last week's win over Miami. For his career as a starter, Thomas is 15-0 when he doesn't throw an interception.
As always, thanks to the ACC and teams' sports information departments for supplying many of these stats.
November, 3, 2013
Nov 3
1:40
AM ET
TALLAHASSEE, Fla. -- Miami tried to keep up with Florida State, tried to make it a game, to show maybe it wasn't such a big underdog after all.
The plan worked for a half. But the Hurricanes are simply not where Florida State is right now. They do not have the talent, nor do they have the depth, nor do they have the wherewithal to play a near-perfect game. That much was made clear in the aftermath of a 41-14 defeat Saturday night. As many suspected would be the case, this was a top-10 matchup in name only.
[+] Enlarge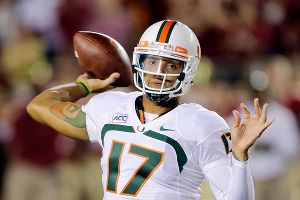 AP Photo/Chris O'MearaMiami QB Stephen Morris says the Canes have to leave this loss in Tallahassee and focus on getting better and preparing for Virginia Tech.
And yet, the Hurricanes could very well be the class of their division at the end of the season. Such is the state of the ACC today. Florida State is poised to decisively win the Atlantic Division. The team that lost to the Seminoles by 27 points? That very team could end up in a rematch with Florida State in the ACC title game next month.
Nobody on the Miami side was much in the mood for silver linings or happy thoughts after the game, though. Especially after running back
Duke Johnson
was carted off the field and in a cast after the game with an ankle injury, his season most likely over.
Seeing Johnson with his right leg bandaged up just made the game result even worse to stomach. As hard as the double-whammy loss is to take, Miami has to find a way to make this game just a blip in order to stay relevant in the ACC race.
"We've just gotta move forward," Miami coach Al Golden said. "We're building. I've been saying it for a long time now. We made too many mistakes in this game. You can't make these kinds of mistakes in a game like this. I just tell them that the biggest thing is that they trust right now, that they trust the coaches and they trust their training, they trust their techniques. This environment was probably new to them, given the position that we're in, and they just need to trust. We had too many little mistakes in the game."
Too many big mistakes, too. Miami trailed 21-14 at halftime and got the ball to start the second half. The Hurricanes ran five plays, then punted. Florida State scored on its ensuing drive.
Stephen Morris
then threw an interception. Florida State turned the mistake into another touchdown, and the rout was on.
"We let the game get a little bit out of hand and we've gotta be smarter at that," Morris said. "We have to play better."
Miami must play better quickly. A bigger game looms Saturday at home against struggling Virginia Tech, a contest that will have an impact on the Coastal Division race. Miami still controls its destiny in the Coastal. If the Hurricanes win out, they go to Charlotte.
If they lose? The Hurricanes would have two conference losses, same as Virginia Tech and Duke and Georgia Tech. The Hokies have hit a rut recently, losing back-to-back games against Duke and Boston College while committing a combined eight turnovers. But Virginia Tech is not a team Miami can afford to overlook. Especially if the Canes have to win without Johnson, their best and most explosive playmaker.
After Virginia Tech, Miami has to travel to Duke, a game that all of a sudden looks as if it could have major Coastal Division ramifications. Duke already has a head-to-head win over Virginia Tech. The Blue Devils were on a bye this week but play reeling NC State at home this Saturday. Their defense has been much improved over the past four games, so Miami is not a slam dunk to win that game. The Canes barely survived a shootout a year ago.
Georgia Tech, meanwhile, is also sitting at 5-2 in league play with one ACC game left -- at Clemson. The Yellow Jackets have a win over Duke this year, but losses to Miami and Virginia Tech.
"Our biggest thing is we've gotta leave this game in Tallahassee," Morris said. "Let's come to work tomorrow and let's learn from it. That's the only way you're going to be able to beat VPI is not let this game hurt you."
Is Miami mature enough to do that?
"If we weren't mature enough our record wouldn't be 7-1 right now," Morris said. "I have full confidence in the leaders of this group, and guys who've been here and understand what this program is about."
Perhaps Miami receiver
Allen Hurns
, one of the most soft-spoken players on the team, said it best.
"It's just one loss," Hurns said. "We have a chance to see them again."
October, 15, 2013
Oct 15
12:00
PM ET
That makes you feel pretty dumb, doesn't it? This thing is literally 360 times more powerful than you. Look at you. You're worthless.
FSU Students React To Winston Decision