Florida State Seminoles:

Alex Amidon
February, 28, 2014
2/28/14
12:00
PM ET
November, 29, 2013
11/29/13
10:00
AM ET
As always, thanks to ESPN Stats & Info and sports information departments everywhere for these tidbits.
MIAMI:
Against Virginia, Miami had 45 points with only 11 first downs. The last time that happened at the FBS level was Sept. 13, 1997, when Minnesota (with 11 first downs) beat Iowa State 53-29.
PITTSBURGH:
Tyler Boyd
is having one of the most productive seasons by a freshman receiver in school history. With one regular-season game left, Boyd has 68 catches, the most of any freshman in the country and one catch shy of Larry Fitzgerald's Pitt rookie record of 69.
FLORIDA STATE:
Alabama and Florida State are 1-2 in the Championship Drive Ratings, while the only other undefeated team, Ohio State, was three spots back at No. 5. FSU has a Championship Drive Rating of 94.3, OSU has a 93.3. While both teams are 11-0, Florida State has controlled in-game win probability (84.6 percent to 81.2) more and has played a slightly tougher schedule (81st to 86th).
DUKE:
At 9-2, Duke has already tied its most wins in season (most recently done in 1941) and will be going for its first 10-win season. Duke is looking for its first conference championship since 1989 (co-champion in ACC). The Blue Devils have won seven straight games for the first time since 1994 and are looking for their first eight-game winning streak since 1941 (won nine in a row).
NORTH CAROLINA:
The Tar Heels are 21-2 against Duke in their last 23 meetings, but they dropped last year's contest in Durham, N.C. They have not lost consecutive contests to the Blue Devils since dropping three in a row from 1987-89.
WAKE FOREST:
The Demon Deacons will play their final game Saturday at Vanderbilt, but they have a few records worth aiming for. Jim Grobe remains tied with "Peahead" Walker for the most wins as a head coach in school history with 77. And quarterback
Tanner Price
(64 total TDs -- 52 passing, 11 rushing, one receiving) remains one off the school record of 65 career touchdowns held by Riley Skinner (60 passing, four rushing, one receiving).
MARYLAND:
Following Alex Amidon's 74-yard touchdown reception for BC, linebacker
Marcus Whitfield
blocked the ensuing point-after attempt. Defensive back
Anthony Nixon
grabbed the ball and went 98 yards for the defensive extra point. It marked the first time in program history that the Terrapins have scored a defensive extra point and it is the first defensive extra point scored by an ACC team since Duke's
Kyler Brown
intercepted a two-point attempt against FIU on Sept. 1, 2012. Whitfield is the first Terp to block a PAT since A.J. Francis did it against Georgia Tech on Nov. 3, 2012.
NC STATE:
With the exception of one game (vs. No. 2 Florida State), Wolfpack conference games have been relatively competitive. In the Wolfpack's other ACC contests, the average difference in the score after the third quarter has been just 7.1 points. In only one game (vs. then-No. 3 Clemson) did the Pack trail by more than a touchdown, and that was only by 13 points following the third quarter.
GEORGIA TECH:
Senior A-back
Robert Godhigh
is one of the nation's most explosive all-around players. The 5-foot-7 former walk-on has 961 yards from scrimmage (623 rush, 338 catch), and his average of 13 yards per play leads all FBS running backs. 55 percent of his offensive touches result in rst downs or touchdowns. Godhigh has 13 plays from scrimmage of 30-plus yards, which is the fth-most among all FBS players. Of Godhigh's 961 yards, 389 yards (40.5 percent) have come after contact.
BOSTON COLLEGE:
Andre Williams
has gained 958 of his FBS-leading 2,073 yards after contact, 254 more such yards than any other AQ running back. Only 35 FBS players have more total rushing yards than Williams has after contact. Williams has broken 28 tackles this season, seven more than any other AQ running back.
SYRACUSE:
The Orange have played BC 46 times, the fifth-most frequent opponent in school history. Syracuse owns the series record, 28-18, including an 18-6 mark at home. The old Big East rivals have not met since 2010, when the Eagles won 16-7. A win Saturday would make Syracuse bowl-eligible for the third time in four years. Syracuse is one of three teams (Ohio State and Wisconsin) to not allow a 100-yard rusher this season, though it will certainly get a test from Williams.
VIRGINIA TECH:
Florida's nation-best streak of 22 straight bowl appearances will be snapped, meaning the Hokies will be the new leaders, as they will go to their 21st straight bowl this postseason. Opponents have failed to gain a first down on 49 percent of their drives against the Hokies, the highest percentage in the nation. Virginia Tech is also fourth nationally in fewest yards allowed before contact per game on designed runs, giving up just 52.5 ypg.
VIRGINIA:
The Cavaliers' eight-game losing streak is their longest in a single season since 1975. They actually outgained Miami by a margin of 483-304, but they were hurt by the Hurricanes' two defensive touchdowns. They are 37-52-5 all-time against Virginia Tech, but the important number to keep an eye on is 32, as Virginia has scored at least that much in each of its last seven Commonwealth Cup wins dating back to 1989.
CLEMSON:
Tajh Boyd
's five touchdown passes in a 52-6 Senior Day win over The Citadel gave him 102 for his career. The only other active quarterbacks in the FBS with 100 career touchdown passes are Georgia's
Aaron Murray
and Old Dominion's
Taylor Heinicke
. But the biggest challenge for Boyd comes Saturday at South Carolina, which is 4-0 against the Tigers during Boyd's career, with Clemson failing to score more than 17 points in any of the contests.
November, 25, 2013
11/25/13
11:00
AM ET
The final regular-season weekend is on deck. Time sure flies. So here's one last look at all that went down in the ACC this past weekend.
The good:
The ACC seemingly survived JV week without incident, with Florida State and North Carolina each putting up 80 points, Georgia Tech crushing Alabama A&M 66-7, and Clemson taking care of business against the Citadel with a 56-7 win. Two teams, UNC and Pitt, got to bowl-eligibility, setting up for some great showdowns this coming rivalry weekend.
The bad:
Well, there is always Virginia, which lost by 19 at Miami and remains winless in ACC play. And there is NC State, also winless in ACC play after a 14-point home loss to East Carolina -- which, to add insult to injury,
further declared its place in the Triangle in a season in which it beat both NC State and North Carolina
.
The ugly:
North Carolina's 80-20 win over Old Dominion featured a shortened fourth quarter, from 15 minutes to 10. And none of the Tar Heels' 80 points ended up coming in the final frame. Funny enough, this was actually a 14-13 game after the first quarter. I was at Notre Dame on Saturday, and when the out-of-town scores were announced in the press box, this game was announced: "North Carolina 80, Old Dominion 20. That's football, not basketball."
[+] Enlarge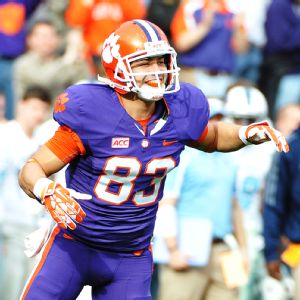 AP Photo/Rainier EhrhardtClemson walk-on WR Daniel Rodriguez, a Purple Heart recipient, caught a TD pass Saturday, providing a heart-warming moment.
The awesome moment:
It came at the 14:10 mark of the fourth quarter, with Clemson already holding a 45-3 lead over the Citadel. Then,
Daniel Rodriguez
caught a 2-yard touchdown pass from
Cole Stoudt
, for his first career touchdown. On Military Appreciation Day, no less. If you're not already familiar with Rodriguez's story,
become so
. Simply amazing.
The icers:
Paul Chryst, bravo. Randy Edsall, not so much. Up 17-16 with 1:03 left and Syracuse facing a fourth-and-8 from the Pitt 36, Chryst called a timeout right as the Orange were about to attempt a game-winning field goal, which was then revealed to be a fake, a fake that looked destined to be good.
Terrel Hunt
then threw an incomplete pass out of the timeout, sealing bowl-eligibility for the Panthers and leaving Syracuse with no other choice but to beat Boston College this Saturday in order to make the postseason. Edsall, meanwhile, called a timeout to ice BC kicker
Nate Freese
's 52-yard game-winning attempt, which hooked left. With new life from Edsall's timeout, however, Freese drilled it, giving the Eagles a 29-26 win at Maryland, their fourth straight victory.
The unconventional two-pointer:
Speaking of BC-Maryland, how about the wild extra-point sequence in the fourth quarter?
Alex Amidon
hauled in a 74-yard touchdown pass for BC with 5:02 left to take a 26-24 lead. But the extra point was blocked, and
Anthony Nixon
ran it back the other way to tie the game at 26. You don't see that every day.
The Heisman hopefuls:
In making your case for why you should win college football's highest individual honor, you can do a lot worse than what
Andre Williams
and
Aaron Donald
did on Saturday. Williams rushed for 263 yards, eclipsing the 200-yard mark for the third straight game. He also got to 2,073 yards on the season, becoming just the 16th player in college football history to reach the 2,000-yard plateau. His 36-yard run set up the game-winning field goal for Boston College. Donald, meanwhile, was named the Walter Camp defensive player of the week award, as the Pitt defensive tackle tallied nine tackles, 3.5 tackles for loss and a blocked extra-point attempt that provided the winning margin in a 17-16 win at Syracuse.
The three-headed attack:
Here's another box-score oddity you don't see every day: Florida State had three different players average better than 11 yards per carry.
Devonta Freeman
carried it 11 times for 129 yards and a touchdown (11.7 yards per carry),
Karlos Williams
ran it 10 times for 114 yards and two touchdowns (11.4 ypc) and
James Wilder Jr
. rushed four times for 85 yards and a score (21.3). The Seminoles had 336 rushing yards on the day, averaging 8.4 yards per attempt.
The Blue Devils:
Where do we start this time? Duke is in the BCS standings for the first time, at No. 24, after getting picked to finish last in the Coastal Division by the media in July. The Blue Devils have now clinched a tie of the division title after beating Wake Forest 28-21, and can win it outright by winning this Saturday at North Carolina. They have tied a school record with nine wins, something they have not done since 1941. And they have won seven straight games for the first time since 1994.
November, 9, 2013
11/09/13
7:00
AM ET
Here's one last quick look at what's going on in the ACC this week:
No. 2 Florida State (8-0, 6-0) at Wake Forest (4-5, 2-4), noon, ABC. #FSUvsWAKE


What's at stake:
Plenty for both teams. A win gets the Noles into the ACC championship game and keeps their national championship hopes alive. Wake Forest is nearing must-win territory for bowl eligibility. A loss means the Deacs have to beat Duke (6-2) and Vanderbilt (4-4) to get back to a bowl game. The last time Florida State visited Winston-Salem, Wake Forest won. But both coaches insist things are different this time around. Wake Forest coach Jim Grobe said this Florida State team is the best he has faced in 13 years with the Deacs.
Statistically speaking:
According to ESPN Stats & Information,
Jameis Winston
completes an AQ-high 71.9 percent of his passes on plays in which he is pressured (knockdown or hurried). The AQ average for a quarterback when pressured is 35.8 percent.
Quotable:
"You know the situations and the media hype you get. But like we tell them, the only thing you can control is how you play this week. What's important for us is to continue to play well, reach our goals in the games of getting better each week, learning to prepare each week and getting better as a team." -- Florida State coach Jimbo Fisher.
Virginia (2-7, 0-5) at North Carolina (3-5, 2-3), 12:30 p.m., ESPN3. #UVAvsUNC


What's at stake:
Plenty on the line for the Tar Heels, who are fighting for a bowl berth. Another win would give them three straight after a 1-5 start to the season. A bowl game does not look all that bleak right now, even with
Bryn Renner
out for the season with a shoulder injury. The Hoos are the only team left on the schedule with a losing record, so getting a win here is critical for bowl hopes. A loss means the Tar Heels have to win at Pittsburgh, then beat Old Dominion and Duke. That is doable, but certainly a win against Virginia gives a tad more margin for error.
Statistically speaking:
Virginia safety
Anthony Harris
is quietly putting together one of the best seasons in the ACC. Harris has six interceptions on the season, tied for second in the nation. Those six interceptions are two more than the entire UVa team had in 2012. They also are the most by a UVa safety since Shernard Newby had five in 2001.
Quotable:
"This team has become mature enough to understand the pitfalls of a lack of focus or worrying about what else is going on out there. Now you've got people who want to pat you on the back. If you do, you better watch out. Better just stay the course, keep doing what we're doing, focusing on one game, and let's try to be 1-0." -- North Carolina coach Larry Fedora.
Syracuse (4-4, 2-2) at Maryland (5-3, 1-3), 3:30 p.m., ESPN3. #CUSEvsMD


What's at stake:
Let's stick with the bowl theme. The Terps become bowl eligible for the first time since 2010 with a win; the Orange inch closer to bowl eligibility for the second straight year with a win. One area to watch with both teams is the running game. The Terps have hit a bit of a dip in their last two losses, rushing for a combined 121 yards. Syracuse, meanwhile, has over 180 yards total rushing in three of four ACC games this year and is facing an injury-depleted Maryland D that gave up 247 yards rushing to Clemson.
Statistically speaking:
Talk about extremes with the Syracuse defense. Twice this season, the Orange have shut opponents out, the first time that has happened since 1997. But on the flip side, they have also given up 48 or more points three times this season.
Quotable:
"He's a really good leader and he's a guy that knows the offense, understands it and has experience. So that means a lot to us, and like I said hopefully he can continue to stay healthy." -- Maryland coach Randy Edsall on
C.J. Brown
.
Boston College (4-4) at New Mexico State (1-8), 3:30 p.m., ESPN3. #BCvsNMSU


What's at stake:
Plenty for Boston College. The turnaround in Year 1 under coach Steve Addazio has been impressive. Now the goal he set for his team when the season started is there for the taking -- bowl eligibility for the first time since 2010. Having to travel to Las Cruces, N.M., in the middle of November is not an ideal situation, especially after such an emotional win over Virginia Tech. BC also has been a different team on the road this year, scoring an average of 10.3 points in three losses, so Addazio has to find a way to keep his players focused against a much weaker opponent.
Statistically speaking:
Receiver
Alex Amidon
needs 54 yards to break the school record for career receiving yards. Current BC graduate assistant coach Rich Gunnell set the mark of 2,459 yards from 2006-09.
Quotable:
"There's a tremendous amount of focus right now with our seniors and everybody in this program about just centering in on trying to get win number five, and I think our kids understand, I certainly hope they understand that it's all hands on deck with us. When we win, it's because we are just scratching and clawing, and we're not turning it over, and we don't have a lot of penalties, and we have that kind of team concept. And that's hard to do week in and week out." -- BC coach Steve Addazio.
NC State (3-5, 0-5) at Duke (6-2, 2-2), 4 p.m., ESPNU. #NCSTvsDUKE


What's at stake:
Duke needs to win to stay in the race for the ACC championship game. NC State needs a win to keep its bowl eligibility hopes alive, with games against Boston College, East Carolina and Maryland ahead. The Wolfpack are off to their worst start in ACC play since going 0-6 in 1959. Duke, meanwhile, is off to a 6-2 start for the second straight year, but the Blue Devils hope to avoid the same type of losing streak that dampened the end to the 2012 season. NC State has won 11 of the past 12 meetings, but Duke won the last one in 2009. This is the last meeting between the schools until 2020.
Statistically speaking:
In ACC play this season, Duke is 0-2 at home and 2-0 on the road. Duke joins Clemson and Florida State as the only two teams in the league without a loss away from home.
Quotable:
"We've been in four of the games we've lost in the fourth quarter, whether it was tied and we were down by a touchdown or less, we know we're close, and we're just going to keep grinding and fighting and find a way to win those close games as we fight down the stretch." -- NC State coach Dave Doeren.
Virginia Tech (6-3, 3-2) at No. 11 Miami (7-1, 3-1), 7 p.m., ESPN. #VTvsMIA


What's at stake:
Simply put, the Coastal Division. Virginia Tech needs a win to stay alive and end a two-game losing streak. Miami needs a win to stay in the driver's seat. Virginia Tech remains stingy on defense, ranking in the top 10 in total defense (No. 3), passing defense (No. 1), rushing defense (No. 9) and scoring defense (No. 8). The problem has been the eight turnovers in the last two losses. Miami, meanwhile, must win this game without two of its best offensive playmakers -- running back
Duke Johnson
and receiver
Phillip Dorsett
.
Statistically speaking:
While Miami has one of the best rush offenses in the ACC, Virginia Tech has one of the worst. The Hokies are averaging 3.2 yards per carry, on pace to be their lowest in the last 10 seasons. The Hokies have four rushes that gained 20 yards or more, tied for seventh fewest in the FBS.
Quotable:
"I think this Miami team is really, really good. If you look at them defensively, they're maybe the best defensive team we've played and we've played Alabama." -- Virginia Tech coach Frank Beamer.
No. 23 Notre Dame (7-2) at Pitt (4-4, 2-3), 8 p.m., ABC. #NDvsPITT


What's at stake:
This is almost a must-win situation for the Panthers, who are trying to become bowl eligible for the sixth straight season. After the Irish, Pitt faces an improving North Carolina, has to travel to Syracuse (where it lost last season) and then closes against No. 11 Miami. The Panthers have played Notre Dame tough, though players have said the triple-overtime loss a season ago is in the past. What Pitt needs to do is find its run game and fast. The offensive line play has deteriorated as the season has gone on, hampering both the run and quarterback
Tom Savage
. Pitt has given up a league-high 29 sacks, tied for No. 116 in the nation.
Statistically speaking:
Pitt is on pace for its worst rushing offense since 2005. Right now, the Panthers are averaging 122.5 rush yards per game. In 2005, Pitt averaged 116.8 rush yards per game.
Quotable:
"We haven't been real good running the football. You know, we're certainly working on it, and there are different reasons that have contributed to it. But we need to -- hopefully we can get that squared away because we're a better team if we can do a better job of running the football." -- Pitt coach Paul Chryst.
October, 24, 2013
10/24/13
10:15
AM ET
With only Syracuse on a bye this week, there will be plenty to keep an eye on in the conference. Here's a look at what to watch in Week 9, in no particular order:
1. Florida State flashback:
All eyes will be on the pregame scene in Tallahassee, where former Seminoles coach Bobby Bowden will make his first return to Doak Campbell Stadium since he was ousted following the 2009 season. Bowden will plant the famous spear at midfield, and nearly 400 former players are expected to attend the No. 2-ranked Seminoles' game against NC State. "There's no nerves," Bowden told ESPN.com's David Hale. "I'm excited about it, getting to see a lot of people."
[+] Enlarge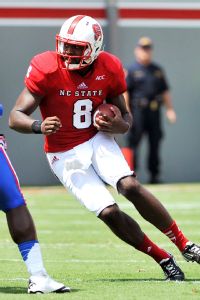 Lance King/Getty ImagesBrandon Mitchell has been out since the opener for NC State.
2. Brandon Mitchell's return:
While Florida State will be celebrating the return of its legendary coach, the Wolfpack will be celebrating the return of its injured starting quarterback. Mitchell broke his left foot in the season opener and hasn't played since. He won the job over
Pete Thomas
this preseason, and his athleticism seemed to fit first-year coach Dave Doeren's no-huddle offense well. He'll face one of the toughest defenses in the country, though, on Saturday.
3. Wake's hopes at an upset:
The Demon Deacons are on a roll, having won back-to-back Atlantic Division games, and while the Canes lead the series 7-3, all three of Wake's wins have come at Miami. Wake is looking to snap a six-game losing streak against ranked teams -- and Saturday is the 67th anniversary of the program's win over No. 4 Tennessee, the highest-ranked team Wake has ever defeated. If the Deacs can continue to get the ball to receiver
Michael Campanaro
and play stingy defense, they could have a chance. Especially considering …
4. Miami's ball security:
You've heard it a million times this week. Miami has turned it over 12 times in the past three weeks. The Hurricanes the only team in the country to have at least four turnovers in three consecutive games this season and the first since East Carolina in 2011. Miami has also had four red-zone turnovers in its past three games. Meanwhile, Wake's defense forced three turnovers in the Deacs' victory over Maryland last week. Speaking of the Terps, watch out for …
5. Maryland's quarterback controversy:
It's
C.J. Brown
OR
Caleb Rowe
listed as the starter on this week's depth chart for Saturday's game against Clemson, and coach Randy Edsall has played coy about Brown's status since last week. Edsall said the indecision on his starter is health-related, not performance-related, but wouldn't specify what's wrong with Brown. Brown struggled in last week's loss at Wake Forest, and Edsall said it was because of an injury unrelated to the concussion Brown suffered against Florida State. Stay tuned for which QB will be leading the Terps' offense against a stingy Clemson D.
6. UNC's run defense:
Miami gashed the Tar Heels for 234 yards on the ground last week -- and that was with their leading rusher,
Duke Johnson
, sidelined for three quarters and four turnovers from the Canes. Boston College makes its living on the running game, led by senior
Andre Williams
, who leads the ACC and ranks fifth nationally in rushing yards per game (139.7).
7. Clemson's rebound:
Last week's 51-14 home loss to Florida State was humbling and devastating to the Tigers. It knocked them out of the national championship picture, all but ruined quarterback
Tajh Boyd
's chances at winning the Heisman Trophy, and put them behind the Seminoles in the ACC race. How will the Tigers respond on the road? They've got more talent than the depleted Terps, but emotion could be a factor early.
8. Virginia Tech's secondary:
Veteran cornerback
Antone Exum
is expected to finally return for Saturday's home game against Duke, more than eight months after he had offseason surgery to repair his ACL and a bone fracture. Exum was cleared Sept. 30, but he and the staff have played it cautious. Senior CB
Kyle Fuller
has broken up 10 passes in seven games and ranks fourth in the nation in passes defended (1.71 per game). They will come in handy against quarterback Duke, which is averaging 269 passing yards per game.
9. Replacement receivers:
The ACC will be missing three of its top receivers, with Maryland's
Stefon Diggs
and
Deon Long
and Miami's
Phillip Dorsett
all out with injuries.
Levern Jacobs
will step in at the slot position in place of Diggs, and redshirt freshman
Amba Etta-Tawo
will take over Long's spot. With Dorsett out at Miami, that likely means an increased role for
Malcolm Lewis
, who is listed as a backup at two spots, and true freshman
Stacy Coley
, who is listed as a co-starter at wide receiver, a starting kick returner and co-starter at punt returner.
10. BC WR Alex Amidon:
The Eagles can do more than just run the ball, and Amidon needs just 144 receiving yards to become BC's all-time leading pass receiver. He has three 100-plus yard receiving games this season and a school-record 10 for his 39-game collegiate career.
September, 28, 2013
9/28/13
7:00
AM ET
Boston College's fast start was dealt a blow with an ugly loss to USC two weeks ago, while Florida State is riding high with three straight big wins but little in the way of stout competition. Here's what to watch for when the two teams face off Saturday in Chestnut Hill.


Stopping the run:
Florida State's defense had run off a streak of 14 straight games without allowing a 100-yard rusher before
Andre Williams
came to Tallahassee last season. He'll be a focal point again -- for both teams. The Eagles have run the ball on 62 percent of their plays so far this season, and Williams leads the ACC in rushing (119 ypg). But if BC's ground game has the attention of Florida State's defense,
Devonta Freeman
and the Seminoles' offense should have the Eagles worried, too. Freeman is coming off consecutive 100-yard games, is fourth in the nation in yards per carry, and the Seminoles have run for nearly 650 yards in their last two games.
Take what's given:
It's tough to find much fault in
Jameis Winston
's performance through three games. The freshman is second in the country with a 210.5 QB rating, and he has accounted for 10 touchdowns and just one interception thus far. But Winston says much of his success has come easily so far, and the tests promise to get bigger. That means he needs to be more patient, he said, instead of looking for the big play on every throw. He missed several open receivers against Bethune-Cookman by looking downfield, and his INT against Nevada came on a throw he admits he wasn't supposed to make. BC ranks 12th in the ACC in QB rating allowed, so there should be room for Winston to find yards -- if he doesn't try to do too much. Meanwhile, BC's
Chase Rettig
was just 15-of-31 for 122 yards in last season's game, and star wide receiver
Alex Amidon
had just three catches for 44 yards. They'll need to find more room to work this season if BC is to have a chance.
Quick starts:
In last season's blowout loss, Boston College actually controlled the game early, driving to the FSU 1-yard line on its opening drive before being stuffed. Florida State has seen overmatched opponents enjoy similar early-game success this season, too. Seventeen of the 47 first downs FSU has allowed this year came in the first quarter, and teams are averaging half-a-yard more per play on their first four drives against FSU than they do the remainder of the game.
Get defensive:
If Boston College has an advantage in this game, it's on defense, where the Eagles have racked up 22 TFLs and eight sacks in three games. The BC linebacking crew of
Kevin Pierre-Louis
,
Steele Divitto
and
Spenser Rositano
is among the league's best, and coordinator Don Brown likes bringing pressure. On the flip side, FSU's D looks like a work in progress, and after playing last week without four starters, there has been little time to refine the technique. Coach Jimbo Fisher said FSU missed far too many tackles against Bethune-Cookman, and that's been a focus throughout practice this week.
Looking ahead:
On paper, this looks like a significant mismatch for Florida State, but if motivation is a factor, it's a big edge for Boston College. The Eagles are fresh off a stinging loss to USC and are eager to rebound. They've had an extra week to prepare for Florida State, too. The Seminoles, meanwhile, have had it easy through three games -- all blowouts -- and have matchups against undefeated Maryland and Clemson ahead on the schedule. Will FSU overlook its date with Boston College? Players insist they won't, but the sluggish effort a week ago against Bethune-Cookman suggests Fisher has his work cut out for him.
August, 14, 2013
8/14/13
3:30
PM ET

No. 9. Lamarcus Joyner, DB, Florida State
Previous ranking:
No. 15
Making the case for Joyner:
As one of the top defensive backs in the country, Joyner will be showcasing his versatility this year at corner, where he played during the spring. He spent the past two seasons as the starting strong safety, where he has started 27 straight games, and he is also one of the top kick returners in school history. In a top-10 win over Clemson, Joyner returned five kickoffs for 185 yards, including one for 90 yards. He has played in every game since he arrived at Florida State as a freshman in 2010, and is now the leader of the defense. Joyner has great range because of his speed, which allows him to cover a lot of ground in the secondary. Joyner is on the watch lists this year for the Thorpe Award, Bednarik Award, Nagurski Trophy, Lott Impact Trophy and Paul Hornung Award.
The countdown
June, 4, 2013
6/04/13
9:00
AM ET
TALLAHASSEE, Fla. -- It's Rankings Week at Nole Nation, and each day we'll be counting down the top teams, players and matchups of the 2013 season. Next up, a look at FSU's 10 most dangerous offensive opponents.


October, 28, 2012
10/28/12
9:01
AM ET
On paper, the scenario simply doesn't add up. Florida State lost the turnover battle 4-0. Its star quarterback completed just eight passes. It was without its starting running back, and it was playing a division leader.
Most of the time, that adds up to a bad loss. On Saturday against Duke, it was a formula for a blowout win.
But while the 48-7 final score hardly tells the story of all that happened, these five numbers do.
To continue reading this article you must be an Insider
October, 16, 2012
10/16/12
9:00
AM ET
Florida State got a handful of impressive performances in its bounce-back win over Boston College, which won't go too far in erasing the damage done in a loss the previous week, but should help bolster the cases for a number of Seminoles still in the hunt for postseason awards.
RISING
DE Cornellius Carradine, Sr. (Bednarik)
Carradine didn't record a sack, but he did have two QB hurries and racked up five tackles.
K Dustin Hopkins, Sr. (Groza)
Hopkins connected on all three of his field-goal tries and was perfect on PATs, giving him 15 points for the game to establish a new Florida State and ACC record for career scoring.
DT Timmy Jernigan, So. (Outland)
Jernigan was in on his first sack of the season and recorded 1.5 tackles-for-loss in the win over Boston College. He had three tackles overall. His 41 tackles this season ranked second among defensive linemen in the ACC.
LB Christian Jones, Jr. (Butkus)
For the second straight game, Jones was Florida State's leading tackler. He made eight tackles, giving him 39 for the season -- just two behind Carradine for the team lead. More importantly, Jones and the linebacking corps handled BC's short passing game far better than it did a week earlier against NC State.
S Lamarcus Joyner, Jr. (Bednarik, Nagurski, Thorpe)
Joyner's interception of a
Chase Rettig
pass at the end of the second quarter likely sealed the win for FSU. Boston College had driven to the Seminoles' 21-yard line and was aiming to trim the FSU lead to 14 when Joyner picked off the pass, returned it 33 yards and set up a last-second field goal for Florida State.
QB EJ Manuel, Sr. (Heisman, Maxwell, O'Brien, Unitas)
It probably wasn't enough to make anyone forget his struggles against NC State, but on a Saturday when Heisman favorite
Geno Smith
came up short, Manuel did his best to get back into the discussion, passing for a career high 439 yards and four TDs.
DE Bjoern Werner, Jr. (Bednarik, Lombardi, Nagurski)
For the fourth straight game, Werner was held without a sack, but his impact was nevertheless felt. On BC's opening drive, Werner was at the center of three of FSU's four stops from inside its own 1-yard line.
HOLDING STEADY
DT Everett Dawkins, Sr. (Outland)
Dawkins had two tackles in the game and was part of a solid pass rush from the middle of the FSU line. Boston College's 75 yards rushing in the first half did keep the Eagles in the game and was one of the more unimpressive efforts by the usually stout FSU run defense.
CB Xavier Rhodes, Jr. (Bednarik, Nagurski, Thorpe)
BC's leading receiver,
Alex Amidon
, had just 44 yards in the game, including a 22-yarder that represented the Eagles' longest passing play of the day. Rhodes finished with just one tackle, but he was largely effective in keeping Rettig from finding any big plays downfield as BC played catch-up in the second half.
FALLING
WR Willie Haulstead, Jr. (Biletnikoff)
Nine different receivers caught passes Saturday, but Haulstead wasn't one of them.
DE Brandon Jenkins, Sr. (Bednarik)
Jenkins is out for the season with a foot injury.
LB Nick Moody, Sr. (Butkus)
Moody assisted on one tackle, but he saw only limited playing time as Boston College fell behind early and FSU spent much of the game in nickel packages.
October, 12, 2012
10/12/12
9:00
AM ET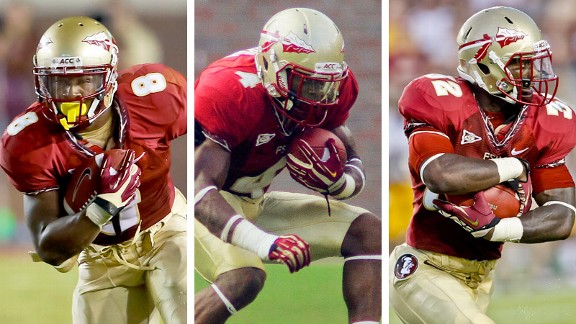 AP PhotoAgainst Boston College, FSU will look to split the rushing load between Devonta Freeman, Chris Thompson and James Wilder.
TALLAHASSEE, Fla. --
Devonta Freeman
knew what he was getting into before fall camp began.
A year ago, he was at the head of the pack by default, the last man standing amid the wreckage of injuries and poor performance in Florida State's backfield. This year was going to be different. His role would be smaller, his carries fewer and, in some games, he might not see any action at all.
As it turned out, the latter has become commonplace. In Florida State's last three games, Freeman has played sparingly. He hasn't had a carry since Week 3.
"It's tough because of the playing time I had last year, but it's a long season," Freeman said. "We've got a long time to go. I'm just being patient, staying humble and waiting on my opportunity."
For a while, Freeman had been elbowed out of the picture by sophomore
James Wilder Jr.
, whose role had blossomed during the first few weeks of the season, culminating with a punishing second-half run to help ice a win over Clemson.
But like Freeman, Wilder has quietly faded from the offense the past two weeks, too. After struggling with goal-line carries against USF two weeks ago, Wilder got just one touch against NC State, while senior
Chris Thompson
carried the load, racking up a career high 25 carries.
"Thompson is hot and averaging 7 yards a carry," Jimbo Fisher said. "Chris is just playing so doggone well."
October, 10, 2012
10/10/12
9:00
AM ET
A year ago, Florida State allowed its first loss of the season to spiral into three straight defeats. The Seminoles have promised that won't happen this time around, and they'll get a fairly soft first test in Boston College, which is reeling after a 1-4 start to the season.
To find out a bit more about what's ailed BC this season and what the Seminoles will need to do to ensure a better outcome than last week, we checked in with Rich Thompson, who covers the Eagles for the Boston Herald.
NoleNation: A year ago, Chase Rettig threw for just 76 yards against the FSU defense, but he seems to have really blossomed this year. What's been the difference for him, and what has he said about how he'll approach this week's matchup against Florida State?
Rich Thompson:
Chase always had the arm and the football intelligence. He's learned to read his progessions and buy time by stepping up in the pocket. What he lacks in athleticism he makes up for with a confident pocket presence and accurate spirals. TE
Chris Pantale
broke his foot in training camp so Rettig has posted those numbers without a big target over the middle.
Alex Amidon
gives him the deep threat he lacked last season. My fear for Chase this week is that he will get chewed up by ther FSU pass rush. Army dropped him five times last week with a clever blitz package. I'm sure the FSU coaches took notice.
NN: The BC defense allowed more than 500 yards on the ground to Army a week ago, and they rank dead last in the ACC against the run. What's been the game plan this week for slowing FSU's ground game, which ranks as one of the better units in the conference?
Thompson:
Army focuses everything on the run. They should never have gotten that much, but that is what they do. To be fair, DT
Kaleb Ramsey
, DE
Brian Mihalik
and OLB
Kevin Pierre-Louis
were out with injuries. The Eagles rush defense was exposed by
Duke Johnson
in the seaosn opener and people have been running ever since. The real killer stat was the 293 rushing yards Northwestern gained. If FSU establishes a consistent run,
EJ Manuel
will kill them with play action.
NN: Florida State is coming off an ugly loss to NC State last week in which the Seminoles failed to score in the second half. Is there anything B.C. can take from watching that game tape that they can use to their advantage this week?
Thompson:
BC's only hope was a trap game against an undefeated and over confident FSU team. NC State did BC no favors. A riled Seminole Nation was the last thing the Eagles need.
NN: The bad start has already turned up the heat on Frank Spaziani, and with a new athletic director coming on board, his job status looks tenuous at best. What's the mood surrounding the team, and what will this week's performance against a quality opponent mean in the big picture?
Thompson:
The kids like Spaz and they play hard for him. The alumni and the boosters want him gone. His recruiting classes have been a disaster. The new AD has a football background with Big Ten connections. Spaz had one foot out the door after Northwestern. Army pushed him down the stairs. Maryland is the only team they have a chance of beating.
NN: Boston College hasn't won a game in the ACC yet, but they kept things close against Miami and Clemson into the fourth quarter. What do the Eagles need to do this week to be in a position to win the game late against FSU?
Thompson:
BC's only hope is to force a lot of turnovers and they have very few so far. BC can't stop teams from converting on third down. Northwestern (12-of-19), Army (8-of-16) Clemson (10-of-16). FSU will move the chains and burn them with big plays. It is a bigger mismatch than last year.
Many thanks to Rich for the insight. You can read more of Rich's Boston College coverage
HERE
.
Goodell Has Sit-Down With Jameis Winston
ACC SCOREBOARD
Thursday, 9/3
Saturday, 9/5
Monday, 9/7