FSU Seminoles:

Alex Amidon
October, 28, 2012
10/28/12
9:01
AM ET
On paper, the scenario simply doesn't add up. Florida State lost the turnover battle 4-0. Its star quarterback completed just eight passes. It was without its starting running back, and it was playing a division leader.
Most of the time, that adds up to a bad loss. On Saturday against Duke, it was a formula for a blowout win.
But while the 48-7 final score hardly tells the story of all that happened, these five numbers do.
To continue reading this article you must be an Insider
October, 16, 2012
10/16/12
9:00
AM ET
Florida State got a handful of impressive performances in its bounce-back win over Boston College, which won't go too far in erasing the damage done in a loss the previous week, but should help bolster the cases for a number of Seminoles still in the hunt for postseason awards.
RISING
DE Cornellius Carradine, Sr. (Bednarik)
Carradine didn't record a sack, but he did have two QB hurries and racked up five tackles.
K Dustin Hopkins, Sr. (Groza)
Hopkins connected on all three of his field-goal tries and was perfect on PATs, giving him 15 points for the game to establish a new Florida State and ACC record for career scoring.
DT Timmy Jernigan, So. (Outland)
Jernigan was in on his first sack of the season and recorded 1.5 tackles-for-loss in the win over Boston College. He had three tackles overall. His 41 tackles this season ranked second among defensive linemen in the ACC.
LB Christian Jones, Jr. (Butkus)
For the second straight game, Jones was Florida State's leading tackler. He made eight tackles, giving him 39 for the season -- just two behind Carradine for the team lead. More importantly, Jones and the linebacking corps handled BC's short passing game far better than it did a week earlier against NC State.
S Lamarcus Joyner, Jr. (Bednarik, Nagurski, Thorpe)
Joyner's interception of a
Chase Rettig
pass at the end of the second quarter likely sealed the win for FSU. Boston College had driven to the Seminoles' 21-yard line and was aiming to trim the FSU lead to 14 when Joyner picked off the pass, returned it 33 yards and set up a last-second field goal for Florida State.
QB EJ Manuel, Sr. (Heisman, Maxwell, O'Brien, Unitas)
It probably wasn't enough to make anyone forget his struggles against NC State, but on a Saturday when Heisman favorite
Geno Smith
came up short, Manuel did his best to get back into the discussion, passing for a career high 439 yards and four TDs.
DE Bjoern Werner, Jr. (Bednarik, Lombardi, Nagurski)
For the fourth straight game, Werner was held without a sack, but his impact was nevertheless felt. On BC's opening drive, Werner was at the center of three of FSU's four stops from inside its own 1-yard line.
HOLDING STEADY
DT Everett Dawkins, Sr. (Outland)
Dawkins had two tackles in the game and was part of a solid pass rush from the middle of the FSU line. Boston College's 75 yards rushing in the first half did keep the Eagles in the game and was one of the more unimpressive efforts by the usually stout FSU run defense.
CB Xavier Rhodes, Jr. (Bednarik, Nagurski, Thorpe)
BC's leading receiver,
Alex Amidon
, had just 44 yards in the game, including a 22-yarder that represented the Eagles' longest passing play of the day. Rhodes finished with just one tackle, but he was largely effective in keeping Rettig from finding any big plays downfield as BC played catch-up in the second half.
FALLING
WR Willie Haulstead, Jr. (Biletnikoff)
Nine different receivers caught passes Saturday, but Haulstead wasn't one of them.
DE Brandon Jenkins, Sr. (Bednarik)
Jenkins is out for the season with a foot injury.
LB Nick Moody, Sr. (Butkus)
Moody assisted on one tackle, but he saw only limited playing time as Boston College fell behind early and FSU spent much of the game in nickel packages.
October, 12, 2012
10/12/12
9:00
AM ET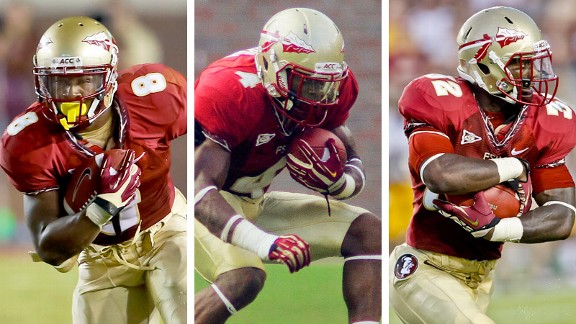 AP PhotoAgainst Boston College, FSU will look to split the rushing load between Devonta Freeman, Chris Thompson and James Wilder.
TALLAHASSEE, Fla. --
Devonta Freeman
knew what he was getting into before fall camp began.
A year ago, he was at the head of the pack by default, the last man standing amid the wreckage of injuries and poor performance in Florida State's backfield. This year was going to be different. His role would be smaller, his carries fewer and, in some games, he might not see any action at all.
As it turned out, the latter has become commonplace. In Florida State's last three games, Freeman has played sparingly. He hasn't had a carry since Week 3.
"It's tough because of the playing time I had last year, but it's a long season," Freeman said. "We've got a long time to go. I'm just being patient, staying humble and waiting on my opportunity."
For a while, Freeman had been elbowed out of the picture by sophomore
James Wilder Jr.
, whose role had blossomed during the first few weeks of the season, culminating with a punishing second-half run to help ice a win over Clemson.
But like Freeman, Wilder has quietly faded from the offense the past two weeks, too. After struggling with goal-line carries against USF two weeks ago, Wilder got just one touch against NC State, while senior
Chris Thompson
carried the load, racking up a career high 25 carries.
"Thompson is hot and averaging 7 yards a carry," Jimbo Fisher said. "Chris is just playing so doggone well."
October, 10, 2012
10/10/12
9:00
AM ET
A year ago, Florida State allowed its first loss of the season to spiral into three straight defeats. The Seminoles have promised that won't happen this time around, and they'll get a fairly soft first test in Boston College, which is reeling after a 1-4 start to the season.
To find out a bit more about what's ailed BC this season and what the Seminoles will need to do to ensure a better outcome than last week, we checked in with Rich Thompson, who covers the Eagles for the Boston Herald.
NoleNation: A year ago, Chase Rettig threw for just 76 yards against the FSU defense, but he seems to have really blossomed this year. What's been the difference for him, and what has he said about how he'll approach this week's matchup against Florida State?
Rich Thompson:
Chase always had the arm and the football intelligence. He's learned to read his progessions and buy time by stepping up in the pocket. What he lacks in athleticism he makes up for with a confident pocket presence and accurate spirals. TE
Chris Pantale
broke his foot in training camp so Rettig has posted those numbers without a big target over the middle.
Alex Amidon
gives him the deep threat he lacked last season. My fear for Chase this week is that he will get chewed up by ther FSU pass rush. Army dropped him five times last week with a clever blitz package. I'm sure the FSU coaches took notice.
NN: The BC defense allowed more than 500 yards on the ground to Army a week ago, and they rank dead last in the ACC against the run. What's been the game plan this week for slowing FSU's ground game, which ranks as one of the better units in the conference?
Thompson:
Army focuses everything on the run. They should never have gotten that much, but that is what they do. To be fair, DT
Kaleb Ramsey
, DE
Brian Mihalik
and OLB
Kevin Pierre-Louis
were out with injuries. The Eagles rush defense was exposed by
Duke Johnson
in the seaosn opener and people have been running ever since. The real killer stat was the 293 rushing yards Northwestern gained. If FSU establishes a consistent run,
EJ Manuel
will kill them with play action.
NN: Florida State is coming off an ugly loss to NC State last week in which the Seminoles failed to score in the second half. Is there anything B.C. can take from watching that game tape that they can use to their advantage this week?
Thompson:
BC's only hope was a trap game against an undefeated and over confident FSU team. NC State did BC no favors. A riled Seminole Nation was the last thing the Eagles need.
NN: The bad start has already turned up the heat on Frank Spaziani, and with a new athletic director coming on board, his job status looks tenuous at best. What's the mood surrounding the team, and what will this week's performance against a quality opponent mean in the big picture?
Thompson:
The kids like Spaz and they play hard for him. The alumni and the boosters want him gone. His recruiting classes have been a disaster. The new AD has a football background with Big Ten connections. Spaz had one foot out the door after Northwestern. Army pushed him down the stairs. Maryland is the only team they have a chance of beating.
NN: Boston College hasn't won a game in the ACC yet, but they kept things close against Miami and Clemson into the fourth quarter. What do the Eagles need to do this week to be in a position to win the game late against FSU?
Thompson:
BC's only hope is to force a lot of turnovers and they have very few so far. BC can't stop teams from converting on third down. Northwestern (12-of-19), Army (8-of-16) Clemson (10-of-16). FSU will move the chains and burn them with big plays. It is a bigger mismatch than last year.
Many thanks to Rich for the insight. You can read more of Rich's Boston College coverage
HERE
.