Florida State Seminoles:

2013 ACC spring meetings
May, 15, 2013
5/15/13
4:00
PM ET
AMELIA ISLAND, Fla. -- Florida State coach Jimbo Fisher has no problem with quarterback
Jameis Winston
continuing to play both football and baseball, even now that it appears the highly touted redshirt freshman has the inside track to win the starting job.
Though Fisher maintains the quarterback competition remains open, Winston seemingly emerged as the front-runner to win the job following a spectacular spring game and the eventual transfer of veteran Clint Trickett.
"I'm not going to limit what he does," Fisher said Tuesday during ACC spring meetings. "If that's something he helps that team with -- he loves football, he loves baseball and we'll continue to monitor and do the same things we do."
He later added, "You don't put parameters on people just because somebody else didn't do it. Charlie [Ward] did it, Deion [Sanders] did it, Sammie Smith did it. Florida State's had quite a number of them. And [Jameis] continues to do it very well."
Winston juggled both sports throughout spring practice with no problems. He has appeared in 31 baseball games with 26 starts and is batting .293. He also has made 14 appearances as a relief pitcher with a 1.80 ERA.
Fisher has never had a quarterback play two sports. In fact, two-sport athletes are becoming increasingly rare as players become more specialized in one sport.
But Fisher says, "I think the relationship's gone very well. Testing the waters in spring I thought he handled it extremely well and did very well with it. It goes back to the individual. Is he capable of handling it? And he's handled it with ease. He's excelled in both things that he's done."
A few more notes from Fisher:
Fisher didn't want to publicly comment on signee Matthew Thomas, who made headlines last week when he said he wanted out of his letter of intent. Athletic director Randy Spetman told The Tallahassee Democrat the school wouldn't release Thomas. Coaches continue to have discussions with his mom to see whether they can get Thomas to come up to Tallahassee. "We're working behind the scenes and I'm not going to comment publicly," Fisher said.
Fisher also seemed a little surprised that receiver Marvin Bracy decided to quit football to focus on track. "We had a great conversation," Fisher said. "Just he was more undecided about what he wanted to do. I just wanted him to make sure if you're going to go pro track, is it what's best for you? Are you going to maximize the money you can make or the opportunity for your life or what's your education down the road, what's the big picture? I hope he's done that."
May, 15, 2013
5/15/13
12:00
PM ET
AMELIA ISLAND, Fla. -- A year ago today, Florida State coach Jimbo Fisher was asked exactly zero questions about his football team when facing the media contingent at ACC media days.
All anybody cared about was whether the Seminoles were joining the Big 12.
His athletic director, Randy Spetman, did not even stop to talk with reporters, walking -- nay, sprinting -- to the tune of a no comment.
[+] Enlarge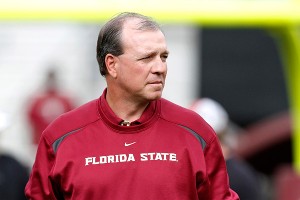 AP Photo/Don Juan MooreFSU coach Jimbo Fisher says he's "looking forward to the future" of the expanded and new ACC.
On Tuesday, Fisher smiled and leaned on a desk when he was asked to recall the maelstrom surrounding last year's meetings, with Florida State squarely in the center.
No such drama this year. A much different vibe permeated the Ritz Carlton Resort, one that had coaches and athletic directors speaking positively about the conference's future, with
a grant of rights signed
and the possibility of an ACC Network being discussed.
"When you have a definite plan of where things are going and where you're going, I think you definitely do [have a different vibe]," Fisher said. "When there's indecision, you're always wondering what's going on from that standpoint. But yes, I think it's a clear-cut picture of where Florida State's going, where the ACC's going and to me it's a very exciting path. It sounds very good. I don't know all the details but our president and Board of Trustees did an excellent job of researching and making decisions. What's been explained to me, I'm very excited about it and looking forward to the future."
A future in the ACC, of course. Last year, Fisher fanned Big 12 speculation when he said his school
should explore all conference options
, following comments made by a member of the Florida State board of trustees. That ended up triggering a storm that painted a doom-and-gloom scenario in the ACC, one that grew with Maryland's departure, as the league had to bat down speculation it was on the verge of being raided.
Of course, reports of the league's demise were greatly exaggerated. League officials remained confident in the future, even after Maryland left. Louisville and Notre Dame have been added, and the all-important grant of rights is in the books. Now league members can move forward together. Indeed, the future 15-member contingent is completely represented here, with reps from the Cardinals and Irish attending meetings.
And the league schools have wanted to promote that message: They are united, as one, moving forward. Phase I begins in the fall with Pitt and Syracuse beginning ACC play, and Notre Dame joining in all sports but football.
"Knowing our footprint is so vast, you can really see this thing taking off and giving us an opportunity to take the ACC and compete across the board with every conference and take it into all those households," Syracuse coach Scott Shafer said. "It's an exciting time to be a part of that."
Phase II begins in 2014 when Louisville enters and the Terps depart. Louisville is at an incredible high with success across virtually all its sports, football included.
From his seat watching it all, Louisville coach Charlie Strong said, "You're going to get in a conference already rich in tradition with academics and athletics. With the University of Louisville coming, you feel there's stability there. Now with your programs, you feel you have a chance to go compete. We know we'll be able to compete at the highest level."
If you count Louisville, the ACC has a chance to have three top-15 programs start the 2013 season, something the league needs to help its national credibility. Clemson and Florida State are the other two.
And that brings us back to Fisher. Fresh off a BCS win and top-10 national finish, Fisher spoke for roughly an hour at this year's ACC media gathering, touching on topics related to the league and greater issues surrounding college football, dropping one-liners and one anecdote after another -- spending far more time than the three uncomfortable minutes he had with reporters last year.
Even better for him? There were many, many more questions about his team than he fielded a year ago.
Goodell Has Sit-Down With Jameis Winston
ACC SCOREBOARD
Thursday, 9/3
Saturday, 9/5
Monday, 9/7