ESPN 300 CB Tabor has two on top
June, 30, 2013
6/30/13
9:31
PM ET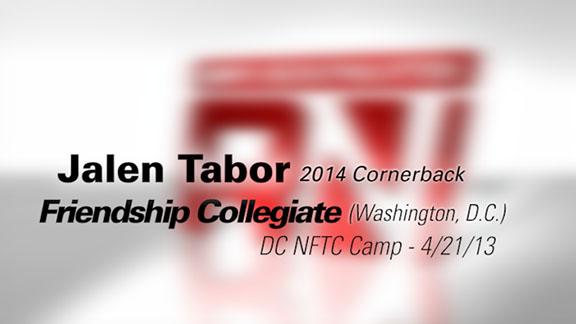 LAKE OSWEGO, Ore. -- ESPN 300 defensive back
Jalen Tabor
(Washington, D.C./Friendship Collegiate Academy) has a top five consisting of Alabama, Maryland, Florida State, Florida and Vanderbilt, but two might be inching ahead of the others.
To continue reading this article you must be an Insider
Welcome
!
We see that you are not an ESPN Insider. Upgrade today and gain access to our exclusive coverage.
ESPN The Magazine subscribers

Need more information?
Five Programs Expecting 2014 Boost
National recruiting analysts Tom Luginbill and Craig Haubert rank the college football teams that will see the earliest dividends from 2014 recruiting.
Tags:
Leonard Fournette
,
Myles Garrett
,
Juju Smith
,
Jalen Hurd
,
Malach Dupre
,
Ermon Lane
,
Bryce Dixon
,
Florida State Seminoles
,
USC Trojans
,
Tennessee Volunteers
,
Texas A&M Aggies
,
LSU Tigers
,
ESPN 300
,
RecruitingNation
,
high school football recruiting
Five Programs Expecting 2014 Boost
VIDEO PLAYLIST
Five Programs Expecting 2014 Boost

Five Programs Expecting 2014 Boost

National recruiting analysts Tom Luginbill and Craig Haubert rank the college football teams that will see the earliest dividends from 2014 recruiting.

Tags: Leonard Fournette

,

Myles Garrett

,

Juju Smith

,

Jalen Hurd

,

Malach Dupre

,

Ermon Lane

,

Bryce Dixon

,

Florida State Seminoles

,

USC Trojans

,

Tennessee Volunteers

,

Texas A&M Aggies

,

LSU Tigers

,

ESPN 300

,

RecruitingNation

,

high school football recruiting

#AskLoogs: March 7

#AskLoogs: March 7

With 2014 recruiting in the rearview mirror and 2015 evaluations ongoing, national recruiting director Tom Luginbill fields pressing Twitter questions from college football fans.

Tags: Florida State Seminoles

,

Texas Longhorns

,

Poona Ford

,

Derik Roberson

,

Jerrod Heard

,

Tyrek Cole

,

Tarvarus McFadden

,

Minkah Fitzpatrick

,

Derrick Dillon

,

Brett Rypien

,

Jake Browning

,

ESPN Junior 300

,

RecruitingNation

,

high school football recruiting

Top Returning Players: ACC Atlantic

Top Returning Players: ACC Atlantic

It's March, which means we're one month closer to the start of college football. Spring practice is off and running in the ACC, so Toni Collins and Jared Shanker took a look at some of the top returning players and storylines in the ACC Atlantic division.

Tags: Florida State Seminoles

,

Clemson Tigers

,

ACC Atlantic
FSU FB RECRUITING SCORECARD
Nike Men's Florida State Seminoles Black #5 Replica Football T-Shirt Shop »
DeionSanders

DeionSanders


"@Shawnmorrow:thanks for your family series on @OWNTV my 14yr & 8yr old boys along with mom & I enjoy watching: we parent similar!" Thank u
about 5 hours ago

MichaelWarchant

Michael Langston


Ok I don't like New Mexico that much now. Man look totally lost after going to 1-3-1 zone
about 6 hours ago

DeionSanders

DeionSanders


RT @10fficial: @deionsanders your family is beautiful the kids are so smart i love watching Deions Family Playbook you're real & a great fa…
about 6 hours ago

DeionSanders

DeionSanders


RT @shrondann71: @DeionSanders I stayed up past my bedtime to watch Deion's Family Playbook for the 1st time & I'm loving it. Good decision…
about 6 hours ago

DeionSanders

DeionSanders


RT @dionisms: #DeionsFamilyPlaybook | @DeionSanders is being a Father to fatherless men all over the Country with this show. I hope they a…
about 6 hours ago

DeionSanders

DeionSanders


RT @bucbabe39: I really love how @DeionSanders parents his children! This show definitely isn't scripted!@#imhooked #deionsfamilyplaybook …
about 6 hours ago

DeionSanders

DeionSanders


RT @ashleyyy80: "I'm single but I'm certainly not alone"- @DeionSanders #lovethat #DeionsFamilyPlaybook #truth
about 6 hours ago

DeionSanders

DeionSanders


RT @tMKing1: Okay I am enjoying @DeionSanders @Traceyeedmonds & the kids on #DeionsFamilyPlaybook @OWNTV
about 6 hours ago

DeionSanders

DeionSanders


RT @RealityShowKing: Aww Its Over :( Well we have to wait next week! @Traceyeedmonds & @DeionSanders #DeionsFamilyPlaybook
about 6 hours ago

DeionSanders

DeionSanders


RT @Meelahkiss: No one is exempt from your jokes @DeionSanders Wow...Really! Grandma gone blow out her teeth! LOL! #DeionSandersFamilyPlayb…
about 6 hours ago

MichaelWarchant

Michael Langston


Really like his #NewMexico squad.
about 6 hours ago

DeionSanders

DeionSanders


"@robertjonesLB55: Real good @DeionSanders & @Traceyeedmonds I really enjoyed that!" Thank u
about 6 hours ago

DeionSanders

DeionSanders


RT @JerseyGirlSport: Another great episode of @DeionSanders #FamilyPlayBook - so nice to see a celebration of the those who shaped you! #Gr…
about 6 hours ago

MichaelWarchant

Michael Langston


RT @SportsCenter: With win over Tar Heels, Duke has now won 33 games in a row at Cameron Indoor. Last loss: March 3, 2012 vs UNC. http://t.…
about 6 hours ago

DeionSanders

DeionSanders


RT @miajohnson1: I'm loving #DeionsFamilyPlaybook. I hope it's added to @OWNTV On Demand @Oprah @DeionSanders @Traceyeedmonds
about 6 hours ago

DeionSanders

DeionSanders


"@tay_hale: tell Mrs Connie next time she come in town let us know so I can see the twins :) #239 #FortMyers #Florida" she's there now
about 6 hours ago

DeionSanders

DeionSanders


"@mkolove: You are so FUN to watch. Tracey better be as gold on the inside as you are! Love your energy and Spirit! #Jesus" Thank u so much
about 6 hours ago

DeionSanders

DeionSanders


"@EricCribbSC: @owntv Well put together show #DeionsFamilyPlaybook @traceyeedmonds @oprah @nytimes @TIME" thank u Eric we appreciate u.
about 6 hours ago

DeionSanders

DeionSanders


RT @EricCribbSC: @owntv @edmondsent Well put together show #DeionsFamilyPlaybook @traceyeedmonds @deionsanders @oprah @nytimes @TIME
about 6 hours ago

DeionSanders

DeionSanders


RT @janjakejosh: Special guest Marshawn Lynch & basketball Coach Ray at Prime Prep Academy Senior Night 2014 @DeionSanders http://t.co/3sCn…
about 6 hours ago

MichaelWarchant

Michael Langston


RT @TheBenSwain: Crazies chanting "one more year". Can't tell if it's for Parker or McAdoo.
about 6 hours ago

DeionSanders

DeionSanders


RT @ZConnelly: @DeionSanders youngest daughter Shelomi is so me.I'm the youngest and I'm bossy #DeionsFamilyPlaybook
about 6 hours ago

theACC

The ACC


That's a wrap - @Duke_MBB defeats @UNC_Basketball 93-81. #UNCvsDUKE
about 6 hours ago

theACC

The ACC


16th-Ranked Virginia Tech, Led by Tournament MVP Devin Carter, Claims 2014 ACC Wrestling Championship: http://t.co/aQu05yoz5E
about 6 hours ago

theACC

The ACC


RT @Duke_MBB: Parker gets to 30 points, the most ever scored by a Duke freshman against UNC.
about 6 hours ago

DeionSanders

DeionSanders


RT @gatorboy1980: I'm sorry @DeionSanders but your lady @Traceyeedmonds is BEAUTIFUL 😍😍😍😍😍 #DeionSandersFamilyPlaybook
about 6 hours ago

DeionSanders

DeionSanders


RT @Deltareviewer: Now u know"@Traceyeedmonds: @Deltareviewer @DeionSanders#DeionsFamilyPlaybook. Yeah.. Lol! I got SCHOOLED by Grandma i…
about 6 hours ago

DeionSanders

DeionSanders


RT @BriBaby64: @Traceyeedmonds @PoliticalJones @DeionSanders @OWNTV Granny can't see but she saw them NUMBERS ON THAT CHECK!! #DeionsFamily…
about 6 hours ago

DeionSanders

DeionSanders


RT @PeriodPanteez: @cherylaction @Traceyeedmonds @DeionSanders Love Grandma! Deion's love 4 her is palpable. Dinner looks GR8! My FAV! :) #…
about 6 hours ago

DeionSanders

DeionSanders


"@Psycho_GOSSIP: All @DeionSanders Kids have beautiful hair! Wow! #DeionsFamilyPlaybook @OWNTVFans @OWNTV" mine was nice as well. Lol
about 6 hours ago

DeionSanders

DeionSanders


RT @joannagh611: @DeionSanders OMG! You look just like your Grandmama!
about 6 hours ago

DeionSanders

DeionSanders


RT @iamgroov: @DeionSanders @Traceyeedmonds amazing show #DeionsFamilyPlaybook #Hooked @OWNTV
about 6 hours ago

DeionSanders

DeionSanders


RT @perklisa1973: @DeionSanders @DeionSandersJr @JaquanSheals @OWNTV @Oprah we all did it...I lied to guys at six flags and a dominos pizza…
about 6 hours ago

DeionSanders

DeionSanders


RT @MommaWatzDuece4: Finally a positive black reality show and the truth.. Thank u @DeionSanders @AlrightTV @OWNTV #dvrsetweekly #keepGiving
about 6 hours ago

theACC

The ACC


#ACC Recap: @Duke_WBB Uses Late Rally to Advance to #ACCWBB Championship Game: http://t.co/iBgBI0CDYY Instagram: http://t.co/xgNgtG0jGJ
about 7 hours ago

DeionSanders

DeionSanders


"@Jaydeholt_: @DeionSanders shelomi is too funny her and i can be best friends" #DeionsFamilyPlaybook @OWNTV that's my babygirl
about 7 hours ago

DeionSanders

DeionSanders


"@slickricksj: I usually won't watch reality shows but for my dude @DeionSanders I'll make an exception. Hahaha #Prime" Thank u
about 7 hours ago

theACC

The ACC


#ACC Game Graphics for @Duke_WBB's win over @uncwbb in the #ACCWBB Semifinals: http://t.co/z6qBkGOnFb
about 7 hours ago

DeionSanders

DeionSanders


RT @iamdeshawnd: Daddy Deion stalking in the class... #Shilo is saying in a Florida Evans voice "Dam, Dam, Dam!" 😂😂😂😂 @DeionSanders #Deions…
about 7 hours ago

DeionSanders

DeionSanders


Why is @DeionSandersJr teaching @JaquanSheals aka FLORIDA how to lie? #DeionsFamilyPlaybook @OWNTV @Oprah
about 7 hours ago

DeionSanders

DeionSanders


RT @JNowocin: @Traceyeedmonds @DeionSanders Another amazing episode of #DeionsFamilyPlaybook great life lessons and parenting skills !!!!
about 7 hours ago

DeionSanders

DeionSanders


RT @MzKay2U: I Love How Real He and His family Keep It... @DeionSanders #DeionsFamilyPlaybook
about 7 hours ago

DeionSanders

DeionSanders


RT @Iamthavir2uous1: @DeionSanders @OWNTV @Oprah Dieon, you're a great example of what a man should be. May God continue to Bless you. Edu…
about 7 hours ago

DeionSanders

DeionSanders


RT @RealityShowKing: ATTENTION: #DeionsFamilyPlaybook is TRENDING! @DeionSanders @Traceyeedmonds
about 7 hours ago

DeionSanders

DeionSanders


RT @ThisGirlzFancy: #UniversityOfPhoenix don't have no football team! Lmao @deionsanders #deionsfamilyplaybook
about 7 hours ago

DeionSanders

DeionSanders


#DeionsFamilyPlaybook @OWNTV @Oprah Why are my kids lying about their age?
about 7 hours ago

DeionSanders

DeionSanders


Please include the wonderful @Oprah and let her know how u feel about the show.
about 7 hours ago

DeionSanders

DeionSanders


#DeionsFamilyPlaybook @OWNTV @Oprah Does anyone else have kids that go at it besides me?
about 7 hours ago

DeionSanders

DeionSanders


#DeionsFamilyPlaybook @OWNTV @Oprah just in case u were wondering I did hit that jumper. No edit!!!
about 7 hours ago

Noles247

Noles247.com


Seniors want to win on their day http://t.co/PPln6o0hgv via @Noles247
about 7 hours ago

theACC

The ACC


RT @ESPNCBB: Halftime from Cameron Indoor:Duke - 40 (Parker 16 points)UNC - 37 (McAdoo 11 points)#UNCvsDUKE
about 7 hours ago

theACC

The ACC


RT @accwbb: Sunday's #ACCWBB Championship matchup is set! @NDWBB vs. @Duke_WBB at 7 PM on ESPN/WatchESPN http://t.co/YkiTghEtFY.
about 7 hours ago

DeionSanders

DeionSanders


RT @ladyadavis: #JerseyGirlSport fam only 23 minutes until @DeionSanders #DeionsFamilyPlaybook on @OWNTV
about 8 hours ago

DeionSanders

DeionSanders


RT @JerseyGirlSport: #JerseyGirlSport fam only 23 minutes until @DeionSanders #DeionsFamilyPlaybook on @OWNTV
about 8 hours ago

theACC

The ACC


RT @ACCWrestling: MT @VT_Wrestling: Your 2014 #ACCWrestle Champions! http://t.co/8O1s8GB8P6
about 8 hours ago

DeionSanders

DeionSanders


RT @STaunya: @DeionSanders @kymwhitley @OWNTV I'm loving these shows! Deion had me crying last week. ***** Lo and her son!! Just beautiful!
about 8 hours ago

theACC

The ACC


RT @ACCWrestling: MT @PackWrestle: Your 2014 #ACCWrestle Champion at 285 pounds, Nick Gwiazdowski wins 10-4 over #8 Myers of Maryland.
about 8 hours ago

DeionSanders

DeionSanders


RT @HuffPostOWN: .@DeionSanders and his teenage son play the blues #DeionsFamilyPlaybook http://t.co/rNJFBnoMnC
about 8 hours ago

DeionSanders

DeionSanders


RT @dkpeach: @DeionSanders @OWNTV @kymwhitley I can't wait!! I missed it last week...#DeionsFamilyPlaybook
about 8 hours ago

DeionSanders

DeionSanders


RT @dwayneturnsilk: Waiting to watch @DeionSanders show at 9 on @OWNTV then sleep time
about 8 hours ago

theACC

The ACC


RT @ACCWrestling: MT @VT_Wrestling: Chris Penny wins another #ACCWrestle Champ for #Hokies in the 197 lb. weight class! His first.
about 8 hours ago

theACC

The ACC


RT @ACCWrestling: MT @UMDWrestling: With a 3-1 win over Thomusseit, Jimmy Sheptock wins his 3rd ACC title. Congratulations! #ACCWrestle 184…
about 8 hours ago

DeionSanders

DeionSanders


Less than a hour until #DeionsFamilyPlaybook is on @OWNTV after da wonderful @kymwhitley #RaisingWhitley My Grandma celebrates her 90th Bday
about 8 hours ago

theACC

The ACC


RT @ESPNCBB #UNCvsDUKE http://t.co/WNHRn0Vvj6
about 9 hours ago

theACC

The ACC


#ACC Recap: @NDWBB Defeats @PackWomensBball in #ACCWBB Semifinals; Take 31-0 Record into Title Game: http://t.co/oJprxvIkir
about 9 hours ago

theACC

The ACC


RT @VT_Wrestling: Zach Neibert wins in the 149 lb. weight class and is an ACC Champion for the first time in his career! #HokieProud
about 9 hours ago

MichaelWarchant

Michael Langston


RT @Cole_island: #FSU 😎🏈💯✊🐴 me and Fam @RoadToSuccess_2 http://t.co/A6cZyuE7qI
about 9 hours ago

theACC

The ACC


RT @accwbb: HALFTIME SCORE: @Duke_WBB & @uncwbb tied 31-31. #UNC Stephanie Mavunga converted a 3-pt play to tie the game just before the ha…
about 9 hours ago

theACC

The ACC


Check out #ACCWBB Game Graphics for @NDWBB vs @PackWomensBball: http://t.co/nqPIevtQll
about 9 hours ago

theACC

The ACC


RT @ACCWrestling: #ACCWrestle champion at 141 is #Hokies Devin Carter - 3rd #ACC title, 1st at 141 http://t.co/rgdsxzFnRx
about 9 hours ago

theACC

The ACC


RT @ACCWrestling: Congrats to @VT_Wrestling Dennis Gustafson for his #ACCWrestle title at 133 with a major dec 11-0 [http://t.co/rgdsxzFnR…
about 9 hours ago

DeionSanders

DeionSanders


RT @Traceyeedmonds: RT C/O Shilo's music skills & hear what Dad @DeionSanders has 2 say abt them! #DeionsFamilyPlaybook SNEAK PEEK @OWNTV h…
about 9 hours ago

Noles247

Noles247.com


Rankings, film, notes and more on #FSU's latest offers http://t.co/aayUW1P04E via @Noles247
about 9 hours ago

Noles247

Noles247.com


All or nothing for #FSU men's basketball against Syracuse tomorrow http://t.co/N0bFwO9q6x via @Noles247
about 9 hours ago

Noles247

Noles247.com


Former #Nole Marvin Bracy wins silver medal at IAAF World Indoors http://t.co/VkZu4JB5uE via @Noles247
about 9 hours ago

DeionSanders

DeionSanders


RT @tferg3: DVR set tonight ---> @Traceyeedmonds @deionsanders @OWNTV 👀 http://t.co/7VmqZUJQHI
about 10 hours ago

Noles247

Noles247.com


Game Story from @AGallina2010: #FSU drops Saturday game to Maryland http://t.co/ba4Rkrflpk via @Noles247
about 10 hours ago

theACC

The ACC


RT @ACCWrestling: Congrats to @UNCWrestling Nathan Kraisser #ACCWrestle Champion at 125 [http://t.co/rgdsxzFnRx]
about 10 hours ago

theACC

The ACC


RT @accwbb: Keep up to date on all the #ACCWBB social activity with the ACC Tourney Buzz! http://t.co/FIu3HA16I8
about 10 hours ago

theACC

The ACC


MT @BlueDevil_NTWRK: The calm before the storm. #DUKEvsUNC @Duke_MBB #TobaccoRoad #Cameron http://t.co/GIGN4cdKdk
about 10 hours ago

theACC

The ACC


RT @accwbb: Up next in our second #ACCWBB Semifinal, @Duke_WBB vs. @uncwbb at 7:30 PM on ESPNU/WatchESPN http://t.co/wPRHduuKan.
about 10 hours ago

_DCReeves

D.C. Reeves


It had been just 3,100 games - or 72 years - since Alabama threw its last 9-inning no hitter. Until Saturday. Story: http://t.co/6NNoZyJq0V
about 10 hours ago

theACC

The ACC


RT @accwbb: With today's win in the #ACCWBB Semifinals, @NDWBB improves to 31-0 on the season and sets new school record for longest winnin…
about 10 hours ago

theACC

The ACC


RT @accwbb: FINAL SCORE: @NDWBB 83, @PackWomensBball 48. #Irish advance to #ACCWBB Championship to face #Duke or #UNC Sun. at 7 PM on ESPN/…
about 10 hours ago

ColeyHarvey

Coley Harvey


RT @GoesslingESPN: Vikings interested in Michael Johnson: MINNEAPOLIS -- Before the start of free agency, Bengals... http://t.co/ou2JclUX6i
about 10 hours ago

theACC

The ACC


RT @ACCWrestling: Don't miss the #ACCWrestle finals LIVE on #ESPN3 at 7:30 pm [http://t.co/HW5fdMFAK2] More info: http://t.co/10Edsu7PrK
about 10 hours ago

theACC

The ACC


#MustSeeACC: Back-to-Back Alley-Oops for @GTMBK: http://t.co/JLImCrlI66
about 11 hours ago

theACC

The ACC


MT @HailToPittHoops: PITT WINS! The five seed in the ACC Tournament is secured with the 83-78 overtime victory over the Clemson Tigers.
about 11 hours ago

Warchant

Warchant.com


Reminder: FSU's series finale against Maryland has been moved to an 11 a.m. start tomorrow.
about 11 hours ago

DeionSanders

DeionSanders


Please watch my girl @kymwhitley #RaisingWhitley at 9ET @OWNTV She is Hilarious,Real and a GREAT mother. Truly a NICE person. Truth
about 11 hours ago

DeionSanders

DeionSanders


HEY HEY HEY HEY !!!! Yall ready for #DeionsFamilyPlaybook @OWNTV 10ET 2night 10kids and a lot of Love,Respect,Guidance & Patience babyTRUTH
about 11 hours ago

MichaelWarchant

Michael Langston


Going to be one heck of a court storming at #Oregon
about 11 hours ago

MichaelWarchant

Michael Langston


Ducks about to get that signature win. #MarchMadness
about 11 hours ago

MichaelWarchant

Michael Langston


Oregon up 61-57. 1:00 left
about 11 hours ago

theACC

The ACC


MT @HailToPittHoops: IT COUNTS!! Josh Newkirk's pull-up jumper with less than a tenth of a second left ties it. 67-67. We need overtime!
about 11 hours ago

MichaelWarchant

Michael Langston


Ball still on his fingertips but time expired.
about 11 hours ago

MichaelWarchant

Michael Langston


Clemson should win
about 11 hours ago

MichaelWarchant

Michael Langston


No basket
about 11 hours ago

MichaelWarchant

Michael Langston


Wow. Great game so far with Oregon/ Arizona. Ducks up 53-51
about 11 hours ago
ACC SCOREBOARD
Saturday, 12/21
Monday, 12/23
Tuesday, 12/24
Thursday, 12/26
Friday, 12/27
Saturday, 12/28
Monday, 12/30
Tuesday, 12/31
Wednesday, 1/1
Thursday, 1/2
Friday, 1/3
Saturday, 1/4
Sunday, 1/5
Monday, 1/6
BLOG ARCHIVE:
CATEGORIES: