Silence is golden for FSU commit Daub
April, 30, 2013
4/30/13
8:30
AM ET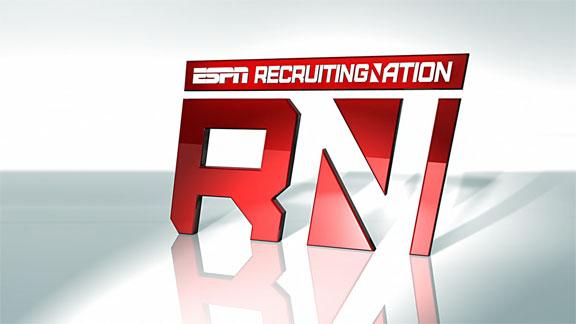 Call
Kain Daub
(Jacksonville, Fla./Sandalwood) the strong, silent type. He has never been shy about his lack of affinity for the recruiting process.
He's certainly not anti-social, but when it comes to his recruitment, the calls from coaches and reporters, the mail and all that comes with it, he keeps the answers short.
To continue reading this article you must be an Insider
Insider
Goodell Has Sit-Down With Jameis Winston
ESPN NFL Insider Field Yates discusses Roger Goodell's meeting with presumptive No. 1 draft pick Jameis Winston.
Goodell Has Sit-Down With Jameis Winston
VIDEO PLAYLIST
FSU FB RECRUITING SCORECARD
theACC

The ACC


#ACCWBB Recap: @ndwbb Beats Baylor, Advances to 5th Straight Final Four: http://t.co/v2VD6h0gP2
about 2 hours ago

38Godfrey

Steven Godfrey


When I grow up I want to move to Suplex City
about 4 hours ago

TomahawkNation

TomahawkNation.com


Literally gloves off
about 4 hours ago

JoshOz76

Oz


@TomahawkNation I'm calling Lesnar nearly gets screwed by Heyman, Reigns turns heel, and Seth Rollins cashes in his MITB contract.
about 4 hours ago

hercnjerc

MVWhite


@TomahawkNation I predict Seth Rollins cashes in the Money in the Bank contract and leaves with the title. Something fishy about his match
about 4 hours ago

theACC

The ACC


RT @accwbb: Congrats to @ndwbb on beating Baylor and advancing to the #ncaaW Final Four! http://t.co/JfjMKLSwH9
about 4 hours ago

TomahawkNation

TomahawkNation.com


Think Brock takes it and they bring roman back in like two years with the "now he's ready" thing.
about 4 hours ago

TomahawkNation

TomahawkNation.com


Who y'all got tonight?
about 4 hours ago

DeionSandersJr

Deion Sanders Jr


I will follow everybody who retweets my last retweet! #WellOffForever #PrimeJr
about 4 hours ago

Jaboowins

Jameis Winston


S/O to my bro @pjwilliams_26 and darby_ronald for my bday present https://t.co/3koKETugg0
about 5 hours ago

TomahawkNation

TomahawkNation.com


Rhonda!
about 5 hours ago

ACCBaseball

ACC Baseball


#ACCBase Atlantic Division:Louisville 11-1Florida State 9-3NC State 6-5Wake Forest 6-6Clemson 5-7Boston College 4-7Notre Dame 3-9
about 5 hours ago

38Godfrey

Steven Godfrey


WrestleMania sets a Levi's record of 76,000-plus, or a bad day in half of college football's Power 5.
about 5 hours ago

AGuyNamedNam

Nam Le


That match was a surprising wrestling clinic.
about 5 hours ago

RivalsCamp

Rivals Camp Series


Our Dallas #RivalsCamp got a special treat with a welcome from @UAFootball ambassador Deion Sanders @DeionSanders http://t.co/CWskVmabNR
about 5 hours ago

TomahawkNation

TomahawkNation.com


Can't root against America, but Jorts. Jorts v. Russia is basically like Russia v. UF.
about 5 hours ago

sundownmotel

Bill Hanstock


DWIGHT EISENHOWER. THE CONSTITUTION. LABOR UNIONS. RONALD REAGON. EDISON. ROBOTS. JOHN CENA.
about 5 hours ago

TomahawkNation

TomahawkNation.com


Moon Landing. Miracle on ice. Cena?
about 5 hours ago

JordiScrubbings

Mike Lortz


@TomahawkNation considering we prob wont see kevin kelly or michelle mccool, lana and ron simmons is a good fsu #WrestleMania31 showing.
about 5 hours ago

TomahawkNation

TomahawkNation.com


#Noles @lanawwe
about 5 hours ago

jcshurburtt

JC Shurburtt


Critical Hire: Brad Lawing at #FSU http://t.co/uCjTRu0IOH #Noles @CNee247 @joshnewberg247
about 6 hours ago

WellOffForever

Well Off


Get 25% off on your next Well Off purchase by using the code WOF! Buy here at http://t.co/ys2bt5BouI #WellOffForever http://t.co/sWjrusm3rC
about 6 hours ago

DeionSandersJr

Deion Sanders Jr


I will follow everybody who RT's my last retweet #PrimeJr #WellOffForever
about 6 hours ago

TomahawkNation

TomahawkNation.com


Who is this girl singing? Grammy nominated not winning for a reason it seems.
about 6 hours ago

KCJoynerTFS

KC Joyner


Of all the times for the WWE Network to not lag.
about 6 hours ago

TomahawkNation

TomahawkNation.com


Like I would miss it! RT @JoshOz76: .@TomahawkNation ha! Even Bud is watching Mania
about 6 hours ago

TomahawkNation

TomahawkNation.com


Damn! #Noles #FSU
about 6 hours ago

djvecellio

Dan Vecellio


RON SIMMONS! #TalkinBoutTheNoles #WrestleMania
about 6 hours ago

PattyMcLester

Patty McLester


Ron Simmons sighting at #WrestleMania DAMN #FSU @TomahawkNation
about 6 hours ago

Noles247

Noles247.com


Video: Nate Andrews talks spring practice (FREE) http://t.co/yStUfPv4jU via @Noles247
about 6 hours ago

Noles247

Noles247.com


#FSU Practice Video: Offensive Line and Wide Receivers http://t.co/NWSl1l16j4 via @Noles247
about 6 hours ago

theACC

The ACC


#ACCMBB Recap: @Duke_MBB Punches #FinalFour Ticket in Win Over Gonzaga: http://t.co/HUNMCAxXjF
about 6 hours ago

Warchant

Warchant.com


#FSU Hoops lands a commitment from 2015 JUCO Guard Benji Bell. http://t.co/mkrnpuRQif
about 6 hours ago

Juco_Offers

juco offers


Benji Bell (6'4/G/2015) of NW Florida St has committed to Florida State.
about 6 hours ago

FSU_WBasketball

FSU Women\'s Hoops


From the entire team and @CoachSueFSU, thank you Nole fans. Thank you! http://t.co/Hg1FFyeTV9
about 6 hours ago

accmbb

ACC Men\'s Basketball


See the stats that propelled @Duke_MBB to an #Elite8 victory & onto the #FinalFour: http://t.co/JbVTkRLRPk #ACCGameGraphic
about 7 hours ago

DeionSanders

Deion Sanders


Baseball players that reside in South Dallas ages 6-16. I want 2 really teach u how to play the game. deion.sanders@focusacademy.org #Truth
about 7 hours ago

DeionSanders

Deion Sanders


Single mothers that needs help with Guidance & Discipline concerning your child & u live in South Dallas deion.sanders@focusacademy.org
about 7 hours ago

Noles247

Noles247.com


Report: FSU hoops adds JUCO guard (FREE) http://t.co/dAbJEfiSnk via @Noles247
about 7 hours ago

theACCDN

ACC Digital Network


Congrats to @Duke_MBB! Representing @theACC in the Final Four! http://t.co/v0t8rrspUv
about 7 hours ago

_DCReeves

D.C. Reeves


(That's a joke)
about 7 hours ago

_DCReeves

D.C. Reeves


So is Alabama free to talk with Mark Few now?
about 7 hours ago

accmbb

ACC Men\'s Basketball


.@Duke_MBB is headed to the #FinalFour after defeating Gonzaga 66-52! http://t.co/ccQdsSYCkL
about 7 hours ago

TomahawkNation

TomahawkNation.com


.@tsalerno28079 if you think Hamilton's teams underperform every year your expectations are way too high. Some years, sure.
about 7 hours ago

TomahawkNation

TomahawkNation.com


JUCO standout Benji Bell commits to FSU http://t.co/2BCOiuS0Jv http://t.co/M2xfyjMl9D
about 8 hours ago

DeionSanders

Deion Sanders


I Need 12 baseball players that lives on the southside of Dallas ages 11-13 and ten players ages 14-16. Serious players only is what I want!
about 8 hours ago

Tim_Linafelt

Tim Linafelt / FSU


An emotional @CoachSueFSU addresses the crowd. Says the 500 FSU fans in G'boro were louder than the 6,000 USC fans. http://t.co/hLn6ihZDg3
about 8 hours ago

TimBrewster

Tim Brewster


Fla St will set a 3yr record for # of players drafted into the #NFL!! #NobodyDoesItBetter!! #NFLNoles!
about 8 hours ago

Warchant

Warchant.com


For Josh Delph, the only bad part of FSU's wild 6-5 win Sunday was being under the dogpile. https://t.co/PcHhzLEUTW http://t.co/eEzC7gizJw
about 8 hours ago

TimBrewster

Tim Brewster


#ProDay Tues will be off the chain!! #ESPN #NFLNetwork will be live from Tally!! 13 Noles will get drafted and 4-5 FAs! #NFLNoles!!
about 8 hours ago

TimBrewster

Tim Brewster


#ProDay Tues will be off the chain!! #ESPN #NFLNetwork will be live from Tally!! 13 Noles will get drafted and 4-5 FAs! #NFLNoles!!
about 8 hours ago

accmbb

ACC Men\'s Basketball


#ACCMBB Recap: @GoCards fall to Michigan State in Overtime: http://t.co/wGSt5Fxumz
about 9 hours ago

TomahawkNation

TomahawkNation.com


Driving down the street to my house thought fiancée had mowed the grass. Damn, just shadows. Monday.
about 9 hours ago

traeurban

Trae Urban


@TomahawkNation @abellwillring @bomani_jones he was inducted as a member of the dream team not specifically for his individual play
about 9 hours ago

TomahawkNation

TomahawkNation.com


.@abellwillring @bomani_jones why is he in the hof? I remember him now that I Googled him but five all star teams no mvps no titles. Hof? Y?
about 9 hours ago

TomahawkNation

TomahawkNation.com


.@jvnoledawg @nolanolegal i bet if you asked current recruits not being recruited by FSU who Charlie Ward was 90%+ wouldn't know.
about 9 hours ago

TomahawkNation

TomahawkNation.com


You remember watching him as a 6 & 7yo when he was good? RT @RHancock19: @nolanolegal @TomahawkNation I'm 28 and I know who that is.
about 9 hours ago

TomahawkNation

TomahawkNation.com


.@SportsDPT @bomani_jones somewhat yeah. Mullen never won a title and made 5 all star teams. Lots of guys have done that. Why special?
about 9 hours ago

AndrewJBone

Andrew Bone


ICYMI: Interviews posted this afternoon @TideSports with WR Austin Mack, WR Tre Nixon and OT Austin Troxell http://t.co/aFD0LndIAX
about 9 hours ago

TomahawkNation

TomahawkNation.com


I'm 29 & idk who that is? RT @bomani_jones: serious question: does the name "chris mullin" mean anything to the kids he'll be recruiting?
about 9 hours ago

TomahawkNation

TomahawkNation.com


Florida State Takes Series vs. VT in Walk-Off Fashion #Noles http://t.co/ZryQYXnJKB http://t.co/98Wuvqk5TF
about 9 hours ago

accmbb

ACC Men\'s Basketball


It's a 1-seed vs 2-seed matchup as @Duke_MBB takes on Gonzaga, NOW on CBS! #Elite8
about 9 hours ago

Noles247

Noles247.com


#FSU Baseball walks off with a series victory http://t.co/4nP5bEc5sP via @Noles247
about 9 hours ago

accmbb

ACC Men\'s Basketball


Final: @GoCards fall to Michigan State in OT 76-70.
about 10 hours ago

TomahawkNation

TomahawkNation.com


Luckily it doesn't matter because Kentucky RT @RattlerGator: Neither Louisville nor Michigan State belong in the Final Four. Not even close.
about 10 hours ago

timkawakami

Tim Kawakami


Free mini-timeout after a foul out = worst thing in college basketball.
about 10 hours ago

Warchant

Warchant.com


Bryant Holtmann will start FSU's Tuesday game against Florida in Jacksonville.
about 10 hours ago

TomahawkNation

TomahawkNation.com


So this benefits Louisville right? They can't shoot and Michigan state is out of big men?
about 10 hours ago

TomahawkNation

TomahawkNation.com


BTW if you're not following @MarkEnnis you're doing it wrong.
about 10 hours ago

MarkEnnis

Mark Ennis


Louisville is in overtime having made 5 whole shots from the field in the second half.
about 10 hours ago

accmbb

ACC Men\'s Basketball


.@GoCards & Michigan State are headed to OVERTIME tied at 65 apiece. Mathiang hit 1 of 2 FTs to tie the game.
about 10 hours ago

jdubs88

John Walters


If people took this many timeouts during sex, we'd be extinct.
about 10 hours ago

TomahawkNation

TomahawkNation.com


Lol that shot.
about 10 hours ago

MarkEnnis

Mark Ennis


Mangok to the line for a Final Four is like watching the pitcher bat in the bottom of the 9th.
about 10 hours ago

TomahawkNation

TomahawkNation.com


Lol 48% shooter. Can pitino have him fake an injury?
about 10 hours ago

TomahawkNation

TomahawkNation.com


Wow, the TV showed the play and not the coaches. Bold.
about 10 hours ago

FSU_Baseball

FSU Baseball


The #Noles win on a walk-off 6-5 over Virginia Tech! http://t.co/BO7rLsDNoW
about 10 hours ago

bomani_jones

Bomani Jones


curious to see how pitino's gonna try to get a shot in the lane. cuz no way you can draw up a jumper for these brick masons.
about 10 hours ago

Warchant

Warchant.com


That's FSU's first walk-off win this season, and its first walk-off win on an error dating back to at least 2003.
about 10 hours ago

FSU_WBasketball

FSU Women\'s Hoops


Come support and congratulate the #FSUWBB team on a TREMENDOUS season tonight at 6:30pm, at the Basketball Training Center! #emergeFSU
about 10 hours ago

Warchant

Warchant.com


VT second baseman takes a grounder and throws it over the first baseman's head. FSU wins 6-5 on a walk off E4.
about 10 hours ago

Warchant

Warchant.com


FSU has the bases loaded with two outs in the bottom of the 9th. Virginia Tech leads 5-4. A hit could end the game.
about 10 hours ago

Warchant

Warchant.com


FSU has something doing in the 9th now. Two men on, one out down 5-4 to Virginia Tech.
about 10 hours ago

TomahawkNation

TomahawkNation.com


Great year for the #Noles #WBB team. No shame in losing to SoCar, and they had a ~0% chance of beating ND/UConn next round anyhow.
about 11 hours ago

Noles247

Noles247.com


Top punter in the nation according to @KohlsKicking recaps #FSU two-day visit http://t.co/7nmdMQfIvW via @Noles247
about 11 hours ago

AGallina2010

Anthony Gallina


FSU now trails only 5-4 after a three-run seventh inning http://t.co/O6KwwePX4H
about 11 hours ago

ESPN_ACC

ESPN ACC


Sam Bruce, Jack Allison stand out at IMG7v7 Southeast Regional http://t.co/gZM4XofrjV
about 11 hours ago

Noles247

Noles247.com


#FSU now trails #VT 5-4. #Noles have bases loaded: http://t.co/vmKCDXMfju via @Noles247
about 11 hours ago

Warchant

Warchant.com


Bases loaded walk, and FSU is now down 5-4. Seminoles can bust this open with a hit.
about 11 hours ago

Noles247

Noles247.com


Nation's top punter on second visit to FSU being a lot more in-depth http://t.co/7nmdMPY77m via @Noles247
about 11 hours ago

FSU_WBasketball

FSU Women\'s Hoops


Come support and congratulate the #FSUWBB team on a TREMENDOUS season tonight at 6:30pm, at the Basketball Training Center! #emergeFSU
about 11 hours ago

Noles247

Noles247.com


#FSU closes gap to 5-3 against #VT. http://t.co/r25zqNpd4g via @Noles247
about 11 hours ago

PeytonsHead

Peyton\'s Head


I see @dennisdoddcbs stopped tweeting. He must have discount double checked his mentions.
about 11 hours ago

MarchMadnessTV

March Madness TV


Kentucky-Notre Dame Thriller on TBS Delivers Highest Overnight Rating (9.0) for College Basketball Game in Cable Television History
about 11 hours ago

Warchant

Warchant.com


FSU offense finally wakes up. DJ Stewart singles to drive in Taylor Walls. 5-2 with one out in the seventh inning: https://t.co/mAncJwtJls
about 11 hours ago

NolesTV

NolesTV


The @FSU_WTennis team made quick work of Syracuse on Sunday! #NolesHIGHLIGHTS: http://t.co/QQYeydzSrj http://t.co/6PiifBGGFv
about 11 hours ago

RivalsCamp

Rivals Camp Series


Only the BEST come out to welcome our #RivalsCamp'ers. @UAFootball @DeionSanders, @BigTimerCox & @AqibTalib31 http://t.co/sGlFhGQq5U
about 11 hours ago

CNee247

Chris Nee


Nation's top punter recaps two-day #FSU visit (VIP) http://t.co/vQro66aul9 via @Noles247
about 11 hours ago

TimBrewster

Tim Brewster


Rick Barnes is a great coach and an even better person, loved being around him always! #WillBeBackSoon!
about 11 hours ago

Warchant

Warchant.com


Now that he's full-time in football, former 2-sport athlete Marquez White locks in on CB job. https://t.co/P5lrYwiMcM http://t.co/hysoqBh43F
about 12 hours ago
ACC SCOREBOARD
Thursday, 9/3
Saturday, 9/5
Monday, 9/7
BLOG ARCHIVE:
CATEGORIES: