Posey adds FSU flavor to All-Star Game
July, 10, 2012
7/10/12
12:05
PM ET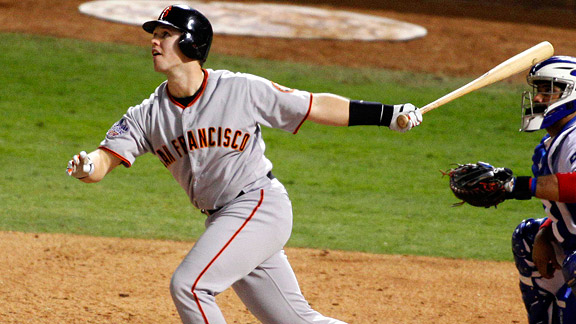 Tim Heitman/US PresswireSan Francisco's Buster Posey will be the fourth Seminole to play in the All-Star Game.
The best of Major League Baseball take the field tonight in Kansas City for the annual All-Star game, and behind the plate for the National League will be Florida State's
Buster Posey
.
It's no surprise that Posey earned the honor, leading the way in fan voting among catchers in his third season with the
San Francisco Giants
. Posey is hitting .289 with 10 homers and 43 RBI this season, and with a Rookie of the Year award and a World Series ring already on his resume, he's clearly established himself as one of the top catchers in the game.
What is surprising is the relatively small sample of FSU alums to have preceded Posey in the All-Star game. Of the 61 former Seminoles to have played in the majors, Posey is just the fourth to be named to an All-Star team, and he's just the second in the past 25 years.
More on Florida State
For full coverage of the Seminoles, check out the Florida State blog, part of ESPN's College Football Nation. Blog
More:
• Florida State's clubhouse page
• ESPN.com's ACC blog
Here's the full list:
To continue reading this article you must be an Insider
Insider
New No. 1 In ESPN CFB Power Rankings
ESPN college football reporter Adam Rittenberg joins Antonietta Collins to break down the new No. 1 team in the ESPN power rankings and share which teams he felt were too harshly ranked by the panel of experts.
New No. 1 In ESPN CFB Power Rankings
VIDEO PLAYLIST
FSU FB RECRUITING SCORECARD
DeionSanders

DeionSanders


Wow this was truly a Great day. My Health,the right attitude,peace,forgiveness,family,friends,a career,kids,love,purpose and JESUS. #Truth
about an hour ago

WDCharities

WarrickDunnCharities


@WarrickDunn issues #28challenge. Donate at http://t.co/THHS7Nkj7P RT @espn @YahooSports @TheUrbanDaily @peoplemag http://t.co/HJc8VpVzhV
about an hour ago

Bible_Time

Bible Time


I pray that the Lord, who gives peace, will always bless you with peace. May the Lord be with all of you too. -Thess 3:16
about 2 hours ago

NolesTV

NolesTV


#Noles Ultimate Highlight Package from the Clemson game availabe Free and On Demand http://t.co/aRyKaNrtio
about 4 hours ago

RivalsWoody

Woody Wommack


3-star Auburn (Ala.) DB Spencer Perry recaps Saturday's trip to Alabama, talks FSU interest http://t.co/zcUP7xsywi http://t.co/lKEvGCh2up
about 4 hours ago

DeionSanders

DeionSanders


@AntonioBrown84 is 1 of the best in the game! #Truth
about 4 hours ago

ACCMGolf

ACC Men\'s Golf


#ACCMGolf takes Top Conference honors at Challenge Cup (via @GolfweekCassie) » http://t.co/KSAggZHSUl
about 4 hours ago

ACCFieldHockey

ACC Field Hockey


#ACCFH teams went 5-0 today against nonconference opponents, and are now 38-5 (.884) against other leagues.
about 4 hours ago

_DCReeves

D.C. Reeves


Of Lane Kiffin's 8 yrs as a college play caller, thru 1st 4 games, this season ranks 2nd in yards (2,350), YPP (7.5) and 1st in plays (312).
about 5 hours ago

247recruiting

Football Recruiting


Injury update & recovery projection for 247Sports Composite No. 1 Josh Sweat from @RyanBartow http://t.co/zBVQxi3L5R http://t.co/8Zvsskvj9L
about 5 hours ago

ColeyHarvey

Coley Harvey


Poll time. Are #Bengals legit Super Bowl contenders after 3-0 start? Personally, think it's best to answer in January http://t.co/dkHpxJ4DEk
about 5 hours ago

LarryFitzgerald

Larry Fitzgerald


3 AND 0
about 5 hours ago

RivalsFriedman

Adam Friedman


2016 DE Josh Brown @jb51___ breaks down his #FSU commitment http://t.co/uFo7BVkyfs @Warchant
about 5 hours ago

_DCReeves

D.C. Reeves


The only time a Lane Kiffin offense has gained more yds thru the 1st 4 games in 2014 (2,350) was Bush/Leinart USC team in 2005 (2,478).
about 5 hours ago

_TomBlock

Tom Block


Jimbo started the show by saluting the fans/crowd/atmosphere. Big props to #Noles in the house. #Noles #JimboShow #CliffsNotes
about 6 hours ago

TomahawkNation

TomahawkNation.com


Keep swinging. Make the opponent snap it again. It might just go over the QB's head! http://t.co/euFTCYuwwr http://t.co/WAqE0PRNSL
about 6 hours ago

ColeyHarvey

Coley Harvey


When #Bengals get back from the bye,they expect to be healthier. Marvin Jones, Burkhead, Porter among those to return http://t.co/iJItXGhUBy
about 6 hours ago

peterberkes

Peter Berkes


._. RT @MatthewFairburn: EJ Manuel had 2.3 yards per attempt and completed 33 percent of passes when throwing to wide receivers today.
about 6 hours ago

ESPNMark

Mark Neal


Big show tomorrow! Talking about the 3-0 #Bengals start! Hear from @ColeyHarvey to get his take on the win, plus @MP2310 to preview MNF! 4p
about 6 hours ago

TomahawkNation

TomahawkNation.com


How the hell did Florida State beat Clemson? #Noles #FSU -- Finding the hidden wins http://t.co/cVSdSdCLqB
about 6 hours ago

RivalsFriedman

Adam Friedman


Where else will #Rivals100 DT @tim_settle take an official visit? http://t.co/YczJuiiAsa @OKStateRivals @Warchant
about 6 hours ago

Warchant

Warchant.com


Where does Saturday's game rank among all-time FSU-Clemson classics? Here's our new top five. https://t.co/8d9AlveUmM http://t.co/DZ2sKuqEpP
about 6 hours ago

ColeyHarvey

Coley Harvey


In that link, you'll see where I try to break down how Dalton's TD shows the new complexity in the #Bengals' offense. Gotta be more on way.
about 6 hours ago

ColeyHarvey

Coley Harvey


When Sanu first let go of his TD pass, he cursed. When Dalton dove by the pylon, Sanu cursed again, for a diff reason http://t.co/mmEcTC7UoU
about 6 hours ago

TomahawkNation

TomahawkNation.com


Yup! You get the email? RT @PhenomeNoles: How about Chris Casher having himself a game.
about 6 hours ago

ESPN_ACC

ESPN ACC


ACC bowl projections: Week 4 http://t.co/nhbmdh6Ebc
about 7 hours ago

dannykanell

Danny Kanell


Duke is the defending division champ. They are undefeated. Blown out each opponent. And NOT in top 25. That's downright disrespectful.
about 7 hours ago

ColeyHarvey

Coley Harvey


Game ball time. Watch this to see who @PaulKuharskyNFL and I are giving our game balls to after #Bengals beat #Titans http://t.co/SpB6fedTRX
about 7 hours ago

DeionSanders

DeionSanders


Great game going on!
about 7 hours ago

ColeyHarvey

Coley Harvey


Time to retract my earlier tweet ...
about 7 hours ago

AKRivals

Adam Krohn


4-star Kilby-Lane talks #FSU #Noles commitment, official visits FSU, #LSU and #Bama: (http://t.co/B9Lq2ROcIi )
about 7 hours ago

ColeyHarvey

Coley Harvey


So given that it looks like Seattle's going to win, where do you rank the #Bengals this week, folks?
about 7 hours ago

DeionSanders

DeionSanders


Peyton #HOP
about 7 hours ago

HS_BHGP

Patrick Vint


If you had placed a $100 moneyline bet against Iowa every time it's been favored by 10-21 points since 2006, you'd have won $3957.
about 7 hours ago

TomahawkNation

TomahawkNation.com


Jaguars don't need Jameis, though. RT @ByTimReynolds: Florida's NFL teams have lost 16 of their last 17 games, going back to last season.
about 7 hours ago

Seminoles_com

Seminoles.com


Milan leads @FSUGolf into fourth place after first round of Lady Paladin Invitational #noles http://t.co/1ifW87wjId
about 8 hours ago

Seminoles_com

Seminoles.com


Milan leads @FSUGolf into fourth place in team standings after first round of Lady Paladin Invitational http://t.co/PQzvnaYmFu #noles
about 8 hours ago

TomahawkNation

TomahawkNation.com


Las Vegas Wynn has FSU -26 at N.C. State, per VI.
about 8 hours ago

Noles247

Noles247.com


FSU's offensive line and running game struggled on Saturday, but came through in the end http://t.co/9yzvLPpWJv via @Noles247
about 8 hours ago

TomahawkNation

TomahawkNation.com


No line as of yet for Florida State at N.C. State.
about 8 hours ago

DeionSanders

DeionSanders


What excuse will the media and fans give the Broncos and Manning? #Truth
about 8 hours ago

joshnewberg247

Josh Newberg


Recruit: "Once again they showed even with their best player out that FSU will still find a way to win" (VIP) http://t.co/4BnhXy0ibp
about 9 hours ago

ColeyHarvey

Coley Harvey


Ken Whisenhunt on Andy Dalton's TD catch: "We repped that play in practice ..." Blidi Wreh-Wilson was in place to make a play. Just didn't.
about 9 hours ago

FSU_Football

FSU Football


The @CokeZero @Seminoles_com Fancam is live! Prove you were there. Tag yourself & try to win exclusive #FSU Prizes! http://t.co/Wc13IdCMVg
about 9 hours ago

ColeyHarvey

Coley Harvey


Since 1990, 75.2% RT @MrKCincy @ColeyHarvey @pauldehnerjr 63% of 2-0 teams make playoffs. What's that go up to at 3-0? #LetsRoar
about 9 hours ago

PFBSuperDave

Dave McIntire


@TomahawkNation total coincidence that the owners of the brand new SEC network made-up an index that has 4 SEC teams at the top.
about 9 hours ago

NolesJags904

Matt


Of course it is but the sheep will use it. "@TomahawkNation: So is FPI going to be another Espn forced stat with major flaws like QBr?"
about 9 hours ago

TomahawkNation

TomahawkNation.com


So is FPI going to be another Espn forced stat with major flaws like QBr?
about 10 hours ago

Noles247

Noles247.com


Big-time 2017 prospect on #FSU's victory, his visit http://t.co/8oiWLQnErJ via @Noles247
about 10 hours ago

jacques_patrick

The Boy Nino


I'm rocking with the Noles tonight! #NoleNation
about 10 hours ago

Warchant

Warchant.com


Insider Report: O'Leary is 'security blaket,' Rashad Greene issues halftime challenge, more: https://t.co/L7OFR3MOA0 http://t.co/xKcDyT4w9y
about 10 hours ago

ESPN_ACC

ESPN ACC


FSU's Fisher emotional after Clemson win http://t.co/0nLvUkOC74
about 10 hours ago

ColeyHarvey

Coley Harvey


Andy told me that was the first TD pass he's ever caught. Still wasn't sure what happened to the CB
about 10 hours ago

Noles247

Noles247.com


Jimbo Fisher, Sean Maguire get game balls this week http://t.co/wrJ7TLiCjW via @247Sports
about 10 hours ago

MrCFB

Tony Barnhart


Jimbo Fisher and his staff did a great job getting their team ready to play under difficult circumstances. Impressed with FSU kids.
about 10 hours ago

fsufball

FSU Football


Survive and advance in college football, sort of (The Associated Press): Breaking down the ballots for the AP ... http://t.co/uz8nI763vZ
about 10 hours ago

fsufball

FSU Football


Winston returns, Florida State believes it's No. 1 (The Associated Press): Heisman Trophy winner Jameis Winsto... http://t.co/pbsMilRmof
about 10 hours ago

ColeyHarvey

Coley Harvey


Lewis anticipates having Portee, Burfict, Burkhead and Marvin Jones back after bye #Bengals
about 10 hours ago

Noles247

Noles247.com


ESPN's obsession with Jameis Winston clear on Saturday evening http://t.co/j7EjT09Yh7 via @Noles247
about 10 hours ago

TimScrib

TimScrib


@TomahawkNation you're not following media coverage. Has to be something like "Despite Jameis Winston's distracting presence, FSU wins."
about 10 hours ago

ColeyHarvey

Coley Harvey


Marvin Lewis calls this the most complete game the team has played all year. Quickly lamented missed tackles. #Bengals
about 10 hours ago

ColeyHarvey

Coley Harvey


Here's your Rapid Reaction from today's 33-7 #Bengals win http://t.co/dWe9T2blAP
about 11 hours ago

ColeyHarvey

Coley Harvey


#Bengals defense has allowed an average 11 points so far this season
about 11 hours ago

MichaelWarchant

Michael Langston


Well what do you know there are such things as miracles. Clairborne makes a play. #Cowboys will win
about 11 hours ago

ColeyHarvey

Coley Harvey


#Bengals (3-0) complete the domination, win 33-7. Bye week time. In action again in two weeks at New England on a Sunday night.
about 11 hours ago

DavidHaleESPN

David Hale


I think this is the toughest #ACC Power Rankings we've done so far: http://t.co/ghPxw6JnZP
about 11 hours ago

ColeyHarvey

Coley Harvey


Margus Hunt has a right shoulder injury. His return is questionable (we're near the two-minute warning of a blowout) #Bengals
about 11 hours ago

_DCReeves

D.C. Reeves


I was afraid the Luckiest Man on Earth Award was slipping away from Tom Brady
about 11 hours ago

ColeyHarvey

Coley Harvey


Hunt walks off the field OK. Maybe he got the wind knocked out of him in addition to whatever arm issue he seems to be favoring.
about 11 hours ago

ColeyHarvey

Coley Harvey


Margus Hunt is down on the Titans sideline. He's been moved onto his back, but he had been stretched out on his belly. Doesn't look good
about 11 hours ago

TomahawkNation

TomahawkNation.com


Working title for tonight's article is "How the hell did Florida State beat Clemson?" Getting nerdy with stats.
about 11 hours ago

MichaelWarchant

Michael Langston


How Morris Clairborne has a job is a mystery.
about 11 hours ago

ColeyHarvey

Coley Harvey


Jason Campbell comes into the game, and Andy Dalton's day is done. 15-for-23, 169 yards, 1 INT, 1 TD (receiving) #Bengals
about 11 hours ago

dallascowboys

Dallas Cowboys


BRUUUUUUUUCCCEEEEEEEEEE! #DALvsSTL
about 11 hours ago

MichaelWarchant

Michael Langston


You are the man Bruce Carter. Pick six. Yes!! #Cowboys
about 11 hours ago

ColeyHarvey

Coley Harvey


And there goes the shutout. #Bengals still up 33-7. 6:09 to go.
about 11 hours ago

ColeyHarvey

Coley Harvey


Two personal fouls for Dre Kirkpatrick on this drive and off he comes. Then a penalty for 12 players. Looked like Flowers came on by mistake
about 11 hours ago

SportsCenter

SportsCenter


COWBOYS TAKE THE LEAD!Tony Romo hits Terrance Williams for the TD. Dallas leads St. Louis, 27-24.
about 11 hours ago

mattjbr

Matt Brown


@ColeyHarvey @pauldehnerjr @nkyskinner The down side is those name will be dated when Hue is a head coach next season.
about 11 hours ago

ColeyHarvey

Coley Harvey


Seriously, folks. We've got to figure this thing out: #HueLiveCrew or #HueTangClan? @pauldehnerjr @nkyskinner
about 11 hours ago

TomahawkNation

TomahawkNation.com


.@SportsBoss @Year2 @TeamSpeedKills roster is stacked w/ former top recruits who haven't been developed. That =/= talent. See: UF's offense
about 11 hours ago

ColeyHarvey

Coley Harvey


Jeremy Hill scores and it's 33-0. Complete domination from a team that beat another team that completely dominated another three days ago.
about 11 hours ago

ColeyHarvey

Coley Harvey


#Bengals announce LB Emmanuel Lamur had a hit to the head, he's questionable to return. Terence Newman has a foot injury, probable return
about 11 hours ago

TomahawkNation

TomahawkNation.com


Absolutely @Year2 @TeamSpeedKills. Think Mullen gets the Michigan gig. http://t.co/w6X7VkY96c
about 11 hours ago

TomahawkNation

TomahawkNation.com


Sean Maguire Florida State Clemson Video #Noles #FSU http://t.co/zLao1MHPtD
about 11 hours ago

HeaftyLefty

Matthew Burr\u20ACll Jr!


Just left rashad green and jamis and the team. Leaving tally. Feel great. Family is happy! #blessed
about 11 hours ago

ColeyHarvey

Coley Harvey


Looks like Dennard is playing for Leon Hall, who is on the sideline standing without a helmet. No news on a Hall injury has been announced.
about 11 hours ago

ColeyHarvey

Coley Harvey


Darqueze Dennard gets some action here in the third quarter on defense. He stays with the play on the scramble and gets his first sack.
about 12 hours ago

TomahawkNation

TomahawkNation.com


seems like good visit RT @HeaftyLefty: Just left rashad green and jamis and the team. Leaving tally. Feel great. Family is happy! #blessed
about 12 hours ago

HeaftyLefty

Matthew Burr\u20ACll Jr!


Just left rashad green and jamis and the team. Leaving tally. Feel great. Family is happy! #blessed
about 12 hours ago

itstate_18

?Auden Tate?


"@CoachN_J_: Ya ***** anytime the pastor say something about hardheaded kids http://t.co/Ok8nLPBqqU"😂😂😂
about 12 hours ago

RivalsFriedman

Adam Friedman


Not sure where this came from but #Rivals250 OL Matthew Burrell has confirmed with me that he has not committed to #FSU
about 12 hours ago

ColeyHarvey

Coley Harvey


Here's a poll we had after Falcons' blowout win Thurs. The choice "#Bengals are better than I expected" still leads http://t.co/YrYH1mbLjt
about 12 hours ago

ColeyHarvey

Coley Harvey


Giovani Bernard got stood up on the up-and-over leap, but keeps pushing when he comes down. Scores. #Bengals now up 26-0
about 12 hours ago

Noles247

Noles247.com


#FSU in the national statistics http://t.co/9GORcScXIS via @Noles247
about 12 hours ago

ColeyHarvey

Coley Harvey


Andy Dalton is doing it all today. Second QB Sneak for a first down on this drive.
about 12 hours ago

FSU_Soccer

FSU Soccer


Final score from Newton @FSU_Soccer defeats @BC_WSOC 2-0 in the ACC opener for both teams http://t.co/svwQELWjF3
about 12 hours ago

ColeyHarvey

Coley Harvey


Last week, it was the hurdle, This week, it's the spin. Giovani Bernard is playing Madden with the defense. #Bengals
about 12 hours ago

Noles247

Noles247.com


FSU Soccer wins ACC opener http://t.co/OXw8GyFELb via @Noles247
about 12 hours ago

SportsCenter

SportsCenter


Latest AP Top 10:1. Florida St2. Oregon3. Alabama4. Oklahoma5. Auburn6. Texas A&M7. Baylor8. Notre Dame9. Michigan St10. Ole Miss
about 12 hours ago
BLOG ARCHIVE:
CATEGORIES: