Rising '14 TE Saunders learning the game
March, 26, 2013
Mar 26
1:00
PM ET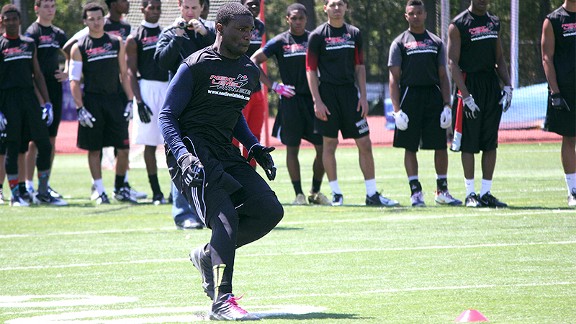 Sam Kahn Jr./ESPNHouston Kinkaid tight end Mavin Saunders has only played one season of football.
HOUSTON -- Like many of the pass-catchers that were competing with him, Houston Kinkaid tight end
Mavin Saunders
was simply trying to get better on Sunday when he attended the Next Level Athlete South Houston Video Showcase.
Every chance to compete and work is a positive for Saunders, who is trying to catch up to the rest of pack when it comes to football.
Unlike many of the players in attendance, Saunders hasn't spent his entire life -- or even his entire high school career -- playing football. In fact, he hasn't even played it a full year. The 2014 prospect has only one season of football under his belt.
To continue reading this article you must be an Insider
Welcome
!
We see that you are not an ESPN Insider. Upgrade today and gain access to our exclusive coverage.
ESPN The Magazine subscribers

Need more information?
FSU Students React To Winston Decision
Mark Schwarz talks to Florida State students following the news that QB Jameis Winston won't be charged after a sexual assault investigation.
Tags:
Florida State Seminoles
,
Jameis Winston
FSU Students React To Winston Decision
VIDEO PLAYLIST
NOLENATION RECRUITING NEWS
FSU FB RECRUITING SCORECARD
_DCReeves

D.C. Reeves


Also, if Ohio State loses now with NIU out, opens door for Bama to get a major opponent in Sugar like a Baylor or Oregon.
19 minutes ago

_DCReeves

D.C. Reeves


RT @GeorgeSchroeder: If Sugar is Baylor vs. Auburn: Briles vs. Malzahn. High school coaches made real good. Real Un-American Football. So m…
33 minutes ago

_DCReeves

D.C. Reeves


Wildcard to watch: If Ohio State CRUSHES MSU, could potentially knock it out of top 14 of BCS and open door for Bama to play Rose
45 minutes ago

TomahawkNation

TomahawkNation.com


Hello Whiskey River. Which #Noles are here?
47 minutes ago

_DCReeves

D.C. Reeves


BTW, understood that FSU will be replaced by Clemson & the Sugar would replace Aub/Mizz with Bama if Ohio St loses. Conference affiliation.
50 minutes ago

_DCReeves

D.C. Reeves


Bowls get to replace BCSCG teams 1st. RT @buggzy233: @_DCReeves couldn't Orange still take 'bama before Sugar since they get first pick?
51 minutes ago

_DCReeves

D.C. Reeves


.@jppalmCBS updated projection is Clem-Bama Orange, Auburn-Baylor in Sugar. http://t.co/vmGGQpDnPe
53 minutes ago

_DCReeves

D.C. Reeves


So here's Bama's deal with NIU done: Ohio State wins, VERY likely Orange. Ohio State loses, 100% Sugar as SEC replacement.
about an hour ago

_DCReeves

D.C. Reeves


I maintain that Alabama is the far and away likely Orange Bowl at-large choice. It was 100% guarantee with UCF/NIU as alternatives, though.
about an hour ago

_DCReeves

D.C. Reeves


SEC doesnt want it outside of BCSCG. @scondrey2: @_DCReeves dc what about iron bowl rematch? What has to happen?
about an hour ago

_DCReeves

D.C. Reeves


I keep seeing Bama fans want Bama-Oregon, but I just don't see how Orange won't take ACC (partner) Clemson as FSU replacement.
about an hour ago

_DCReeves

D.C. Reeves


OK, with NIU out, it means Oregon or Baylor could be in as a BCS at large. Will give Orange something to think about in place of Bama.
about an hour ago

TomahawkNation

TomahawkNation.com


RT @DavidTeelatDP: Bowling Green in process of virtually assuring Clemson a BCS at-large bid. Impressive Wake Forest audition for Dave Claw…
about an hour ago

TomahawkNation

TomahawkNation.com


RT @PatrickOBryant: Football Gods mocking whoever wants to vote Jameis anything other than first for the Hei5man. #BowlingGreened @Tomahawk…
about an hour ago

TomahawkNation

TomahawkNation.com


RT @CoachBurford: @BeardSEHS @TomahawkNation it's looking more like MehACtion for NIU...
about an hour ago

TomahawkNation

TomahawkNation.com


RT @bdroberts816: "@TomahawkNation: Bike shorts would not be out of place on Bowling Green's head coach."You know he has a pair with a sko…
about an hour ago

MichaelWarchant

Michael Langston


I thought having the possibility of Northern Illinois in a BCS bowl was embarrassing, but having Lynch on the Heisman ballot is much worse.
about an hour ago

TomahawkNation

TomahawkNation.com


Bike shorts would not be out of place on Bowling Green's head coach.
about an hour ago

TomahawkNation

TomahawkNation.com


RT @drhodes0785: This is why i love you man lol!!! RT @TomahawkNation: . @Soc_Doc nope. Don't care, either. Bout to cover Jameis play muder…
about an hour ago

MichaelWarchant

Michael Langston


"@Warchant: The one the only @daonlybigred doing Charlotte with @Warchant http://t.co/qNUKQEyJdq" Celebrity time.
about an hour ago

MichaelWarchant

Michael Langston


RT @davidraider88: Heisman moment!
about an hour ago

TomahawkNation

TomahawkNation.com


. @Soc_Doc nope. Don't care, either. Bout to cover Jameis play muderball on Duke
about an hour ago

Warchant

Warchant.com


The one the only @daonlybigred doing Charlotte with @Warchant http://t.co/DoeIGy7KLE
about an hour ago

MichaelWarchant

Michael Langston


RT @FSU_track: Men's track checks in w/No. 4 recruiting class in 2013 according to Track and Field News http://t.co/VhRPcxvQIl #Noles
about an hour ago

Noles247

Noles247.com


BCS Contenders: Resume Check http://t.co/UKmuaZcIRm via @Noles247
about an hour ago

TomahawkNation

TomahawkNation.com


RT @BeardSEHS: @TomahawkNation Against an actual D he had the the ball in his hands 64 times and it led to 10 points and only 220 total yar…
about an hour ago

fsufball

FSU Football


(fsu) Winston, Erving Accept ACC Awards: Jameis Winston and Cameron Erving accept their awards at the ACC Lege... http://t.co/rMKzLDo5ek
about an hour ago

TomahawkNation

TomahawkNation.com


The Jordan Lynch hate story: trying to turn a cute Wednesday night football story into something relevant and national.
about an hour ago

FSU_Football

FSU Football


RT @Seminoles_Video: @FSU_Football's Jameis Winston and Cameron Erving accept #ACC awards. http://t.co/GyIzvTC9Yo #Noles
about an hour ago

MichaelWarchant

Michael Langston


RT @FSU_Soccer: UCLA advances on pks 4-2. The Bruins will face @FSU_Soccer Sunday in the national finals at 3 pm on @ESPNU
about an hour ago

Noles247

Noles247.com


#FSU Soccer will face #UCLA on Sunday at 3 p.m. on ESPNU for the National Championship.
about 2 hours ago

_DCReeves

D.C. Reeves


If SEC champ makes title game, Bama could get major conference opponent RT @jason012676: @_DCReeves so what happens if Bowling green wins??
about 2 hours ago

Noles247

Noles247.com


Soccer: Penalty kicks coming in UVA/UCLA to find out who faces #FSU for a Nat'l Championship.
about 2 hours ago

Noles247

Noles247.com


#FSU Soccer to play for the National Championship http://t.co/GtOgQpDmWB via @Noles247 Will face winner of #UVA/#UCLA which is in 2OT
about 2 hours ago

theACC

The ACC


Congrats @FSU_Volleyball! MT @adamamin: Upset in @AVCAVolleyball regional. @FSU_Volleyball knocks out @GatorZoneVB. Huge win for Noles!
about 2 hours ago

MichaelWarchant

Michael Langston


Hey @Eric_Clark28 what's the score of the East Lake game since I heard someone say it was over???
about 2 hours ago

cdowlar

Corey Dowlar/ESPN


@DavidHaleESPN There is only one choice http://t.co/OWQtUuGiJa
about 2 hours ago

TheBobbyBowden

Bobby Bowden


Much deserved! "@Duke_FB: ACC Night of Legends-congrats Perry Simmons Wes Chesson & Coach Cutcliffe 4 being honored http://t.co/Eo5yK0CYiz"
about 2 hours ago

DavidHaleESPN

David Hale


Hey @cdowlar how's your Heisman ballot looking tonight? Any emails or MAC games sway your vote? http://t.co/jadwGZkNVC
about 2 hours ago

Noles247

Noles247.com


RT @Osceola_Tim: FSU soccer to the national championship game, FSU volleyball in the Sweet 16 and FSU football playing for the ACC title to…
about 3 hours ago

Noles247

Noles247.com


RT @edsbs: This NIU secondary is so bad I think Florida could pass for three or four field goals on it.
about 3 hours ago

Noles247

Noles247.com


#FSU Volleyball just took down the #Gators in the NCAA Tournament. Sweet 16 bound.
about 3 hours ago

Noles247

Noles247.com


Soccer Update: UVA and UCLA are 0-0 at the half. Winner faces #FSU on Sunday for Nat'l Championship.
about 3 hours ago

MichaelWarchant

Michael Langston


The fact that with a win in this MAC Title game N Illinois could be in a BCS bowl game is an embarrassment. Qualifications need to change.
about 3 hours ago

Warchant

Warchant.com


Congrats to #FSU Women's soccer 3-2 win over Va. Tech to advance to NCAA finals.
about 4 hours ago

FSU_Football

FSU Football


Jameis Winston interview with the @theACCDN at tonight's #ACC Legends Dinner. http://t.co/7OvZPlAfsJ
about 4 hours ago

Warchant

Warchant.com


Interview With# FSU QB Jameis Winston | ACC One-on-One http://t.co/MXeZNW8mho via @YahooSports
about 4 hours ago

TheBobbyBowden

Bobby Bowden


RT @TomFornelli: #OneHandedMACtion
about 4 hours ago

cdowlar

Corey Dowlar/ESPN


That was a great catch.
about 4 hours ago

Warchant

Warchant.com


Warchant intern Brandon with FabioNole at WhiskyRiver in Charlotte. http://t.co/SEBZi30vPD
about 4 hours ago

TheBobbyBowden

Bobby Bowden


@dannykanell Only a QB who bleeds G&G would say on TV that Lynch is a better player than TT. That's my boy! Lynch does deserve a trip to NY
about 4 hours ago

_DCReeves

D.C. Reeves


Cliff's Notes for Alabama fans: if you want a chance for the Orange Bowl to pass on Alabama/better opponent in Sugar you want Bowling Green.
about 4 hours ago

cdowlar

Corey Dowlar/ESPN


RT @saintwarrick: Bowling Green, you'll win if you really love America.
about 4 hours ago

theACC

The ACC


#ACC Fans! For classic throwback games and your favorite football moments, be sure to visit the Toyota ACC Vault: http://t.co/Oksj9I6dbS
about 4 hours ago

FSU_Football

FSU Football


Jameis Winston and Cam Erving with their ACC Awards haul from tonight! http://t.co/tb19Rymo2L
about 4 hours ago

TomahawkNation

TomahawkNation.com


RT @ScottKotick: Jameis Winston and Cam Erving honored tonight by the ACC. Lots of awards on that table. #Noles http://t.co/aAJORMbzrv
about 4 hours ago

TomahawkNation

TomahawkNation.com


RT @NikiNoto: This is what an almost 20 min interview with Famous Jameis looks like. #Noles #MommaDressedHim… http://t.co/uBCvCX2QSx
about 4 hours ago

Noles247

Noles247.com


RT @theACCfootball: David Cutcliffe: "Cam and Jameis, I'm so thrilled for all that you've accomplished this year. I'm giving you the day of…
about 4 hours ago

TomahawkNation

TomahawkNation.com


RT @FSU_Football: Winston is the first freshman ever to capture the ACC Player of the Year award in the 61-year history of the league. http…
about 4 hours ago

FSU_Football

FSU Football


Winston is the first freshman ever to capture the ACC Player of the Year award in the 61-year history of the league. http://t.co/2XWdErEhTJ
about 4 hours ago

fsufball

FSU Football


Column: FSU, Ohio St wins should eliminate SEC (The Associated Press): If top-ranked Florida State and No. 2 O... http://t.co/3yEGi3DwXc
about 4 hours ago

FSU_Football

FSU Football


Winston is back on the stage as the #ACC Player of the Year and the Offensive Player of the Year! http://t.co/BZbqPrGb1T
about 4 hours ago

Noles247

Noles247.com


RT @FSU_Football: Jameis Winston takes home the #ACC Rookie of the Year and the Offensive ROY! Here he is with Commissioner Swofford. http:…
about 4 hours ago

FSU_Football

FSU Football


Jameis Winston takes home the #ACC Rookie of the Year and the Offensive ROY! Here he is with Commissioner Swofford. http://t.co/BLvqkO7SBn
about 4 hours ago

TomahawkNation

TomahawkNation.com


RT @ScottKotick: Awesome to watch Jameis Winston get a great applause here at the ACC night of legends dinner.
about 5 hours ago

Noles247

Noles247.com


RT @FSU_Football: Congrats to LT Cam Erving for winning the #ACC Jacobs Blocking Trophy! Here he is accepting the honor. http://t.co/rAc2rZ…
about 5 hours ago

FSU_Football

FSU Football


Congrats to LT Cam Erving for winning the #ACC Jacobs Blocking Trophy! Here he is accepting the honor. http://t.co/rAc2rZpnPe
about 5 hours ago

Noles247

Noles247.com


RT @tomdangelo44: #FSU OT Cam Erving is picking up his Jacobs Blocking trophy at ACC banquet.
about 5 hours ago

fsufball

FSU Football


(b/r) ACC Championship Game 2013: Keys for Duke to Put Florida State on Upset Alert: The BCS No. 20 Duke Blue ... http://t.co/tgrcdhsjMV
about 5 hours ago

Noles247

Noles247.com


RT @CoachTreyFSU: Congrats to Coach K and our @FSU_Soccer team for qualifying for the championship game on Sunday.
about 5 hours ago

Noles247

Noles247.com


RT @WhiskyRiverCLT: If you're not here kicking off the #ACC championship weekend, you're missing out!! @FSUAlumni has taken over! http://t.…
about 5 hours ago

TomahawkNation

TomahawkNation.com


#Noles beat Virginia Tech 3-2 in soccer and are set to play for the national title.
about 5 hours ago

TomahawkNation

TomahawkNation.com


So FSU can win the national title in football and futbol? #Noles
about 5 hours ago

Noles247

Noles247.com


RT @coachstanjones: How about FSU Women's soccer? They will play for national championship on Sunday! FSU Athletics = UNCONQUERED STRONG!
about 5 hours ago

Seminoles_com

Seminoles.com


RT @FSU_Soccer: And that's the game. NOLES WIN...NOLES WIN!!! FSU advances to the national championship game for the second time in schoo…
about 5 hours ago

Noles247

Noles247.com


#FSU Soccer defeats Virginia Tech 3-2 in the national semifinal. They will face UVA/UCLA winner for national championship.
about 5 hours ago

MichaelWarchant

Michael Langston


RT @FSU_Soccer: HOLY COW...what a goal by Jamia Fields....blast from 22 yards that goes off the far post and into the net! You have got to …
about 5 hours ago

Seminoles_com

Seminoles.com


RT @FSU_Soccer: HOLY COW...what a goal by Jamia Fields....blast from 22 yards that goes off the far post and into the net! You have got to …
about 5 hours ago

TomahawkNation

TomahawkNation.com


Hey @daonlyBigRed have you run a 40? And if so, what was your time.
about 5 hours ago

TomahawkNation

TomahawkNation.com


#Noles ball boy Red Lightning (@daonlyBigRed) tells @Corey_Clark "... We ride together, we die together." http://t.co/mALE4nFedA
about 5 hours ago

TomahawkNation

TomahawkNation.com


Did Peyton Manning get hair plugs?
about 5 hours ago

Warchant

Warchant.com


RT @YSportsRadio: Powell Latimer from @Warchant discussed the announcement about #FSU QB Jameis Winston. LISTEN: http://t.co/Ye37CVfx5A
about 5 hours ago

TomahawkNation

TomahawkNation.com


My favorite prof. Congrats, Mark. RT @fsuzeigler Today was my 20th anniversary at Florida State. I couldn't be any luckier.
about 5 hours ago

theACC

The ACC


The ACC FanFest presented by AT&T is tomorrow from 12 to 7 pm with performances by Rodney Atkins & Sara Evans! http://t.co/3K2zck5Z7c
about 5 hours ago

MichaelWarchant

Michael Langston


RT @FSU_Soccer: GOALLLLL!!! Jamia Fields on the goal on a great play by Campbell with long throw to Dagny takes to endline, pass back to r…
about 6 hours ago

theACC

The ACC


RT @FSU_Football #Noles having fun at Friday's walk through at the Carolina Panthers Practice Facility. http://t.co/SJja3GoVWU
about 6 hours ago

Noles247

Noles247.com


Friday Night Lights: #FSU commitments results http://t.co/OUQREAKb6n via @Noles247
about 6 hours ago

TomahawkNation

TomahawkNation.com


RT @chrismcgee71: @TomahawkNation it will be much cooler and different tomorrow. I'm there either way!
about 6 hours ago

DeionSanders

DeionSanders


If Time Heals all then why would we need Medicine!!! #thinkaboutthat TRUTH
about 6 hours ago

cdowlar

Corey Dowlar/ESPN


RT @cbfowler: Happy 21st, @JManziel2. Now, you can finally find out what a beer tastes like. Party safe!
about 6 hours ago

Seminoles_com

Seminoles.com


RT @FSU_Soccer: Halftime in Cary as FSU's late goal by Grubka ties it at one.
about 6 hours ago

TomahawkNation

TomahawkNation.com


RT @GreenBean612: @TomahawkNation Good story here from reporter in Hueytown yesterday. Spoke with Winston's dad and JW's gf's dadhttp://t.…
about 6 hours ago

MichaelWarchant

Michael Langston


RT @FSU_Soccer: GOALLLL!!!!! NOLESSSS Grukba ties its as she heads in the free kick from Marta Bakowska-Mathews! tied 1-1 with 3 minutes l…
about 6 hours ago

MichaelWarchant

Michael Langston


RT @Powell_Warchant: Near-death experience : @WarchantGene saw a Duke ACC Coastal champions billboard, started staring and almost ran off t…
about 6 hours ago

TomahawkNation

TomahawkNation.com


Charlotte weather much warmer and drier than expected earlier in the week. 70s, maybe slight sprinkles tomorrow. Bad stuff Sunday.
about 6 hours ago

TimBrewster

Tim Brewster


#BeatDuke #ChampionshipsFSU!!
about 6 hours ago

TomahawkNation

TomahawkNation.com


RT @saintwarrick: SWAG! RT @_TomBlock: BREAKING NEWS: I just rode the elevator with #RedLightning http://t.co/vUJbMfAxrW
about 6 hours ago

Warchant

Warchant.com


RT @Powell_Warchant: Near-death experience : @WarchantGene saw a Duke ACC Coastal champions billboard, started staring and almost ran off t…
about 7 hours ago

TomahawkNation

TomahawkNation.com


Think I figured out the problem with my snapchat. Gf keeps sending snaps of the cat watching TV. Maybe she thinks it is called SnapCat?
about 7 hours ago

theACC

The ACC


RT @JeffFischel @Duke_FB big guys get together for a pic. The team is taking a look around BofA Stadium. http://t.co/Ax0tn3em15
about 7 hours ago
BLOG ARCHIVE:
CATEGORIES: