Rising '14 TE Saunders learning the game
March, 26, 2013
3/26/13
1:00
PM ET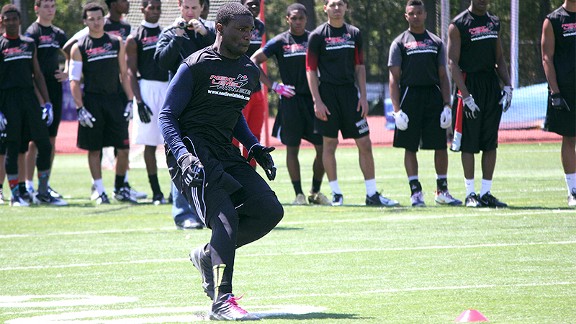 Sam Kahn Jr./ESPNHouston Kinkaid tight end Mavin Saunders has only played one season of football.
HOUSTON -- Like many of the pass-catchers that were competing with him, Houston Kinkaid tight end
Mavin Saunders
was simply trying to get better on Sunday when he attended the Next Level Athlete South Houston Video Showcase.
Every chance to compete and work is a positive for Saunders, who is trying to catch up to the rest of pack when it comes to football.
Unlike many of the players in attendance, Saunders hasn't spent his entire life -- or even his entire high school career -- playing football. In fact, he hasn't even played it a full year. The 2014 prospect has only one season of football under his belt.
To continue reading this article you must be an Insider
Welcome
!
We see that you are not an ESPN Insider. Upgrade today and gain access to our exclusive coverage.
ESPN The Magazine subscribers

Need more information?
Hamilton Talks Bojanovsky
Florida State coach Leonard Hamilton comments on Boris Bojanovsky's performance, including his game-winning dunk, in the Seminoles' 67-65 victory over Maryland.
Tags:
Leonard Hamilton
,
Boris Bojanovsky
Hamilton Talks Bojanovsky
VIDEO PLAYLIST
Hamilton Talks Bojanovsky

Hamilton Talks Bojanovsky

Florida State coach Leonard Hamilton comments on Boris Bojanovsky's performance, including his game-winning dunk, in the Seminoles' 67-65 victory over Maryland.

Tags: Leonard Hamilton

,

Boris Bojanovsky

Projecting Impact Teams in 2015 Recruiting

Projecting Impact Teams in 2015 Recruiting

Five Programs Expecting 2014 Boost

Five Programs Expecting 2014 Boost

National recruiting analysts Tom Luginbill and Craig Haubert rank the college football teams that will see the earliest dividends from 2014 recruiting.

Tags: Leonard Fournette

,

Myles Garrett

,

Juju Smith

,

Jalen Hurd

,

Malach Dupre

,

Ermon Lane

,

Bryce Dixon

,

Florida State Seminoles

,

USC Trojans

,

Tennessee Volunteers

,

Texas A&M Aggies

,

LSU Tigers

,

ESPN 300

,

RecruitingNation

,

high school football recruiting
NOLENATION RECRUITING NEWS
FSU FB RECRUITING SCORECARD
BMOC Youth Florida State Seminoles Garnet Football Spearhead T-Shirt Shop »
_DCReeves

D.C. Reeves


Great photo of Depntay Wilder's KO. http://t.co/3nmfOcHTlN
about 2 hours ago

DeionSanders

DeionSanders


RT @mkolove: @OWNTV @Oprah #DeionsFamilyPlaybook is the best show. I stopped watching Bravo completely.(junk). I needed @DeionSanders to U…
about 3 hours ago

DeionSanders

DeionSanders


RT @rich02tj: @DeionSanders wat I love most about ur show is u are a dad FIRST wat I like least is its not in HD!! Keep up the great work, …
about 3 hours ago

_DCReeves

D.C. Reeves


Deontay Wilder wanted this to be a business trip. This piece of business took 96 seconds. Story from Puerto Rico http://t.co/R4M0Oe4wKC
about 3 hours ago

Noles247

Noles247.com


#FSU Baseball sweeps after marathon Saturday http://t.co/ZIlVR9ki0C via @Noles247
about 3 hours ago

DeionSanders

DeionSanders


RT @Traceyeedmonds: @DeionSanders Aww :)!! Thank u Baby! Lol ! Doing my best 2 REPRESENT while you're in Puerto Rico :)! Hope u & the boys…
about 4 hours ago

Seminoles_com

Seminoles.com


RT @FSU_Baseball: VIDEO: Highlights and post game interviews from the #Noles Saturday sweep over NC State. http://t.co/4oM3HGxD01
about 4 hours ago

DeionSanders

DeionSanders


RT @mkolove: @DeionSanders thx 4 always putting a smile on my face. Ur show needs 2 be on major network, like CBS to reach every1 #DeionsFa…
about 4 hours ago

DeionSanders

DeionSanders


RT @RtWonder: @FirstLadyEarth @DeionSanders RIght it always brings joy to my heart watching Deion Family Playbook. God choose deion to be t…
about 4 hours ago

DeionSanders

DeionSanders


RT @LivingIILove: @Oprah @Traceyeedmonds @DeionSanders I really enjoyed tonight's episode. My 14 yr old even said I like this show! #Deions…
about 4 hours ago

DeionSanders

DeionSanders


RT @FirstLadyEarth: That show about @DeionSanders and his family never fails to make me cry tears of laughter. Adopt me please!
about 4 hours ago

DeionSanders

DeionSanders


RT @PikeKy: What a great parent @DeionSanders is taking that dance class with his little girl. She will always remember those moments of u …
about 4 hours ago

DeionSanders

DeionSanders


RT @THATJACKSONBOYY: @DeionSanders said when @Traceyeedmonds first surprised him an paid for dinner. He almost caught the "holy ghost". Sh…
about 4 hours ago

DeionSanders

DeionSanders


RT @suzinique: WOW Shilo is making big money for his age. Sure beats flipping burgers. I am impressed @DeionSanders @TraceyEdmonds #Deion…
about 4 hours ago

DeionSanders

DeionSanders


RT @Sbless2828: @Sbless2828: @OWNTV @DeionSanders @Oprah Finally a positive show. My fam will now make this an event every Saturday #Deions…
about 4 hours ago

DeionSanders

DeionSanders


RT @suzinique: Understand why @DeionSanders wants his son to follow in his footsteps, but Shilo may be the next Quincy Jones. #DeionsFamil…
about 4 hours ago

DeionSanders

DeionSanders


RT @sweetdrich: @OWNTV @DeionSanders Wow God Is Good! This Is The First Black Girl I've Seen With No Arms! God Bless U Ms Kashmiere! #Deion…
about 4 hours ago

Noles247

Noles247.com


Former #Nole Dekoda Watson worked at the NFTC today. http://t.co/2JPAUHnEF7
about 4 hours ago

Warchant

Warchant.com


Game story from tonight's 9-8 win over No. 5 NC State: http://t.co/keamfLRqXK (FREE)
about 4 hours ago

Noles247

Noles247.com


Also, #FSU baseball swept N.C. State after playing 87 innings on Saturday. @TJL_247 was at ***** Howser for the marathon day.
about 5 hours ago

Noles247

Noles247.com


A rundown on #FSU commitments and targets from Saturday's NFTC in Orlando http://t.co/GDCMnAkZVT via @Noles247
about 5 hours ago

Noles247

Noles247.com


Top Performers: Orlando NFTC http://t.co/mU7lk5qsw6 Photo Gallery: Orlando NFTC http://t.co/RO5e3zxoOi via @Noles247
about 5 hours ago

Noles247

Noles247.com


4-star RB Jacques Patrick chats about upcoming plans and more http://t.co/WM5r0IA7q2 via @Noles247
about 5 hours ago

Noles247

Noles247.com


Abdul Bello keeping his options open http://t.co/bgBXS2y9zr via @Noles247 #FSU #UF #UM
about 5 hours ago

Noles247

Noles247.com


2015 QB commitment talks @Elite11 http://t.co/nGrAT8l2eV via @Noles247
about 5 hours ago

Noles247

Noles247.com


#FSU in the thick of it with 2016 QB http://t.co/IBEWqlgJjQ via @Noles247
about 5 hours ago

Noles247

Noles247.com


Top Performers from Friday's Elite 11 in Orlando http://t.co/LKxAwYay0R Photo Gallery: Elite 11 Orlando http://t.co/TGGMhMckTR via @Noles247
about 5 hours ago

DeionSanders

DeionSanders


This is how I have to get in @ShiloSanders face sometimes. Lol we all have that 1 that's challenging. Truth lol http://t.co/wLx5q9Q671
about 5 hours ago

DeionSanders

DeionSanders


RT @Official_AlexB_: An admirable father figure w/ great connection to all your kids! @DeionSanders #DeionsFamilyPlaybook
about 5 hours ago

DeionSanders

DeionSanders


RT @ACaliscp: Aaaaaawwww @DeionSanders watching Florida and Cashmire made cry, they're so cute. Good Job PrimeTime!!!!! #DeionsFamilyPlaybo…
about 5 hours ago

DeionSanders

DeionSanders


RT @TWH_PhD: "You don't have to be THE best...you just have to give it YOUR best." @DeionSanders #DeionsFamilyPlaybook
about 5 hours ago

DeionSanders

DeionSanders


RT @Divadolls11: Awww @DeionSanders ...Florida and his boo. ..@Oprah @OWNTV this show is a keeper..love you 2gether ms @Traceyeedmonds #Dei…
about 5 hours ago

DeionSanders

DeionSanders


RT @debi671: @DeionSanders @OWNTV absolutely love the show! A Father's presence is essential in a child's life.
about 5 hours ago

DeionSanders

DeionSanders


RT @sheronsvg: Florida brought tears to my eyes~so sweet. Seeing beyond physical with that darling girl @Traceyeedmonds @DeionSanders #Deio…
about 5 hours ago

DeionSanders

DeionSanders


RT @yvettetimmons: @OWNTV Go ahead and give us a 2nd season #DeionsFamilyPlaybook @DeionSanders @Traceyeedmonds! Great shows are hard to fi…
about 5 hours ago

Warchant

Warchant.com


Box score from FSU's 9-8 extra inning win over NC State to sweep the series: http://t.co/tBuNwZEnm0
about 5 hours ago

_DCReeves

D.C. Reeves


More on Wilder knockout: it was a "balance shot" to the temple. Wilder knew Scott couldn't move well to the right, set up shot with his feet
about 5 hours ago

DeionSanders

DeionSanders


Yeah baby http://t.co/o4pONKkYnY
about 5 hours ago

DeionSanders

DeionSanders


Fun! Buck is loving it! Lol http://t.co/fy9BIs6C3K
about 5 hours ago

_DCReeves

D.C. Reeves


RT @SHOsports: When Deontay Wilder is in the ring, it's @BronzeBomber time! WATCH his 31st straight KO - https://t.co/R9jD8DFjQi
about 5 hours ago

DeionSanders

DeionSanders


RT @MeSoTeeVee: "@OWNTV: Aren't @DeionSanders and @Traceyeedmonds the most adorable couple? #DeionsFamilyPlaybook" fantabulous & doing gr8 …
about 5 hours ago

DeionSanders

DeionSanders


RT @Official_AlexB_: Inspirational for all ages! #DeionsFamilyPlaybook @OWNTV @DeionSanders @Traceyeedmonds
about 5 hours ago

DeionSanders

DeionSanders


RT @AsquaredMom: @DeionSanders @OWNTV @Oprah @Traceyeedmonds My family loves your show! We DVR it! We live in McKinney, not far from you!
about 5 hours ago

_DCReeves

D.C. Reeves


A fitting quote from Malik Scott: "I got caught. I don't really remember what happened."
about 5 hours ago

DeionSanders

DeionSanders


RT @YRT211: @OWNTV @DeionSanders @Traceyeedmonds Love it! Deion is very active in raising his 5 kids & 5 non biological under his care. #Pr…
about 5 hours ago

_DCReeves

D.C. Reeves


Deontay Wilder (@BronzeBomber) moves to 31-0 with 31 KOs. Slated to get Stiverne-Arreola winner. They fight for belt on May 10.
about 6 hours ago

TomahawkNation

TomahawkNation.com


RT @dtackett_: That was Jose Brizuela's first career walk-off. Well played, sir, and thank you.
about 6 hours ago

TomahawkNation

TomahawkNation.com


RT @dtackett_: Get your brooms out, people, the Noles sweep 'em.
about 6 hours ago

Warchant

Warchant.com


No. 2 FSU (17-2, 5-1 ACC) sweeps No. 5 NC State (14-5, 3-3). Statement series for the Seminoles.
about 6 hours ago

DeionSanders

DeionSanders


Wow 1st round knockout!! Wilder is a Beast. I prayed with his ***** b4 the 1st round because she was in tears. Truth http://t.co/z7rXGDFRTm
about 6 hours ago

_DCReeves

D.C. Reeves


Boos from the crowd because of the lackluster action.
about 6 hours ago

Warchant

Warchant.com


FINAL: FSU 9, NC State 8. Jose Brizuela lines one to left for a walkoff hit in the bottom of the 13th.
about 6 hours ago

_DCReeves

D.C. Reeves


Official time on Wilder knockout is 1:36 in the first round. 96 seconds lowering his previous career average of 227 seconds per fight
about 6 hours ago

TomahawkNation

TomahawkNation.com


RT @dtackett_: Sac fly to left by Nogo ties the game, 8-8.
about 6 hours ago

Warchant

Warchant.com


John Nogowski flies out to left, and Justin Gonzalez tags to score. Tie game again, 8-8 with 2 outs in the bottom of the 13th. Brizuela up.
about 6 hours ago

_DCReeves

D.C. Reeves


So much for popcorn.
about 6 hours ago

_DCReeves

D.C. Reeves


Wilder's corner watching the replay of the ENTIRE fight. http://t.co/jzLhsw7xCr
about 6 hours ago

TomahawkNation

TomahawkNation.com


RT @dtackett_: Nogo coming to the dish with bases stacked, one out, Noles down by one.
about 6 hours ago

_DCReeves

D.C. Reeves


Malik Scott did absolutely nothing in the ring. No punches thrown, goes down on first big connection. Wow.
about 6 hours ago

TomahawkNation

TomahawkNation.com


RT @TravisSmithh: Rally cap much? @TomahawkNation http://t.co/BPxFBos102
about 6 hours ago

Warchant

Warchant.com


Now Josh Delph bunts, and he's on base safely. FSU has bases loaded, 1 out, down 8-7 in the bottom 13th. John Nogowski up.
about 6 hours ago

TomahawkNation

TomahawkNation.com


By the way, here's a great .gif of Jameis Winston striking out an N.C. State hitter http://t.co/xZUC71C8U9 via @sbnation
about 6 hours ago

Warchant

Warchant.com


DJ Stewart, 0-6 so far today, gets a hit in the 13th to extend his on-base streak to 46 games. Men on first and second with 1 out in 13th.
about 6 hours ago

_DCReeves

D.C. Reeves


Wow. That's it. 1st round KO.
about 6 hours ago

_DCReeves

D.C. Reeves


Intros finished. Bell sounds. Here we go.
about 6 hours ago

Warchant

Warchant.com


Jameis Winston strikes out to lead off the inning for FSU. Justin Gonzalez up in the bottom of the 13th with one out, down 8-7.
about 6 hours ago

DeionSanders

DeionSanders


Florida's twitter handle is @JaquanSheals or type in @Florida.
about 6 hours ago

TomahawkNation

TomahawkNation.com


RT @SBNRecruiting: Offensive recruiting stars: Orlando Nike Football Training Camp #NFTC http://t.co/8iz1P9dfhh
about 6 hours ago

DeionSanders

DeionSanders


Please let @OWNTV @Oprah and @Traceyeedmonds know how much you enjoy the show. Truth
about 6 hours ago

_DCReeves

D.C. Reeves


10,152 are in attendance tonight at Coliseo Ruben Rodriguez.
about 6 hours ago

_DCReeves

D.C. Reeves


Wilder in the ring, mask on. Intros on the way. http://t.co/cmzujFrS8y
about 6 hours ago

_DCReeves

D.C. Reeves


We're getting some movement in the ring finally. Malik Scott is in there. http://t.co/SNkND44LBz
about 6 hours ago

Warchant

Warchant.com


NC State finally scores to take an 8-7 lead in the top of the 13th. The few fans who are still here cheered a little bit.
about 6 hours ago

_DCReeves

D.C. Reeves


RT @SHOsports: Coming up next on #Showtime is unbeaten heavyweight @BronzeBomber vs. @MalikKingScott. Who you got? #GarciaHerrera http://t.…
about 6 hours ago

MichaelWarchant

Michael Langston


Well that sums it up.
about 6 hours ago

_DCReeves

D.C. Reeves


Looks like I'll be moving to 2-0 with 2KOs on covering Wilder fights with no internet. Will tweet as best I can from the Ol' phone.
about 6 hours ago

DeionSanders

DeionSanders


Please tell me if you guys are enjoying #Deionsfamilyplaybook @OWNTV 10ET. My kids are awesome! Truth
about 6 hours ago

MichaelWarchant

Michael Langston


I think @WarchantBen and @Powell_Warchant should get double pay for this baseball game. #CampoutatFSU
about 6 hours ago

_DCReeves

D.C. Reeves


Ok, last week's replay is over. Wilder-Scott on deck. Will be a few minutes before anyone's heading to the ring.
about 6 hours ago

TomahawkNation

TomahawkNation.com


RT @dtackett_: And we're heading to the 13th tied 7-7.
about 6 hours ago

Warchant

Warchant.com


Grounder to short, and we're going to the 13th. For fans who've been here since the start of the day, this is the 22nd inning of baseball.
about 6 hours ago

Warchant

Warchant.com


Freshman Ben DeLuzio singles to center for his third hit of the day. It's a new career high for him. Still tied 7-7 with 2 outs in the 12th.
about 6 hours ago

_DCReeves

D.C. Reeves


Deion Sanders introduced to the crowd here in Bayamon. Stands up, waves, puts up his dukes with a little duck and weave.
about 6 hours ago

DeionSanders

DeionSanders


RT @asako35: #DeionsFamilyPlaybook 18 minutes before SHOWTIME or shall I say PRIMETIME!!! @DeionSanders @Traceyeedmonds @OWNTV
about 6 hours ago

DeionSanders

DeionSanders


RT @iamgroov: Almost time for #DeionsFamilyPlaybook @Traceyeedmonds @DeionSanders on the best network in the land @OWNTV #Epic
about 6 hours ago

TomahawkNation

TomahawkNation.com


RT @Natalie_Pierre: Hat tip to the FSU baseball fans who have been sitting in Howser since 1st pitch of 1 p.m. game. #Noles & Wolfpack head…
about 6 hours ago

Warchant

Warchant.com


Three hitters go down in order for FSU, and we're going to the top of the 12th. Jameis Winston now playing DH. Kenny Burkhead on to pitch.
about 6 hours ago

Warchant

Warchant.com


DJ Stewart strikes out. Now 0-6 in the second game today.
about 6 hours ago

_DCReeves

D.C. Reeves


Because of time allotted to wrap gloves, prep, etc. they can't just run a co-main event fight 30 minutes ahead of schedule. 9pm still safe.
about 6 hours ago

Warchant

Warchant.com


DJ Stewart leading off the bottom of the 11th. Still hasn't been on base today after reaching safely in last 45 games.
about 6 hours ago

_DCReeves

D.C. Reeves


There will be no more fights until Deontay Wilder steps in. Going to be at least a 40-minute wait with no boxing here when it's over.
about 6 hours ago

Warchant

Warchant.com


Winston retires the side, and we're headed to the bottom of the 7th. Ties a career high with 3 IP on the night.
about 6 hours ago

TomahawkNation

TomahawkNation.com


RT @joshuadpick: @TomahawkNation I dunno, but Jameis has K'd two 1st-round picks (Turner & Rodon).
about 6 hours ago

TomahawkNation

TomahawkNation.com


Jameis Jameis Jameis Jameis Jameis RT @dtackett_: And then makes a play to first from his knees. Everyone in the stands has the giggles.
about 7 hours ago

TomahawkNation

TomahawkNation.com


When is the last time a first round NFL pick struck out a first round MLB pick?
about 7 hours ago

Warchant

Warchant.com


Not a strikeout, but Winston knocks down a ground ball and throws out Andrew Knizner for his 7th out. Working quickly here.
about 7 hours ago

TomahawkNation

TomahawkNation.com


RT @dtackett_: And the Heisman Trophy winner now has 7 strikeouts in 2.1 inning worked. Wait, what?
about 7 hours ago

Warchant

Warchant.com


Winston now has 7 strikeouts to get 7 outs. Carlos Rodon punches out for NC State to open the 11th inning.
about 7 hours ago

DeionSanders

DeionSanders


I surprised @ShiloSanders tonight and brought him to the fight. He's so Happy. He loves ya coach @TheHatleyTeam Truth http://t.co/qOAm5eWqc7
about 7 hours ago

Warchant

Warchant.com


Gonzalez strikes out. Going to the top of the 11th now tied 7-7. DJ Stewart will have another chance to extend his on-base streak.
about 7 hours ago
ACC SCOREBOARD
Saturday, 12/21
Monday, 12/23
Tuesday, 12/24
Thursday, 12/26
Friday, 12/27
Saturday, 12/28
Monday, 12/30
Tuesday, 12/31
Wednesday, 1/1
Thursday, 1/2
Friday, 1/3
Saturday, 1/4
Sunday, 1/5
Monday, 1/6
BLOG ARCHIVE:
CATEGORIES: