Thomas earns MVP honors at NFTC
March, 19, 2013
3/19/13
11:09
AM ET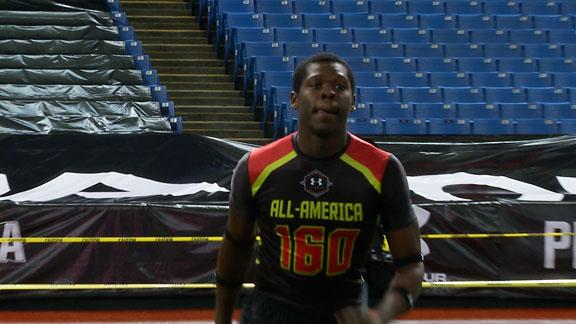 MIAMI -- ESPN Watch List defensive end
Chad Thomas
(Miami/Booker T. Washington) earned defensive line MVP this past weekend at the Miami NFTC for his performance. But even with his standout effort, the 6-foot-4, 233-pound athlete believes areas of his game need to improve.
To continue reading this article you must be an Insider
Insider
Jimbo Talks Defending Title, Winston
Jimbo Fisher talks about his mindset as his team comes back together to defend their national championship and the evolution of Jameis Winston since last season.
Jimbo Talks Defending Title, Winston
VIDEO PLAYLIST
FSU FB RECRUITING SCORECARD
Nike Men's Florida State Seminoles Garnet #5 Replica Football T-Shirt Shop »
sbncollege

SB Nation College


Florida State football recruiting: Receiver, tight end outlook http://t.co/dGhKPpdOil
7 minutes ago

FSU_Football

FSU Football


Headed to see if @ESPN_Numbers is ready for Jimbo Fisher Live around 12:40! #ESPNACC #NumbersNeverLie
10 minutes ago

ColeyHarvey

Coley Harvey


Also, as the #Bengals get ready for this afternoon's practice, here are three areas we'll be watching. http://t.co/xVZaEsZCnT
11 minutes ago

ColeyHarvey

Coley Harvey


Today's #Bengals Quick Thoughts begin with an item on Giovani Bernard and what his "touches" might look like this yr http://t.co/7ARC8O8RDM
12 minutes ago

ColeyHarvey

Coley Harvey


From this a.m., we take a look at where the #Bengals' projected roster stands (in my eyes) after 4 days of practice http://t.co/E1KZ1MCzpw
13 minutes ago

ColeyHarvey

Coley Harvey


#Bengals RB coach Kyle Caskey says BenJarvus Green-Ellis "is still one of our guys. Nothing's been taken away." http://t.co/FKjPfg6PaD
15 minutes ago

TomahawkNation

TomahawkNation.com


Florida State football recruiting: Receiver, tight end outlook #Noles #FSU http://t.co/VeW13ZJrNb
16 minutes ago

Rivals

Rivals.com


2016 #Rivals100 Pres. By @UnderArmour is here! Breakdown: http://t.co/0qwVIIcLwsFull Ranks: http://t.co/4nVLG7vpVZ http://t.co/E2KnwxYhHs
16 minutes ago

Rivals

Rivals.com


2016 #Rivals100 Pres. By @UnderArmour is here! Breakdown: http://t.co/0qwVIIcLwsFull Ranks: http://t.co/4nVLG7vpVZ http://t.co/E2KnwxYhHs
17 minutes ago

FSU_Football

FSU Football


A closer look at the @SportsCenter set and @CFBPlayoff trophy! http://t.co/iO4fOwlOeC
18 minutes ago

FSU_Football

FSU Football


A closer view of sportscenter and the @tgock14 Trophy! #ESPNACC #Noles http://t.co/4HAzXvg75t
26 minutes ago

ESPN_ACC

ESPN ACC


ACC lunch links: Bulk on the O-line http://t.co/GNiNL1VzRV
34 minutes ago

Noles247

Noles247.com


#FSU makes final seven for five-star http://t.co/3o1ubRyi66 via @Noles247
36 minutes ago

TomahawkNation

TomahawkNation.com


All the Jimbo Fisher ESPN stuff, and other #FSU discussion here in one spot http://t.co/eRu386Lzv8
37 minutes ago

TomahawkNation

TomahawkNation.com


Fisher says when teams put a target on the #Noles, #FSU shoots back. http://t.co/eRu386Lzv8
39 minutes ago

FSU_Football

FSU Football


The awesome new sportscenter set. #ESPNACC http://t.co/NSjbhvvPwf
42 minutes ago

FSU_Football

FSU Football


Ready for @SportsCenter now! #ESPNACC http://t.co/zGLnOOaTXt
46 minutes ago

TomahawkNation

TomahawkNation.com


Again to the comments section as Jimbo Fisher is going live on Sportscenter http://t.co/eRu386Lzv8 #Noles #FSU
49 minutes ago

FSU_Football

FSU Football


Coach Fisher visits with a few kids from Make-A-Wish Maine. Up next @SportsCenter http://t.co/d50rMaOEL7
about an hour ago

TomahawkNation

TomahawkNation.com


Oh, @ESPN associate producer Natasha @BlueRose2000? #FSU #Noles BTW what show do you produce? http://t.co/xrXA92c6ln
about an hour ago

Noles247

Noles247.com


Join in on the Team and Recruiting Chat @Noles247 http://t.co/IaLdY5Dmtm
about an hour ago

Noles247

Noles247.com


Jimbo Fisher praises insurance policies for college athletes http://t.co/YKyJE3AvIq via @Noles247
about an hour ago

Noles247

Noles247.com


Baseball is good for Jameis Winston. Details ...... http://t.co/5Z8NmgRMiC
about an hour ago

FSU_Football

FSU Football


Coach Fisher checks out the new @SportsCenter live set around 11:40. #ESPNACC
about an hour ago

Warchant

Warchant.com


New five stars for 2016 class just released. Here's a list, notes for the #FSU targets out of that group. http://t.co/35qLVOefDj ($)
about an hour ago

theACC

The ACC


Be sure to follow @theACCfootball for #ESPNACC Car Wash updates!
about an hour ago

Seminoles_com

Seminoles.com


#Noles store is offering FREE SHIPPING for a limited time! Shop new #Nike Sideline Gearhttp://t.co/55KzCGY7Zj http://t.co/mL0PBc4L13
about an hour ago

ESPN_ACC

ESPN ACC


Video: Petrino on return to Louisville http://t.co/wTKDxlGBx8
about an hour ago

ricobert1

rob hodges


@TomahawkNation ...tells you something about Jimbo's desire to coach in NFL? Certainly not being political here. @schadjoe
about an hour ago

FSU_Football

FSU Football


Talking college football with ACC Coaches! #ESPNACC http://t.co/1UHIAhAfrX
about an hour ago

TomahawkNation

TomahawkNation.com


Thank You! RT @schadjoe: Jimbo Fisher says you don't want rules to make college football "less diverse" and "cookie cutter" like NFL
about an hour ago

Noles247

Noles247.com


#FSU Team and Recruiting Chat starts now http://t.co/ZZjAYokFbr via @Noles247
about an hour ago

TomahawkNation

TomahawkNation.com


Called it the greatest thing going in CFB right now.
about an hour ago

TomahawkNation

TomahawkNation.com


Jimbo Fisher said that loss of value insurance policies let a player wait on the NFL because the money is guaranteed http://t.co/eRu386Lzv8
about an hour ago

Noles247

Noles247.com


Fisher has no problems with #FSU being favored to repeat http://t.co/taw7UyYkvA via @Noles247
about an hour ago

Paula_White

Paula White


You are the only keeper of your #happiness! Stop giving people the power to control your smile, your worth, your attitude and your day!
about an hour ago

Noles247

Noles247.com


Fisher reiterates that he believes all conferences should have championship games http://t.co/SoUrCJwqAv via @Noles247
about an hour ago

JustinBarneyTU

Justin Barney


First Coast Bucs crew: Pittman (9), Payton (6), Washington (2), Johnson (14), Sweet (50). http://t.co/Vf8lSQFQGW
about an hour ago

FSU_Football

FSU Football


Coach Fisher and the @ESPN_FirstTake Crew at the #ESPNACC Car Wash. http://t.co/v113Vvwu6a
about an hour ago

StuartROwens

Stuart R. Owens


Lol Jimbo... "We have a great kicker, great pu.... Uh great kick returners."
about an hour ago

TomahawkNation

TomahawkNation.com


More updates from Jimbo Fisher on ESPN's First Take here in comment section http://t.co/PWgueyG8hS #Noles #FSU http://t.co/oppPSdPFe8
about an hour ago

TomahawkNation

TomahawkNation.com


Not touching that punting comment
about an hour ago

Noles247

Noles247.com


Fisher on Winston's pro prospects http://t.co/f8xmbMVLau via @Noles247
about an hour ago

_TomLang

Tom Lang


Should #FSU be favored to win it all? "I have no problem with that" - Fisher
about an hour ago

TomahawkNation

TomahawkNation.com


Jimbo Fisher on SEC "Great to break a streak and be able to say 'hey, take notice, we play ball over here, too.'"
about an hour ago

TomahawkNation

TomahawkNation.com


Jimbo Fisher making sure to get in the praise for wife @canfish16 on ESPN. Says without her he can do nothing.
about an hour ago

Noles247

Noles247.com


Five potential breakout candidates for the #Noles this season!Who do you think is most likely to explode onto... http://t.co/onKnGOMpJ1
about an hour ago

TomahawkNation

TomahawkNation.com


Lots of updates from Jimbo Fisher on Jameis Winston in comment section http://t.co/PWgueyG8hS
about an hour ago

FSU_Football

FSU Football


We are live on @ESPN_FirstTake. #ESPNACC http://t.co/beUyLaiUd2
about an hour ago

TomahawkNation

TomahawkNation.com


Jimbo on ESPN's First Take now. Updates in comments section http://t.co/PWgueyG8hS
about an hour ago

DeionSanders

DeionSanders


Every action begins with a thought. Watch your words,let's think ourselves clear and then act using wisdom and understanding. #TRUTH,
about an hour ago

rivalsmike

Mike Farrell


Meet the 2016 five stars http://t.co/xyyHSyD4yE
about 2 hours ago

Noles247

Noles247.com


Beginning of our F5U series - 5 Breakout Candidates for the #Noles in 2014 http://t.co/ZpB3NaULZN via @Noles247
about 2 hours ago

FSU_Football

FSU Football


Countdown to Coach Fisher on @ESPN_FirstTake around 10:40.
about 2 hours ago

TideSports

TideSports.com


An #Alabama commitment is one of the NEW @Rivals 5-stars for 2016. Check out the story here: https://t.co/iJnAIA6025 http://t.co/SUnGFu4IB7
about 2 hours ago

rivalsmike

Mike Farrell


Meet the 2016 five stars http://t.co/xyyHSyD4yE
about 2 hours ago

FSU_Football

FSU Football


Coach Fisher is underway at the #ESPNACC Car Wash. He visited @MikeAndMike. http://t.co/h1ieXhA67e
about 2 hours ago

_DCReeves

D.C. Reeves


How do Dan Mullen, Gus Malzahn and Nick Saban prep first-year starting quarterbacks? https://t.co/enUFWNXsle http://t.co/yFm4LMLbtH
about 2 hours ago

SteveReedAP

Steve Reed


WR Kelvin Benjamin is having an MRI today after bumping knees with someone yesterday. Not expected to be serious.
about 2 hours ago

TomahawkNation

TomahawkNation.com


TMZ Sports takes no chances with that Ray Rice video. Huge watermark ESPN can't possibly cover up with a graphic. Don't blame them.
about 2 hours ago

DeionSanders

DeionSanders


Every action begins with a thought. Watch your words,let's think ourselves clear and then act using wisdom and understanding. #TRUTH
about 3 hours ago

Morris10Cole

Cole Morris


#TweetYourLockScreen @DeionSanders http://t.co/9iFlb39CQn
about 3 hours ago

DanWolken

Dan Wolken


@TomahawkNation Not sure about the info in that Forbes article; Whitfield told us he's never met Nick Marshall.
about 3 hours ago

Noles247

Noles247.com


Exclusive video of QB guru Jimbo Fisher working with many of the great signal callers from around the country... http://t.co/AYFPSTPC4p
about 3 hours ago

TomahawkNation

TomahawkNation.com


NYTimes leaving out crucial details to make a story? Tallahassee folks totally shocked. *cough* tox/ETOH test results http://t.co/UxRMsaACuT
about 3 hours ago

TomahawkNation

TomahawkNation.com


But yet the @DanWolken piece, and this CBS piece http://t.co/W8qLF0eVwd say Malzahn & Jimbo don't allow that
about 3 hours ago

TomahawkNation

TomahawkNation.com


See this Forbes piece says Winston & Marshall did work w/ Whitfield http://t.co/pcbuviaozy "will both be back at the beach ..."
about 3 hours ago

TomahawkNation

TomahawkNation.com


Interesting comments from Jimbo Fisher in @DanWolken piece on private QB coach http://t.co/eRu386Lzv8 considering Manuel, Winston worked w/
about 3 hours ago

ESPN_ACC

ESPN ACC


Top ACC players: No. 25-21 http://t.co/9oJwkocFCg
about 3 hours ago

FSU_Football

FSU Football


Coach Fisher has arrived and getting set for @MikeAndMike at 9:30. #ESPNACC http://t.co/hZt9ow4C63
about 3 hours ago

joshnewberg247

Josh Newberg


(FREE) Video from #FSU's July camp of Jimbo Fisher in action coaching the QB's http://t.co/BkH0TcQODC
about 3 hours ago

TomahawkNation

TomahawkNation.com


Florida State football, recruiting news: Jimbo Fisher car wash at ESPN #Noles #FSU http://t.co/I41e10zVKo
about 3 hours ago

DeionSanders

DeionSanders


Every action begins with a thought. Watch your words,let's think ourselves clear and then act using wisdom and understanding. TRUTH
about 4 hours ago

Noles247

Noles247.com


#FSU Team and Recruiting Chat today. Feel free to ask your questions now http://t.co/rJXzpXFZ0M via @Noles247
about 4 hours ago

TomahawkNation

TomahawkNation.com


So @finebaum won't be doing his show when Jimbo Fisher is on today. Convenient after previous comments. @MrCFB will host instead. #FSU
about 4 hours ago

Noles247

Noles247.com


'Car Wash' Day for Jimbo Fisher #ESPNACC http://t.co/DqZwHRkToS via @Noles247
about 4 hours ago

Noles247

Noles247.com


One final gold for #FSU at IAAF World Juniors http://t.co/vmI7rgljc6 via @Noles247
about 4 hours ago

Noles247

Noles247.com


#FSU 2014 Hall of Fame class named http://t.co/7iTA2baICy via @Noles247
about 4 hours ago

BlatantHomerism

Allen Kenney


Ha, Greg McElroy was just talking about "Florida state media days" and amended it to "acc media days" #freudianslip
about 4 hours ago

Warchant

Warchant.com


Good feature by @Powell_Warchant on FSU's big DBs and how they are essential to Noles' top-ranked defense. https://t.co/ThTAUvX4sB
about 4 hours ago

FSUfootball

FSU Football


Who's heard of @BarstoolMobile? Free Food, Free Drinks, Free Tanning in Tally? What an amazing idea. Great thinking Seminoles.
about 13 hours ago

Justinsua

Justin Su'a


"If your actions inspire others to dream more, learn more, do more and become more, you are a leader." -John Quincy Adams
about 14 hours ago

Hollywood__5

Holton Hill


BCS Championship Trophy! http://t.co/AZTcqg0Txd
about 14 hours ago

DeionSanders

DeionSanders


NFL teams Had 99 problems but @WarrenSapp was the 1. Congrats HOF'er! Proud of u man! Truth http://t.co/EfHUGoetDb
about 14 hours ago

ACCMGolf

ACC Men's Golf


RT @PackMensGolf: Pack pro Tim Clark with the big win at the @RBCCanadianOpen!! Awesome work, Tim. #GoPack
about 15 hours ago

_MoneyLane

( Money Man )


Camp about to be so turnt #FSU repeat status
about 15 hours ago

DavidHaleESPN

David Hale


authorities finally getting to square root of the drug epidemic. RT @octonion 5 Arrested in Math Lab Bust. http://t.co/iJXsprV3Zo"
about 15 hours ago

IzzoRyan

Ryan Izzo


Can't wait for my time to play in this stadium 🏈🏈🏈 http://t.co/sJJBytCwnh
about 15 hours ago

_MoneyLane

( Money Man )


Blessing to have the best QB throwing me the ball this year ( Jamies Winston )
about 15 hours ago

TomahawkNation

TomahawkNation.com


At some books where FSU is favored by less (AKA not LVH) I'd say still favored by more than TD in all in hypothetical w/o Jameis.
about 16 hours ago

TomahawkNation

TomahawkNation.com


Still by double digits in all RT "@Carl_Lisle: @TomahawkNation do u think FSU would be favored in every game this year without Jameis?"
about 16 hours ago

TimBrewster

Tim Brewster


"@Jr_Bryant18: @TimBrewster coooooaaaaaccccchhhhhh wats good" You and the Noles!! :)
about 16 hours ago

TimBrewster

Tim Brewster


"@SPRINGBR3AK98: @TimBrewster Tim, I love ya dude. Wish we could have had you on staff since 2001!!" Lov bein in Tally! Thx buddy!
about 16 hours ago

TimBrewster

Tim Brewster


Had a blast w my guys today. They are special players......and awesome young men! That's why we win National Championships! #Dallas2Dallas
about 16 hours ago

ColeyHarvey

Coley Harvey


From earlier, here's today's #Bengals camp report. Running backs, blocking drills and blitz pickups are the focus http://t.co/w3PJl6KxmJ
about 17 hours ago

TimBrewster

Tim Brewster


Had a blast w my guys today. They are special players......and awesome young men! That's why we win National Championships! #Dallas2Dallas
about 17 hours ago

double_J16

JJ Cosentino


"I buy you Hot Donuts, you Block for me?" "Deal" 🍩🍩 Treat Them lineman right http://t.co/gJoDetCToc
about 17 hours ago

theACCDN

ACC Digital Network


Congrats to #FSU Law Graduate Tony La Russa on his #HOF induction. What an amazing career! http://t.co/I07jZUe9Fl
about 18 hours ago

BATMANBONES

Malique Jackson


😵😵😵😵👈👈👈👈👀✌️#nolelyfe #nolenation #seminoles #fsu #fsu18 #champs #dallastodallas #repeat #letsgetit http://t.co/yAg9ZDVnql
about 18 hours ago

IzzoRyan

Ryan Izzo


Nothing better then eating at @TimBrewster house feeling like home 👌
about 18 hours ago
ACC SCOREBOARD
Thursday, 8/28
Friday, 8/29
Saturday, 8/30
Monday, 9/1
BLOG ARCHIVE:
CATEGORIES: