Spring questions: Joyner on the move
March, 15, 2013
3/15/13
8:29
AM ET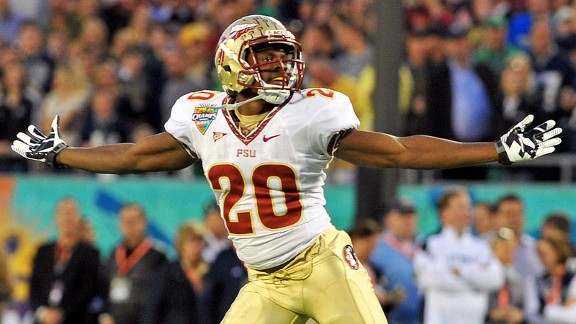 Al Messerschmidt/Getty ImagesCoaches are feeling more and more comfortable with Lamarcus Joyner's move to cornerback, where Jimbo Fisher believes the 5-foot-8 defender belongs.
Editor's note: Each day until the start of spring practice, we'll pose a question facing Florida State's football team as it moves toward the 2013 season. Today's question: Was moving FSU's best returning defender to a new position the right decision?
TALLAHASSEE, Fla. -- During an offseason marked by news of players and coaches leaving Florida State, the biggest story might have been about one who stayed.
By December,
Lamarcus Joyner
seemed to have one foot out the door. He'd earned All-ACC honors for a second straight year, and while NFL scouts weren't pegging him as a first-round pick, his pro stock had likely reached its apex, given his physical limitations. Add the fact that his defensive coordinator and a slew of other coaches were leaving and there seemed to be little incentive for Joyner to return for his senior season.
To continue reading this article you must be an Insider
Insider
Haskins, McElwain Shine At IMG Regional
Recruiting reporter Derek Tyson breaks down top performers from the IMG Southeast Regional tournament in Bradenton, Fla.
Haskins, McElwain Shine At IMG Regional
VIDEO PLAYLIST
FSU FB RECRUITING SCORECARD
Nike Men's Florida State Seminoles Grey Football Practice Legend T-shirt Shop »
Safid_Deen

Safid Deen


Don't cry, guys. RT @dtackett_: Might be one of the last Jameis Winston to Rashad Greene connections. https://t.co/dvqwMIyc7r
8 minutes ago

GridironStuds

Chad Wilson


Props to Florida St. for letting former Chaminade-Madonna HS WR product Spiffy Evans work out at their Pro Day.
14 minutes ago

Warchant

Warchant.com


Jameis Winston, before starting his throws at Pro Day: "Please, enjoy yourself. If y'all want to take a seat, go ahead."
15 minutes ago

perrykos

Perry Kostidakis


Jameis is taking time to introduce every receiver/back that's throwing with him to the scouts
16 minutes ago

Seminoles_com

Seminole Athletics


LIVE on #Periscope: Pro Day: Winston Throwing Session https://t.co/W0BgSMktrw
22 minutes ago

Warchant

Warchant.com


The show's about to start. Jameis Winston about to begin throwing at FSU's Pro Day.
22 minutes ago

aadelsonESPN

Andrea Adelson


ICYMI: Louisville S Josh Harvey-Clemons has one goal for 2015: play the entire season. http://t.co/YvIpi4lzQK
28 minutes ago

Noles247

Noles247.com


WATCH: Mario Edwards Jr. Lean & Athletic at FSU Pro-Day (FREE) http://t.co/RTCr0eOxsg via @Noles247
31 minutes ago

TomahawkNation

TomahawkNation.com


Preview of Mario Edwards, Jr. On bag drills. #FSUProDay https://t.co/8f30TZMjh7
43 minutes ago

Seminoles_com

Seminole Athletics


.@FSU_Football going to work! http://t.co/8ZGt8BJi0s
45 minutes ago

JR8_Noles

Jalen L. Ramsey


Great to see my brothers out there 4 Proday performing @ the highest level like they always do @realronalddarby @PjWilliams_26 @NickWaisome
45 minutes ago

WellOffForever

Well Off


Get 25% off of your next Well Off purchase by using the code WOF. Buy here at http://t.co/ys2bt5BouI #WellOffForever http://t.co/aLLpG5vH8c
50 minutes ago

Noles247

Noles247.com


ESPN's Todd McShay calls Cameron Erving best center in the NFL Draft (FREE) http://t.co/t5ifXqHyNN via @Noles247
about an hour ago

ESPN_ACC

ESPN ACC


Jimbo Fisher happy with Florida State's first scrimmage http://t.co/yAoXApEGQt
about an hour ago

FSU_Football

FSU Football


Coach Fisher about to open @nflnetwork live broadcast at #Noles Pro Day with Kurt Warner & Mike Mayock. http://t.co/Dv2XDAUent
about an hour ago

Warchant

Warchant.com


Jimbo chatting up Kurt Warner. http://t.co/VCbMsPfpy6
about an hour ago

dtackett_

Dustin Tackett


PJ Williams and Ronald Darby working DB drills during FSU Pro Day. https://t.co/H1fZB0Nhi1
about an hour ago

Warchant

Warchant.com


Jameis Winston and Randy Sanders taking in the DB drills at #FSU Pro Day. http://t.co/DfhDdNhJZV
about an hour ago

Seminoles_com

Seminole Athletics


Soon, and very soon! http://t.co/P8qxJqUqnd
about an hour ago

TomahawkNation

TomahawkNation.com


Devon Travis wins Toronto Blue Jays starting second base job #Noles #FSU http://t.co/5BfDysazq1 http://t.co/ZK1zbrY9JK
about an hour ago

TomahawkNation

TomahawkNation.com


#FSUProDay Updates & Schedule: Coverage on ESPN, NFL Network #Noles http://t.co/2nXuzjhvPj http://t.co/xF03lZdpeF
about an hour ago

ESPN_ACC

ESPN ACC


Take 2: Is UNC the ACC's top offense? http://t.co/q0kHvKv8rm
about an hour ago

AriyaMassoudi

Ariya Massoudi


George Whitfield on Jameis Winston: "I've been around a lot of QBs, but I've never seen a better big game, big moment player."
about an hour ago

TomahawkNation

TomahawkNation.com


Maybe global warming didn't claim Hair Island? RT @81FSUnole: @TomahawkNation nope. Makes more sense to get it done if you have one tho
about an hour ago

TomahawkNation

TomahawkNation.com


Wearing Ramsey shirt! RT @Safid_Deen: Jameis Winston & current FSU CB Jalen Ramsey taking a stroll during #FSUproday http://t.co/74B12uGd9c
about an hour ago

I_AM_DIANNA

Dianna Williams


DD4L Training Camp DALLAS!!! Have you registered??? http://t.co/Y1rXzk6aCN https://t.co/NezisimZTo
about an hour ago

TomahawkNation

TomahawkNation.com


So question: do you need a clean slate so to speak for hair plugs?
about an hour ago

Seminoles_com

Seminole Athletics


Solid effort on the bench press for all @FSU_Football @nfl prospects!
about an hour ago

DeionSanders

Deion Sanders


KIDS AGES 5-14 IN DALLAS!!Truth Football & Cheer registration link: http://t.co/Lk2TJtzXF9
about an hour ago

Warchant

Warchant.com


Ronald Darby posted 15 reps at 225 pounds on bench press at FSU's Pro Day. He had 12 in Indianapolis at the combine.
about an hour ago

Noles247

Noles247.com


The Tampa Bay Bucs front office at #FSU to watch Jameis Winston (FREE) http://t.co/xwlnohp6Dz via @Noles247
about an hour ago

Warchant

Warchant.com


Good to see Chris Thompson, Vince Williams and a few other former 'Noles out supporting these guys at FSU Pro Day.
about an hour ago

theACC

The ACC


.@PackWrestle's Gwiazdowski Earns Second Straight @ACCWrestling Wrestler of the Year Honor: http://t.co/3ULAK6JYPk
about an hour ago

Warchant

Warchant.com


Bobby Hart with 22 reps of 225 pounds at FSU's Pro Day on bench press.
about an hour ago

TomahawkNation

TomahawkNation.com


Where is his hat?! RT @FSU_Football: Coach Fisher live on @SportsCenter with Sal Palintonio. #Noles http://t.co/Py8x2Aojae
about an hour ago

FSU_Football

FSU Football


Coach Fisher live on @SportsCenter with Sal Palintonio. #Noles http://t.co/PriBgol0Cy
about an hour ago

Seminoles_com

Seminole Athletics


LIVE on #Periscope: Pro Day: Bench Press https://t.co/zZqjpwyGxh
about an hour ago

DavidHaleESPN

David Hale


43 #ACC players had at least 8 TFL last year. Only 1 was a freshman: #GaTech's KeShun Freeman.
about 2 hours ago

Warchant

Warchant.com


We've got live updates from FSU's Pro Day right here: https://t.co/4b07TmpCcy http://t.co/gxLeusoNr1
about 2 hours ago

FSU_Football

FSU Football


Coach Fisher will be live on @Sportscenter with Sal Palintonio in a few moments! #Noles
about 2 hours ago

Noles247

Noles247.com


Live Updates: FSU Pro Day (FREE) http://t.co/RBYm2SZNaZ via @Noles247
about 2 hours ago

Noles247

Noles247.com


P.J. Williams dramatically improves his 40 yard-dash time (FREE) http://t.co/jil3vkeeYa via @Noles247
about 2 hours ago

Warchant

Warchant.com


DE Mario Edwards Jr. was listed at 294 pounds last year at FSU. Weighed in at 278 at the combine. Now 272 at Pro Day.
about 2 hours ago

DeionSanders

Deion Sanders


There's 3 things u must learn if you're gonna be successful. 1.The gift to ignore.2.The strength to walk away & 3.FOCUS in storms. #TRUTH..
about 2 hours ago

Seminoles_com

Seminole Athletics


LIVE on #Periscope: Pro Day: Cone Drills https://t.co/Z9u7LHHVRy
about 2 hours ago

FSU_Football

FSU Football


Coach Fisher chatting with @TBBuccaneers head coach Lovie Smith & GM Jason Licht at Pro Day. #Noles http://t.co/0be8gwTEmO
about 2 hours ago

Seminoles_com

Seminole Athletics


LIVE on #Periscope: Pro Day: Shuttle Run https://t.co/iZXx6iwL39
about 2 hours ago

Warchant

Warchant.com


Jimbo Fisher just introduced Jalen Ramsey to Mike Tomlin. That could be a good fit.
about 2 hours ago

TomahawkNation

TomahawkNation.com


Andrew and Dustin caffeinated with all the updates they are dropping in our #FSUproday live update page. http://t.co/5l3WEYpz5S
about 2 hours ago

theACC

The ACC


.@ACCRowing: Virginia Second Varsity Eight Named ACC Crew of the Week, presented by Havoline: http://t.co/tMb7dm8Ziq
about 2 hours ago

TomahawkNation

TomahawkNation.com


What I'd say: "Man, we had to suspend a kid for cursing in the union!" #CollegeCoachProblems" RT @PhenomeNoles: Tomlin and Jimbo broing it
about 2 hours ago

TomahawkNation

TomahawkNation.com


Damnnnnn Eddie Goldman 5.12 40-yard dash? #FSUProDay http://t.co/2nXuzjhvPj http://t.co/xF03lZdpeF
about 2 hours ago

Noles247

Noles247.com


Live Updates: FSU Pro DayEddie Goldman runs a 5.12 40-yard dash today http://t.co/PmCUfijb9I
about 2 hours ago

DeionSandersJr

Deion Sanders Jr


Good morning World! Thank You Lord for a new day! Make sure you follow @WellOffForever for the verse of the day
about 2 hours ago

Seminoles_com

Seminole Athletics


We can see why all 32 @nfl teams are here for Pro Day. @FSU_Football's got some incredible speed to show!
about 2 hours ago

TomahawkNation

TomahawkNation.com


(Steelers do not really have an office in Doak) RT @Tim_Linafelt: @TomahawkNation was kidding about the office.
about 2 hours ago

TomahawkNation

TomahawkNation.com


Ah. RT @CB_7: @TomahawkNation short time in Cincy - Jimbo QB/OC and Tomlin DB coach
about 2 hours ago

TomahawkNation

TomahawkNation.com


Ok so that's confirmation RT @Tim_Linafelt: @TomahawkNation no doubt. I think the steelers have an office here.
about 2 hours ago

TomahawkNation

TomahawkNation.com


Tomlin and Jimbo worked together long long ago right? Thought I remembered that. RT @CB_7: @TomahawkNation he does, I'm sure of it
about 2 hours ago

TomahawkNation

TomahawkNation.com


I feel like Mike Tomlin comes to Tally more than any other NFL coach. Maybe it just seems like it.
about 2 hours ago

dtackett_

Dustin Tackett


Jameis Winston is standing to the side, rooting teammates on & timing their 40-yd dash times on his iPhone. He and Ronald Darby having fun.
about 2 hours ago

Noles247

Noles247.com


Live Updates: FSU Pro DayDT Desmond Hollin measured in at 6'3, 281 today http://t.co/yWSDA9EVR7
about 2 hours ago

TomahawkNation

TomahawkNation.com


Jameis Winston inception: QB takes picture of reporters taking his picture #FSU http://t.co/f7kXqtVq5R http://t.co/8cjIaGtziq
about 2 hours ago

MichaelWarchant

Michael Langston


You would think ESPN would make sure they spell Jameis Winston's last name right in a graphic on their first update but apparently not.
about 2 hours ago

TomahawkNation

TomahawkNation.com


.@Andrew_Miller36 & @dtackett_ updating from #Noles pro day #FSU http://t.co/5l3WEYpz5S http://t.co/rj2BuCF8Eh
about 2 hours ago

Warchant

Warchant.com


This is Jameis taking pictures of the media taking his picture. He's taking this all too seriously. http://t.co/cikw32KmwE
about 2 hours ago

Seminoles_com

Seminole Athletics


LIVE on #Periscope: Pro Day: 40-Yard Dash https://t.co/xkLjMMU4wE
about 2 hours ago

ESPN_ACC

ESPN ACC


UNC wants to lessen run load for Marquise Williams http://t.co/FLQxylRYBp
about 3 hours ago

Seminoles_com

Seminole Athletics


It's getting to be about that time! http://t.co/NlQ2xpcvlE
about 3 hours ago

EJManuel3

EJ Manuel


Bracket update: Had some movement in the top 3 after the Elite 8. Shout out to Gary and BillsMafia at 1 & 2 http://t.co/Nsu6lCFOOC
about 3 hours ago

Warchant

Warchant.com


Head coaches from Tampa Bay and the Tennessee Titans are here for FSU Pro Day. They obviously own the top two picks.
about 3 hours ago

TomahawkNation

TomahawkNation.com


Star 2017 OT recruit visiting Florida State Saturday #Noles #FSU #Tribe17 http://t.co/CugRTdYAxV http://t.co/6jclu9PFIs
about 3 hours ago

Warchant

Warchant.com


Some big men at #FSU's Pro Day. http://t.co/guIPvVNGpz
about 3 hours ago

TomahawkNation

TomahawkNation.com


Which #NFL teams are at #FSU Pro Day? Trick question! All 32 are here. #Noles http://t.co/2nXuzjhvPj http://t.co/xF03lZdpeF
about 3 hours ago

Warchant

Warchant.com


Heard PJ Williams posted a 13 1/2 foot standing broad jump. That's kinda nuts.
about 3 hours ago

Seminoles_com

Seminole Athletics


If you missed the Broad jump, don't worry, we'll have quite a few more @periscopeco streams for today's @FSU_Football Pro Day.
about 3 hours ago

dtackett_

Dustin Tackett


Rashad Greene talking to an Indianapolis Colts representative.
about 3 hours ago

Seminoles_com

Seminole Athletics


LIVE on #Periscope: Pro Day: Broad Jump https://t.co/xiMV2nZiEe
about 3 hours ago

Noles247

Noles247.com


Live Updates: FSU Pro Day - http://t.co/ea7aVsHjoJ via @Noles247
about 3 hours ago

Seminoles_com

Seminole Athletics


Downloaded @periscopeco yet? Well, you might want to for live streams in today's Pro Day!
about 3 hours ago

TomahawkNation

TomahawkNation.com


Live coverage from TN & everyone else on the beat thanks to our twitter widget embed. http://t.co/5l3WEYpz5S http://t.co/tJdcUwZmKM
about 3 hours ago

Seminoles_com

Seminole Athletics


.@Tim_Linafelt: The future couldn't be brighter for @FSU_WBasketball. http://t.co/O1m4nEmNAg http://t.co/UuYCEqkuo8
about 3 hours ago

Warchant

Warchant.com


Just spotted Greg Reid at #FSU's Pro Day.
about 3 hours ago

Warchant

Warchant.com


Mario Edwards, Eddie Goldman and others getting ready for FSU Pro Day. http://t.co/QKQJwva56Q
about 3 hours ago

Warchant

Warchant.com


Jameis looking a little casual at FSU Pro Day. http://t.co/0LC1YNhrmp
about 3 hours ago

FSU_Football

FSU Football


"Jaws" and Sal Palintonio will be live at FSU's Pro Day all day! #Noles @SportsCenter http://t.co/hLbZJG3YtY
about 3 hours ago

FSU_Football

FSU Football


We officially have representatives from all 32 teams checked in for today's Pro Day! #Noles
about 3 hours ago

MichaelWarchant

Michael Langston


Better question today is who isn't at the #FSU Pro day?
about 3 hours ago

Seminoles_com

Seminole Athletics


Where does @FSUGolf currently rank in the http://t.co/n6exxtkMhx Intercollegiate?MORE: http://t.co/Y2BzRRzNBu http://t.co/eGWogsK0OS
about 3 hours ago

TomahawkNation

TomahawkNation.com


A lof of the veterans coming back to workout are a reminder of how the NFL doesn't need to compromise on size/speed requirements.
about 3 hours ago

TomahawkNation

TomahawkNation.com


Pro day doesn't mean much for QBs. Manziel had a great pro day, Bridgewater a terrible one. But we're covering it.http://t.co/5l3WEYpz5S
about 3 hours ago

ESPN_ACC

ESPN ACC


Dabo Swinney: Who's John Oliver? http://t.co/wSZNdKVmMu
about 4 hours ago

DeionSanders

Deion Sanders


"@NFL_AM: We've made it 2 the #Sweet16 for #NicknameMadness.don't forget to cast your vote! http://t.co/19d3nipNCP" How is Prime not the #1
about 4 hours ago

Warchant

Warchant.com


There are TV sets in three of the four corners of the Indoor Practice Facility for FSU Pro Day. http://t.co/KKGzfg5FRv
about 4 hours ago

FSUTickets

FSU Ticket Office


Good morning #NoleNation - Today is the last day to get your 2015 FSU Football Season Ticket Renewal squared away! http://t.co/quTttmFsx4
about 4 hours ago

TomahawkNation

TomahawkNation.com


.@MockingTheDraft Bet Jameis would love that. Nashville to his hometown of Bessemer is under 3 hours.
about 4 hours ago

TomahawkNation

TomahawkNation.com


If #FSU gets 12 drafted, this will be the $ stat:Since Jimbo Fisher's first class became draft eligible, #Noles averaging 10 picks/draft
about 4 hours ago

TomahawkNation

TomahawkNation.com


FSU ran the ball great in its scrimmage Monday. But 3/5 starting OL were out. Also no projected starting LBs healthy. So IDK?
about 4 hours ago

TomahawkNation

TomahawkNation.com


I think Jimbo Fisher is still using some variation of "young" an average of once a minute in his post-practice interviews.
about 4 hours ago
ACC SCOREBOARD
Thursday, 9/3
Saturday, 9/5
Monday, 9/7
BLOG ARCHIVE:
CATEGORIES: