Jackson rethinking commitment to FSU
February, 16, 2013
2/16/13
6:52
PM ET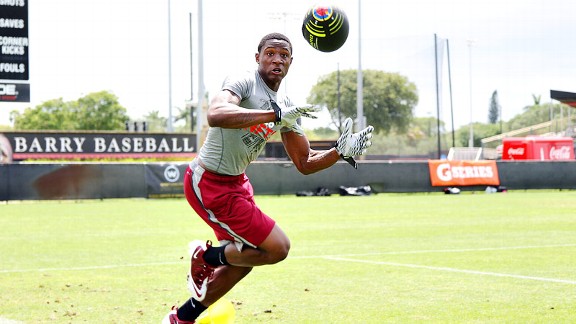 Tom Hauck/ESPNHSAthlete J.C. Jackson of Immokalee (Fla.) committed to Florida State in March 2012.
GAINESVILLE, Fla. -- Watch List athlete
J.C. Jackson
(Immokalee, Fla./Immokalee) has been committed to Florida State since March of last year, but visited Florida for its junior day on Saturday.
To continue reading this article you must be an Insider
Insider
Jimbo Talks Defending Title, Winston
Florida State coach Jimbo Fisher talks about his mindset as his team prepares to defend its national championship and discusses the development of Jameis Winston since last season.
Jimbo Talks Defending Title, Winston
VIDEO PLAYLIST
FSU FB RECRUITING SCORECARD
OT Sports Men's Florida State Seminoles #5 Garnet Replica Football Jersey Shop »
TheStateOfTheU

StateOfTheU.com


Nothing official yet, no RT @TomahawkNation: Did Trayone Gray get into Miami today? Seeing a lot of tweets about him tonight.
26 minutes ago

TomahawkNation

TomahawkNation.com


Did Trayone Gray get into Miami today? Seeing a lot of tweets about him tonight.
28 minutes ago

_DCReeves

D.C. Reeves


I never pegged grumpy cat as the next #Bachelor
40 minutes ago

tomdangelo44

Tom D'Angelo


Nick O'Leary returns to #FSU to improve draft stock. My story.http://t.co/WLLhKbbY8p
about an hour ago

_DCReeves

D.C. Reeves


I think Nick and Andi still have a chance together
about an hour ago

TomahawkNation

TomahawkNation.com


ESPN posts some insanely high win percentages for #Noles games. http://t.co/aiQacTWFwJ
about an hour ago

_DCReeves

D.C. Reeves


Tonight marks the first UGA win in Atlanta since 2005
about an hour ago

KCChiefs

Kansas City Chiefs


Winner! Congrats to @aaronmurray11's brother Josh on winning the @BacheloretteABC. http://t.co/qITV2fTpl5
about an hour ago

BinjimenVictor

BEN #9?


TOP 15 NO ORDER!!! 👌👌👌👌👌💰💰🙏 http://t.co/JGT4WtctkK
about an hour ago

mhenton1519

Marlon Henton


@DeionSanders THIS IS the exact reason we love and need U Prime!! ALWAYS looking out for the kids. Christian, Dad, Role model!! #Truth
about 2 hours ago

_DCReeves

D.C. Reeves


Didn't they give away the result at the beginning when they said the bachelorette loser was borderline stalking Andi? Nick is very stalk-y
about 2 hours ago

osfsu

Brendan Sonnone


#FSU to use GPS tracking devices in ACC games http://t.co/KRnEXlDo9L
about 2 hours ago

Noles247

Noles247.com


#FSU makes Top 15 for @BinjimenVictor http://t.co/4H7YwFZE7z via @Noles247
about 2 hours ago

AndrewJBone

Andrew Bone


RT @AKRivals: The latest on CeCe Jefferson's recruiting process: (http://t.co/7RTa65jOTv) #Bama #UCLA #UGA #LSU
about 2 hours ago

perklisa1973

Lisa Perkins


Report: Emmanuel Mudiay cleared by NCAA, will still play overseas instead of at SMU http://t.co/fHotxMMeYP @DanWolken
about 2 hours ago

DeionSanders

DeionSanders


"@rchunter: Is it true @DeionSanders is going to be on #runningwildwithBearGrylls?" YES SIR BUDDY!
about 2 hours ago

Josephlenmiller

Joey Miller


@DeionSanders can I get a RT to inform people of @UnitedWayKC's free #summermeals for kids and teens? Visit http://t.co/Kco0VqVYHx for info!
about 3 hours ago

Noles247

Noles247.com


OG wants to visit a few schools, #FSU included http://t.co/N4vzqgOmjY via @Noles247
about 3 hours ago

DeionSanders

DeionSanders


The TRUTH is not as fast as a LIE but the Truth is consistent and always on time. #Truth
about 3 hours ago

DeionSanders

DeionSanders


Remember all the lies & speculation regarding Emmanuel Mudiay when he decided to go play in China and skip college? http://t.co/CuAs3Lugex"
about 3 hours ago

UncleDreRozay

BIG MAN


#PrimePrepBasketball #Bugatti Now what who got next??? http://t.co/WOYiV5ggcL
about 3 hours ago

Noles247

Noles247.com


Broussard names a top six http://t.co/SYqGsKeJc4 via @Noles247
about 3 hours ago

CFBMatrix

Dave Bartoo


Reminder: Some of us aren't buying into #SOS hype unless U believe @CFBPlayoff committee is going to make stuff up http://t.co/Mr80YrvsIo
about 3 hours ago

DredaDon14

Deandre Johnson


There was No shots fired at Francois ,sorry to disappoint you all but the media will blow things out of proportion just to have a story.
about 3 hours ago

Nickilishious

Nicole Adamo


@DeionSanders & that's why we are friends. Because you are the #TRUTH and having a positive impact on others is what life is about!!!! 👏
about 4 hours ago

UncleDreRozay

BIG MAN


Oh wait @GoodmanESPN you wasn't by yourself @GaryParrishCBS was down with the he won't qualify. @DeionSanders http://t.co/FWs5ckz4iA
about 4 hours ago

bjcorey

BJ Corey


@DeionSanders @UncleDreRozay #TheTruth always comes out!
about 4 hours ago

CarminaB

Carmina Barnett


@deionsanders checked in with us today at the KHVN Studios http://t.co/rO6skjTcum
about 4 hours ago

UncleDreRozay

BIG MAN


@DeionSanders here it go again since my phone isn't ringing #PrimePrepBasketball http://t.co/ikz6gssUZB
about 4 hours ago

AdamZagoria

Adam Zagoria


Mudiay said he would skip SMU and play overseas for financial reasons, not because of academics at Prime Prep. Reportedly signed for $1.2M
about 4 hours ago

DavidHaleESPN

David Hale


*solemnly Kratzing my hands* "@DennisDeitch: Erik Kratz apparently traded. #travelingturkeybacon"
about 4 hours ago

TideSports

TideSports.com


#Alabama is in the mix with 3 players committing this week. Will Adonis Thomas pick the Tide? https://t.co/94pMHTIthA http://t.co/iOHhj0tTUU
about 4 hours ago

UncleDreRozay

BIG MAN


BREAKING NEWS ON THIS?Now it's time to show the country what a #1 school N the country is about@DeionSanders http://t.co/ztmpRpImUv
about 4 hours ago

DeionSanders

DeionSanders


"Haters please read! The Truth! @UncleDreRozay: #PRIMEPREPBASKETBALL http://t.co/3MGFvM4gPU"
about 4 hours ago

CarminaB

Carmina Barnett


@DeionSanders checked in with us today at the @KHVNHeaven97 studios http://t.co/qSnzWFNAiI
about 4 hours ago

fsufball

FSU Football


(b/r) Florida State Football: Biggest Storylines Heading into Fall Camp: There will be no competition for the ... http://t.co/uRklaN6RZE
about 4 hours ago

ColeyHarvey

Coley Harvey


Here's today's #Bengals practice report. It's heavy on Mohamed Sanu's versatile play, short-yardage work and injuries http://t.co/2LiEcvTxRn
about 4 hours ago

Deondre_3

Dre


As a man I just can't involve myself with drama.
about 4 hours ago

Noles247

Noles247.com


Nick O'Leary among ACC's Top TEs http://t.co/k3Jo5FiGqI via @Noles247
about 4 hours ago

DredaDon14

Deandre Johnson


There was No shots fired at Francois ,sorry to disappoint you all but the media will blow things out of proportion just to have a story.
about 5 hours ago

TimBrewster

Tim Brewster


At Fla St we will never be the hunted.....We will ALWAYS hunt!! :)
about 5 hours ago

TimBrewster

Tim Brewster


At Fla St we will never be the hunted.....We will ALWAYS hunt!! :)
about 5 hours ago

Warchant

Warchant.com


The Chant: Doak Campbell gets fresh coat of paint (FREE) https://t.co/A0vFOru6ez
about 5 hours ago

Warchant

Warchant.com


Recruiting Mill. Latest on some targets for the 2015 & 2016 class, where #FSU stands. http://t.co/X4kJzxnOyT ($: http://t.co/GaE3hXgWn7
about 5 hours ago

DeionSanders

DeionSanders


Every action begins with a thought. Watch your words,let's think ourselves clear and then act using wisdom and understanding. #TRUTH...
about 5 hours ago

Noles247

Noles247.com


Jimbo Fisher hints at more blitzing for #FSU in 2014 http://t.co/xWUZExY96L via @Noles247
about 5 hours ago

TomahawkNation

TomahawkNation.com


FSU 2016 OL Target Baveon Johnson (big kid with FSU tattoo on shoulder) was ranked No. 72 in nation by Rivals Monday. Out of Lake Gibson HS.
about 5 hours ago

ZacEllis

Zac Ellis


From #B1GMediaDay @ChrisDJohnsonn on Ohio State's quest to bounce back from 2013 http://t.co/lLKdEUMkIM
about 6 hours ago

Warchant

Warchant.com


The Recruiting Mill. Latest on some of the targets for the 2015 & 2016 class and where #FSU stands. http://t.co/rGT7K3jNUV ($)
about 6 hours ago

asdillon

Adam Dillon


We are back up @247Sports. Thanks for your patience.
about 6 hours ago

fsufball

FSU Football


(fsu) 2014 Fan Day: The annual FSU Credit Union 2014 Florida State Football Fan Day presented by Kia Autosport... http://t.co/9pxGpKVgSg
about 6 hours ago

ColeyHarvey

Coley Harvey


Sounds like J.K. Schaffer and Sean Porter were just banged up in the padded stuff yesterday. Shouldn't missed too much time #Bengals
about 6 hours ago

TomahawkNation

TomahawkNation.com


You know talk like that isn't allowed on @finebaum RT @skipfoster @TomahawkNation #FSU 5-1 in last 6 vs. SEC.
about 6 hours ago

DanielGlauser1

Daniel Glauser


"The Catch" #Noles #FSU http://t.co/I8S73pHCuW
about 6 hours ago

TomahawkNation

TomahawkNation.com


Interesting discussion on how FSU would do v. SEC schedule, no mention of how FSU's roster was built beating those teams on recruiting trail
about 6 hours ago

TomahawkNation

TomahawkNation.com


That worked out well. @MrCFB is tight with Jimbo Fisher, known him for a long time, so filling in on @finebaum show was good.
about 6 hours ago

NoleFanatics

Nole Fanatics


The new Heisman display in the newly-renovated #FSU football facilities (via @FSU_Recruiting) http://t.co/KeuGeNX24H
about 6 hours ago

FSU_Football

FSU Football


Details announced for 2014 #Noles Fan Day http://t.co/8TRI9lBpk0 http://t.co/vAQzfcrmKw
about 6 hours ago

TomahawkNation

TomahawkNation.com


No Surprise: Jimbo Fisher is just gushing about the best secondary in the country. Names them all off.
about 6 hours ago

TomahawkNation

TomahawkNation.com


Jimbo Fisher said the defense won't look different under DC Charles Kelly. Said they may blitz more, change up looks some b/c greater exp.
about 6 hours ago

TomahawkNation

TomahawkNation.com


Jimbo Fisher says FSU is in good shape at receiver, and notes Rashad Greene can become FSU's All-Time leader in catches, yards, TDs.
about 6 hours ago

TomahawkNation

TomahawkNation.com


Jimbo Fisher says Jameis puts the criticism behind him, but learns from it, and has moved forward in life and as leader of the team.
about 6 hours ago

TomahawkNation

TomahawkNation.com


Jimbo says it's important to have the culture where the older players teach the young guys.
about 6 hours ago

_DCReeves

D.C. Reeves


Fan Day for #Alabama is set for 2:30 p.m. CT this Sunday at Bryant-Denny Stadium.
about 6 hours ago

TomahawkNation

TomahawkNation.com


Jimbo Fisher is coming up on Finebaum.
about 6 hours ago

AKRivals

Adam Krohn


Johnson to Francois if he joins #Noles: 'You'll be on the bench' - http://t.co/oIQ2zCEV4x
about 6 hours ago

sam_ponder

Sam Ponder


God's been so good to me. 😍 http://t.co/m2LqYqokxn
about 6 hours ago

jjaredcordes

Jared Cordes


@TomahawkNation a note saying "see me after class"
about 6 hours ago

theACC

The ACC


#ACCNow: ACC Football Practice Starts This Week - http://t.co/psXHsm1URq
about 6 hours ago

TomahawkNation

TomahawkNation.com


If you're in broadcasting school, and you submit the finebaum show to your teacher as your plan for a show, what grade do you get?
about 6 hours ago

TomahawkNation

TomahawkNation.com


The @finebaum show is the best hustle ever. Sit back, let these dumbasses say stuff that barely passes FCC muster, play a commercial. Profit
about 6 hours ago

duvalbill904

Bill


@TomahawkNation I'm literally getting dumber listening to these morons. Helps to explain the SEC fan.
about 6 hours ago

TomahawkNation

TomahawkNation.com


Finebaum caller with the racism early in the show /drink. "Auburn and Florida State have thugs at QB. They'll mess up. Maybe not both of em"
about 6 hours ago

fsufball

FSU Football


(fsu) Social Story: Jimbo Fisher at ESPN 'Car Wash': Social-media highlights of FSU coach Jimbo Fisher's visit... http://t.co/2DPxt0VXEC
about 6 hours ago

Warchant

Warchant.com


Rivals100 WR George Campbell has a top ten in no order. http://t.co/KOEMxiMCRs ($)
about 6 hours ago

TomahawkNation

TomahawkNation.com


Think so. They had some good deals, too, sounded like. RT @jmnpb996 @TomahawkNation the "gun training for women" one?
about 6 hours ago

TomahawkNation

TomahawkNation.com


Man, I miss the old commercials from the Finebaum show. The one gunshop jingle was catchy as hell.
about 6 hours ago

Rashid_Coleman

Rashid Coleman


@ColeyHarvey The fact he caught no passes last season is not a slight against him. It is a testament to how good Landry and Beckham were.
about 6 hours ago

CoachSalFsu

Sal Sunseri


Winning national championships makes both my family and my Seminole family happy. Can't wait to get started! #NOLES http://t.co/8NYX5oPnpz
about 6 hours ago

ColeyHarvey

Coley Harvey


Cobi Hamilton has made a couple of nice catches at the goal line, too. The battle for the final WR spots could be a good one #Bengals
about 7 hours ago

ColeyHarvey

Coley Harvey


James Wright continues to impress as a WR. Caught a couple of difficult passes today. Gotta think he's done a lot so far to help his cause
about 7 hours ago

Noles247

Noles247.com


Matthew Burrell hinting at a shortened list http://t.co/onqjDFtl4p via @Noles247
about 7 hours ago

Noles247

Noles247.com


Top 10 for George Campbell http://t.co/enF2EypeKx via @Noles247
about 7 hours ago

ColeyHarvey

Coley Harvey


#Bengals OT Andre Smith just left the field with a trainer.
about 7 hours ago

TomahawkNation

TomahawkNation.com


#FSU Heisman Trophies on display #Noles http://t.co/9uqJXkHLIZ
about 7 hours ago

Noles247

Noles247.com


Sporting News released their preseason top 25 today and has multiple teams ahead of #FSUDetails:... http://t.co/KJUaHiNGkR
about 7 hours ago

Noles247

Noles247.com


Jimbo Fisher: "I'd have no problem scheduling Alabama" http://t.co/4l9CmuFaGK via @Noles247
about 7 hours ago

Noles247

Noles247.com


The @sportingnews ranks #FSU preseason No. 3, behind #Sooners and #Ducks http://t.co/KOJmsQwRcX via @Noles247
about 7 hours ago

ColeyHarvey

Coley Harvey


Jeremy Hill with a nice highlight to close goal-line. Just went up and over to end drill. #Bengals
about 7 hours ago

Noles247

Noles247.com


New Heisman Trophy display at #FSU is pretty awesome http://t.co/c0yNSSj4UR via @Noles247
about 7 hours ago

ColeyHarvey

Coley Harvey


Looked like the offense won short-yardage (3rd/1 & 4th/1), defense looked better overall on goal-line drill just now. Law Firm got TD, tho
about 7 hours ago

FSU_Recruiting

Seminoles Recruiting


New Heisman display is up. #gonoles #fsu http://t.co/rVYy0AV8JF
about 7 hours ago

Warchant

Warchant.com


Fisher also added that the ACC had more players taken in the NFL Draft last year than any other league through the first 150 picks at 32.
about 7 hours ago

TomahawkNation

TomahawkNation.com


Loving this Top-25 from @edsbs http://t.co/7CxQ2zodPL
about 7 hours ago

Warchant

Warchant.com


Fisher "This is the greatest year (2014) that any conference has had. BCS Champion, another BCS win. Never had 11 teams in a bowl game"
about 7 hours ago

IamOden

Stephen Oden


@ColeyHarvey there is a product developed here in Shreveport last year called Schutt Vision. Check it out.
about 7 hours ago

ColeyHarvey

Coley Harvey


Andy Dalton doing a nice job finding TEs deep in the seams today. They keep getting behind the secondary in 11on11s. #Bengals
about 7 hours ago

TomahawkNation

TomahawkNation.com


ESPN: Employee's tweet about punching Jimbo Fisher was 'inappropriate' #FSU #Noles http://t.co/96uSRbjGqi
about 7 hours ago

ColeyHarvey

Coley Harvey


No word yet, but may just be a vet day off RT @JoshSmith18: any word on pacman why he's not practicing?? Seeing a lot of denard today?
about 8 hours ago

Warchant

Warchant.com


Jimbo on a roll with interview on ESPN earlier today. "We can play with anybody in America"
about 8 hours ago
ACC SCOREBOARD
Thursday, 8/28
Friday, 8/29
Saturday, 8/30
Monday, 9/1
BLOG ARCHIVE:
CATEGORIES: