No. 1 LB casts lot with Noles
February, 6, 2013
2/06/13
10:29
AM ET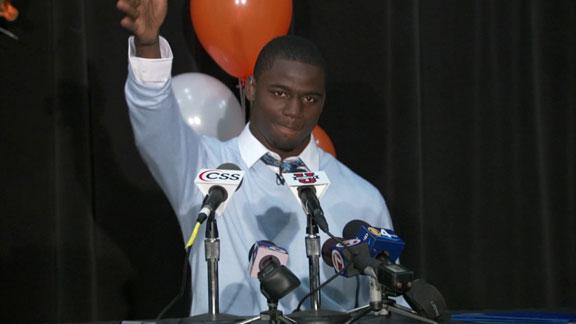 MIAMI --
Matthew Thomas
(Miami/Booker T. Washington), the No. 1 linebacker in the nation, chose Florida State on Wednesday morning over Miami and a late push from USC.
"I just felt more comfortable with the staff and the program at FSU over anyplace else," Thomas said. "Everything is there for me to succeed."
The Seminoles were considered the favorite for Thomas despite late pressure to stay home and play for the Hurricanes. He becomes the highest-ranked prospect in FSU's class at No. 6 overall.
What is the impact of Thomas' decision?
To continue reading this article you must be an Insider
Insider
ABC Primetime Pregame: Clemson at Florida St
Heather Dinich previews the ABC Primetime game between No. 22 Clemson and No. Florida State.
ABC Primetime Pregame: Clemson at Florida St
VIDEO PLAYLIST
FSU FB RECRUITING SCORECARD
ColeyHarvey

Coley Harvey


.@pauldehnerjr @ScottHulett1 We have to bring this up to Jeremy tmrw. See what he thinks. Think I'm ready to start the #HueLiveCrew campaign
18 minutes ago

ColeyHarvey

Coley Harvey


The Hue Live Crew? RT @ScottHulett1 - #Shaknbake? #Disco_Biscuit ? I'm trying to think of a nice one two combo nick name for Gio & Hill.
21 minutes ago

dtackett_

Dustin Tackett


#FSU stretching, getting ready for Tuesday's practice. http://t.co/31aVhLH0Rx
24 minutes ago

adamgorney

Adam Gorney


#Oregon and #FSU showing new interest in 2016 four-star DB Troy Warner from San Marcos (Calif.) Mission Hills.
33 minutes ago

Warchant

Warchant.com


Looks like FSU gets another defensive lineman back today. Nile Lawrence-Stample is dressed. Justin Shanks the only DT not in pads now.
39 minutes ago

FSU_MBasketball

FSU Men\'s Basketball


Big Things coming #ThinkBIG http://t.co/sKm68dcpr8
49 minutes ago

AKRivals

Adam Krohn


5-star RB Jacques Patrick (@jacques_patrick) chases history as little brother watches. http://t.co/WaVYgES863 (#Noles #Buckeyes)
52 minutes ago

Noles247

Noles247.com


Offensive starts for Clemson against #FSU - QB 0 RB 0 WR 1 TE 1 OL 2 http://t.co/qjxQo0XD9p via @Noles247
about an hour ago

Noles247

Noles247.com


#FSU Recruiting Scoop - Pre-Clemson http://t.co/OcY4f6d5NZ via @Noles247
about an hour ago

CNee247

Chris Nee


Four-star DT to narrow list further soon http://t.co/nTPXI0KFEJ via @Noles247 #FSU #UF #Oklahoma #Oregon #OhioState
about an hour ago

Seminoles_com

Seminoles.com


Clemson will be playing with revenge on their minds. A feeling #Noles are familiar with and are ready to take on.http://t.co/3Y58XvjGAU
about an hour ago

Warchant

Warchant.com


Nice job @theACCDN - Video Top 5 Moments in #FSU-Clemson Rivalry | ACC Hidden Gems http://t.co/ZwMgUWnekw
about an hour ago

ColeyHarvey

Coley Harvey


That means Alex Smith's season is done. Team can only have one player on short-term IR, and Tyler Eifert is already there. #Bengals
about an hour ago

ESPN_ACC

ESPN ACC


ACC Upset Watch: Week 4 http://t.co/3D3nhXGbqG
about an hour ago

ColeyHarvey

Coley Harvey


#Bengals place Alex Smith to IR, TE Kevin Brock signed to roster. OT/OG Emmett Cleary to the prac sq. Released TE Ryan Otten from prac sq
about an hour ago

ACCWSoccer

ACC Women\'s Soccer


.@FSU_Soccer's Marta Bakowska-Mathews named Disney Soccer/NSCAA National Player of the Week http://t.co/7VeFfz7hsE
about an hour ago

RagjUF

Richard Johnson


Wonder how long it's gonna take before James Franklin gets tired of the Paterno-disciples...
about an hour ago

ColeyHarvey

Coley Harvey


Only a matter of minutes RT @brennan_cody: @ColeyHarvey how soon on the power rankings? #Bengals
about an hour ago

Warchant

Warchant.com


Just added a Rivals100 WR to #FSU/Clemson visitor list. Should be a strong group this weekend. Full list here. http://t.co/BbzzVXdVYb ($)
about an hour ago

DeionSanders

DeionSanders


You can if you only Believe! #TRUTH
about 2 hours ago

BlainePhx

Blaine Tubbesing


@ColeyHarvey @MikeWellsNFL @PGutierrezESPN Another great week guys! Always love watching Paul's stopwatch!!
about 2 hours ago

ColeyHarvey

Coley Harvey


Just wrapped up this wk's @ESPN_NFLNation @spreecast w/ @Bengals' Devon Still (@Dev_Still71). Thanks for joining us http://t.co/c2T2UdXpWp
about 2 hours ago

ESPN_ACC

ESPN ACC


Early matchup has appeal for Clemson-FSU http://t.co/wWP0nZnxax
about 2 hours ago

Noles247

Noles247.com


A look at #Clemson's O - Lacks much experience against #FSU http://t.co/qjxQo0XD9p via @Noles247
about 2 hours ago

Noles247

Noles247.com


Video: Doak Campbell Stadium renovations and the 'Champions Club' http://t.co/5xxg36cRmA via @Noles247 http://t.co/Kb71zRf8tw
about 2 hours ago

coachingsearch

Pete Roussel


Dabo Swinney: "In college football, just when you think you know, you don't know." http://t.co/PkQ7Za3BXJ Clemson vs. FSU on Sat. night.
about 2 hours ago

DeionSanders

DeionSanders


You Can if you truly believe you can. You Can't if you truly believe you can't. It's up to you what you believe your Mind is yours.#TRUTH.
about 2 hours ago

TomahawkNation

TomahawkNation.com


Totally forgot Clemson shot off fireworks when they scored on FSU's backups to cut lead to 51-14.
about 2 hours ago

idontwan2know

Alan Mundy


It wasn't Jameis that shot off those fireworks down 51-14, Clemson. That was you. Remember that.
about 2 hours ago

Noles247

Noles247.com


ESPN's KC Joyner Ranks Rashad Greene as No. 1 WR in the Country http://t.co/vVc6BrQKYj via @Noles247
about 3 hours ago

Noles247

Noles247.com


A lot of words by #Clemson's Dabo Swinney http://t.co/wRkB2KRGuc via @Noles247
about 3 hours ago

TomahawkNation

TomahawkNation.com


. @StatFreak101 @idontwan2know @jmnpb996 you motivated by Jameis? Or by chance to beat team that beat the ***** out of you two years running?
about 3 hours ago

Jaboowins

Jameis Winston


Our house 😌 http://t.co/XuMGQWK0k5
about 3 hours ago

TomahawkNation

TomahawkNation.com


Motivation angles matter a lot more in uneven matches. One team's superbowl, other team looking ahead. Not in prime time top 25 games.
about 3 hours ago

TomahawkNation

TomahawkNation.com


I never pay much attention to motivation angles in his games. No need. Both teams already pumped up.
about 3 hours ago

fsufball

FSU Football


Clemson-Florida St. Preview (The Associated Press): (AP) -- - Clemson has not forgotten the debacle that took ... http://t.co/fPhT562r5E
about 3 hours ago

FSU_Football

FSU Football


Great Top 5 #Noles moments vs. @ClemsonFB by @fsu9time. Agree? http://t.co/Ts60WSokJw
about 3 hours ago

ACCWSoccer

ACC Women\'s Soccer


ACC Co-Players of the Week - @FSU_Soccer Marta Bakowska-Mathews & @VT_WSoccer Murielle Tiernan - http://t.co/13Uu2hpywo
about 3 hours ago

mikefeliz7

Mike Feliz


@TomahawkNation maybe Jarrett needs a refresher on the difference between 'our' and 'my'.
about 3 hours ago

FSU_SVB

FSU Sand Volleyball


#PackTully tonight as our undefeated and No. 6 ranked @FSU_Volleyball team plays host to @AuburnVB at 6pm! #Gameday #Noles
about 3 hours ago

Noles247

Noles247.com


#FSU among leaders in offering multiyear scholarships http://t.co/bN9kb7eXk5 via @Noles247
about 3 hours ago

LarryWilliamsTI

Larry Williams


Clearly, Grady Jarrett and Tigers didn't take kindly to Jameis posting picture of Death Valley and saying "our house" a few months ago.
about 3 hours ago

Aaron_Brenner

Aaron Brenner


Grady Jarrett on Jameis Winston "this is our house" 2013 tweet: "That's a guy that wants to make it all about him. We'll let him have that."
about 3 hours ago

Noles247

Noles247.com


Jameis Winston No. 3 on ESPN Heisman Watch http://t.co/XNdIOxaFCY via @Noles247
about 3 hours ago

fsufball

FSU Football


(b/r) FSU Football Recruiting: Latest Updates on 2015 Commits, Visits and Targets: No. 1 Florida State has con... http://t.co/N3252FmddI
about 3 hours ago

ZacEllis

Zac Ellis


#Clemson DC Brent Venables asked why no one has stopped Jameis Winston. He laughed. "He's probably the first pick in the draft."
about 3 hours ago

RealJaxNoles

Jax Seminoles


Got questions about @FSU_Football ? Come out to Fionn MacCool's tonight @ The Landing & ask @TomahawkNation #FSU http://t.co/yo9tSCoTBO
about 3 hours ago

Noles247

Noles247.com


Top 25 and ACC Football Schedule - Week 4 http://t.co/mCtBY0u0MB via @Noles247
about 4 hours ago

ESPN_ACC

ESPN ACC


Wake uses Kim K. and Photoshop to recruit http://t.co/iI7aUnrzcV
about 4 hours ago

ToddFuhrman

Todd Fuhrman


Good chart from @TomahawkNation about early season fumble luck in CFB. http://t.co/dZvoWNDe31
about 4 hours ago

LarryWilliamsTI

Larry Williams


Dabo: "I was Tomahawk chopping in the natty champ game -- two-handed."
about 4 hours ago

LarryWilliamsTI

Larry Williams


And regarding Dabo pulling for FSU last yr: In '12 there was a big FSU contingent pulling for Tigers vs. LSU as FSU prepped for Orange Bowl.
about 4 hours ago

LarryWilliamsTI

Larry Williams


Dabo maintains there wasn't much difference between FSU/Clem last year. Says "a play here/there" separate Nos. 1-15.
about 4 hours ago

ricobert1

rob hodges


Quote: http://t.co/5fOnr0JTcg… Translation: You wouldn't start an 18 yo in Doak Campbell, either. COME ON!
about 4 hours ago

AlligatorArmy

Alligator Army


Screw it: Here's frame-by-frame analysis of the delay of game that wasn't. #Gators #BBN http://t.co/ZWyxnFElA0 http://t.co/5YTbxv5PUt
about 4 hours ago

Noles247

Noles247.com


Big week ahead for #FSU opponents: #UVA at #BYU, #UM at #Nebraska, #UF at #Alabama highlight schedule http://t.co/bCwnVMtVXO via @Noles247
about 4 hours ago

Noles247

Noles247.com


Around the Schedule: Some big wins, tough losses for #FSU opponents last week http://t.co/bCwnVMtVXO via @Noles247
about 4 hours ago

TomahawkNation

TomahawkNation.com


Dabo's "5 of 10" comment last year was lol, but if he had said FSU wouldn't win by that margin again if they played 10X, I would've agreed.
about 4 hours ago

ESPNFSU

ESPN Florida State


Suspension matures FSU WR Jesus Wilson http://t.co/r35mqGjFIK
about 4 hours ago

Warchant

Warchant.com


A couple new videos showing off what will be #FSU's new Club Seat section in Doak. https://t.co/TnZSJD254Z http://t.co/9CpEP5FRYn
about 4 hours ago

Ian_A_Boyd

Ian Boyd


Just heard Joey Galloway rip the SEC's defenses. I'll tell you why they have struggled: cornerback play. It's become essential.
about 4 hours ago

ColeyHarvey

Coley Harvey


Devon will join myself, @MikeWellsNFL and @PGutierrezESPN as we touch on his story. We definitely appreciate him taking the time.
about 4 hours ago

ColeyHarvey

Coley Harvey


At 1 p.m. ET, make sure you check out @ESPNNFL's #NFLNationTV @spreecast. We'll have @Dev_Still71 on during the show http://t.co/c2T2UdXpWp
about 4 hours ago

ColeyHarvey

Coley Harvey


Also from this morning, we look at the #Bengals' win through the lens of @PFF. A review of grades and notes here http://t.co/9al7XjqPo7
about 4 hours ago

ColeyHarvey

Coley Harvey


From this morning, today's #Bengals Takes explore DE Carlos Dunlap's growth process from the eyes of Paul Guenther http://t.co/AQApYoqRC7
about 4 hours ago

ACCMSoccer

ACC Men\'s Soccer


New @socceramerica Top 25:1) @UNCmenssoccer4) @NDMenSoccer5) @UVAMenSoccer9) @UofLmenssoccer14) @WakeMSoccer
about 5 hours ago

ACCWSoccer

ACC Women\'s Soccer


Latest @socceramerica poll: 2) @UVaWSoccer 3) @VT_WSoccer 6) @FSU_Soccer 8) @ncwomenssoccer 12) @NDSoccer 19) @clemsonwsoccer
about 5 hours ago

RivalsJason

Jason Howell


LSU commit @Ikew_91 attracting attention https://t.co/tYQVVLBo5J @ScarboroughMike @DannyWest1 @AggieYellRivals @Warchant @MistaAlderman
about 5 hours ago

ESPN_ACC

ESPN ACC


ECU looks to do it again vs. ACC http://t.co/89Y4xSmdxS
about 5 hours ago

Noles247

Noles247.com


#FSU continues to lead ACC Power Rankings. New No. 2: http://t.co/S787noJuuA via @Noles247
about 5 hours ago

DavidHaleESPN

David Hale


Top Comp% for #ACC WR (min 10 targets):1 Waters MIA 100%2 Hines NCST 94%3 De La Cruz LOU 90%4 Switzer UNC 82%5 Phillips VT 81.8%
about 5 hours ago

DavidHaleESPN

David Hale


Most targeted #ACC WR (as % of team att)1 Smelter GT 33.3%2 Boyd PITT 32.1%3 Greene FSU 31.9%4 Crimmins BC 25.4%5 Crowder DUKE 25.2%
about 5 hours ago

joshnewberg247

Josh Newberg


#FSU Recruiting Scoop. All the juice, none of the fluff (VIP) http://t.co/WXOVHlZGmp
about 5 hours ago

ChrisWeinke16

Chris Weinke


IMG Academy JV Football debuts with 50-0 win over Fort Pierce John Carroll Catholic: The IMG Ac... http://t.co/Qalb7ApHeD
about 5 hours ago

WestbrookAj

A. L. W. II


It don't get no better than Florida State 💯
about 6 hours ago

ESPN_ACC

ESPN ACC


Weekend recruiting wrap: ACC http://t.co/MyhjeA8FPz
about 6 hours ago

_DCReeves

D.C. Reeves


Know where Amari Cooper has caught every pass, his yds after catch, where he lines up & more https://t.co/31ZqscoznW http://t.co/kV6afi0mTu
about 6 hours ago

Noles247

Noles247.com


Some trying to connect dots with #FSU and #Louisville decommit Antonio Blakeney. Nothing there. He won't be visiting. http://t.co/JTTnhvIB6H
about 6 hours ago

Noles247

Noles247.com


Local 2016 4-star added to #FSU-Clemson visitor list http://t.co/Sfxi2E1Dhn via @Noles247
about 6 hours ago

Warchant

Warchant.com


Are FSU's defensive struggles growing pains, or real problems? Players say there's progress: https://t.co/5kBu6Hpwwy http://t.co/v783z1psWd
about 6 hours ago

Noles247

Noles247.com


Ticket Market: #FSU against Clemson below season average http://t.co/zar8u8hzYq via @Noles247
about 6 hours ago

Seminoles_com

Seminoles.com


Jimbo Fisher Minute: 9-16-14 http://t.co/q5Yxli3EPx
about 6 hours ago

Noles247

Noles247.com


Clemson freshman WR @tayscott7 is 'mature beyond his years'. Current leading WR for Tigers http://t.co/o8KczNMIDx via @GoUpstate
about 6 hours ago

Noles247

Noles247.com


No, no.. Chad Morris won't go slow. That and more Clemson notes from the @postandcourier http://t.co/QHgpd1ppru
about 6 hours ago

TomahawkNation

TomahawkNation.com


Clemson tried to run some stuff against UGA that Auburn hit against Pruitt's defense. Had a whole series of trips w/ RB motion.
about 6 hours ago

RealJaxNoles

Jax Seminoles


Make plans to join us in listening to @TomahawkNation break down our match up w/ Clemson tonight at 6pm. www.jaxseminoles.con for info #fsu
about 6 hours ago

Noles247

Noles247.com


Clemson OC confident in QB Cole Stoudt, says there is no controversy at position heading into #FSU http://t.co/Kkut4tjHJS via @thestate
about 7 hours ago

TomahawkNation

TomahawkNation.com


Interesting comments from FSU players, but Clemson's O really bogged down when Georgia pressured less and played more coverage.
about 7 hours ago

Warchant

Warchant.com


Added another in-state, #FSU target as expected to visit for #FSU/Clemson weekend. Full list here. http://t.co/BbzzVXdVYb ($)
about 7 hours ago

Noles247

Noles247.com


Cole Stoudt hopes history repeats itself when Clemson plays #FSU http://t.co/tmCDxLtSiY via @postandcourier
about 7 hours ago

TheOneBarrelRum

onebarrelrum


Peak at Saturday's weather in Tally. High of 87, low 69, partly cloudy. That holds for a September night game? Yes please.
about 7 hours ago

Noles247

Noles247.com


ESPN's @30for30 is doing one about Randy Moss - 'Rand University' - in Nov. Likely will at least mention him blowing his chance at #FSU.
about 7 hours ago

ESPN_ACC

ESPN ACC


Planning for success: Virginia http://t.co/lLBJyoLbYR
about 7 hours ago

Noles247

Noles247.com


#FSU out front early for stud DT http://t.co/DbVQP2Zl0B via @Noles247
about 7 hours ago

Noles247

Noles247.com


Depth Chart Breakdown: #Clemson offense http://t.co/qjxQo0XD9p via @Noles247
about 7 hours ago

DeionSanders

DeionSanders


You Can if you truly believe you can. You Can't if you truly believe you can't. It's up to you what you believe your Mind is yours.#TRUTH
about 7 hours ago

Noles247

Noles247.com


The 2-4-7 on #Clemson http://t.co/KXWpv4RzsJ via @Noles247
about 8 hours ago

Noles247

Noles247.com


News and notes from #FSU's Monday Practice http://t.co/BcYwVQKzCS via @Noles247
about 8 hours ago

Noles247

Noles247.com


Some new names added last evening to #FSU-Clemson Visitor List http://t.co/hVZjFhazdL via @Noles247
about 8 hours ago

Warchant

Warchant.com


Insider Report: FSU got extra-physical in bye week: "We needed it ... we weren't playing as physical as we should." https://t.co/W0gZIQ7GxN
about 8 hours ago
BLOG ARCHIVE:
CATEGORIES: