It isn't time to panic...yet
January, 31, 2013
Jan 31
10:00
AM ET
Florida State fans are frustrated with this 2013 recruiting class.
Compared to what they have grown accustomed to over the past couple of cycles, it's understandable.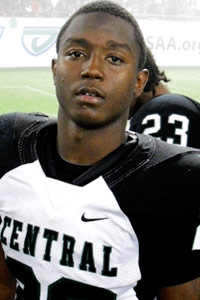 Corey Long/ESPN.comA strong start to the 2014 class, led by RB Joseph Yearby, should calm some anxiety abou the state of FSU recruiting.
There aren't 10 ESPN 150 members. There aren't 10 ESPN 300 members.
To continue reading this article you must be an Insider
Welcome
!
We see that you are not an ESPN Insider. Upgrade today and gain access to our exclusive coverage.
ESPN The Magazine subscribers

Need more information?
Jameis Winston On His Year Off The Field
Jameis Winston On His Year Off The Field
VIDEO PLAYLIST
Jameis Winston On His Year Off The Field

Jameis Winston On His Year Off The Field

Auburn Fan Hopes To Cash In

Auburn Fan Hopes To Cash In

Remembering 'The Puntrooskie'

Remembering 'The Puntrooskie'

Bobby Bowden, LeRoy Butler and others recall Florida State's trick play against Clemson on the 25th anniversary of the "Puntrooskie."

Tags: College GameDay

,

Puntrooskie

,

Brent Musburger

,

LeRoy Butler

,

Bobby Bowden

,

Florida State

,

Seminoles

,

Clemson

,

Death Valley

,

trick play

,

Tom Rinaldi

,

Corky Rogers

,

Danny Ford
NOLENATION RECRUITING NEWS
FSU FB RECRUITING SCORECARD
DeionSanders

DeionSanders


Great day Great game! God is so good and Faithful to his word it's incredible. Trust him please he does what he says. Truth
about an hour ago

fsufball

FSU Football


Winston, Donald, McCarron headline awards night (The Associated Press): Jameis Winston walked away with anothe... http://t.co/O8XTiaGK5K
about 2 hours ago

fsufball

FSU Football


Alabama quarterback AJ McCarron wins Maxwell Award (The Associated Press): LAKE BUENA VISTA, Fla. (AP) -- Alab... http://t.co/eekG8Jbpto
about 2 hours ago

Noles247

Noles247.com


#Noles in the #NFL - Week 15 (Thursday) http://t.co/WdqniTK2zi via @Noles247
about 2 hours ago

ColeyHarvey

Coley Harvey


RT @joereedy: RT @whodeyn832: @joereedy at the end of the season, if Den and Cin were both 12-4, who would win the tie breaker?>Cincy on co…
about 2 hours ago

DeionSanders

DeionSanders


Ladies and Gentlemen down goes the Broncos unless a miracle happens.
about 3 hours ago

ColeyHarvey

Coley Harvey


Man, Chargers are impressive. Great performance. Can make a case that the #Bengals' win at Qualcomm was their biggest of the 2nd half of yr
about 3 hours ago

TomahawkNation

TomahawkNation.com


RT @JamesGrahamP: @TomahawkNation It's amazing (and awesome) that a 10 pt favorite will be able to genuinely feel disrespected going into t…
about 3 hours ago

TomahawkNation

TomahawkNation.com


Yes. Yessssss RT @MikeBenjaminPGA: @TomahawkNation wow, watching live voting on ESPN, over 70% thinks Auburn wins
about 3 hours ago

TomahawkNation

TomahawkNation.com


Hey Darnell Dockett, unblock me. @trapj99 will vouch.
about 3 hours ago

fsufball

FSU Football


(fsu) Seminoles Bring Home The Hardware: Orlando was kind to the Seminoles as Jameis Winston, Roberto Aguayo a... http://t.co/wA1IAogHcy
about 3 hours ago

Seminoles_com

Seminoles.com


RT @Seminoles_Video: Hear from Florida State's award winners Aguayo, Stork, and Winston. http://t.co/9yK8xgTLJG
about 4 hours ago

DeionSanders

DeionSanders


Congratulations New North Forth Myers Red knights Head Coach Earnest Graham!! Holla at me man I will help you in any way you need. Truth
about 4 hours ago

Noles247

Noles247.com


RT @ScottKotick: Favorite picture from tonight. #Noles http://t.co/XtAGAsHTRW
about 4 hours ago

TomahawkNation

TomahawkNation.com


Jimbo's wardrobe now >>>> that old olive sport coat and turtleneck. RT @canfish16: http://t.co/hoKi43IRBk
about 4 hours ago

TomahawkNation

TomahawkNation.com


Lemme know how that goes RT @DSnipesNole_BG: @TomahawkNation here. Will get it refunded.
about 4 hours ago

TomahawkNation

TomahawkNation.com


RT @JosephOtte: @TomahawkNation signed up right when they said Renegade would get two, now I'm left with none and a flight booked already
about 4 hours ago

TomahawkNation

TomahawkNation.com


Oh wow. RT @MatthewHunter30: @TomahawkNation 2+ year warrior, season ticket holder. No tix.
about 4 hours ago

TomahawkNation

TomahawkNation.com


So, who signed up for boosters in the last month and didn't get any tickets?
about 4 hours ago

TomahawkNation

TomahawkNation.com


RT @StreetLightMind: Jameis Winston is a living meme! #FSU @FSUSportsMemes @TomahawkNation http://t.co/mj5F7GFJ0p
about 4 hours ago

fsufball

FSU Football


Florida State QB Winston wins Davey O'Brien Award (The Associated Press): LAKE BUENA VISTA, Fla. (AP) -- Flori... http://t.co/7VdZv1S9sw
about 4 hours ago

fsufball

FSU Football


Michigan St CB Darqueze Dennard wins Thorpe Award (The Associated Press): LAKE BUENA VISTA, Fla. (AP) -- Michi... http://t.co/ypzcnbqitR
about 4 hours ago

_DCReeves

D.C. Reeves


Red Lightning going big tonight: RT @daonlyBigRed: Headed to the strip tonight! #letsgetit
about 4 hours ago

Noles247

Noles247.com


A banner night: Winston, Aguayo and Stork bring home awards for #FSU http://t.co/LOm1mrdDDZ via @Noles247
about 4 hours ago

TomahawkNation

TomahawkNation.com


Jimbo 4.2 MT @ChuckCarltonDMN TAMU releases contract details for Kevin Sumlin's new deal. As previously reported, $5M/yr with a $5M buyout.
about 4 hours ago

TomahawkNation

TomahawkNation.com


It's on the way to the state title game RT @GLRachor: @TomahawkNation why the change?
about 4 hours ago

_DCReeves

D.C. Reeves


More Saban questions for AJ. Can he see him leaving for Texas?: "No sir, I can't. I know coach Saban better than anybody."
about 4 hours ago

_DCReeves

D.C. Reeves


RT @Corey_Clark: When McCarron hit that 99-yard pass against Auburn, I said to myself: "Yep. That's his Maxwell Moment."
about 5 hours ago

_DCReeves

D.C. Reeves


Tomorrow morning I'm a finalist for the Maxwell House Award
about 5 hours ago

TomahawkNation

TomahawkNation.com


No. But in a change, I will now be there. RT @AndrewHoyle22: @TomahawkNation prediction on what family press conference will say tomorrow?
about 5 hours ago

Noles247

Noles247.com


RT @joshnewberg247: #FSU defensive coordinator Jeremy Pruitt visited 4-star safety Trey Marshall tonight http://t.co/sMgn3yB4Su
about 5 hours ago

_DCReeves

D.C. Reeves


If you don't win the Maxwell Award, is it still considered a "consensus" national championship these days?
about 5 hours ago

DeionSanders

DeionSanders


Until You learn how to Love, you won't learn how to Live. It's Hard to Truly Live Without Love. Truth
about 5 hours ago

_DCReeves

D.C. Reeves


Since Maxwell invented Nissan Maximas burn those only RT @NathanWilliams_: @_DCReeves it's going to be some car burning tonight in tally
about 5 hours ago

_DCReeves

D.C. Reeves


Geez, I hope things stay together down there in Tallahassee without the Maxwell Award.
about 5 hours ago

TomahawkNation

TomahawkNation.com


RT @NWDuval904: This RT @THunterOne: Y'all chill Jameis couldn't win every award lol... The Heisman is his and the national championship...
about 5 hours ago

Warchant

Warchant.com


Heisman Trophy dream is in reach for #FSU QB Jameis Winston. http://t.co/L3s8C0kmAM
about 5 hours ago

TomahawkNation

TomahawkNation.com


AJ McCarron wins the Maxwell lifetime achievement award over Jameis Winston
about 5 hours ago

_DCReeves

D.C. Reeves


RT @TheMaxwellAward: QB AJ McCarron (@10AJMcCarron) becomes the first @AlabamaFTBL player to ever win the #MaxwellAward
about 5 hours ago

TomahawkNation

TomahawkNation.com


RT @BrandonMellor: AJ McCarron wins Maxwell Award so Jameis Winston finishes night w/ Walter Camp & Davey O'Brien. Next stop for JW: NYC fo…
about 5 hours ago

Noles247

Noles247.com


RT @TJL_247: AJ McCarron is shocked AJ McCarron won the Maxwell Award.
about 5 hours ago

_DCReeves

D.C. Reeves


AJ McCarron wins the 2013 Maxwell Award.
about 5 hours ago

Warchant

Warchant.com


AJ McCarron wins the Maxwell Award preventing the Jameis Winston sweep.
about 5 hours ago

Noles247

Noles247.com


A.J. McCarron wins Maxwell Award over Jameis Winston and Johnny Manziel.
about 5 hours ago

theACC

The ACC


RT @JeffFischel: More Aaron Donald... Bednarik Award winner. #ACC #Pitt
about 5 hours ago

theACC

The ACC


RT @GoPittFootball: .@AaronDonald97 becomes the first in #Pitt history to claim the @BednarikAward. #H2P!
about 5 hours ago

TomahawkNation

TomahawkNation.com


SEC's portion is up next, right? RT @Osceola_Tim: Chris Fowler: "This is a massive night for the ACC."
about 5 hours ago

Noles247

Noles247.com


Fowler been working on his jab?
about 5 hours ago

Warchant

Warchant.com


RT @randyg4399: Roberto Aguayo wins 2013 Lou Groza Award! #Noles http://t.co/SdcxRO85ms
about 5 hours ago

Warchant

Warchant.com


RT @trapj99: Congratulations to our nation's best center Bryan Stork,the 2013 @rimingtontrophy winner I'm so proud of these boys http://t.…
about 5 hours ago

fsufball

FSU Football


(fsu) Jameis Winston Wins Davey O'Brien Quarterback Award: FSU's superstar signal-caller continues to earn pos... http://t.co/1du73BQoSK
about 5 hours ago

_DCReeves

D.C. Reeves


RT @tuscaloosanews: If you tried to click link in 'AJ McCarron almost a Sooner' and couldn't, sorry about that. Link in story fixed http://…
about 5 hours ago

_DCReeves

D.C. Reeves


RT @ryaber: Sugar Bowl tickets remain, Delta adds flights for Sooners bowl game http://t.co/eG2BJ3aBR2
about 5 hours ago

_DCReeves

D.C. Reeves


RT @ryaber: OU football: AJ McCarron made the right choice to sign with Alabama http://t.co/MwULDslHUm
about 5 hours ago

_DCReeves

D.C. Reeves


RT @tuscaloosanews: AJ McCarron was almost a Sooner http://t.co/Wc8RpkSLmt
about 5 hours ago

fsufball

FSU Football


(fsu) Seminoles on the Red Carpet: Before the College Football Awards Ceremony, the Seminoles were treated lik... http://t.co/74DsZLFkjk
about 5 hours ago

fsufball

FSU Football


(fsu) Roberto Aguayo Named 2013 Lou Groza Award Winner: FSU's redshirt freshman wins college football's top aw... http://t.co/xD0e1OTgth
about 5 hours ago

TomahawkNation

TomahawkNation.com


Screwing with Auburn folks so bad that they gump for AJ McCarron takes talent.
about 5 hours ago

TomahawkNation

TomahawkNation.com


God's Tigers RT @K_H0W @jmnpb @TomahawkNation @auchamps4life @AuburnChopper @NWDuval904 holy ***** Barners are delusional
about 5 hours ago

Noles247

Noles247.com


RT @rimingtontrophy: "Bryan has had an outstanding 5-year career at FSU, and we are extremely proud to have him represent the Rimington Tro…
about 5 hours ago

TomahawkNation

TomahawkNation.com


.@auchamps4life @AuburnChopper @NWDuval904 Does Bama have Jameis? Just checking.
about 5 hours ago

TomahawkNation

TomahawkNation.com


RT @klbell761: @TomahawkNation Lots of this "inferior" ACC talent infiltrating this "best talent in the country awards banquet."
about 6 hours ago

Warchant

Warchant.com


RT @KShaw81: Im aiming for the bigger award n Pasadena RT @Tpenland23: My boy @KShaw81 got robbed of the Biletnikoff Award #goon
about 6 hours ago

Warchant

Warchant.com


RT @LouGrozaAward: Via the AP, here's the first look at @FSU_Football's Roberto Aguayo and the best looking trophy in college football http…
about 6 hours ago

TomahawkNation

TomahawkNation.com


If you're an SEC fan, are you disappointed that the best non-SEC team of the last 8 years is facing the worst SEC rep in that time? #Noles
about 6 hours ago

TomahawkNation

TomahawkNation.com


Na, Cinderella still gets to dance for a bit. RT @NWDuval904: Is it January 6th yet?
about 6 hours ago

Noles247

Noles247.com


Jameis Winston wins the Davey O'Brien Award: http://t.co/ZRomnCwm3S
about 6 hours ago

TomahawkNation

TomahawkNation.com


RT @bmarcello: FSU QB Jameis Winston on BCS NC: "I'm glad it's on my birthday because I'm going to be celebrating."
about 6 hours ago

TomahawkNation

TomahawkNation.com


RT @anthony_raia: @TomahawkNation McCarron looked like was going to cry when Jameis' name was announced. Maybe @cbrennansports will write a…
about 6 hours ago

TomahawkNation

TomahawkNation.com


RT @jjfox9: Wonder if jameis' scholarship covers an extra dorm room for all the awards he has accumulated this season. #noles @TomahawkNati…
about 6 hours ago

FSU_Football

FSU Football


Jameis Winston talks to Chris Fowler after winning the @daveyobrien Award! http://t.co/PpEgvYlbJT
about 6 hours ago

theACC

The ACC


RT @FSU_Football: We see you, Jameis Winston! 2013 Davey O'Brien Award winner for nation's best quarterback! #Noles http://t.co/fOA42yTmEl
about 6 hours ago

TomahawkNation

TomahawkNation.com


Jameis Winston wins the Davey Obrien award. Should never have been any doubt. #Noles
about 6 hours ago

FSU_Football

FSU Football


We see you, Jameis Winston! 2013 Davey O'Brien Award winner for nation's best quarterback! #Noles http://t.co/tF8dz8sWIW
about 6 hours ago

MichaelWarchant

Michael Langston


RT @Warchant: Another award for #FSU's Jameis Winston. He takes home the 2013 Davey O'Brien given to the nation's top QB.
about 6 hours ago

Warchant

Warchant.com


Another award for #FSU's Jameis Winston. He takes home the 2013 Davey O'Brien given to the nation's top QB.
about 6 hours ago

Noles247

Noles247.com


FSU redshirt freshman quarterback Jameis Winston wins the 2013 Davey O'Brien Award.
about 6 hours ago

fsufball

FSU Football


Florida St K Roberto Aguayo wins Lou Groza Award (The Associated Press): LAKE BUENA VISTA, Fla. (AP) -- Florid... http://t.co/CSLfRjqFER
about 6 hours ago

fsufball

FSU Football


Heisman dream in reach for FSU QB Jameis Winston (The Associated Press): Jameis Winston envisioned winning the... http://t.co/ZD0FIlyttz
about 6 hours ago

MichaelWarchant

Michael Langston


Rimington winner to best Center Bryan Stork. He was a three star recruit. As I've always said it is about talent and not stars. #FSU
about 6 hours ago

Warchant

Warchant.com


Coming up next the Davey O'Brien given to the nation's top QB. #FSU's Jameis Winston, Johnny Manzie or AJ McCarron?
about 6 hours ago

Warchant

Warchant.com


RT @KShaw81: That award belonged to JOYNER ...#FSU
about 6 hours ago

TomahawkNation

TomahawkNation.com


RT @VidaSoCali: RT @_Showtime31: FSU is the real No Fly Zone. Get ya mind right!
about 6 hours ago

TomahawkNation

TomahawkNation.com


RT @_Showtime31: Joyner deserved that hands down
about 6 hours ago

TomahawkNation

TomahawkNation.com


RT @Corey_Clark: Michigan State's Darqueze Dennard wins 2013 Thorpe Award -- which means, of course, Lamarcus Joyner did not.
about 6 hours ago

Noles247

Noles247.com


Florida State senior cornerback Lamarcus Joyner falls short of winning 2013 Jim Thorpe Award Winner. Michigan State's Darqueze Dennard wins.
about 6 hours ago

TomahawkNation

TomahawkNation.com


RT @Corey_Clark: Asked Aguayo about joining Janikowski and Gano as Groza winners: "Kicking University - that's what it is."
about 6 hours ago

TomahawkNation

TomahawkNation.com


RT @saintwarrick: Sorry, I stole some sips at Bojangles. #BoutDatJameisLife
about 6 hours ago

TomahawkNation

TomahawkNation.com


RT @primediscussion: When Jimbo talks about Jameis, he gets all excited and more West Virginny (new word)
about 6 hours ago

TomahawkNation

TomahawkNation.com


RT @klbell761: @TomahawkNation Jimbo just took over that situation.
about 6 hours ago

TomahawkNation

TomahawkNation.com


RT @I_GoT_HART: That look Jameis gave Jimbo xD @TomahawkNation
about 6 hours ago

Noles247

Noles247.com


RT @THunterOne: Next year the Thorpe is mine...
about 6 hours ago

Noles247

Noles247.com


Roberto Aguayo is third #Seminole to win Lou Groza Award, 4th time a #Nole has won it http://t.co/niRRoDwhXB via @Noles247
about 6 hours ago

TomahawkNation

TomahawkNation.com


Lamb? Lamb. http://t.co/yJZEGKK3jT
about 6 hours ago

DeionSanders

DeionSanders


RT @DeionSandersJr: Is there anybody that can make/develop iphone apps in Dallas? If so please let me know!
about 6 hours ago

MichaelWarchant

Michael Langston


RT @IzzoRyan: In home visit with Coach Brewster !! http://t.co/9uzKAqpWzQ
about 6 hours ago

Noles247

Noles247.com


Updated story on Bryan Stork winning the @RimingtonTrophy http://t.co/aZKozHkSKt via @Noles247
about 6 hours ago

MichaelWarchant

Michael Langston


RT @RivalsFriedman: #FSU has offered 2015 #Rivals100 DB Marcus Lewis @YourWelcome_7 http://t.co/9IBdYEKSbY @Warchant
about 6 hours ago

Noles247

Noles247.com


RT @RyanBartow: #FloridaState offers Marcus Lewis. http://t.co/mNm889t98w @Noles247 @joshnewberg247 @CNee247 #Seminoles
about 6 hours ago

Warchant

Warchant.com


RT @RivalsFriedman: #FSU has offered 2015 #Rivals100 DB Marcus Lewis @YourWelcome_7 http://t.co/9IBdYEKSbY @Warchant
about 6 hours ago
BLOG ARCHIVE:
CATEGORIES: