Changing the game: 2010 class
January, 21, 2013
1/21/13
9:15
AM ET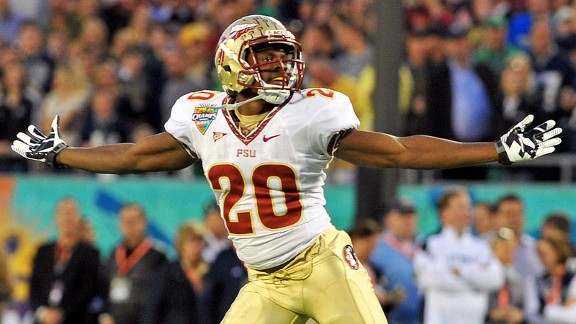 Al Messerschmidt/Getty ImagesLamarcus Joyner was a five-star recruit in 2010, a class that seemed to bring Florida State back into the elite in recruiting.
For so many years, during the height of Bobby Bowden's run of championships and great teams, Florida State recruited at an elite level.
The Seminoles would lure the top prospects, not only from their talent-rich home state but from across the country. Their roster was loaded, as evidenced by the players Florida State sent to the NFL.
To continue reading this article you must be an Insider
Insider
New Contract For Jimbo
ESPN ACC reporter Andrea Adelson discusses Jimbo Fisher's new contract to remain the head coach at Florida State through the 2022 season.
New Contract For Jimbo
VIDEO PLAYLIST
FSU FB RECRUITING SCORECARD
TimBrewster

Tim Brewster


Merry Christmas to all of #NoleNation....and another National Championship for the New Year!! #Dallas2Dallas
about 5 hours ago

janjakejosh

Twin Mama


Great year of volunteer work for Prime Prep Academy & TRUTH,more to come in 2015, THANK YOU coach @DeionSanders http://t.co/wDXyy7oBJ5
about 7 hours ago

CineFunk

Cinefunk


Merry Christmas to all! #FSUTwitter #FSU #Noles @TomahawkNation @RedditCFB #MerryChristmas http://t.co/wP4X33AQ3o
about 8 hours ago

DeionSanders

DeionSanders


Merry Christmas & Happy New Year. We've made thru the ups & downs of 2014 & we're still here. 2014 prepared us 4 what God has in 2015!
about 8 hours ago

DeionSanders

DeionSanders


Merry Christmas from #DeionsFamilyPlaybook we thank u so much 4 giving us a hr of your time every Saturday. God bless http://t.co/0RpaFLj2xN
about 8 hours ago

TomahawkNation

TomahawkNation.com


Merry Christmas!
about 8 hours ago

Noles247

Noles247.com


#FSU commits, targets named USA Today All-Americans http://t.co/yG3EnEwanh via @Noles247
about 9 hours ago

TomahawkNation

TomahawkNation.com


Checks cash RT "@DallasArmstrong: Uhh, awkwarddd. Lol @TomahawkNation http://t.co/vympHunbii"
about 9 hours ago

MichaelWarchant

Michael Langston


To all my friends, family and all of Twitter world I wish everyone a special Merry Christmas. I'm so blessed. Time for Christmas Vacation.
about 9 hours ago

trentmack86

Trenton Smith


@DeionSanders thanks coach but same to you to coach prime have a merry & blessed christmas.
about 9 hours ago

NwhiteRN

NWhiteRN


@DeionSanders My son Gavin aspires to be like "primetime" one day. Thanks for always making us laugh on Gameday Final http://t.co/2d67g6MDov
about 9 hours ago

NateAndrews29

Nate Andrews


All I want for Christmas is another National Championship.
about 10 hours ago

DeionSanders

DeionSanders


Thank you Zoomid & Spencer Crown for making our PrimePrep and Family Letterman jackets 2nd to none. #Truth http://t.co/A0sGimTqRG
about 11 hours ago

DeionSanders

DeionSanders


Uh oh my babygirl got that hair layed tonight. My "Bossy" is so Beautiful & Honor roll student. #Prouddad #Truth http://t.co/My22YByqeU
about 11 hours ago

DeionSanders

DeionSanders


Just rode 10 miles with @ShiloSanders on my new bike that @JaquanSheals @ShedeurSanders , Shilo and Bossy bought me. http://t.co/ON9Y1EBwoc
about 11 hours ago

ManuelDelVall20

marrs


The real MVP gave us a shoutout !!!! @DeionSanders preciate it D http://t.co/CXOQae0QPf
about 11 hours ago

smsdmbfan

Sean Stevens


@DeionSanders waited way to long for this!!! Merry Christmas to me favorite player of all times jersey is mine now!!! http://t.co/Ej7KPyCz9s
about 11 hours ago

jasonkothen

Jason Kothen


@DeionSanders This finally came just in time for a playoff run! #BesttoEverLaceEmUp #PrimeTime #MerryChristmas http://t.co/ITsncWnsCv
about 11 hours ago

DavidHaleESPN

David Hale


Fixed the Newell post!
about 12 hours ago

DeionSanders

DeionSanders


Denney & Manuel My UPS guys. Thank u 4 making sure many of us have a Merry Christmas. Your hard work is appreciated. http://t.co/eNPG7J4f6N
about 12 hours ago

checkmySTAATS

Staats


@nflnetwork @7pm RT @GetUrSTAATSuP Shavar jr with @DeionSanders and @DavidSingerNFL . We are so appreciative!!!! http://t.co/po6RsjoQJ1
about 13 hours ago

DeionSanders

DeionSanders


Please stop stressing over gifts & things. Do you understand what you've made it thru this year? Thank God that you're still here. #TRUTH#
about 13 hours ago

AsherWildMan6

Asher Wildman


UGA Tight End coach John Lilly will call the plays for the Bulldogs in the Belk Bowl since OC Mike Bono is now head coach at Colorado State.
about 13 hours ago

TimBrewster

Tim Brewster


Merry Christmas to all of #NoleNation....and another National Championship for the New Year!! #Dallas2Dallas
about 13 hours ago

BryanSwartz

Bryan Swartz


Historically, in the epic battle of Spear vs. Duck, things never work out so well for the Duck. GO NOLES!!! http://t.co/alUZCj9qao
about 13 hours ago

TomahawkNation

TomahawkNation.com


Don't know. Should be to provide context RT "@scottbeckett1: @TomahawkNation was it requested on other schools as well?"
about 14 hours ago

Noles247

Noles247.com


Kris Boyd pushes back his decision, which is good news for the #Noles http://t.co/v7QRmyQQFT via @Noles247
about 15 hours ago

TomahawkNation

TomahawkNation.com


Fair question. Answer? $ RT "@versco: @TomahawkNation @McMurphyESPN wow. If he's just an "associate" why even print it?? #WitchHunters"
about 15 hours ago

TomahawkNation

TomahawkNation.com


Associate (meaning he knows person) of someone who is being investigated for brandishing gun. RT "@yssd: What did Cook actually DO, again?"
about 15 hours ago

TomahawkNation

TomahawkNation.com


But credit @McMurphyESPN for clarifying story. Very good reporter. Nobody perfect.
about 15 hours ago

The305_Gryphon

Mr. G


@TomahawkNation @McMurphyESPN damage was done to that poor kids reputation for life. Correcting the story is the least ESPN can do.
about 15 hours ago

TomahawkNation

TomahawkNation.com


Original tweet by @McMurphyESPN was incredibly misleading and unethical, but updated story does note Cook is NOT a suspect. Just associate.
about 15 hours ago

Noles247

Noles247.com


Top CB target Kris Boyd pushes decision back, good news for 'Noles (VIP) http://t.co/sGvxdOqVXR
about 15 hours ago

fsufball

FSU Football


(b/r) Dalvin Cook Under Investigation for Aggravated Assault: Latest Details, Reaction: Florida State running ... http://t.co/z3GeDD88me
about 16 hours ago

mercernole

Sports and Law


@PatrikNohe as an attorney I have been listed as an associate in an investigation by FDLE and TPD. #FSUTwitter
about 16 hours ago

TomahawkNation

TomahawkNation.com


But that's famous name. #click RT "@PatrikNohe: Associate doesn't mean what ESPN is trying to insinuate it does. This is getting absurd."
about 16 hours ago

TimBrewster

Tim Brewster


Great news this afternoon!! :)
about 16 hours ago

DeionSanders

DeionSanders


"@PrimeWebDesign: @DeionSanders you know we are here for you if you need any help Prime! #SandersClaus" love ya man
about 16 hours ago

DeionSanders

DeionSanders


"@HURRICANESENSEI: "Yu treating snoop like he from souf Dallas or something" - @DeionSanders" lolol
about 16 hours ago

TimBrewster

Tim Brewster


Great news this afternoon!! :)
about 16 hours ago

TomahawkNation

TomahawkNation.com


4-star #Noles CB target RT @kris23db: I apologize to everyone who's waiting but I've pushed my commitment to the end of January."
about 16 hours ago

theACCDN

ACC Digital Network


We would like to wish all of our followers a very safe and happy holiday season! http://t.co/yxE9WGVJrG
about 16 hours ago

TomahawkNation

TomahawkNation.com


No idea RT "@RickFSU312: @TomahawkNation the bigger question is...if ESPN asking for records at all college towns?"
about 16 hours ago

TomahawkNation

TomahawkNation.com


Is requesting public records on 360 FSU athletes a fishing expedition? Absolutely. It's also legal, and FSU stories get clicks. Trust me.
about 17 hours ago

SOULcialBfly

Stefani Farris


@DeionSanders Yaassss! No gift can compare to the mercy, grace, favor, and provision God has given me and those I love. #grateful
about 17 hours ago

WayneMcGaheeIII

Wayne McGahee III


(FREE) Examining the @washingtonpost's latest article on Jameis Winston via @NoleDigest http://t.co/BEJa3Y1LoM #FSU
about 17 hours ago

kris23db

?Kris.Boyd!?


I apologize to everyone who's waiting but I've pushed my commitment to the end of January.
about 17 hours ago

SBNationCFB

SB?Nation CFB


In a larger document dump, Florida St RB Dalvin Cook was named an associate in an assault case http://t.co/ksL7IRfngn http://t.co/6kzeyxQ75V
about 17 hours ago

Noles247

Noles247.com


Discussion of the ESPN fishing expedition is here http://t.co/3rxUfKorz0 via @Noles247
about 17 hours ago

Seminoles_com

Seminoles Athletics


FUMBLE!!! Here's No. 2 on the @FSU_Football top 10 plays of the season! Video on http://t.co/uASIAumRyP! http://t.co/eBSnkSgIDi
about 17 hours ago

DavidHaleESPN

David Hale


Ah, @Wawa ... The best part of being home for the holidays.
about 17 hours ago

DeionSanders

DeionSanders


Please stop stressing over gifts & things. Do you understand what you've made it thru this year? Thank God that you're still here. #TRUTH:
about 17 hours ago

ESPN_ACC

ESPN ACC


NC State's Bryan Underwood gives ultimate gift to young boy http://t.co/H3echZqRca
about 18 hours ago

Traceyeedmonds

Tracey Edmonds


Hey Fam! Get a SNEAK PEEK at our upcoming film #WithThisRing premiering on @LifetimeTV Jan 24 8/7c http://t.co/pxS0am9Cf7
about 19 hours ago

Warchant

Warchant.com


Pre-Christmas Insider Report: Examining FSU's 'ultimate confidence' and Oregon pass defense. https://t.co/CqE3j924YO http://t.co/p6cQqkR6ip
about 19 hours ago

theACC

The ACC


.@Duke_WBB rookie Azurá Stevens Named USBWA National Freshman of the Week: http://t.co/JDARPGJUVf #ACCwbb
about 19 hours ago

247Sports

247Sports


Some of the epic East practice matchups to watch at @ArmyAllAmerican Bowl via @bartonsimmons http://t.co/CzuZnD3M2G http://t.co/kDbmjqeAPf
about 19 hours ago

247Sports

247Sports


Some of the epic East practice matches to watch at @ArmyAllAmerican Bowl via @bartonsimmons http://t.co/CzuZnD3M2G http://t.co/JvWZA9DUP1
about 19 hours ago

ESPN_ACC

ESPN ACC


Under-the-radar players who could alter the Rose Bowl outcome http://t.co/eP97qU13YN
about 19 hours ago

DeionSanders

DeionSanders


I'm working on something major to Bless Single mothers and fathers all around the country. Not only the adults but the kids as well! #Truth
about 20 hours ago

DeionSanders

DeionSanders


75 people are employed with benefits because of My Dream and Passion for Family and Kids. 2015 Lookout because I WILL BLESS MORE PEOPLE!
about 20 hours ago

JRossPGA

Joshua


@TomahawkNation not looking good for ACC bowl teams. Watson out for Clemson, Dyer out for Louisville, to go along with Smelter out for GTech
about 20 hours ago

DeionSanders

DeionSanders


All my kids are happy,we're blessing people with #DeionsFamilyPlaybook on @OWNTV, PrimePrep is educating kids and employing Good teachers.
about 20 hours ago

DeionSanders

DeionSanders


Every now and then you need to Testify about what God has done and what he's doing! The devil is sick because he thought he had me! But God!
about 20 hours ago

royalemusic

Royale


@DeionSanders love @DeionsFamilyPB episode where u were by lake thanking God for everything! Show is an awesome vessel. Be Blessed Bro
about 20 hours ago

DeionSanders

DeionSanders


Please stop stressing over gifts & things. Do you understand what you've made it thru this year? Thank God that you're still here. #TRUTH.
about 20 hours ago

Warchant

Warchant.com


Nice @SInow regional cover featuring #FSU's Jameis Winston. http://t.co/xCRZDU3zBn
about 20 hours ago

FSU_WBasketball

FSU Women\'s Hoops


BREAKING: @LeticiaRomero95 ruled eligible to play for #FSUWBB immediately by the NCAA Story: http://t.co/4g3tHZJfmD http://t.co/BOwYBxVOjC
about 20 hours ago

ESPN_ACC

ESPN ACC


Hokies' Bucky Hodges enjoys breakout freshman season http://t.co/4FOJFQwbBJ
about 20 hours ago

fsufball

FSU Football


TCU's Gary Patterson wins AP coach of the year (The Associated Press): TCU coach Gary Patterson embraced chang... http://t.co/BRYklbdWGJ
about 21 hours ago

JEllis1612

Jonathon Ellis


@qbs_mom Richt will find a great OC to come in and continue teaching your son. Have faith in UGA, as UGA has faith in your son. GATA
about 21 hours ago

Seminoles_com

Seminoles Athletics


BIG TIME interception at No. 3 in the @FSU_Football top 10 plays of the season! Video on http://t.co/uASIAumRyP! http://t.co/1pV4WP9MvO
about 21 hours ago

Noles247

Noles247.com


The Latest: #FSU Defensive Targets http://t.co/aaghnlvR1v via @Noles247
about 21 hours ago

Noles247

Noles247.com


#FSU Crystal Ball Trends: Defensive Targets http://t.co/xApLRAwfPK via @Noles247
about 21 hours ago

DeionSanders

DeionSanders


Please stop stressing over gifts & things. Do you understand what you've made it thru this year? Thank God that you're still here. #TRUTH
about 22 hours ago

Noles247

Noles247.com


#FSU at No. 10 in Director's Cup http://t.co/7B9QpAAfXF via @Noles247
about 22 hours ago

ESPN_ACC

ESPN ACC


Adding perspective to FSU's winning streak http://t.co/qFpI3B7gND
about 22 hours ago

floridastate

Florida State Univ.


A look back at a great year of FSU Alumni Association events and members! http://t.co/ov3qpzLnD8
about 23 hours ago

FSU_GoldenGirls

FSU Golden Girls


Merry Christmas Eve #NoleNation! ❤️💚 http://t.co/POX186T1fo
about 23 hours ago

EJManuel3

EJ Manuel


Congrats to my #BillsMafia teammates Mario Williams, Kyle Williams and Marcell Dareus on making the Pro Bowl.
about 23 hours ago

PatrikNohe

Patrik Nohe


Factually incorrect: http://t.co/PUxPAtfCGl MT @anthony_raia: @PatrikNohe the Washington post blamed the 2yr wait/judge selection on FSU
about 23 hours ago

ChopChat_

ChopChat.com


ChopChat Here's What the New York Times Isn't Telling You http://t.co/dLB9EOZe5U #fsu
about 23 hours ago

TomahawkNation

TomahawkNation.com


4-star corner recruit Davante Davis (@SaluteMe_103) moves up decision date http://t.co/JmDVlSzPbT http://t.co/9PxRqvzgzH
1 day ago

TomahawkNation

TomahawkNation.com


Noles News 12/24: D-Line getting healthy at perfect time #FSU http://t.co/JWysH9vrnZ http://t.co/HircOpXlUt
1 day ago

jordynray2014

Jordyn Ray


@DeionSanders me & my dad when I won the PP&K 2 weeks ago http://t.co/5xOtM3zVcy
1 day ago

aidansdaddy619

Adrian Arriaga


@deionsanders Aidan and I at the low rider car show. http://t.co/V4cI7NFdzU
1 day ago

aidansdaddy619

Adrian Arriaga


@deionsanders me and my best friend/son Aidan this summer watching our @Padres play some baseball. http://t.co/JOJkGsKzO7
1 day ago

alanjnicholson

Alan Nicholson


@Macleanzy @DeionSanders wasn't crazy about babies til I had one myself. Now I can't stop tweeting about her. http://t.co/tn3kheugv4
1 day ago

MarcustheGr806

Marcus Mayfield


@DeionSanders Me and my beautiful daughter http://t.co/SX8y9Yqe3p
1 day ago

jcarr0512

The Bat


@DeionSanders me & my 2 angles http://t.co/zLTeE3iOm9
1 day ago

JHershey21

Jeremy Hershey


@DeionSanders me and my best buddy and friend. Nothing better than being a dad. #godsgreatestgift http://t.co/GPouZvyuTz
1 day ago

SarahBoze

Joe boze


@DeionSanders yes sir, merry x mas from me and my babies http://t.co/IVKzubCrsP
1 day ago

GetUrSTAATSuP

Paula&Shavar


Shavar jr with @DeionSanders and @DavidSingerNFL . We are so appreciative!!!! http://t.co/IHEikk4Zzz
1 day ago

TomahawkNation

TomahawkNation.com


But calling a former Chief Justice a former "judge" does diminish the legitimacy of his ruling for readers who don't know who he is.
1 day ago

TomahawkNation

TomahawkNation.com


At some point NYT might want to look at the physical evidence that has failed to support allegation in three separate investigations. Maybe.
1 day ago

Corey_Bender

Corey Bender


Some more schools need to jump in with offers for @Jack_Wegher3 from @IMGAFootball - http://t.co/Efsrj1RfiU The kid is a flat-out playmaker.
1 day ago

ghostofhypotia

Joan Callas


@TomahawkNation the same author steamrolled the Duke lacrosse players too.. Facts aren't her friends
1 day ago

TomahawkNation

TomahawkNation.com


Not covering physical evidence remains glaring error in the big NYT piece now cited by many national pundits. But paper of record, so...
1 day ago

gatorboy1980

3xchamps


@DeionSanders me & my angel on our day out http://t.co/WVQ5nEj5HN
1 day ago

TomahawkNation

TomahawkNation.com


& yet another NYT piece not mentioning the physical evidence that was deciding factor in all three investigations not supporting allegation
1 day ago
ACC SCOREBOARD
Wednesday, 12/24
Saturday, 12/20
Monday, 12/22
Tuesday, 12/23
Friday, 12/26
Saturday, 12/27
Monday, 12/29
Tuesday, 12/30
Wednesday, 12/31
Thursday, 1/1
Friday, 1/2
Saturday, 1/3
Sunday, 1/4
Monday, 1/12
BLOG ARCHIVE:
CATEGORIES: