The Big Board: Manuel's struggles
December, 6, 2012
12/06/12
9:00
AM ET
The general sentiment as Florida State's offense slumped through a dismal second half against Georgia Tech in last week's ACC championship game was that those 30 minutes of ugly football were eerily reminiscent of the scoreless half against NC State that ended with the Seminoles' first loss of the season.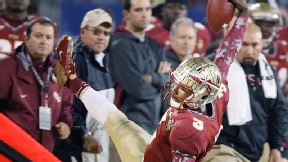 Stephen M. Dowell/Orlando Sentinel/Getty ImagesEJ Manuel's masterful skill season has taken a bit of a hit recently, as he has struggled against some of the best defenses on Florida State's schedule.
While fans flooded Twitter and message boards with those concerns, the players were saying the same things on the sideline.
"You just have flashbacks in those moments," safety Lamarcus Joyner said, "but you always remind yourself championships are not given away."
To continue reading this article you must be an Insider
Insider
Haskins, McElwain Shine At IMG Regional
Recruiting reporter Derek Tyson breaks down top performers from the IMG Southeast Regional tournament in Bradenton, Fla.
Haskins, McElwain Shine At IMG Regional
VIDEO PLAYLIST
FSU FB RECRUITING SCORECARD
Nike Men's Florida State Seminoles Garnet Football Practice Legend T-shirt Shop »
_DCReeves

D.C. Reeves


That said, given how little the public knows about many CFB drug offenses, Saban is in the vast majority with coaches who don't cut after 2.
4 minutes ago

_DCReeves

D.C. Reeves


Get Saban regarding not dismissing after 2 alcohol/drug issues. But theres a WIDE range of issues clumped there, DUI being at the wrong end.
6 minutes ago

DeionSandersJr

Deion Sanders Jr


Help me get to 70,000 followers by the end of the week. Everybody who tweets #FollowDeionJr and RT my last RT, I will follow you! #PrimeJr
12 minutes ago

DeionSanders

Deion Sanders


Dallas check this out please!!! Truth Youth Football and Cheer registration link: http://t.co/Lk2TJtzXF9
29 minutes ago

_DCReeves

D.C. Reeves


RT @MASSonJOX: Coming up @JoeHunk & @JohnSayBear are filling in. Saban Presser at 6pm, @_DCReeves at 7pm, @kerrancejames at 7:30pm,
47 minutes ago

TideSports

TideSports.com


VIDEO: Alabama HC Nick Saban addresses Jonathan Taylor's dismissal, Geno Smith's suspension and more. https://t.co/TmB4L7LY3A
47 minutes ago

KWCHJacob

Jacob Albracht


Bill Battle just got back on the plane at Jabara within the half hour. It is now back in the air headed back to Birmingham. #KWCH12 #WATCHUS
about an hour ago

NolesTV

NolesTV


#Noles wrapped up their first scrimmage. Check out all the @FSU_Football videos from today. http://t.co/Eiy4lAEZOg http://t.co/n50sdijSwO
about an hour ago

_DCReeves

D.C. Reeves


Every word of Nick Saban's statement and response to questions regarding dismissed DT Jonathan Taylor. https://t.co/oYmP4o68nT
about an hour ago

Noles247

Noles247.com


Jimbo Fisher on scrimmage versus practice for players: "He ain't got the pacifier." (FREE) http://t.co/FfbgSlY1tr via @Noles247
about an hour ago

Warchant

Warchant.com


A very pleased Jimbo Fisher talks about #FSU's first spring scrimmage. Warchant TV: https://t.co/2IeIuiUU8M http://t.co/ZA1gVgG7An
about an hour ago

BobFerrante

Bob Ferrante


Sean Maguire impresses as #FSU offense progresses (FREE) ... http://t.co/RhnYrvk1vi
about an hour ago

Noles247

Noles247.com


Video: Jalen Ramsey talks spring football (FREE) http://t.co/1dQVBH6fGQ via @Noles247
about an hour ago

_DCReeves

D.C. Reeves


Saban: I've never gotten rid of a guy after a second incident with drug and alcohol issues.
about an hour ago

_DCReeves

D.C. Reeves


"We spoke to everybody that could give us an idea of who that young man was. And is."
about an hour ago

_DCReeves

D.C. Reeves


Saban said the team and school will examine its evaluation process moving forward but stresses that second chances have worked out before.
about an hour ago

_DCReeves

D.C. Reeves


Saban: "I'm not sorry for giving him an opportunity, I'm sorry for the way things worked out."
about an hour ago

Warchant

Warchant.com


Updates from Monday's first spring scrimmage. Jimbo raves about running game and Maguire, plus defensive highlights. https://t.co/DMTQTsyBRX
about an hour ago

_DCReeves

D.C. Reeves


No specific punishment outlined with Geno Smith. Will have a big hill to climb to return to practice.
about an hour ago

Noles247

Noles247.com


Video: Jimbo Fisher talks Monday scrimmage http://t.co/oUQ9K3Cyfq via @Noles247 https://t.co/uffYmFnVr2
about an hour ago

_DCReeves

D.C. Reeves


Saban: "This time it didn't (work out). And we all take responsibility for that."
about an hour ago

_DCReeves

D.C. Reeves


Saban on Taylor: "The guy came here with some very specific timelines and zero tolerance."
about an hour ago

_DCReeves

D.C. Reeves


Saban: Cam Sims torn ACL. Needs surgery, out for "a while"
about an hour ago

TomahawkNation

TomahawkNation.com


.@BkKahrs practice report is on the website. http://t.co/6zODxlal8t is free, not giving away on twitter.
about an hour ago

_DCReeves

D.C. Reeves


Saban takes the podium.
about an hour ago

theACC

The ACC


RT @theACCDN: Coach K's take on how his Blue Devils made the Final Four is well worth a click. http://t.co/3bGuE7eut2
about an hour ago

Noles247

Noles247.com


News and Notes after #FSU conducts their first scrimmage (FREE) http://t.co/kyBDgu2cGo via @Noles247 http://t.co/hhbpubG9ez
about an hour ago

NolanImsande

Nolan Imsande


Sportscenter is going live from Nick Saban's press conference whenever it begins.
about an hour ago

Warchant

Warchant.com


Jimbo Fisher confirmed today that sophomore center Ryan Hoefeld underwent surgery to repair meniscus. Eberle and Martinez worked at center.
about 2 hours ago

JacobbiJustice

Jacobbi McDaniel


Number 9 the freshman RB is a load.. Dude ran somebody over so nasty...
about 2 hours ago

TomahawkNation

TomahawkNation.com


Ryan Hoefeld went under the knife for his torn meniscus. Rumors (Jones, Thomas, Hoefeld) were all true.
about 2 hours ago

Noles247

Noles247.com


News & Notes: FSU set to scrimmage - Fisher confirms center Ryan Hoefeld had knee surgery (FREE) http://t.co/IX3VicDAqa via @Noles247
about 2 hours ago

NolesTV

NolesTV


Sights and Sounds from @FSU_Football's first scrimmage of spring camp. #Noles Video: http://t.co/byDZovZrO2 http://t.co/BG0MMuiNHb
about 2 hours ago

idontwan2know

Alan Mundy


@TomahawkNation But think of the t-shirts! "Who has two thumbs and is starting QB for the Gators? THIS GUY."
about 2 hours ago

celebrityhottub

Ryan Nanni


Hello: do you have a sports related tattoo that you regret? If so, please email me: ryan dot nanni at gmail
about 2 hours ago

TomahawkNation

TomahawkNation.com


Doubt it happens, but if Guy is actually good and he starts, think about the PT sales recruiting pitch of "we started a damn walk-on at QB!"
about 2 hours ago

ThomasGoldkamp

Thomas Goldkamp


Jim McElwain, unsolicited, on #Gators walk-on QB Jacob Guy: "Guy came in and had a really good scrimmage. He did some good things for us."
about 2 hours ago

DeionSanders

Deion Sanders


Every person has true value rather u recognize it or not. Please understandGod uses people to bless people. "Be Careful"#TRUTH-
about 2 hours ago

Noles247

Noles247.com


Jameis Winston just left the practice field at FSU. Pro Day tomorrow. http://t.co/0AqFIKeZy6
about 2 hours ago

TomahawkNation

TomahawkNation.com


Freshman RB Jacques Patrick runs over defender in #Noles scrimmage. #FSU http://t.co/QxJedG3UJ4 http://t.co/7hHS4CxkAW
about 2 hours ago

CoachSueFSU

Sue Semrau


From TLH to Gboro and back to TLH, Nole fans you guys were huge! We would not have EMERGED this way without you! http://t.co/MRWLyoZJWp
about 2 hours ago

_DCReeves

D.C. Reeves


Expected to get an update on the health of WR Cam Sims today. Ranked 3rd among returning WR's in targets with 12. (Black 19/Stewart 18).
about 2 hours ago

TomahawkNation

TomahawkNation.com


Tend to agree but gotta get through 2015 first RT @PhenomeNoles: 2016 FSU team is gonna be so ridiculously loaded. Sheesh.
about 3 hours ago

theACC

The ACC


.@ACCsoftball Players of the Week, presented by Havoline: North Carolina's Kristen Brown, Notre Dame's Rachel Nasland http://t.co/ahqB5MFhZV
about 3 hours ago

fsufball

FSU Football


(b/r) Everything You Need to Know About NFL Draft Prospect Jameis Winston: He's a can't-miss, blue-chip prospe... http://t.co/tIUWuW2LhL
about 3 hours ago

TomahawkNation

TomahawkNation.com


Yet another NFL exec: Jameis Winston is elite #Noles #FSU http://t.co/6KGObOyRkQ http://t.co/QeFMxTUiCG
about 3 hours ago

Noles247

Noles247.com


Longtime NFL exec Brandt on Winston: 'An elite talent' (FREE) http://t.co/KKuaLBiiPA via @Noles247
about 3 hours ago

TomahawkNation

TomahawkNation.com


Observation: twitter appreciates honesty. Facebook likes increase with blind homerism.
about 3 hours ago

TomahawkNation

TomahawkNation.com


Gotta like Derwin James getting 1st team reps after two weeks of practice. http://t.co/7CMnYXi1Vc
about 3 hours ago

TomahawkNation

TomahawkNation.com


Our readers/listeners knew it's been happening some RT @sceptinole: @TomahawkNation people are mad at TH working at corner? Is this a thing?
about 3 hours ago

MattVTyler

Matt Tyler


I'm getting a kick out of @wesrucker247 trying to convince UT fans to be excited about the hiring of Rick Barnes, a perennial underachiever.
about 3 hours ago

Noles247

Noles247.com


A bunch of photos of Dwayne Bacon at the @McDAAG (FREE) http://t.co/UhgYzV90zb via @Noles247 @BaconDwayne1000 http://t.co/EFFqWuU9Dl
about 3 hours ago

Noles247

Noles247.com


#FSU signee Dwayne Bacon competing @McDAAG Dunk contest (FREE) http://t.co/uWhinfyEOq via @Noles247 @BaconDwayne1000 http://t.co/XQDhaG3xSx
about 3 hours ago

TomahawkNation

TomahawkNation.com


Still wrong about Tyler Hunter working at corner? Stick to grabbing instagrams and putting them on twitter.
about 3 hours ago

Warchant

Warchant.com


FSU Baseball Insider: Looking at where the 'Noles stand after taking Va. Tech series. https://t.co/KCdOQfQYbC http://t.co/umysVO3tDT
about 3 hours ago

JonRothstein

Jon Rothstein


BREAKING: VCU's Shaka Smart is in discussions with Texas about its head coaching vacancy, sources told @CBSSports. Story coming.
about 3 hours ago

theACC

The ACC


. @ACCMLax Players of the Week, presented by Havoline: http://t.co/ga1jtabJCE
about 3 hours ago

Warchant

Warchant.com


Several special visitors and some players returning from illness highlight early Monday FSU practice notes. ($) https://t.co/DMTQTsyBRX
about 4 hours ago

Kemoni_Malik

Malik Miller


Enjoyed my visit to Florida State!! http://t.co/F1BJ2pnyIn
about 4 hours ago

DeionSanders

Deion Sanders


You will never trust another person totally until you learn to trust yourself! #Truth
about 4 hours ago

NolesTV

NolesTV


A great atmosphere awaits @FSU_Baseball in Jacksonville. #Noles PREVIEW: http://t.co/FmrphDTabp http://t.co/1NHH6g6ugn
about 4 hours ago

Noles247

Noles247.com


#FSU Baseball moves up to No. 8 in Coaches Poll (FREE) http://t.co/urQlerDo4D via @Noles247
about 4 hours ago

Noles247

Noles247.com


Added some practice photos here (FREE) http://t.co/XBk2tFsSy2 via @Noles247 http://t.co/YFUC2CTm4G
about 4 hours ago

AnquanBoldin

Anquan Boldin


Excited to welcome to Q-Fest 2015 a great athlete and an even greater friend, Cardinals WR @LarryFitzgerald! http://t.co/zO6iAtOVsU
about 4 hours ago

TomahawkNation

TomahawkNation.com


Florida State football spring scrimmage report: 3/30 Who was at at CB? via: @dtackett_ http://t.co/QkseqUxqiW http://t.co/Atk2wZ6eYM
about 4 hours ago

Noles247

Noles247.com


#FSU's offensive line missing several contributors (FREE) http://t.co/4qdRAlRIos via @Noles247
about 4 hours ago

DavidHaleESPN

David Hale


How am I supposed to believe this? RT @UberFacts: Humans lie an average of 2.92 times every ten minutes.
about 4 hours ago

Noles247

Noles247.com


News and Notes: #FSU set to scrimmage (FREE) http://t.co/Nn2jy8NdR0 via @Noles247
about 4 hours ago

Warchant

Warchant.com


Large ESPN contingent -- Desmond Howard, Sal Pal and a bunch of production guys -- at FSU practice. Here for Pro Day tomorrow.
about 5 hours ago

theACC

The ACC


.@ACCBaseball Players of the Week, presented by Havoline: @BCBirdBall's Shaw, @VT_Baseball's Keselica: http://t.co/Del6KIl45s
about 5 hours ago

TomahawkNation

TomahawkNation.com


Dwayne Bacon featured in the McDonald's All American dunk contest http://t.co/NIqAX0FRWW http://t.co/iZ5ZVo9zHA
about 5 hours ago

Noles247

Noles247.com


#FSU set to scrimmage. Start of ptactixe notes (FREE) http://t.co/Nn2jy8vCsq via @Noles247
about 5 hours ago

WellOffForever

Well Off


Enjoy the gifts and talents you have been blessed with. Go out and have confidence in yourself! #WellOffForever http://t.co/35XTJWI30r
about 5 hours ago

FSU_Softball

FSU Softball


Bid on our game-worn military jerseys - all proceeds go to the FSU Student Veterans Center. http://t.co/BYZDpAeB5z http://t.co/g1Uh4z72yj
about 5 hours ago

ESPNMcGee

Ryan McGee


This is @Ivan_Maisel's eulogy for his son Max. I won't even try to describe it. Just read it. https://t.co/8wsShrxFFz
about 5 hours ago

Noles247

Noles247.com


247's @bartonsimmons weighs in on @JanariusD1 at Nike Opening Regional http://t.co/XBMA2BZefC via @Noles247
about 5 hours ago

Noles247

Noles247.com


Marquez White emerging as the CB that will start opposite of Jalen Ramsey (FREE) http://t.co/T3TbQipAA4 via @Noles247
about 5 hours ago

DavidHaleESPN

David Hale


Just finished writing a bunch of really positive things about #VaTech. Must temper enthusiasm with this… http://t.co/UUgAv1BW2D
about 6 hours ago

DeionSandersJr

Deion Sanders Jr


Help me get to 70,000 followers by the end of the week. For this whole week I'm following all who tweet #FollowDeionJr & #WellOffForever
about 6 hours ago

DavidHaleESPN

David Hale


Cheer up. I always put you on a pedal stool. RT @FanSince09: Literally can't even with the rejection emails
about 6 hours ago

RyanBartow

Ryan Bartow


#FloridaState 4-star commit Josh Brown says he's 'solid' despite a push by others. http://t.co/hipW6iISPS @joshnewberg247 @CNee247 @jb51___
about 6 hours ago

accmbb

ACC Men\'s Basketball


#ACCMBB in the #Elite8: Duke Punches Ticket to the #FinalFour: http://t.co/vtzsLWD31w(Photo: http://t.co/416j2H5kvq) http://t.co/NOsssCNs3k
about 6 hours ago

CoachSueFSU

Sue Semrau


"@KoachLWillis: Nice work this year @CoachSueFSU!!" It's ALL about the players!
about 6 hours ago

Noles247

Noles247.com


#FSU stays in No. 10 in Baseball America poll (FREE) http://t.co/cRKzI2SpBy via @Noles247
about 7 hours ago

ESPN_ACC

ESPN ACC


Louisville S Josh Harvey-Clemons eager to play again http://t.co/xS7UFl3rqi
about 7 hours ago

WellOffForever

Well Off


Get 25% off of your next Well Off purchase by using the code WOF! Buy here at http://t.co/ys2bt5BouI #WellOffForever http://t.co/1l2AfwV5V0
about 7 hours ago

Noles247

Noles247.com


Visited #FSU in-season RT @ToddHuberSS: Expect Final5 OL Alex Leatherwood to blow up. 6-4.5/300, 5.38 40, 4.89 sht, 40 PB, 26 Vt, 85.26 Spq
about 7 hours ago

Noles247

Noles247.com


Big back planning to attend spring game RT @Kingpeacock_3: Gone be FSU bound next Saturday 👋✋👋✋
about 7 hours ago

Noles247

Noles247.com


Weekend visit recaps: P Drue Chrisman (FREE) http://t.co/7nmdMPY77m RB Malik Miller (VIP) http://t.co/bFrDNvjYiu via @Noles247
about 7 hours ago

Noles247

Noles247.com


Just sent another @Noles247 Newsletter chock full of #FSU news. FREE sign up: http://t.co/ZMJ18Kp1yt
about 7 hours ago

Noles247

Noles247.com


Tennessee Titans taking in-depth look at Jameis Winston (FREE) http://t.co/cn3paDN9IV via @Noles247
about 8 hours ago

CNee247

Chris Nee


Big Back from Alabama recaps #FSU trip (VIP) http://t.co/v4VySrkEte via @Noles247
about 8 hours ago

Warchant

Warchant.com


DB John Broussard enjoys visit to #FSU last weekend. Talks about visit here. http://t.co/iK6cz5SzYc ($) http://t.co/WBuZSJSBIQ
about 8 hours ago

ACCBaseball

ACC Baseball


New @d1baseball poll:8) @UofLBaseball 11) @FSU_Baseball 13) @UVABaseball 16) @CanesBaseball
about 8 hours ago

ACCsoftball

ACC Softball


With an NCAA-leading 17th long ball of the year on Sunday, @UNCSoftball's Kristen Brown broke the school record for home runs in a season
about 8 hours ago

Noles247

Noles247.com


#FSU Baseball slides to No. 8 in Collegiate Baseball Poll (FREE) http://t.co/ZMZNaX5s0d via @Noles247
about 8 hours ago

ESPN_ACC

ESPN ACC


Miami uses spring to rid itself of 2014 tendencies http://t.co/9lqHBjFrxq
about 8 hours ago

WellOffForever

Well Off


Get 25% off of your next Well Off purchase by using the code WOF! Buy here at http://t.co/ys2bt5BouI #WellOffForever http://t.co/E8zmYf3u2L
about 9 hours ago

edsbs

SPENCER HALL


Such important work here by @rodger_sherman http://t.co/UY5wyjvYsW http://t.co/bHacF0pWdP
about 9 hours ago

Noles247

Noles247.com


Big week for #FSU - First scrimmage on Monday, UF baseball and Pro Day on Tuesday, Levonta Taylor (@iamlevonta) commits on Friday.
about 9 hours ago
ACC SCOREBOARD
Thursday, 9/3
Saturday, 9/5
Monday, 9/7
BLOG ARCHIVE:
CATEGORIES: