FSU 10: Week 13 power rankings
November, 26, 2012
11/26/12
8:00
AM ET
The regular season has come to a close, and Florida State got two huge performances from players at the top of the power rankings, both potentially playing in their final home game. For a third, however, things were much different, as
EJ Manuel
struggled through a dismal home finale in a loss to Florida.
So, as we get set for the ACC championship game, here's how FSU's top 10 looks (last week's rankings in parentheses).
[+] Enlarge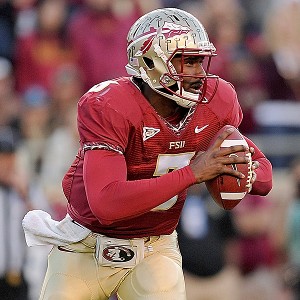 Kevin Liles/US PresswireEJ Manuel didn't have his finest day against Florida.
1. Bjoern Werner (2)
To continue reading this article you must be an Insider
Insider
Jeff Long Talks New Rankings
College Football Playoff selection committee chair Jeff Long breaks down the panel's reasons for Ole Miss plummeting to the No. 19 spot and the top seven ranked teams remaining unchanged.
Jeff Long Talks New Rankings
VIDEO PLAYLIST
FSU FB RECRUITING SCORECARD
Noles247

Noles247.com


FSU bounces back to defeat The Citadel - http://t.co/mJFX6PdlV5
22 minutes ago

fsufball

FSU Football


(b/r) The College Football Playoff Committee Is a Joke; FSU Deserves to Be No. 1: Despite finding themselves i... http://t.co/fgFH5rQuDB
23 minutes ago

TomahawkNation

TomahawkNation.com


FSU beats The Citadel 66-55 http://t.co/U8PfUqVFqa
26 minutes ago

TomahawkNation

TomahawkNation.com


UF could certainly beat FSU. No great teams this year, Noles included. 72 total points though is just a BIT high.
29 minutes ago

TomahawkNation

TomahawkNation.com


.@HS_BHGP tn not a tout service
37 minutes ago

TomahawkNation

TomahawkNation.com


If it was legit, they'd charge for it RT @grantFSU any thoughts on http://t.co/TFEgxj1Le5 computer model run predicting UF 40 - FSU 31?
39 minutes ago

Noles247

Noles247.com


Florida State defeats The Citadel 66-55. Xavier Rathan-Mayes led with 26 points. Montay Brandon added 19 points http://t.co/K2zmQCuOYU
51 minutes ago

Warchant

Warchant.com


FSU men beat The Citadel, 66-55, behind 26 points from Xavier Rathan-Mayes and 19 from Montay Brandon. 'Noles now 2-3 on year.
53 minutes ago

TomahawkNation

TomahawkNation.com


.@NickdelaTorreGC Exactly. 13/22 starters for Mississippi State are seniors. http://t.co/BTWNS7LrXL Mullen can't miss window like Jim Grobe
about an hour ago

Noles247

Noles247.com


Hoops Gameday Chat: FSU vs. Citadel - FSU leads by 10 http://t.co/cKQsNJTnQg
about an hour ago

TomahawkNation

TomahawkNation.com


Tough thing for Mississippi State is that it won't be back next year. Most veteran team of playoff contenders by far http://t.co/BTWNS7LrXL
about an hour ago

TomahawkNation

TomahawkNation.com


Because nobody has won their conference yet https://t.co/6TGBdGltqi
about an hour ago

groovinmahoovin

The Groovin Mahoovin


@DavidPurdum Also, whatever opener they toss out, if wrong, isn't that big of a deal because the limits are low then anyway.
about an hour ago

DavidPurdum

David Payne Purdum


Ultimately, though, the prominent offshore books (Pinny/CRIS) have more influence in terms of who is favored. 2/2
about an hour ago

DavidPurdum

David Payne Purdum


Vegas oddsmakers I've spoken with have varying opinions on who would be favored over whom and by how much among the top college teams. 1/2
about an hour ago

TomahawkNation

TomahawkNation.com


Agree w/ @BarrettSallee. https://t.co/wHkXL9Ep5H Lack of great teams is all more reason to defer to W-L record.
about an hour ago

Noles247

Noles247.com


Selection committee considers rankings at time game was played - http://t.co/VRWj1NRKGv via @Noles247
about an hour ago

Noles247

Noles247.com


CFB committee chair Jeff Long talks Top 25 rankings - Includes quote specifically on #FSU http://t.co/epj5C8Klzi via @Noles247
about an hour ago

Noles247

Noles247.com


Herbstreit: Playoff rankings will change dramatically - http://t.co/v0t8FY8zu0 via @Noles247
about an hour ago

ESPN_ACC

ESPN ACC


ACC bowl projections: Week 13 http://t.co/3cpdcDs5vq
about an hour ago

TomahawkNation

TomahawkNation.com


http://t.co/o3AJXMaHVa RJ Bell
about an hour ago

TomahawkNation

TomahawkNation.com


Agree again, Colin http://t.co/u9eEGszrJv
about an hour ago

TomahawkNation

TomahawkNation.com


Same "Vegas" that said Miami would open a favorite over FSU, RJ? https://t.co/PXHtR2Buwx
about an hour ago

IraSchoffel

Ira Schoffel


What's Jon Lovitz doing these days? SNL needs to bring him back to play Jeff Long ... "Yeah, yeah ... that's the ticket."
about an hour ago

TomahawkNation

TomahawkNation.com


Undefeated from Power5 conference is still the trump card. Scheduling Power 5 teams noncon beyond UF not smart by FSU IMO. Will sell Tix tho
about an hour ago

slmandel

Stewart Mandel


So much for "starting from a blank slate" every week. As predicted, previous rankings affecting current rankings, just like AP poll.
about an hour ago

DavidHaleESPN

David Hale


So by the end of season, FSU will have played 12 Power 5 teams in 15 weeks. Baylor will have played 9. Makes it tough for Bears argument.
about an hour ago

ESPN_ACC

ESPN ACC


Playoff breakdown: If the games were today http://t.co/n3NrMcVXVj
about an hour ago

TomahawkNation

TomahawkNation.com


(Setting up MSU to get jumped next week) RT @JonSolomonCBS: Long: Teams 4-7 in rankings are "very close."
about an hour ago

DavidHaleESPN

David Hale


I like Baylor but they had SMU, Buff, NWSt, Kansas, Iowa St and 3 bye weeks this season. Hard to compare to SEC or FSU's 11 P5 foes.
about an hour ago

Warchant

Warchant.com


Halftime at the Civic Center, and the FSU men lead The Citadel, 22-19. Mayes leads all scorers with 11.
about 2 hours ago

Noles247

Noles247.com


FSU leads The Citadel 22-19 at the half. Xavier Rathan-Mayes has 11 points for FSU. http://t.co/Tutref6nJI
about 2 hours ago

TomahawkNation

TomahawkNation.com


MSU resume if 11-1 & not West champ next weekend:8-4 Ole Miss8-4 Auburn8-4/7-5 LSU8-4/7-5 A&MAnd Bulldogs not a name brand, so ... nah
about 2 hours ago

TomahawkNation

TomahawkNation.com


I think that's lost on people. 3 MSU's 4 wins in that scenario are getting losses this weeknd (LSU, A&M, Ole Miss, Auburn). Schedule hit.
about 2 hours ago

DavidHaleESPN

David Hale


as much as people think there'll be a push to "fix" this process... CFB has more people talking than ever. This is ideal scenario.
about 2 hours ago

TomahawkNation

TomahawkNation.com


Mississippi State isn't getting in w/o winning SEC. Nothin in Non-Con & if it's 11-1, best wins are over teams w/ 8-4, 8-4 & 7-5 records.
about 2 hours ago

GeorgeSchroeder

George Schroeder


@TravHaneyESPN Or even how they arrived at the determination. Maybe just something to say, I think (sigh). Another reason not to do weekly.
about 2 hours ago

TravHaneyESPN

Travis Haney


So just because Jeff Long says something in an interview/conference call doesn't mean that's necessarily how the 12 panel members feel.
about 2 hours ago

DavidHaleESPN

David Hale


Question I'll be very interested to see answered in a couple weeks: how will B12's lack of title game impact Baylor, TCU?
about 2 hours ago

_DCReeves

D.C. Reeves


RT @YahooSports: The latest Top 4 #CFP Rankings are out:1. Alabama2. Oregon3. FSU4. Mississippi St.
about 2 hours ago

TomahawkNation

TomahawkNation.com


Florida State still third in College Football Playoff Rankings: Committee making it up as it goes http://t.co/pLgmCRYp9E
about 2 hours ago

Noles247

Noles247.com


Hoops Gameday Chat: FSU vs. Citadel - FSU up by double-digits http://t.co/6ajyTmfFQA
about 2 hours ago

TomahawkNation

TomahawkNation.com


Lol. They have five losses. Stop it. RT @Bamagirl_4_ever: @TomahawkNation @KevinOnCFB Arkansas is a very good team. #JustSayin
about 2 hours ago

Warchant

Warchant.com


ICYMI, here's the latest creation from the college football playoff committee (w/o Jeff Long's crazy explanations). https://t.co/kJxWICZVnB
about 2 hours ago

martinrickman

martin rickman


all those pac-12 teams have an awesome win over preseason number 11 stanford right now in the eyes of the committee
about 2 hours ago

TomahawkNation

TomahawkNation.com


Only when an SEC team that put fourth has a single win over a current top 25 team. Ace in the hole https://t.co/9OwJQZ3btj
about 2 hours ago

TomahawkNation

TomahawkNation.com


Next week on CFB playoff ranking committee: Jeff Long convinces committee to use "too early 2015 playoff ratings" so Arkansas can be ranked!
about 2 hours ago

TomahawkNation

TomahawkNation.com


Sounds like it. RT @ThePlayoffGuru So A&M is still getting credit for beating No. 9-ranked South Carolina in Week 1?
about 2 hours ago

TomahawkNation

TomahawkNation.com


Jeff Long cites controlling the game again. lol. If were separating great teams, sure, but nobody is great this year.
about 2 hours ago

JohnCassillo

John Cassillo


@TomahawkNation Bringing Jeff Long out afterward has been their biggest mistake of all. Argues vs. previous week's logic every Tuesday.
about 2 hours ago

hercnjerc

MVWhite


@TomahawkNation 1st statement: Ranking at the time of the games matters more than current rankings for Mississippi State
about 2 hours ago

TomahawkNation

TomahawkNation.com


.@CFBMatrix Weekly rankings are the worst thing
about 2 hours ago

CFBMatrix

Dave Bartoo


@TomahawkNation ranked by who? Which ranking system? Is one better than another. This is getting good!
about 2 hours ago

TomahawkNation

TomahawkNation.com


Oh! Jeff Long says it takes into account wins over teams that were ranked at the time. So FSU should be GREAT with Okie State, ND, Clemson
about 2 hours ago

247Sports

247Sports


Latest College Football Playoff Top 25 released http://t.co/oRsjdhCBvs http://t.co/dlXZUS885J
about 2 hours ago

TomahawkNation

TomahawkNation.com


Jeff Long contradict himself tonight?
about 2 hours ago

TomahawkNation

TomahawkNation.com


Huh, thought the selection committee show was at 7:30.
about 2 hours ago

Noles247

Noles247.com


College Football Playoff Top 25 1. Alabama 2. Oregon 3. FSUMore: http://t.co/uYTAAVUSXL http://t.co/pr3gY4a1MZ
about 2 hours ago

Warchant

Warchant.com


No changes among the top 7 in the playoff rankings this week as FSU remains third, behind Alabama and Oregon but ahead of Mississippi State.
about 2 hours ago

theACCfootball

ACC Football


#ACCFootball in @CFBPlayoff Rankings:3) @FSU_Football 16) @GeorgiaTechFB 21) @ClemsonFB 22) @UofLFootballFull: http://t.co/WBctDl3PcW
about 2 hours ago

Noles247

Noles247.com


#FSU remains No. 3 in CFB Playoff Top 25 http://t.co/THjS1qWvBQ via @Noles247
about 2 hours ago

Warchant

Warchant.com


Warchant TV: Jimbo Fisher after #FSU's Tuesday practice with latest on preparations for UF. https://t.co/Gxv2I2RLi7 http://t.co/k5XtTd48fh
about 2 hours ago

Seminoles_com

Seminoles.com


Watch the entire interview with #Noles head coach Jimbo Fisher as he addressed the media after Tuesday's practice. http://t.co/mho6qFqtbY
about 2 hours ago

Warchant

Warchant.com


Post-practice update with Jimbo Fisher: https://t.co/mhDvAfBAlF ($) Injury updates, The Choke at Doak, Thanksgiving plans and more.
about 3 hours ago

Noles247

Noles247.com


Post-practice update and Jimbo Fisher on awards finalists http://t.co/31VZ18lcuh via @Noles247
about 3 hours ago

Warchant

Warchant.com


Jimbo on his Sunday appearance on @SportsCenter: "They were trying to get you to be defensive was part of it. I just tell them how I feel."
about 3 hours ago

TimBrewster

Tim Brewster


#305 #Next? http://t.co/wPwVACLXQk
about 3 hours ago

DavidHaleESPN

David Hale


Rashad Greene: 49 catches, 601 yards, 3 TD, 30 first downs when #FSU was tied or trailing this season.
about 3 hours ago

Noles247

Noles247.com


Finalists announced for nine Home Depot College Football Awards. Rundown of who here: http://t.co/5qCHEL82xY via @Noles247
about 3 hours ago

TimBrewster

Tim Brewster


#305 #Next? http://t.co/wPwVACLXQk
about 3 hours ago

Warchant

Warchant.com


FSU wide receiver Rashad Greene not among three finalists for the Biletnikoff award, given to the nation's best receiver.
about 3 hours ago

Warchant

Warchant.com


Senior TE Nick O'Leary named a finalist for the John Mackey award, given to the nation's best tight end.
about 3 hours ago

Warchant

Warchant.com


FSU kicker Roberto Aguayo named a finalist for the Lou Groza Award, which he won last year. Given to the nation's best kicker.
about 3 hours ago

Noles247

Noles247.com


#FSU junior cornerback P.J. Williams not among finalists for Jim Thorpe Award.
about 3 hours ago

Warchant

Warchant.com


Kareem Are has missed a couple days of practice with a fever, Jimbo said. Some kind of illness.
about 3 hours ago

Noles247

Noles247.com


#FSU's Roberto Aguayo named Lou Groza Award Finalist http://t.co/uwipUj47b0 via @Noles247
about 3 hours ago

Noles247

Noles247.com


#FSU senior OG Tre' Jackson not among finalists for Outland Trophy.
about 3 hours ago

Noles247

Noles247.com


#FSU redshirt sophomore QB Jameis Winston not among finalists for Maxwell or O'Brien Awards.
about 3 hours ago

Noles247

Noles247.com


#FSU senior WR Rashad Greene not among finalists for Biletnikoff Award.
about 3 hours ago

FSU_Football

FSU Football


Congrats to TE Nick O'Leary on being named a finalist for the @JohnMackeyAward for the 2nd straight year! #Noles http://t.co/ZmMyOSpi9a
about 3 hours ago

FSU_Football

FSU Football


Congrats to K Roberto Aguayo on being named a finalist for the @LouGrozaAward for 2nd straight year! #Noles http://t.co/SOREPcgJUW
about 3 hours ago

Noles247

Noles247.com


#FSU's Nick O'Leary named finalist for Mackey Award http://t.co/cLTGSKTMMX via @Noles247
about 3 hours ago

Noles247

Noles247.com


Hoops Gameday Chat: #FSU vs. Citadel http://t.co/I41AYF0e5M via @Noles247
about 3 hours ago

TomahawkNation

TomahawkNation.com


No. Definitely absolutely not. RT @CJParry20: @TomahawkNation Will the Noles be wearing the black uniforms this weekend?
about 4 hours ago

HuddlePass

HuddlePass


.@BMac_120 & @trapj99 bring you in the 1st #FSU Huddle Podcast to recap #BC, preview #FSUvsUF & interview @Tee_Time24 http://t.co/sRITUOoT3M
about 4 hours ago

MoveTheSticks

Daniel Jeremiah


On tape, I prefer Winston..I'm not alone "@GeneEgdorf: everyone will have Mariota as the top rated QB. Attending won't help draft stock."
about 4 hours ago

SWiltfong247

Steve Wiltfong


Top50 OT Michal Menet names a Top5 of #Duke #FSU #MichiganState #OhioState & @247SportsCrystalBall fave #PennState http://t.co/zGUO00QqQW
about 4 hours ago

Seminoles_com

Seminoles.com


This week's final "Guts. Glory. Ram. Seminole Legend" is ________. Check out the video!MORE: http://t.co/revUkn0xxD
about 4 hours ago

HuddlePass

HuddlePass


.@BMac_120 & @trapj99 bring you in the 1st #FSU Huddle Podcast to recap #BC, preview #FSUvsUF & interview @Tee_Time24 http://t.co/sRITUOoT3M
about 4 hours ago

Noles247

Noles247.com


#FSU's Tuesday Practice is underway - http://t.co/i5LL6BMYaV
about 4 hours ago

TomahawkNation

TomahawkNation.com


#Noles greats @trapj99 and @BMac_120 podcast about #FSU http://t.co/aNUdHGohE0
about 4 hours ago

TomahawkNation

TomahawkNation.com


6'4 2016 WR recruit @MaysoeWiley_7 visiting #FSU this weekend. JR highlights are impressive. http://t.co/JaHLcKEKOJ #Noles target
about 4 hours ago

TomahawkNation

TomahawkNation.com


Florida State 2016 DE commit Josh Brown (@jb51___) recruit highlights #Noles #FSU http://t.co/yiAXdH6VfD
about 4 hours ago

TomahawkNation

TomahawkNation.com


FSU vs The Citadel, preview and game thread http://t.co/8vLyMHJdyt
about 4 hours ago

fsufball

FSU Football


Florida State's Ramsey the 'Star' on defense (The Associated Press): TALLAHASSEE, Fla. (AP) -- Florida State's... http://t.co/ngDlwtYRhf
about 4 hours ago

49ers

San Francisco 49ers


United with the #49ers, @AnquanBoldin and D.J. Boldin lean on brotherhood to thrive.FEATURE: http://t.co/kGqqYJ78y0 http://t.co/0S2pVhY0xF
about 4 hours ago

DeionSanders

DeionSanders


Hurry up & tell somebody you love them and watch how good it makes them and you feel. Love you @shelomisanders #Truth http://t.co/DjwNbE6wcS
about 5 hours ago

Warchant

Warchant.com


FSU practice notes: https://t.co/DQB8jNZ2zd ($) Chad Mavety, Lorenzo Featherston still the only players sitting out this week.
about 5 hours ago

TomahawkNation

TomahawkNation.com


Florida State football practice report: 11/25 http://t.co/c039kdPGZK
about 5 hours ago

TomahawkNation

TomahawkNation.com


.@cblunt58 @Flastar23 agree. Hate thanksgiving food. If it was any good, I'd eat it more than 1X a year.
about 5 hours ago
ACC SCOREBOARD
Friday, 11/28
Saturday, 11/29
BLOG ARCHIVE:
CATEGORIES: