Leon McQuay 'very serious' about Ducks
November, 8, 2012
11/08/12
6:36
PM ET
When the Ducks hosted Colorado on Oct. 27, the game was played in poor weather and was over by the end of the first quarter. Neither the rain nor the fact they didn't arrive at Autzen Stadium until the third quarter dampened the spirits of safety
Leon McQuay III
(Seffner, Fla./Armwood) and his parents.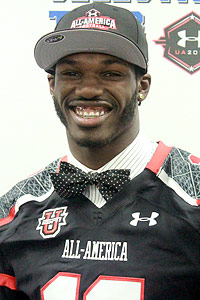 Jeff Peoples/IntersportAll-American Leon McQuay III enjoyed his visit to Oregon and has 'very serious' interest in the Ducks.
The No. 32 player in the ESPN 150 made the long trek to the Northwest for his second official visit of the year. After previously visiting Vanderbilt -- a school he is more serious about than most people think -- McQuay and his parents were able to explore Eugene to get all of his questions answered about the university and the Ducks' football program.
"It was a great experience. You actually have to visit and see the place in person to do it justice and [to] get a full impact of what's going on there," McQuay Jr. said. "Everything about it was great. All the way down to how many uniform combinations they have."
To continue reading this article you must be an Insider
Insider
Paul Finebaum: Sophomore Slump for Jameis Winston?
Paul Finebaum joins Keith Olbermann to discuss the possibility that, after a turbulent offseason, Jameis Winston is in for a sophomore slump.
Paul Finebaum: Sophomore Slump for Jameis Winston?
VIDEO PLAYLIST
FSU FB RECRUITING SCORECARD
DeionSanders

DeionSanders


Can't wait till 10am the Truth youth teams will be playing all day. We have 2 teams at every age from 5-14. I love it. #Truth
about 2 hours ago

taylorolive76

Taylor Olive


Got my pic taken with Mr. Primetime @DeionSanders along with two of the guys who scrimmaged his team. W/Little bros! http://t.co/3SEpWjLKIA
about 2 hours ago

catwalkhaute

Catrina Henderson


Thank you to the Durant Oklahoma Lions Football Booster Club for giving Prime Prep great hospitality. @DeionSanders http://t.co/X8TaDivKnh
about 2 hours ago

catwalkhaute

Catrina Henderson


The birthday boy gives his mom some love. We love & respect our mommas. #WEAREPRIMEPREP @DeionSanders http://t.co/9tExCbboxF
about 2 hours ago

kamriblake

Kamri Blake


@DeionSanders you are such a great coach! I didn't get a pic with you but I got to see you! good job tonight!#cordell http://t.co/cbg2XMCz60
about 3 hours ago

taylorolive76

Taylor Olive


Got to meet @DeionSanders tonight when they scrimmaged my high school team! His players were well mannered and had a lot of class!!
about 3 hours ago

CoachRayElder

Coach Ray Elder


"@DeionSanders: Dez and *****. Love yall! http://t.co/F0uSRBwzOz" Happy B-Day Dez. Thanks for being loyal to the program. Your time is now.
about 3 hours ago

CNee247

Chris Nee


Janarius Robinson intends to take multiple visits (VIP) http://t.co/yzKFDkWRA8 via @Noles247
about 3 hours ago

TomahawkNation

TomahawkNation.com


Lisa needs braces
about 4 hours ago

joyluck50

Rolonda Piggee-Wood


"@Traceyeedmonds: @DeionSanders w/This Ring. Truth http://t.co/nM0BSHSLLv< Beautiful Couple! Love it! Future & Sky are Limitless! BLESSINGS!
about 4 hours ago

FireRefRupe

Dustin Rudolf


@DeionSanders Great bunch of kids that came to Durant Oklahoma. My wife commented how courteous they were in food line. You should be proud.
about 4 hours ago

Noles247

Noles247.com


Some finals and highlights for #FSU commitments http://t.co/HGcnu4whij via @Noles247
about 4 hours ago

Noles247

Noles247.com


#FSU Soccer wins season-opener http://t.co/zOtxVGCjwl via @Noles247
about 5 hours ago

ESPN_ACC

ESPN ACC


Devante Parker injures foot in practice http://t.co/Z7d3Fn1IJ2
about 5 hours ago

docprice63

Mark Webb


@DeionSanders your team did you proud on and off the field tonight. They were all very gracious in the food line.
about 5 hours ago

FlaHSFootball

Florida HS Football


Pensacola Washington in Charlie Ward's debut as head coach ... RT @MattFosterPNJ: Final: Washington 41, East Gadsden 0 #PNJpreps
about 5 hours ago

Noles247

Noles247.com


LIVE: FSU targets under the lights - NFC defeats Bay, notes on Janarius Robinson http://t.co/PScb6crkf6 via @Noles247 
about 5 hours ago

SteveKerry

Kerry Steve


Got to take a pic with the one and only Prime Time himself. @deionsanders http://t.co/C3GdotkCGv
about 6 hours ago

courtnelyn12

Courtne St. Clair


I got to meet @DeionSanders tonight! What an awesome guy! #AmericasTeam #cowboys http://t.co/cEc73psgAO
about 6 hours ago

DeionSanders

DeionSanders


Thank you Durant Coach Cordell for blessing us tremendously. You're a great man,coach and father. God bless u. Truth http://t.co/2zBUqCZy0g
about 6 hours ago

DeionSanders

DeionSanders


Dez and *****. Love yall! Truth http://t.co/UTFfsegM4Q
about 6 hours ago

DeionSanders

DeionSanders


I love these boys 2 life. #PrimePrep http://t.co/OPNtRj6se8
about 6 hours ago

TheBobbyBowden

Bobby Bowden


Like an aspiring marathon runner, one cannot expect to develop endurance in a mere week or two.
about 6 hours ago

DeionSanders

DeionSanders


PrimePrep! http://t.co/bWAobCxcDO
about 6 hours ago

DeionSanders

DeionSanders


PrimePrep football baby http://t.co/srZyOcnfvG
about 6 hours ago

DeionSanders

DeionSanders


After game fun. #PrimePrep http://t.co/eE8fAkg8OC
about 6 hours ago

DeionSanders

DeionSanders


Our Quarterback Michael Curtis aka Sunshine played his butt off tonight. #PrimePrep http://t.co/vLhI29He1c
about 6 hours ago

DeionSanders

DeionSanders


Birthday boys Unk & Dez. #PrimePrep http://t.co/0oFRncW0sl
about 6 hours ago

DeionSanders

DeionSanders


PrimePrep coaches happy and full. Thank u Durant High for everything. Truth http://t.co/wjvOPekn83
about 6 hours ago

DeionSanders

DeionSanders


Thank u Durant High booster club for the wonderful meals for our PrimePrep kids after the scrimmage. God bless. Truth http://t.co/gkRJgcRiRj
about 6 hours ago

AlbertBreer

Albert Breer


Wow. Kelvin Benjamin playing playing physical with Darrelle Revis. Panthers love his progress. Lost 12 lbs b/w minicamp and training camp.
about 6 hours ago

FlaVarsity

FlaVarsity


George Campbell is done for the night.. He has a wrist injury.
about 6 hours ago

RodneyHomeTeam

Rodney Page


East Lake's George Campbell has ice on his right wrist and looks shutdown for the second half. #hometeamfb
about 6 hours ago

MichaelWarchant

Michael Langston


"@RodneyHomeTeam: That TD run was set up by a 32 yard pass from Jake Hudson to George Campbell. #hometeamfb" #FSU
about 6 hours ago

crgrand

Chris Girandola


#FSU wr commit, #AudenTate snags the 1st ball thrown to him in traffic, a 36-yd pass from Adam McAfee last play of 1st half, #greatness wow
about 6 hours ago

crgrand

Chris Girandola


1st half highlights, Wharton at Gaither, Torrez Nesbit 73 yds on 14 carries, 1 TD, #FSU commit wr Auden Tate 1 rec, 36 yd TD,
about 6 hours ago

FSU_Soccer

FSU Soccer


No. 2 FSU opens the season with a 1-0 victory over No. 11 Portland! Buzzer-beater goal from #Bergmeister was decider. http://t.co/2hlni085NA
about 6 hours ago

FSU_Soccer

FSU Soccer


No. 2 FSU opens the season with a 1-0 victory over No. 11 Portland! Buzzer-beater goal from #Bergmeister was decider. http://t.co/2hlni085NA
about 6 hours ago

Warchant

Warchant.com


100 FSU student-athletes signed up as potential blood marrow donors Friday. @Kidz1stFund https://t.co/iyT79EFfBF http://t.co/83UVMqf7UK
about 7 hours ago

FlaVarsity

FlaVarsity


George Campbell is done for the night.. He has a wrist injury.
about 7 hours ago

RodneyHomeTeam

Rodney Page


East Lake's George Campbell has ice on his right wrist and looks shutdown for the second half. #hometeamfb
about 7 hours ago

BenVolin

Ben Volin


Kelvin Benjamin is playing tonight for #Panthers. Kid is a stud
about 7 hours ago

_DCReeves

D.C. Reeves


#Alabama favored by 27 over West Virginia with an over/under of 54 for Week 1. With those numbers Vegas liking ~ a 41-14 win for the Tide.
about 7 hours ago

TomahawkNation

TomahawkNation.com


Monorail!
about 7 hours ago

MichaelWarchant

Michael Langston


"@RodneyHomeTeam: That TD run was set up by a 32 yard pass from Jake Hudson to George Campbell. #hometeamfb" #FSU
about 7 hours ago

Noles247

Noles247.com


Updates from Bay-NFC, as well as other games involving #FSU commitments and targets: http://t.co/Tae7vT5TFY http://t.co/bwok0AuRfH
about 7 hours ago

crgrand

Chris Girandola


#FSU wr commit, #AudenTate snags the 1st ball thrown to him in traffic, a 36-yd pass from Adam McAfee last play of 1st half, #greatness wow
about 7 hours ago

crgrand

Chris Girandola


1st half highlights, Wharton at Gaither, Torrez Nesbit 73 yds on 14 carries, 1 TD, #FSU commit wr Auden Tate 1 rec, 36 yd TD,
about 7 hours ago

AaronSuttles

Aaron Suttles


Want a chance to cut Landon Collins' or Austin Shepherd's hair? You're in luck: The ASF fundraiser will be held...https://t.co/tDY5ke3eIG
about 8 hours ago

Eddie_Rado

Eddie Radosevich


BREAKING: OU announces Dorial Green-Beckham's appeal for immediate eligibility waiver has been DENIED by NCAA. #Sooners
about 8 hours ago

_DCReeves

D.C. Reeves


No surprise, Bruce Pearl already doing work.
about 8 hours ago

jjones9

Jonathan Jones


That's a tough catch to make for Benjamin. 3 catches for 32 yards so far today
about 8 hours ago

TheWakullaNews

The Wakulla News


In first quarter, Feleipe Franks connects with a leaping Keith Gavin for TD. #wakulla up 7-0.
about 8 hours ago

CarPanthersNews

Car Panthers News


Cam Newton and Kelvin Benjamin are looking very impressive here early in the game. Two great connections so far! #CARvsNE
about 8 hours ago

Noles247

Noles247.com


LIVE: #FSU targets under the lights - Couple Vine videos of Janarius Robinson http://t.co/smwHlixlhW via @Noles247 
about 9 hours ago

DavidHaleESPN

David Hale


"I glanced at it. Boy cries wolf, has a few laughs... I forget how it ends."
about 9 hours ago

Seminoles_com

Seminoles.com


Less than an hour until No. 2 @FSU_Soccer opens the 2014 season. Who's going #Noles fans?
about 10 hours ago

BASZOEY

TRIBE PRIDE IMAGES


@Seminoles_com Thanks @Seminoles_com for more awesome stuff! http://t.co/fBHhWba9z8
about 10 hours ago

IMGAFootball

IMG Academy Football


@JeremyTannahill Trust Your training. Your brothers. Your coaches. 1 DAY TO KICK OFF #BROTHERHOOD #ALLIN #ASCENDERS http://t.co/qCWCx2zZLj
about 10 hours ago

Seminoles_com

Seminoles.com


#Noles Podcast up now on iTunes. @BrandonMellor and @JSchillace put a wrap on @FSU_Football fall camp. https://t.co/mKPD33YMf5
about 11 hours ago

Noles247

Noles247.com


LIVE: #FSU targets under the lights - @Noles247.com and @247Sports covering high school action http://t.co/wLHkyV8cJG
about 11 hours ago

TomahawkNation

TomahawkNation.com


Florida State football report: 8/22 http://t.co/CC1MGitOZn
about 11 hours ago

DeionSanders

DeionSanders


It's been a interesting & challenging week but u made it thru it. You are built 2 last so keep your head up & focus. You got this! #TRUTH.
about 11 hours ago

Warchant

Warchant.com


Practice Report from #FSU today, #noles looking pretty healthy heading in to game week: https://t.co/088QdHAcud
about 11 hours ago

ULFlyingCard

Nick Stover


A new addition to the soccer field today. @UofLmenssoccer @ulwomenssoccer @theACC #SoccerVille #L1C4 #CollegeColors http://t.co/Ruuq3m224b
about 11 hours ago

theACC

The ACC


#ACC Blitz Kick-Off Special Set to Air Beginning this Weekend: http://t.co/hBRsXGAeEp #ACCFB http://t.co/pKZI7ehA4G
about 11 hours ago

Warchant

Warchant.com


Major #FSU target in 2016 TE @inauta24 in action Saturday against Trinity Christian on ESPN.
about 11 hours ago

fightclubrandy

Randy Gordon


Bermane Stiverne & Amir Mansour join me on SiriusXM's Friday Night at the Fights " @ 6:30pm @BronzeBomber @Woodsy1069 @KevinI @_DCReeves
about 11 hours ago

ACCWSoccer

ACC Women's Soccer


2 #ACCWSoccer games on ESPN3 tonight. Auburn at @clemsonwsoccer & No. 6/7 Stanford at No. 4/4 @ncwomenssoccer. Stay tuned for watch links!
about 12 hours ago

WarchantGene

GeneWilliams


#FSU's Dallas-to-Dallas campaign starts in just 8 days! Are you ready for some college football? http://t.co/OxATzr4ndy
about 12 hours ago

Noles247

Noles247.com


Jimbo Fisher explains how the #Noles use their locker room set up as a way to create culture, family atmosphere http://t.co/gl1eHM2vcQ
about 12 hours ago

Noles247

Noles247.com


#FSU positioned to close strong in recruiting http://t.co/AA5v0vxDfZ via @Noles247
about 12 hours ago

Noles247

Noles247.com


#FSU's culture starts in the locker room http://t.co/9HcQXs1dmP via @Noles247
about 12 hours ago

88Dreamchaser

IG:Dream88chaser


Looking at my future teammate @Deondre_3 on the Elite 11 🏈#GoNoles
about 12 hours ago

ColeyHarvey

Coley Harvey


Play involving Newman MT @KMart_LI Willie Colon fined $8,268 for unnecessary rough (late hit) vs Cincy. Giacomini, Hill + Winters not fined
about 12 hours ago

ColeyHarvey

Coley Harvey


When #Bengals' 1st-team O is on the field Sunday, keep an eye on the backfield. Rookie Jeremy Hill will be there some http://t.co/Xvb8GLYq2V
about 12 hours ago

Williams_Justin

Justin Williams


Look at @ColeyHarvey flexing his print game in @ESPNMag. http://t.co/z8wDUyy3em
about 12 hours ago

theACCfootball

ACC Football


.@theACCDN's #ACCNow: @BCFootballNews Sings Fight Song, "For Boston": http://t.co/ytbXw00pXV
about 12 hours ago

CoachingBuzz

Chris Vannini


Jimbo Fisher explains how #FSU's culture is designed to start in the locker room. http://t.co/lbMV12DTfl http://t.co/1urabzcqmo
about 13 hours ago

ColeyHarvey

Coley Harvey


Today's injury update kicks off with Geno Atkins' and Jason Campbell's anticipated returns Sunday #Bengals http://t.co/5ffivvfmIa
about 13 hours ago

ESPN_ACC

ESPN ACC


ACC mailblog http://t.co/H5yxDQ6PLA
about 13 hours ago

FSU_Football

FSU Football


#Noles got swabbed at the @Kidz1stFund Bone Marrow Drive today. Full gallery here: http://t.co/4AuItC5PjM http://t.co/V2hoXFOwMb
about 13 hours ago

Warchant

Warchant.com


Video: Cameron Erving talks FSU's o-line, Rick Trickett, blocking Mario Edwards Jr. & more: https://t.co/jBmBUtEj3F http://t.co/Yvh1aarfVP
about 13 hours ago

EverySimpsons

Every.Simpsons.Ever


"How could this happen? We started out like Romeo and Juliet but it ended up in tragedy." -Milhouse #EverySimpsonsEver
about 13 hours ago

Seminoles_com

Seminoles.com


Podcast: Fall Camp Wrap Up http://t.co/hrIsBXZkZ1
about 13 hours ago

TomahawkNation

TomahawkNation.com


Florida State football: Replacing Timmy Jernigan and depth at DT #Noles #FSU http://t.co/iKsqvPHy00
about 13 hours ago

Noles247

Noles247.com


Eddie Goldman is ready to take the next step for #FSU http://t.co/Yd5Ibne5fW via @Noles247 
about 13 hours ago

_DCReeves

D.C. Reeves


Would have been $50K if he was a wide receiver RT @AdamSchefter: NFL fined Saints TE Jimmy Graham $30,000 for dunking over the goalpost.
about 13 hours ago

DavidHaleESPN

David Hale


Shoulda known this had been done before… RT @bdubya4201: @TheOneBarrelRum http://t.co/5R9o5gcG3D
about 14 hours ago

Warchant

Warchant.com


Missed the FSU football kickoff luncheon? Here's a lengthy recap of what Jimbo Fisher said to the fans there: https://t.co/IGTy9KYc0F ($)
about 14 hours ago

DavidHaleESPN

David Hale


Georgia Tech = Prof. Frink?FSU = Nelson?Miami = Sideshow Bob?
about 14 hours ago

DavidHaleESPN

David Hale


OK, in honor of #EverySimpsonsEver marathon… what are your best Simpsons character/#ACC school pairings?
about 14 hours ago

FSU_Football

FSU Football


5 Fresh Faces To Know for the #Noles http://t.co/5gJMgLoXNZ
about 14 hours ago

ColeyHarvey

Coley Harvey


Making one last call for #Bengals mailbag questions. If you've got 'em, send them my way now. We'll get them answered Saturday morning.
about 14 hours ago

theACC

The ACC


Check out @ACCPix Instagram for a chance to win a signed @FSU_Football / @Duke_FB helmet. Ends at 5pm today! http://t.co/OqOLL5iN1B
about 14 hours ago

DeionSanders

DeionSanders


It's been a interesting & challenging week but u made it thru it. You are built 2 last so keep your head up & focus. You got this! #TRUTH
about 14 hours ago

elwinter

Eric Winter


For the 2nd year in a row @Rivals #1 player (@ByronHawkStar99) will commit LIVE on @Rivals @YahooSports @NBCSports #Sept28th
about 14 hours ago

joshnewberg247

Josh Newberg


FSU needs to land 2 more DT's in this class and @SWiltfong247 feels the #Noles are in a good spot for one of the best http://t.co/0WfMWxiJcM
about 14 hours ago

ScalmEm

Drew


"@AZCardinals: The #AZCardinals have released defensive tackle Anthony McCloud." @FSUPros @Warchant @Noles247 @FSU_Football
about 14 hours ago

ColeyHarvey

Coley Harvey


Asked if he expected a signing, ML: "I would guess we expect him to sign. Obviously the agent believes he has a deal. We didn't release it"
about 14 hours ago
ACC SCOREBOARD
Thursday, 8/28
Friday, 8/29
Saturday, 8/30
Monday, 9/1
BLOG ARCHIVE:
CATEGORIES: