Five defensive tackles for 2014
October, 31, 2012
10/31/12
7:00
AM ET
Defensive tackle, a position of strength and depth for the Seminoles over the last couple of years, will need to be restocked with talent in the class of 2014. NoleNation looks at five prospects Florida State will look at signing during the next cycle.
[+] Enlarge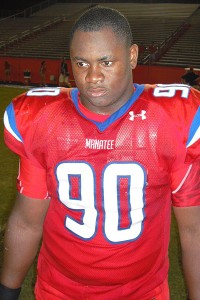 Corey Long/ESPN.comDemarcus Christmas was won over by defensive line coach Odell Haggins.
Demarcus Christmas --
Christmas, a prospect who figures to be one of the best in the entire country in his class, has already committed to Florida State out of powerhouse Manatee High School. At 6-foot-4, 290 pounds, Christmas looks more like a college student-athlete now than a prep standout. The Seminoles did well to secure a commitment from him early in the process, capitalizing on their early momentum within his recruitment.
Travonte Valentine --
Valentine, a Florida Gators commitment, will likely stay on the radar for a while. He's already made one decommitment (from Louisville) and Florida State would like to make it a second one. Valentine camped at Florida State over the summer and appeared very interested in the Seminoles prior to his decision to pledge to Florida. Make no mistake, though, Valentine will be hard to pull away from UF.
To continue reading this article you must be an Insider
Insider
FSU Players Look Back On O'Leary's Monster Hit
Last season Florida State fullback Nick O'Leary put a monster hit on Clemson safety Travis Blanks. FSU players look back on one of the most memorable moments from that game.
FSU Players Look Back On O'Leary's Monster Hit
VIDEO PLAYLIST
FSU FB RECRUITING SCORECARD
Noles247

Noles247.com


Big addition to visitor list for #FSU-Clemson today was a top-tier WR http://t.co/svxRUU074k via @Noles247
8 minutes ago

AKRivals

Adam Krohn


Baker County coach Tom MacPherson tells me CeCe Jefferson (shoulder) is out for the regular season but may return for the playoffs.
12 minutes ago

Warchant

Warchant.com


"@djjones_44: We'll be ok, we gone turn up 2nd Half tho 😈" #FSU commit
28 minutes ago

EricLuallen

Eric Luallen


Wonder if he could find some students on Twitter who know that Winston was suspended 3 games by @FSU_Baseball http://t.co/Idg17zK9xB
32 minutes ago

WillGunter560

William Gunter


Last hour, @Osceola_Tim stopped by to talk Jameis Winston & Noles/Tigers. Take a listen: http://t.co/eY9z25mJH4
45 minutes ago

TomahawkNation

TomahawkNation.com


.@kmattio was right, even if she didn't know it when she said it. More than one FSU fan did blame twitter users for Jameis' suspension.
47 minutes ago

BruceFeldmanCFB

Bruce Feldman


Best vs most deserving? RT @joelklatt: If FSU gets beat this wk, does Committee give them a pass because they were without QB in 1st half?
about an hour ago

ColeyHarvey

Coley Harvey


Here's the latest on Vontaze Burfict's return to concussion protocol.Gotta think it's time to think about sitting him http://t.co/YHef3O4Pmp
about an hour ago

fsufball

FSU Football


Florida, WVU with chance for breakthrough wins (The Associated Press): Some victories can be a sign that a pro... http://t.co/7csiLbkc18
about an hour ago

OntheRadarHoops

Shun Williams


2016 guard Brandon Robinson @BRob_4 Douglas County (GA) will be on campus at Florida State this weekend http://t.co/RjKnkjs2pT @Coach_K07
about an hour ago

Noles247

Noles247.com


Top 50 RB Jacques Patrick staying put this weekend http://t.co/cpckXhIM7C via @Noles247
about an hour ago

ESPN_ACC

ESPN ACC


Are FSU fans still standing up for Jameis Winston? @aadelsonESPN, @DavidHaleESPN and @JShankerESPN discuss. http://t.co/p7BfGv6z9M
about an hour ago

ESPN_ACC

ESPN ACC


Nick O'Leary's style 'nasty,' Seminoles say http://t.co/CkvN2kRp19
about an hour ago

SectionBAnimals

Animals of Section B


Saturday, maybe channel your uniform/logo/presidentsearch/#5/etc rage into being the loudest fans on the planet, whydoncha? Team needs ya.
about an hour ago

DeionSanders

DeionSanders


You have a choice 2 do what's right or wrong! Stop choosing what's convenient&the things that feels&looks right choose to do Right!#Truth
about 2 hours ago

ColeyHarvey

Coley Harvey


Burfict is back under concussion protocol after spending nearly all of last wk on it. Will be interesting to see if he gets shelved this wk
about 2 hours ago

ColeyHarvey

Coley Harvey


Burfict didn't practice because he was later exhibited with concussive-like symptoms, even though he showed signs of a stinger Sunday.
about 2 hours ago

ColeyHarvey

Coley Harvey


#Bengals injury report: DNP: Burfict, Burkhead, Green, Pollak (knee), Whitworth (knee), Zeitler, Thompson, Porter. LIMITED: Shawn Williams
about 2 hours ago

Traceyeedmonds

Tracey Edmonds


Tonight Im taking you behind the scenes w @IAMQUEENLATIFAH as she breaks down what we can expect from her new season! http://t.co/V7erNy3uT8
about 2 hours ago

DavidHaleESPN

David Hale


RT @aadelsonESPN: Remember to join me @DavidHaleESPN and @JShankerESPN for our video spreecast @ 3:30 p.m. ET http://t.co/uiJolNkfsB
about 2 hours ago

DavidHaleESPN

David Hale


Interesting question. RT @PaulAndTucker: If Maguire throws a few TDs & FSU has a solid lead, does Fisher stick with him in the 2nd half?
about 2 hours ago

Noles247

Noles247.com


With or without him (for a half), Jameis Winston believes #FSU will win on Sat. because of their team http://t.co/v6imLlz3jI via @Noles247
about 2 hours ago

ESPN_ACC

ESPN ACC


ACC playoff watch: Week 4 http://t.co/JQlcR6mK1P
about 2 hours ago

ESPN_ACC

ESPN ACC


Clemson has chance to seize the moment http://t.co/9j0kf7tk5h
about 2 hours ago

DavidHaleESPN

David Hale


Jameis has told me again and again that he wants kids to look up to him. He needs to understand that's more than signing autographs.
about 2 hours ago

DavidHaleESPN

David Hale


Issue is less what Winston said than that he shouldve known better than to be in that situation. FSU/Jimbo stuck necks out to defend before.
about 2 hours ago

DipRip

Shawn


@DavidHaleESPN he continues to fail to understand that he is under a microscope. How can someone as smart as him lack common sense.
about 2 hours ago

therealBrianR

Brian R


@DavidHaleESPN I think most fans aren't prone to flippant Twitter rants. Most are torn. Love our school and want him to represent it better.
about 2 hours ago

kswills

BK


@lonniesc3 @DavidHaleESPN I have a 7 yr old nephew that loves JW and the Noles, and pays close attention. Hoping he doesn't hear about this.
about 2 hours ago

mike_sheridan

Mike Sheridan


@anonyMOMous @DavidHaleESPN I think this is accurate,Those who get the meme aren't offended. Those who don't, see profanity & disrespect.
about 2 hours ago

DavidHaleESPN

David Hale


What does a first half w/Sean Maguire at QB mean for #FSU on Saturday: http://t.co/klNJAkatsK
about 2 hours ago

DavidHaleESPN

David Hale


Really appreciate the measured feedback from #FSUTwitter. Actual thoughtful replies… good to hear.
about 2 hours ago

lonniesc3

Lonnie Coggins


@DavidHaleESPN I hate having to figure out how to follow the Noles with my 11 yr old son and keep his ears and eyes protected - I'm done.
about 2 hours ago

HPNole

HpNole


@DavidHaleESPN As an fsu alumn, I love his play on the field, I just cant defend him anymore and allow my son 2 lookup to him as role model.
about 2 hours ago

anonyMOMous

Mommy\'s Hiding


@DavidHaleESPN It'll be a split. Older fans/alum will be more frustrated than they already are. More of the younger fans will blame Jimbo.
about 2 hours ago

CampbellSoop

CampbellSoop


@DavidHaleESPN his antics have never had an effect on on-field play before. That's what makes this different.
about 2 hours ago

DavidHaleESPN

David Hale


Context. RT @koehlerwendt: why is this even a story right now? A ton of obscenities can be heard at a student union.
about 2 hours ago

ESPN_ACC

ESPN ACC


Sean Maguire will step in to captain an offense that hasn't looked great (via @DavidHaleESPN). http://t.co/XI4wuSYMo3 http://t.co/4W7AT6OL4K
about 2 hours ago

DavidHaleESPN

David Hale


Interesting responses from #FSU folks to that question… this is def the most anger I've heard directed his way so far.
about 3 hours ago

MattMurph24

Matt Murphy


@DavidHaleESPN they'll blame it on Fisher
about 3 hours ago

SQLDBA

Kendal Van Dyke


@DavidHaleESPN I don't think it'll take a loss. Diehard fans are already fed up. He's become an embarrassment to the team & the university.
about 3 hours ago

yaow7

Brojangles


@DavidHaleESPN part of me wants that to happen so he is forced to deal with the idea that he is not invincible.
about 3 hours ago

WINole5

WI NOLE


@DavidHaleESPN idk who u are talking to but about half the fan base is fed up
about 3 hours ago

DavidHaleESPN

David Hale


If #FSU ends up losing a close game Saturday, I'll be interested to see if fan base is as supportive of Winston as they've been so far.
about 3 hours ago

TomahawkNation

TomahawkNation.com


Has always been my opinion no matter what Jimbo or Jameis said RT "@LMaez44: @TomahawkNation is this now jameis last year in your opinion?"
about 3 hours ago

TomahawkNation

TomahawkNation.com


How many points does Vegas think Jameis Winston is worth? 8, it seems, because line went down by 4 for missing a half. #FSU favored by 16
about 3 hours ago

SBN_BillC

Bill Connelly


Well put. RT @JasonKirkSBN: No, Florida State didn't suspend Jameis Winston just for cussing http://t.co/Vydo0lLsSk
about 3 hours ago

ESPN_ACC

ESPN ACC


Sean Maguire steps into spotlight for FSU http://t.co/XI4wuSYMo3
about 3 hours ago

ESPN_ACC

ESPN ACC


Our weekly Spreecast has been moved to 3:30 p.m. ET. Drop by and bring us your questions! http://t.co/p7BfGv6z9M
about 3 hours ago

DavidHaleESPN

David Hale


Throughout all his trouble, Winston has said the field is his sanctuary. Taking that away might be best way to make him grow up.
about 3 hours ago

TomahawkNation

TomahawkNation.com


.@Nick_Verola I think Jimbo was pissed at Jameis for saying it, but I think suspension decision came from administration.
about 3 hours ago

SportsCenter

SportsCenter


BREAKING: Jameis Winston suspended for first half of Saturday's game vs. Clemson. http://t.co/eCXsQ7qVaq
about 3 hours ago

TomahawkNation

TomahawkNation.com


Florida State QB Jameis Winston to miss first half of game against Clemson, per FSU release. http://t.co/xT8UKD1tKP
about 3 hours ago

ranger5171

Jerry Anderson


@Noles247 I met Sean at the kick off luncheon. He is cool as the other side of the pillow!
about 3 hours ago

ESPN_ACC

ESPN ACC


Wolford shoulders lots of responsibilities http://t.co/TQESx4NtZh
about 3 hours ago

ColeyHarvey

Coley Harvey


Speaking of A.J., he said a little earlier that he hasn't ruled out playing this wknd. If toe feels fine,he's playing http://t.co/TRFEoY014y
about 3 hours ago

CoachBush23

Devin Bush


@Warchant can Charlie Ward please call this kid. # Role Model
about 3 hours ago

Noles247

Noles247.com


Updated our 'Getting to know' piece on Sean Maguire, #FSU's starting QB this weekend http://t.co/oV1riyXr0r via @Noles247
about 3 hours ago

ColeyHarvey

Coley Harvey


Some video from this morning, too. This wk's #Bengals buzz video looks at Sanu and how he important he'll be w/o A.J. http://t.co/4tFsggBGcl
about 3 hours ago

ACCVolleyball

ACC Volleyball


#ACCVB occupies three of the top 10 spots for blocks per set nationally, with North Carolina ranking 4th, Syracuse 5th & Clemson 10th
about 3 hours ago

ColeyHarvey

Coley Harvey


Also from this morning, a first look at the #Bengals' next foe, the Titans. Tennessee is on deck http://t.co/o2aQzYhc36
about 3 hours ago

ColeyHarvey

Coley Harvey


From this morning, with Kevin Zeitler shelved for what appears to be a few weeks, Mike Pollak is taking over #Bengals http://t.co/TEj8bBz9n4
about 3 hours ago

fsufball

FSU Football


(b/r) Will Latest Incident Ruin Jameis Winston's Back-to-Back Heisman Hopes?: Florida State's Heisman-winning ... http://t.co/MUFtvBXVtO
about 4 hours ago

thaRD5

Ryan Davis


I'm in tally this weekend for FSU game 👋👋
about 4 hours ago

TomahawkNation

TomahawkNation.com


Something doesn't have to be wrong for it to be stupid. This was stupid.
about 4 hours ago

TomahawkNation

TomahawkNation.com


Recording podcast early Thursday morning so @IngramSmith and I will discuss Jameis in depth.
about 4 hours ago

Warchant

Warchant.com


Transcript of Jameis Winston's press conference Wednesday. ($) #FSU #Clemson https://t.co/grCwJA0ySY http://t.co/fyd0bpZbyO
about 4 hours ago

TomahawkNation

TomahawkNation.com


But you're not famous. That's the point. Also, HR would like a word. RT "@DenCarter: hell im 33 and i just said that last week at work lol"
about 4 hours ago

TomahawkNation

TomahawkNation.com


At 29? No. At 20 in college, can't rule it out. RT "@Nole_Man: @TomahawkNation would you personally do that in public to get a joke?"
about 4 hours ago

TomahawkNation

TomahawkNation.com


.@joeovies I don't think he saw anything wrong with what he said.
about 4 hours ago

ColeyHarvey

Coley Harvey


Yeah, no Zeitler. Forgot to include him earlier RT @Nopepper1: @ColeyHarvey Zeitler?
about 4 hours ago

TomahawkNation

TomahawkNation.com


Mixed thoughts RT "@Tuffgong55: @TomahawkNation do you agree with the suspension?"
about 4 hours ago

Noles247

Noles247.com


Get to know #FSU's starting QB against Clemson - Sean Maguire http://t.co/oV1riyXr0r via @Noles247
about 4 hours ago

TomahawkNation

TomahawkNation.com


But Winston has to assume that anything he does, unless surrounded only by teammates, will get discussed on social media.
about 4 hours ago

TomahawkNation

TomahawkNation.com


Not the normal college experience example billionty: Winston can't mock a popular joke without it blowing up all over social media.
about 4 hours ago

bartonsimmons

Barton Simmons


In light of his newest incident, I revisit a telling question that Jameis Winston asked at the '11 #Elite11: http://t.co/zvdsBioOO8 @CNee247
about 4 hours ago

ColeyHarvey

Coley Harvey


Have to think Marvin Jones/Rex Burkhead start easing back into practice at some point soon. Late this week or next. We'll see. #Bengals
about 4 hours ago

ColeyHarvey

Coley Harvey


#Bengals not practicing: Whitworth, Pollak, Porter, A.J. Green, Burfict, Thompson, Marvin Jones, Burkhead. Pollak/Whitworth just a vet day
about 4 hours ago

fsufball

FSU Football


FSU benches Winston for 1st half of Clemson game (The Associated Press): Jameis Winston has been benched for t... http://t.co/IvgLzIt2BB
about 4 hours ago

ESPN_ACC

ESPN ACC


We have moved our weekly spreecast chat to 3:30 p.m. ET. Get your questions in! http://t.co/88fPzrp7c0
about 4 hours ago

Noles247

Noles247.com


Some comments from Kirk Herbstreit on #FSU-Clemson (Pre-Winston) http://t.co/avvJevQje5 via @Noles247
about 4 hours ago

Warchant

Warchant.com


Video of Jameis Winston's apology during today's #FSU press conference. https://t.co/4JLas6JJXj http://t.co/MIcnMS8HtI
about 4 hours ago

JShankerESPN

Jared Shanker


Jameis Winston: "I want to apologize to the university, my coaches, my teammates .. because I have now made a selfish act for them."
about 4 hours ago

Warchant

Warchant.com


Jameis Winston: "It eats me alive that I did something like that. I can't carry myself that way."
about 4 hours ago

Noles247

Noles247.com


Jameis Winston addresses suspension, apologizes http://t.co/UPtw9BChEP via @Noles247
about 4 hours ago

Osceola_Tim

Tim Linafelt


Jameis Winston is finished. Apology, other comments here: http://t.co/t0nhtseEBH
about 4 hours ago

Warchant

Warchant.com


Jameis Winston: "I have to tone it down. I have to."
about 4 hours ago

Warchant

Warchant.com


FSU spokesman has twice cut questions off to Jameis about off-field things, saying he and the university have already addressed it.
about 5 hours ago

theACC

The ACC


Pick this weekend's games against @theACCDN experts @TheRealC_Portis, @BMac_120 & @Riley_Skinner in ACC Fan Pick'em: http://t.co/8B2tiuns2S
about 5 hours ago

Warchant

Warchant.com


Winston says he texted backup QB Sean Maguire earlier today. They'll watch film together to prepare for Clemson on Saturday.
about 5 hours ago

Warchant

Warchant.com


Winston 3/3: "I really want to apologize to my teammates, because I've done a selfish act."
about 5 hours ago

Warchant

Warchant.com


Winston 2/3: "...a me person but in that situation it was a selfish act and that's not how you do things around here.... (cont)
about 5 hours ago

Noles247

Noles247.com


Jameis Winston now speaking http://t.co/h7v9j9nhpn via @Noles247
about 5 hours ago

Warchant

Warchant.com


Jameis' opening statement: "First of all I want to apologize to the university, to my coaches and to my teammates. I'm not (cont)... (1/3)
about 5 hours ago

BushidoNole

????? ????


Shouldn't someone go smack Winston upside the head for acquiring Manziel disease? Didn't he give us permission to do so?
about 5 hours ago

Warchant

Warchant.com


You can watch Jameis Winston's PC live here on a feed from #FSU. Should start any minute. http://t.co/UsjQRSGJNm
about 5 hours ago

fsufball

FSU Football


(b/r) Cam Erving vs. Vic Beasley the Most Important Matchup in FSU vs. Clemson: Vic Beasley had 13 sacks in 20... http://t.co/jSQOive6VD
about 5 hours ago

Noles247

Noles247.com


Jameis Winston Coverage: Fisher comments http://t.co/WNS3MsGq4n Winston suspended http://t.co/m7YjWYVdBL Winston PC http://t.co/gUEkhEOwDC
about 5 hours ago

TomahawkNation

TomahawkNation.com


Our roundtable on #FSU's backup QB situation from early August http://t.co/2K5woXhkJF Meet Sean Maguire
about 5 hours ago

ESPN_ACC

ESPN ACC


Says early on "you're in a foot race to maximize your team and figure out ur identity" hard to do when don't have intensity in practice.
about 5 hours ago
BLOG ARCHIVE:
CATEGORIES: