David Dawson, Michigan part ways
October, 15, 2012
10/15/12
12:48
AM ET
David Dawson (Detroit/Cass Tech), the No. 1 offensive guard prospect in the nation, is no longer committed to Michigan.
[+] Enlarge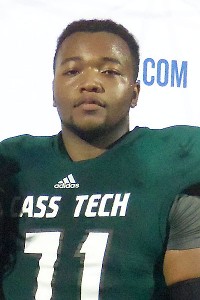 Tom VanHaaren for ESPN.comDavid Dawson's new list includes Alabama, Florida and LSU.
For quite some time Dawson had been flirting with the idea of entertaining other programs despite his commitment to the Wolverines. Brady Hoke and his staff have stood firm on their policy of no longer recruiting prospects who commit to them and then decided to take more visits.
"I wasn't 100 percent sure, and I didn't want to go any longer hurting myself or the University of Michigan," he said. "I talked to my mom and coaches and they gave me the OK to do what I felt was best. I thank Coach [Brady] Hoke for giving me the opportunity, but it was something I had to do."
To continue reading this article you must be an Insider
Insider
Brock Huard's QB Rankings
ESPN Insider Brock Huard gives a sneak peak at some QBs that have surprised him this season, and whether or not we're seeing a repeat of the 1997 QB race between Peyton Manning and Ryan Leaf.
Brock Huard's QB Rankings
VIDEO PLAYLIST
FSU FB RECRUITING SCORECARD
ESPN_ACC

ESPN ACC


Threats made to Clemson's Ryan Norton http://t.co/kFC2hqjN47
2 minutes ago

Noles247

Noles247.com


#FSU likely to host #Alabama commitment for next home game http://t.co/L9KVbrC7HW via @Noles247
5 minutes ago

Osceola_Tim

Tim Linafelt


Fisher also said that Jameis Winston's midweek press conferences are on hiatus a while. He'll still talk after games.
9 minutes ago

Noles247

Noles247.com


Miami WR who recently named a top 3 not including #FSU plans to officially visit the #Noles http://t.co/EAypQ4tzjj via @Noles247
12 minutes ago

ChrisWeinke16

Chris Weinke


IMG Academy Ascenders win third straight; down Montverde Eagles, 43-7: The IMG Academy Ascender... http://t.co/pPQK42wRr9
13 minutes ago

Noles247

Noles247.com


Rashad Greene usually leads by example. This past Saturday, he became a vocal leader http://t.co/TEMEmkOeI4 via @Noles247
15 minutes ago

Noles247

Noles247.com


A look at how #FSU's opponents are doing and what is up next for each of them http://t.co/ikhLXm6O4u via @Noles247
16 minutes ago

Warchant

Warchant.com


Jimbo also explained why Jameis Winston won't be doing weekly press conferences anymore. He said trying to give him more time for academics.
16 minutes ago

Noles247

Noles247.com


Latest note on #FSU's pursuit of 5-star DE @ByronHawkStar99 http://t.co/9ZOVREou2b via @Noles247
16 minutes ago

Noles247

Noles247.com


One #FSU commitment has likely played his last game in HS http://t.co/0TawsxP74g via @Noles247
16 minutes ago

Noles247

Noles247.com


George Campbell wasn't a recruit on an official visit, he was a commit who turned into a recruiter http://t.co/1k8PuqyeHc via @Noles247
17 minutes ago

Noles247

Noles247.com


5-star TE set to narrow to two in the near future. #FSU is in a good spot with him http://t.co/8yOqd32na7 via @Noles247
17 minutes ago

Warchant

Warchant.com


Jimbo Fisher confirmed today that DT Nile-Lawrence Stample is out for the year with a torn pectoral muscle.
18 minutes ago

Noles247

Noles247.com


Jimbo Fisher confirms Nile Lawrence-Stample out for remainder of season http://t.co/98i0hydIsO via @Noles247
26 minutes ago

Warchant

Warchant.com


"@itstate_18: Makin great progress at rehab" #FSU commit
27 minutes ago

TomahawkNation

TomahawkNation.com


Spread offense in the SEC WILL work if Florida gets to recruit against old Bobby Bowden and Larry Coker. #TweetAtYourself10YearsAgo
38 minutes ago

Warchant

Warchant.com


After FSU Board of Trustees meeting, interim president Garnett Stokes again declines comment on Jameis Winston's suspension.
41 minutes ago

FSU_Football

FSU Football


We want to thank @SonyPictures for letting us watch the movie @TheEqualizer. Great movie! #Noles
44 minutes ago

elson_rob

Rob Elson


Congrats to @John_Thrasher. Time to prove the naysayers wrong by winning hearts & minds with ideas & actions that benefit all. #FSU
47 minutes ago

Noles247

Noles247.com


John Thrasher named #FSU's next president http://t.co/ji7clkrd9J via @Noles247
54 minutes ago

RyanBartow

Ryan Bartow


Four-star WR Antonio Callaway, stud for national power Miami Booker T Washington. #Fla #FSU #Bama #Auburn #... https://t.co/226CZSzEYZ
about an hour ago

Warchant

Warchant.com


John Thrasher named FSU's next president, the Board of Trustees announces.
about an hour ago

ESPN_ACC

ESPN ACC


ICYMI: James Conner is following in Aaron Donald's footsteps at Pitt. http://t.co/ByIyAvJdD2 http://t.co/HmVml4vB76
about an hour ago

Noles247

Noles247.com


Miami WR plans #FSU official http://t.co/EAypQ4tzjj via @Noles247 @RyanBartow
about an hour ago

Seminoles_com

Seminoles.com


Seminoles Finish Fourth At Lady Paladin Invitational -- http://t.co/maTLPeP6od #noles #seminoles
about an hour ago

dtackett_

Dustin Tackett


Updated practice report with video clip of crowd noise coming from #FSU's practice. http://t.co/jtXrzBgUJj
about an hour ago

Warchant

Warchant.com


#FSU Tues. practice update. More on injuries and who is playing at center. https://t.co/fiqY3veKUb http://t.co/X8mYlpqscW
about an hour ago

dtackett_

Dustin Tackett


It may sound like a game, but it's not. It's crowd noise coming from #FSU football practice. https://t.co/MLtUTgB8KR
about an hour ago

TomahawkNation

TomahawkNation.com


My thoughts on Cam Erving playing center in our practice report. http://t.co/w32GA72axB #Noles #FSU http://t.co/rGOOG6gL85
about 2 hours ago

Noles247

Noles247.com


#FSU Tuesday practice report http://t.co/E07SORMWri via @Noles247
about 2 hours ago

TomahawkNation

TomahawkNation.com


Erving struggled mightily at LT against Clemson, works at center again Tuesday in practice ... http://t.co/w32GA72axB #Noles #FSU
about 2 hours ago

jmnpb996

jmnpb996


Yes, actually. RR @Granthropology: @edsbs is "Mike Bianchi" Floridian for "Skip Bayless?"
about 2 hours ago

Warchant

Warchant.com


Mario Pender, Mario Edwards, Nile Lawrence-Stample not dressed for practice today.
about 2 hours ago

CPAMobley

David D Mobley JrCPA


#Noles #IHeartTally rt @WarrickDunn I'm challenging everybody to be good role models. Show me your story. Post videos http://t.co/eVibq5gv1r
about 2 hours ago

ESPN_ACC

ESPN ACC


Take 2: Is Florida State No. 1? http://t.co/lJyXj9YQND
about 2 hours ago

TomahawkNation

TomahawkNation.com


We break down every play #FSU ran with video in the 4th quarter & OVERTIME http://t.co/eZG52WDcej Free, as always. http://t.co/HCFT5mLiOK
about 2 hours ago

Noles247

Noles247.com


Rashad Greene's passionate speech propels #Noles to victory - http://t.co/c79Hkp9I6t via @Noles247
about 2 hours ago

fsufball

FSU Football


Clemson's Swinney proud of team despite record (The Associated Press): Clemson coach Dabo Swinney has his head... http://t.co/swXXPY52RS
about 2 hours ago

TomahawkNation

TomahawkNation.com


FSU by 14+ RT @LazoLazo1: @TomahawkNation now that you have done film review, what do you think score would have been if Jameis played?
about 2 hours ago

TomahawkNation

TomahawkNation.com


Unless he's very famous he should be fine RT @BrendanLeister: Some guy just Jameis Winston'd in the University of Akron Student Union.
about 3 hours ago

TomahawkNation

TomahawkNation.com


Plus the Michael Sam comments RT @LostLettermen: So Dungy wouldn't draft Winston but vouched for Mike Vick after 2 years in PRISON? OK...
about 3 hours ago

TomahawkNation

TomahawkNation.com


I'm reminded of the comments Jimbo Fisher made about Eddie Goldman needing to be in better shape and learning to dominate. He's glad he did.
about 3 hours ago

theACC

The ACC


RT @CLTSports: Ready, set, register for the #ACCFan5K at http://t.co/qwpaJzbWfi. http://t.co/MNZss4FiYd
about 3 hours ago

Warchant

Warchant.com


1-on-1: #FSU @HeismanTrophy winner @charlieward17 talks about Jameis Winston. https://t.co/r2obF2HT6U http://t.co/lRSwGnIoVq
about 3 hours ago

247Sports

247Sports


Want to have the best tailgate in town?Enter to win FREE YETI Coolers http://t.co/yD4ASg9ps8
about 3 hours ago

ESPN_ACC

ESPN ACC


ACC Upset Watch: Week 5 http://t.co/6RWHerwCge
about 3 hours ago

WarrickDunn

Warrick Dunn


I'm challenging everybody to be good role models. Show me your story. Post videos online. http://t.co/1Lk60SjY1X .
about 4 hours ago

FSU_Baseball

FSU Baseball


Get a look at the 2014-15 @FSU_Baseball team. This year's photo roster has just been posted online http://t.co/NoSv7tTT1c
about 4 hours ago

theACC

The ACC


ACC Cross Country Players of the Week, presented by Havoline: Florida State's Quigley and Notre Dame's Kildoo: http://t.co/sB8UjEXv5a
about 4 hours ago

TomahawkNation

TomahawkNation.com


He's already in the shotgun! RT @DocB_atUT: @TomahawkNation ...maybe accounting for QB drop back?
about 4 hours ago

ESPN_ACC

ESPN ACC


Brissett, Wolfpack put early success to test http://t.co/S9PUxD18ff
about 4 hours ago

TomahawkNation

TomahawkNation.com


Does ESPN really need to show us 8 yards of empty space behind QB? Move the camera forward some. Show more defense. http://t.co/KdtCyr7MOu
about 4 hours ago

Warchant

Warchant.com


At FSU's Board of Trustees meeting right now. About 50 people outside protesting presidential candidate John Thrasher.
about 4 hours ago

theACC

The ACC


.@ACCMSoccer Player of the Week, presented by Havoline: Duke's Sean Davis: http://t.co/GKgo8ErZZa
about 4 hours ago

TomahawkNation

TomahawkNation.com


Florida State football film review: Clemson 3rd quarter #Noles #FSU http://t.co/V6zbnaJoVL http://t.co/sg8cPKKdy2
about 4 hours ago

TomahawkNation

TomahawkNation.com


Florida State football film review: Clemson 3rd quarter #Noles #FSU http://t.co/AcGK71NLOI
about 4 hours ago

theACC

The ACC


.@ACCFieldHockey Players of the Week, presented by Havoline: Louisville's Mason, Virginia's Vittese: http://t.co/8ZLDOpcbDz
about 4 hours ago

ESPN_ACC

ESPN ACC


College football's top 10 QBs http://t.co/GpJQxXOmic
about 4 hours ago

theACC

The ACC


.@ACCWSoccer Player of the Week, presented by Havoline: North Carolina's Cameron Castleberry: http://t.co/08hrnhOmQS
about 4 hours ago

TomahawkNation

TomahawkNation.com


Coming up in just a minute from our 3rd quarter review ... via @jmnpb996 http://t.co/5DfxHqDM8k
about 4 hours ago

rivalsmike

Mike Farrell


The latest on Tyrek Cole -- https://t.co/uCxSdcl9pf #WVU http://t.co/oKizSPu5XJ
about 5 hours ago

DeionSanders

DeionSanders


RIP Max Morgan @FOX4 news Dallas. Praying for friends and family. Max was a good man. #Truth
about 5 hours ago

DavidHaleESPN

David Hale


Jacoby Brissett played on same HS team w/#LOU TE Gerald Christian & #FSU TE Nick O'Leary. "It was hard to choose who to throw to," he said.
about 5 hours ago

Noles247

Noles247.com


A look around #FSU's schedule - Crucial Coastal match-up between #Miami and #Duke http://t.co/ikhLXm6O4u via @Noles247
about 5 hours ago

ColeyHarvey

Coley Harvey


One more from this morning. The undefeated, AFC-leading #Bengals have noticed the empty seats at Paul Brown Stadium. http://t.co/gPOuPUTFyy
about 5 hours ago

ColeyHarvey

Coley Harvey


Also from this a.m., #Bengals LB Vontaze Burfict gave replacement Vincent Rey advice before last game. Rey listened http://t.co/0BShmej4kl
about 5 hours ago

Noles247

Noles247.com


#FSU willing to go head-to-head with #UF for Byron Cowart http://t.co/9ZOVREou2b via @Noles247
about 5 hours ago

DeionSanders

DeionSanders


Awesome! I love it. #Kickingitwithmydad #Truth http://t.co/oIYvgFVcF2
about 5 hours ago

ColeyHarvey

Coley Harvey


From this morning, we explore what next few weeks could look like for #Bengals now that Marvin Jones is returning http://t.co/W0kHA1DLwJ
about 5 hours ago

ColeyHarvey

Coley Harvey


From last night, #Bengals OC Hue Jackson spoke on the WR-to-QB TD pass in Sunday's game. He had to look away at first http://t.co/e6WwY3ttkb
about 5 hours ago

ColeyHarvey

Coley Harvey


RT @PGutierrezESPN It's a QB-palooza on @ESPN_NFLNation TV's @Spreecast w @ColeyHarvey, @MikeWellsNFL & guests: http://t.co/RSuAgs5cOg …
about 5 hours ago

FSU_XCountry

FSU Cross Country


Quigley ACC Performer of the Week for Fourth Time http://t.co/6zvDkDkjgS #Noles http://t.co/rvxdfkQnFG
about 5 hours ago

TomahawkNation

TomahawkNation.com


RT @AKRivals: BREAKING NEWS: Miramar 4-star DB Tyrek Cole has been suspended indefinitely for unspecified violation of team rules
about 6 hours ago

DavidHaleESPN

David Hale


#Duke S Jeremy Cash on watching Brad Kaaya's film from first 4 games: "He's made some interesting decisions."
about 6 hours ago

TomahawkNation

TomahawkNation.com


Florida State football film review: Clemson 2nd quarter #Noles #FSU http://t.co/b0WJnrzyHQ
about 6 hours ago

ESPN_ACC

ESPN ACC


Pitt's James Conner follows Donald's path http://t.co/Dtb4c71i4X
about 6 hours ago

TomahawkNation

TomahawkNation.com


Too much hesitation RT @janinda: @TomahawkNation so, bad reads by Maguire or he didn't have enough time?
about 6 hours ago

jmnpb996

jmnpb996


@TomahawkNation Maguire needed to do a better job hitting them. Comfortable saying they get torched by Jameis and couldn't have been so agro
about 6 hours ago

TomahawkNation

TomahawkNation.com


Watching this TV replay, I can see the disconnect. Fans at home didn't see the excellent job Jimbo Fisher did of scheming WRs open deep.
about 6 hours ago

YahooSports

Yahoo Sports


David Cornwell tweets Jameis Winston will cooperate with FSU's Title IX investigation --> http://t.co/WNTEuTyZCo
about 6 hours ago

FSU_Football

FSU Football


Read about how Kevin Haplea is raising awareness for rare diseases in this week's #Nole Q & A: http://t.co/eWyTmz2LHq http://t.co/maQIiZUvNW
about 6 hours ago

SBNationCFB

SB?Nation CFB


C.J. Spiller lost a bet. Again. Stop betting on Clemson, C.J. Spiller. http://t.co/iOsSu5wo5C http://t.co/CYtciO2JOI
about 6 hours ago

RivalsFriedman

Adam Friedman


UPDATE: Fitzpatrick's OV to #FSU may not be totally set in stone http://t.co/pNk0LCpjvU @Warchant @rivalsmike
about 6 hours ago

TomahawkNation

TomahawkNation.com


.@DMcComasOB I wouldn't be surprised if Barron graded out better than Cam. No doubt in my mind on the 2nd quarter.
about 6 hours ago

FSU_Football

FSU Football


Read about Kevin Haplea's return and how he is battling Fanconi anemia in our Seminole Q & A: http://t.co/eWyTmz2LHq http://t.co/msL9JBmKnb
about 6 hours ago

TomahawkNation

TomahawkNation.com


Yeah. Cam dominated him last year. Total 180 RT @DavidTeelatDP: @TomahawkNation Opposite of last season, yes? Beasley seemed non-factor.
about 6 hours ago

TomahawkNation

TomahawkNation.com


I think Cam Erving probably wants to burn the tape of this game. Beasley beat him four or five times in the second quarter alone.
about 6 hours ago

joshnewberg247

Josh Newberg


One of #FSU's commits tells me he's likely done for the season due to a knee injury (VIP) http://t.co/l9izGALPxC
about 6 hours ago

TomahawkNation

TomahawkNation.com


.@birdieTWA @DoakSCampbell I really don't believe SEC or conference affiliation plays into it. Simply "is college player famous enough?"
about 6 hours ago

DavidHaleESPN

David Hale


DeAndre Smelter's hot start, trouble for some #ACC ground games, #VaTech's big play problems & an amazing #BC stat: http://t.co/nKcVTez2vT
about 6 hours ago

TomahawkNation

TomahawkNation.com


The answer to "where is the outrage over this player's crime?" can almost always be answered with "he's not famous enough to get clicks."
about 7 hours ago

TomahawkNation

TomahawkNation.com


.@DoakSCampbell Well he's not famous, so that won't produce clicks, which won't make advertisers and editors very happy now will it?
about 7 hours ago

DoakSCampbell

Doak Campbell


So where are the hot takes on Auburn and LSU recruiting the DT who was kicked off of UGA for stealing and assaulting a woman?
about 7 hours ago

FSU_Volleyball

FSU Volleyball


The 6th ranked, undefeated #Noles are back at home this weekend! Let's #PackTully on Friday & Sunday & cheer them on! http://t.co/dn0XKSfcfd
about 7 hours ago

TomahawkNation

TomahawkNation.com


But, we've never been a "write story and plug player quotes in" model media outlet anyway, so it won't hurt us as much as some.
about 7 hours ago

TomahawkNation

TomahawkNation.com


No Winston availability is ***** for local media who have to cover elements of the team other than hot takes on a celeb cursing in public.
about 7 hours ago

TomahawkNation

TomahawkNation.com


No Jameis Winston presser this week, FSU announces.
about 7 hours ago

Warchant

Warchant.com


Just got our schedule of football availability from FSU. No Jameis Winston press conference this week.
about 7 hours ago

yourhero

Tim Entzminger


@TomahawkNation As a fan, Boyd never scared me. Play makers around him did. Watson scares me. He makes guys around him better.
about 7 hours ago

TomahawkNation

TomahawkNation.com


Deshaun Watson is already better than Tajh Boyd, I think.
about 7 hours ago
BLOG ARCHIVE:
CATEGORIES: