Lineman Josh Outlaw claims FSU offer
September, 23, 2012
9/23/12
8:08
PM ET
Florida State is again active in the offensive lineman market with the unfortunate news of the football career-ending head injury to
Richy Klepal
(Tampa, Fla./Plant).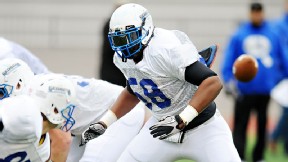 Radi Nabulsi/ESPN.com Former Florida pledge Josh Outlaw recently received an offer from Florida State.
Offensive guard
Josh Outlaw
(Lithonia, Ga./Martin Luther King), a former Florida Gators commitment, said he recently added an offer from the Seminoles.
"They offered me a little while ago," Outlaw said. "I just didn't know about it."
To continue reading this article you must be an Insider
Welcome
!
We see that you are not an ESPN Insider. Upgrade today and gain access to our exclusive coverage.
ESPN The Magazine subscribers

Need more information?
Impact Performance Nominees
The Capital One Cup Impact Performances of the Week include Auburn RB Tre Mason, Florida Stte QB Jameis Winston, Stanford RB Tyler Gaffney and UConn QB Casey Cochran..
Tags:
Tyler Gaffney
,
Jameis Winston
Impact Performance Nominees
VIDEO PLAYLIST
NOLENATION RECRUITING NEWS
FSU FB RECRUITING SCORECARD
Noles247

Noles247.com


Friday Night Lights: #FSU commitments results http://t.co/8kS3RSHU3t via @Noles247
14 minutes ago

Noles247

Noles247.com


RT @CoachJQ: What a program, What a team, what a group of coaches to work with. What a blessing it is 2 be a Florida State Seminole! #Calif…
28 minutes ago

Noles247

Noles247.com


Great work by @travreg @BobFerrante and @Osceola_Tim in Charlotte today.
33 minutes ago

Noles247

Noles247.com


Just one thing left to do. Go win the whole damn thing. http://t.co/zgHL5UpcoO http://t.co/btc5w8vCRh
37 minutes ago

Noles247

Noles247.com


Things are looking up in Seminole Country. More photos here: http://t.co/zgHL5UpcoO http://t.co/pecefHa3DE
38 minutes ago

Noles247

Noles247.com


RT @travreg: Video: ACC Championship Post Game with Fisher, Joyner, Smith, and Winston http://t.co/ns7JAJniMY via @247Sports
47 minutes ago

Noles247

Noles247.com


RT @travreg: Photo Gallery: ACC Title Game http://t.co/9gJN99fnWl via @247Sports #FSU
48 minutes ago

Noles247

Noles247.com


RT @TimBrewster: Damn it's good to be home in Tally ACC Champions and on the way to Pasadena to play for a National Championship!! #NoleNat…
53 minutes ago

TimBrewster

Tim Brewster


Damn it's good to be home in Tally ACC Champions and on the way to Pasadena to play for a National Championship!! #NoleNation
about an hour ago

Noles247

Noles247.com


Quotebook: Jimbo Fisher and #FSU players talk ACC Championship http://t.co/HZ5eIjYWna via @Noles247
about an hour ago

Noles247

Noles247.com


RT @TJL_247: RB Devonta Freeman: 943 rushing yardsWR Rashad Greene: 981 rec ydsWR Kelvin Benjamin: 957 rec ydsWR Kenny Shaw: 929 rec yds
about an hour ago

fsufball

FSU Football


Post-game PC: Fisher, Joyner, T. Smith & Winston - Florida State (Rivals): Post game PC: FSU head coach Jimbo ... http://t.co/TXfrijqo6v
about an hour ago

Seminoles_com

Seminoles.com


RT @Seminoles_Video: HIghlights from @FSU_Football's #ACC Championship Game win against Duke. http://t.co/BXFfkSWKdD #PasadenaBound #BCS #N…
about an hour ago

TomahawkNation

TomahawkNation.com


RT @osfsu: FSU RB Devonta Freeman: 943 rushing yardsWR Rashad Greene: 981 rec ydsWR Kelvin Benjamin: 957 rec ydsWR Kenny Shaw: 929 rec …
about an hour ago

Warchant

Warchant.com


Story from @BrandonWarchant #FSU's Karlos Williams really, really likes the ACCCG. http://t.co/INhvXQy01r #Noles
about an hour ago

Noles247

Noles247.com


Complete Stats: Florida State-Duke http://t.co/YmHZ0xzYm2 via @Noles247
about an hour ago

Noles247

Noles247.com


Winston provides an encore http://t.co/hPSkb4cxEB via @Noles247
about an hour ago

Noles247

Noles247.com


2-4-7: Florida State 45, Duke 7 http://t.co/7DapkrHZXr via @Noles247
about an hour ago

Noles247

Noles247.com


#Noles will play for national title after 45-7 rout of Duke http://t.co/yh9KjAPhfH via @Noles247
about an hour ago

ESPN_ACC

ESPN ACC


Video: WR Kenny Shaw http://t.co/YZRKpj27i1
about an hour ago

ESPNFSU

ESPN Florida State


Video: WR Kenny Shaw http://t.co/dtF2Hbvy6s
about an hour ago

TomahawkNation

TomahawkNation.com


RT @PatrikNohe_MH: #FSU played in the very first BCS Title Game. They will also play in the very last one. In between the program has falle…
about an hour ago

Warchant

Warchant.com


Over 50 photos from #FSU's win over Duke including action shots from the game and post-game celebration. http://t.co/1Ugx3E3WZj
about an hour ago

TomahawkNation

TomahawkNation.com


What a match up. FSU's awesome O and D v. Auburn's awesome offense and, well, hmm, Auburn does have defensive players?
about an hour ago

ESPN_ACC

ESPN ACC


Florida State finally gets championship shot http://t.co/tF6DB7ZCxu
about an hour ago

ESPNFSU

ESPN Florida State


Florida State finally gets championship shot http://t.co/XDZk7MHwRo
about an hour ago

TomahawkNation

TomahawkNation.com


RT @osfsu: Auburn allowed 231 rushing yards and 303 passing wards against Missouri, so it's possible.
about an hour ago

TomahawkNation

TomahawkNation.com


RT @osfsu: All 3 could surpass 1,000 yards vs. Auburn. Per @Powell_Warchant's #statbombs, only one team has had 3 1000-yd WRs and 1 1000-yd…
about an hour ago

fsufball

FSU Football


(b/r) Florida State Cements Status as the ONLY Dominant Team in College Football: In winning the ACC Champions... http://t.co/DcF8DS37GN
about an hour ago

TomahawkNation

TomahawkNation.com


RT @InTheBleachers: To all my CFB writers, aside from Army-Navy, we did it. Sunday it's kind of official, but crack a beer & celebrate toni…
about 2 hours ago

TomahawkNation

TomahawkNation.com


RT @Eligwe52: This is why I came here. Simple as that. #FSU
about 2 hours ago

TomahawkNation

TomahawkNation.com


RT @canfish16: So proud to know and be family with this! We love you @Jaboowins http://t.co/ONHbzIKErR
about 2 hours ago

DavidHaleESPN

David Hale


RT @canfish16: So proud to know and be family with this! We love you @Jaboowins http://t.co/9cnohJ0xM8
about 2 hours ago

Warchant

Warchant.com


RT @canfish16: So proud to know and be family with this! We love you @Jaboowins http://t.co/J9Vh128Ik8
about 2 hours ago

ESPN_ACC

ESPN ACC


Winston basks in ACC championship http://t.co/eaTgNQWwv5
about 2 hours ago

ESPNFSU

ESPN Florida State


Winston basks in ACC championship http://t.co/brVS0N8QpN
about 2 hours ago

TomahawkNation

TomahawkNation.com


FSU put some new stuff out there on offense tonight. Wonder if that was to make the opponent prepare for it.
about 2 hours ago

TomahawkNation

TomahawkNation.com


RT @smartfootball: @ralphDrussoAP 21 of 22 starters for FSU are locks to be drafted, and the only other is a sophomore on D who probably wi…
about 2 hours ago

TomahawkNation

TomahawkNation.com


RT @TimBrewster: Don't need no sleep, can't wait to get out and get some Noles!!! #Natty #NoleNation
about 2 hours ago

TomahawkNation

TomahawkNation.com


After the game, @GioFSUboi walked around with the sign. https://t.co/hjDRpCWtj6
about 2 hours ago

Noles247

Noles247.com


RT @_TomBlock: Shout out to the @FSUChiefs playing a Prism concert last night in TLH, driving overnight, and being awesome again. #MCATDT
about 2 hours ago

TimBrewster

Tim Brewster


Don't need no sleep, can't wait to get out and get some Noles!!! #Natty #NoleNation
about 2 hours ago

TomahawkNation

TomahawkNation.com


FSU's ballboy has a parody account. That's how this team is.
about 2 hours ago

TomahawkNation

TomahawkNation.com


RT @Corey_Clark: Winston on facing an SEC team in title game: "we respect all of our opponents. ... We fear no one."
about 2 hours ago

TomahawkNation

TomahawkNation.com


RT @jmnpb: JOYNER: In my honest opinion I feel like it's not the ACC conference versus the SEC conference. It's Florida State versus Auburn.
about 2 hours ago

TomahawkNation

TomahawkNation.com


Y'all probably need to go on and follow @CollegeAndMag now
about 2 hours ago

fsufball

FSU Football


Winston leads No. 1 FSU over No. 20 Duke 45-7 (The Associated Press): Jameis Winston and No. 1 Florida State m... http://t.co/RX7QyuVcSU
about 2 hours ago

fsufball

FSU Football


FSU rolls, OSU upset , Auburn heads to title game (The Associated Press): No. 1 Florida State romped and No. 2... http://t.co/MmbEYtENwE
about 2 hours ago

TomahawkNation

TomahawkNation.com


RT @Powell_Warchant: Nice little statistic: Before Karlos Williams trucked a dude for a touchdown, FSU averaged 6.9 ypp. Afterwards, 8.0 yp…
about 2 hours ago

TomahawkNation

TomahawkNation.com


RT @CollinsDrew: @TomahawkNation - as a representative of Bulldog Nation, you have our support 100%
about 2 hours ago

Warchant

Warchant.com


Nice little statistic: Before Karlos Williams trucked a dude for a touchdown, FSU averaged 6.9 ypp. Afterwards, 8.0 ypp. #FSU #Noles
about 2 hours ago

TomahawkNation

TomahawkNation.com


RT @TheOneBarrelRum: @TomahawkNation Man...I dunno, the GO SEC section of those fan bases...
about 2 hours ago

TomahawkNation

TomahawkNation.com


I'm guessing Georgia, Alabama and LSU fans are pretty big #Noles fans come January 6.
about 2 hours ago

TomahawkNation

TomahawkNation.com


FSU beat its four ranked opponents (ranked before Florida State drilled them) by a combined score of 200-35. #Noles
about 2 hours ago

Warchant

Warchant.com


Full #FSU post-game PC with Jimbo Fisher, Telvin Smith, Lamarcus Joyner & Jameis Winston on ACC title. (video) http://t.co/88xQFkI41p
about 2 hours ago

TomahawkNation

TomahawkNation.com


Jimbo Fisher and Jameis Winston on Florida State's ACC Championship and Auburn #Noles http://t.co/YmYxl754lS
about 2 hours ago

DavidHaleESPN

David Hale


RT @_TomBlock: And last of the photos, an FSU legend. And Jameis Winston. #Noles #RedLightning http://t.co/tEH8haj7lB
about 3 hours ago

DavidHaleESPN

David Hale


RT @cblunt58: oh my http://t.co/XBiP4gAJAX
about 3 hours ago

Warchant

Warchant.com


Some pretty solid Recruit Reactions on #FSU winning the ACC Title & playing for a National Title http://t.co/FtB2dVwsA0 ($)
about 3 hours ago

TomahawkNation

TomahawkNation.com


So ESPN cut out the question on the re-air? Makes me wonder if her producer told her to ask it or if she went with it by herself.
about 3 hours ago

TomahawkNation

TomahawkNation.com


Watch ESPN's reporter try to play gotcha with Jameis Winston: http://t.co/3c7h4f2Q6q
about 3 hours ago

fsufball

FSU Football


(b/r) Jameis Winston's Updated 2013 Heisman Outlook After Win over Duke: With a dominant victory over Duke, Ja... http://t.co/e76nfSJXfu
about 3 hours ago

_DCReeves

D.C. Reeves


ESPN replayed the Heather Cox/Jameis Winston interview, but cut it one question short of Winston walking off.
about 3 hours ago

TomahawkNation

TomahawkNation.com


RT @johnreporters: Congrats to Florida State c u in Pasadena and Jameis Winston c u in NYC both first class!! #Heisman #ACCChampionship
about 3 hours ago

TomahawkNation

TomahawkNation.com


Very important: when arguing with Auburn fans, remember that they really and truly believe they are God's team of destiny.
about 3 hours ago

TimBrewster

Tim Brewster


"@jimmynpalmer: @TimBrewster Congrats on the win from The Sip! HAILSTATE!" Thx Buddy!!
about 3 hours ago

_DCReeves

D.C. Reeves


Just heard a @tommydeas sound bite on that Gary Pinkel question on SportsCenter
about 3 hours ago

TomahawkNation

TomahawkNation.com


Also, Duke fans really did not show up. Maybe Cutcliffe was mad about that? Who knows.
about 3 hours ago

_DCReeves

D.C. Reeves


Just heard a @tommydeas sound byte on that Gary Pinkel question on SportsCenter
about 3 hours ago

TomahawkNation

TomahawkNation.com


RT @IngramSmith: the state of Alabama has been in the last 5 & a school from Florida will have appeared in half of all the BCS games. fitti…
about 3 hours ago

Warchant

Warchant.com


#FSU Box Score and full defensive stats ($): http://t.co/ov3gChV7eS
about 3 hours ago

TomahawkNation

TomahawkNation.com


Man, Cutcliffe. Did he not expect his team to get whipped? He has the same film everyone else does. Why act that way after the game?
about 3 hours ago

ESPN_ACC

ESPN ACC


Video: FSU, Auburn on collision course http://t.co/xKIiF5evn7
about 3 hours ago

Warchant

Warchant.com


Vote for your #FSU http://t.co/woFu0gAB4X game MVP on http://t.co/wBSINVRMn0 ($): http://t.co/kbVEwOFzeE
about 3 hours ago

ESPN_ACC

ESPN ACC


Video: BCS bowl projections http://t.co/xQ05T5c0s6
about 3 hours ago

_DCReeves

D.C. Reeves


RT @BCSKnowHow: Final projected #BCS standings: 1. Florida St. 2. Auburn 3. Alabama 4. Stanford 5. Michigan St.: http://t.co/LmGHZjRhHD
about 3 hours ago

TomahawkNation

TomahawkNation.com


RT @idontwan2know: FSU ain't playing the SEC, they're playing Auburn. And Auburn ain't playing the ACC, they're playing FSU.
about 3 hours ago

ESPN_ACC

ESPN ACC


Video: FSU rolls Duke in ACC title game http://t.co/WG39esGRQ6
about 3 hours ago

DavidHaleESPN

David Hale


RT @IGotHART: PASADENA!
about 3 hours ago

DavidHaleESPN

David Hale


Jimbo chatting up Nick O'Leary's grandpa... http://t.co/L4KVotjeh4
about 3 hours ago

TomahawkNation

TomahawkNation.com


RT @jmnpb: Noles D ain't Mizzou D RT @KegsnEggs: Over/under of 63.5 posted at LVH for FSU-Auburn. That's low, pretty interesting.
about 3 hours ago

_DCReeves

D.C. Reeves


Over/Under 63.5 for title game … OVER RT @DannySheridan1: LVH posted FSU -7 & total 63 1/2.
about 3 hours ago

TomahawkNation

TomahawkNation.com


National Championship Odds RT @RizzWrites: FSU went from -7 to -10 in four minutes.
about 3 hours ago

TomahawkNation

TomahawkNation.com


RT @PatrikNohe_MH: Telvin Smith just said FSU didn't come in this season with a vendetta, "it was a reckoning."
about 3 hours ago

TomahawkNation

TomahawkNation.com


RT @RagjUF: I cannot wait for a month of @TomahawkNation breaking this NCG down. Bud finally gets to talk some ball after 3 weeks of anythi…
about 4 hours ago

theACC

The ACC


Be the first person on your block with @FSU_Football Championship gear! http://t.co/tlT9eZ7R3v #ACCFCG
about 4 hours ago

_DCReeves

D.C. Reeves


Wow, there's actually a local sports guy I'm watching who is saying that Auburn may lose votes to … Alabama. Really?
about 4 hours ago

fsufball

FSU Football


(fsu) No. 1 'Noles Capture ACC Crown in 45-7 Duke Defeat: Florida State moves to 13-0 as the Seminoles retain ... http://t.co/Q4O0c8LNk4
about 4 hours ago

_DCReeves

D.C. Reeves


RT @AUAthletics: The scene at Toomer's Corner #WarEagle http://t.co/Jjz8u980TQ
about 4 hours ago

_DCReeves

D.C. Reeves


RT @RJinVegas: Alabama would still be favored vs. ANY team in the country! Florida State would be closest: http://t.co/6IJswZwzmZ
about 4 hours ago

_DCReeves

D.C. Reeves


I have set the over-under on the Stanford-Michigan State Rose Bowl at 3.5.
about 4 hours ago

Noles247

Noles247.com


RT @Osceola_Tim: Telvin Smith on this season: "It's a reckoning ... We put it back where it's supposed to be."
about 4 hours ago

Noles247

Noles247.com


RT @Osceola_Tim: RT @BobFerrante: FSU is the only unbeaten team in the FBS in 2013.
about 4 hours ago

Noles247

Noles247.com


RT @jtheus71: Everyone's gonna hate me for this but come nat'l championship game it's #GoNoles
about 4 hours ago

_DCReeves

D.C. Reeves


RT @RJinVegas: Opening Line: Florida State favored by 7 over Auburn (via @LVSuperbook)
about 4 hours ago

_DCReeves

D.C. Reeves


Updated the BCS situation for Alabama after Saturday's action: http://t.co/rXIuuiemLA #Alabama #Oklahoma
about 4 hours ago

Noles247

Noles247.com


RT @Osceola_Tim: Fisher on potential BCSCG opponent: "I didn't care who it was. I'm just glad Florida State's there."
about 4 hours ago

DavidHaleESPN

David Hale


In post-game presser, Jimbo asks Lamarcus Joyner if he needs a booster seat. Joyner reminds Jimbo he's only an inch taller.
about 4 hours ago

TomahawkNation

TomahawkNation.com


RT @osfsu: FSU AD Stan Wilcox confirms Jimbo Fisher contract extenson. Says in process of finalizing it.
about 4 hours ago

Noles247

Noles247.com


RT @KShaw81: PASADENAAAAAA
about 4 hours ago
BLOG ARCHIVE:
CATEGORIES: