Marquez White brings family to FSU
August, 17, 2012
8/17/12
11:22
AM ET
Marquez White
(Dothan, Ala./Northview) will bring his parents down to Tallahassee, Fla. to see Florida State for the first time this weekend.
[+] Enlarge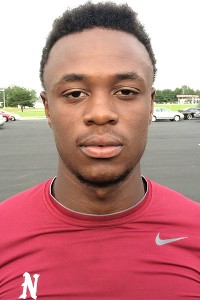 Greg Ostendorf/ESPN.comCornerback Marquez White, an FSU commit, has three cousins who played at Alabama.
The Seminoles cornerback commitment has been there plenty of times before and knows all about the program and the school. Now he wants his folks to see it, too.
"My parents haven't been yet," he said. "I want them to go down there and see the same thing that I see in the school."
To continue reading this article you must be an Insider
Insider
Florida St. Hosts 2015 Targets vs. Clemson
National recruiting reporter Gerry Hamilton discusses ESPN 300 recruits who plan to take in Florida State's game Saturday against Clemson.
Florida St. Hosts 2015 Targets vs. Clemson
VIDEO PLAYLIST
FSU FB RECRUITING SCORECARD
Noles247

Noles247.com


Antone Smith just turned in a 38-yard touchdown run.
4 minutes ago

JasonKirkSBN

Jason Kirk


K-State leaves 19 points on the board, Auburn fails to cover, and the SEC West is 17-0 vs. everyone else http://t.co/6Ztowu9ECD
7 minutes ago

Warchant

Warchant.com


"@Path2Greatwork: My Top 5 (no particular order) http://t.co/wNhRe8rDnb" Rivals250 DT Neville Gallimore. #FSU
11 minutes ago

Noles247

Noles247.com


#FSU makes top five for top DL target http://t.co/maODlZ0YCz via @Noles247
11 minutes ago

TomahawkNation

TomahawkNation.com


Both Gus and Jimbo called the deep shot late in games (Oklahoma State, Kansas State) when many thought they'd hand off or play it safe.
12 minutes ago

Noles247

Noles247.com


Major DB target expected at #FSU-Clemson per @joshnewberg247 http://t.co/fzy4zC8Rze via @Noles247
12 minutes ago

TomahawkNation

TomahawkNation.com


Holding?
13 minutes ago

Path2Greatwork

Neville G


My Top 5 (no particular order) http://t.co/Rp0Hy5GlQu
16 minutes ago

MichaelWarchant

Michael Langston


Hard for any NFL team to make me feel good about my Cowboys. However, the Bucs are making a strong argument.
16 minutes ago

ColeyHarvey

Coley Harvey


"A comedy of errors." About the only way to describe this one for the Bucs tonight. Mercy.
18 minutes ago

GregDresher

GregDresher


@AnquanBoldin Wearing this bad boy to work tomorrow! #Q81 #AcrossTheMiddle http://t.co/TnQak5ejkS
20 minutes ago

mantecamike723

mikey b


@AnquanBoldin me and the wifey are ready to represent the cause as well as the beast #81! http://t.co/LPCHH0d7x7
20 minutes ago

MichaelWarchant

Michael Langston


Whoever is beeping in these plays to have them reviewed should find a new job. The plays aren't close to being over turned.
20 minutes ago

JamesCrepea

James Crepea


Kansas State touchdown. Hold all tickets.
22 minutes ago

Warchant

Warchant.com


Sean Maguire is excited, confident for first start as FSU's QB. (Free story & video) https://t.co/L71yFzFufT http://t.co/26yNj0VYp7
25 minutes ago

TomahawkNation

TomahawkNation.com


So Auburn's luck is more powerful than Bill Snyder's wizardry. God's Tigers. #Blessed.
44 minutes ago

Noles247

Noles247.com


Video: Sean Maguire ready to start http://t.co/iflKUnCJ2n via @Noles247
46 minutes ago

nole4life99

Maxi


Classic Chris Rix
46 minutes ago

TomahawkNation

TomahawkNation.com


By the way, in case I need it Saturday, I'm calling dibs on using the "Jameis comes on as the closer just like in baseball" storyline.
49 minutes ago

MattGelb

Matt Gelb


Loved this @jensenoffcampus column about @FanSince09 and @EvanMathis69: http://t.co/DfdbC7jdpv
51 minutes ago

TYC033

Tyrone Coats


@AnquanBoldin Got my Tee. AB get some in AZ. http://t.co/XaBcfPbo3w
about an hour ago

saintwarrick

Jeff


| ̄ ̄ ̄ ̄ ̄ ̄ || emawgency |I || ______| (\__/) || (•ㅅ•) || /   づ
about an hour ago

DavidHaleESPN

David Hale


Since last year's Iron Bowl, only 4 FBS games w/3+ missed field goals. Auburn's been a part of two of them.
about an hour ago

celebrityhottub

Ryan Nanni


There is something delightfully defensive about Big 12 folks saying "IF THE SEC'S SO GOOD HOW COME YOU'RE NOT WINNING BY MORE"
about an hour ago

DavidHaleESPN

David Hale


Since start of last season, P5 teams w/3+ FGA without a make:Bama vs. AubVT vs. MarshallKState vs. Aub so far tonight.
about an hour ago

TomahawkNation

TomahawkNation.com


KSU is done. #Blessed
about an hour ago

TomahawkNation

TomahawkNation.com


God's tigers
about an hour ago

TomahawkNation

TomahawkNation.com


I'd go for this. Still think you need 28 to beat Auburn here.
about an hour ago

TomahawkNation

TomahawkNation.com


If RG doesn't trip KSU probably pops that for a score.
about an hour ago

TomahawkNation

TomahawkNation.com


Kansas State definitely is smart with its holding technique. Grab but keep hands inside.
about an hour ago

LJSLaw

Jimmy Stein


Jake Waters is Bo Wallace with a haircut in a vanilla offense. I mean that as a compliment and as a caution.
about an hour ago

Noles247

Noles247.com


Video: Jimbo Fisher talks Jameis Winston, Sean Maguire, and Thursday's practice http://t.co/1OWe0JgPMM via @Noles247
about an hour ago

YahooDrSaturday

Dr. Saturday


Nick Marshall is learning that throwing a deep ball as poorly as the he did on the Prayer at Jordan-Hare doesn't work 99% of the time.
about an hour ago

JasonKirkSBN

Jason Kirk


Due to lack of Georgians to bat the ball around, Auburn's missed three deep balls
about an hour ago

GBHunting

Good Bull Hunting


If we repost the "Mark May is a hypocrite" story and replace Manziel with Winston, will #FSUTwitter make us famous? http://t.co/PQJib0gkBE
about an hour ago

Noles247

Noles247.com


Devin Hester with a nice little tip of the cap to PrimeTime.
about an hour ago

TheBobbyBowden

Bobby Bowden


I believe the wisest and most content people are those who have discovered the virtue of simplicity. #TheWisdomOfFaith
about an hour ago

TomahawkNation

TomahawkNation.com


Hester doing the Deion Sanders move. Awesome.
about an hour ago

Noles247

Noles247.com


LIVE: FSU targets under the lights - Some Thursday night action http://t.co/83kgPsrWvt via @Noles247
about an hour ago

TomahawkNation

TomahawkNation.com


Sort of what I thought Auburn would be. Run game not as consistent, passing game potentially much more explosive.
about an hour ago

JasonKirkSBN

Jason Kirk


Yes, we isolated the best moment from the Big 12 coachmorph commercial in one GIF http://t.co/oCTUSpoG3i http://t.co/HfE7FIW59T
about an hour ago

TomahawkNation

TomahawkNation.com


Bill Snyder is so #FSUTwitter
about an hour ago

saintwarrick

Jeff


Meow Meow Meow Meow, Meow Meow Meow Meow, Meow Meow Meow Meow Meow Meow Meow Meow http://t.co/WWRljPrfgr
about an hour ago

TomahawkNation

TomahawkNation.com


Oh? Auburn stealing signals? You don't say.
about an hour ago

JasonKirkSBN

Jason Kirk


@TomahawkNation ok http://t.co/oCTUSpoG3i
about an hour ago

joshdarrow

Josh Darrow


Calvin Brewton did add he's also planning an OV to Notre Dame weekend of Oct 4th @SFHSSports @Calvin_Brewton
about an hour ago

TomahawkNation

TomahawkNation.com


OMG big XII commercial that morphs Kingsbury into Weis. Someone .Gif that
about an hour ago

joshdarrow

Josh Darrow


Spoke to '15 Miami Central DB Calvin Brewton after Columbus game. Said he's 100% FSU and will be in Tally for the Clemson game @SFHSSports
about an hour ago

DeionSanders

DeionSanders


Tampa Bay please leave at Halftime this is ridiculous. 28-0 over 12min left in 2nd quarter. http://t.co/1k2ElMowdJ
about an hour ago

DavidHaleESPN

David Hale


And yet people say they schedule too many cupcakes in college football... http://t.co/1arlBfFKoI
about an hour ago

YahooDrSaturday

Dr. Saturday


Eagerly awaiting Dabo Swinney's music video http://t.co/XZdtWA4rws
about an hour ago

DeionSanders

DeionSanders


.@DeiondraSanders and Daddy! #falcons #Truth http://t.co/NBRXICXQ9D
about an hour ago

LonelyTailgater

Lonely Tailgater


Dabo Swinney was seriously dressed like a narc trying to infiltrate a drug ring run by 20 year old chill bros.
about an hour ago

Aaron_Brenner

Aaron Brenner


ESPN's Mark May is picking Clemson to beat Florida State. Brian Griese picks FSU, and would have if Jameis Winston didn't play at all.
about an hour ago

TomahawkNation

TomahawkNation.com


15:07 elapsed for Tampa Bay, and down by 28 points.
about an hour ago

ESPN_ACC

ESPN ACC


Fisher brushes off Winston criticism http://t.co/ZcnXXHlh5K
about an hour ago

ralphDrussoAP

Ralph D. Russo


May: 'run the ball in.' Dude, he hit the best receiver on the team in the chest on the pick.
about an hour ago

Warchant

Warchant.com


Video: Fisher talks about Winston's suspension, Maguire's start & more about #FSU-Clemson https://t.co/NesGlU9BXC http://t.co/u3AAcgY9Ol
about an hour ago

TomahawkNation

TomahawkNation.com


Tampa Bay Bucs really could be in a good position to draft Jameis
about an hour ago

Noles247

Noles247.com


#FSU Soccer defeats UConn in comeback fashion http://t.co/wi4b2C9U6k via @Noles247
about 2 hours ago

thekeyplay

THE KEY PLAY


AND BILL SNYDER HEADS TO BED WITH A 7-3 LEAD.
about 2 hours ago

Noles247

Noles247.com


Sean Maguire's Parents Won't Be at Saturday's Game http://t.co/7dgPjtwC8m via @Noles247
about 2 hours ago

TimBrewster

Tim Brewster


#Doak is going to be on FIRE!!
about 2 hours ago

TimBrewster

Tim Brewster


#Doak is going to be on FIRE!!
about 2 hours ago

FSU_Soccer

FSU Soccer


GOALLLLLLL!!!! Grubka with a header while she is laying on the ground. Free kick pays off. #Noles take a 3-2 lead!!!!
about 2 hours ago

ColeyHarvey

Coley Harvey


RT @Lorenzo_G_Reyes: Ryan had 3 INTs RT @brentsobleski: Falcons O really good. A testament to Bengals and what their D did this past wknd
about 2 hours ago

Noles247

Noles247.com


Jimbo's talk with Jameis http://t.co/HM63o9OZS9 via @Noles247
about 2 hours ago

DeionSanders

DeionSanders


Much Love. http://t.co/FIhzIZTQ7z
about 2 hours ago

NolesTV

NolesTV


@FSU_Football's Sean Maguire believes he is ready for his first career start. http://t.co/hxzXmVPTU1 #Noles
about 2 hours ago

DeionSanders

DeionSanders


I Love this dude to Life! Jesse Solomon! #Truth http://t.co/lAp96Gz0CZ
about 2 hours ago

DeionSanders

DeionSanders


1 of my hero's Jesse Solomon. He took care of me at Fla. State and I returned the favor with the Falcons. #Truth http://t.co/eWPxzOm8aU
about 2 hours ago

theACCfootball

ACC Football


Play as @ClemsonFB or @FSU_Football in rivalry mode of #ACCFootball Challenge! Download: http://t.co/yqE612NSwJ http://t.co/2xs6JXgcmf
about 2 hours ago

FSU_Football

FSU Football


WATCH: Quarterback Sean Maguire meets with the media following Thursday's practice. http://t.co/7ScjyN0Z7h #Noles
about 2 hours ago

DeionSanders

DeionSanders


That's my Bossy on the right! Miss u baby. Proud of you. Love you. #Truth http://t.co/V8z2QdJJJo
about 2 hours ago

TomahawkNation

TomahawkNation.com


God's Tigers
about 2 hours ago

joshdarrow

Josh Darrow


Jerrod Thomas finds D'Vonte Phillips for a 23 yd TD. Phillips goes up to get it!!!! Central 35 Columbus 0 @SFHSSports @duckedoff_v5
about 2 hours ago

colecubelic

Cole Cubelic


Left Guard doesn't get off double team to LB that makes play in backfield on zone read. Play calls are fine. Execution up front lacking.
about 2 hours ago

Noles247

Noles247.com


Sean Maguire met with the media post-practice. Here are the highlights http://t.co/jeyZt1QtpD via @Noles247
about 3 hours ago

TomahawkNation

TomahawkNation.com


If Auburn's run game isn't working (I'm sure it will at some point) maybe try Johnson.
about 3 hours ago

edsbs

Spencer Hall


Auburn's football god remains an awesome, weird, probably bankrupt and fleeing tax fraud charges kind of god
about 3 hours ago

TJ_Pittinger

TJ Pittinger


@TomahawkNation I think you accidentally tweeted this twice... oh wait, about Auburn. Yeah, I expect it one more time tonight at least.
about 3 hours ago

TomahawkNation

TomahawkNation.com


God's Tigers.
about 3 hours ago

SBNationCFB

SB?Nation CFB


A few things K-State will use to try and upset Auburn tonight, by @Ian_A_Boyd: http://t.co/xFEyixRqK3 http://t.co/HXaHekGaTu
about 3 hours ago

theACCfootball

ACC Football


Campus Insider's Rich Cirminiello takes a look ahead to Saturday: http://t.co/bMFNZ5RAcb
about 3 hours ago

38Godfrey

Steven Godfrey


Multiple subtexts of trolling here. Scholars, record this. RT @celebrityhottub I think Auburn needs to give the ball to Todd Gurley.
about 3 hours ago

TomahawkNation

TomahawkNation.com


God's Tigers
about 3 hours ago

Warchant

Warchant.com


Updated practice notes with comments from Jimbo Fisher: https://t.co/R9DPKN0GWO ($) Injuries, talk about Maguire, suspension, more.
about 3 hours ago

TomahawkNation

TomahawkNation.com


Curious to see if THIS Kansas State team is any good or if just living off recent program rep under Snyder.
about 3 hours ago

saintwarrick

Jeff


LOL! RT @Natalie_Pierre: FSU QB Sean Maguire's parents gave away their tickets to the Clemson game because they didn't think he would play.
about 3 hours ago

primediscussion

Adam T.


Mark May arrests = 3. Jameis Winston arrests = 0. Just for the record.
about 3 hours ago

Not1Day

Smithm01


@TomahawkNation I thought you were joking! Until I heard him and it pissed me off to listen! And nothing yet from Disney?!?!?
about 3 hours ago

FSU_Football

FSU Football


VIDEO: Florida State head coach Jimbo Fisher meets with the media following Thursday's practice. http://t.co/DrkHLZfj5t #Noles
about 3 hours ago

Noles247

Noles247.com


Thursday Practice Update (7 p.m. update) - http://t.co/rrLAsyaO6t
about 3 hours ago

Noles247

Noles247.com


Eligwe, Shanks out for Clemson - http://t.co/JPykGVJE7W
about 3 hours ago

Robbyrut

Robert Rutledge


@biggiep728 @TomahawkNation Listening to it now. It's incredibly racist and unprofessional.
about 3 hours ago

billhobsonIII

billy hobson


@TomahawkNation I never thought id hear an espn analyst play a sentence and scream out "listen to this moron's speech! he cant talk!" insane
about 3 hours ago

_TomLang

Tom Lang


@TomahawkNation Wow. That's not going to go over well up there
about 3 hours ago

Warchant

Warchant.com


Fisher (2/2): "We went with the consequences and we're ready to move on."
about 3 hours ago

Warchant

Warchant.com


Fisher asked if half game suspension is too light: "We're in charge. It's our team. That's what we thought. (1/2)..."
about 3 hours ago

Warchant

Warchant.com


Jimbo says this is Winston's first football discipline for off-field matter. "First time he's done something wrong during football season."
about 3 hours ago
BLOG ARCHIVE:
CATEGORIES: