Best ACC recruiters
October, 15, 2013
10/15/13
8:00
PM ET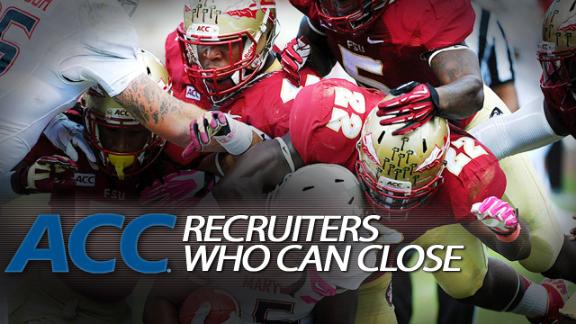 Editor's note: For a look at the national recruiter power rankings based only on Class of 2014 success,
click here
.
The best head coaches are often called the closer when it comes to sealing the deal with recruits. Whether on a visit or a trip to a prospect's home, the head coach is called upon to secure the signature.
To continue reading this article you must be an Insider
Insider
'CFL' Extra: Picks Of The Week
Brian Griese and Robert Smith make their picks for the biggest games of Week 4 between Clemson-Florida State, Mississippi State-LSU and Miami-Nebraska.
'CFL' Extra: Picks Of The Week
VIDEO PLAYLIST
FSU FB RECRUITING SCORECARD
NoSleepCapital

No Sleep Capital


Mehenti calls Winston (20 year old) "dumb, inarticulate, a moron, a criminal". @espn you're setting a great standard. Disney would be proud.
3 minutes ago

TN_Hoops

Michael Rogner


A guy who may want to polish his resume RT @Andrew_Melnick: who the hell Zubin Mehenti?
7 minutes ago

FSU_Football

FSU Football


#TBT to the Puntrooskie! LeRoy Butler's 78 yd run on a fake punt led the #Noles to a 24-21 win over Clemson in 1988. http://t.co/SwVVNEEgST
9 minutes ago

theACCfootball

ACC Football


The five victories over Top 10 nonconference opponents the last two seasons are as many as every other league combined.
9 minutes ago

TomahawkNation

TomahawkNation.com


Yeah, the "inarticulate" comment about Jameis Winston, and mockling his speech, some might take that as racist, ESPN http://t.co/rjAI3WtVxf
10 minutes ago

TomahawkNation

TomahawkNation.com


ESPN's Zubin Mehenti (Mocking Jimbo's accent) "if all Jimbo does is bail me out with that ridiculius twang" http://t.co/rjAI3WtVxf
12 minutes ago

ThisIsFlakes

Flakes


Yikes... RT @TomahawkNation: (Listen) ESPN analyst Zubin Mehenti goes way overboard on Jameis Winston http://t.co/P1bhHbdcuX
14 minutes ago

ColeyHarvey

Coley Harvey


Marvin Jones is inching closer to getting back on the field for #Bengals, but he isn't giving many details on return http://t.co/E4fpOw9KWM
16 minutes ago

DeionSanders

DeionSanders


"@AFC_Hope: @DeionSanders Yayyy thank you! So proud to rep for all my colored girls! #covergirl 😘" Proud of u sis!! I've never seen this b4
17 minutes ago

TomahawkNation

TomahawkNation.com


(Listen) ESPN analyst Zubin Mehenti goes way overboard on Jameis Winston http://t.co/hUPgJa3jmT
17 minutes ago

AFC_Hope

AFC_Hope


@DeionSanders Yayyy thank you! So proud to rep for all my colored girls! #covergirl 😘
18 minutes ago

ComptonKnows

Ben Carlson


@TomahawkNation No wonder I didn't know who Zubin Mehenti was. That was horrible. Could he have taken any more personal shots?
26 minutes ago

DavidHaleESPN

David Hale


Lots of numbers to like for #Cuse and #NCState, but also a reminder that it's still early: http://t.co/bDVPRWLd69
31 minutes ago

laura_nelson

Laura J. Nelson


Ugh, this is awful. Thinking of all the talented folks at @TB_Times, one of the best papers in the country. http://t.co/v3F0nEgH97
35 minutes ago

DavidHaleESPN

David Hale


Most targets for #VaTech this year:1 Byrn2 Hodges (freshman)3 Malleck (doubtful)4 Ford (freshman)5 Stanford (out)
36 minutes ago

DavidHaleESPN

David Hale


#VaTech injury report:Malleck doubtfulMaddy probableMarshall not listed
41 minutes ago

TomahawkNation

TomahawkNation.com


.@IAmEricPete I actually think he was unprepared (note all the factual errors) and tried to cover for it with contrived emotion.
41 minutes ago

TomahawkNation

TomahawkNation.com


.@IAmEricPete part of me thinks it's because sports journos are looked down upon some by those covering more serious social issues
43 minutes ago

TomahawkNation

TomahawkNation.com


.@IAmEricPete like, my competitor wrote about how much he hates domestic violence, so I'll write that I hate domestic violence infinity +1
44 minutes ago

TomahawkNation

TomahawkNation.com


.@IAmEricPete there's this annoying thing where sports journalists try to outdo each other in showing outrage on social issues.
46 minutes ago

fsufball

FSU Football


Little-known QB to start for No. 1 Florida St (The Associated Press): TALLAHASSEE, Fla. (AP) -- Welcome Sean M... http://t.co/AVDpB2VX6B
about an hour ago

TomahawkNation

TomahawkNation.com


Florida State football practice report: 9/18 http://t.co/nloCx0Pkco
about an hour ago

TomahawkNation

TomahawkNation.com


He basically mocks his dialect. Surprised ESPN let this out.
about an hour ago

Warchant

Warchant.com


Practice notes from an abbreviated open portion at FSU today: https://t.co/krkluuUNvY ($) Only one injured player not dressed.
about an hour ago

TomahawkNation

TomahawkNation.com


Just listened to the Zubin Mehenti ESPN podcast on Jameis. Jesus, this is bad.
about an hour ago

KiaAutosport

Kia AutoSport


We have new koozies! Come see us tomorrow night at the @FSU_BlockParty and Saturday at the game to get yours! http://t.co/qu6GkixZhB
about an hour ago

DavidHaleESPN

David Hale


Cuse wins but Seth writes better game story. "@grittree: Any insight @DavidHaleESPN & @SethEmerson on 'Cuse v Maryland? I like MD +1."
about an hour ago

_TomLang

Tom Lang


Bomani: Applying 35-40 yr old sensibilities to kids trying to show manhood will never work. But Jameis has to know his world @JCameronShow
about an hour ago

TJL_247

Thomas Liscio


Helmets and facemasks have been adjusted @Noles247 http://t.co/T7OCRFQIdP
about an hour ago

Noles247

Noles247.com


#FSU Thursday Practice Update - http://t.co/g4bzLvR7o5
about an hour ago

bomani_jones

Bomani Jones


doing radio with my man @JCameronShow http://t.co/J1C6WM612J
about an hour ago

SBNationCFB

SB?Nation CFB


Here comes Baylor in the Playoff odds: http://t.co/zqVpivnv0h http://t.co/c3H5GvCiAv
about an hour ago

Warchant

Warchant.com


Also dressed: Ukeme Eligwe, Ryan Green, PJ Williams, Ronald Darby.
about an hour ago

Warchant

Warchant.com


Nile Lawrence-Stample, Eddie Goldman dressed at FSU practice. Only Justin Shanks seems to be missing still.
about an hour ago

theACC

The ACC


RT @theACCDN: .@JeffFischel has a run down of the 2014 ACC Legends class led by Derrick Brooks and Art Monk http://t.co/DsEtNp1H9E
about 2 hours ago

ACCVolleyball

ACC Volleyball


With @FSU_Volleyball ranked No. 6 & @UNCVolleyball No. 13, the two schools own best combined ranking for an ACC duo in history of AVCA poll
about 2 hours ago

FSU_Football

FSU Football


Get set for the #ClemvsFSU game. New #Noles Doak Insider Podcast is up on iTunes. Download and subscribe today. https://t.co/WW9iPDkhd1
about 2 hours ago

SBNationCFB

SB?Nation CFB


Steve Addazio's entire Vine account, ranked: http://t.co/2Vd5aCR0NI https://t.co/txByZxO1S0
about 2 hours ago

ESPN_ACC

ESPN ACC


By the numbers: Atlantic contenders? http://t.co/hEti2bJV8l
about 2 hours ago

EdEnoch

Ed Enoch


Physical Properties Committee up next. First on the agenda is proposal for baseball stadium increasing budget from $35M to $42.6M.
about 2 hours ago

FSU_Recruiting

Seminoles Recruiting


@CollegeGameDay is back in Tallahassee. #goNoles #FEARtheSPEAR #ESPN http://t.co/bceIaBLCaw
about 2 hours ago

TomahawkNation

TomahawkNation.com


Vegas has never wavered in having FSU, Oregon, Bama, Oklahoma in the playoff. Every week. http://t.co/vqAQzjxW9k http://t.co/1mRUgExtiU
about 2 hours ago

FSU_Recruiting

Seminoles Recruiting


Espn College Gameday is setting up in Tallahassee .....again ! #GoNoles https://t.co/sjPHkeLJ5W
about 2 hours ago

JohnKincade

John Kincade


The new @cfbhall in ATL is a must visit! http://t.co/SGP4cCdCoW
about 2 hours ago

ColeyHarvey

Coley Harvey


It sounded quite bleak on Tuesday for the team, but an influx of Wednesday and Thursday sales have staved off a potential blackout again
about 2 hours ago

ColeyHarvey

Coley Harvey


#Bengals announce for the second straight week they won't have to blackout this game. They reached the tickets sold threshold again.
about 2 hours ago

ColeyHarvey

Coley Harvey


#Bengals injury report: DNP: Boling, Burfict, Burkhead, Porter, Thompson, Zeitler. LIMITED: Dunlap, Green, Williams. FULL: Whitworth, Pollak
about 2 hours ago

Noles247

Noles247.com


#FSU basketball hosting a couple 2016 four-star guards http://t.co/AZvrDh8TOO via @Noles247
about 2 hours ago

Noles247

Noles247.com


Derrick Brooks is #FSU's 2014 ACC Legend. To be honored at ACC Championship. http://t.co/Pg1VVNhF2z via @Noles247
about 2 hours ago

nflnetwork

NFL Network


We need your help!Grab your phones and recreate these throwback pics.The BEST will air after tonight's game! #TBTNF http://t.co/YwBRlhsOJU
about 2 hours ago

DeionSanders

DeionSanders


#ThursdayNightFootball on @CBS @nflnetwork Shoe game Black Tod's patent leather loafers classy,comfy&Effective. TRUTH http://t.co/0Mg3Y4LOzS
about 2 hours ago

tyduffy

Tyler Duffy


Peyton Manning is Lucky Social Media Wasn't Around in 1996 When He Sat on a Female Trainer's Face http://t.co/tjXInV2pcm via @thebiglead
about 2 hours ago

Noles247

Noles247.com


'You can't do what normal people do' - Part of the advice Jimbo Fisher gave Jameis Winston http://t.co/HM63o9OZS9 via @Noles247
about 2 hours ago

DavidHaleESPN

David Hale


Better hope Tulane doesn't have Tecmo Bo RT @DopeStallion Duke is using 8bit scoreboard for throwback game Saturday! http://t.co/8BmL7chgv6"
about 2 hours ago

DeionSanders

DeionSanders


Who's house? http://t.co/liK600JOhi
about 2 hours ago

TomahawkNation

TomahawkNation.com


Florida State football podcast: Jameis, Clemson #Noles #FSU w/ @ingramsmith http://t.co/luUKvaGNDa
about 2 hours ago

Corey_Clark

Corey Clark/TDO.com


From 1987-2000, Florida State had more Top 5 finishes (14) than the entire SEC combined (13).
about 2 hours ago

Noles247

Noles247.com


2nd official visit finalized for Porter Gustin - http://t.co/qNPQxcpLSc
about 3 hours ago

Bill_Kurelic

Bill Kurelic


Neville Gallimore in the process of scheduling official visit to #OhioState (VIP) http://t.co/YiH6NYkFvv @CNee247 @LukeStampini @TomLoy247
about 3 hours ago

Seminoles_com

Seminoles.com


Seminole Fans--be in attendance at the Seminole Premiere on Oct. 20 at 7 pm at the Tucker Center. #noles #seminoles http://t.co/LsaYG49F24
about 3 hours ago

Warchant

Warchant.com


Just added two more #FSU hoops visitors for this weekend from the 2016 class. Full list for FSU/Clem here. http://t.co/RcY6a0pmcw ($)
about 3 hours ago

RussHoops

Russ Wood


2016 Chipley (FL) guard Trent Forrest (@TForrest_11) will take an unofficial visit to FSU Sat for the Clemson game http://t.co/9ohlPbM0OU
about 3 hours ago

ColeyHarvey

Coley Harvey


Black tops, white pants. Bengals beat Ravens in them Week 1, at 25-25 in 'em since 2004 RT @coach_strine @ColeyHarvey uniform combo Sunday?
about 3 hours ago

theACC

The ACC


2014 #ACCFootball Legends announced: http://t.co/SfP8NGQxkQ http://t.co/f0O9f2DhFt
about 3 hours ago

ColeyHarvey

Coley Harvey


Here's the story from earlier on A.J. Green's return to practice http://t.co/Twn7w6UzFy #Bengals
about 3 hours ago

ColeyHarvey

Coley Harvey


Marvin Lewis with a succinct comment on A.J. Green's day after practice just now: "He did fine." All you need to know, I suppose #Bengals
about 3 hours ago

theACCfootball

ACC Football


2014 #ACCFootball Legends will be announced at 3pm! This year's legends include 12 former All-Americans: http://t.co/IS9NUOdQyz
about 3 hours ago

DavidHaleESPN

David Hale


Deshaun Watson has been such a quick study at #Clemson that the QB debate is growing louder by the day: http://t.co/Prsob4qTjT
about 3 hours ago

DeionSanders

DeionSanders


When u finally realize that your own life ain't about you you will truly have Peace and be blessed. #TRUTH""
about 3 hours ago

Warchant

Warchant.com


Just added a Rivals100 LB to the #FSU/Clemson visitor list. Full list here. http://t.co/RcY6a0pmcw ($)
about 3 hours ago

Gracie_ESPN

Gracie Blackburn


Prepping for a Crimson Tide tailgate. #SECNation set going up in front of Moore Hall. Come by Sat 9-11am! #RTR #Bama http://t.co/kN957AzO7o
about 3 hours ago

DavidHaleESPN

David Hale


Deshaun Watson has been such a quick study at #Clemson that the QB debate is growing louder by the day: http://t.co/Prsob4qTjT
about 3 hours ago

AndrewJBone

Andrew Bone


#Alabama currently with 15 #Rivals100 members heading to Tuscaloosa this weekend. Likely adding more https://t.co/lsjuAP4G6t. @TideSports
about 3 hours ago

DavidHaleESPN

David Hale


His mother was a mudder. "@Beer_Professor: Picking UNC over ECU is like NOT betting on Papanick to win"
about 4 hours ago

Seminoles_com

Seminoles.com


Clemson Game Preview http://t.co/vR5bv743hy
about 4 hours ago

Seminoles_com

Seminoles.com


Jimbo Fisher Minute: 9-18 http://t.co/f5p4RLc0eL
about 4 hours ago

ESPN_ACC

ESPN ACC


With a tough stretch of games upcoming, it's now or never for North Carolina. http://t.co/egUDomdkIM http://t.co/FX0hmSdesN
about 4 hours ago

DavidHaleESPN

David Hale


Both extremities now in working order. "@aadelsonESPN: WR Stacy Coley not listed on injury report."
about 4 hours ago

DavidHaleESPN

David Hale


Not unique to Miami, but this is why there should be uniform NCAA injury reporting guidelines. http://t.co/f4VCRjLWwo
about 4 hours ago

Noles247

Noles247.com


A closer look at some of this weekend's visitors to #FSU http://t.co/rIDgauPQyy via @Noles247
about 4 hours ago

Noles247

Noles247.com


Erving vs. Beasley: Round 2 http://t.co/RnyE1iQQyx via @Noles247
about 4 hours ago

Noles247

Noles247.com


#FSU commits have games on Thursday, Friday and Saturday this week. Schedule: http://t.co/6gjXjV6HUy via @Noles247
about 4 hours ago

ColeyHarvey

Coley Harvey


Again, it's early. Maybe not enough time to call it a trend, but it certainly is moving in a direction that Hue Jackson hinted it would
about 4 hours ago

Noles247

Noles247.com


#Noles in the NFL - Week 3 Schedule http://t.co/pKCHLAFFQg via @Noles247
about 4 hours ago

ColeyHarvey

Coley Harvey


Andy's average # of dropbacks in 2013: 39.9 ... His average # of dropbacks in 2014? 31.5. #Bengals so far relying on others to take load
about 4 hours ago

AnquanBoldin

Anquan Boldin


#EbolaEmergency! Protect @Emergency_USA patients and staff in #SierraLeone from #Ebola http://t.co/kF6wbDfzTY
about 4 hours ago

ColeyHarvey

Coley Harvey


We took a look at Andy Dalton's dropbacks thru 2 games and (surprise, surprise) so far he has fewer than before http://t.co/4vATt7OEdN
about 4 hours ago

DavidHaleESPN

David Hale


#FootballConference "@aadelsonESPN: ACC writers unanimous w/Pitt over Iowa & Cuse over MD. Not so on the B1G side. http://t.co/4mKFC1zcPg"
about 4 hours ago

AlabamaFTBL

Alabama Football


Water Stations and Express Lanes Added to Bryant-Denny Stadium http://t.co/2myEW9xR8O #UFvsBAMA #RollTide http://t.co/r4zAuSwq6m
about 4 hours ago

TomahawkNation

TomahawkNation.com


My CFB gambling picks are out! http://t.co/8yJiFa8ADL Who do you like?
about 4 hours ago

TomahawkNation

TomahawkNation.com


Dude wanting to speak to Tomahawk's manager over a moderator banning him from comment section. Um ... https://t.co/YImR06zLMC
about 4 hours ago

ColeyHarvey

Coley Harvey


He said yesterday he wanted to see how he felt after today/Friday's practices, but have to think this bodes well for him playing Sunday
about 4 hours ago

ColeyHarvey

Coley Harvey


A.J. didn't do much during open portion of practice, but he did just go through a few cuts on a comeback and drag. Caught both. Looked good
about 4 hours ago

1010XLAG

Andrew Gibson


Discussing #JameisWinston and #CLEMvsFSU with @TomahawkNation on @1010XL.
about 4 hours ago

SweepTheLeg337

Sweep The Leg


FSU helmets back before Derrick Rose.
about 5 hours ago

TomahawkNation

TomahawkNation.com


Florida State fixed its helmet (photo) #Noles #FSU http://t.co/lqKzM2f1cp
about 5 hours ago

ColeyHarvey

Coley Harvey


Also back at practice are Andrew Whitworth and Mike Pollak. Clint Boling is getting his day off today. #Bengals
about 5 hours ago

ESPN_ACC

ESPN ACC


Clemson's Watson proves a quick study http://t.co/TXZprPRwSg
about 5 hours ago

ColeyHarvey

Coley Harvey


A.J. Green is back at practice for the #Bengals as he said yesterday.
about 5 hours ago

Noles247

Noles247.com


#FSU has a lot of visitors coming in. @joshnewberg247 breaks it down here with some 'commit watch' http://t.co/rIDgauPQyy via @Noles247
about 5 hours ago
BLOG ARCHIVE:
CATEGORIES: