Best ACC recruiters
October, 15, 2013
10/15/13
8:00
PM ET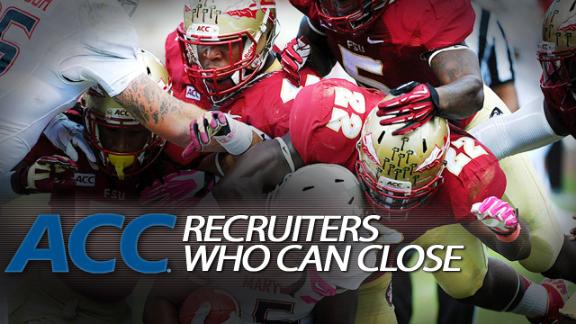 Editor's note: For a look at the national recruiter power rankings based only on Class of 2014 success,
click here
.
The best head coaches are often called the closer when it comes to sealing the deal with recruits. Whether on a visit or a trip to a prospect's home, the head coach is called upon to secure the signature.
To continue reading this article you must be an Insider
Insider
Blue Chip Battles: ESPN 300 Update
National recruiting reporter Jeremy Crabtree breaks down the top three recruiting tugs-of-war for uncommitted four- and five-star recruits.
Blue Chip Battles: ESPN 300 Update
VIDEO PLAYLIST
FSU FB RECRUITING SCORECARD
Fathead Florida State Seminoles Bobby Bowden Field at Doak Campbell Stadium Mural Wall Graphic Shop »
JustKeepCalmer

Keep Calm Tweets


Keep Calm And Don't stress over people in your past. There's a reason why they didn't make it to your future.
about 4 hours ago

DeionSanders

DeionSanders


@RealPeterson21 Well deserved man! You're a great player but a better person. Only u can derail the tremendous gifts that God gave u. Truth
about 4 hours ago

DeionSanders

DeionSanders


"@GryllerNation: You the man @DeionSanders #truth. Can't wait for your episode of #RunningWild" it will hilarious! Truth
about 4 hours ago

cblunt58

Chuck Blunt


@TomahawkNation 98 on O, 96 on D, 81 on ST. having a 98 kicker isn't enough to offset a 47 punter
about 4 hours ago

TomahawkNation

TomahawkNation.com


So, um, how good would EA sports have made the #Noles if there was an NCAA game this year? #Keepit100ForEveryone
about 4 hours ago

SBNationCFB

SB?Nation CFB


Oklahoma State's NCAA APR detective work is July's offseason MVP. http://t.co/sFVcKdd3hS http://t.co/YMs1zmNzwW
about 4 hours ago

TomahawkNation

TomahawkNation.com


Good time of year to remind people that programming and marketing decisions are rarely aimed at die-hards.
about 4 hours ago

saintwarrick

Jeff


Top-ranked defending champs & Heisman winner at the country's most ostentatious stadium against a name-team. Easy call for ESPN.
about 4 hours ago

TomahawkNation

TomahawkNation.com


College Gameday for Florida State v. Oklahoma State #FSU #Noles http://t.co/CjKFGezY5o
about 4 hours ago

theACCfootball

ACC Football


RT @CollegeGameDay: It's Official! GameDay will be LIVE from Sundance Square for #FSUvsOKST! #GetUp4GameDay http://t.co/oL8zop5g5z
about 5 hours ago

DavidHaleESPN

David Hale


Albert Pujols circa 2006 + do-over on 2011 NLDS game 5. "@DennisDeitch: For laughs, let's put together a Cards-Phils trade for Hamels"
about 5 hours ago

janjakejosh

Twin Mama


@RW_Calhoun_Sr motivating the parents & students about Prime Prep Academy's 2014-15 school year @DeionSanders http://t.co/Y15x0hCjl5
about 5 hours ago

janjakejosh

Twin Mama


Media crews all over the place,but we all rallied for Prime Prep Academy's 2014-15 school year @DeionSanders http://t.co/8g22orTaMb
about 5 hours ago

janjakejosh

Twin Mama


It was a packed house at Prime Prep Academy's Pep Rally for 2014-15 school year @DeionSanders http://t.co/DoaH8HUBuA
about 5 hours ago

Noles247

Noles247.com


ESPN's College Gameday to broadcast #FSU opener - http://t.co/PoaAnfvlUW
about 5 hours ago

FSU_Football

FSU Football


It's official: ESPN's @CollegeGameDay will open the season at the Cowboys Classic! #Noles http://t.co/nkv6ikmnc3 http://t.co/X5UZNGeU2L
about 5 hours ago

JasonKirkSBN

Jason Kirk


thank heavens plaxico's blanket fort doesn't have cannons
about 6 hours ago

Texas_Pearl

Dream Again


@DeionSanders is the man with a huge heart! I support anybody that supports children! #primeprepbasketball
about 6 hours ago

mrsjackson_1

La Wanda


Hope all parents of #PRIMETIME prep School will help rally to keep that school open. I am standing also @DeionSanders @Traceyeedmonds.
about 6 hours ago

DeionSanders

DeionSanders


"@bigwilwife: @DeionSanders waiting on the new season of Prime Prep on @OWNAmbassadors" amen
about 6 hours ago

ESPN_ACC

ESPN ACC


That all? MT @MikeDeGeorge: 137 questions for .@GTPaulJohnson during Monday's #ESPNACC Car Wash in Bristol http://t.co/SmPte62D03
about 6 hours ago

joshnewberg247

Josh Newberg


Big news for #FSU the nation's no.1, Josh Sweat, knows 5 officials visits. #Noles will get one. via @Evangwatkins247 http://t.co/Of9cXYZt7G
about 7 hours ago

Noles247

Noles247.com


Sweat Has 5 Officials... - http://t.co/8K27kIbSz1 via @Noles247 
about 7 hours ago

TheNFLHistory

History of the NFL


Deion Sanders became the 1st person to hit a Home Run in the MLB & score a NFL Touchdown in the same week.(1990) http://t.co/5ddPmNFdgJ
about 7 hours ago

TomahawkNation

TomahawkNation.com


No punches pulled RT @Moody54TMB: UF's QB caught the ball doing a backflip, cool. Too bad their QBs suck at throwing to their own teammates
about 7 hours ago

DeionSanders

DeionSanders


Great night of support and love from many PrimePrep parents. http://t.co/TkvSiLaHLa
about 7 hours ago

DeionSanders

DeionSanders


Love ya PrimePrep parents! Truth http://t.co/eNG4h7sEQI
about 7 hours ago

DeionSanders

DeionSanders


PrimePrep parents you are awesome! Truth http://t.co/OaB21Hbxvx
about 7 hours ago

DeionSanders

DeionSanders


Thank u Truth for the PrimePrep support. Truth http://t.co/rSKCM1GPdx
about 7 hours ago

TomahawkNation

TomahawkNation.com


There are FIFTY results for "Kelvin Benjamin gainesville" search in our photo tool. Excellent work, Sam Greenwood photog.
about 7 hours ago

TomahawkNation

TomahawkNation.com


#??????? (photo also by Sam Greenwood) http://t.co/IzEa5SC9dD
about 7 hours ago

TomahawkNation

TomahawkNation.com


#??????? (photo: Sam Greenwood) http://t.co/Oc1qtRo4Ab
about 7 hours ago

Pdub80

Peter Warrick


ICYMI: "http://t.co/nMkwmKuSA0" http://t.co/PpIg9RvIUH
about 7 hours ago

TomahawkNation

TomahawkNation.com


Approved RT @Morgan_Moriarty: Please please make this the official hash tag for #FloridaFootball this season, twitter. #???????
about 7 hours ago

TomahawkNation

TomahawkNation.com


Seeing some chatter about this. Reason FSU isn't going with white numbers & gold trim this year is jerseys already ordered. Will next year.
about 8 hours ago

Warchant

Warchant.com


War Room Report: Get the scoop on #FSU football - black jersey game? freshmen standouts... https://t.co/P6c533kesH http://t.co/8eBxuONY92
about 8 hours ago

Noles247

Noles247.com


The F5U for today focuses on the five toughest games for #FSU during the 2014 regular season http://t.co/2N0eDdtHXN via @Noles247
about 9 hours ago

Noles247

Noles247.com


#FSU baseball summer update (July 29) - http://t.co/RZP7cG2HIN
about 10 hours ago

_DCReeves

D.C. Reeves


More stats: #Alabama finished its 2014 class with 16 of the #Rivals250. In July, it already has 16 of the Rivals250 for 2015.
about 11 hours ago

_DCReeves

D.C. Reeves


Auburn has one 5*, 11 4-stars… South Carolina has No 5*, 12 4-stars. RT @clemsonlady: @_DCReeves who is next closest school
about 11 hours ago

TomahawkNation

TomahawkNation.com


Not sure why Harrison didn't workout at either FSU camp. Apparently he was great at Bama, but w/o working out for FSU, wasn't getting offer
about 11 hours ago

_DCReeves

D.C. Reeves


So Alabama has 16 4-and 5-star commitments for 2015 before 2014 fall camp begins. Next closest school has 12.
about 11 hours ago

Bengals

Cincinnati Bengals


Single game tickets for the Pittsburgh and Denver games go on sale Saturday at 10 am ET: http://t.co/cZaQcLYnzq http://t.co/zKmK5MtVUc
about 11 hours ago

Osceola_Tim

Tim Linafelt


More FSU baseball summer stats coming on @Noles247. But De La Calle's turn as a pitcher is interesting.
about 11 hours ago

_DCReeves

D.C. Reeves


Watch @AndrewJBone and yours truly break down Ronnie Harrison's flip to #Alabama & what it means for the 2015 class: https://t.co/CPcQ4dDONU
about 11 hours ago

MichaelWarchant

Michael Langston


Another look at Harrison after #Alabama commit http://t.co/lxDCv5jHv5
about 11 hours ago

MichaelWarchant

Michael Langston


Four star DB Ronnie Harrison to #Alabama http://t.co/qXIKS506de
about 11 hours ago

TideSports

TideSports.com


Rivals 250 DB Ronnie Harrison has committed to #Alabama. More at http://t.co/WJr6KKJC9S https://t.co/hXV2SPCYRP http://t.co/r3HN4Zx8Ka
about 11 hours ago

MichaelWarchant

Michael Langston


Four star DB Ronnie Harrison just announced he has switched his commitment to #Alabama. Picked the #Tide over LSU. Former UNC commit.
about 11 hours ago

AndrewJBone

Andrew Bone


Get the latest news on Ronnie Harrison's announcement. What are our guys on the ground hearing on his decision? https://t.co/hw8CymLxrv
about 12 hours ago

DeionSanders

DeionSanders


"@Cyndi_yeaitstru: @Traceyeedmonds We support Prime Prep!!! Thank u *****."
about 12 hours ago

ESPN_ACC

ESPN ACC


Rival ACC coaches compare six-packs http://t.co/pypPzqmrJ2
about 12 hours ago

fsufball

FSU Football


(b/r) 4 Florida State Football Players Star in Terrible Rap Video: Florida State's football team may have been... http://t.co/PKuxCuJYIc
about 13 hours ago

_DCReeves

D.C. Reeves


#Alabama Baseball's SEC Home/Away for 2015: HOME: LSU, Vandy, Arkansas, UGA, TAMU. AWAY: Miss, MSU, Mizz, UF, Auburn. NO: So. Car, UT, UK.
about 13 hours ago

JR8_Noles

Jalen L. Ramsey


@TimBrewster me
about 13 hours ago

MichaelWarchant

Michael Langston


Four star DB Ronnie Harrison, UNC commit just arrived for HS media day. Announces at 5:00 pm. http://t.co/1CkcTczthH
about 13 hours ago

Pdub80

Peter Warrick


One more time: "http://t.co/bS0goiQdcJ" http://t.co/XVV1LddGuD
about 13 hours ago

TimBrewster

Tim Brewster


Who Is Next?? http://t.co/35m6Q6dESA
about 13 hours ago

TravHaneyESPN

Travis Haney


Dabo, jokingly, on what he's learned about Pluto in the past week. "It was a planet when I was in Alabama. News travels slow there."
about 13 hours ago

TomahawkNation

TomahawkNation.com


This is true RT @FSUwantsYou: @TomahawkNation and all 18% are running backs.
about 13 hours ago

Warchant

Warchant.com


The Chant: Freshmen defenders release rap video (FREE) https://t.co/O5XXKU5Zus http://t.co/8ex7Z4gCRq
about 13 hours ago

ESPN_ACC

ESPN ACC


Pitt's Boyd feels debt to hometown http://t.co/iI2w1sUUsu
about 13 hours ago

TomahawkNation

TomahawkNation.com


People will correctly note that only 18% of Miami's 22 commitments are 4/5-stars, but it's fair to expect a couple to be elevated later.
about 13 hours ago

_DCReeves

D.C. Reeves


Just posted home & away SEC opponents for #Alabama Baseball in 2015 on the message board: https://t.co/mAJES6EE5y
about 13 hours ago

jireland80

Jeremy Ireland


@Beebo42 First hat with the new logo #FSU #Noles. http://t.co/47VFKaxqH6
about 13 hours ago

Beebo42

Lamarcus Brutus


That new FSU logo looks good on things!
about 13 hours ago

TomahawkNation

TomahawkNation.com


Thanks to multiple readers who follow rap more than me for speculating it's a parody video http://t.co/PmTusfGLcp #Noles #FSU
about 13 hours ago

TomahawkNation

TomahawkNation.com


Players liking it ... RT @Beebo42: That new FSU logo looks good on things!
about 14 hours ago

AlligatorArmy

Alligator Army


Another: The vocals are, pretty clearly, IceJJFish homage and/or parody. It's bad, but arguably ironically/intentionally so.
about 14 hours ago

TomahawkNation

TomahawkNation.com


RT @willjohns82: I'm pretty sure this is not serious and more like a parody of this guy who has over 25 million views http://t.co/9Y21TlVKD8
about 14 hours ago

TomahawkNation

TomahawkNation.com


Well played. RT @stpete2you @TomahawkNation The vocals were a little pitchy, but overall it has a good vibe. I'm feeling it. #FSUTwitter
about 14 hours ago

TomahawkNation

TomahawkNation.com


The falsetto. Lost it.
about 14 hours ago

TomahawkNation

TomahawkNation.com


Also, the job the video guy did in making Legacy Suites look good is amazing http://t.co/PmTusfGLcp
about 14 hours ago

TomahawkNation

TomahawkNation.com


A rap video that four #FSU freshmen football players will never live down. Ever. #Noles http://t.co/mmRf6ZBi8t
about 14 hours ago

Noles247

Noles247.com


#FSU targets Shane Simmons and Deondre Francois decide this week http://t.co/kohI986XmA via @Noles247 
about 14 hours ago

mirko_jurko64

Mirko Jurkovic Jr ?


Shoutout to Tyree on his commitment to Miami, and @evanmallory96 on his commitment to Cincinnati!
about 14 hours ago

IMGAInsider

IMG Academy Insider


Senior @evanmallory96 has officially committed to @Bearcats_FB @GoBearcats #BecomeMore http://t.co/UCxaHyb0bu
about 14 hours ago

TomahawkNation

TomahawkNation.com


Top teams in the ACC have as much talent as the SEC's best teams, but the SEC has many more teams close to that level. I think that's fair.
about 14 hours ago

ESPN_ACC

ESPN ACC


Why Pittsburgh will win Coastal http://t.co/jOc7p5kVtR
about 14 hours ago

TomahawkNation

TomahawkNation.com


Oklahoma State gets its practice time back thanks to some INTERESTING NCAA accounting. #FSU #Noles http://t.co/X9sXUStVv6
about 15 hours ago

DeionSanders

DeionSanders


Please help me reach the head football coach for Booker T. In Tulsa Oklahoma. Thank u all so much. #Truth
about 15 hours ago

TomahawkNation

TomahawkNation.com


ACC had more top-150 draft picks. But ... RT @schadjoe: Dabo Swinney says the talent level between the SEC and ACC is "splitting hairs."
about 15 hours ago

DeionSanders

DeionSanders


The more u concern yourself with pleasing others the less you're focused on pleasing God. Isn't it enough to Please God!! #TRUTH*
about 15 hours ago

TomahawkNation

TomahawkNation.com


RT @accfootballnews: College football look ahead: Nos. 11-15 (Clemson shouldn't tumble far as it reloads on offense) http://t.co/GWtE5471h8
about 15 hours ago

AndrewJBone

Andrew Bone


Heard a few hours ago #Alabama signee Montel McBride was heading to Iowa Western. Been waiting on confirmation which has been received.
about 15 hours ago

Noles247

Noles247.com


#Noles head coach Jimbo Fisher hints that the defense could be more aggressive this season under new DC Charles... http://t.co/BNXVeyGBld
about 15 hours ago

SteveReedAP

Steve Reed


Kelvin Benjamin said he woke up today "feeling like a new man." Said he hopes to participate in preseason games.
about 15 hours ago

FSU_Football

FSU Football


Head's up to #Noles fans. Tickets will be sent out in mid-August. Can't wait to see you in Doak! http://t.co/NrHIKf8EI4
about 15 hours ago

TomahawkNation

TomahawkNation.com


Bovada does one hell of a job of acting like its odds are somehow news, or unique. The emails to media members work.
about 16 hours ago

ESPN_ACC

ESPN ACC


Video: Swinney talks winning, having fun http://t.co/hhmmHyz99L
about 16 hours ago

TomahawkNation

TomahawkNation.com


I actually figured that was the reason for the Crowder pick, I just didn't expect to see it put out there on social media
about 16 hours ago

_DCReeves

D.C. Reeves


Alabama a big 7/5 favorite to win the SEC (bet $50 to win $70) per Bovada. Auburn and South Carolina are next at 5/1.
about 16 hours ago

DavidHaleESPN

David Hale


#Duke gets the Rodney Dangerfield treatment. RT @caneswatch: Bovada has UNC odds at winning Coastal at 8/5. UM & VT at 3/1.
about 16 hours ago

DavidHaleESPN

David Hale


Flip side: Best offensive conv% on 3rd&short: 1) #Cuse 71.7% 2) #GT 71.2% 3) #FSU 70.7% 4) #Clemson 63.5% 5) #UVA 62.5%
about 16 hours ago

TomahawkNation

TomahawkNation.com


Good to keep in mind that some people use pre-season voting as a way to protest someone or something.
about 16 hours ago

DavidHaleESPN

David Hale


FWIW: Opp. converted 18 of 26 rushing on 3rd & short vs. #FSU (10th in ACC), 10 of 19 passing (9th).
about 16 hours ago

SBNRecruiting

SB Nation Recruiting


.@msmeraglinolo because for some, their gifts are physical, and football related, and they can't handle school. And no NFL w/o college.
about 16 hours ago

patrick_hruby

Patrick Hruby


Wrote this last Dec, but worth remembering in light of proposed NCAA concussion settlement: http://t.co/jar5FxnWFA
about 16 hours ago

TomahawkNation

TomahawkNation.com


.@joshnewberg247 @TomahawkNation how many MLB players would never have made it if they would have been forced to get into college? A lot.
about 16 hours ago

ESPN_ACC

ESPN ACC


ACC's lunchtime links http://t.co/XYOwhhPONe
about 16 hours ago
ACC SCOREBOARD
Thursday, 8/28
Friday, 8/29
Saturday, 8/30
Monday, 9/1
BLOG ARCHIVE:
CATEGORIES: