Best ACC recruiters
October, 15, 2013
10/15/13
8:00
PM ET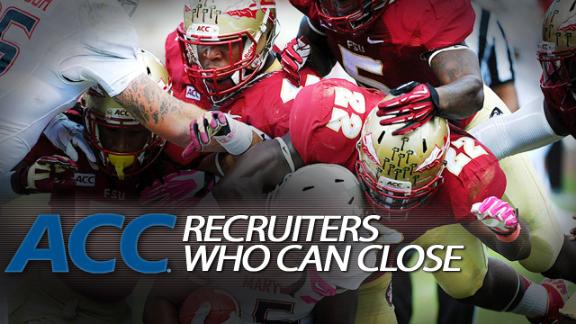 Editor's note: For a look at the national recruiter power rankings based only on Class of 2014 success,
click here
.
The best head coaches are often called the closer when it comes to sealing the deal with recruits. Whether on a visit or a trip to a prospect's home, the head coach is called upon to secure the signature.
To continue reading this article you must be an Insider
Insider
Fisher: Winston's Choice Won't Be A Surprise
Florida State coach Jimbo Fisher said that Jameis Winston's decision to remain in college or leave for the NFL will not be a surprise either way.
Fisher: Winston's Choice Won't Be A Surprise
VIDEO PLAYLIST
FSU FB RECRUITING SCORECARD
FSU_GoldenGirls

FSU Golden Girls


We will be serving the @SalvationArmyUS today from 8 AM-12 PM at @Walmart on W Tennessee St! Donate to those in need this holiday season!
34 minutes ago

DeionSanders

DeionSanders


"@Mjuand: why are you up D?" It's easier to ask me why do I sleep. It's people to encourage and problems to solve. I'm always up
about an hour ago

DeionSanders

DeionSanders


Good Morning God Morning! Make up your mind right now that this will be a great,productive,peaceful day. You have that kinda power. #Truth
about 2 hours ago

Seminoles_com

Seminoles Athletics


Who came in at No. 8 in the @FSU_Football Top 10 plays? http://t.co/OBwn1uM9EC
about 7 hours ago

DeionSanders

DeionSanders


Don't u get upset at a drive thru when u order & they act like they didn't hear u & mess up your order? You do the same thing to God. TRUTH
about 9 hours ago

DeionSanders

DeionSanders


Thank YOU LORD for Ordering my steps! #Truth
about 9 hours ago

tommytomlinson

tommy tomlinson


Shut down the Christmas sweater contest. @DaleJr wins. http://t.co/1rMLiNQSHI
about 9 hours ago

_DCReeves

D.C. Reeves


That was fun, I'll do another Alabama O contest early next week.
about 9 hours ago

_DCReeves

D.C. Reeves


Lot of people thought Kiffin passed more on second down. But have to remember, LOTS of garbage time & 4th quarter leads this year.
about 9 hours ago

_DCReeves

D.C. Reeves


#Alabama OC Lane Kiffin pass call % on 2nd down this year? 45.5%. Had a couple 45's, but @BamaRover15 wins it with a guess of 45.7%.
about 10 hours ago

_DCReeves

D.C. Reeves


Alright, a few more mins on Lane Kiffin's second-down called pass % for the gift card. Handful of really close guesses out there already.
about 10 hours ago

_DCReeves

D.C. Reeves


.@PKbama Keep in mind, under center numbers can be skewed by goal line/garbage time carries. Those numbers include sacks/scrambles as well.
about 10 hours ago

_DCReeves

D.C. Reeves


By my numbers: 6.7 YPC out of shotgun leads. 5.9 Pistol, 5.0 under center. RT @PKbama: @_DCReeves what's team avg from shotgun vs center?
about 10 hours ago

DeionSanders

DeionSanders


"@Tommy31Olmeda: Seeing @DeionSanders and his family at best buy today a good dad you are sir." Thank u so much. My kids are my Life.
about 10 hours ago

DeionSanders

DeionSanders


I had such a great time with ALL my kids today. The jokes the fun the sibling arguments and the Love. Life is how YOU see it. 4real. #Truth
about 10 hours ago

_DCReeves

D.C. Reeves


The major difference running the ball out of shotgun vs. not is TJ Yeldon. I've got 7.0 YPC out of shotgun, 4.3 YPC under center.
about 10 hours ago

_DCReeves

D.C. Reeves


Henry averages 6.1 per carry in both shotgun & pistol. 5.3 YPC under center. RT @PKbama: D. Henry YPC from shotgun vs under center?
about 10 hours ago

janjakejosh

Twin Mama


Michael Stringer of Pacific Supply & coach @ahart49 blessing a Prime Prep Academy students family @DeionSanders http://t.co/ff6iJIkeG8
about 10 hours ago

janjakejosh

Twin Mama


@MsHall_Prime & Dr.Shavers serving coffee,cookies & doughnuts at Prime Prep Academy @DeionSanders http://t.co/DNACAsaJIr
about 10 hours ago

iameda

Isaac Olmeda


@DeionSanders @BestBuy also said hi and he said how you doing sir! Great day and made my night.
about 10 hours ago

janjakejosh

Twin Mama


Prime Prep Academy's WR Brandon Martin who was selected to play in the UA All American game @DeionSanders http://t.co/ktZUshkBI5
about 10 hours ago

_DCReeves

D.C. Reeves


Obvious scrambles count as a called pass. RT @alexandertharpe: @_DCReeves wait what about QB scrambles off a pass call?
about 10 hours ago

_DCReeves

D.C. Reeves


By CALLED pass, I mean that a sack is a called pass, NOT a run as NCAA stats would say.
about 10 hours ago

_DCReeves

D.C. Reeves


Contest: Guess Lane Kiffin's CALLED pass percentage on 2nd down this season. Closest/first correct gets a $25 Rivals Fan Shop gift card.
about 10 hours ago

TimBrewster

Tim Brewster


Jameis is on fire!! This guy is locked in... That's all!!
about 10 hours ago

CBULLEnterprise

Chountelle Bullock


"@agoldball: http://t.co/RW8u2LXvmu: Ex-NFL star Deion Sanders honors high school coach http://t.co/WF61WjJZtc thank you @DeionSanders" Yes!
about 11 hours ago

DeionSanders

DeionSanders


"@duperdaniel: @DeionSanders nice seeing you and your family at Best Buy." Thank u
about 11 hours ago

janjakejosh

Twin Mama


Prime Prep Academy & Pacific Supply of Mansfield blessed the family of Yacklin Moreno with Xmas gifts @DeionSanders http://t.co/yfnjQf9Uxz
about 11 hours ago

Warchant

Warchant.com


Insider Report: Jimbo Fisher talks about NFL decisions for Winston, other underclassmen: https://t.co/WzgxdpVi0L ($) http://t.co/9Aev2MdUok
about 11 hours ago

Seminoles_com

Seminoles Athletics


#emergeFSU MT @FSU_WBasketball: The #Noles game finishes at 97-51. FSU moves to 11-1 on the season. #FSUWBB
about 11 hours ago

DeionSanders

DeionSanders


Relax,Breathe and Think. It ain't that serious. Let it go. Pray and walk away. It's almost Christmas yall. Let's Love thru it all. #Truth
about 11 hours ago

SOULcialBfly

Stefani Farris


Catching up on recorded episodes of Deion's Family Playbook. I love this show!! Keep up the great work @DeionSanders and @Traceyeedmonds
about 13 hours ago

FSU_WBasketball

FSU Women\'s Hoops


Ready for tonight's game? Here are the video and audio links: #FSUWBBESPN3: http://t.co/ORuqq5uI5WAUDIO: http://t.co/1mf8yU4YX6
about 14 hours ago

Warchant

Warchant.com


Jimbo Fisher talks Winston and leaving early for NFL, latest on COC hearing & more. https://t.co/GFBpLxviH7 #FSU http://t.co/vUxZUmgYUd
about 14 hours ago

TomahawkNation

TomahawkNation.com


Big time statement today by Texas and Charlie Strong. http://t.co/z3BoUwkZ8W Big XII needs this. Baylor/TCU not name programs.
about 15 hours ago

Warchant

Warchant.com


"@kris23db: Committing on Christmas! 😈🎁🎄🎆🏈" #FSU target Kris Boyd
about 15 hours ago

Noles247

Noles247.com


Potential Christmas Gift? Kris Boyd sets decision date - http://t.co/todbyAVXYh
about 15 hours ago

AndrewKingHorns

Andrew King


Texas Targets Kris Boyd (@kris23db) & DeMarco Boyd (@demarco_boyd) throw up the Horns again after a win. http://t.co/Or84UxZnTs
about 15 hours ago

GeorgeCampbell0

DreamTeam 1?


It'll A Sad Time When I Have To Leave The People I Care About The Most While I'm Gone.. But Once I Make It We All Do This Is The Beginning 💯
about 15 hours ago

GeorgeCampbell0

DreamTeam 1?


Today Was My Last Day Of High School I Did Something That Many People Can't Do Or Even Have Accomplished I Am Blessed...
about 15 hours ago

Noles247

Noles247.com


Fisher on CofC decision timeline http://t.co/zrG4RlUz3A via @Noles247
about 16 hours ago

FSU_Football

FSU Football


#Noles Head Coach Jimbo Fisher speaks to the media for the last time before the team leaves for California. http://t.co/tZFxOIdB1q
about 16 hours ago

ByronHawkStar99

Byron Cowart


Change The Hair Color #Garnet #Green #Crimson #WarEagleBlue Hmmm
about 16 hours ago

jacques_patrick

The Boy Nino


I'm Sad today was my last day of high school but I'm excited for my future at FSU ! #GoWolves #GoNoles
about 16 hours ago

jacques_patrick

The Boy Nino


What a ride it has been. I'm now ready for FSU in January! 🙏🏈📖 http://t.co/02rLs8D77T
about 16 hours ago

Noles247

Noles247.com


Friday post-practice update http://t.co/WkSnpCKsCd
about 16 hours ago

Warchant

Warchant.com


Updated football practice notes: https://t.co/VI3KQsTAr0 ($) Fisher on Winston's NFL decision, code of conduct, updates on Goldman/NLS.
about 16 hours ago

ESPN_ACC

ESPN ACC


ACC mailblog http://t.co/6TU3Es5CRn
about 16 hours ago

Noles247

Noles247.com


Post-practice update from Jimbo Fisher http://t.co/sl8TqaToTZ
about 16 hours ago

Warchant

Warchant.com


Jimbo Fisher says no update on Jameis Winston's status following conduct hearing: "I think we'll hear something before the game."
about 17 hours ago

Warchant

Warchant.com


Jimbo Fisher asked if Jameis Winston might return if he's projected as 1st or 2nd pick: "Was it a choice for Peyton Manning or Andrew Luck?"
about 17 hours ago

ACCBaseball

ACC Baseball


12 #ACC players were named @CBNewspaper Preseason All-Americans today, tied for the most from any conference: http://t.co/cSqbFLapFA
about 17 hours ago

Tim_Linafelt

Tim Linafelt / FSU


Patience pays off for FSU DB Lamarcus Brutus: http://t.co/MfRX3SEDKu
about 17 hours ago

DeionSanders

DeionSanders


Dinner before shopping! @ShedeurSanders @JaquanSheals @DeiondraSanders @Shelomisanders @ShiloSanders @DeionSandersJr http://t.co/7rPGmDFNeI
about 17 hours ago

theACC

The ACC


Check out @theACCDN's top 10 #MustSeeACC Moments of 2014!More: http://t.co/YvUizQoM8EVote for YOUR favorite here: http://t.co/NyuoBmTv3N
about 17 hours ago

FSU_WBasketball

FSU Women\'s Hoops


Want more chances for @rosebowlgame tickets? Better come to our UGLY SWEATER game tonight at 7pm! #FSUWBB #emergeFSU http://t.co/IHbM4s5Yu4
about 17 hours ago

accmbb

ACC Men\'s Basketball


#ACC Network Tip-off Special Set to Air Beginning this Weekend: http://t.co/QG9qW21z0P #ACCmbb http://t.co/LufVfXuBbW
about 17 hours ago

theACC

The ACC


.@ACCWSoccer: @FSU_Soccer's Brynjarsdottir Named NSCAA Scholar Player of the Year: http://t.co/yoXG13RycO
about 17 hours ago

theACCfootball

ACC Football


Proud to see these 3 players rep #ACC on @USAFootball's #AllFundamentals team. Help them win: http://t.co/SIKGWOdA7q http://t.co/Xc4KmfZn7r
about 17 hours ago

DeionSanders

DeionSanders


@DeionSanders amen
about 17 hours ago

DeionSanders

DeionSanders


I have a van full of kids and they're all mine. Lol We're headed Christmas shopping baby. Family,Fun & Faith. #Truth http://t.co/CJnWlRvmNl
about 17 hours ago

TomahawkNation

TomahawkNation.com


VIDEO: Former #FSU LB Telvin Smith talks about his first prime time NFL game. Led Jaguars with 15 tackles. http://t.co/jDZnDrPL8h
about 17 hours ago

RivalsFriedman

Adam Friedman


2016 ATH @Thaddeusmoss' recruitment is starting to take shape (Please excuse the school bell) http://t.co/EWsoWFcOn6 http://t.co/xwoNVXBsN8
about 18 hours ago

JustinDYoung

Justin Young


I can't get over how fluid future #FSU big man Jean Marc Christ Koumadje is. Oh, he's 7-4. Not your typical big man plodder. Runs very well.
about 18 hours ago

Warchant

Warchant.com


Practice notes: https://t.co/wPH2JYVQwk ($) FSU looked loose as they make ready for Oregon. Also appear to be getting healthier.
about 18 hours ago

TomahawkNation

TomahawkNation.com


Florida State football practice report: 12/19 http://t.co/yebjVsAJrJ
about 18 hours ago

Noles247

Noles247.com


If Jameis Winston comes back to #FSU, Fisher won't be surprised http://t.co/0O6LJMGux2 via @Noles247
about 18 hours ago

TomahawkNation

TomahawkNation.com


WR Isaiah Jones Academically Eligible #FSU #Noles http://t.co/btgPM9pLf9 http://t.co/ytPyIDhMhg
about 18 hours ago

Noles247

Noles247.com


#FSU Friday Practice Update: Latest on Nile Lawrence-Stample's return http://t.co/WkSnpCKsCd via @Noles247
about 18 hours ago

RivalsWoody

Woody Wommack


Bookmark! Homes for all @Rivals All-Star ContentUA: http://t.co/LEemry4VsiArmy: http://t.co/z7Ga1qXG9pSemper Fi: http://t.co/XBYgO8hFPn
about 18 hours ago

adamgorney

Adam Gorney


Great to hear @UnderArmour was named company of the year by Yahoo! Finance. Proud to work with them at @Rivals http://t.co/jjLJUSryyP
about 18 hours ago

Noles247

Noles247.com


#FSU's Dagny Brynjarsdottir named NSCAA Scholar Player of the Year http://t.co/1tkd7Q05TF via @Noles247
about 18 hours ago

Warchant

Warchant.com


Looks like Nile Lawrence-Stample is working with the second team defense today. He's dressed as FSU goes in full pads.
about 19 hours ago

Noles247

Noles247.com


FSU and Oregon coming together to find cure for Fanconia Anemia http://t.co/wrqok2sGtb via @Noles247 @Kidz1stFund
about 19 hours ago

CNee247

Chris Nee


#USC offered 2016 #FSU commitment earlier today http://t.co/3RskPKXP0K via @Noles247 @FightOn247
about 19 hours ago

ESPN_ACC

ESPN ACC


Bowl game matchups: Florida State vs. Oregon http://t.co/GU8ULCsSuQ
about 19 hours ago

Warchant

Warchant.com


After losing big $$$ on recent postseason games, FSU excited to at least break even on Rose. https://t.co/zGESkBxNkT http://t.co/COHUZbseMp
about 19 hours ago

DeionSanders

DeionSanders


Great stories! See all of the #TWMF finalist videos here: https://t.co/YlsOxprrwP
about 19 hours ago

DeionSanders

DeionSanders


You already have enough on your plate so please don't allow the giving and receiving of gifts to Stress u. Christmas means more. #TRUTH.
about 19 hours ago

_DCReeves

D.C. Reeves


Planning ahead: School in Tuscaloosa prepping for 2 days off if #Alabama plays for national title. (HT @LucyNole) http://t.co/AfHkgAqf28
about 20 hours ago

_DCReeves

D.C. Reeves


Planning ahead: School in Tuscaloosa prepping for day off if #Alabama plays for national title. (HT @LucyNole) http://t.co/L0EHho2zj6
about 20 hours ago

Warchant

Warchant.com


"@JanariusD1: Just picked up an offer from USC! University of Southern California #FightOn http://t.co/UcA8ecAdhg" #FSU commit
about 20 hours ago

Warchant

Warchant.com


Major #FSU target Byron Cowart is the Rivals recruit of the week. Closer look here. http://t.co/IN6MQ5Hsjt http://t.co/kVjHkKEPV6
about 20 hours ago

FSU_Football

FSU Football


Cover design from the great @blane31 RT @blane31: Pretty happy with the way the @rosebowlgame guide turned out http://t.co/4K2B6jkgbD
about 20 hours ago

FSU_Football

FSU Football


The #Noles Rose Bowl guide is up now on http://t.co/hRTGPRGZ8C: http://t.co/vGBqO2OMlu http://t.co/ZhpPHvbyTM
about 20 hours ago

Seminoles_com

Seminoles Athletics


A #RoseBowl first look at @WinTheDay and what the #Noles can expect come game day. WATCH: http://t.co/8IVJEdsiUg http://t.co/Qhiq9sbQNN
about 21 hours ago

theACC

The ACC


Beyond the #ACCtion: One Sweet Sweep http://t.co/zOJKW8Y4SSBreakthrough wins by @FSU_Soccer, @UVAMenSoccer solidify ACC's soccer stronghold
about 21 hours ago

ESPN_ACC

ESPN ACC


Bowl game matchups: Houston vs. Pitt http://t.co/6VOeS7Gm9O
about 21 hours ago

TomahawkNation

TomahawkNation.com


Player development: Montay Brandon finds his role http://t.co/Gevbjdrrwl
about 21 hours ago

agoldball

Chris Roberts


http://t.co/qZyxx33Cup: Ex-NFL star Deion Sanders honors high school coach http://t.co/cSzHcbtQ7k thank you @DeionSanders
about 21 hours ago

aadelsonESPN

Andrea Adelson


Dear ACC. Do NOT #goacc on me during bowl season, or I will lose the picks challenge. Signed, AA. http://t.co/PtneNG4eYL
about 21 hours ago

FSU_Football

FSU Football


The ACC Atlantic Division produced 5 consensus All-Americans - most in the nation, including 3 #Noles! http://t.co/KPhDJdPBGO
about 22 hours ago

DavidHaleESPN

David Hale


Dude! "@Matt_Fortuna: RT @BCCoachAddazio: Will be @espn all day, be sure to tune in at 11:30 on @SportsCenter! http://t.co/GWNfpkAld5"
about 22 hours ago

DavidHaleESPN

David Hale


What's it mean if I unfollow? "@KevinCooney: Do u think @ryanlawrence21 loves this Rollins trade watch? RT for yes, Fav for no"
about 22 hours ago

Noles247

Noles247.com


Deondre Francois' official visit schedule http://t.co/N8wkY0z7Y4 via @Noles247
about 22 hours ago

Seminoles_com

Seminoles Athletics


The Top 10 @FSU_Football plays continues. Here's a tease at No. 9. The video is live on http://t.co/uASIAumRyP! http://t.co/XfN8gizHIM
about 22 hours ago

TomahawkNation

TomahawkNation.com


5 new pieces of content up and more to come from other writers. Click. https://t.co/y1b10Atl9T http://t.co/U6Mn1bAcTC
about 22 hours ago

TomahawkNation

TomahawkNation.com


.@DipRip We hear about "#FSUTwitter" but "#FSUFacebook" is so, so much worse. Some of those pages, ugh.
about 22 hours ago

TomahawkNation

TomahawkNation.com


Like our Facebook page! Stay for the hot takes from fans. https://t.co/y1b10Atl9T http://t.co/W7oKmpxf2P
about 22 hours ago

EJManuel3

EJ Manuel


#FearlessFriday - Shout out to all the parents braving the holiday shopping crowds for their kids this weekend!
about 22 hours ago
ACC SCOREBOARD
Saturday, 12/20
Monday, 12/22
Tuesday, 12/23
Wednesday, 12/24
Friday, 12/26
Saturday, 12/27
Monday, 12/29
Tuesday, 12/30
Wednesday, 12/31
Thursday, 1/1
Friday, 1/2
Saturday, 1/3
Sunday, 1/4
Monday, 1/12
BLOG ARCHIVE:
CATEGORIES: