Q&A: EJ Manuel can still do more
July, 10, 2012
7/10/12
7:22
AM ET
As Florida State gets set to open camp for the 2012 season, perhaps no player has more pressure on his shoulders than senior quarterback EJ Manuel. It's a role former FSU quarterback and current ESPN analyst Danny Kanell knows well.
[+] Enlarge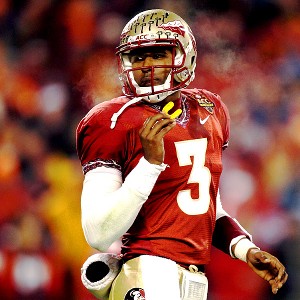 Streeter Lecka/Getty ImagesQuarterback EJ Manuel enters his senior season at Florida State with high expectations.
Kanell upped his touchdown total from 17 to 32 from his junior to senior seasons with the Seminoles, and he says Manuel will need to make a similar leap forward this season if Florida State is to meet preseason expectations.
Here's more of Kanell's analysis of Manuel's progress and Florida State's potential.
Q. You've gotten to see Manuel play a good bit during the last few years. What do you think is the key for him this season to take that next step?
A.
I really like EJ a lot. The one thing about EJ that you can't coach is that he's got the intangibles. He's got the leadership qualities, the toughness, the mental IQ to run an offense successfully. Those are some of the things I really like about him. He's got the size, the physical capabilities to make all the throws. He can run, he's athletic. I think the one area where EJ's going to need to step up, and where if Florida State has national title aspirations this year, which they do, they're going to have to see EJ step up as a pure passer.
That's something they worked on in the spring game. I got to cover the spring game and he threw it 51 times. It was obviously something they were working at, was his pocket-passing ability. If he improves that just a little bit -- it's just the finer details. You're talking about a guy with a 65 percent completion rate and pretty good touchdown-to-interception numbers. But if he wants to take the next step, he's got to have a season where he throws about 30 touchdowns vs. single-digit interceptions to be considered a true premier quarterback in the whole country.
Q. How much do you think his progress in becoming a better pocket passer last season was hindered by the problems on the offensive line?
A.
I think there were two things that greatly affected his play last year. One was the play of his offensive line. Two was the fact that he was battling injury all year. He's one of the toughest quarterbacks in the entire country. For him to bounce back as quick as he did, only missing one-and-a-half games with the shoulder injury and playing through a tremendous amount of pain, showed you his toughness. But the offensive line has got to do a better job of protecting him so that he can sit in the pocket and go through his progressions and get to that second, third, fourth option in his reads.
Q. How much more important is it for him to develop in the pocket when Florida State has such a deep corps of receivers who can make plays with the football?
A.
It kind of goes back to the days of old when you had so many weapons to work with, back when Charlie (Ward) was there, myself, Chris Weinke. You really just had to be a distributor. You had to get the ball to the right guy, whatever the defensive would give you.
That's going to be a similar situation to what EJ's going to be in this year. If he just goes out there and makes good decisions -- that's all you have to do is be a good decision maker and get the ball in the right hands and let those guys do the rest.
The thing EJ's got going for him is that he's a better runner than all of us except for maybe Charlie. If you combine that with the weapons they've got and you can have a little bit of a running game -- last year they finished 104th in running. I'm sure they'd love to have a top-20 running game, but even if you're just top-50 where it's respectable, this offense could be extremely difficult to stop.
Q. How difficult is it for a quarterback to stay in the pocket that extra half-second when he's used to using his legs to escape trouble and has the athletic ability to make plays as a runner?
A.
I think because you know you can do it so much on your own, but that's where you get into trouble is when you try to do too much on your own. I think even Christian Ponder did that because he was such an outstanding runner. It's an art form of knowing when to do what, knowing when to stay in the pocket and wait for that receiver to come open, and when to tuck it and run.
You're seeing the quarterback position evolve in college football and in the NFL to guys who can do both. And if you can do both, you're almost unstoppable for a defensive coordinator to try to defend you. If they have to account for you as a legitimate passer and as a legitimate run threat, it's almost unstoppable.
Recapping Florida Opening Regionals
ACC SCOREBOARD
Thursday, 9/3
Saturday, 9/5
Monday, 9/7