Andrea Adelson talks to Florida State running back James Wilder Jr. about the running back competition this spring.
National recruiting coordinator Craig Haubert breaks down Florida State's No. 1 recruiting class in the initial ESPN rankings.
With more than 100 prospects in the initial 2016 ESPN 300 already committed, many 2016 recruiting classes are starting to take shape.
The first edition of the ESPN 300 for the 2016 class has been released with defensive tackle Rashan Gary leading the way.
Five things to know going into the release of the ESPN 300 for the Class of 2016.
Florida State has finished with a top-three recruiting class in four of the last five years. National recruiting director Tom Luginbill joins ESPN's Phil Murphy to discuss the Seminoles' successes on the trail and who they're pursuing hardest in 2016.
Thursday's release of the first 2016 ESPN 300 will feature plenty of fast-rising prospects.
Here's a roundup of some of the highlights from the two-hour teleconference with the 14 ACC coaches.
Jameis Winston said he did not steal crab legs last year and that instead he was "hooked up" by a grocery store employee.
After the Seminoles had trouble getting respect for an undefeated regular season, some at Florida State are concerned about the reputation of the ACC.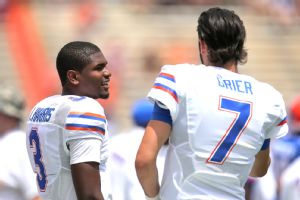 Florida and Florida State have won national championships with top-notch quarterback play the past decade, but it's Miami that is in the best spot at the position going into 2015.
Florida State is now recruiting from the top of the mountaintop. How will the Seminoles manage their recruiting and maintain their place as playoff contenders? Here's the blueprint.
Sean Maguire's play at Florida State seems to go against conventional wisdom, that he'll be a game manager that will play conservative.
The woman who accused former Florida State quarterback Jameis Winston of rape in 2012 filed a civil lawsuit against him Thursday.
The woman who accused former Florida State quarterback Jameis Winston of raping her in December 2012 filed a civil lawsuit against him Thursday in Florida state court in Orlando.